Are you thinking, "what is the salary of a freelance writer?"
I know I did when I first became a freelance writer.
I had no clue what the average freelance writer salary was, and on top of that, how much do freelance writers make?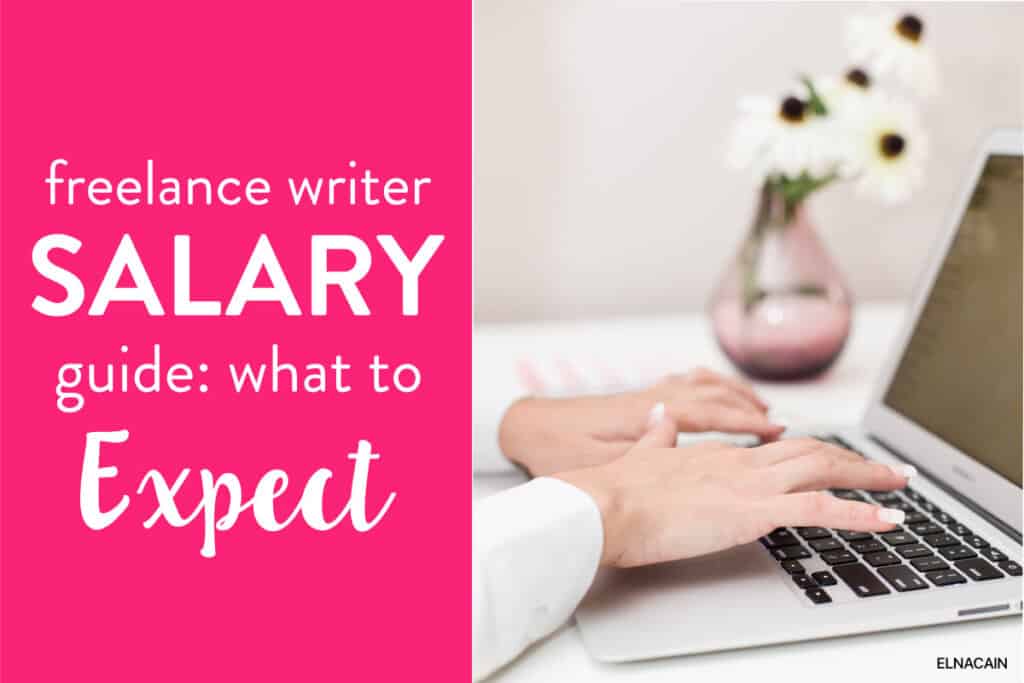 You hear freelance writers or authors making six figures from their writing, and here you are getting paid from cheapskates who offer low rates for freelance writing opportunities.
I hear ya!
I was in the same boat as you when I started way back in 2014 as a brand new freelance writer. I was desperate to know the typical freelance writer salary, so I emailed several writers out of the blue and asked them what they thought!
They were so kind to me and told me I had to know my worth as a writer to set a rate that I was comfortable with depending on my niche or niches.
While that was sweet advice, I still had NO CLUE about a writer salary or how much do freelance writers make per article.
Was there no standardization on yearly salary or hourly salary rates for the freelance writing industry?
Sure, there are guides that share standard rates, but I want to know the freelance writing rates.
So, for this post, I will dive deep into specific freelance writer salaries based on your writing niche or service so that you know what to expect when you land your first freelance writing gig.
What is a Freelance Writer Salary?
A typical salary for a job is based on a fixed amount and set of consistent hours throughout the year.
As a freelance writer, the only problem is that you may not have a fixed income every month, so your salary will be variable month-to-month.
Think of a freelance writer salary as what you make every month with the idea you can increase your writer salary, or it can potentially decrease over time.
Essentially, a freelance writer salary is a variable amount throughout the year based on the number of hours you work for your clients.
Look –
I'm not going to sugarcoat this. Freelance writing can be a feast and famine cycle for new writers.
This means some months you won't have enough time for all the prospects wanting your writing, while other months you need to come up with an extra $500 to cover expenses.
I hope you are not living this way!
There are ways to make a legit living as a freelance writer and avoid this cycle. The first step is to stop being a commodity writer!
The next step is to think of being a freelance writer as a business and to set your average freelance writer salary.
My report of the latest freelance writing sites of 530 freelance writers, had rates all over the place.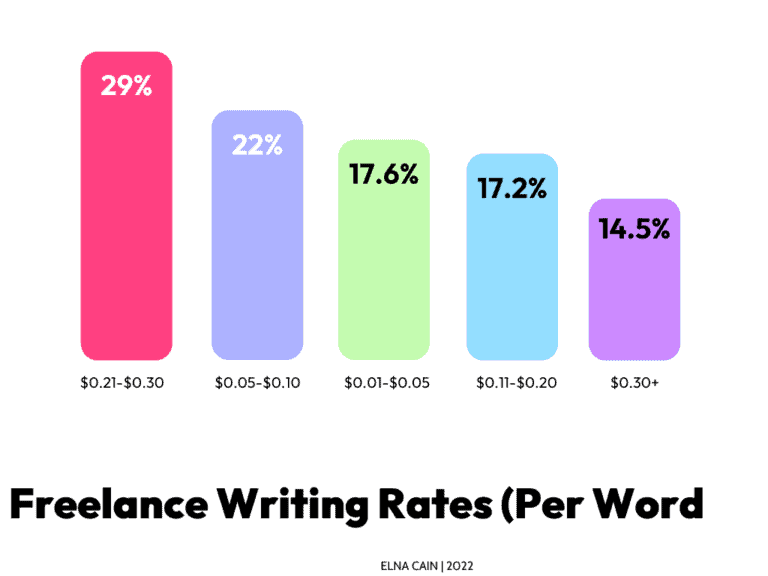 Around 34% of respondents reported rates between $.05-$.20/word.
According to ZipRecruiter and Salary, the average freelance writer salary ranges from $18k to $100k per year.

That's a HUGE range!
It's no wonder why there is no clear-cut answer to a freelance writer salary.
I know from experience, your freelance salary is determined by:
The project type
Your living expenses
Your writing niche
The market
The clients/companies you seek
If you are doing this full-time or part-time
Where you live
With that in mind, it's not unheard of to have a $60k/year freelance writer salary. This is even part-time too!
You make an average of $5,000 a month for that writer salary.
But is there an average starting salary for a freelance writer?
Yes, it's a $26,000 per year freelance writer salary.
You're making around $2,100/month at that rate.
The Payscale freelance writer salary is similar to the average salary.
This tells you some standards for how much a writer can make.
If you do this full-time, expect your writer salary to go up to the $100k status.
I don't know about you but if I can make a comfortable living with a part-time freelance writer salary, I'll take that over trying to hustle hard for a $100k/year from my business!
But, as I mentioned, your freelance writer salary will fluctuate month-to-month, season-by-season, or by other means like client attrition or retention.
Check out Writeto1k student Jessica shares her income reports for her monthly freelance writer salary.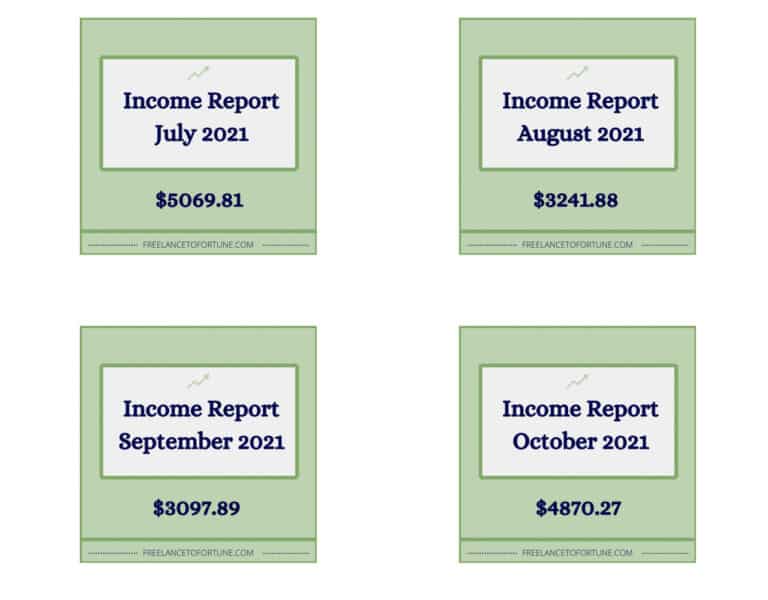 What about the freelance writer salary per article?
I'll be the first to tell you a base rate for an article of 1,000 words should be at least $100 and go up as high as $1,000.
Yes, you read that right.
If this is a blog article, research article, case study, or magazine article, the salary will change.
Finally, how much do copywriters make?
When I started copywriting, I wasn't sure what to charge or how much copywriters really made.
I know that copywriting jobs can pay over $20,000 a month!
Realistically, if you are new to copywriting, you can stand to make close to $7k/month easily.
That might be three email sequences, with three corresponding landing pages and three web pages. That's it.
Okay, that's fine and dandy, but you are here because you're a video game writer or a grant writer, and you want to know – for YOU – what the average salary is!
1. Freelance Grant Writer Salary
Are you a grant writer?
Grant writers are in demand!
More than 1.5 million nonprofits and thousands of organizations will, at one point, need a grant writer.
With so many grant writing jobs available, before you go out there and pitch your heart out, let's look at the freelance grant writer salary.
According to Salary, a freelance grant writer salary is around $75,509/year.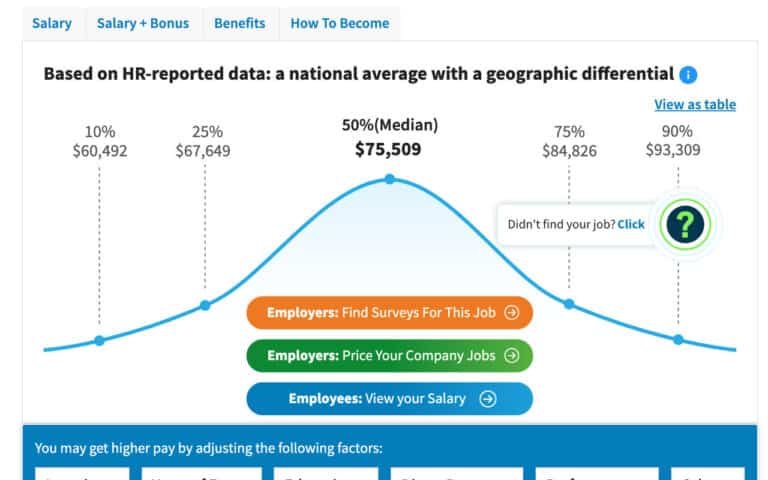 So, if you're wondering can grant writers make good money, the answer is yes.
If you are a nonprofit grant writer your average freelance writer salary ranges from around $45,000 to $54,000/year.
2. Freelance Content Writer Salary
The content writing industry is growing at lightning speed. It's no wonder that up to 50% of people are exploring freelancing as a way to work from home indefinitely.
Content marketing is a 400 billion industry, and it continues to grow each year as more and more businesses pour money into digital marketing and content marketing strategies.
What should you expect for a content writer salary if you are interested in content writing jobs?
According to Glassdoor, a content writer salary is $64,093/year.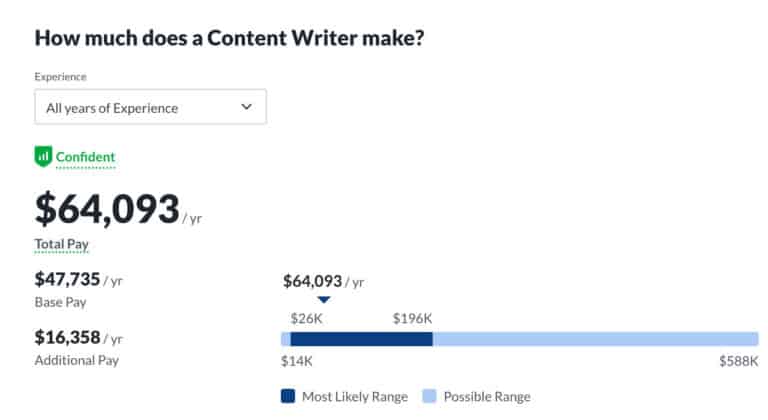 If you are wondering how much beginner content writers make, ZipRecruitor quotes around $20,000/year as an average writer salary.
As you can see, there is plenty of room to grow as a content writer.
You not only write blog posts, but you can also use SEO to optimize content, handle social media posts, or outline Youtube videos. The writing niche services are endless for a content writer.
3. Freelance Nurse Writer Salary
One of my course students, Amanda, is a nurse, and she was able to do nurse writing by helping write resumes for nurses.
This is what she said regarding her nurse writer salary:
When I started writing resumes part-time, I was making $2000/month pretty quickly after starting.
Because she used her specialization as a nurse and looked into resume writing, she was able to command a high rate for her services.
According to ZipRecruiter, nurse writers' average salary is $68,045/year.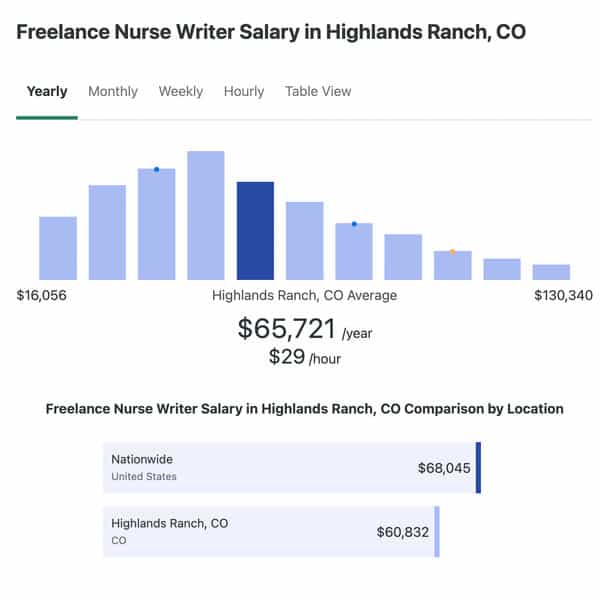 4. Freelance Medical Writer Salary
If you want to land medical writing jobs, having a background like nursing or being a paramedic, or having a job in healthcare will make the transition to freelancing easy.
This extra experience and skill level will help you make more money than an average health writer.
According to Payscale, the average medical writer salary is around $75,384/year.

This is the type of writing job where you can leverage your existing network of doctors and other nurses to help you land that first profitable job.
5. Freelance Science Writer Salary
Yes, there are science writing jobs for all the science lovers out there!
Let's check out the average writer salary to help you out and see if this is the freelance writing niche for you.
According to Salary, the average freelance science writer salary is around $61,857.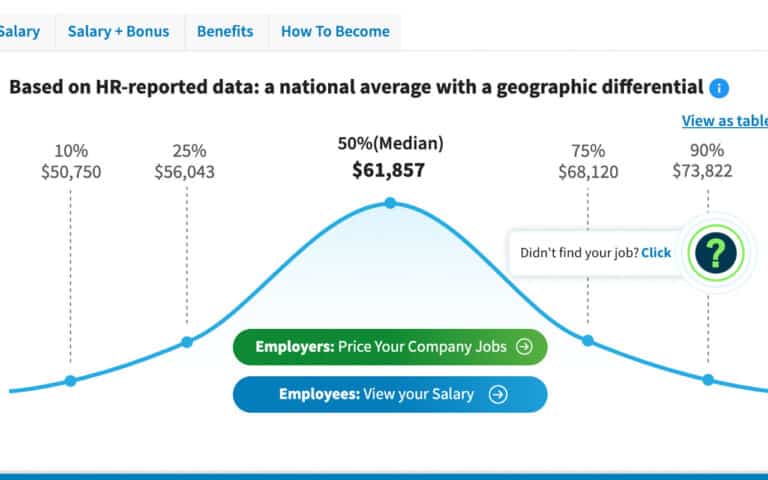 6. Freelance Technical Writer Salary
Technical writing jobs are in high demand from all types of industries.
Whether you enjoy finance, beauty, education, or other lifestyle topics, you can merge "tech" with it – edTech or fintech –to never run out of finding jobs.
According to Glassdoor, the average freelance technical writer salary is $79,517/year.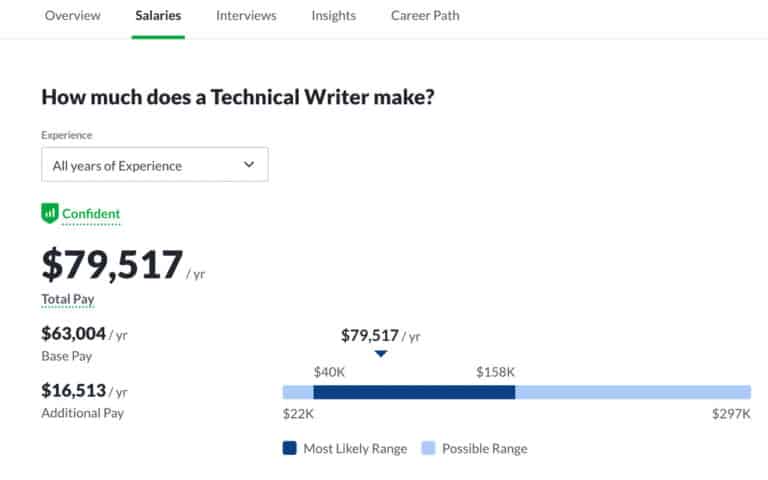 7. Freelance Video Game Writer Salary
You can definitely turn your love of video games into a paid gig!
Whether you enjoy playing video games or have a knack for creating video games, you can make a good living as a video game writer!
According to Salary, a freelance video game writer salary is $72,772/year.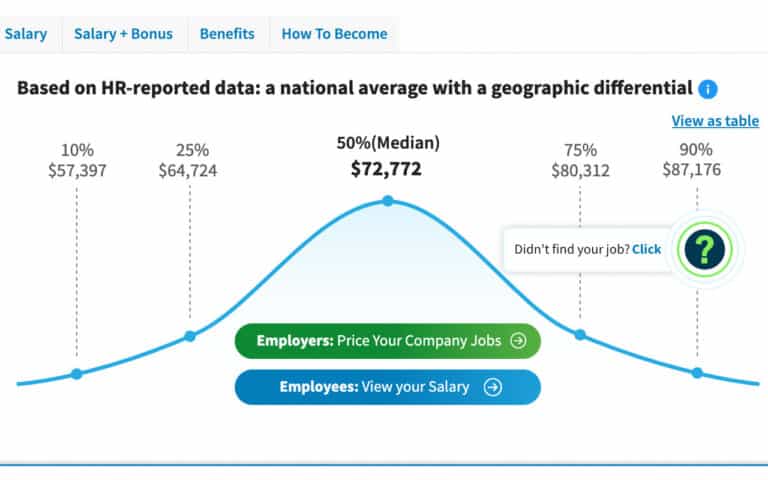 8. Average Resume Writer Salary
Writing resumes is probably a boring and time-consuming project for many. But, if you enjoy writing resumes, then know there are resume writing jobs waiting for you!
And, as you saw, it can be highly profitable and quick to land your first freelance writing job!
According to ZipRecruiter, the average resume writer salary is $42,745/year.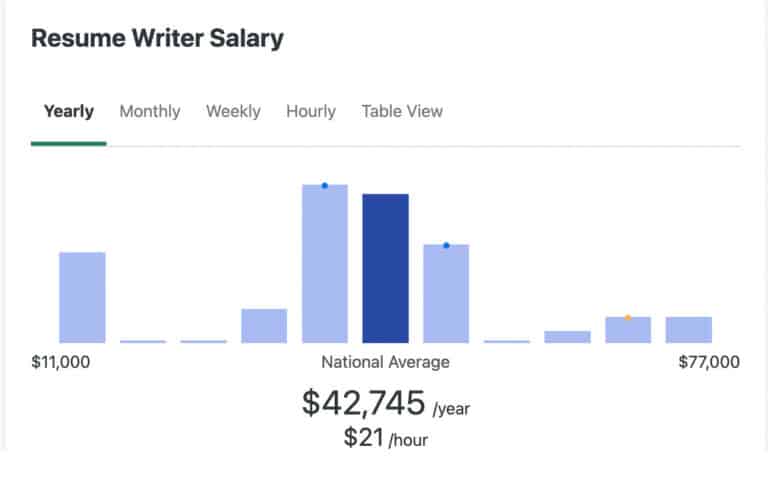 9. Author Salary
Many freelance writers become authors and write books.
I don't fall into that camp, but to each their own, right?
Learning to become a writer can lead you to so many paths – freelance writer, copywriter, children's author, sci-fi author, novella author, and more.
What is the most you can make with your author salary if this is you?
According to the Authors Guild Income Report of 2017, the author salary is dependent on whether you self-publish or go through traditional publishing methods.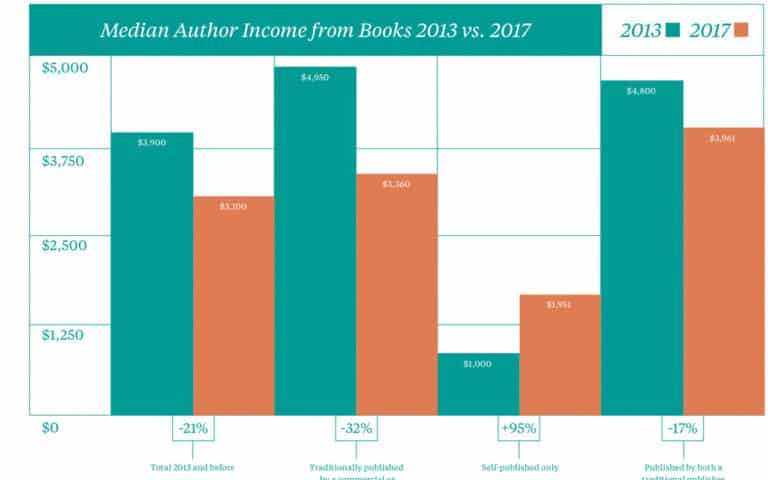 The graph shows that traditionally published authors stand to make more than self-published authors, but it's harder to go through the traditional publishing route.
Don't expect to make a living publishing one book or two or three books.
However, you can supplement your income with ghostwriting books.
Or, you can also pick up a side gig like online editing, transcription, or even proofreading jobs.
Other Freelance Writer Salaries (10-19)
These freelance writer salaries are based mainly in the States and are full-time salaries.
As I mentioned, you can make a comfortable living freelance writing part-time.
I've ONLY done freelance writing part-time since I'm also a mom to twins!
Finally, as a freelancer, you COMMAND how much you make as a freelance writer!
You DECIDE the rate you want, you NEGOTIATE the scope of the project and the rate it's assigned.
Remember, you are a business owner, and businesses set their prices!
It's the same when working with clients.
I hope this has helped you figure out what type of freelance writing you want to do!
Share in the comments your thoughts on a freelance writer salary.
Please pin me!