When I first started freelance writing, one of the pressing questions I had was how much to charge for my writing to land freelance writing jobs easily.
I even stalked freelance writers and asked them what rate I should have.
They didn't help me much since they told me it was dependant on my writing skill.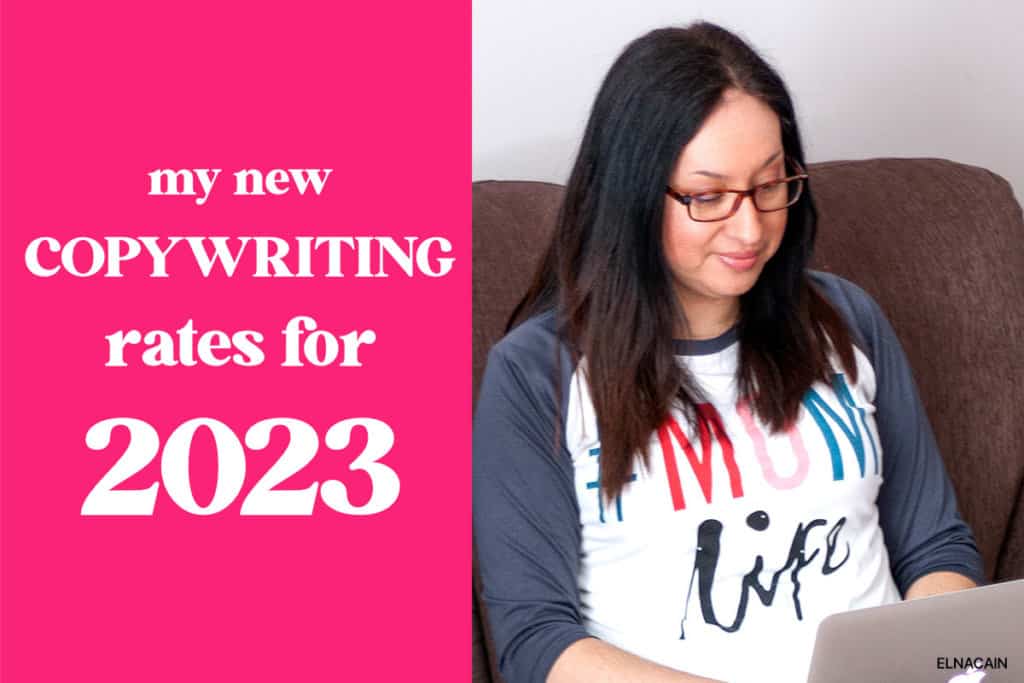 So I decided to charge $.04/word!
I know! It's so low but I had NO idea what to charge as a freelance writer. Luckily, my first actual writing job paid me $.10/word.
This rate soon evolved into my standard rate of $150 per 500 words for digital marketing content.
But, it's 2023, and in the last year or two, I've grown as a writer, and it should reflect on my copywriting rates.
And, if you're wondering how much to charge, stay tuned because I'll share the industry freelance writing rates to help you navigate your journey.
Copywriting Rates: New Rates for 2023
I have two main writing services I offer:
SEO blog post writing
Email sequence copywriting
SEO blog post writing is the general term to write long-form, industry-leading content. With over seven years of digital marketing experience and real-life experience, my copywriting service rate for 2023 is between $.50-$.80/word with a max of 2,000 words.
This rate will change over time as I pick up more copywriting clients of course! My goal is to get to $1.00/word.
I work hard at writing 1,000 words in my wheelhouse in one hour, but there's more than just writing that goes into a client piece. So while I can write fast, the research and editing take up the bulk of my time.
I also cut down my max from 4,000 words to 2,000 words as I find I'm more efficient at that word range than a higher one.
Once I pass 2,000 words, I find that diving deeper and deeper into my content doesn't always equate to value. Of course, I don't always stick to my 2,000 word count, but that's what I shoot for.
I am moving from $200 per email to $400 per email for my other writing service, email sequence copywriting,
This equates to $2000 for five emails or $1600 for four emails.
Overall, I'm excited about my new copywriting rates for 2023.
I'm fortunate I can pick and choose my clients and hope to pick two clients this quarter.
If you're looking at my writing rates in awe, realize I didn't pull these copywriting rates out of thin air. They are calculated and worthy of my time and effort.
So, if you want to charge high-rates for your writing, keep reading! I'll share how to define your copywriting rates as well as what skills I acquired to command a high copywriting rate.
How to Define Your Copywriting Rates
When figuring how much to charge, one easy way to allow yourself to raise your rates is to leverage your experience, knowledge and professionalism.
You won't believe how many copywriters and content writers ghost clients. Simply responding to a client email that day rather than waiting for your work hours to start could mean an extra $1k in business.
And make sure you live by these words: Clients aren't paying you for just words.
My clients are paying for my experience and deep knowledge.
The are also paying me for the ease of working with me. I turn in my work with little or no revisions and am very flexible.
I'm also pretty good at jumping on a Zoom call or answering an email on the same day.
With seven years of digital marketing experience behind me, I can command higher rates for my time to write a blog post.
Bonus for turning in your work early! This amazes clients, and it will immediately click with them that you're their go-to writer.
Specific Skills I've Acquired or Improved Upon
I've acquired skills over the last two years as a way to justify my rates:
SEO knowledge and tools
Digital marketing knowledge with Youtube and Instagram
Streamlined my writing process to write faster
Improved my onboarding process to increase my closing rate
With my new rate comes more SEO knowledge and tools.
I use Ahrefs, and this tool helps me rank blog content on my other sites, such as Freelancer FAQs.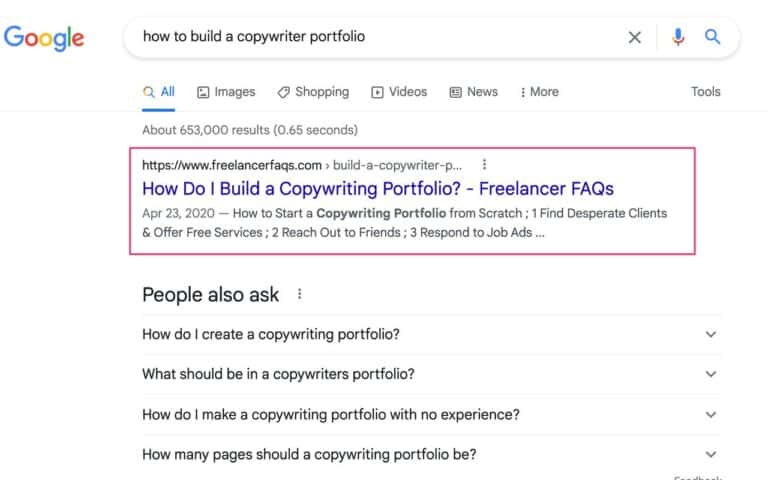 Having multiple sites helps me refine my SEO process to create a month-by-month content calendar for my blog post ideas that are keyword-focussed.
FreelancerFAQs has 6.17k backlinks and 4.5k organic keywords.
Knowing how to gain more keywords and backlinks helps raise my copywriting rates.
Another skill I learned was improving my digital marketing knowledge for Youtube and Instagram.
I've focussed my "free time" to growing my Youtube channel and Instagram for the past two years.
My Youtube channel has 8.25k subscribers and my Instagram has 2,685 followers.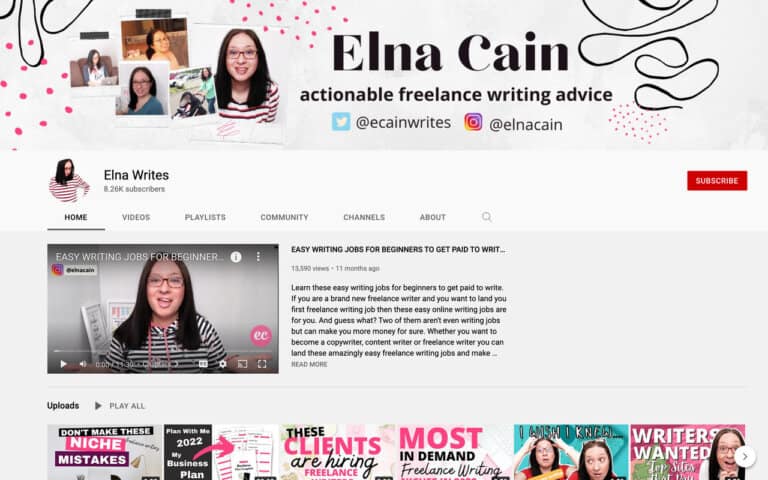 I'm learning how to grow my followers and build engagement for both platforms.
This information can help me create blog posts for digital marketing clients.
One skill that keeps improving every year is my writing process.
Becoming a better writer or faster writer should be a goal for new freelance writers.
You don't want to spend hours and hours typing your content because you can't touch type.
Learning to touch type and remembering keyboard shortcuts can help improve your typing.
For me, though, it's my writing process.
I have streamlined my writing process, so writing comes easy to me.
I start my blog writing with keyword analysis.
This blog post you're reading (hopefully word-for-word!) is based on two things:
I wanted to write about my new rates for 2023
a keyword: copywriting rates
This helped me outline my content by what I want to share and how to structure my subheadings as keywords.
From there, I fill in my subheadings with notes or sentences I want to include.
Here's an example of a detailed outline for a Twins Mommy blog post.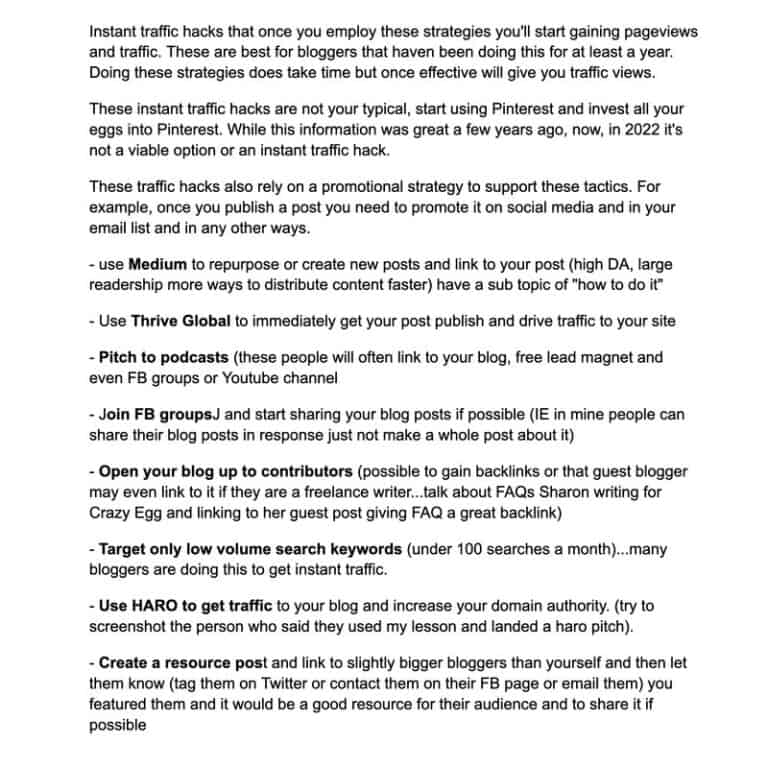 Doing this makes writing the blog post easy. All I have to do is add transitional sentences and examples and the blog post is done.
What also helps is having a swipe file to easily add credible sources once I finish my content.
The thing to remember is to keep on writing and not stop to add a statistic or example.
It's best to do that once your post is finished.
Another skill I drastically improved was my onboarding process.
Prior to last year, I onboarded clients only via email with a service list to review.
This has worked wonderfully, but I noticed many freelancers talking about an onboarding process or having a discovery call.
With my new writing niche – email sequence copywriting – I decided to improve my process by:
Welcoming prospects to a Zoom call right away
Drafting up a proposal of work based on what we discussed in the call
And, you know what? This increased my rate and now I have an 80% closing rate.
I may use this for my blog writing clients too. Here's a post on writing a proposal letter if you need help!
Email Marketing Skills I've Improved Upon
I have two email lists:
Elna Cain freelance writing list
Twins Mommy mom blog list
Over the year, I've worked hard on improving:
Open rates
Incentive forms
My client avatar
My main freelance writing list has around 24,000 subscribers. I often cull this list to stay around this number.
Convertkit is the email service provider I use and they provide all-time performance metrics.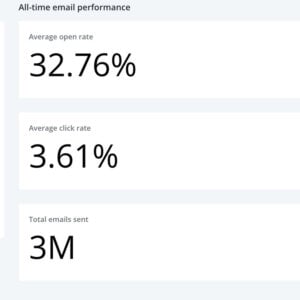 Average industry benchmarks for email marketing are:
Open rates: 12-25%
Click through rates: 2-5%
As you can see, my rates overall are higher.
Another large part of improving my email marketing efforts is to create relevant and highly valuable incentives to grow my email list.
My most recent incentive – Business Plan for Freelance Writers – was a success from the get-go.

Check out the planner yourself!
For you, when defining your copywriting rate, how will you leverage experience and knowledge of your niche?
What if you are new to freelance writing? My suggestion is to start off at an entry-level writing rate and work your way up as you gain experience and industry knowledge.
This is the approach I teach in Write Your Way to Your First $1k.
Another skill I improved to increase my copywriting rates was to clearly define my client avatar.
There are two main clients for my email sequence writing: creatives/influencers and SaaS brands.
So far, I'm enjoying working with women-only creatives. These women are:
Coaches
Authors
Course creators
Offer a service like social media management
You might be thinking, Elna, how is that a clear client avatar?
Once I know who I want to work with, I can either go to Instagram or LinkedIn to find these people.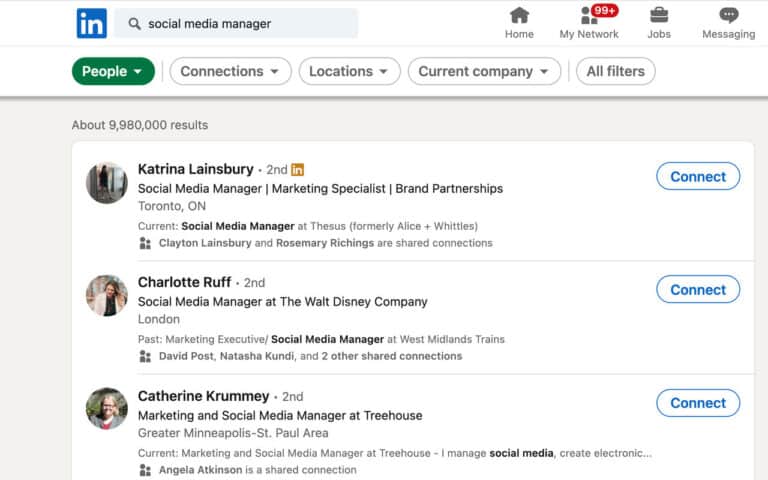 I would then have to investigate the person since most of the results are jobs for a company.
Do these ladies have a presence on Instagram? A website?
This is what I do to find my ideal client.
Before, I would aimlessly search Instagram for hashtags or titles and get nothing really.
I'm finding this method – LinkedIn with a specific title – research on the person's online presence.
How Much to Charge? Copywriting Pay Rates
How much does a copywriter cost is a valid question business owners will think before hiring.
When figuring out what to charge, there are three ways you can approach it:
Per word – good for blog posts, magazines and publications. To figure out your per word rate, estimate how long it will take you to write 1000 words and multiply that by your hourly rate. Finally, divide your total by 1000, which will be your per word rate. You can give a per word rate to the client but use that to create a flat fee for the client.
Flat Fee – great for email sequences, social media posts and projects with multiple tasks. You can calculate your rate by knowing how long it will take to complete the project and multiply that by your hourly rate. This is an excellent way to determine your copywriting rates because you can always charge more to finish a project (to allow for unexpected life changes). Remember, your flat fee copywriting rate is not just your writing but also research, phone calls, and if necessary, interviews.
Per Hour – editing or transcribing falls into this category. Figuring out your per hourly rate depends on many factors that make up your quality of life. When I first started, my hour rate for blog writing was $70/hour, and for editing, it was $45/hour.
But don't let this stop you from figuring how much to charge for writing.
If you want to charge higher copywriting rates, you can! You know your own value, so you can create your own copywriting rate.
And, don't forget there's another part to the whole rate equation. Once you determine your freelance writing rates, you must choose your clientele.
Who you work with can dictate how much you can make as a copywriter or freelance writer.
For example, if all your work for is start-ups with a small budget for content marketing, you won't make more than $150 a post.
However, if you create a client ladder and list all the types of clients you can work for to reach your ideal copywriting client, then your copywriting rates will also go up.
For more help, check out my Youtube video on how much freelance writing pays.
What's the Average Rate for a Freelance Writer or Copywriter?
To help you figure out how much to charge for copywriting, check out Contently's Freelance Rates Database or Who Pays Writers.
This is a database where you add the content and amount paid.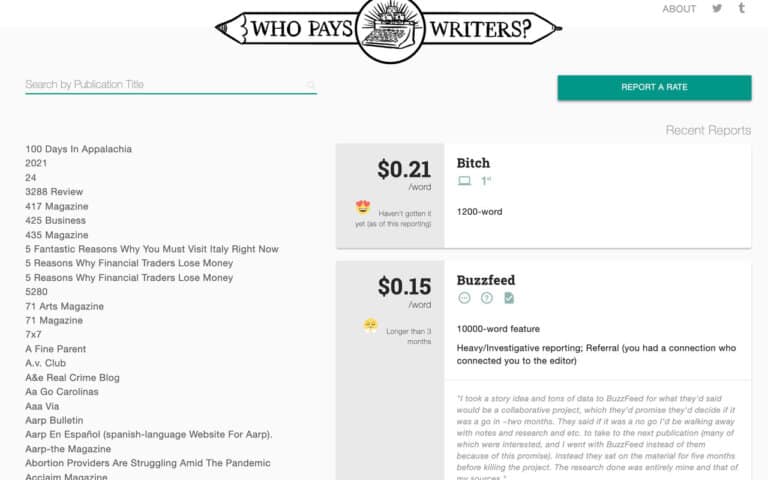 This can give you some ideas of publications and what they pay and the types of content that businesses are seeking.
If you watch the video, I give you more industry rates for freelance writing!
My Copywriting Rates
Phew! That was a lot. I've never detailed my rates like this on my blog. Did you like it?
Over to you – what is your copywriting rate or freelance writing rate?
Share in the comments!
Remember to pin me!