Stop thinking about freelance writing and start acting like a rockstar freelance writer
Are you cut out to be a freelance writer?
It's a fact that the majority of new freelance writers fail within their first year of trying to make this work.
Why is that?
You might think it's because they don't know how to pitch, or where to look for freelance writing jobs.
But, you know what? The real reason is because they didn't know how to even start.
As a new freelance writer, I thought I could do things all on my own but I only ended up wasting time, making a lot of mistakes, and losing potential clients. I'm glad I found Elna when I decided to go back to the drawing board. In Elna's course, she explains the steps and tools a newcomer needs for success and gives personal examples for each one. She also talks about the mistakes she made along the way and how it made her a better writer. Best of all, she serves it up in an easy-to-read format, with a friendly down-to-earth writing style I can relate to. Now I know what steps to take this time around.– Christine C., Freelance Writer
Rockstar freelance writers know the steps they need to take in order to succeed. Rockstar freelance writers don't waste time on what doesn't work; instead they zero in on what does work and they use it to take action right away.
Do you want to be a rockstar freelance writer?
My free mini course is for people who want to be a successful freelance writer, but have no clue how to connect the dots to get them there.
I can help.
I've built a successful freelance writing business….from scratch
And I have twin toddlers to take care of during the day. Oh, and I'm doing this part-time.
My free email course gives you the only framework that has been proven time and time again so that you can be a successful freelance writer.
What you learn will give you the vital tools and skills to launch a lucrative freelance writing business.
Everything is based off my blueprint for rockstar success.
I show from the beginning of it all; when you're not sure if freelance writing will lead to a viable profession (which it does) or if it's even possible (which it is).
My course prepares you for what it takes to really see a profit from your writing.
I've had more than four years to fine-tune my strategy
I know how to effectively pitch and land a client that agrees to my rates. I can have up to a 75% closing rate so this is no laughing matter.
I learned marketing tactics to reach more people and land higher-paying prospects.
My free mini course will lay the foundation you need to kill it as a freelance writer. But don't take my word for it. I've had over 400 people sign up to my courses and many of them took what I wrote and turned it into profitable actions as a rockstar freelance writer.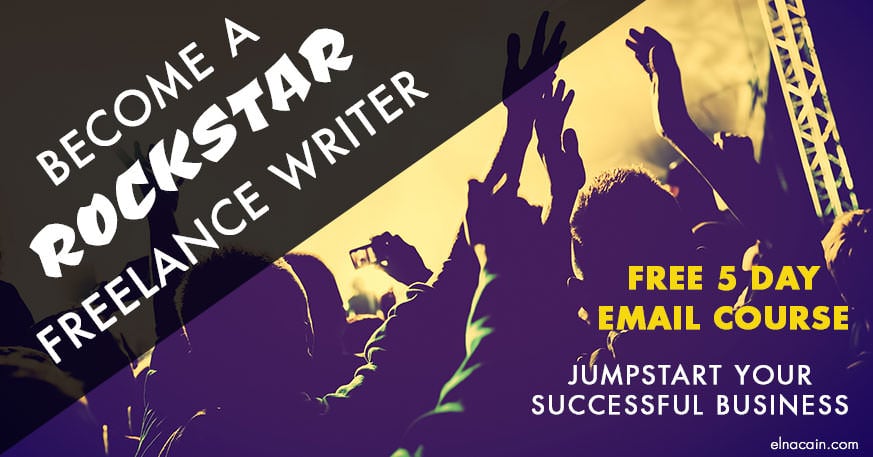 This is a free 5-day email course that will show you the exact skills you need to make it as an online freelance writer
I'm going to tell you – over the course of five days – proven strategies you need to kill it online as a freelance writer.
This will act as a jumpstart to get you ready to become a freelance writer.
What you need before anything else is a map to get you ready.
A plan you can easily follow and that will lead you to a solid and profitable freelance writing business.
Because failing sucks, doesn't it? Whether you've been trying to make a profit from writing and can't get past the $5 articles or you're completely new to this and don't know where to begin, this course is a tool box of sorts.
Here's the thing:
Everyone wants to land that first client. I get you.
But, you can't just step over the most important part of starting out as a freelance writer and expect to earn $50 a post right off the bat.
The really successful freelance writers had a plan and they stuck to it. That's what I did and this is what the course will teach you.
I signed up for the e-mail course sheerly out of curiosity and I was able to find nuggets of gold to help me improve my freelance writing business. Thank you Elna for creating such an easy-to-follow course with actionable suggestions. Any new freelance writer – and even experienced writers – will find your course valuable to their business.– Dawn Lidwell, Freelance Article & Press Release Writer
By the end of your free mini course, you will know:
The top three toxic mindsets that will hurt your chances of being a successful freelance writer
Why striving to be the perfect writer will kill your chances of landing any clients
What successful freelance writers are doing that other writers fail to do
How thinking like a journalist can kill your chance of being an online freelance writer
The only skills you'll ever need to profit from your writing
The exact resources I used to help me launch a successful freelance writing business
The key to being a rockstar freelance writer
And much more!
Oh, maybe you're wondering who I am anyway?
I'm Elna, and I'm a professional writer. I started freelance writing from scratch without any experience and within 6 months I was able to earn a full-time living as a part-time freelancer. And I have twin toddlers.
But, I made many mistakes along the way. That's why I wanted to make this free course for you. You don't have to navigate this alone!
So, what are you waiting for? Join the hundreds of other aspiring writers get a jumpstart to launching a successful freelance writing business today.