Do you have a love for writing and have thought to yourself, "Hmm, what are some easy jobs that pay well?"
Since you enjoy writing, those easy jobs are writing jobs for you.
I'll tell you that starting a writer's website and building a portfolio are some important first steps but there's a lot more involved when it comes to getting paid to write.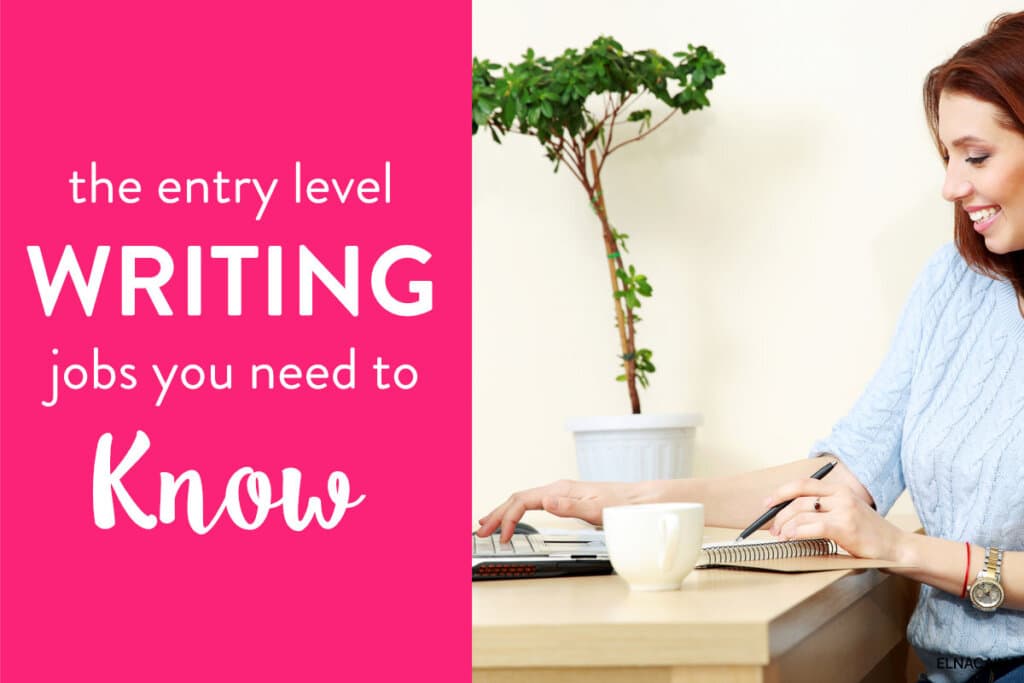 I could tell you to start browsing job boards looking for work but, for budding freelance writers, this can be a confusing and overwhelming task.
Instead, let's talk about the best entry-level writing jobs and easy jobs that pay well that you should get your foot in the door and start earning money today!
Entry-Level Writing Jobs: What Do I Need?
Of course when you start out as a new freelance writer you need a computer and reliable internet access to work. Everything you'll do is going to be online and on a computer.
You can opt for a tablet but, honestly, a laptop or computer is best for typing.
Another important skill to have is having good typing skills under your belt.
You can develop these as you go along but ultimately you're going to notice an increase in productivity if you can type efficiently, since there are many typing jobs available too.
Other important skills to have when you starting out as a writer include:
Spelling
Punctuation
Grammar
Effective and concise communication
To help with these skills, you can use a spell checker or other apps such as Grammarly to help you out.
When it comes to writing good content for clients, you should also brush up on how to use search engines in order to research your topics and cite sources. Using Google is also helpful in determining keywords to ensure your content is SEO-optimized.
If you need help with SEO writing then check out my course to help you get started!
Lastly, make sure you have a plan to show your writing to potential clients. Most businesses look online for their writers. So, having a Medium account to share your writing would be the easiest way to land a job that pays well.
That's it! Before I go into all the different types of entry-level writing jobs you can start with, I'll go over where to find these gigs so you can get paid this month.
Sites for Entry Level Writing Jobs
There are three main type of job sites for entry level writing gigs:
Freelance writing job boards
Paid writing job boards
Job sites
For freelance writing job boards, these are sites that just have blogging jobs or content writing jobs. Many of them are entry-level.
Some popular free ones are: Problogger, BloggingPro, MediaBistro and Freelance Writing.
Over on Blogging Pro, there is a food writer entry level job.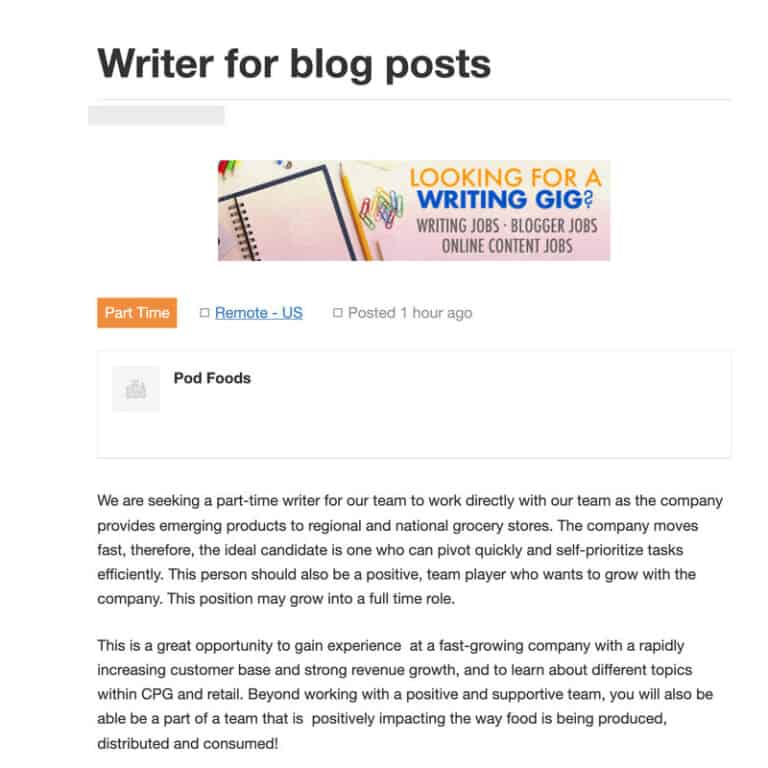 The job does stipulate that social media knowledge and food knowledge is major plus but not a must.
If you can't find any writing jobs on free job sites, you might want to consider paid ones.
I personally recommend using Contena, as this is a premium job board with curated high-paying jobs in over 10 markets.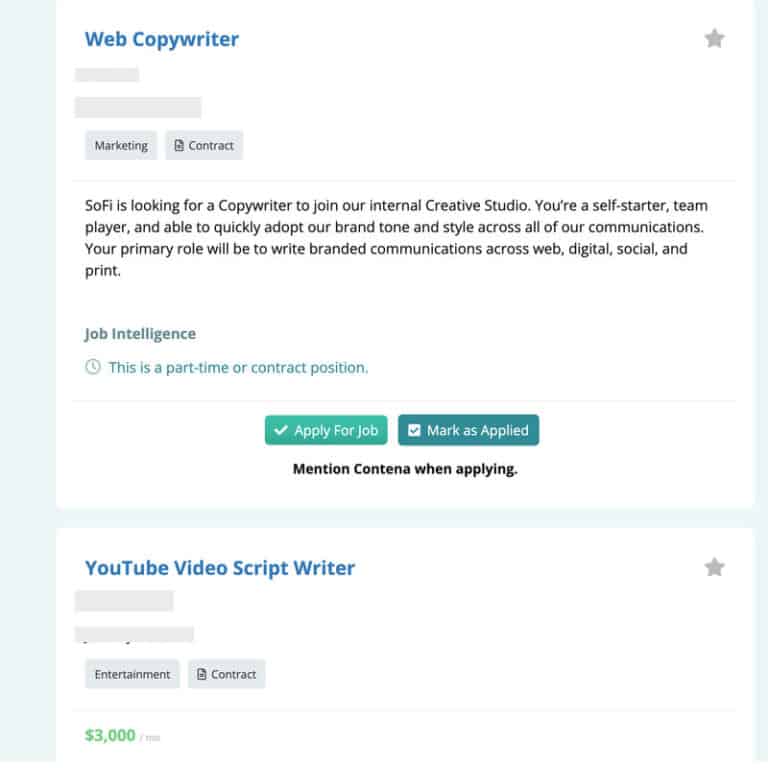 Or you can try your hand on general job sites like Monster, Indeed or Flexjobs.
While they do have freelance writing jobs, many aren't entry-level and you do have to go through hoops to apply so stick to freelance writing job boards.
Now you just need to figure out what entry-level writing jobs you can start applying for. Here's a list to get you started.
Blogging Jobs
Perhaps some of the best starter jobs for freelance writers are blogging jobs. Blogs are read every day to help with people's problems or to help them learn more about a product or idea.
In fact, in 2020, Google search traffic almost doubled from 3.5 billion searches a day to 6 billion searches a day. Businesses know that having a blog can help these searchers find the right information and maybe even by their products.
To help you get started with these easy job that pays well, here are some examples of blogging jobs for beginners.
1. SEO Blogging Jobs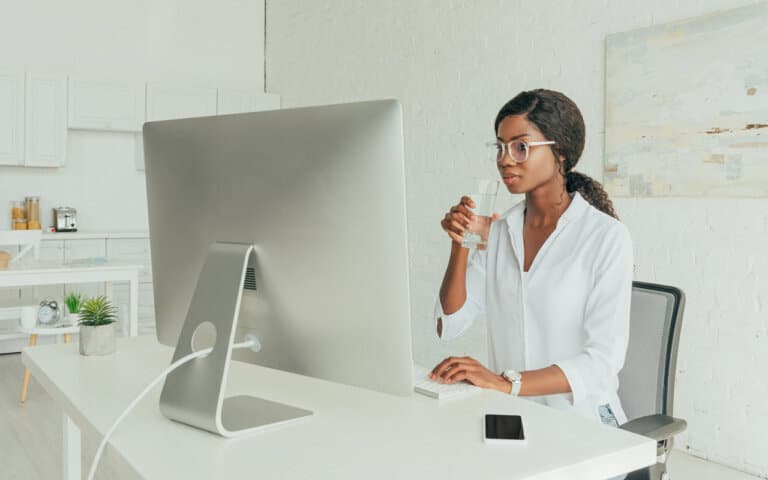 Businesses now know that ranking their website on Google, or any other search engine, is the key to success.
However, ranking a website nowadays is not as easy as it used to be – the competition is fierce and constant changes in algorithms make it more challenging for businesses to have their sites show up on the first search page.
This is where SEO blog writers come in! SEO freelancers
As an SEO blog writer, you need to know how to market online. This includes:
Keyword Research: This is the practice of finding search terms that are popular on search engines and injecting them into the content.
Content Strategy: Content strategy involves planning the entire content creation process such as doing keyword searches, writing catchy headlines, and determining what type of content is appropriate for the client.
Content Creation: Creating SEO content requires knowledge of keyword placement, structure, and format as well as tone and style.
Link Building: An important part of SEO is link building because search engines use backlinks (links back to the content) as a way to gauge the site's authority.
SEO writing is not difficult but it does take some practice and know-how.
Because SEO blogging involves more than simply typing out words for a client, you can stand to earn anywhere between $40K to $140K annually depending on your experience!
2. Long-Form Blogging Jobs
Back in the early days of blogging, posts were short and sweet. However, long-form content is rising in popularity due to the fact that it attracts more and higher quality traffic.
Writing long-form content is one of the best starter jobs for freelancers because many business owners do not have the time or skills to write 1000+ word posts for their sites.
Plus, if you are charging per word, long-form content means more money!
When you're writing long-form content, it's important to make sure that every word counts and that you're not just rambling to hit a word count.
The information has to be informative and engaging for readers. Yes, most of them are going to skim through the content to find the information they are looking for but you want to make sure that they do find what they are looking for.
The minimum length of long-form content should range between 700-2,000 words. However, it's important to stick to a word count that serves the content.
The average salary for a blogger is around $30,000 per year but can definitely increase as you gain more experience!
3. Web Content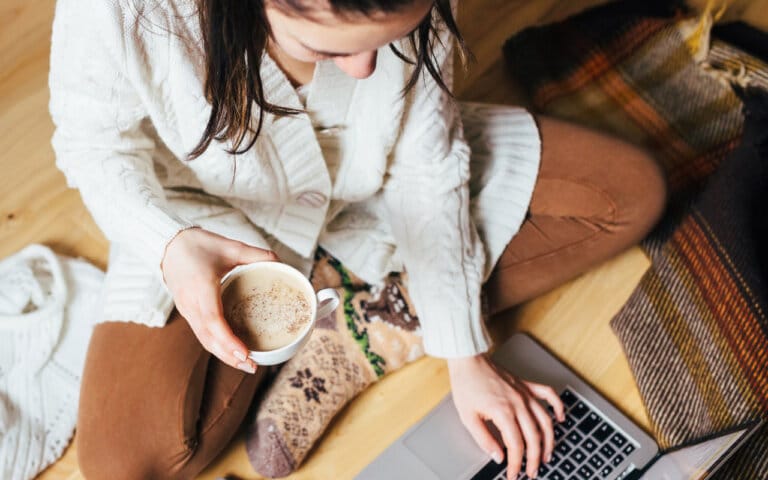 Not only do businesses need fresh blog content to help rank in Google and other search engines, but they also need written content for their entire site including landing pages, service pages, about pages, etc.
As a freelance content writer, you can also offer your writing services when it comes to web content.
It's easy to think that these are easy tasks and that no one would pay for them. On the contrary – business owners need to focus on their business. Likewise, web designers often don't write content either and instead focus on layout and design.
This is a great opportunity to find some writing jobs for beginners! Web content is typically shorter than blog posts but still needs the same attention to detail and quality.
Writing web content is typically a service rolled into blog writing, but the average earnings are around $50K per year!
4. Emails and Newsletters
Again, the name of the game when it comes to being a freelance content writer is offering services that save business and site owners time.
Another great example of a good first job for writers is crafting emails and newsletters.
There's more to sending out emails to a subscribers list than simply saying, "Hey, here's a new post," or, "Hey, here's a new product".
There's a method to what I call "nurturing" a subscriber list that involves building connections and lead-ups to offers and getting sales.
This takes time and writing skills, which is what you have as a freelance writer and perhaps a site owner does not. Consider this entry-level writing job as you're starting up your freelancing business!
If you only stick to writing emails and newsletters as a freelance writer, you likely won't make as much as you would if you offered other services. But this is a great way to attract clients and develop long-term relationships that lead to steady work!
B2B and B2C Entry-Level Writing Jobs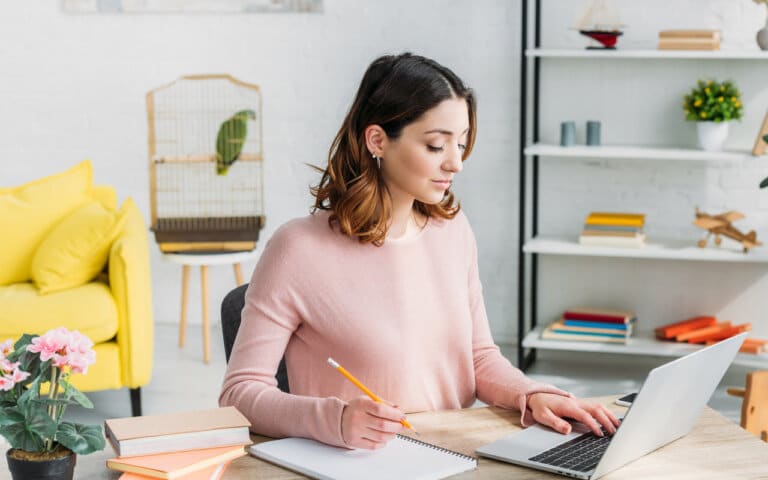 The terms B2B and B2C refer to writing for small businesses. Whereas blog writing can be done for anyone who owns a blog (not just businesses), these types of writing are generally focused on marketing and making sales.
Let's look at each in a little more detail.
What is B2B?
B2B stands for "Business-to-Business." When you write for a B2B client, you are writing content to help entrepreneurs, marketers, or small businesses gain attention from other businesses.
This could involve writing about the latest trends, systems and processes, tools of the trade, and tips to help others in their business.
The type of content that works best in B2B writing includes blog posts, white papers, case studies, and technical documents – all of which can be read by other bloggers but also marketers and small business owners as well.
So this means that B2B content has to be dry and stuffy. Some entry-level creative writing jobs can be found in the B2B niche!
Take GoDaddy for example. They are a web hosting company with a blog, but their content isn't strictly focused on web hosting or domain registration – that would be boring.
They use engaging and tailored content to attract business owners to use their services.
With steady work, you can potentially make around $50K per year as a B2B writer!
What is B2C?
B2C stands for "Business-to-Consumer" and involves writing content to help a business integrate their product message into their blog posts or content marketing strategy.
So instead of simply writing informative content to attract readers to a business's blog, you are writing content that attracts them to purchase a product or service.
But this style of writing is more conversational than B2B writing since it has to relate to potential customers and not other industry professionals.
Here are some examples of clients that seek B2C writers:
Big brands (think Walmart, Target, etc.)
Marketing agencies
Anyone trying to sell a product or service
Big brands are likely going to seek the services of B2C writers to create content for their own sites. For example, Lowe's has a blog that showcases creative ideas that inspire their readers to use their products in their homes.
You may also find brands and businesses willing to pay you to write B2C content for lifestyle blogs – or wherever their target market hangs out!
B2C writing can be used in social media marketing and email marketing as well!
Being a B2C writer can be lucrative but how much you make all depends on the client. For instance, an average 500-word post can run anywhere from $25-$100 – or more!
Other Writing Jobs for Beginners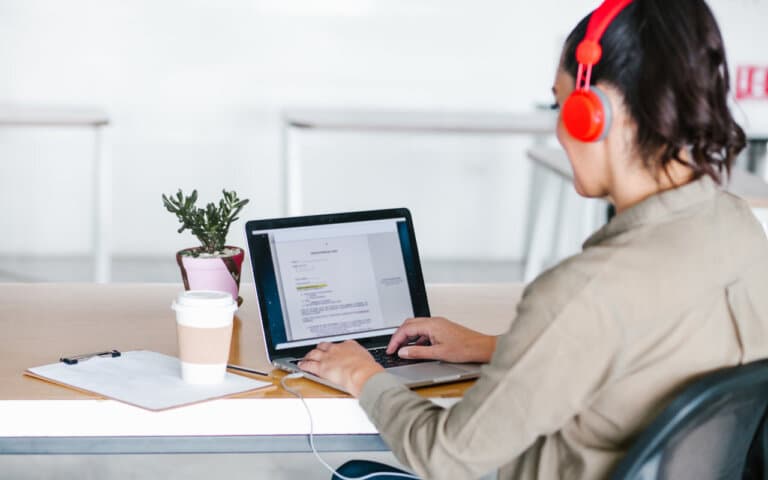 Apart from writing content for blogs and websites, there are other entry-level creative writing jobs you can consider as well:
1. Editor/Proofreader
Even though editing and proofreader are two different things, they are good first jobs for freelancers looking for entry-level writing jobs!
Proofreading involves focusing on spelling and grammatical errors while editing requires you to rephrase sentences and restructure sections of text as well.
Many clients will look for proofreaders and editors to fix up a wide variety of content such as blog posts, eBooks, and white papers.
Potential Annual Earnings: $32,000
2. Resume and Cover Letter Writer
Writing jobs for beginners don't have to involve only online content. There are many people out there looking for jobs that will pay writers to write and refine their resumes and cover letters.
You can offer resume and cover letter services on sites like Fiverr or through social media.
Potential Annual Earnings: $11,000
3. Product Description Writer
Writing product descriptions involves more than throwing words together to write a product. These can be challenging since you have to write something extremely compelling using only a few words.
Businesses that sell products are always looking for freelance writers to create attention-grabbing and informative product descriptions!
Potential Annual Earnings: $19,000
4. Social Media Writer
Just like product descriptions, social media posts have to be short, to the point and engaging.
Companies will seek freelance writers to create social media posts for Facebook, Twitter, etc. that promote their products and draw in readers.
Potential Annual Earnings: $12,000
Building Your Business as a Freelance Content Writer
Once you start landing entry-level writing jobs, you can begin to build your business as a freelance content writer!
Keep in mind that the earnings I included for each entry-level writing job are based on time and effort.
This means that you could make less than that when starting out – but you could potentially grow your business to earn more!
If you're serious about growing your freelance business, here are some quick tips:
Have a dedicated workspace where you can focus on your writing.
Manage your time so you can be more productive.
Find your niche so you can specialize your skills and increase your value to clients.
Network with other freelancers to gain insight and job leads.
If a client isn't a good fit, move on. Focus your efforts on leads that are more likely to pan out.
With enough time and passion, you can easily grow your business well beyond your first clients!
Ready to Get Started?
Becoming a successful freelance writer doesn't happen overnight – but you have to start somewhere!
Checking out these entry-level writing jobs that pay well is a good first step in finding success and building a business as a writer.
If you're already in the freelance writing game, I want to know: What were your first writing jobs? Let me know in the comments!