Is working from home finally becoming a real thing for you?
I've been a freelance writer for six years and have talked to many people about working online from home.
While I love freelance writing, there are many other opportunities and services you can offer from home.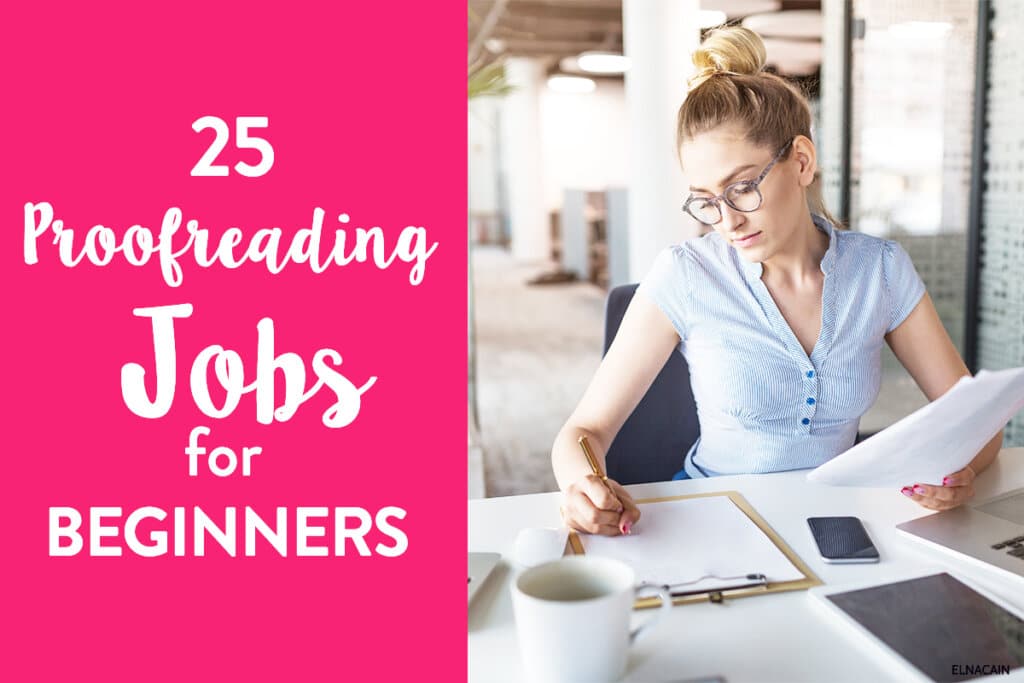 One hot service is proofreading jobs. These types of online jobs serve well for those wanting some side income.
If you have a knack for spelling and grammar, then proofreading may be your side hustle!
In my post, I will dive into what proofreading is, how much proofreaders earn, the best sites for legitimate proofreading jobs, and a case study from a student of mine.
What is Proofreading?
You may hear the terms "proofreading" and "editing" thrown around synonymously, but these are two very different things.
Proofreading skills mainly focus on spelling and grammatical errors. Proofreaders are not usually required to rephrase sentences or restructure sections of text.
So when you're searching around the web for online proofreading jobs, it's important to know the difference.
Often, job adverts overlap the terms – either looking for both services or misusing the terms.
Proofreaders cover a wide variety of content, including web content, eBooks, white papers, student thesis/essays, and even user manuals.
How To Become A Proofreader
Not many skills are needed to become a proofreader, but you need excellent spelling and grammar skills and a strong command of the language you are proofreading in – native English speaker, for example.
For beginner proofreaders, this is all you need for a remote job. It's enough to get you working and earning money online!
However, suppose proofreading jobs from home is something you want to pursue as a significant source of income. In that case, you'll have to rack up a lot of experience or back your skills up with qualifications from a proofreading test.
While you don't need a degree to become a proofreader, many high-paying sites require one. They tend to seek a degree in a relevant field, such as English and Journalism.
Worry not, though!
If you're just starting then, this is not something you need to fret over. A lot of freelancing proofreader jobs tend to rely more heavily on experience and testimonials.
So even without formal education, working toward a lucrative life as a freelance proofreader with the right job opportunity is possible.
The point is to market your services online and network with industry leaders to help you land your first proofreading job.
How Much Do Online Proofreaders Earn?
Like any online freelancing job, you can get what you put into it.
Because proofreading takes less time and effort than other writing jobs, these jobs tend to pay less. However, you can earn good money proofreading from home.
Clients tend to charge per word, page, project, or hourly rate. As a beginner proofreader, you can probably stand to make about $10 per hour.
Again, this depends on how much legwork you put into finding clients and how much time you can focus on building a business.
According to ZipRecruiter, proofreaders earn, on average, $51 305 per year!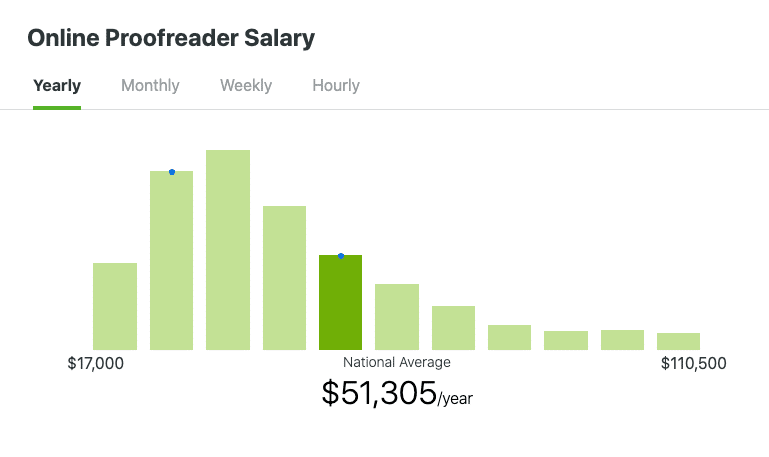 For other online proofreading jobs:
Freelance proofreading job salary: $51,991/yr
Content proofreading job salary: $59, 265/yr
That's likely because these income statements are based on those who work full-time, but no matter how many hours you can spare to focus on online proofreading jobs, the earning potential is there.
25 Online Proofreading Jobs
With an impressive earning potential there is, of course, a demand for this service.
It's not hard to convince content creators that they need a proofreader or freelance editor – anyone who is serious about their writing and publishing it could benefit from one.
When finding online proofreading jobs, you have two options: Applying for jobs or cold-contacting for jobs.
The latter means you reach out to companies with unsolicited offers to proofread for them.
For beginners, however, it may be best to get some experience by drumming up business through job boards or proofreading services.
The following sites and job boards are perfect for beginner proofreaders (and for an experienced proofreader, too) – most require very little experience. They just want to know you have the skills.
Check out these 25 legitimate proofreading jobs online.
Note: A proofreading website would not be a good source for freelance writing jobs.
If you want to land profitable writing jobs, check out my post on the best job boards for freelance writers.
1. Click Worker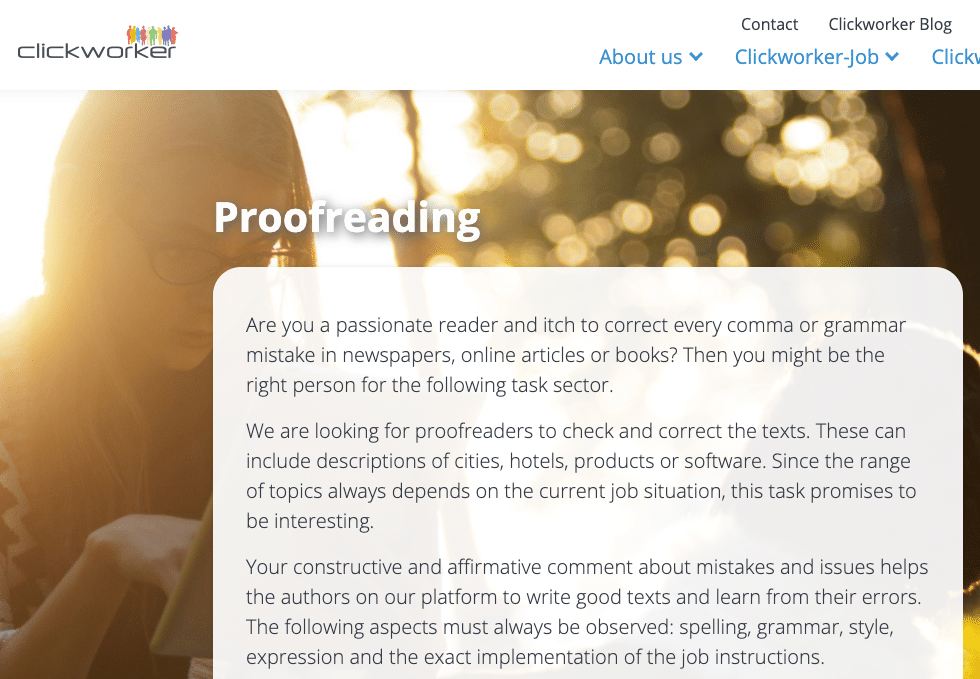 Click Worker is an online service that offers project completion to clients by outsourcing micro-tasks to writers, translators, researchers, data processors, and proofreaders.
When it comes to remote proofreading jobs, they are looking for individuals with good language skills and editing abilities.
Once you sign up, you will be required to take a test. After that, you can access available jobs.
The fee per word depends on the quality level expected for the particular job.
2. Fiverr
Fiverr is possibly one of the best places to begin looking for freelance proofreading jobs. On their site, you can sell your proofreading services, or "gigs", at whatever rate.
Remember that people often turn to Fiverr for cheap services, so you likely don't stand to make a lot of money here.
However, it is a great place to get started and rack up some experience!
3. LinkedIn
I have personally found success in using LinkedIn to market my freelance services! It's an awesome place to find freelance work, including work at home proofreading jobs.
Using LinkedIn to find jobs takes some time – you'll need to keep trying and applying to different jobs.
But when you do start gaining clients on this platform, you may just find your proofreading career taking off!
4. Get Editing Jobs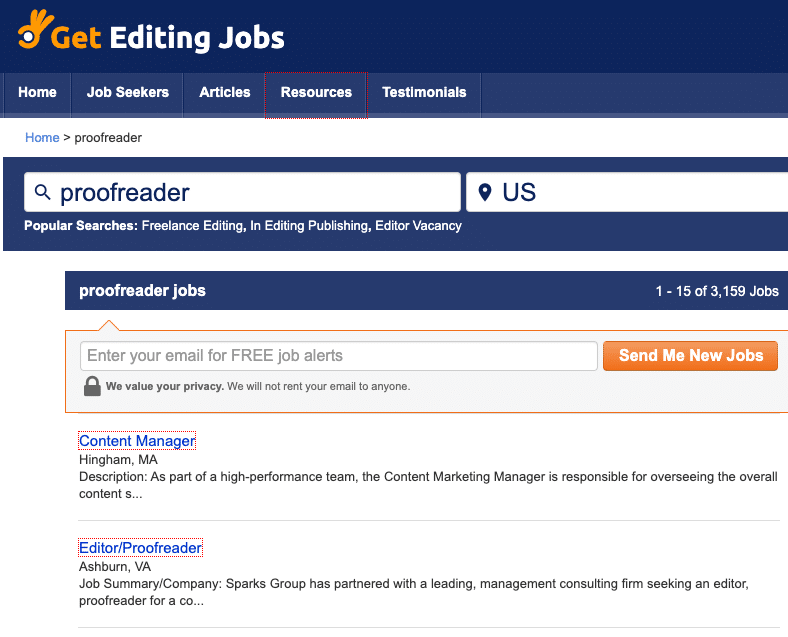 Get Editing Jobs is a community of editing job seekers and employers. Here you can find and apply for various editing positions like a copy editor.
This is a big directory of freelancing jobs, so you're going to see a lot of writing and editing work.
However, if you search for "proofreader," or "remote proofreader" you'll see a few available jobs pop up.
5. UpWork
UpWork is another great place to start for online proofreading jobs from home with no experience. Just like Get Editing Jobs, UpWork is a freelance marketplace full of job listings.
This work from home platform is a place for people of all levels of experiences and currently has 1455 job listings for proofreaders.
Note: I don't recommend this for freelance writing jobs.
6. MediaBistro
MediaBistro is a media-related job board that allows you to browse various freelance jobs.
This is another board where you'll have to do some digging, but the platform allows you to sign up for job alerts if anything related to proofreading becomes available.
7. FlexJobs
FlexJobs is an online job marketplace for freelancers such as proofreaders. If you search "entry level proofreading jobs," you can find a proofreading gig looking to be filled.
Pro Tip for Job Boards: You don't need to narrow your job search by location since you can do them from home!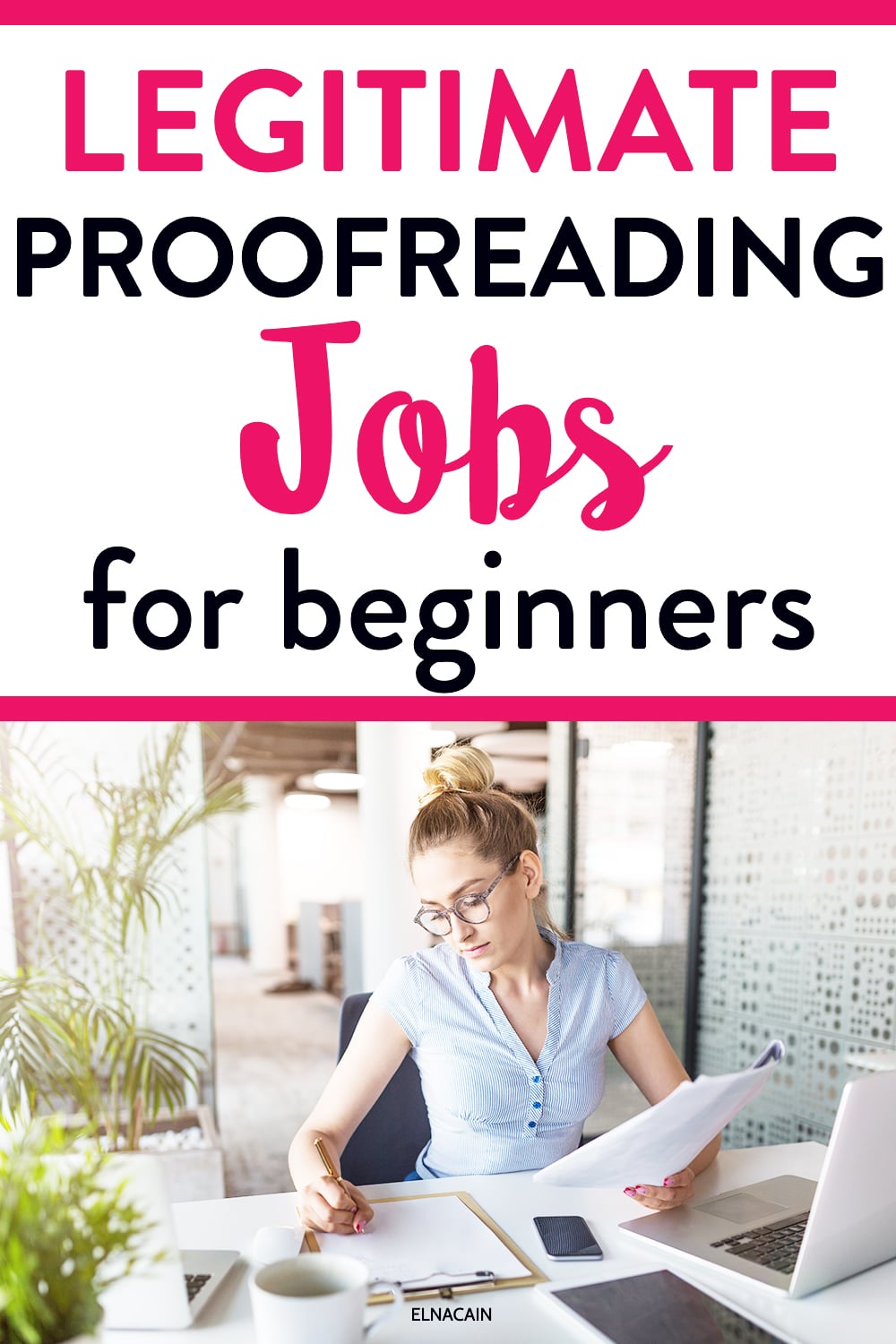 8. Proof Reading Services
Proof Reading Services offer part-time and full-time remote positions, a flexible schedule, and competitive pay.
You can stand to earn between $19 – $46 per hour.
You do have to complete a test to begin the application process.
For more help, here's my post on finding the right proofreading service for you!
9. Lionbridge
Lionbridge works much like Click Worker by outsourcing various parts of a client's project to freelancers – especially proofreaders.
You must sign up and take a skills test to get started. You can then begin to receive proofreading tasks.
10. Proofreading Pal
ProofreadingPal hires individuals enrolled in college (with a minimum GPA of 3.5) or experienced graduates.
This is the perfect spot to find at-home proofreading jobs if you want to earn extra money while studying!
11. R3Ciprocity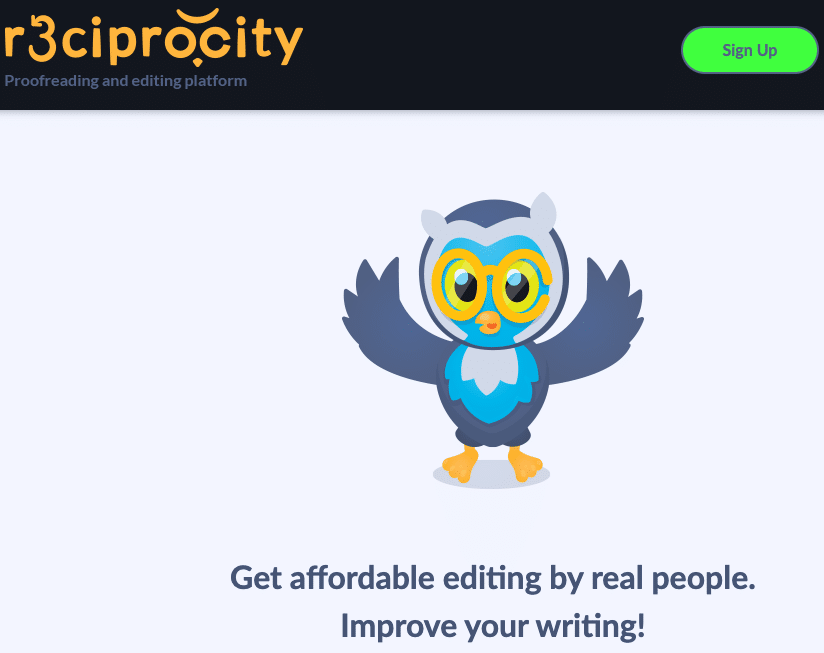 R3ciprocity is a neat little system based on credits. Contributors proof each other's work and use earned credit to get their own work proofed.
May seem pointless if you're looking to make some money, but you can also turn the credits into cash!
12. Reedsy
Reedsy is a marketplace that connects freelancers with authors and writers. Once you sign up, you can begin receiving requests from clients and responding with quotes.
Plus, with what they call a bit of "data-science-magic," Reedsy's system will pair you up with clients who are likely a good fit.
13. OneSpace Freelancers
OneSpace Freelancers is an online platform focused on helping freelancers submit work, receiving feedback and get paid.
This site will post edit and proofreading jobs as they become available.
14. EditFast
EditFast connects freelancers, including proofreaders, with clients. Once you create a profile and resume, client can then check out your samples and choose whether or not to hire you for some copy editing.
There is a potential on this site to make money but EditFast does keep 40% of the total project price.
15. Polished Paper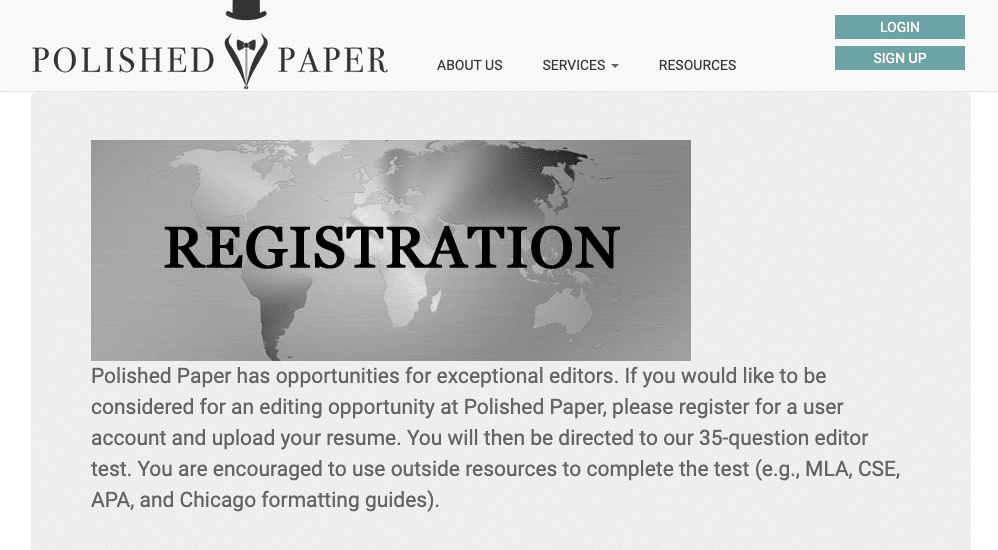 Polished Paper looks for more experienced proofreaders but offer a higher pay-scale than most sites.
Once you sign up, they will send you a 35 question editor test. FYI, you are allowed (and encouraged) to use outside resources such as formatting guides to complete the test.
16. Guru
Guru is a platform much like Fiverr where you can find individuals looking for anything from proofreaders to translators to crochet patterns (true story!).
You'll have to do some searching and browsing for part-time proofreader jobs but you're sure to find something that suits your schedule and level of experience.
17. Writing Jobz
On Writing Jobz, you can apply for proofreading service jobs based on your level of experience as well as your schedule.
They offer proofreading assignments from manuscript content to academic writing.
18. Writer's Job Shop
Writer's Job Shop is an online resource for all kinds of freelancers – editors, copy editors and online proofreaders.
They advertise a steady stream of work through their job board. All you have to do is apply for the job you are interested in.
19. Writer's Relief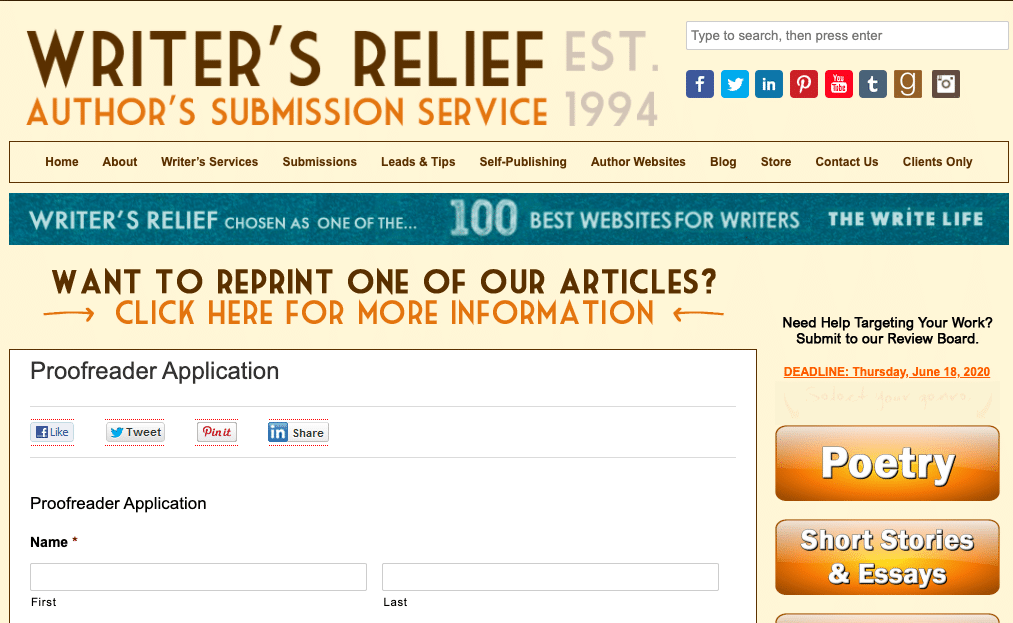 Writer's Relief is a service that helps creative writers get published by proofreading their submissions.
Applying to be a proofreader for Writer's Relief is easy but they only accept a small number of applicants. Still, it's worth trying!
20. Domainite
Domainite is a low-paying online proofreader platform but it is a great place for a beginner to gain experience – especially if you are struggling to land clients.
To get started, simply fill out the application form and edit a sample they provide.
21. Wordvice
Wordvice is a platform for all types of content writers, translators and freelance editors. You can always find proofreading jobs here.
Many of their clients are prestigious university and institutions like Stanford University and Columbia University.
22. Freelancer
Freelancer is yet another freelancing job board (noticing a trend here?) but they have jobs in editing and proofreading posted.
Job boards are a great way to drum up some one-off work for various clients, but you never know when one may turn into something long term!
23. Scribe Media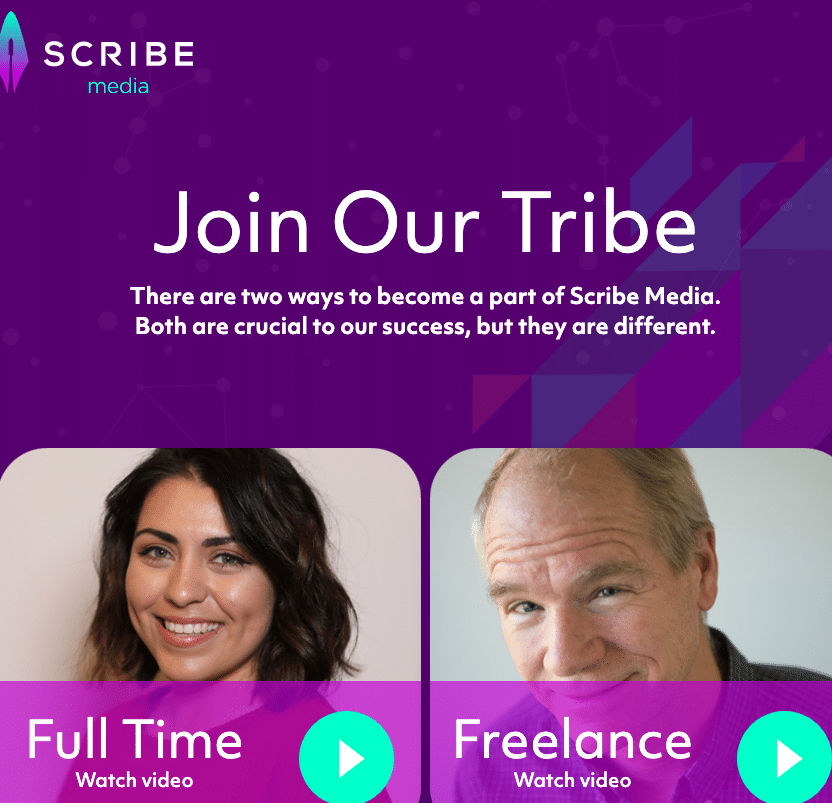 Scribe Media hires individuals as either full-time employees or freelancers.
They don't always have jobs posted but you can sign up for job alerts when they do.
24. Gramlee
Gramlee states they are looking for editors but the job description seems to better describe proofreaders.
They offer quick turnaround time to clients which means there is always work available. All you have to do is fill out their application form to get started.
25. Start Your Own Business
If worse comes to worse, you can start your own proofreading business. All it takes is a website to get started.
I tend to write a lot about getting into the freelance writing biz – but the information I share is equally valuable if you are looking to start proofreading.
To get started, you'll need a website that showcases your personality and samples of your work. You'll also need to know how to market yourself to potential clients.
Taking this route means that you can be even more flexible about the type of clientele you accept the amount of work you take on.
Case Study: How to Find Your First Proofreading Job
Many of my freelance writing students also offer proofreading services and Wendy wanted to share her story of finding her first proofreading opportunity.
If you are struggling to find a proofreader job, check out how Wendy got started.
I took a proofreading course with Art of Proofreading online. But to be frank, the lessons were very basic and didn't prepare me for what clients needed and wanted. Proofreading is more than catching errant commas and wrong spellings. It is very rules-based and if you want to make a career of it, you need expertise on publication style guides like Chicago or AP.
I found my first client from Upwork. A blogger who hires non-native English speakers to ghostwrite her posts. I was paid $5/1,000 words. Some articles were easy to proofread but some needed complete rewrite. She usually asks me to do the rewrites. That's when I decided, I like writing more than proofreading.
I found Twitter and LinkedIn to be the best place to network with proofreaders and copy editors. There's also a huge creative writing community on Twitter to engage with.

Other services to offer:

Beta reading
If you're a member of the LGBTQ+, BIPOC, people with disability community, you can also offer sensitivity reading
There are several associations that proofreaders can join. They offer courses, seminars, meetups and free resources. They also host Twitter chats regularly.
Aces: The Society for Editors(@copyeditors)

EFA: Editorial Freelancers Association

CIEP: Chartered Institute of Editing and Proofreading

Editors Canada
As you can see, your first proofreading job may be low-paying but at least you are getting in the door.
Or, if you are a proofreader, share your wisdom and insight in the comments below.
While I suggest to freelance writers to stay away from content mills and freelance marketplaces like Upwork, it might prove to be a starting point for proofreading and editing jobs.
Ready to Get Started?
These are just 25 of the best places to find proofreading work for beginners. Once you have some proofreading experience under your belt, the possibilities are endless!
You don't need an advanced education or fancy equipment to get started – just a strong grasp of the English language and soon you can call yourself a professional proofreader.
So what are you waiting for? Your side hustle awaits!
For more online jobs, check out these guides:
Over to you: Let me know why you're interested in proofreading as a side gig!