Are you looking for a way to make money while staying at home?
Recently, the popularity of working from home has exploded.
This means that there are many types of freelance jobs that you can do right from the comfort of your home!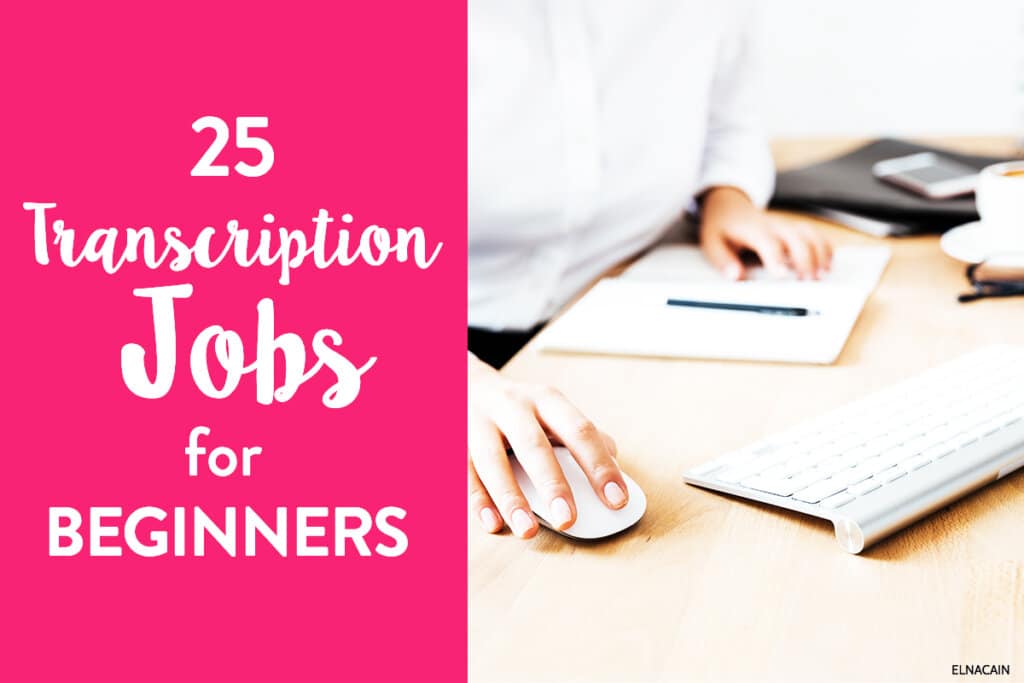 I'm a freelance writer and primarily get paid to write blog posts. It's the best gig there is.
But, I do know that there is more out there than just writing jobs like typing jobs or transcription jobs.
If you are suddenly having to work from home or wanting to transition to at-home work, then transcription jobs are a perfect gig to have.
Federal Bureau of labor statistics project an 18% growth through 2026 for those with language translation skills
This diverse service is gaining traction not only in the business and medical world, but in the world of blogging as well.
With such a broad range of industries seeking transcribers, transcription jobs from home are fairly easy to find and require very little set up to get started.
Plus, as a freelance writer you can offer this service on the side for more income!
Let's look at what transcriptions jobs are and how you can get started working from home.
What Are Transcription Jobs?
First of all, before we get into what transcription jobs are, we should probably talk about what transcribing means.
A simple transcription definition is the process of taking an audio or video recording of a conversation or speech and converting it into text. It is a word-for-word written copy of what is heard.
Back in the day, businesses and industries who wanted transcribed materials had to rely on transcription services by mail.
A cassette tape, floppy disc or CD of the recording would be sent to the transcriber and the client would receive the document a few days later.
Now that we have the internet, transcription services have evolved so that recordings and transcribed documents can be shared quickly and easily.
This makes transcription jobs high in demand, since many different industries and individuals are seeking this service.
So what exactly does a transcriptionist do?
As an independent contractor, you would receive an audio or video file from a client, listen carefully and type out everything you hear.
You would also be responsible for proper spelling, punctuation and grammar.
Apart from spelling, punctuation and grammar, you should also have good typing skills. This will help you complete the work quickly and deliver under tight deadlines.
You might also be working in different fields such as medical transcription or legal transcription.
This is a perfect online transcription service for bloggers that have podcasts or a big Youtube presences.
They may want to hire a transcriber to transcribe all their podcasts and video for their blog audience.
The payment frequency will vary depending on the company that hires you. Typically, though, every two weeks is standard.
For an online transcription job from an entrepreneur, however, may pay after each project.
How to Work From Home With Transcription Jobs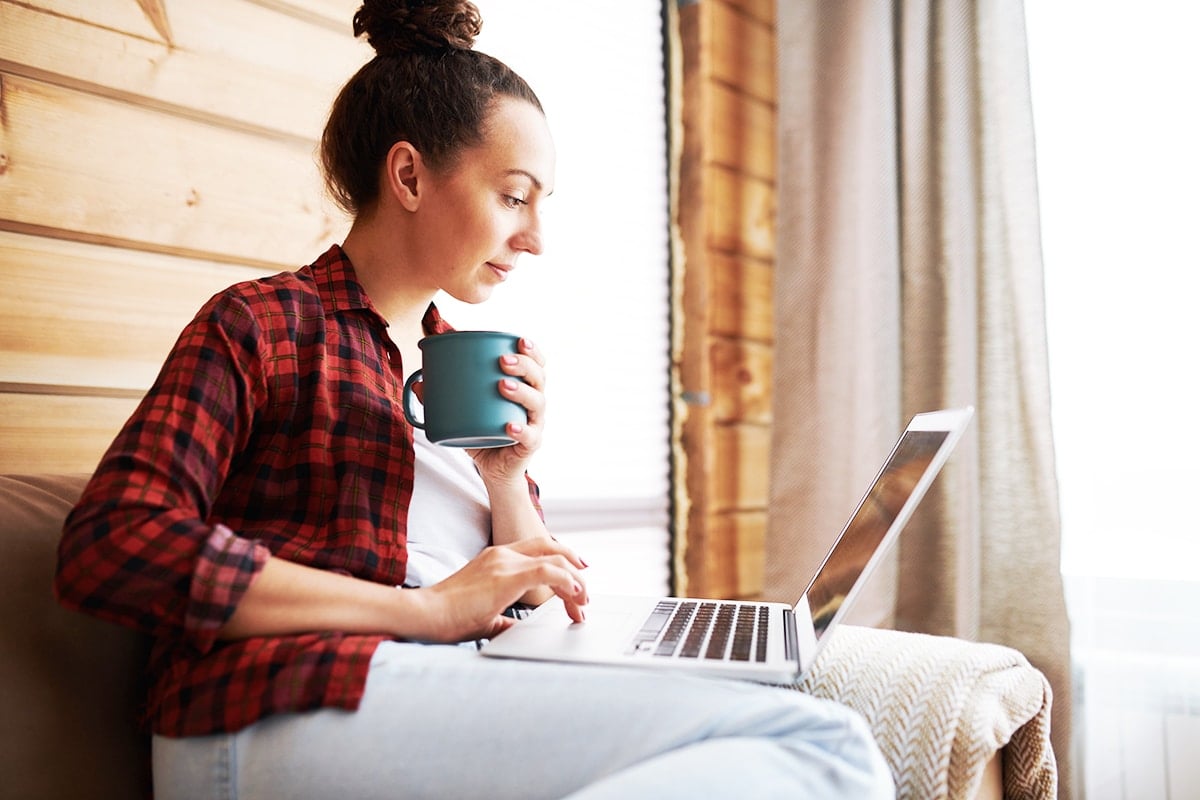 So if you're ready to give transcribing at home a try, here are some tools and skills you should consider in order to get your side hustle up and running:
Get the Tools
Because general transcription simply requires you to listen to audio files and type what you hear, most companies will only require that you have a computer and a high-speed internet connection to start working.
Most likely, having a Microsoft computer (Microsoft Word) will help with transcribing documents and hold your audio files without making your computer run slow.
However, there are some tools of trade that some companies may require you to have or you may want to invest in if you plan on getting serious with a career in transcribing.
Here are some common transcription tools for transcribers:
Foot Pedal
Also known as a WAV pedal, a foot pedal is a contraption that allows you to rewind, pause or play audio/video files with your foot.
This way, you can allow your hands to focus on typing.
Most models are USB, meaning that they will easily plug into your computer.
Express Scribe
Express Scribe is an audio player software that is made for transcribers. It uses keyboard "hot keys" to make controlling the audio or video easier.
For example, F4 is stop, F9 is play, F7 is rewind and F8 is fast-forward. Once you get these keys down pat, you can quickly control the audio/video with losing your typing flow.
There are free and paid versions – the free version has more than enough features to get your started as an at-home transcriber.
Oh, and this software works with the foot pedal, too.
Headphones
Although not absolutely necessary to do transcription jobs, headphones are highly recommended.
Clients are looking for precise and accurate transcriptions of their audio and video, so it's best you have something that will optimize your listening skills.
It will also help when you are working from home and need to avoid distractions. Headphones will help you focus on the audio so you can type with accuracy.
One thing to note is the audio hour. This refers to how long it will take to convert an hour of audio into written format. Essentially, plan 15 minutes to transcribe an hour of audio.
Skills and Experience Requirements
Although many transcriptionist jobs don't look for vast experience and an impressive skill-set, there are still some skills you should consider working on in order to be successful (for example, wanting to be a medical transcriptionist):
Attentive listening. Not only do you have to be able to listen, but you have to be able to listen carefully and attentively.
Fast typing speed. This is a skill that will definitely come with experience, but there's nothing wrong with brushing up on your typing skills. You can find courses and practice software online.
Good grammar, spelling and punctuation skills. The better grasp you have on these skills, the more you'll be able to focus on typing what you hear.
Not all audio sent by clients is clear and comprehensible. You may have to listen to a segment of audio over and over to understand what is being said.
As a beginner, you don't have to worry too much about having these skills down pat.
However, if you are looking to land high-paying clients down the road, you will have to develop these skills and gain some transcription experience.
How to Excel in Transcription Jobs
In the beginning, you may treat work-at-home transcription jobs as a side-gig to make some extra cash. However, if you want to excel in transcription jobs, you should treat it like a business.
Here are some ways you can excel in transcription jobs:
Market yourself. Make a professional profile on social media, such as Facebook and LinkedIn, as a transcriptionist and network to find job leads and clients.
Organize yourself. Keep track of your orders, deadlines and communications by taking advantage of organizational tools. You can find many of these for free online!
Exceed the client's expectations. In order to stand out to clients, you need to focus on meeting deadlines (or delivering early). Make sure you manage your time and work in a distraction-free environment.
Invest in the equipment. If you're ready to get serious about transcribing, you should invest in buying the equipment I mentioned above. They'll help you increase productivity and impress clients.
With the right amount of focus and organization, you can easily evolve transcribing at home into a money-making business!
How to Get Noticed Online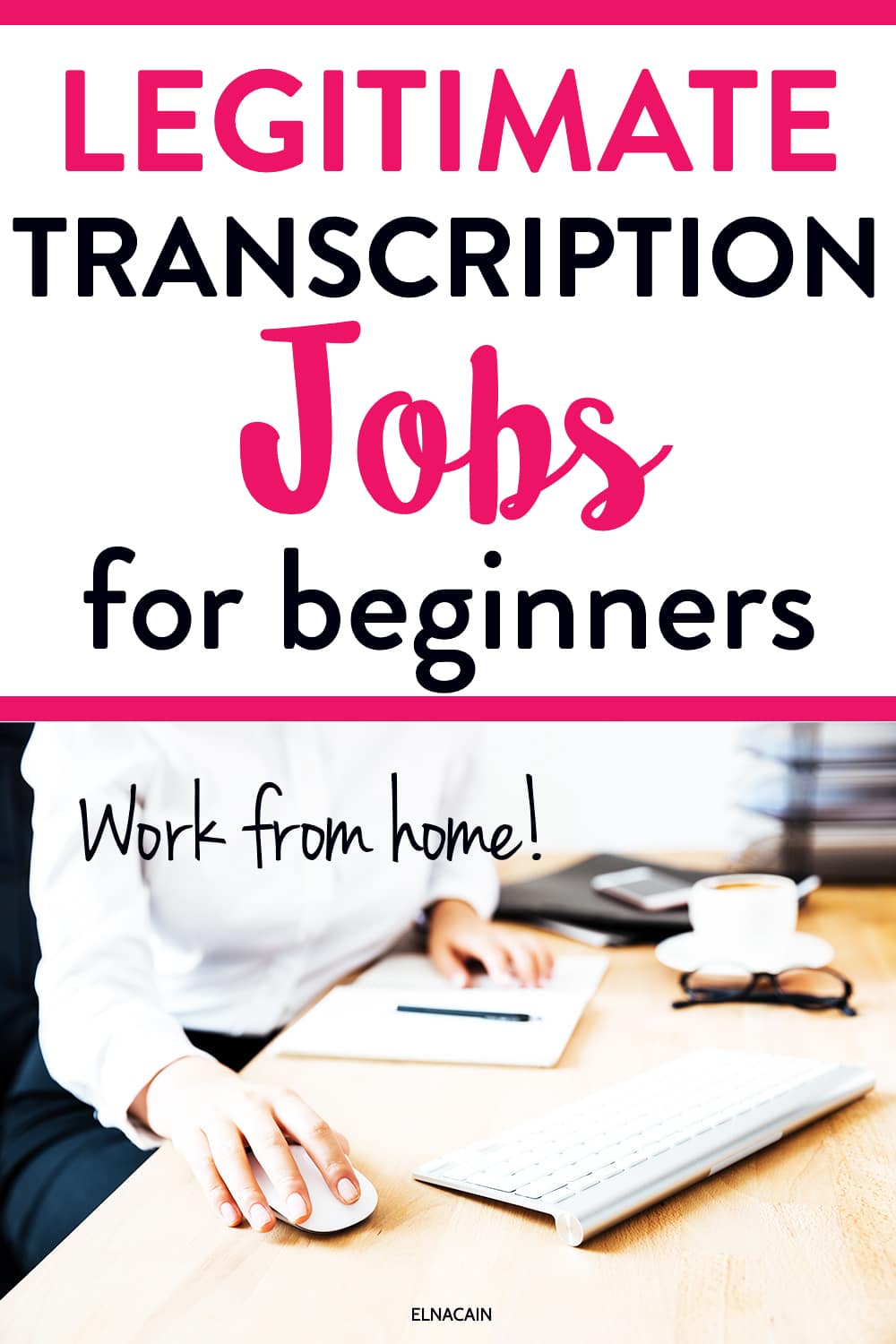 While you can spend your time chasing jobs, creating a strong and positive social media presence will help you attract clients and transcribing work.
Use a Facebook or LinkedIn account to showcase your skills, experience and accomplishments. Believe it or not, companies care when you engage on social media.
You can even use a website to attract clients – you can use it to share your insights, your inspiration and your passion when it comes to being a transcriptionist.
Try these tips to get yourself noticed online as a transcriber:
Stick to 2 social media accounts. You don't want to overwhelm yourself too soon. Once you get the hang of updated 2 accounts, you can add more (such as Twitter or Pinterest).
Take advantage of custom banners. Most social media platforms allow you to choose a profile picture as well as a header or banner image. Use this image to communicate your skills and experience. You can check out my LinkedIn banner here to get an idea of what I mean.
Use an email signature. If you include your title (such as "General Transcriptionist") and a link to your social media accounts or site in your email signature, you effectively marketing yourself every time you send an email.
Being any kind of freelancer, including a transcriptionist, means knowing how to market yourself.
You don't have to be a marketing guru to promote your services – you just need to know where and how to promote yourself.
25 Transcription Jobs for Beginners
Most transcription jobs you will find online are considered "general transcription jobs" and include typing up audio file or recordings such as lectures, speeches, interviews, podcasts, videos, webinars, etc.
Luckily, these types of jobs generally require no specific training or certification – so they are great for beginners!
Check out these 25 places you can look for work-at-home transcription jobs:
1. Rev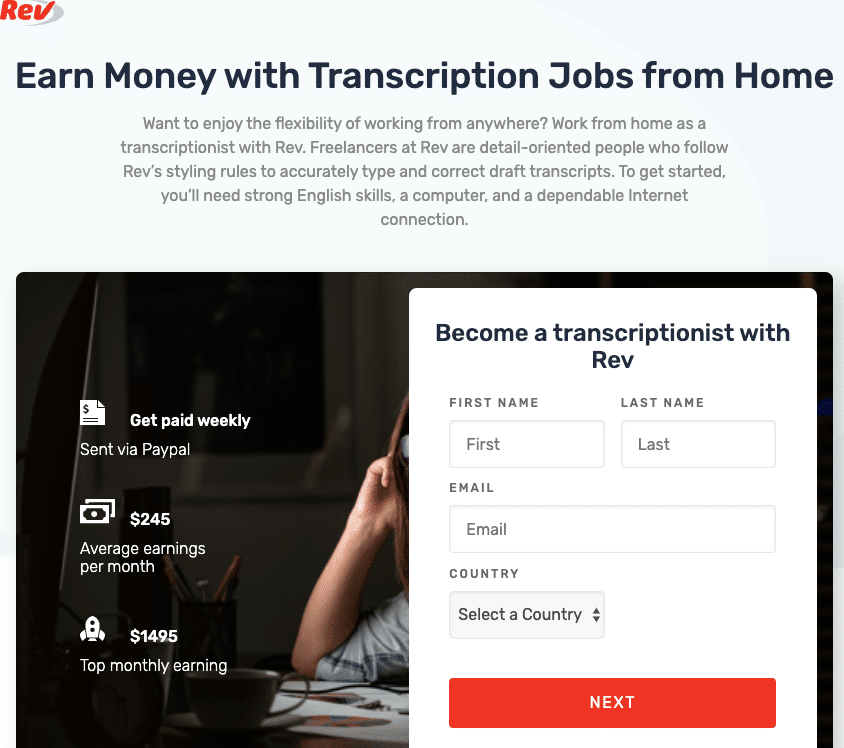 With Rev.com, candidates aren't required to demonstrate prior experiences or qualifications. Instead, they are asked to participate in a grammar quiz and transcript sample.
2. Go Transcript
Go Transcript looks for candidates with strong English skills – no experience necessary.
You are given 10 hours to complete 10 minutes of audio or video file.
Transcriptionists can make around $150 per month.
3. Net Transcripts
If you're interested in legal transcription jobs then maybe Net Transcript is for you.
Net Transcripts hires transcriptionists for insurance, legal and police transcription. They do look for prior experience and require that you can type 75WPM and have a foot pedal.
4. Pioneer Transcription Services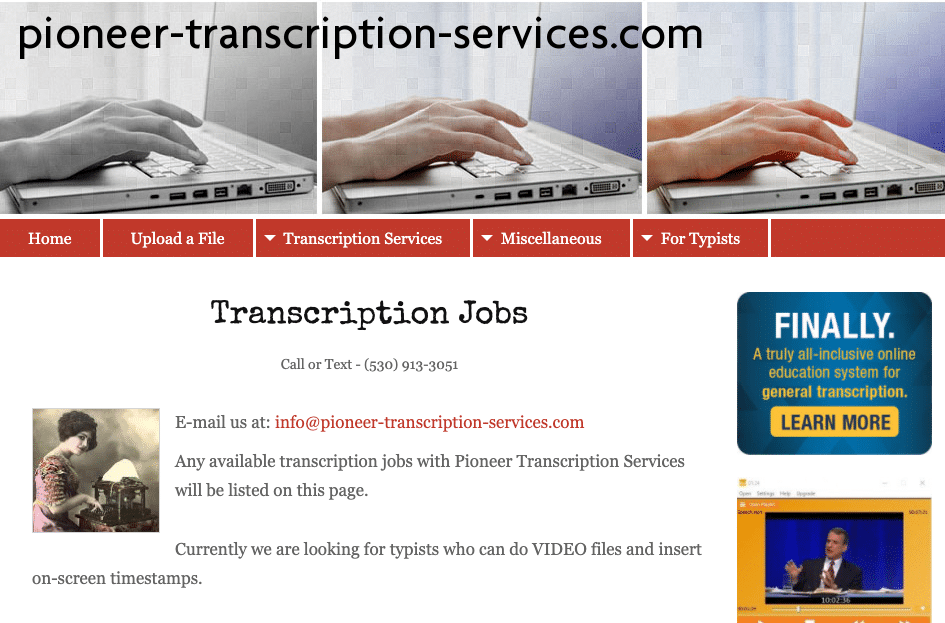 Pioneer Transcription Services requires a foot pedal and transcription software. You can apply via an online application for general or legal transcriptionist positions.
5. Scribie
Scribie is open to applications from transcriptionists with beginner skills, but you have to be able to understand British, American, Australian and Indian accents (but the jobs are all in English).
6. CrowdSurf
CrowdSurf is a sort of online market for transcriptionists and has a transcription wing.
It's free to sign up and you are paid instantly for your work. They don't require any experience of special equipment.
7. Mechanical Turk
Amazon's Mechanical Turk is a crowdsourcing marketplace that connects workers with businesses.
There, you'll be able to find transcription jobs/HITS (Human Intelligence Tasks).
8. CastingWords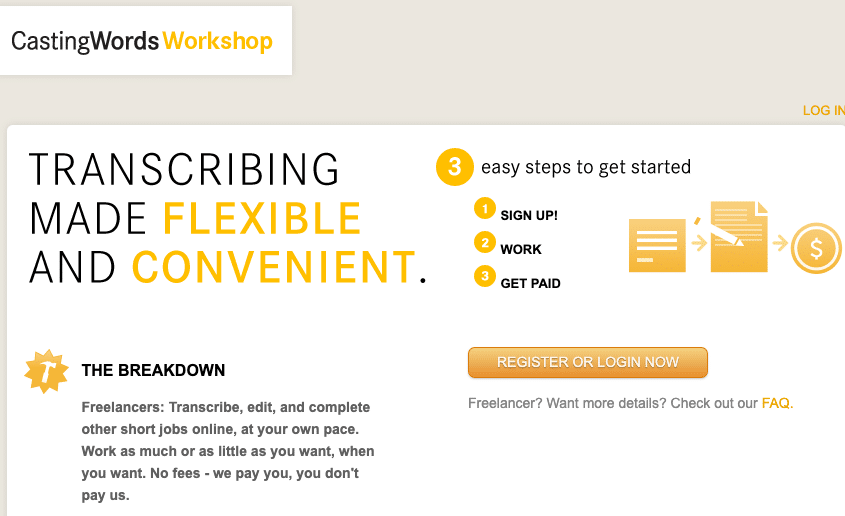 Casting Words is another sort of job market for online transcription jobs. They act as a middleman between clients and transcriptionists. They pay between 8.5 cents to one dollar per audio minute.
9. Daily Transcription
Daily Transcription offers same day turnaround times on transcriptions for corporate, legal and entertainment industries.
They are seeking punctual and detailed people of all skill levels.
They can't guarantee a specific amount of work but their top transcriptionist makes between $250 and $950 per week.
10. GMR Transcription
GMR Transcription is always looking for transcribers – especially those who can dedicate one hour a day to transcribing.
With gmr transcription they require you to take a test but expect no prior experience.
11. BabbleType
No experience is needed to work with BabbleType, a transcribing company that deals with market research projects.
Applying is as simple as watching a video and taking a transcription test.
12. Aberdeen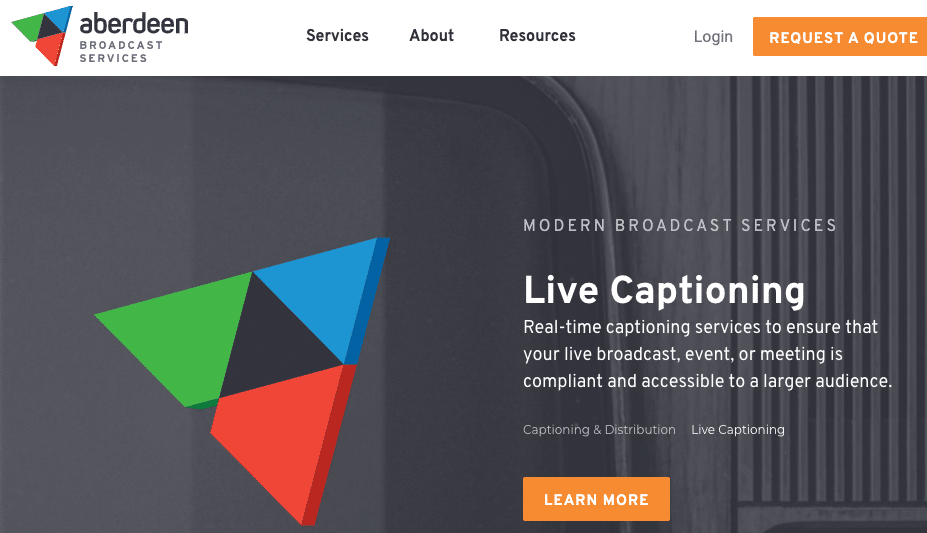 Aberdeen Broadcast Services hires transcribers and captioners who are knowledgeable in computers and internet research and can type 45 words per minute.
Pay starts at around $12 to $15 an hour.
13. Speakwrite
The best transcription jobs are flexible.
Speakwrite is looking for U.S. or Canadian transcribers who are fluent in English and can type a minimum of 60 words per minute.
For general transcriber positions, they do prefer at least one year of experience – five years for legal positions.
They also require you have a foot pedal.
14. Tigerfish
Tigerfish offers a range of transcription jobs from interviews to law enforcement to documentaries.
There is a testing process you'll have to go through when you apply to some legal transcriptionists gigs.
15. Ubiqus
Ubiqus is a transcription company that is looking for U.S.-based individuals with 1 to 5 years of experience. However, if you do not have any transcribing experience, they will consider other relevant experience.
16. SpeechPad
SpeechPad is a great transcribing job platform for beginners. There are no minimum hours required and they pay between $0.25 and $2.50 per minute of audio/video.
17. Transcript Divas
Transcript Divas require no experience – you'll only need to prove that you can meet their acceptable standards. Average pay is around $16 per hour.
18. Verbal Ink
Verbal Ink is always open to hiring new transcriptionists. You just have to send along your resume and cover letter for consideration. From there, you may be asked to pass a test to get started.
19. Transcription Outsourcing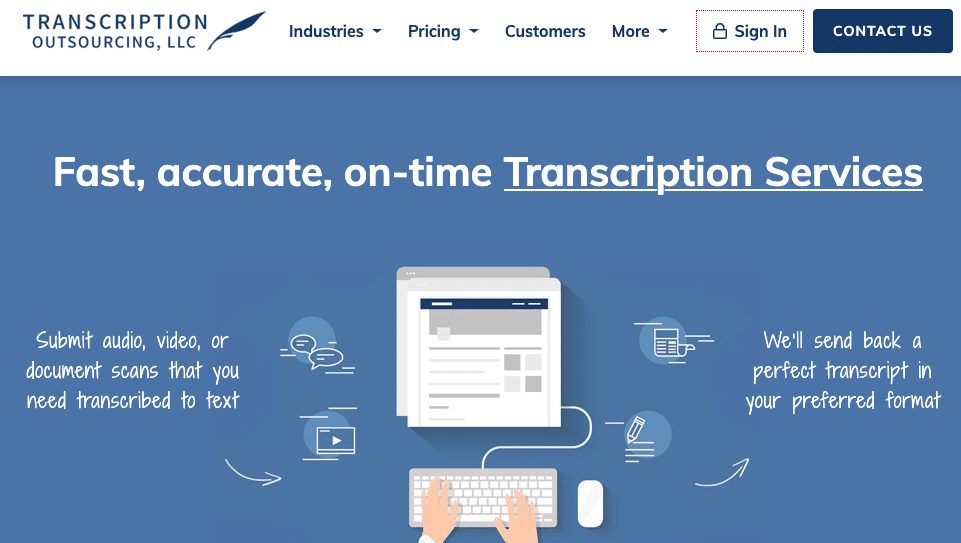 At Transcription Outsourcing, you'll find listings for various transcribing jobs including general transcribing jobs as well as legal, financial and medical jobs.
20. Averbach Transcription
Averbach Transcription doesn't look for much when it comes to skills and experience – they only require that you are proficient in English, have an eye for detail and a good ear.
They offer $1.00 per audio minute and $1.50 per audio minute for same day or overnight orders.
21. TranscribeMe!
After filling out a form and taking a test, TranscribeMe will allow you access to transcription job postings. Transcribers get paid per hour on a weekly basis.
22. eScribers
One of the largest legal transcription companies in the country, eScribers is a U.S. based transcription service that requires no prior experience.
They also seek proofreaders and stenographers.
23. 3Play Media
3Play Media offers both transcription job opportunities as well as editor positions. There are skill and proficiency tests you must pass.
The rate of pay depends on individual projects.
24. Way With Words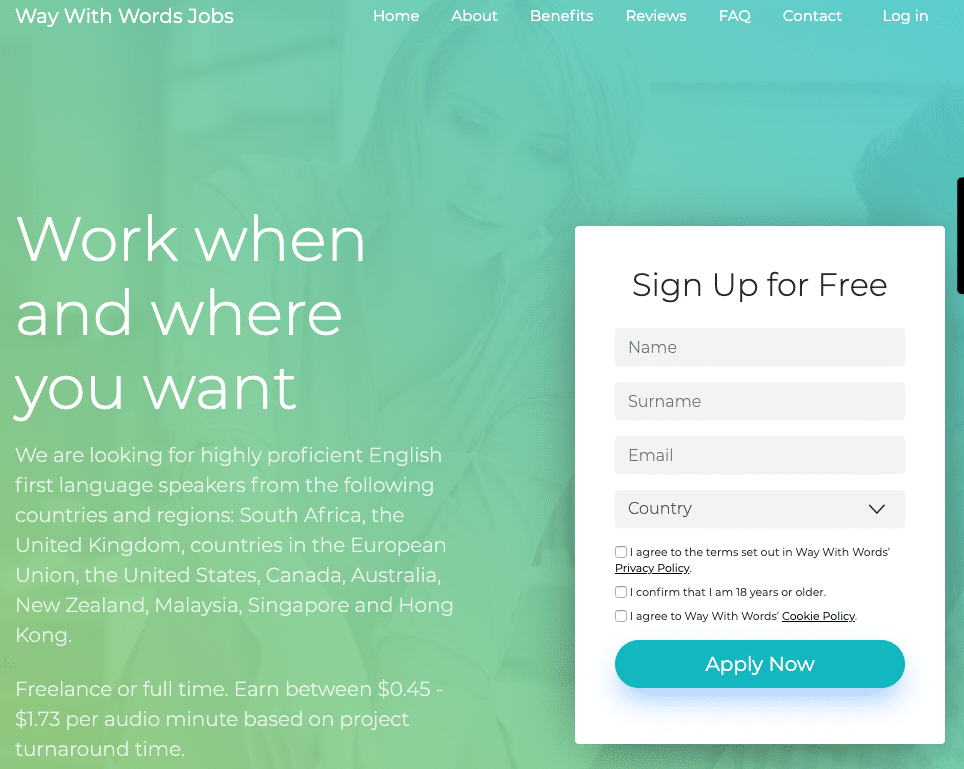 Way With Words provides English language transcription services to clients all around the world and really only require that you are highly proficient in English.
They hire freelance or full time and offer between $0.45-$1.73 per audio minute.
25. Audio Transcription Center
If you are in the US then Audio Transcription Center is one of the best transcription job site you can use.
They partner with the best of the bets in government agencies, academic universities, and financial institutions.
To apply you'll need to type at least 80 wpm and have 98% accuracy.
26. Use Job Boards
If push comes to shove, you can always seek out transcription jobs on job boards such as Flexjobs, Indeed or Upwork.
You will find:
Jobs for medical transcriptionists
Jobs for beginner transcriptionists
Jobs for a freelance transcriptionist
Medical transcription jobs
Beginner transcriptionist jobs
While some of the remote transcription job postings may be for one-off jobs, you never know where you may find a full time client!
Common Interview Questions About Getting a Transcription Job for the First Time
Here are some common interview questions you might get when you apply for a transcription job for the first time:
What is your process for gathering large amount of information from multiple credible sources?
What methods do you use to take dictation and take that dictation and convert it into written material?
What method do you use to locate and identify mistakes in reports?
When working from home, what methods do you do to motivate yourself to complete your transcription work?
How do you decided which information to include in the reports?
Other Work From Home Jobs
As I mentioned, transcription jobs are only one type of freelance jobs online.
If you are interested in exploring other types of jobs check out these guides.
Ready to Get Started?
Transcribing is a great way to make some extra money at home when you have the spare time.
The bonus is that if you take it seriously, you could make some good money from transcribing from home!
While I absolutely love freelance writing and have built a sustainable business working from home for several years, I do know that there are other side gigs that make money.
These twenty-five places to find transcription jobs will help get you started on beginning an amazing new side hustle that – who knows – could end up being your true calling.
And with amazing sites for jobs, you can't go wrong!
Your turn!
Let me know why transcription work appeals to you! Or, if you've worked as a transcriptionist, share your experiences!