In 2014, I used my first job search site, and with a bit of hustle, I was able to land my first job as a writer!
Back then, using the Internet to do your job searching just wasn't the norm. Instead, you relied on who you knew and your business and personal network to find a job.
Nowadays, though, using job websites to search for dozens of potential leads is commonplace – especially if you are a remote worker or freelance writer.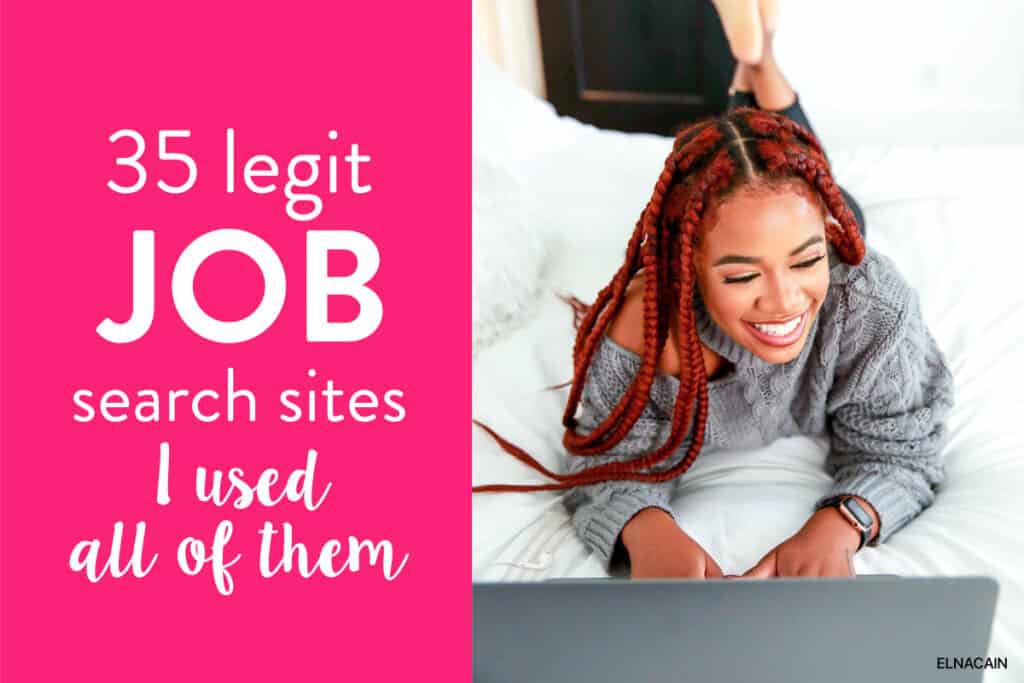 With the majority of Americans – 54% – looking online for good jobs, knowing what the best job search sites are can be the one thing that gets a person that much closer to a new gig.
And with the push for remote working, now is the perfect time to start your digital prospecting!
But where to look for jobs isn't that simple. There are dozens and dozens of job listing websites around, so knowing the legit ones from the not so legit ones is crucial!
To help you out, I'll go over the best websites you can start using for remote work (and give you my assessment) and job posting websites and job boards you can also use to help you land your first freelance writing gig.
35 Job Search Sites to Use Right Now
Knowing exactly how to find a job with these websites is incredibly easy.
For some job sites you don't need to set up a profile but you still may have to sign up to upload your resume or apply for a job.
You go to the site, search for jobs, click on a job ad you might be qualified for, and apply.
Most jobs you apply for will want a resume and a cover letter, so make sure you have that already written and ready to go.
And, that's it!
If you're still unsure, that's fine! By the end of this post, I'm sure you'll be well-equipped with the best online sites for jobs.
My Top Five
My top five favorites job sites are based on it being a user-friendly platform, having a low barrier to entry, and showing international jobs listings.
Here are my top five job search websites:
Indeed
Monster
SimplyHired
LinkedIn
Glassdoor
Here are my top five remote job search sites:
Working Nomads
Crunchboard
Behance
JustRemote
Remotive
Here are my top five job board sites for freelance writing at this time:
Contena
Writers Work
Problogger
Cision Jobs
ClearVoice
What Are Job Search Sites?
A job search site is an online website designed to aggregate thousands, even millions, of jobs. These are typically remote work jobs, freelance jobs like freelance writing jobs, entry level jobs, and local jobs you can view.
Many of these career websites are free to use, but some have barriers.
For example, many job search sites require you to sign up and fill out a profile to search for jobs.
Linkedin Jobs is one of the best job sites, but you need a LinkedIn profile to view job postings.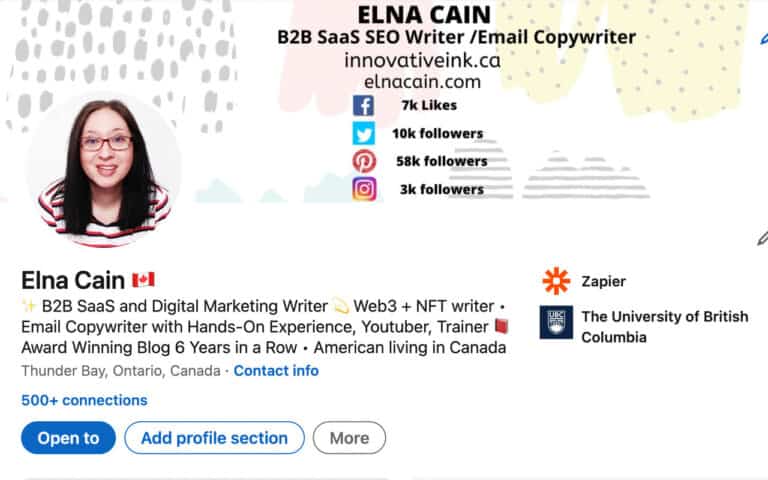 Many of these job websites are also local-specific, which is fine if you want a local job!
But, if you're interested in freelance writing like what I do, you want the option to have international jobs.
If that's the case, looking at the best international job search sites like Working Nomads would be your best bet.
You can sometimes take a job search website like Glassdoor and remove the location to broaden your job hunt.
With that out of the way, let's look at the best job sites to help you land your next job.
1. Indeed Jobs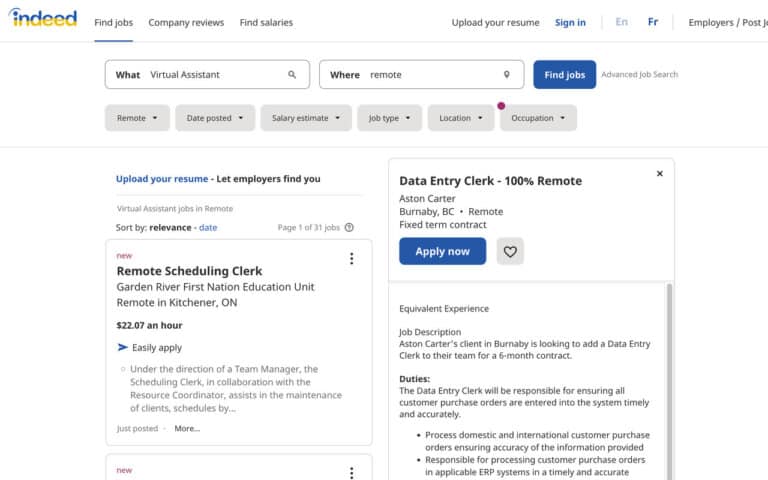 What is Indeed?
Indeed jobs is a free job search website where you can search & apply for jobs, save potential jobs you're interested in, and create job alerts.
As a job seeker, you can upload your resume for employers to find you and make applying to an Indeed Job easier.
One thing to note is Indeed has an extensive job database from all over the world, meaning someone from New York, Paris, Copenhagen, or Ontario can use Indeed to find a job.
How to Use Indeed
Once on Indeed, upload your resume by either signing in using a social media profile or your email.
Once that is uploaded, use the search bar to search for a job title and either add a specific location or something like "remote" or "freelance" for a bigger pool of gigs.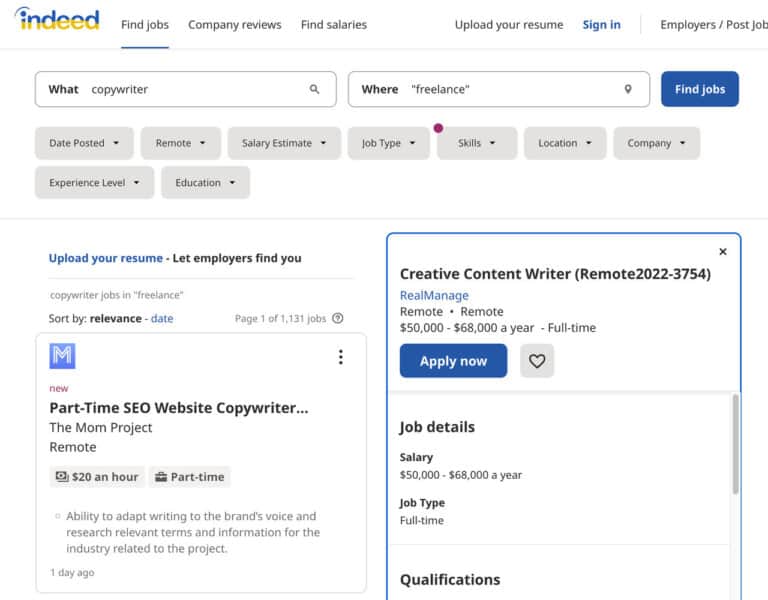 When you find a job you're interested in, click on the Apply Now button.
From there, you apply by filling in the information the job ad specifies.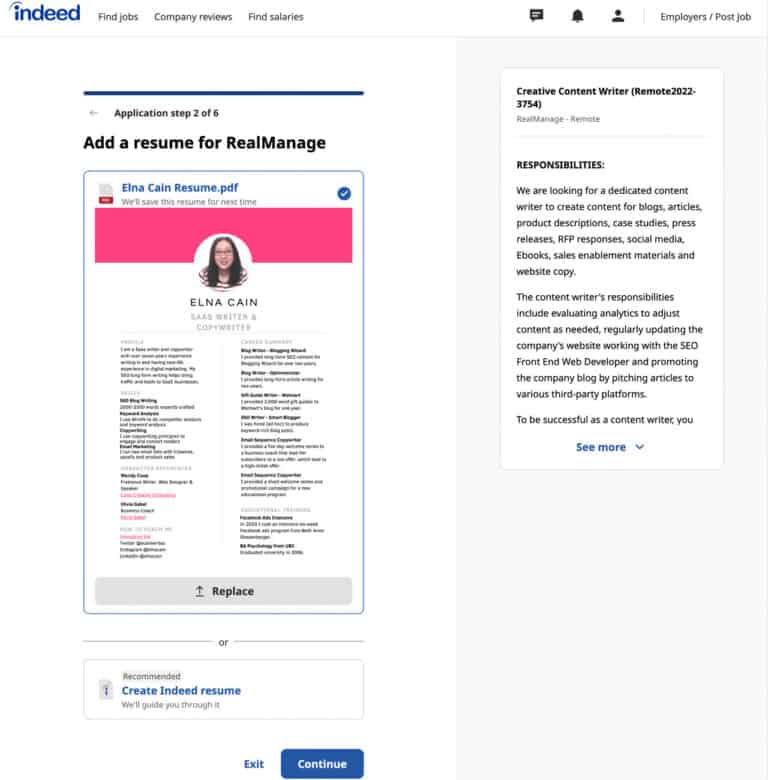 I liked using Indeed because you don't need to sign up and create a profile where you give sensitive information (phone number) away.
I also enjoyed that each job ad you applied for is specific to that job.
All in all, I enjoyed this job search site and am confident I could find a freelance writing job or a remote editing job, or any specific type of job like a sports writing job on this job board site.
2. Monster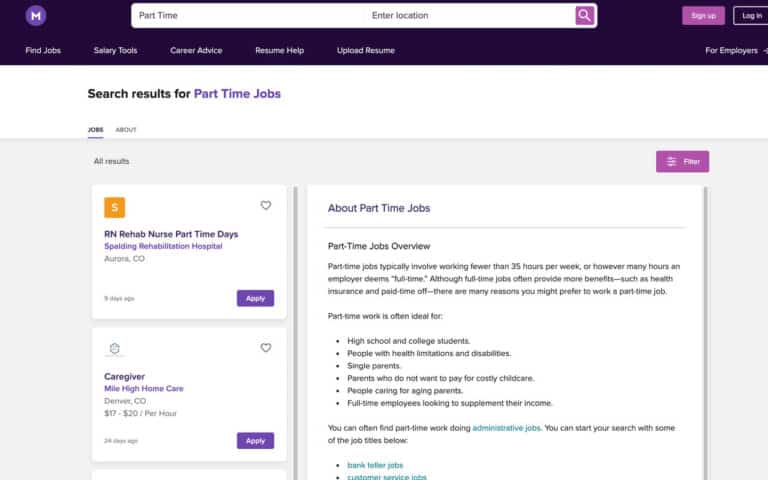 What is Monster Jobs?
Monster has been around for 25 years and is a leader in helping people find jobs with reputable companies worldwide.
For example, you can use Monster in many countries, including:
In addition to the Monster job search, they also have a salary tool, a career blog, and a resume writing service.
They have a user-friendly platform to search jobs on their site. If you want to find online work or remote positions, put "remote" or "freelance" in the location section to get jobs from all around the country.
To use this jobs website, you need to sign up – for free – to use Monster.
How to Use Monster
You can filter your job search by keyword or job title on the Monster homepage. Monster provides popular titles like "part-time," "finance," or "work from home."
Feel free to explore and choose the recommended keywords or, if you have one, then use yours.
I decided to use "technical writer."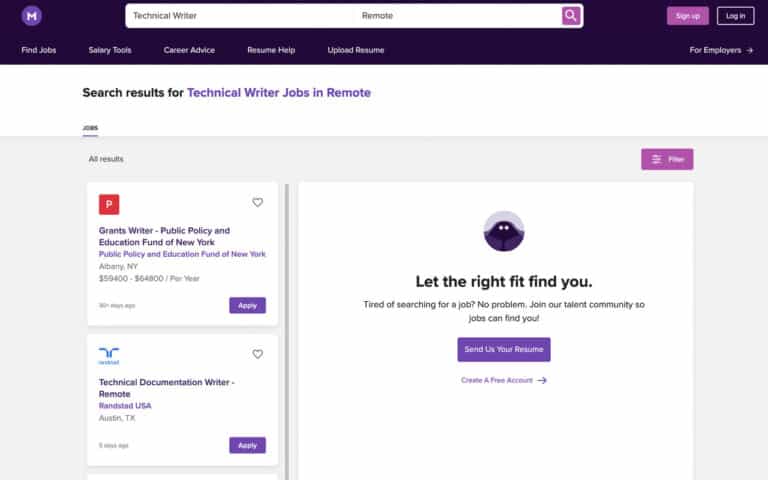 If you find a job during your online job search, click on "apply."
Monster prompts you to sign up to their job website.
It will ask you to sign up using email or a social profile like Facebook and will ask you if you want Monster to send you new leads.
From there, you can upload your resume.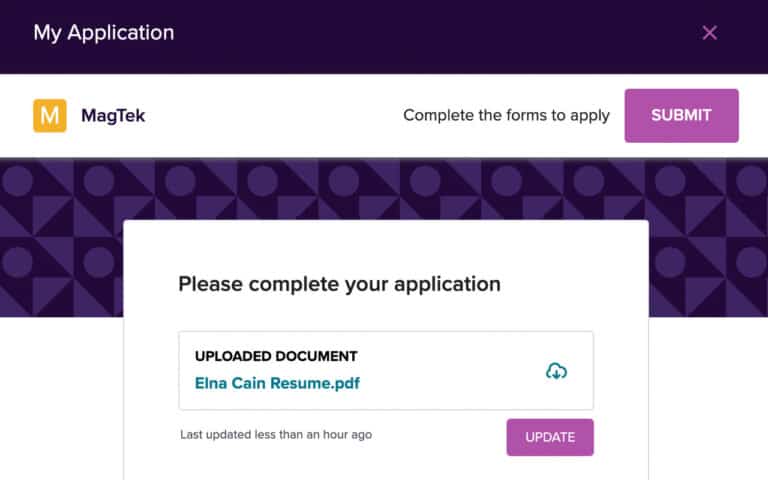 From what I used of the Monster job search, it had a clean user face, and it was easy to search for jobs. The only thing that interrupted my job search was that I had to sign up to use Monster's job search.
3. ZipRecruiter
ZipRecruiter is an American job marketplace that connects employers with job seekers.
It's also the #1 job search app for iOS and Android users in the U.S and Canada.
So far, you can only find jobs within the U.S. and Canada when using their job site.
ZipRecruiter is not similar to Indeed or Monster because ZipRecruiter has a more stringent application process for job seekers.
How to Use ZipRecruiter
ZipRecruter asks if you are looking for a job or browsing on the homepage. I chose "looking for a job."
Next, ZipRecruiter's recruiter, Phil, requires a valid email address and a valid phone number to continue the process.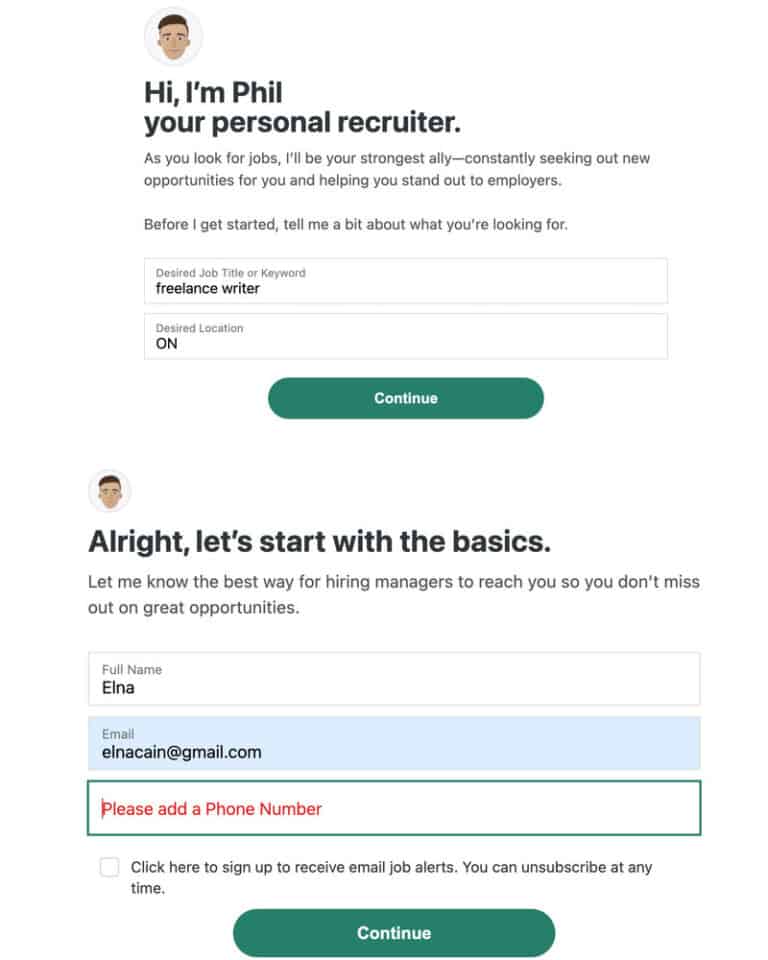 Once you fill out your basic information, ZipRecruiter will email you to verify your account.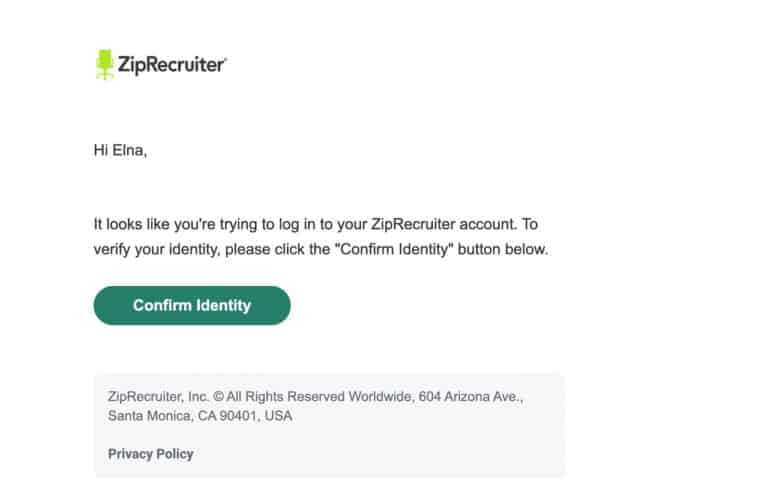 Once you "confirm identity," you can upload your resume, and they will convert your PDF resume to an online version that you can edit if you want.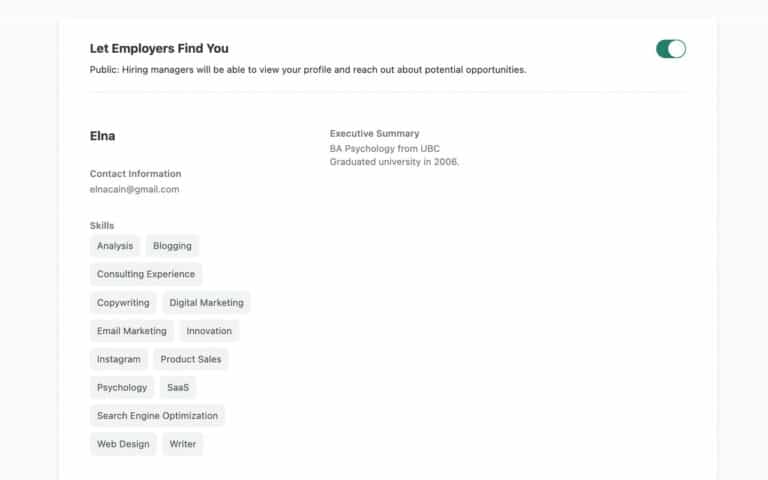 Once you click "continue," you can go and search for jobs!
I chose to remove my location and use the "remote" option the job platform gave me. But, since this job search website is only for U.S. and Canada, my results were for Canada.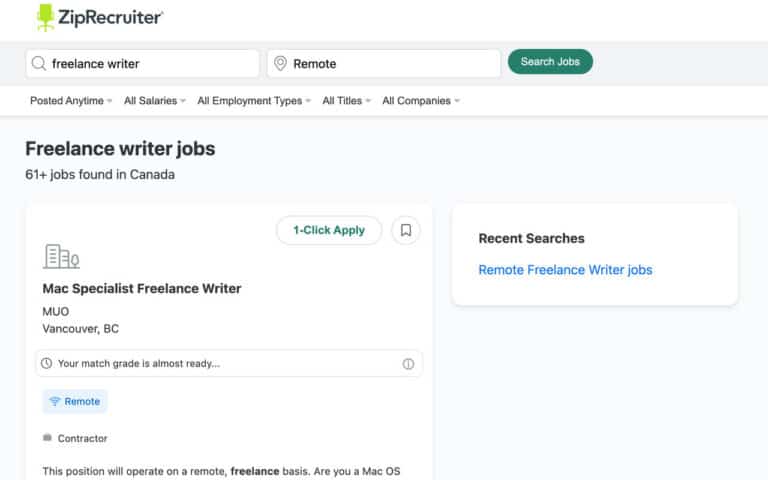 On each job result, there is a, "1-Click Apply" function.
I chose a job ad, clicked the 1-click apply and was prompted to, "write out" or copy and paste my cover letter.
This is specific to the job ad.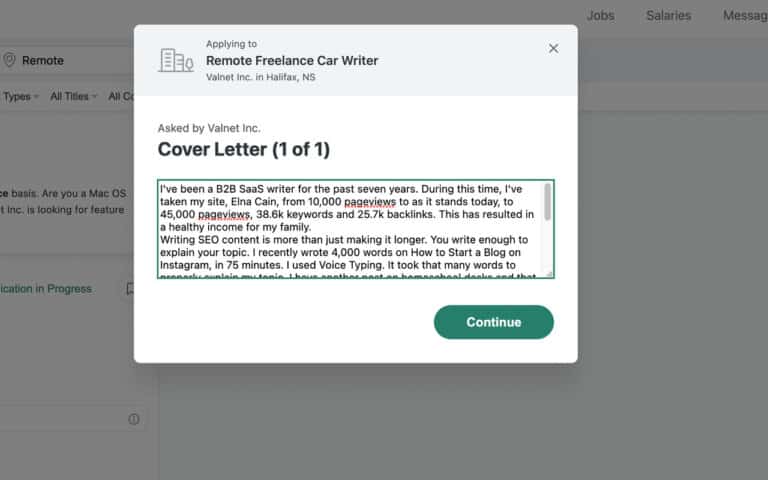 ZipRecruiter asks for more information about my profile (and the job), like my desired pay and if I will be working remotely.
Of the job search sites I've already used, ZipRecruiter is the most extensive in terms of their verification processing.
The job pool is also relatively small compared to other similar job sites on this list. As a freelancer, I want the option to work with someone in Europe or Australia, South America, or the States. ZipRecruiter's job search site did not give me this option.
4. SimplyHired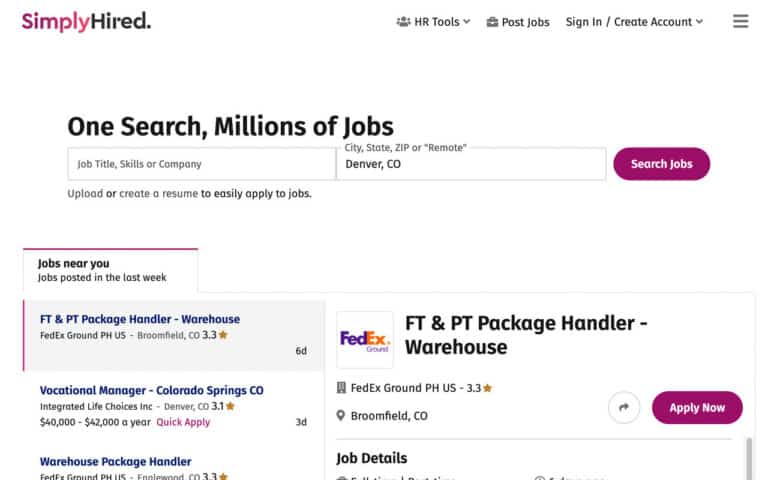 What is SimplyHired?
SimplyHired is considered a job search engine site, which is different from the other job sites I've mentioned so far.
This resembles more job boards than a job search site.
With job search engines, SimplyHired posts the job ad, and once you click on an ad, you are taken to the original job ad. This might be on a company career page or other third-party media agency site.
However, they also have "quick apply," meaning you apply using their job search website. You may or may not have to create a SimplyHired profile, which is not like a job board site.
As well, they are worldwide with job search sites in these countries:
In addition to the job board section, SimplyHired has many job tools like:
Free Resume Builder (the templates look gorgeous, BTW)
Salary Estimator
Interview Questions
Company Pages (if you want to follow them on LinkedIn and cold pitch them for a freelance writing job)
How to Use SimplyHired
Once you click over to SimplyHired, you can either search your job title and location or choose remote OR go to the hamburger menu > Browse > all jobs > remote (or part-time or whatever you prefer) to see companies hiring.
I chose "freelance writer" and "remote," but it still showed only American results.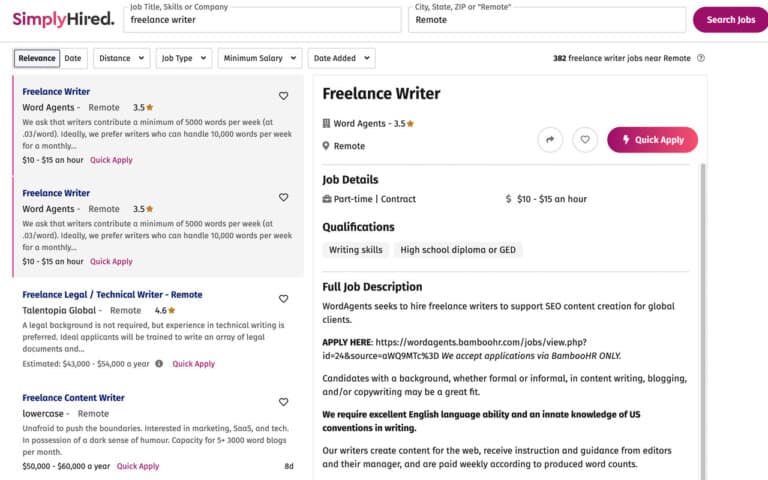 Once I found a job I was interested in, I clicked in quick apply and followed the instructions. I filled out my name and email address (phone number was optional). I also uploaded my resume (also optional).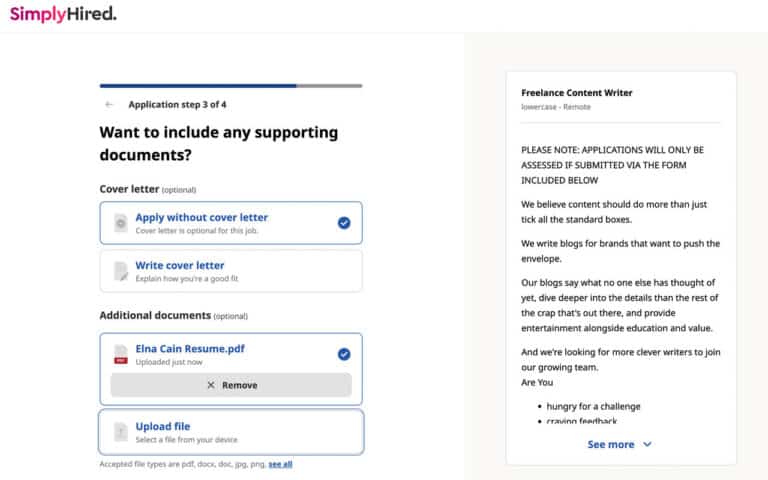 Once I reviewed my application, I can submit it for processing.
Overall, I enjoyed using this job website and found it incredibly easy, less time-consuming, and had fewer barriers.
However, jobs were only within my country, and if I wanted to freelance, I would have to go to a specific SimplyHired country domain to view gigs and see if I could be eligible to work as a freelancer rather than a remote worker.
So, this isn't the best job search site for my use, but it may prove to be beneficial for your job hunting efforts!
5. LinkedIn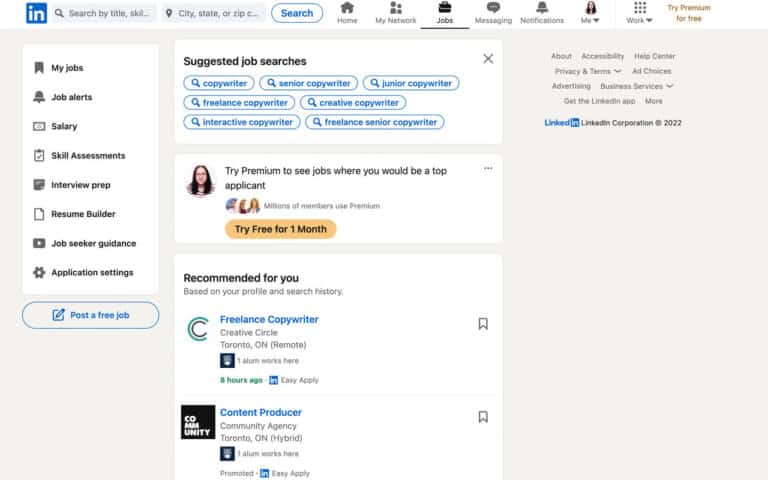 What is LinkedIn?
LinkedIn is a similar site to Facebook. I like to think of it as the "Facebook for business" platform.
What LinkedIn does for job seekers is make them digital – and it's free to use!
Instead of a paper resume and a newspaper to find jobs, you can create your LinkedIn profile resume and conduct an online job search!
LinkedIn enables article writing, the ability to share content, connect with people, message people and find jobs.
While there is LinkedIn Premium, a paid subscription option, you can do all your job hunting with the free version of LinkedIn.
How to Use LinkedIn Jobs
To get the most out of using LinkedIn, you will have create your LinkedIn profile and connect with the people who can hire you.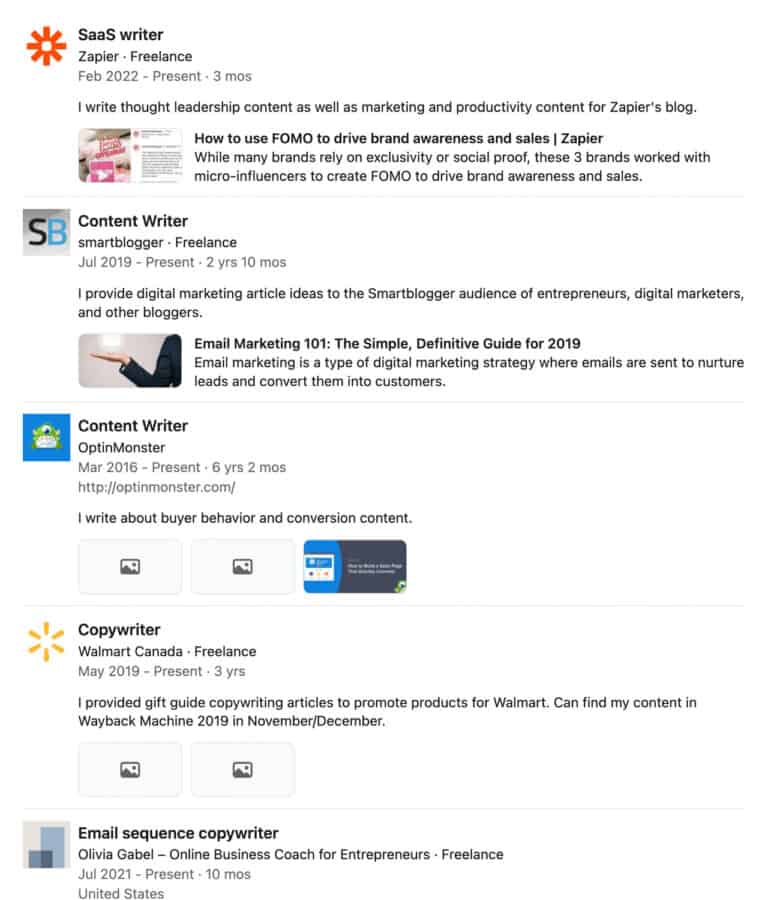 This might mean editors, content managers, directors, and even business owners.
When using LinkedIn, the important thing to remember is to use keywords in your title and bio description.
You can list many keywords in your title: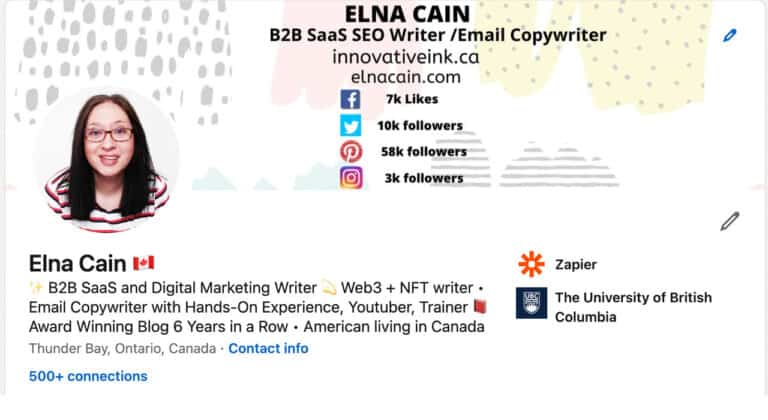 With that out of the way, you can also use LinkedIn jobs to find jobs within your country.
Since you filled out your profile, LinkedIn will source jobs related to what you added to your profile in terms of keywords you used.
But, I like to use LinkedIn jobs for specific gigs, like "blog writer."
I then narrow my search by filtering my results.

Once I found a job I liked, I clicked on "apply," the company hiring form appeared where I could apply for the gig.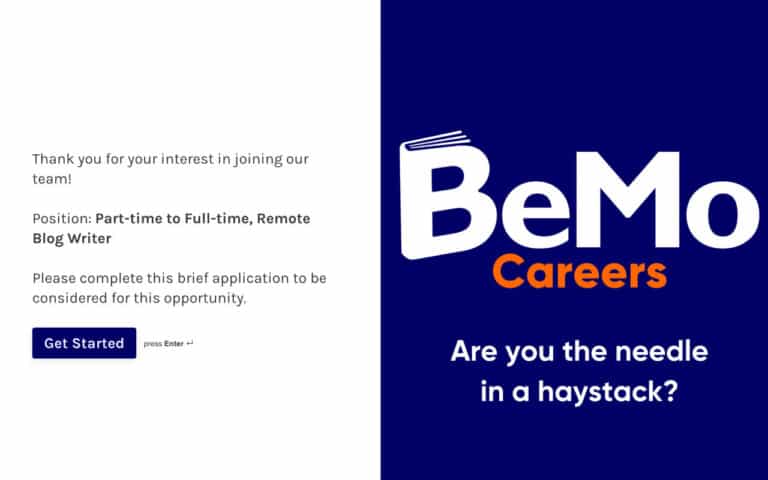 I've also used LinkedIn to cold pitch. I would find the company I want to write for, find their editor or content marketing person and message them, letting them know I'm a writer in their industry.
This is a proven and successful method to land jobs quickly.
I've used LinkedIn since 2014 and have landed many freelance writing jobs.
Getting on LinkedIn is a MUST for all people who want an online job, and it's one of my top five recommendations for a job search site.
6. The Ladders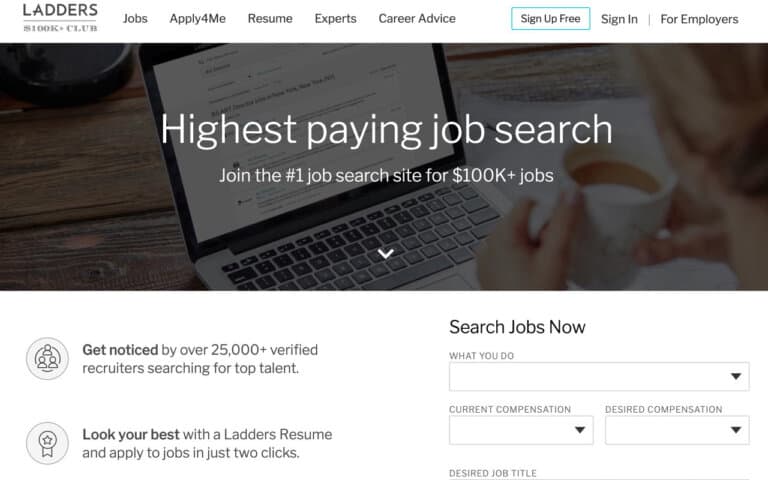 What is Ladders – $100k Club?
The Ladders is a free elite job search site with over 250,000 nationwide high-paying jobs ($100k+ jobs) from verified recruiters.
That's right – this online job search site only shows jobs with an annual salary of $100,000 or more.
You get job alerts, an established blog for career advice and work from home topics, an Apply4Me service where they will apply to the jobs you choose, free resume help, database of experts and more.
You also get a Chrome Extension and can use this service for other job search sites like Indeed, Ziprecruiter, or Glassdoor.
How to Use Ladders
What's different about the Ladders job board is that you can filter by when the job was posted, experience level in years, industries, position level, or companies.
Similar to using Monster, The Ladders Job platform only shows U.S. and Canadian job ads.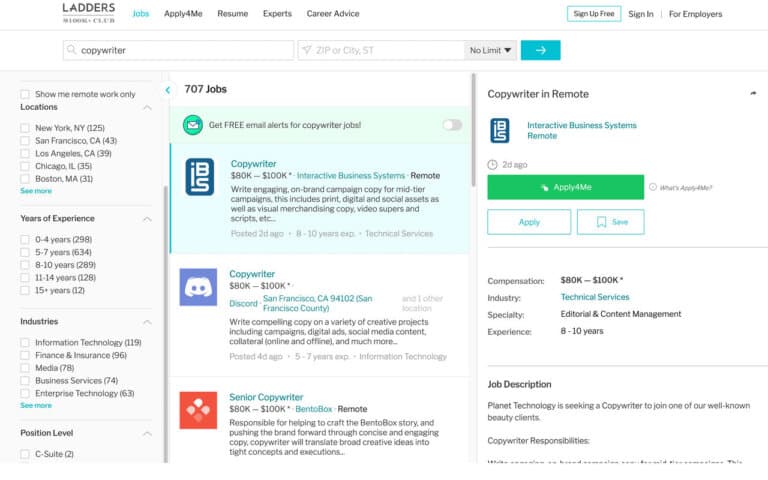 Once you find a job you are qualified for, click on apply (or Apply4Me), and you will get instructions to apply to that job.
You will have to sign up to The Ladders for a free account to move on to the application process.
From there, you can access the job ad on the company page.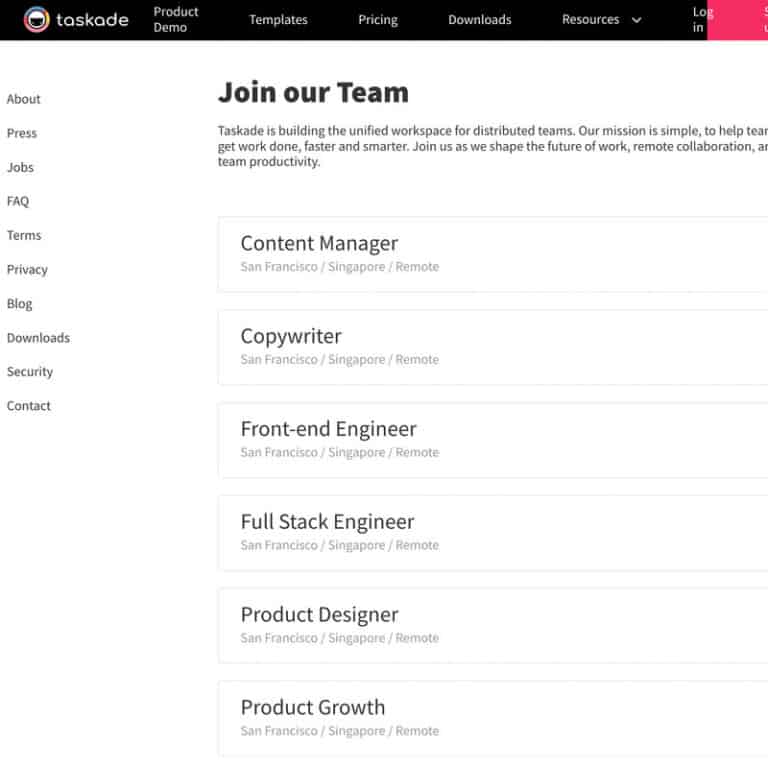 I like using The Ladders job search site because you only get high-paying annual salary jobs. As a freelance writer, I would only look for copywriting jobs, technical writing jobs, freelance editing jobs, content writing jobs, medical writing jobs, and UX writing jobs.
Other writing jobs aren't represented on The Ladders job site, but feel free to check yourself!
7. Glassdoor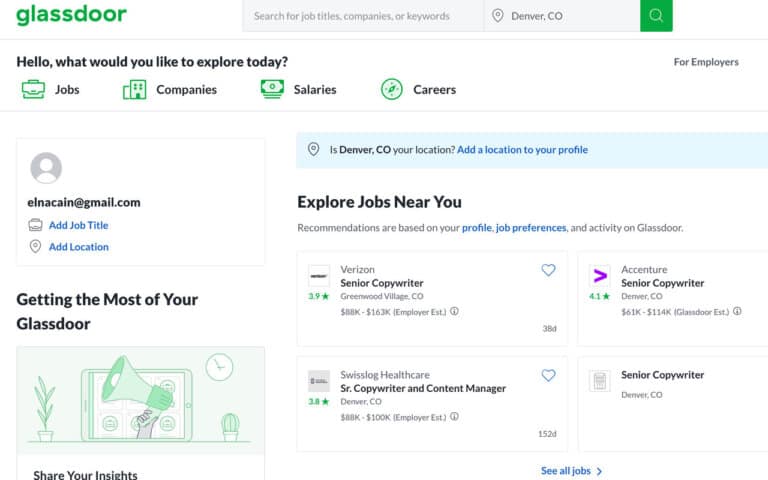 What is Glassdoor?
Glassdoor is one of my top five job websites, and it's a favorite job board for freelance writers as well!
What I like about this job site is that there are over 1 million companies using Glassdoor to hire freelancers and remote workers. These companies are also well-known and established brands, meaning they have a large budget for content marketing.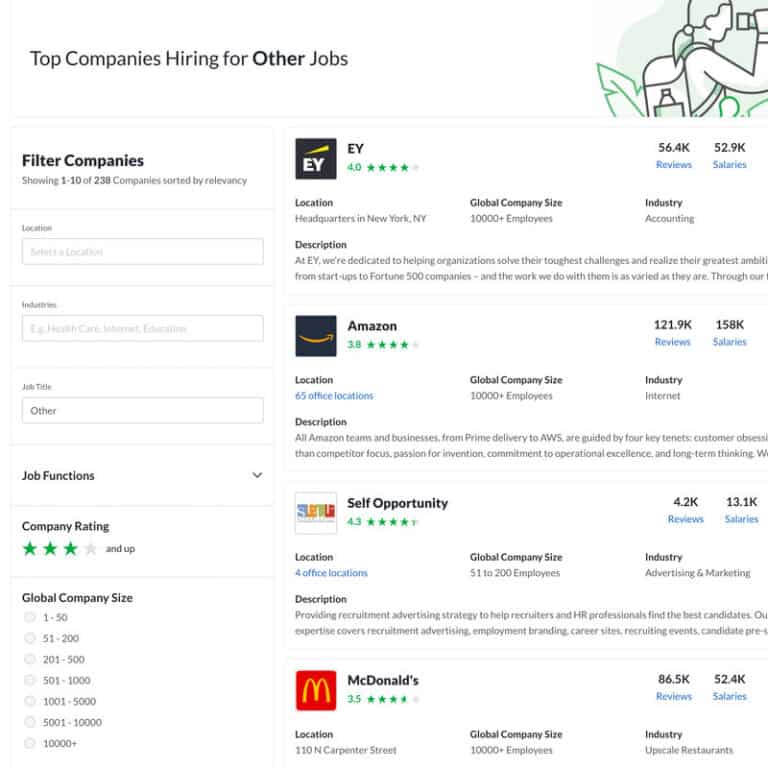 Glassdoor is an American company that sources gigs within that country. However, Glassdoor is in other countries.
How to Use Glassdoor
Job searching on Glassdoor is similar to the other job sites on this list. I chose content, and Glassdoor populated several terms for title: content writer jobs, content writer companies, content writer careers, etc.
I chose the first one and for the location, I typed in "remote," and Glassdoor populated "remote (Work from Home) US."
Here are the results: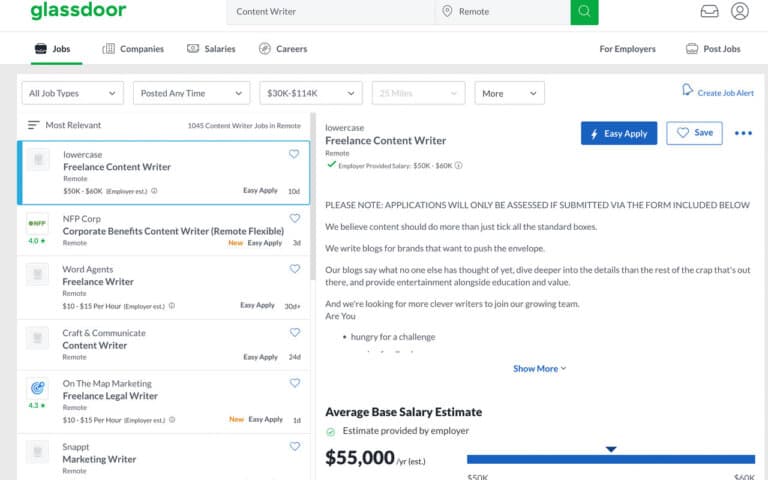 Once I found a writing job I liked, I clicked on "easy apply" and filled out the form.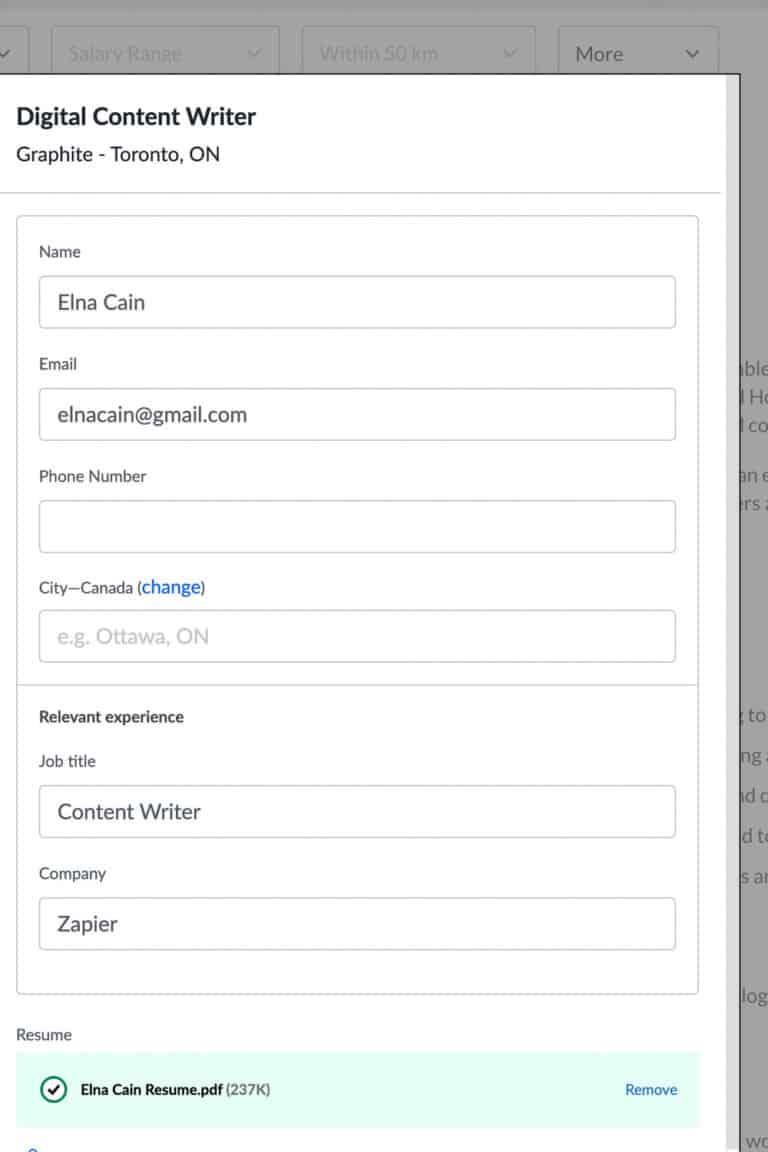 Once I filled in more information (phone number, times for an interview), I reviewed what I had and clicked apply.
There was no need to sign up to Glassdoor to use their easy apply function.
I've always enjoyed using Glassdoor to find jobs as a writer. I also highly recommend it to my students and other freelancers that need to find jobs.
Go ahead and give Glassdoor a try!
8. Getwork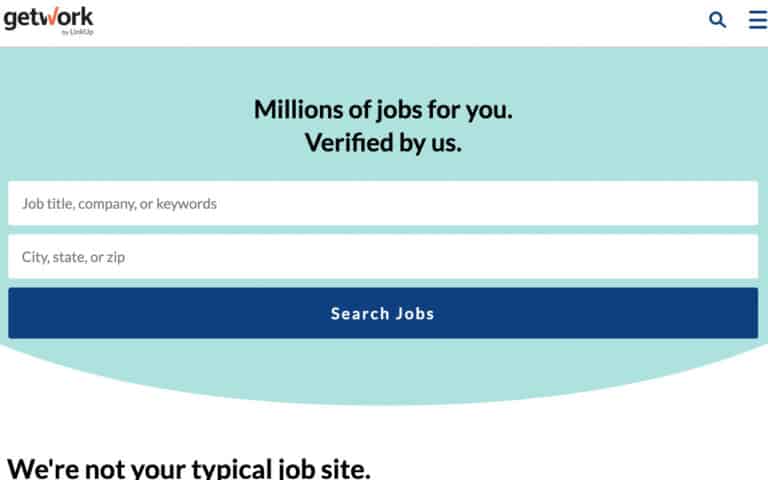 What is Getwork?
Getwork is a global job search site, and they tell you why they aren't the typical job site.
First, they verify every listing, then list tens of thousands of career sites so you can be the first to see these jobs, and finally, you don't have to jump through hoops to apply. This means you don't need to set up a profile, making the job process quick and easy.
Getwork is an American company, and they don't have a Canadian website or other international job search sites.
They do function like other job boards I will list later in the post. This means, their site functions as a database of jobs, and once you find a good job, you click to apply and are sent to the company hiring page.
How to Use Getwork
I plugged in "content writer," and Getwork suggested "web content writer." For location, there were no suggestions, so I chose freelance.
Results were from all over the States, in different cities like Chicago, New York, Houston, or Boston.
Once I chose a content writing job opportunity and read the requirements, I clicked apply and was sent to the company page to finish the process.
I could use my LinkedIn profile to add more credibility for this job ad.
By doing this, parts of my job applications was already filled from what I put on my LinkedIn profile.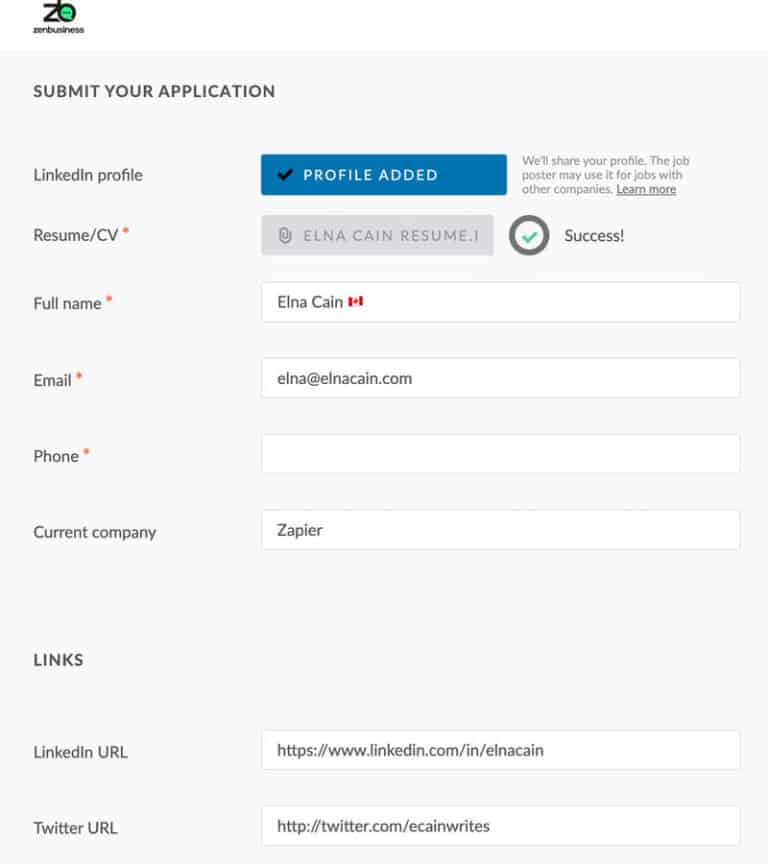 Overall, I enjoyed using Getwork, but this job site isn't relevant to me since I'm not in the US. I like using international job search sites so that I can work as a freelancer anywhere in the world.
But, if you are a US local citizen, feel free to use this site!
What About Fiverr or Upwork?
When I first started, the job search sites at the time were freelance marketplaces like Upwork. They were o-Desk and Elance at the time.
I didn't get any jobs from these places and found that the companies using these job sites only wanted the cheapest freelance writer or remote worker.
As for Fiverr, this is a commodity freelance job site that I don't recommend anyone use (unless you're OK getting $5-$20 for one-off projects).
So, that's why I don't include them in my list! Feel free to check them out yourself. You need to fill out a profile and learn how to market yourself on these platforms to advance to a higher status.
Best Job Search Sites for Remote Work
Did you know you can search for jobs on remote work sites? These job finding websites make it easy if you only want to do remote work.
So let's check them out.
9. Working Nomads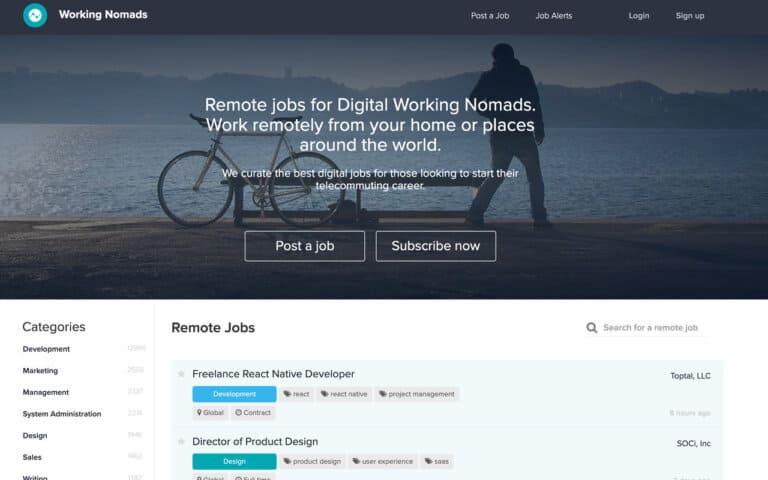 What is Working Nomads?
What I like about Working Nomads is that it's your standard global job board. It's one of the best ways to search jobs for entry level positions with over 250 companies.
They cater to remote workers in the States and digital freelancers who work globally (like myself).
There are no sign-ups required, no profile need, and no credit card to use.
Go to the homepage, and you can choose a category – marketing, writing, sales, design, etc. From there, you can see the jobs available.
You can even set up job alerts by adding your email address and choosing the categories you want job ads for.
How to Use Working Nomads
Once you choose a category, you can look at the jobs that interest you. Note the location – Global vs. USA. I haven't come across a Canada tag, so anything that isn't in the USA is termed Global.
Other tags: part-time vs. full-time vs. contract, pay, keywords about the job like "project management." "technical writing," or "journalism."
I chose the writing category and found a Global part-time copywriting job.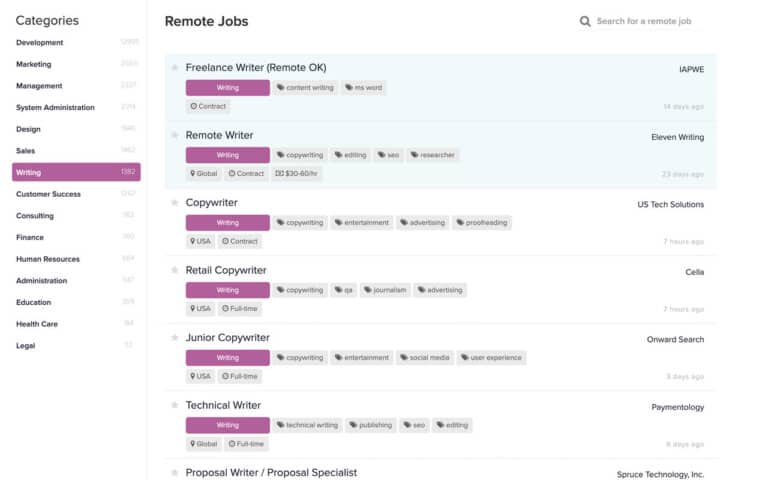 Once I clicked on the ad, I can view it and then apply, I am sent to the company hiring page.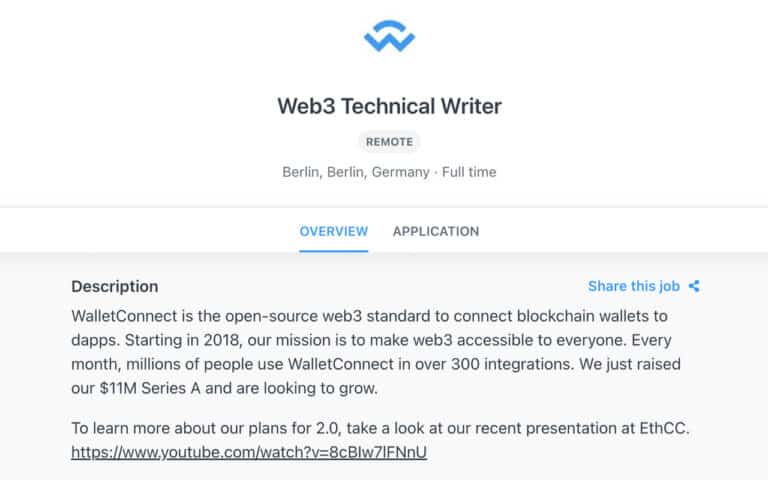 You apply based on what the company needs from you – cover letter, resume, portfolio.
I'm delighted with this job board for freelance gigs and other remote freelancing jobs. It's straightforward to use, with no barriers, and I'm sure I can apply to several jobs with this one job search site.
10. JustRemote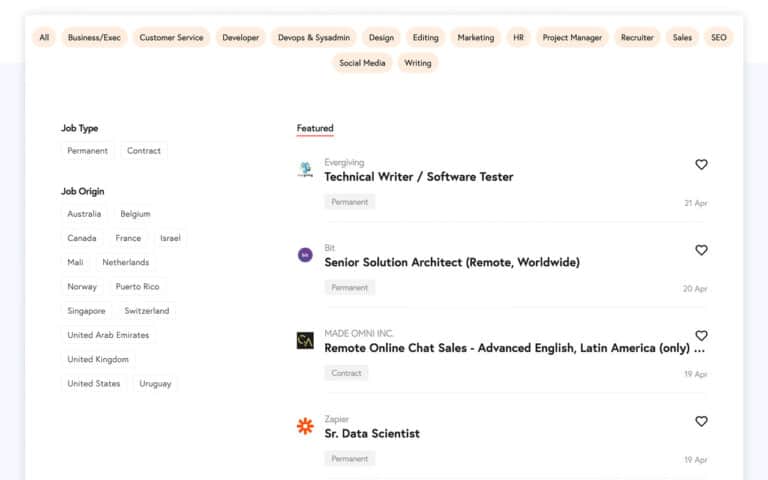 What is JustRemote?
For your next job hunt, try JustRemote. One of the best search websites are job boards, and JustRemote is a similar job board to Working Nomads.
They have over 3700 freelance and remote jobs available that are partial or 100% remote positions. One thing to note is they offer a paid power search option where JustRemote will give you the hidden jobs that aren't normally posted.
However, you can add your email to get weekly notifications of jobs for free.
JustRemote also has a resume builder, but it does cost money to download the personalized resume template.
You can source leads with their company page. JustRemote lists companies that offer remote work.
How to Use JustRemote
Click on Remote Jobs or their logo to view remote work jobs.
Compared to Working Nomads, JustRemote doesn't give you a lot of information regarding the type of freelance job or remote working job. It's just the company's name, job role, and type (permanent or contract).
They do have a filter for the origin of jobs – United Kingdom, Mail, Singapore, United States.
I chose not to filter by country and only selected the writing category.
I found most gigs are permanent, but I chose a contract writing position.
If I want to apply, I use the "quick apply" button that takes me to the company site of hiring. For this particular job, I filled out a form.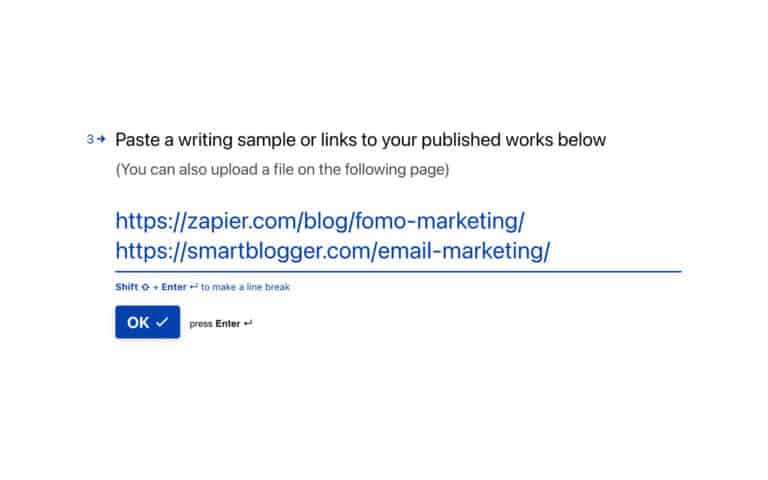 I wasn't too impressed with this job search website. I found it didn't have as many jobs in my industry available, and this job board wasn't technically global, making it hard for me – in Canada – to find a job in the UK if it's remote (i.e., I would need a working visa).
8 More Remote Job Search Sites
For some of the best websites to find remote jobs or freelance jobs like writing jobs, check out these six more job posting websites:
11. We Work Remotely
We Work Remotely is one of the largest and best websites for remote work job listings. They generate over 900 new job postings every month.
It's free to use their Advanced Search option.
12. Content Writing Jobs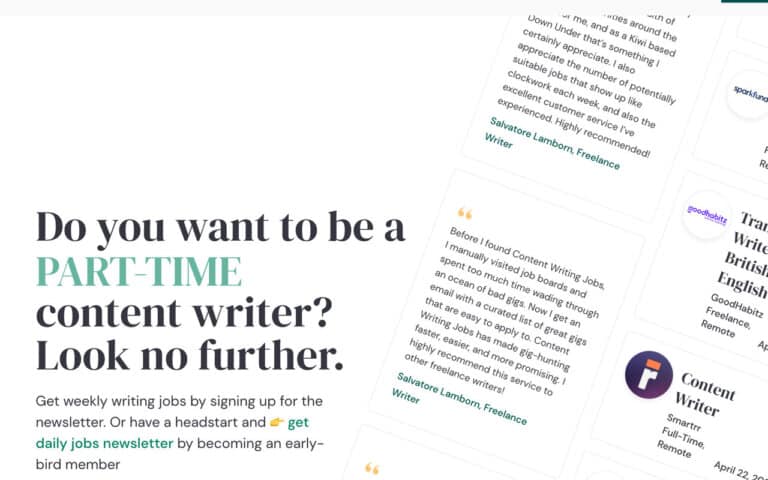 Content Writing Jobs isn't a job search site or a job board.
It's an email list!
Yes, I thought I'd slip this in because I vet these job search sites, and some of them have had scams on them, and I don't want to share those job sites.
So here's a reputable job email list to get onto.
Once you sign up you'll get emails with links to job ads!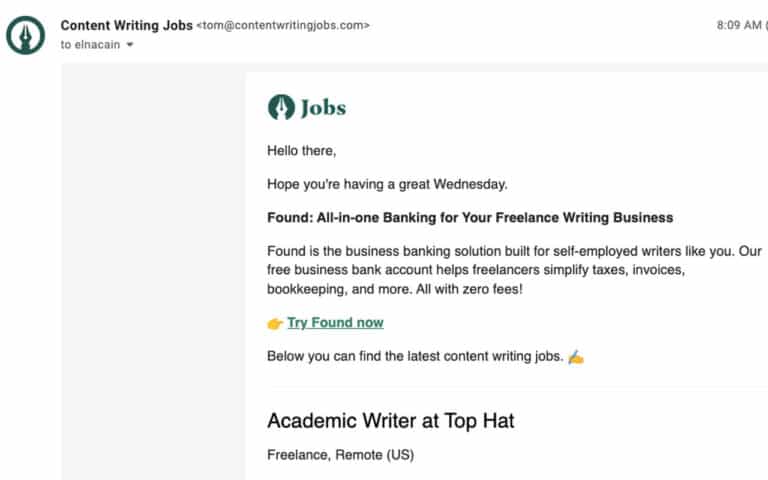 13. Remotive
Remotive offers global, US only, and other location full-time remote jobs.
The company hand picks each job, so you know that your job search efforts won't yield any red flags.
14. Authentic Jobs
Authentic jobs only post designer jobs like tech jobs, developer jobs and other creative jobs.
15. Dynamite Jobs
Dynamite Jobs is a standard job website where you can filter job type, time zone, and salary range.
16. CrunchBoard
For landing tech jobs, the best job search sites for tech is CrunchBoard from TechCrunch.
17. Eluta
Eluta is a Canadian-only job posting website. It's one of the best job finder websites for Canada. Big brands like BMO post jobs on this job board.
18. Behance
Behance is a global job board search site with creative remote jobs and other freelance jobs like freelance writing jobs and copywriting jobs.
Best Job Boards for Freelance
Look –
I've been a freelance writer since 2014, and through this time, I've used dozens and dozens of freelance job sites. These next ones are the best job boards specifically for freelance writers.
19. Contena
Contena is a premium job board + community with high-paying freelance writing gigs. Jobs from Amazon, Google, Time Magazine, and others are on this job site.
Check out what Contena has to offer in my Youtube Video.
20. Writers Work
For a budget-friendly job search site, check out Writers Work.
I like how easy it is to use this job board, and I like how they have a document section to write your content.
Check out the job board in my video.
21. Robert Half
Robert Half is a recruitment agency. They also have a job board with some amazing and popular jobs in remote working and freelancing.
They do cater to Canada and the US.
22. Problogger
If you've been freelancing or blogging for any time, then you've heard of Problogger.
Problogger has a popular blog, podcast and a job board section.
They post primarily freelance writing jobs and it's free to use.
Because Problogger is so popular, the quality of jobs are mostly entry level, lower paying gigs.
But this shouldn't stop you from using this job website. I've had great luck finding good-paying jobs.
23. Cision Jobs
Cision Jobs is a career website that was formally Gorkana Jobs. They share engineer jobs, software developer jobs, IT and writing/journalist jobs.
24. Media Bistro
Media Bistro is another career and job search site for copywriting gigs, social media jobs, marketing, communications jobs, and more.
I've found high-paying writing jobs on this free job site.
25. An Army of Writers
An Army of Writers connects independent freelance writers or freelance journalists to companies seeking content writers.
You can fill out the form, but you may not be accepted. This digital marketing agency only wants experience writers with niche expertise.
26. Skyword
Skyword is a content marketing platform for writers. Set up a free profile and use their job board to apply within Skyword.
Here is my Skyword profile: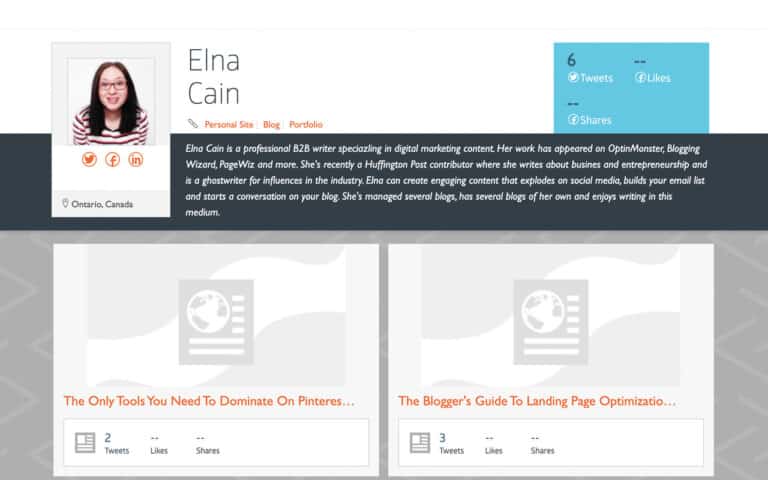 27. Pace
Pace is a job board with many editing jobs and freelance writing jobs. They also have finance jobs, human resource jobs, analytics jobs and other creative jobs.
28. Freelancing Females
Freelancing Females is a job site with many categories catering to females like beauty, education/academics, makeup/hair, music, branding and more.
They also have traditional remote and freelance jobs like copywriting, PR and marketing, social media, etc.
29. The Mom Project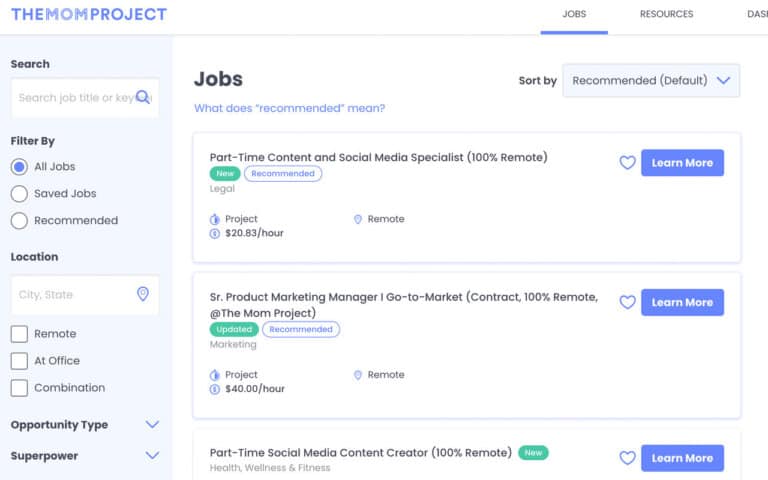 The Mom Project is a job site that matches you with potential leads. It is geared towards moms who haven't been in the workforce and want to transition to working from home or doing remote or freelancing.
You do have to fill out a comprehensive profile, and the Mom Project will email you jobs they think will fit the criteria you set in your profile.
But once you fill that out, they will email you jobs and provide a link to their job site to find more jobs.
Once you find a job, you click "apply" and The Mom Project already has your resume and other skills you noted when you signed up that the application is practically already filled out!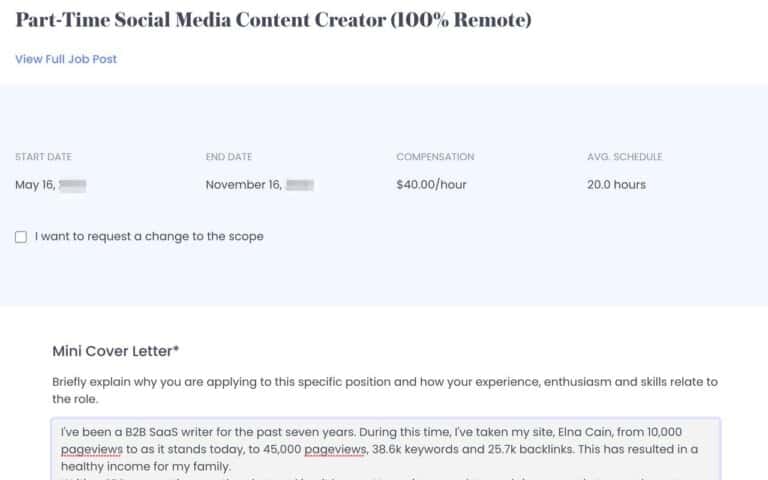 30. Copywriter Collective
The Copywriter Collective is an agency rather than a job site. You apply to join as a copywriter. You create a profile, and the agency will pair you with a client needing content from you.
There is no fee to join and what's nice is that they handle most of the business side of freelancing (acquisition, negotiation, and payment). The Copywriter Collective is who pays you.
31. We Are Rosie
We Are Rosie is a women-identified marketing agency, but they align with any gender identification across the spectrum. They are an agency like The Copywriter Collective. and once you join, they will pair you with a client to do content writing or if you have other skills like branding or marketing, whatever the client needs.
32. 24/Seven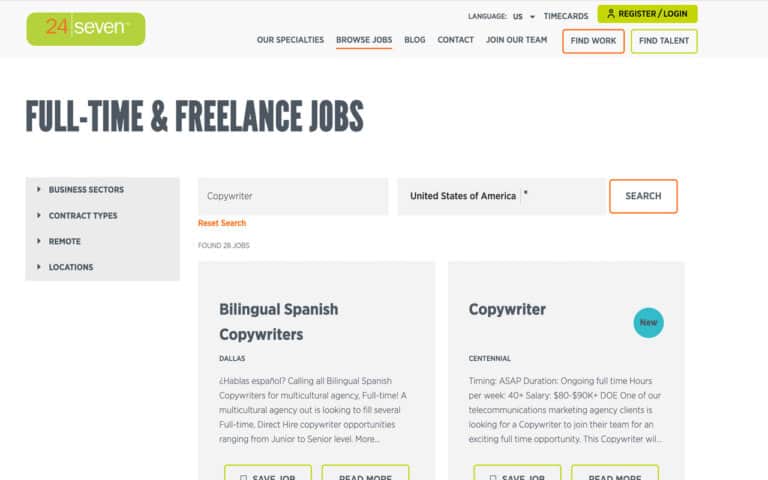 24/Seven is a creative job board site that is US only. With full-time, part-time, remote, or contract and freelance jobs available, consider using this job site for your online job search if you live in the States.
33. 80/20
The 80/20 job board is a specific job board for copywriters and content jobs. It is only US-based, and they have a small list of job ads.
34. Artisan Talent
Artisan Talent is a creative staffing agency, much like Robert Half. It's also a US job search site with creative jobs like graphic designer jobs, UX copywriter jobs, social media manager, art director, and more.
35. ClearVoice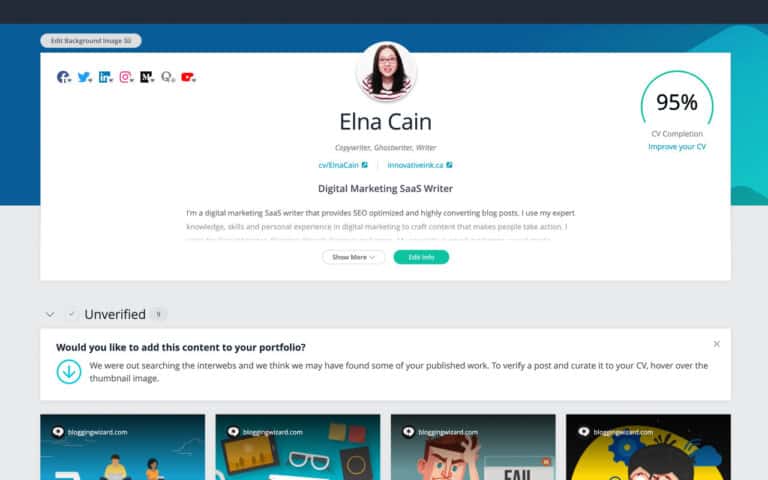 ClearVoice is a digital marketing company with a freelance platform.
When you go to their freelance jobs section, you can set up a profile or CV, and ClearVoice will email high-paying content writing jobs.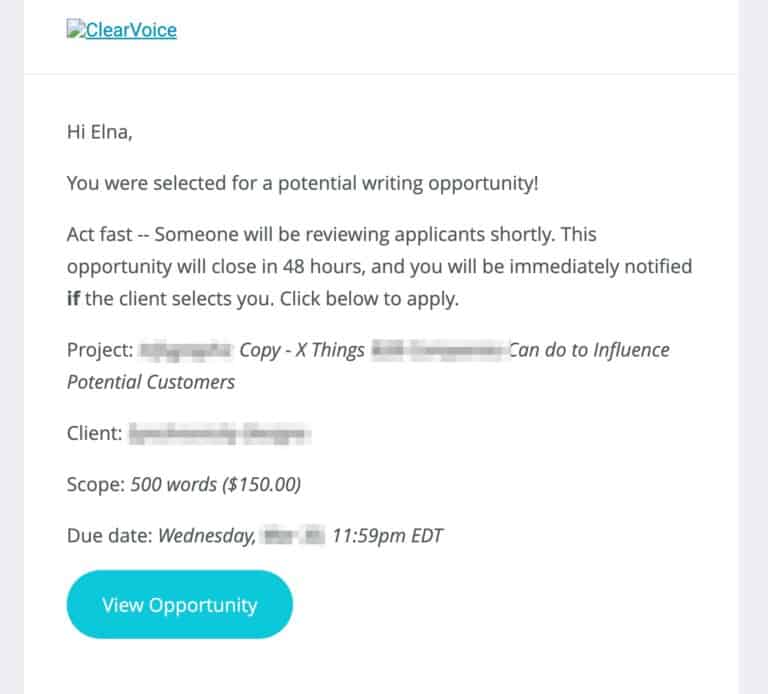 Which Site is Best for Job Search?
While I have listed my top five best job sites, according to GoRemotely, the most popular job boards are:
Indeed
CareerBuilder
LinkedIn
Job.com
Ladders
Glassdoor
Feel free to visit some of these sites to find the best online jobs for you, but I purposefully listed the job sites that I've used and tried.
Improve the Skill Gaps to Help You Get a Job
With telecommute options opening up the doors to working from home, it makes sense everyone wants a piece of this flexible lifestyle.
However, companies see skill gaps in job seekers. It's no wonder since there are 33% more skills added in 2020 than in 2017.
To prepare you for the job market, new technology, advancements in AI, and having a successful online job search, here are the top skills you need for a work at home job.
Edyoucated listed the most in-demand skills. They are:
Data science
Artificial intelligence
UX design
Web development
Cloud computing
Blockchain programming
Remote communication and collaboration (i.e. Zoom skills)
Data and IT security
Stress management
Innovation management
According to LinkedIn, the top skills freelancers should know are:
Instagram
Content marketing
Creative problem solving
Brand awareness
Hootsuite (digital automation tool)
Adobe Premiere Pro
Marketing automation
Customer experience
Facebook marketing
As you can see, LinkedIn's sought after skills rely heavily on digital tools and social media platforms.
As a freelance writer, I know that the top skills I need are:
Familiarizing myself with apps (Trello, Grammarly) and software programs (Google Docs, Microsoft Word)
Understanding how to use a graphic editing tool like Canva
A firm grasp on SEO writing and using SEO tools like Ahrefs or Surfer SEO
Email service provider (Gmail, Convertkit)
Is It Worth It To Use Job Search Sites?
My answer is a yes, but…
Yes, it is worth it to use a job website or job board, but only when starting out.
I wouldn't rely on them for years and years to come. If you only want to telecommute and work remotely with your company, there is no need to develop an online presence and work to grow your business.
But, if you want to work from home for good, freelance writing is your option. I work with clients all over the world and I command my rates and decide what I provide for each of my jobs.
It all starts with searching on a job site. One thing to note: I know there are job scams on job search sites, so do your due diligence when finding jobs to apply to. For example, go to Facebook groups and ask and search the company on Reddit.
Be careful!
Over to you – have you used any of these websites to find a job? Let me know your impressions and thoughts! I'd love to hear them!
Please pin me!