Are you noticing more and more lately that freelance writing job ads are asking you to write a cover letter when you pitch to them?
It's not the norm, but a specific job wants you to submit a cover letter and enclosed resume.
But the problem is: you don't have one specific for your writing business. What do you do and how do you write the perfect cover letter?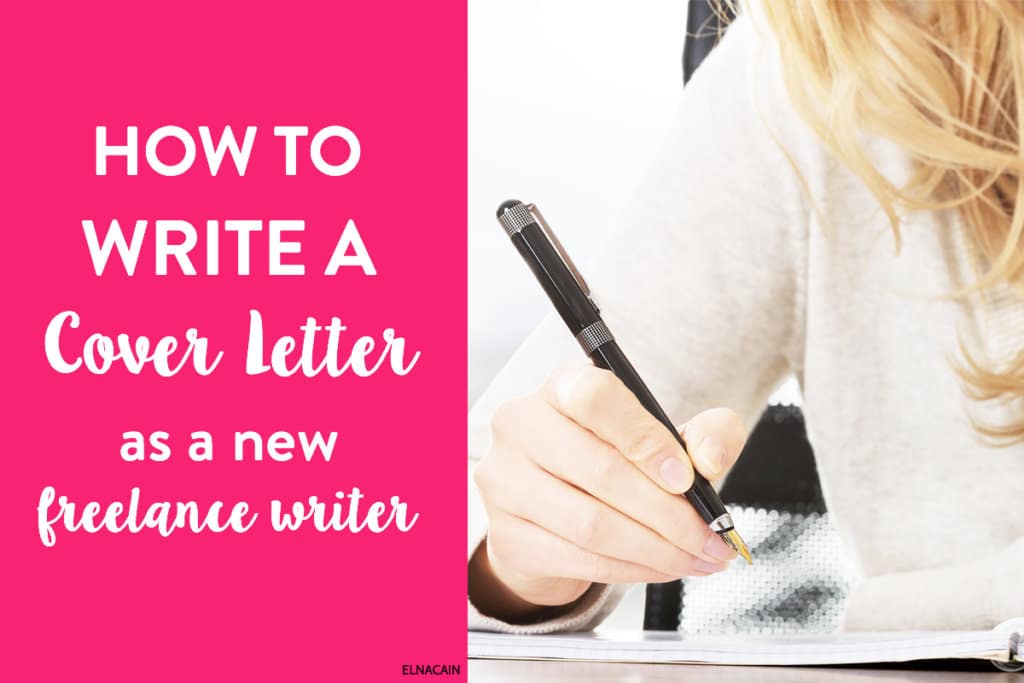 As a freelance writer, how to write a cover letter can help you land a freelance writing job.
Plus, many job ads or a potential employer might ask for this application letter.
You might think if writing cover letters is essential.
I want you to realize that as a freelance writer, you are not an employee; you're a collaborator. When you "get hired" to write for a small business, you are considered an independent business owner.
So, for this definition, it's not necessary to have you write a cover letter for a job.
But, I like to be prepared, and I want to help all types of freelance writers, especially if that job is your dream job.
My expertise is limited to online writing for small businesses. But, I do know there are many different types of freelance writers out there. And if this post can help someone land their first job, then that's more than enough reason for me to write this for you!
What is a Cover Letter?
Your cover letter is usually combined with your resume and is what recruiters, hiring managers, or a prospective employer use to decipher if you are the one for the project.
Since your resume lays out your experience, and education that's relevant to your freelance writing niche, your cover letter provides more information and shows your personality too.
I view a good cover letter as one that tells a story but sticks to the most important and relevant information to help a business understand that you are the freelance writer for them.
So, this means that every job application that requires a cover letter should be unique to that job.
It would be okay to write a cover letter template that has your experience the way you wrote it as well as any branding information. For example,
My education in Psychology and the 6 years as a behavior consultant for children with Autism has prepared me to write educational content on the most up-to-date information.
If you want an all-in-one shop for a professional cover letter, there are cover letter builders and generators you can use like:
Cover letters are written like a letter and is addressed to a specific person like the content marketer, editor or hiring manager that is overseeing hiring a freelance writer.
If you're wondering what to include in your cover letter, I would make the information relevant to the job ad requirements.
So if you have a basic cover letter from university or when you went job hunting, I would update that or make a new one.
For the person that's hiring a freelance writer, your cover letter needs to convey to them you are the right applicant for them during the job interview.
And, as a freelance writer, you can use copywriting to keep the employer's attention and convince the person hiring writers that your writing is the best fit.
Later in the post, I will share writing attributes as a way to help convince prospects to hire you.
Spend the time writing a great cover letter and have other writers in your network review your cover letter or get family to look it over to make it great.
Considerations When Writing a Cover Letter
To optimize your cover letter, it needs to be simple, has your work experience broken down and be only one page.
Let's look at these points a little deeper.
1. Keep It Simple
You don't have to go all out and fancy with a cover letter. Instead, keep it simple, Sam!
Think of this as a sales pitch and in the most concise manner, you need to convey a prospect to hire you.
This means not going too much into your history or education in the introductory paragraph. While you think it's great you enjoyed writing from high school and specialized in creative writing at University, for your cover letter, focus on how your writing can help that business in your opening paragrah.
2. Break Down Your Experience
When writing cover letters, showcase relevant skills and experience that highlights your writing service.
You can make a global statement of how many projects you have worked on, notable brands you have collaborated with and any conversion metrics that your clients have told you – like how your blog post for them is ranking in Google.
But, what if you're a brand new writer? You don't have experience to mention!
If your writing experience is thin then, you can use other ways to show your credibility.
One easy way is to guest post for popular or big sites.
For example, Elephant Journal is a wellness, green living, yoga-loving publication that receives almost 2 Million visitors a month. They offer guest posting.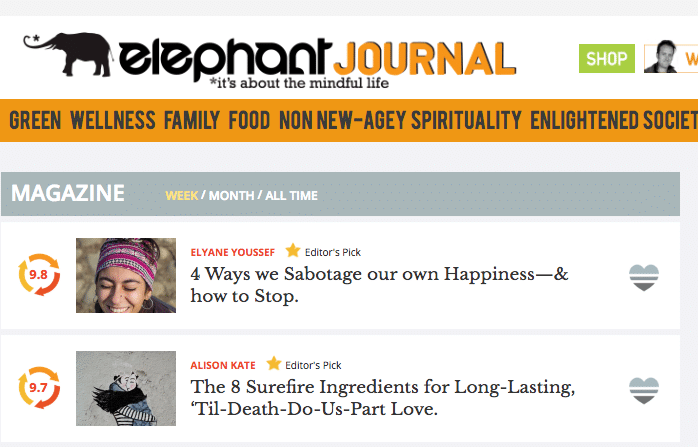 So, I would spend some time pitching to popular brands, but also working on securing any guest post related to your niche.
This will help you when you write an effective cover letter and have to show your experience.
You can also share a related experience. For example, if you are a tech writer, I would mention any certifications you have in the tech field and any important references on certain tech services or tools you are familiar with – email service providers, landing page plugins etc…
3. It's On One Page
Generally, the most optimized and converting cover letters are written on one page and in a few paragraphs – the introductory paragraph, the second paragraph, third/fourth paragraphs, and the closing paragraph.
If you find that you can't fit all the information onto one page – then I would spend a good time editing and work to pare down your cover letter.
So, if you ask how long should a cover letter be – make it around 500-600 words, or as long as it fits on one page.
And if you find that your cover letter seems too sparse, then perhaps it's not the time to apply to that job description or start looking for a freelance writing job.
Instead, you need to build your portfolio as a writer.
When writing your cover letter, write a few drafts and spend a few days editing it since letting your writing breathe helps with the editing process.
How to Write a Cover Letter For a Job
Let's look at the anatomy of how to write a cover letter as a freelance writer.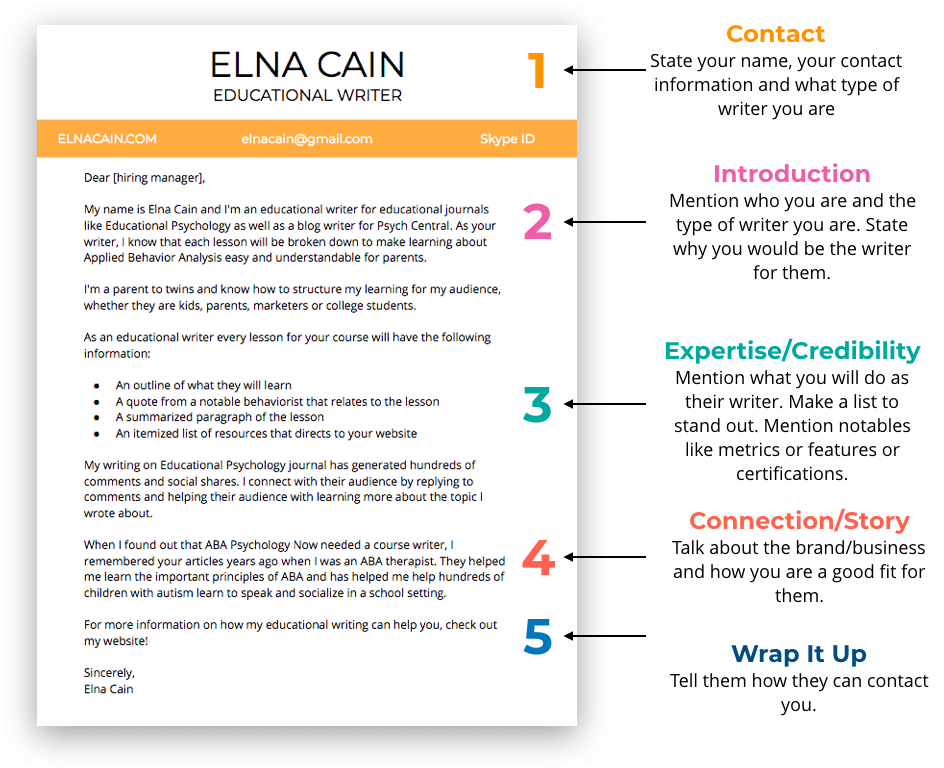 I created this sample cover letter as a fictional education writer for Psychology based businesses. Make sure when you draft your application letter that it's for one specific position.
You can use this cover letter example as a template and adjust with each new cover letter you write.
Let's go through each step to writing a cover letter as a freelance writer.
1. Contact Info
Your cover letter needs a heading. For this, you can use a template or browse online for a style you can mimic or do. I chose something simple – a colored bar.
I made sure to put my name in a large font, what type of writer I am – educational writer – and listed my contact info.
For your contact information you can add:
Your address (for local businesses you pitch to)
Your phone number
You Skype Id
Your email address
Your freelance writing website
Your Contently profile
Your Clear Voice profile
Your Hire Me page
Your LinkedIn profile
Find the best ways for a prospect to contact you and use that for your cover letter.
2. Introduction
So, how do you introduce yourself in a cover letter?
As with any pitch or sales letter, you need to introduce who you are and how you can serve that business.
Here is what I wrote for my introductory paragraph:
Dear hiring manager,

My name is Elna Cain, and I'm an educational writer for educational journals like Educational Psychology as well as a blog writer for Psych Central. As your writer, I know that each lesson will be broken down to make learning about Applied Behavior Analysis easy and understandable for parents.

I'm a parent to twins and know how to structure my learning for my audience, whether they are kids, parents, marketers or college students.
I chose to let this prospect know that I'm a mom to twins as the fictional job ad wants a course writer for their ABA course for parents.
I made sure to note my other clients or guest posts (if you're new) and then I made sure to tell the prospect how my writing will help them.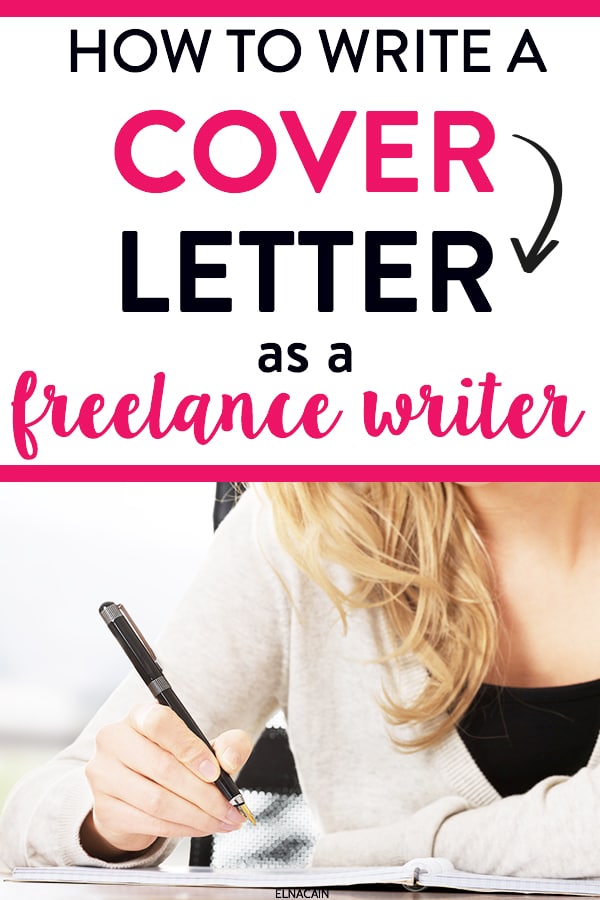 3. Expertise/Credibility
Look – if you're brand new to writing, this section may be thin, and that's okay.
That's why I suggest you start guest posting so that you can mention these sites.
You can also dive into your education or your previous job.
For example, if you want to write for industrial or mining companies, you can state your experience as safety manager on construction sites.
I would also include a list of how you would write for them. For example, if you are writing a cover letter for a case study writing position, you can break down your process for writing a case study in a list form.
This gives the prospect assurance that you are legit and you are credible in this writing service.
This is what I wrote:
As an educational writer every lesson for your course will have the following information:

An outline of what they will learn

A quote from a notable behaviorist that relates to the lesson

A summarized paragraph of the lesson

An itemized list of resources that directs to your website

My writing on Educational Psychology journal has generated hundreds of comments and social shares. I connect with their audience by replying to comments and helping their audience with learning more about the topic I wrote about.
4. Connection and Story
Use storytelling as a way to connect with the person reading your cover letter.
This can mean how you found out about the job or that the business is based in your town or where you used to live at one point.
You can also connect with their message, their brand and their content on their website.
Here is what I wrote for my storytelling section:
When I found out that ABA Psychology Now needed a course writer, I remembered your articles years ago when I was an ABA therapist. They helped me learn the important principles of ABA and has helped me help hundreds of children with autism learn to speak and socialize in a school setting.
I mentioned how I used this fictional business's content to help me help children with autism.
5. Wrap It Up
In the closing paragraph of your a cover letter, you can mention how they can best contact you or where to go for more information about your service.
Now, this is a simple template you can use to base your cover letter off of.
My suggestion is to try to weave in some writing attributes so that your letter stands out.
So, let's go int some attributes you can mention.
Writing Attributes for Writing A Cover Letter
Here is a list of words you can use to highlight your credibility, work ethic and positive personality.
adaptable
focused
efficient
hard-working
diligent
problem-solving
results-oriented
conversion writing
break technical things down easily
research driven
up-to-date information
Autonomous
Take initiative
Creative
Flexible
Open-minded
While these are great words to add to your cover letter, make sure you avoid certain phrases when writing your cover letter.
Recruiters and hiring managers receive hundreds of cover letters and if yours looks too cookie-cutter-ish, they will glide right over your cover letter for another one that catches their attention.
To whom it may concern,
Please feel free to
I'm the (x) for your project
Creating Your Cover Letter Template
Earlier in the post, I mentioned some cover letter generators you can use to create a cover letter.
But, you can also write a cover letter template in Google Slides or Google Docs.
The example I made was created in Google Slides: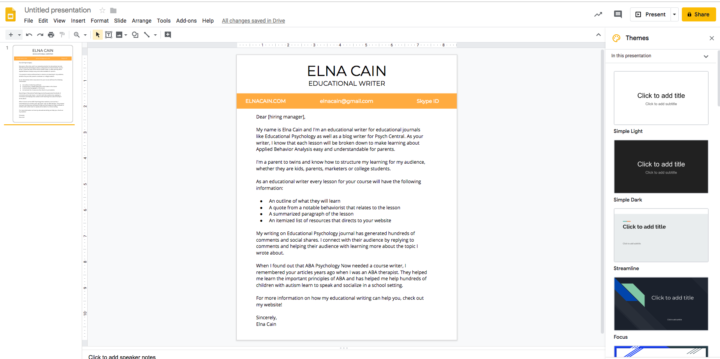 I just chose a blank canvas and set my page set up for 8.5×11 inches.
Next, I chose the square shape and made a bar across the top of the page. I then added my mock brand color.
From there, I chose the font for my title and filled in my contact info.
Then I got started writing my cover letter.
You can also use Google Docs to write a great cover letter and use that as a template.
Google Docs has a business letter template that you can use for your cover letter if you want: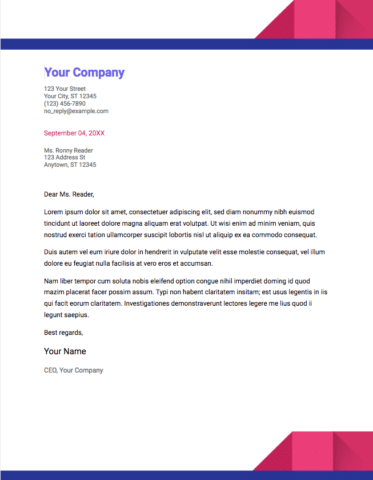 What I Use To Land a Gig
As I mentioned, I have not used a cover letter or resume to land a freelance writing job.
Instead, I use my pitch when I email prospects, or I use my LinkedIn profile.
Typically, I use my LI profile if a prospect wants to see my writer resume. Other writers use this method as well but to each their own!
Find out what works for you.
Should I Write a Cover Letter?
A freelance writing job ad may stipulate a CV or resume.
If this is the case, there is no need for a cover letter, but if you have one handy – and it's niched down to your writing niche – I would add it when you submit your info to the prospect.
But, make sure you read the freelance writing job ad thoroughly to not miss critical information. Here is a job ad on Indeed for a remote writing job.
This job ad with the job title of national news writer, requests a cover letter with their resume + blog topic ideas.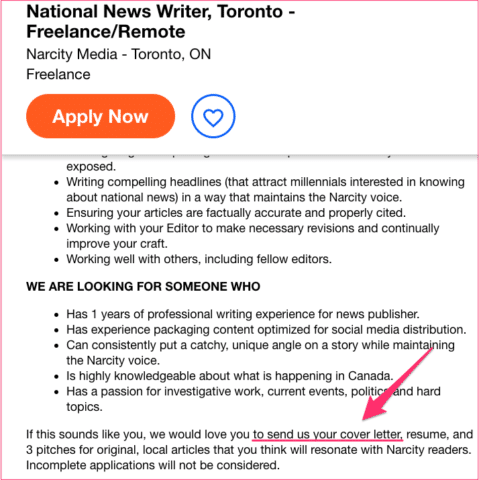 How To Submit a Cover Letter
Make sure you read through the entire job ad to see if they want you to submit your cover letter via email or via the job ad site.
Before submitting your cover letter make sure your writing catches the interest of the person that will read your cover letter. Remember, you want to stand out and to do that you need your writing to show some personality and uniqueness.
Another Tool To Help You Land a Gig
There you go!
Feel free to use my template example for your template and customize it as an on needed basis.
Know that you don't have to have a strong cover letter to be a freelance writer! You can land amazing writing gigs easily without writing a cover letter.
But, if there is a job you really want or a brand you want to work with and they request one, then hopefully this guide can help you and land that job!
Over to you – have you used a cover letter for a freelance writing job? Share with me in the comments!