Finally!
You have a freelance writing job and now it's go-time. The blog writing client wants you to pitch ideas for their blog.
But, you have no idea what topics to write about for your new client. You don't even know if you can pull this off. You keep telling yourself you're not a freelance writer and that no one will hire you.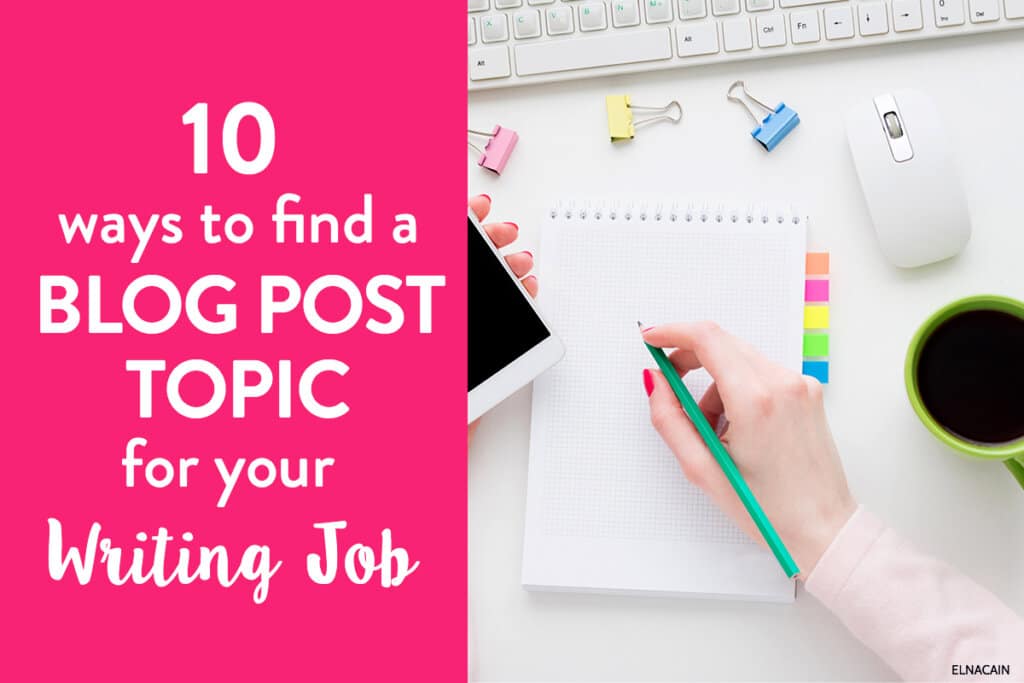 Now, you actually have a freelance writing client and you have to perform.
When I landed my first gig, I had to pitch topics. How do you find relevant topics and what if the client doesn't like any of them?
In my experience, if they don't like your pitch, they will pitch you some ideas they had in mind. Currently, most of my clients give me topics to write about, but in the beginning, I did have to pitch and with onboarding new clients I do offer some blog post topics.
Here are 10 places you can use to help you come up with topics to write about.
Topics to Write About
1. BuzzSumo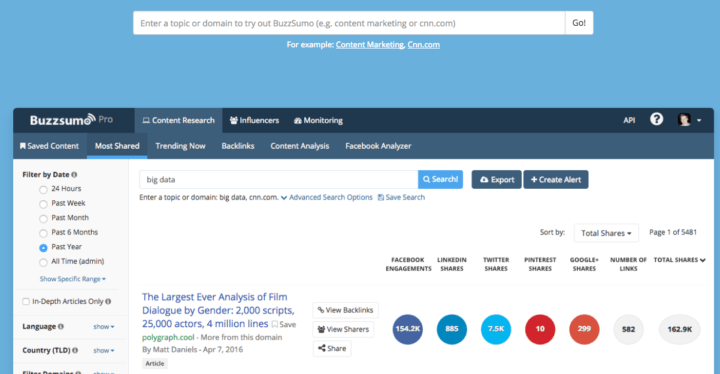 BuzzSumo is a free search tool to search topics to write about that are popular on social media. If you want your client to be happy with you (and be their go-to writer) one quick way to make sure that happens is to pitch popular topics.
How does this help? Well, if you write a post that gets a lot of social shares and traffic, the client will LOVE you! 🙂
To use BuzzSumo, look at your client's niche and search that on BuzzSumo. For example, if your client is in the health and fitness niche I can look up:
best yoga positions
paleo diet
best smoothies for weight loss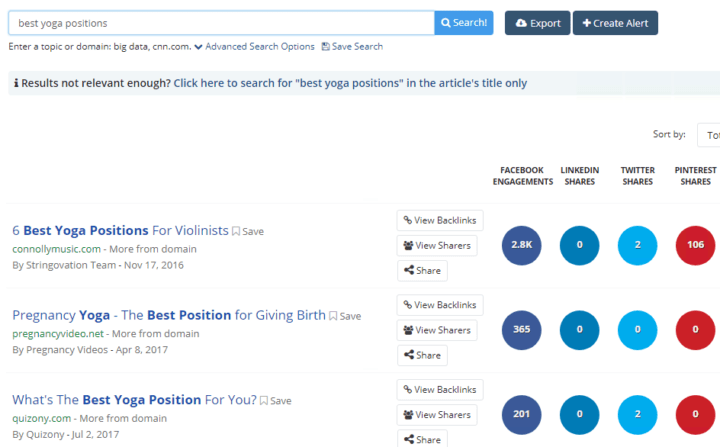 From the first topic choice, it seems that the most shared post is really niched down (yoga positions for violinists).
This can help you develop some ideas for your client like:
Best yoga positions for bloggers
Best yoga positions to help with easing pregnancy labor
Best yoga positions you can do with your child
BuzzSumo can also search a blog so you can search your client's blog and see which topics are the most shared.
From there you can create more topics to pitch to your client. For example, my client on Blogging Wizard has these popular posts on social media.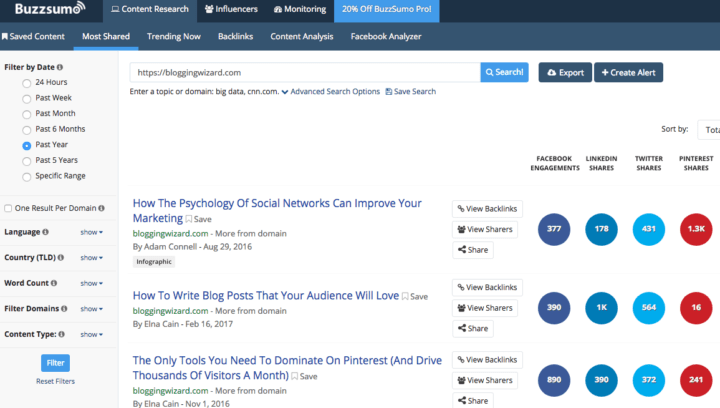 The most shared are about the psychology of social networks. If I wanted to, I could pitch topics in that niche like:
Using psychology principals to increase your income on your blog
How you can boost your Instagram Followers with these simple psychology tactics
Here's what you need to know about Millennials and buyer psychology
Those pitch ideas were just formed in my head as I was thinking about the principals of psychology. Since psychology is my background, I can pick some ideas that relate to online entrepreneurs.
2. Pinterest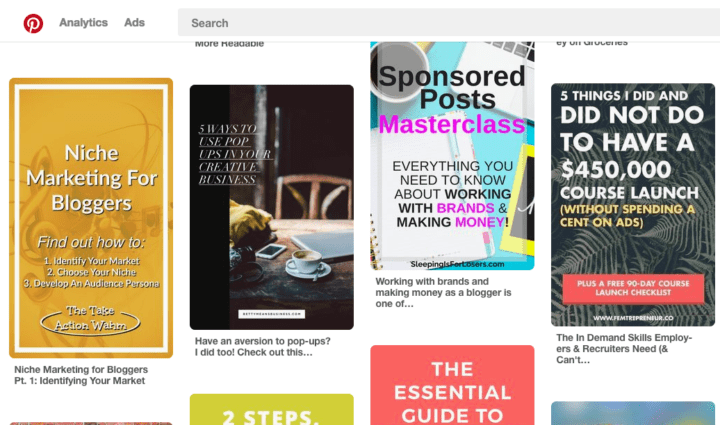 I love Pinterest! It's a great way to grow your blog and it's also a place to get some inspiration and find topics to write about for your freelance writing job. Plus there are some great Pinterest groups for freelance writers.
Pinterest is a visual search engine so you can go there and search for any blog topic. For example, if your client's niche is career and business, you can search for ideas around being more productive at work.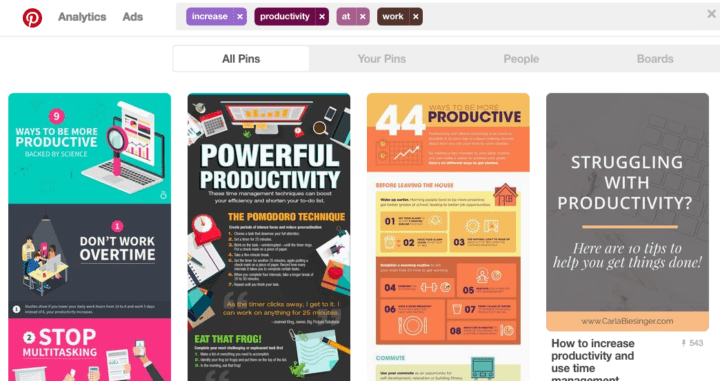 With this topic, Pinterest gives me a lot of infographics. I can look at those infographics and pick a sub-topic to expand for my client.
Maybe social media and distractions are a huge hinder for people at work. You can write a post on apps that stop this distraction, like the Kill News Feed chrome extension for Facebook.
There are a lot of ideas using Pinterest for your client topics so make sure not to ignore this search engine!
3. Quora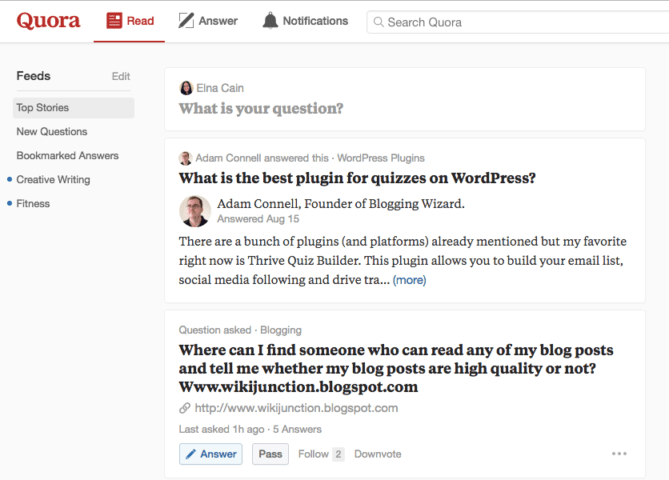 Quora is a question and answer site. People go there to ask a question and others answer. A lot marketers and influencers use Quora to build their credibility, understand their audience, and bring more traffic to their site.
But, as a freelance writer, you can use this site to help you form some topics to write about for your freelance client.
For example, if your client's product is a tool to help find influencers in your niche, you can look at this topic on Quora and see what questions people have about this subject.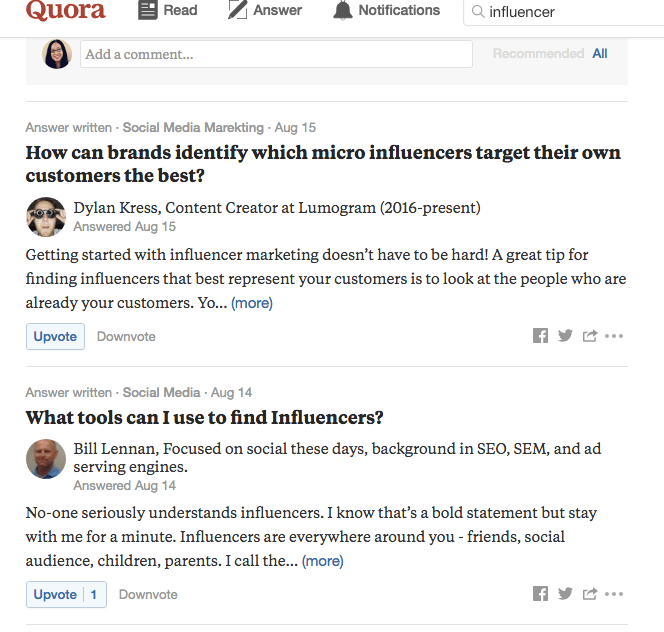 From here you can talk about micro-influencers or maybe do a roundup of tools to find influencers and then mention your client's product.
4. Google Trends

Google Trends is a free tool to help you find some searchable topics and see its trend over time.
While this might not help you find a topic, once you find a topic for your client, you can search some topics in a post you'll be writing.
For example, if my client agreed for me to write a post on gut healing foods I can search those foods – like bone broth – on Google Trends and put the popular ones in the beginning of my post.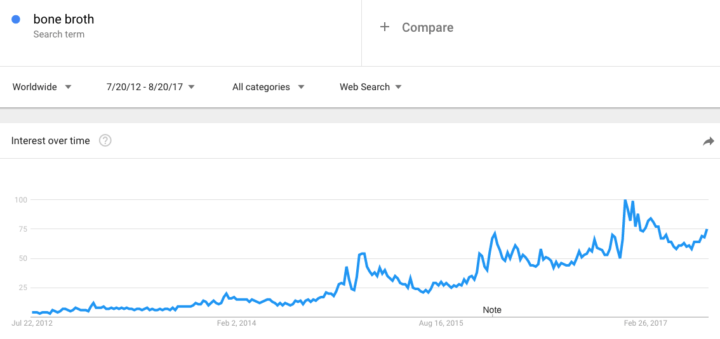 Or, I can create a whole post on a highly searchable topic.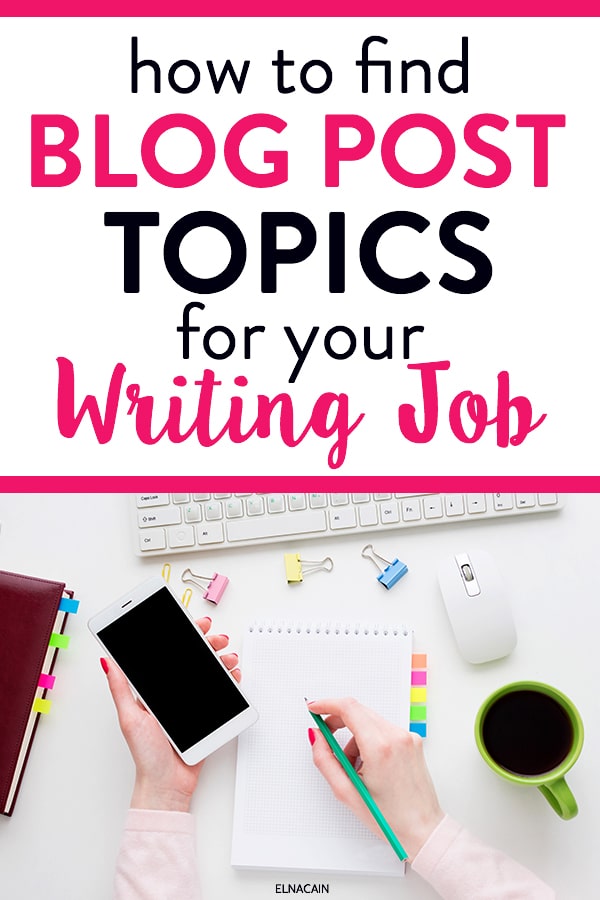 5. Use Competitor's Sites
A quick way to find some good topics to write about for your client is to look at other competitor sites' blogs and see what they are talking about. You can also look at similar sites too. For example, if you have a social marketing content client, you can look at:
Buffer's blog
Social Media Today
HubSpot
Contently's blog
For example, Buffer has a huge guide on Facebook groups. You can pitch to your client some sub-topics about Facebook groups like:
How to build engagement with your new Facebook group
The perfect daily threads to increase your engagement in your Facebook group
Simple ways to market your Facebook group
6. Personal Experience
One of the best ways to find topics is from personal experience. It can come from life experience, your job, watching the news, reading books, listening to the radio and talking with your friends.
For me, I now have experience in digital marketing and can use that knowledge to create posts around my niche topic (digital marketing).
Via my writer website: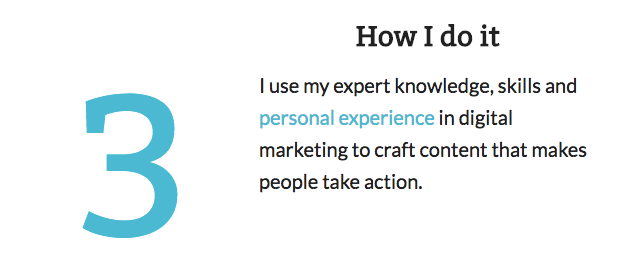 7. Blog Posts in Other Niches
To find topics to write about for your clients in this way, you need to be reading a lot of other blogs or know other bloggers in different niches.
For me, I created a new blog, Twins Mommy, which opened the doors to the mom blogger niche. I like to read other mom blogs and make money blogs to get ideas for my Twins Mommy blog and for my clients.
For example, some bloggers write a lot about social media scheduling tools (even I did!). I can use that knowledge of those tools to create posts for my clients.
8. LinkedIn
If you have a lot of followers you can look at your home feed and see different topics that might help you get some ideas for pitching to your freelance writing client.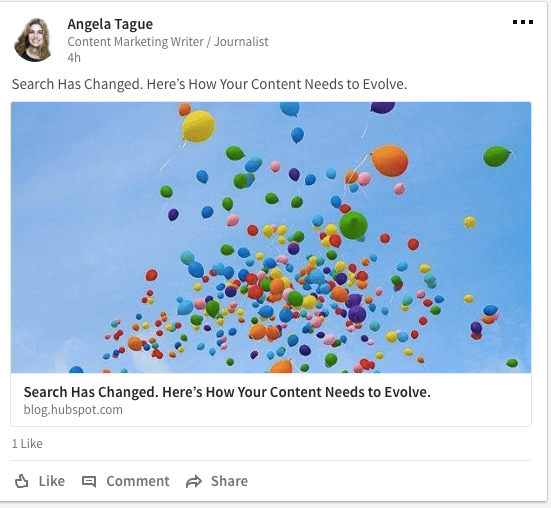 LinkedIn also has groups and you can look in those groups and see more blog post ideas. For some reason, I belong to a Travel Blogger Network LI group. Scrolling through the feed I noticed this infographic: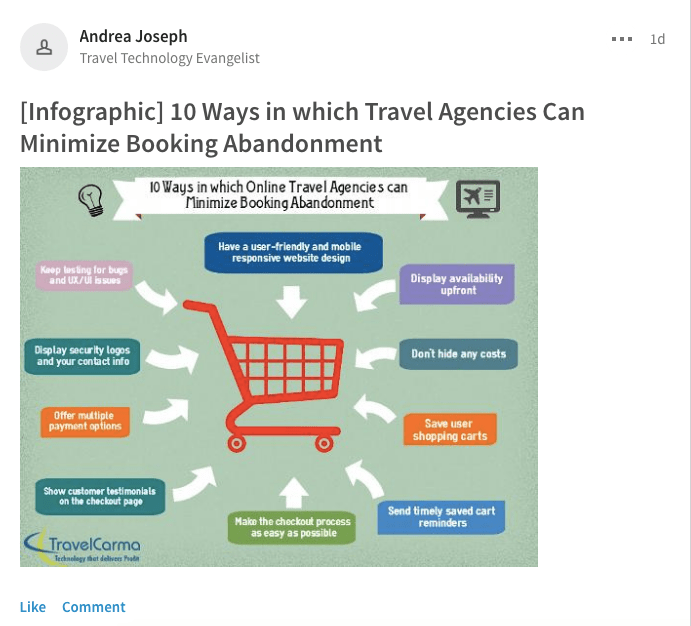 If you are in the travel and marketing niche, this is a great post idea. How can travel agencies minimize abandoned carts when people book their travels?
Look in LI groups to get some inspiration for your client's posts.
9. Other Freelance Writers (In the Same Niche)
I love looking at other freelance writers' sites. I like to see their copy, blog, and portfolio. If I'm in a pinch, I can look at other freelance writer's in the same niche as me and see what types of posts they are writing.
For example, Pam Neely has a running log of recent posts she's written for clients: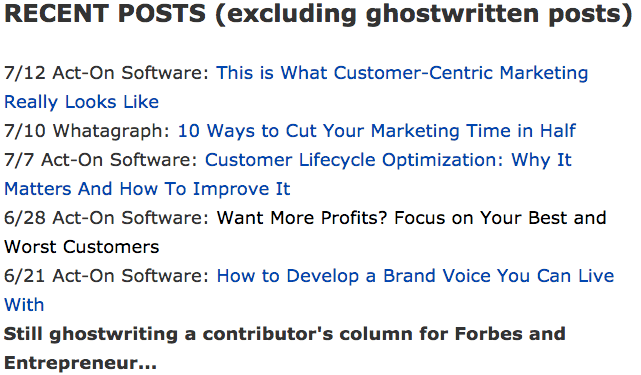 I can look at her list and see if some of these topics to write about are something I can get some inspiration and some ideas.
10. Facebook Groups
I'm all over Facebook and Facebook groups. Since I work from home and don't really go out too much, I like the networking and support aspect I get with Facebook groups.
Since my niche is digital marketing, the two Facebook groups I like are:
Both of these groups have promo days to share your latest blog post or lead magnet. I can look at the blog posts and get some ideas for my clients.
Want More Topics to Write About?
Make sure to check out my other post, 37 Blog Post Ideas for Freelance Writers.