Okay.
If you don't know, Pinterest is my BFF. You know why?
Because it's totally growing my blogs….yes I said blogs. My traffic has been growing much more when I started scheduling my pins using Tailwind (a scheduling tool).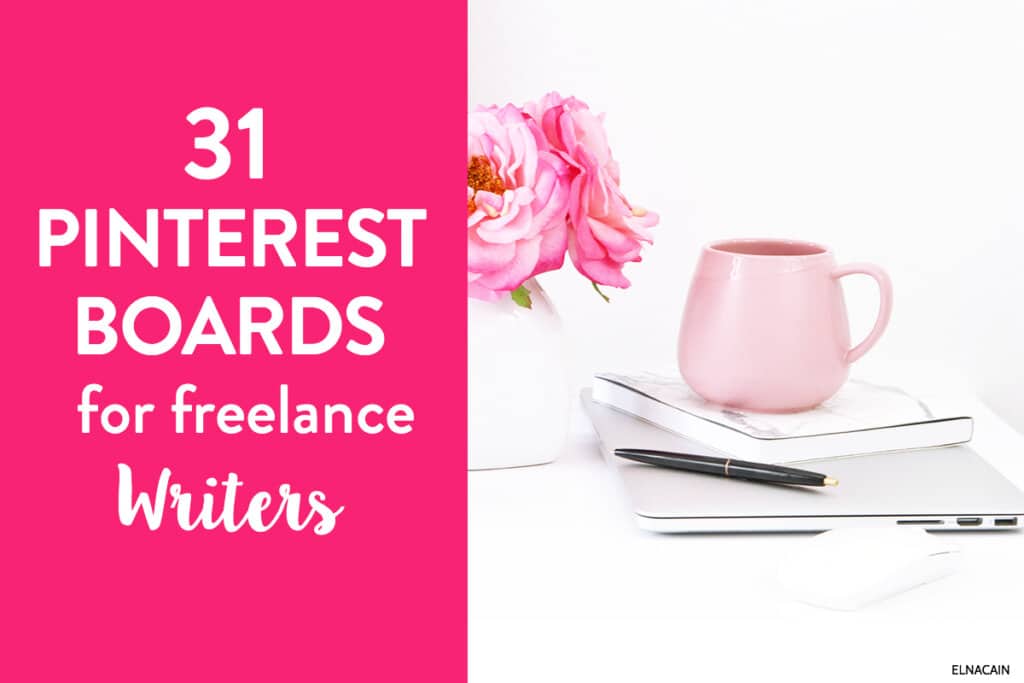 When this happened, I grew my pageviews to now 42k!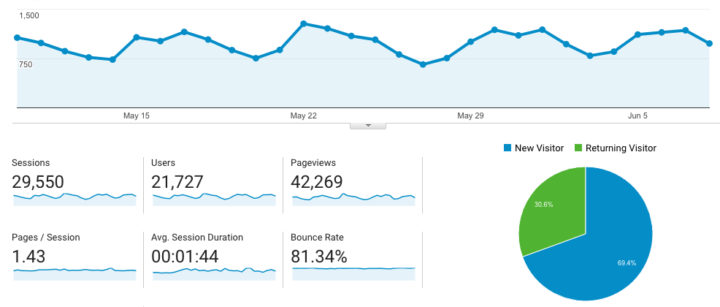 If you're new to Pinterest, this post won't really help you (sorry). But, if you are using Pinterest for fun, I want you to start using it for marketing your freelance writing services.
And one of the best things you can start on Pinterest is to use group boards.
Group boards are a collective board on Pinterest where collaborators can pin to that board. If the owner has a big following (or that board does) then that means your pins can be seen by thousands of new pinners.
Those pinners could be editors, marketers, CEOs, bloggers, solopreneurs, entrepreneurs, small business owners, authors and more.
Those are your clients.
You can be in front of those potential clients and behold, they could email you and ask you to write for them! Yay! It's happened to me.
Okay, now that you know why Pinterest is a BFF for freelance writers, let's look at some group boards just for you.
1. Freelancer FAQs – A Resource for Freelance Writers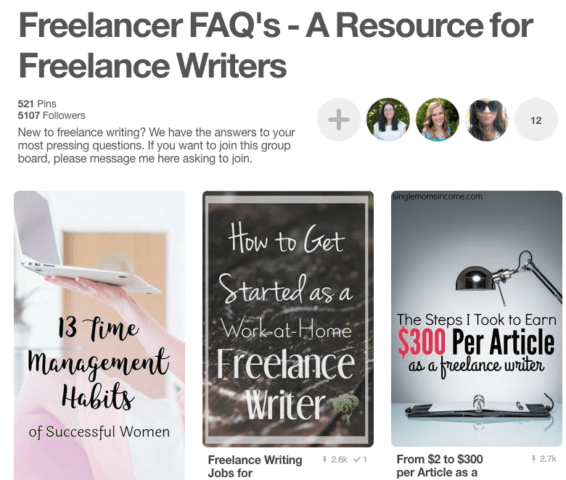 This is my very own group board! Originally, this group board was for my other blog, FreelancerFAQ's. But, it sat there for a year or more and was sort of collecting "dust."
So, recently I revived it by inviting more freelance writers that want to pin to that board. Now, it's lively and pinners are noticing it!
2. Location Independent Job Ideas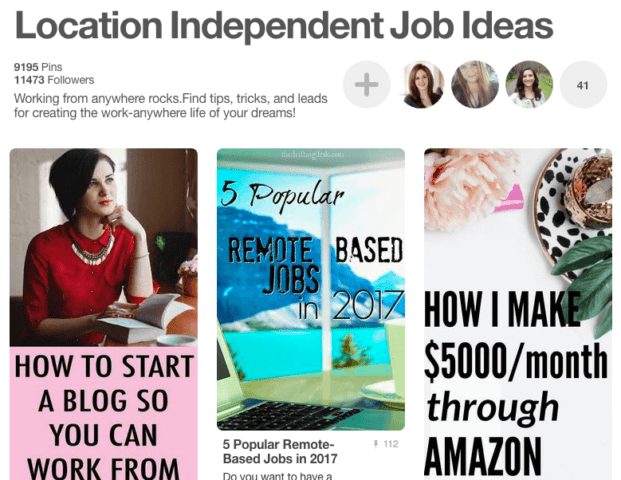 If you blog about job ideas, money making ideas or career ideas, this group board is for you! With over 11k followers, it's worth sharing your pins on this group board.
3. Work from Home Job Leads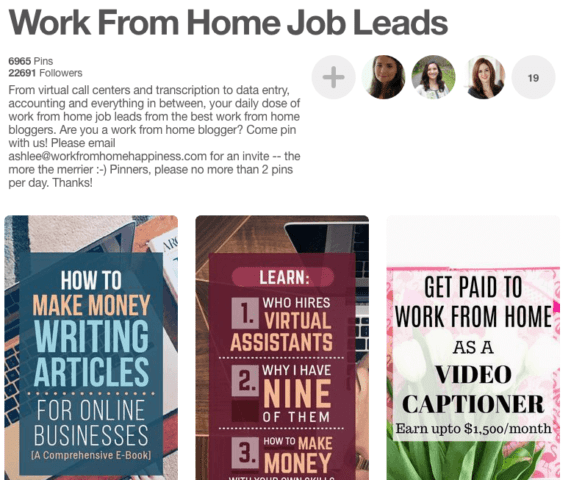 For freelance writers, your blog may have some good posts about working from home right? For a lot of us that's what we strive for, want or are trying to do full-time. If you have posts in that niche topic, join this group board to share those posts!
4. Business and Management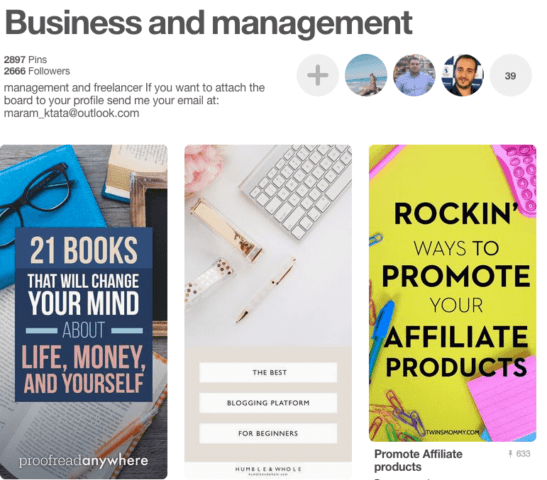 This is a straight forward group board around freelancing and management. If you blog about business type topics, this group board will help you drive more traffic to your blog and maybe get a client!
5. Freelance Fierce | Group Board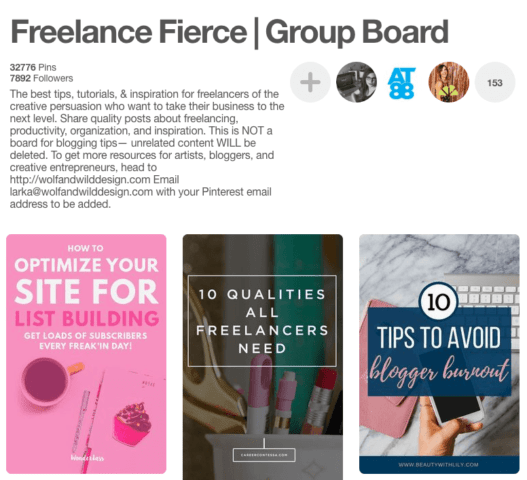 This board has the best tips to help freelancers. With productivity, organizing and inspiration tips, this board can help you with sharing your posts on these topics.
6. Writing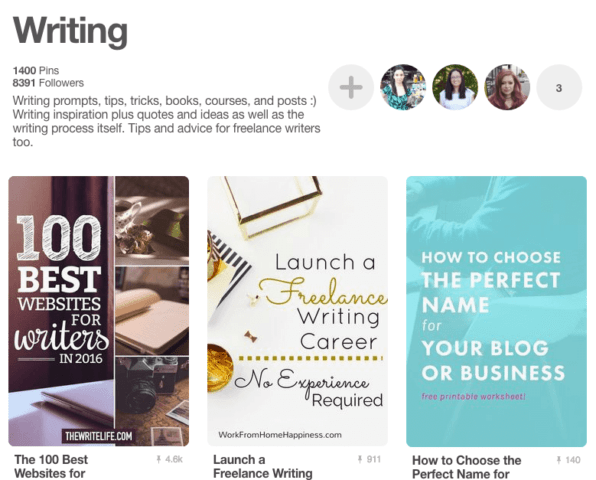 As a freelance writer, we may write about…well, writing of course! 🙂 This group board shares tips for freelance writers about writing.
7. Job Ideas for Proofreading, Editing, & Writing Buffs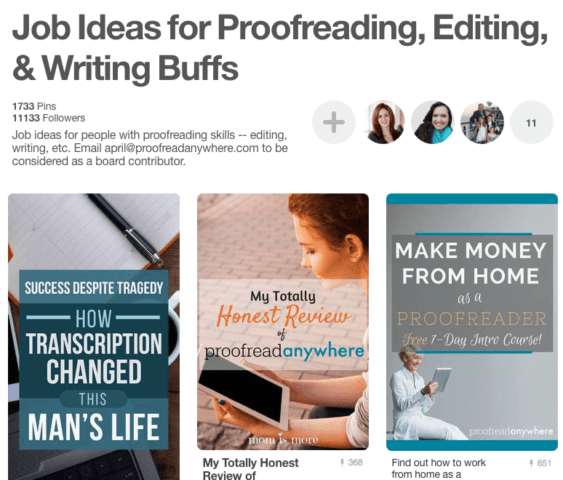 If you're an editor or proofreader, here's the board for you! Along with freelance writers, you can share your posts about your service ideas!
8. The Freelancer's Club from Careful Cents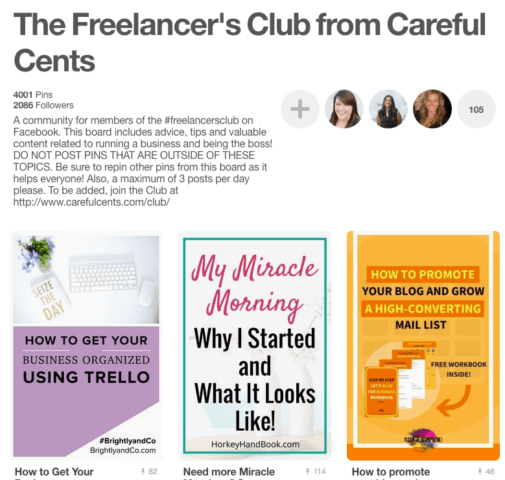 Carrie Smith from Careful Cents has an awesome Pinterest group board!
9. Rebel Entrepreneurs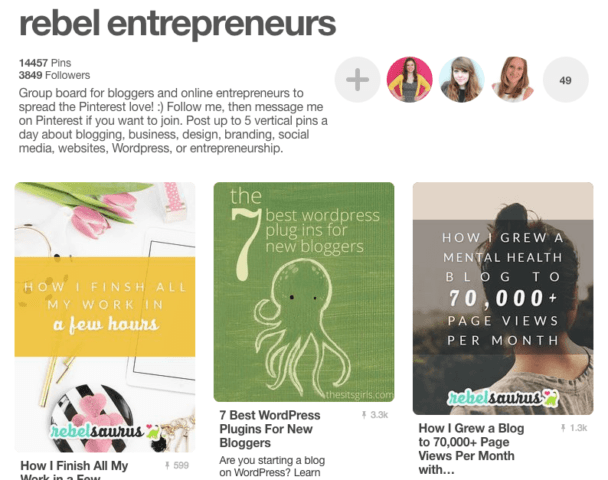 If you blog about your service as a freelancer, this group board about entrepreneurial topics can help you reach new pinners.
10. Freelance Writing Jobs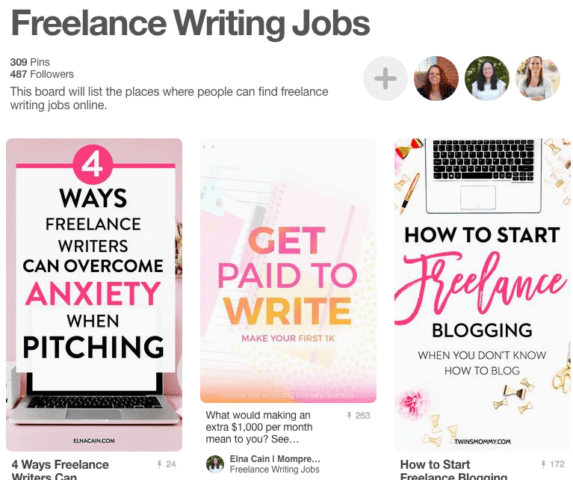 My dear friend Lorraine Reguly of Wording Well has a Pinterest group! She doesn't let you know how to request an invite, but perhaps contact her via her blog?
11. Freelance Writing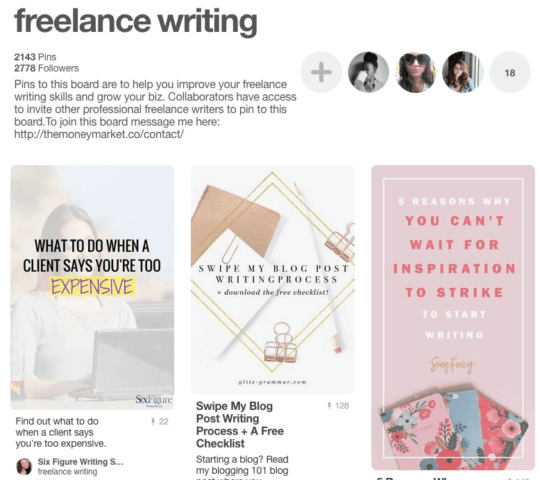 This board gives tips to improve your freelance writing. If you blog about those things, then join this group board.
12. Morning Business Chat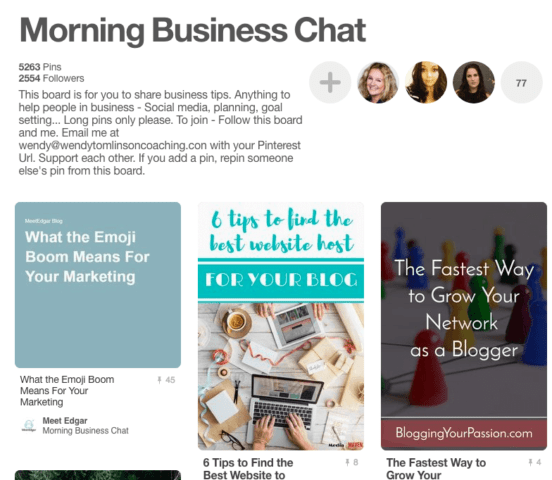 If you give business advice on your blog, this come and join Morning Business Chat!
13. Get Paid to Write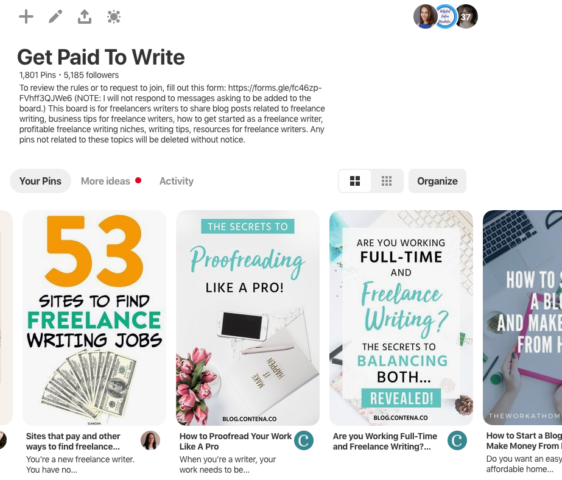 This Pinterest Group belongs to Katie of the Quiet Type. She's an awesome freelance writer and this is one of the newer freelance writing boards I've come across.
14. Mind Your Business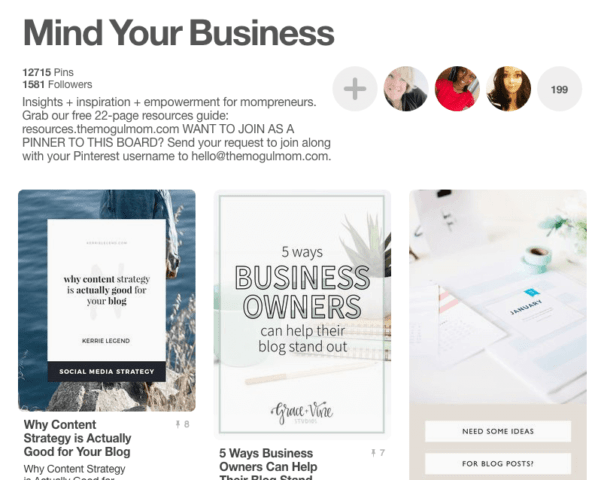 As a freelance writer, we are also an entrepreneur! We sure have a business and for a lot of us, we write about our business.
Here's a Pinterest group board to share those posts.
15. Client Attraction Tips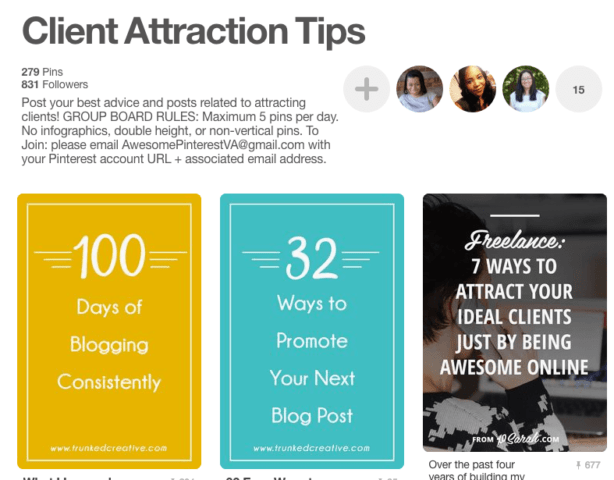 Use this group board to share tips to attract clients! Oo la la, marketing your business to attract clients is my ideal way for sure!
16. Entrepreneurship Enclave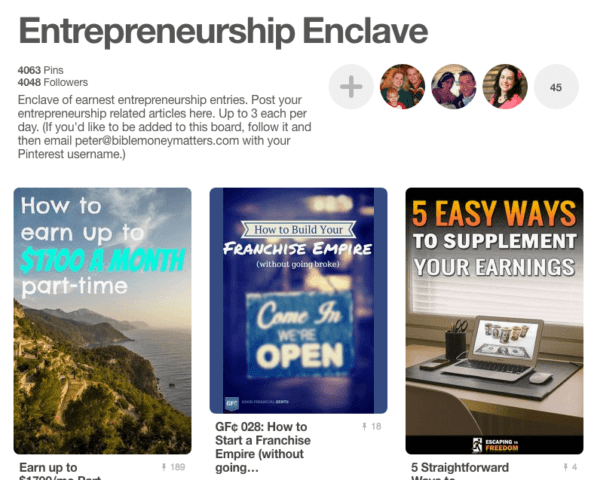 If your posts are related to entrepreneurship topics, then you can share your posts on this group board!
17. Digital Writer Success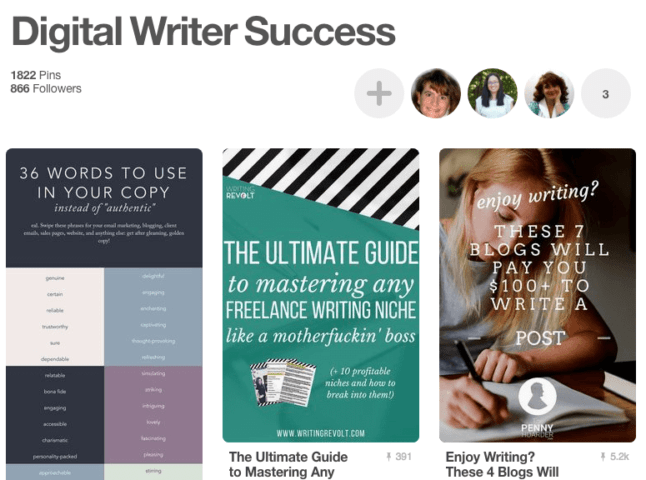 This is a small group board, but if you message the owner, I'm sure you'll be able to contribute to this board.
18. Freelancing Help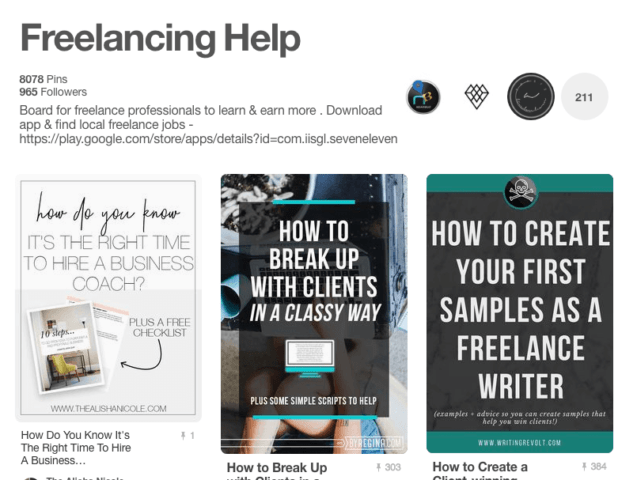 A group board to share your tips to help other freelancers be successful!
19. Awesome Writing Tips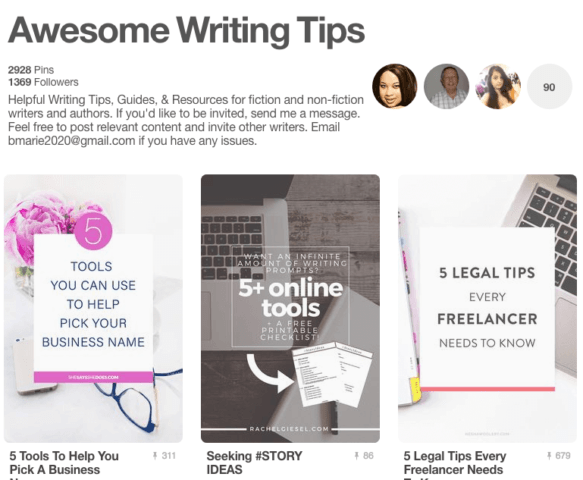 Share your writing tip posts on this group board and get noticed by more pinners.
20. Thriving Biz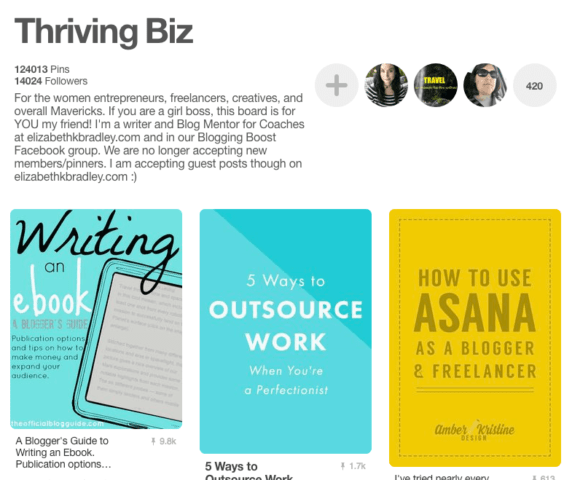 This group board is for female entrepreneurs with creative services. And yes, writing is a creative service 🙂
21. Awesome Writing Prompts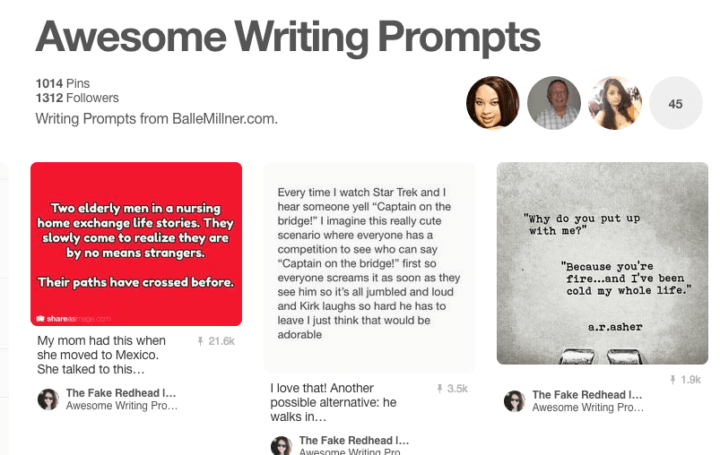 A group board to help boost your writing skills with prompts. This owner also owns the Awesome Writing Tips board too so when requesting an invite, make sure to state which board you want to contribute to (or ask for both).
22. Biz Tips for Freelancers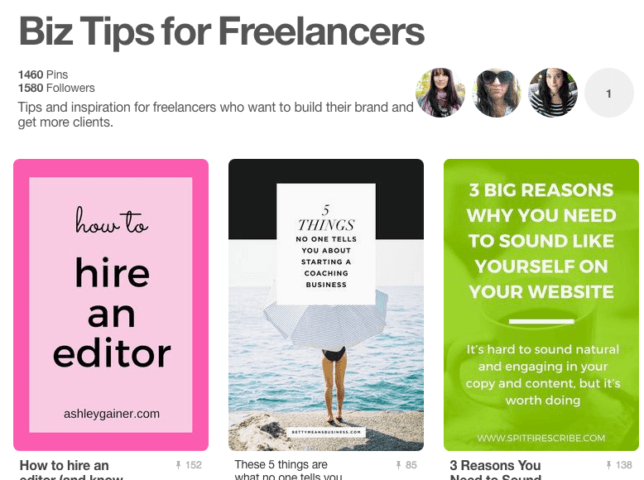 For pins about getting more clients, improving your freelance service and more. Join this group board by either emailing the owner, messaging them or comment on one of her pins.
23. Copywriting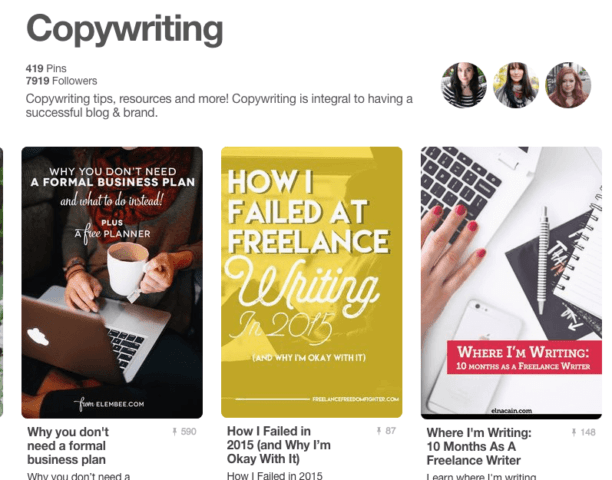 This is a group board, but I'm not sure if the owner is still adding more contributors. But, if you are a copywriter (or even a freelance writer) and have tips about those topics then you can try to join this group board.
24. Small Business Marketplace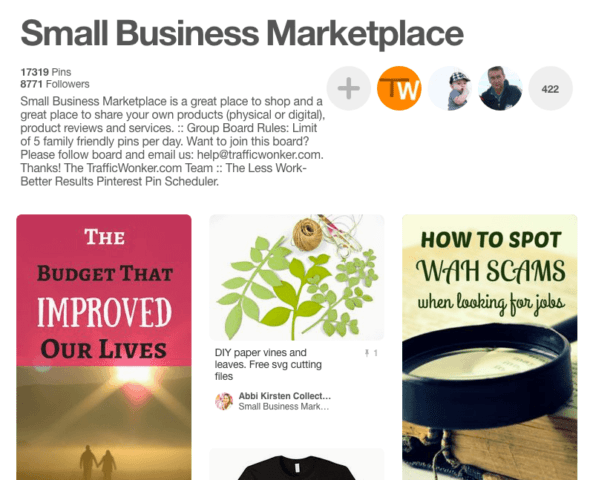 This group board has topics about business, making money and anything related to those topics. It has a huge following, which means your pins will get seen by a new audience.
25. <Freelance | Work From Home >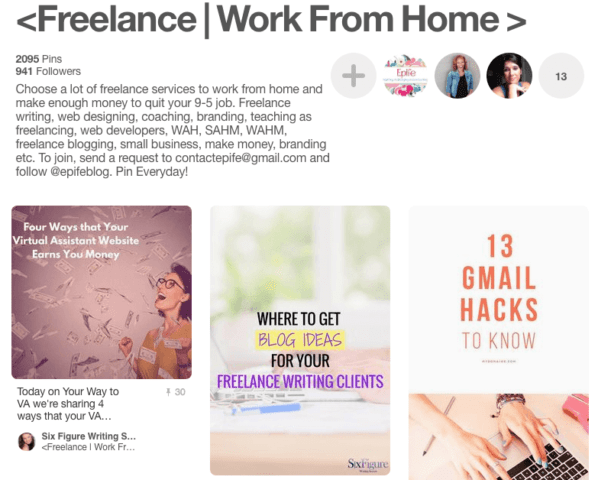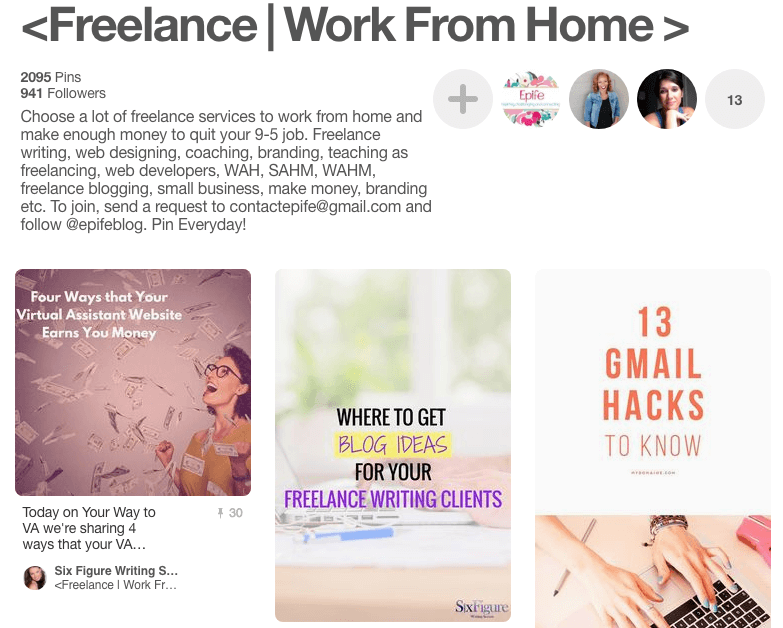 This group board is for freelancers like writers, designers, coaching and more. Share your business tips to help others.
26. Bloom Your Business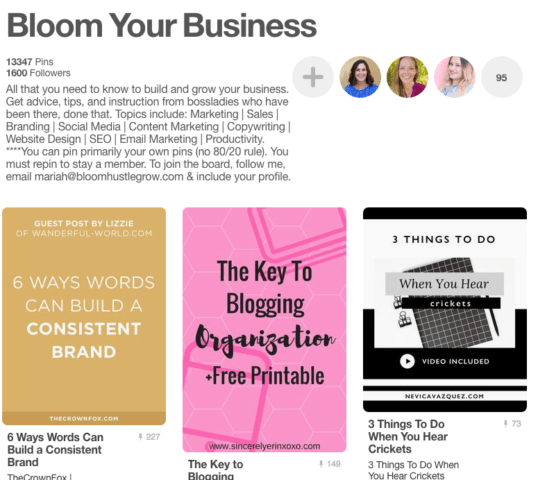 This group board holds pins about helping others to grow their business. If you blog about your service and how you are growing your business, then this group board can help you out!
27. Creative Entrepreneurs & Bloggers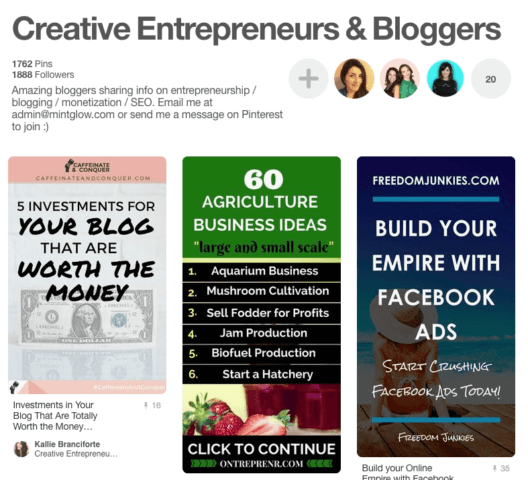 Share your awesome posts about helping others with their freelance business. This group board helps entrepreneurs and bloggers be more successful!
28. Mompreneur Tips + Business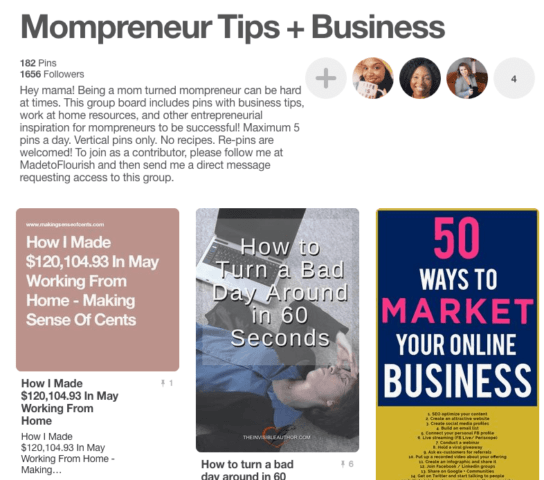 If you are a mom freelance writer, this group board is for you! Share your awesome business tips in this group board and starting growing your traffic.
29. Fabulous Freelancers Group Board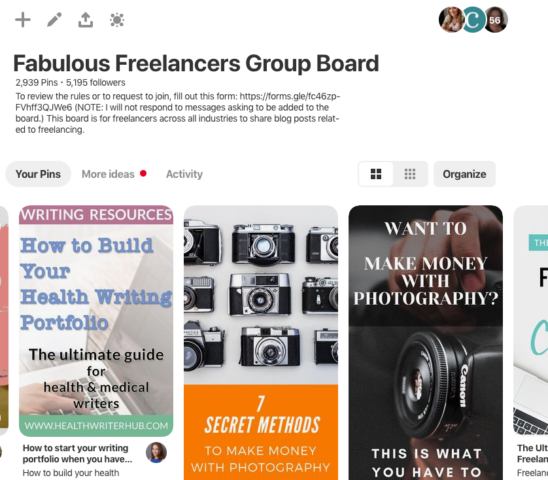 This Pinterest Group board is another one from Katie of the Quite Type. There are definitely some great pins in this group!
30. Freelance Writing for Mamas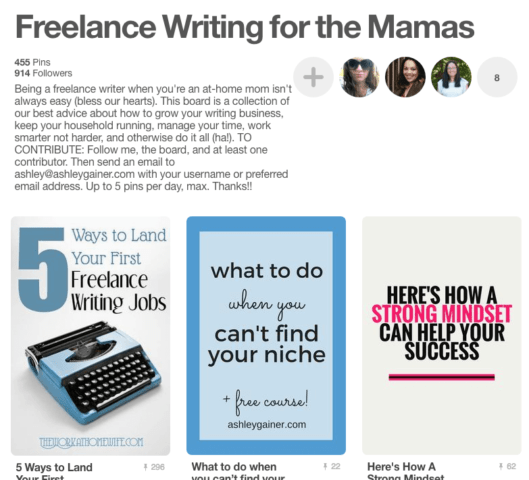 This board is a collection of our best advice about how to grow your writing business, keep your household running, manage your time, work smarter not harder, and otherwise, do it all (ha!). Phew!! 🙂
31. Writing, Blogging, Biz Tips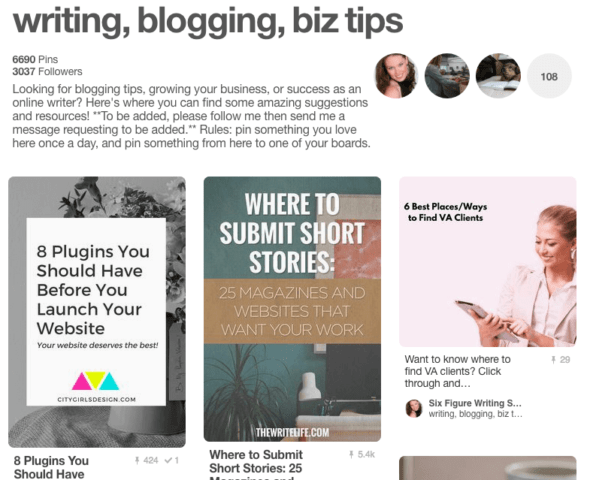 Share your tips on how to grow your blog or business on this group board. With over 3k followers, this is a great board to get more eyes on your blog.
How to Join Group Boards
For many of these group boards, there's no information on how to join. But, there are a lot of different ways you can request to join:
Go to their blog and contact them
Direct message them on Pinterest
Comment on one of their recent pins
Find them on Twitter or Facebook and message them there
If the group board owner does have requirements, make sure to read those and follow them. Some of them may have you follow them and their board or fill out a form or first join their Facebook group.
If you email me them a request or even message them on Pinterest, make sure you have these things:
The group board you want to join
Your Pinterest profile address
Your email associated with your Pinterest account
If you fail to provide those things, the owner may not invite you.
There Ya Go!
Good luck on joining Pinterest groups and I'm sure you'll be getting more traffic soon on your blog! Yay! Let me know if you have a Pinterest group board for freelancers or freelance writers! I would love to include you in this round up!
Guess what? I have a free course on getting paid to write online.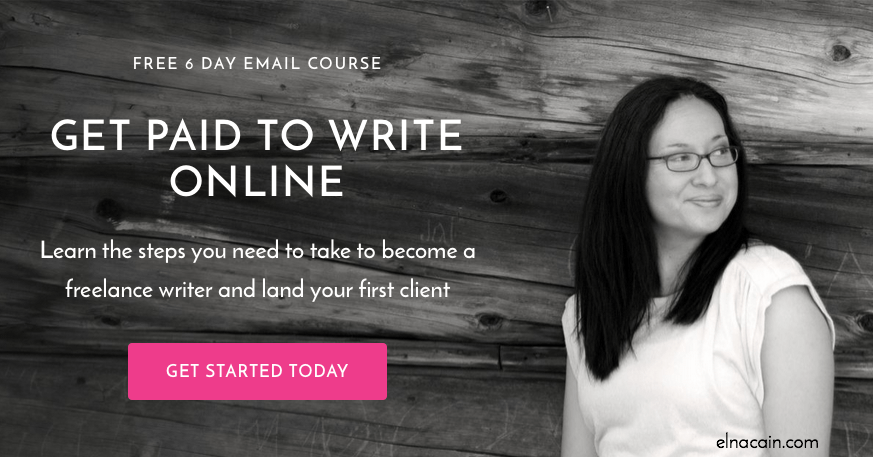 Sign up to my free six-day email course and get even more actionable tips to help you succeed as a freelance writer.