Are you fed up with how little you're earning writing for a content mill?
You've just spent five hours writing dribble on coolant system requirements for refrigeration practices and received less than $2 for all that work.
Why go on? Is this for real? No one can live off of that, and it isn't worth it as a side hustle either.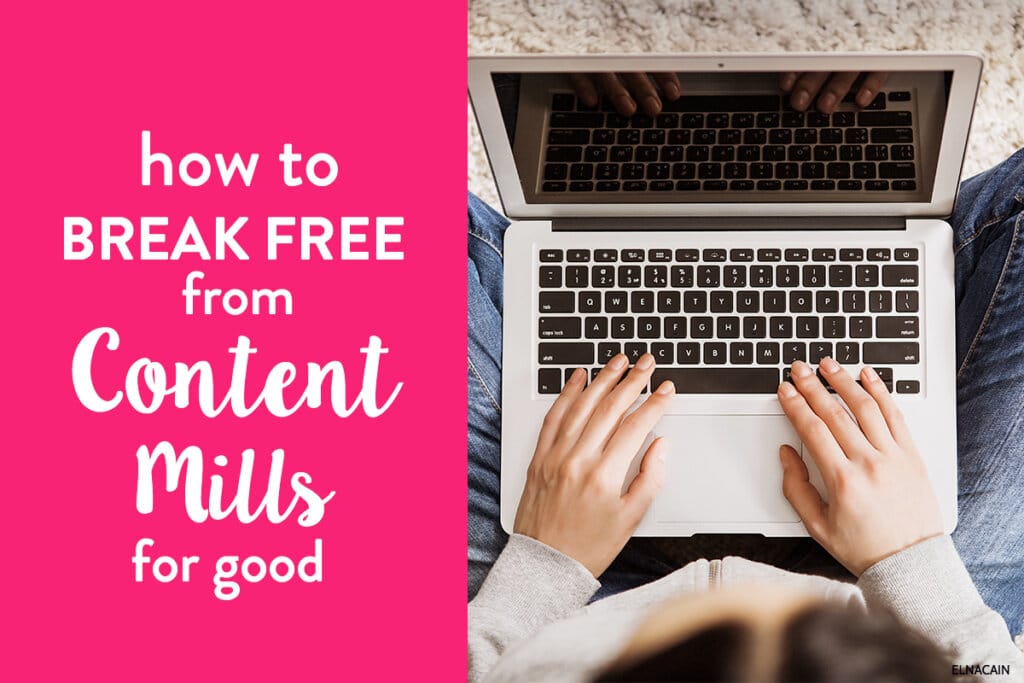 But, is there a way to escape from a content mill and actually make a living as a writer? You've heard there are successful writers online, but you have no idea how they did it.
How did they dodge writing for pennies? How did they side-step working for bad clients that devalue your worth as a writer?
Can I tell you something? I got sucked into content mills when I first started freelance writing. Like everyone else, you start researching and BOOM! You learn about content mills and sign up.
Luckily, after my first content mill assignment, I busted out and created my own path as a freelance writer. I know you want the same, but are afraid of moving beyond iWriter or TextBroker. You have no clue what's "out there" or how to break free.
Let me break it down for you. I'll give you a road map on the steps you need to take to carve a path away from content mills for good.
Here we go.
What is a Content Mill?
A content mill has a commodity business model. What that means is that businesses are only looking for the cheapest writer or freelancer on these marketplaces. But what makes a content mill, or content farm, different than a gig on a job site is that you have to write in bulk just to make ends meet.
Content mills that pay $.01/word is not a sustainable business model for you! The commodity model makes freelancers compete for the lowest rate possible. This is just a race to the bottom and it's not the best way to land gigs.
While I don't want to list content mills for you, just know they aren't the best way to become a successful freelance writer.
However, there is a caveat. If you are a fast writer and you find smaller projects then it is possible for mills to pay the bills…well one or two bills.
How Much Can You Actually Make on Content Mills?
For example, in Writers Access – a content writer platform – you can see short writing gigs – 600 words – with a pay of around $.01/word.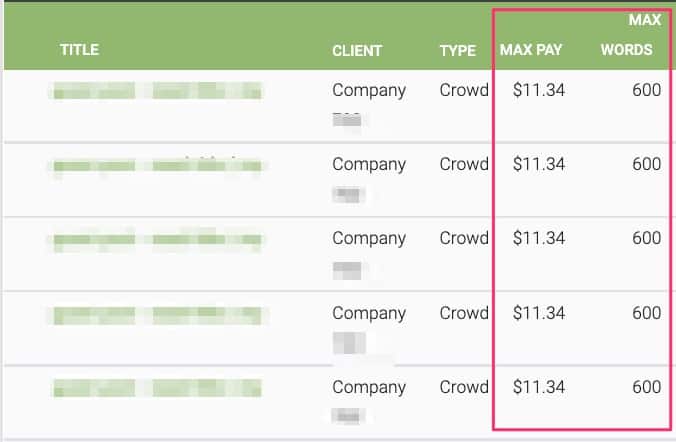 If you can write those articles in less than 20 minutes then it's possible to earn money in the beginning. But only use this as a spring board or to top off your week from regular clients.
A content mill has a lower barrier of entry, can be easy to find work (i.e. every time you log into your account, there are gigs to pitch to), and you can get paid regularly if you write regularly.
There is definitely an appeal for beginner writers, but it can be short lived and stressful if you have to write 10 pieces a week or on a weekend to make a few hundred.
If you look at the recent freelance writing stats, you can see the that average freelance writing rate is between $0.21-$0.30 with the standard at $0.10/word.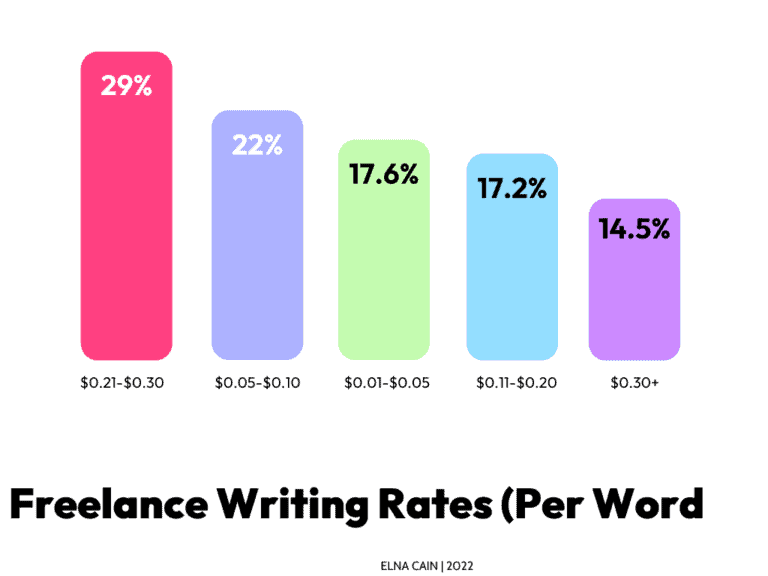 But, if you are stuck as only a mill writer and want to make a living as a writer, then here is how to break free and escape a content mill.
1. Change Your Mindset about Content Mills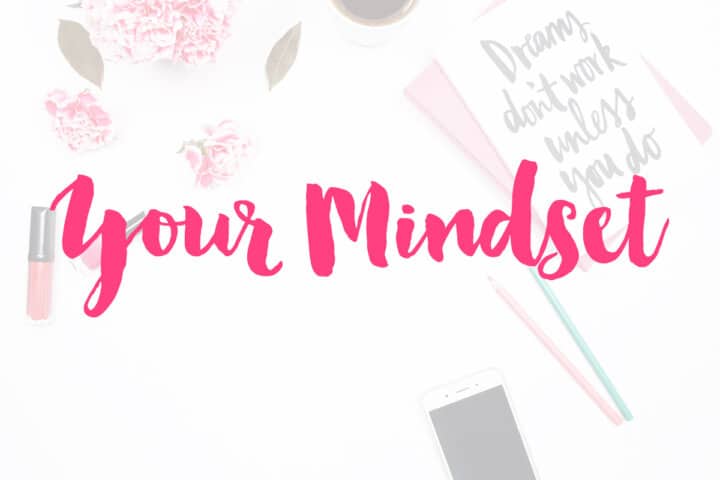 You made the decision to stop what you're doing on content mills and become a legit freelance writer.
But, I'm sure you've been inundated with claims of Be a Sought After Freelance Writer in 20 Days of Less or The Quick Course to Landing 10 Clients in 10 Days.
Can seem a bit overwhelming, right?
They may list the best content mills for beginners or content mills that pay weekly but don't be fooled by those articles.
All the information, advice, strategies, and tips can be a bit too much for the newbie freelance writer that just wants to get away from low-paying clients. You end up flooded with all this information and then become paralyzed.
This can all play tricks on your mind. To help you avoid this, here are the top two toxic mindsets that could ruin your chances of moving up from a content mill and avoid mill writing all together.
1. The Employee Mindset
Are you stuck thinking you're an employee, and your client is your boss?
This wrong mindset can stall your freelance writing business and can even stop you from earning your first $1k as a freelance writer.
How do you know if you have this toxic mindset?
You wait for a raise – as a freelance writer you determine what you're worth and you set your own rate. I was able to more than double my rate in the first six months as a freelance writer.
You are paid hourly – as a freelance writer it's best to be paid per project or on a per word basis. If you get sucked into charging by the hour, don't take on that client.
You follow everyone else – remember from your days as an employee you just followed the pack? The great thing about being a freelance writer is the freedom to choose your own schedule, projects, and clients.
2. The I'm Going to Fail Mindset
Now, this mindset is the killer to any budding freelance writer what wants more than pennies for their work. And you know the sad truth?
Pretty much every new freelance writer goes through this mindset of thinking they aren't good enough.
Raise your hand if you've ever had these thoughts:
No one's going to pay me for writing
There's just too much competition. I won't be able to stand out.
I'm not even a good writer, and I suck at grammar, so there's no way someone's going to pay me more than a few bucks to write.
This list could go on and on.
And, the results of thinking like this? You start attracting bad freelance clients!
When you change your perception, you change the perception of future clients.
Because you see, we are professionals too; businesses seek out writers for their help and want a collaboration. This is new for freelance writers working in content mills.
But, it's essential if you want to break free for good.
2. Don't Think Freelance Marketplaces Are Any Better!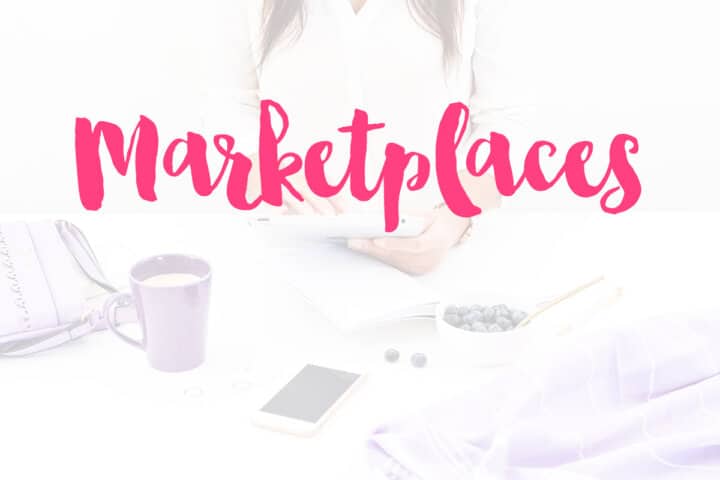 I made a mistake early on as a freelance writer. I went from writing for content mills to bidding sites like Upwork.
And you know what? It wasn't any better. The whole notion of these places is that your writing has no worth. Clients want the cheapest writer.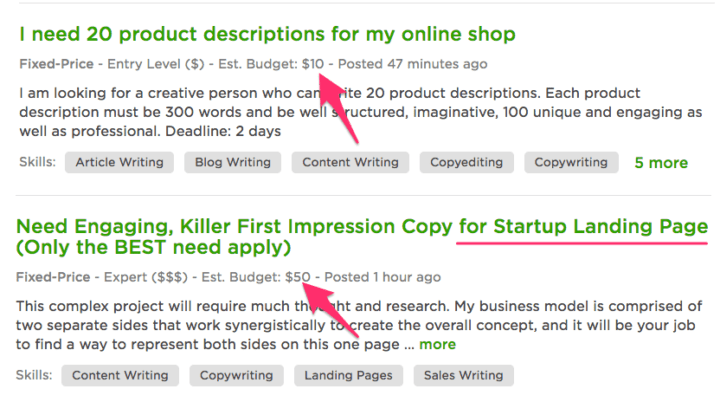 It isn't any better than content mill rates.
You're also building your whole business on someone else's platform. Freelance marketplaces take a percentage from every job you do. And since a lot of the writing work you do on this platform is ghostwritten, you'll have a hard time breaking free from these places too!
Plus you're competing with hundreds of other writers interested in that same content mill job…and it's a race to the bottom.
I know it's super duper tempting to jump on board to Upwork or Fiverr, but I hope you heed this advice and skip these places. There's a much better way to make a living as a profitable writer.
3. Audit Your Content Mill Writing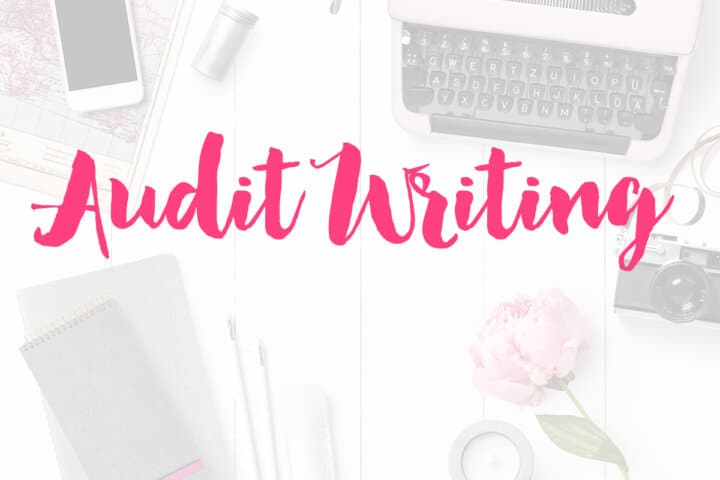 Okay.
You know you want to move up, and you know that doesn't mean moving to Upwork. So, what next? Let's take a minute and look at your writing because I'm betting you've picked up some not-so-good writing habits on the content mill requirements.
Since a lot of content farms want bulk projects, I'm assuming these are short, keyword dense type of posts, right?
Or, content mill clients have the audacity to ask for 1,000 words + and expect top level writing for pennies.
I could be wrong since the last content mill piece I wrote was over 3 years ago, but I'm only thinking of the common type of writing projects. From what I can gather, writing isn't engaging or aren't filled with expert notions.
So wipe away those requirements and hone down on your writing skill. Look at blogs like Freelancer FAQs or CopyBlogger. See how engaging and informative their posts are written. Learn from them and use those tips in your writing.
I've been blogging for three years, and on multiple blogs and I've picked up how to write a blog post. The most important thing about writing for online businesses and clients is that they seek valuable content and informative content that's delivered in an easy-to-read format.
For more help, check out ten key attributes top freelance writers have (pay attention to #1).
4. Start a Website (& Escape Content Mills for Good)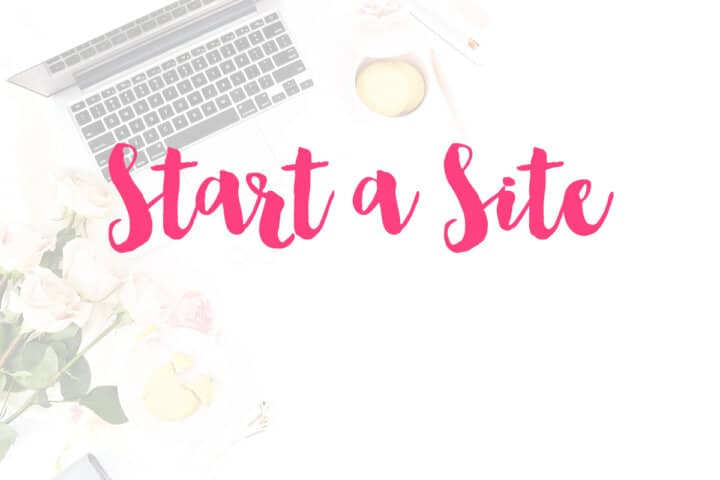 Since you've been building your business off someone else's platform, it's time to create your own writer platform.
And the first thing you need for your platform is a website. This is a dedicated website that houses your freelance writing service.
Just think about it:
Anyone that is interested in starting a business online needs to have a blog. They need a home base to showcase their business.
Can you get away from not having a website as a freelance writer? Well, you can, but I strongly recommend that if you're just breaking free from content mills, to start creating your own platform with a website.
Having a writer website will:
Make it easier to land good quality work
Gives a home to your portfolio
Helps you get your name out there
Makes your writing look legit and like a real business yo!
Here is what my writer website looks like: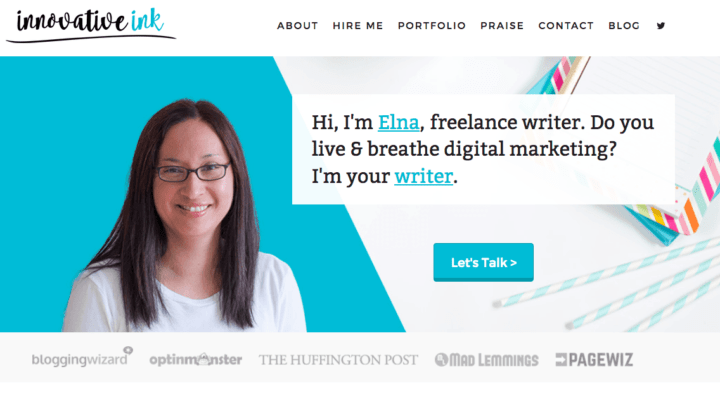 If you don't have a website or blog, it's quite easy to get started. Here are the three steps:
Step 1: Choose a Platform
There are different platforms you can choose, but the best one for your freelance writing business is a WordPress.org site.
This site is a WordPress.org site. Why WordPress? Because most likely your future clients will have WordPress blogs.
And those future clients may ask you to upload your post in their WordPress backend. If all you use is Wix or Blogger, you might have a hard time fulfilling this requirement and can't offer this service to your clients (which will help you raise your rate).
Having a WordPress.org site means you need hosting and these steps will walk you through how to set up your hosting easily.
Step 2: Choose a Domain Name
Choosing a name for your freelance writing business can be a challenge. Do you use your name? A business name? Part of your name?
It's up to you what you want to brand as a freelance writer. You can use your name for your business like Alicia Rades does. She's branded herself and name to show that she's a freelance writer for hire.
My Elna Cain site isn't to attract freelance writing clients; it's a way to help new writers get up and going.
I decided early on to go with a business name for my writing site – Innovative Ink. If I had a chance to change it, I probably would since I feel Innovative Ink sounds more like a company and not a one-woman shop.
But, if you want to offer more than writing, having a company type name would work or even just your name as your website name.
Take some time to find the right name for your freelance writing business. Make sure, however, that you can get the .com version as this is the most popular and recognized.
Step 3: Choose Your Hosting (I personally love Bluehost)
The links to Bluehost are affiliate links and I may earn a commission if you buy through one.
Let's cut to the chase here – there are lots of different places to get your hosting. I know Bluehost is one of the best all around places to get your hosting and needs met.
So, why choose Bluehost?
Free domain – You get a free domain. You're saving at least $12. Other hosting services don't give you that free domain!
Great 24/7 support – We are all writers, not tech people. If you have no idea how to get your hosting up or have questions about your plan and features, Bluehost will be there to help.
You'll get 1-click WordPress installation – Bluehost makes it a cinch to start your WordPress site. From getting your hosting to start building it's less than 1-click really!
So after you choose your plan (the basic plan starts at a super affordable price of $2.95/month..you can't beat that!), you choose your domain name.
From here you just fill out all the forms and and make sure you tick the 36-month plan to get the savings.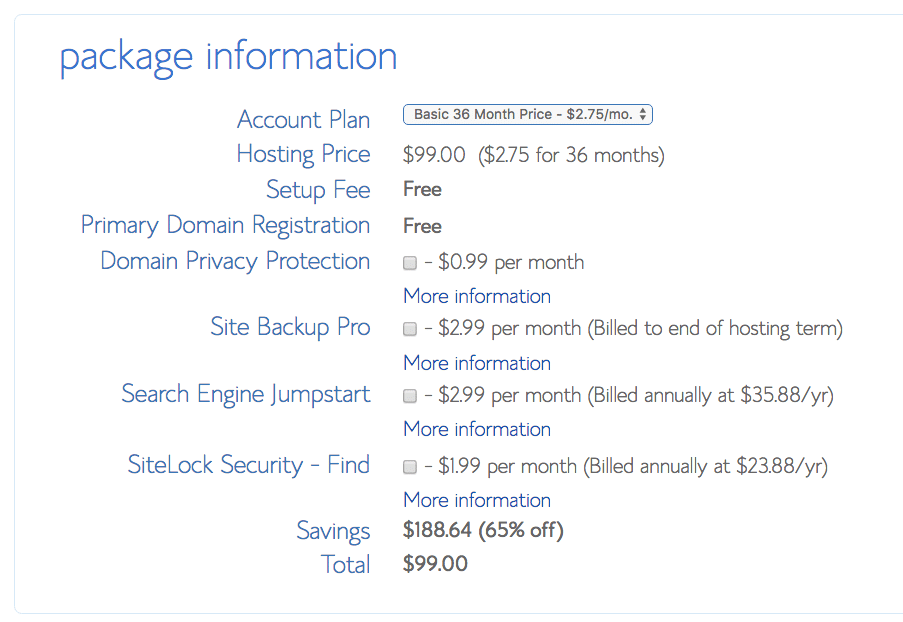 After you pay, you are ready!
And you know what is amazing about Bluehost? How easy it is to get ready to create your freelance website!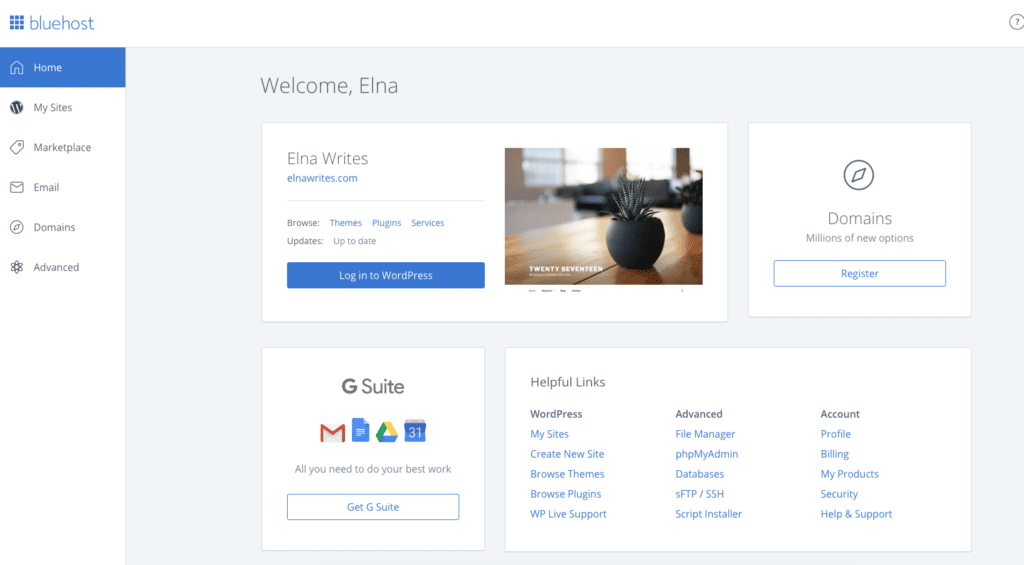 So, don't let the tech stop you from starting your website. Bluehost will handle it for you. From there you can pick a free theme and play around with it. There are WordPress groups and YouTube videos to help you out!
5. Draft Up Writing Samples (That Aren't from Content Mills)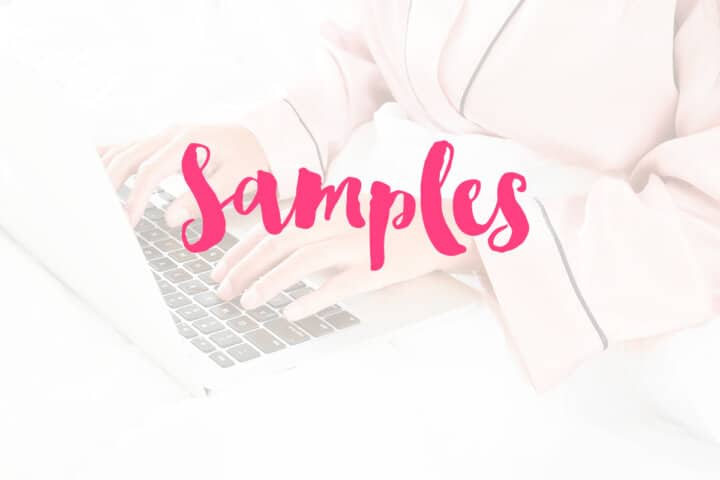 All that writing you did for content mills – don't use that for your samples. They are probably ghostwritten so you can't use them anyways, or they just aren't good quality.
If you want to attract high-paying clients, you need high-value writing samples.
With your new website, you can draft up some blog posts about topics that you want to get paid to write.
This is the time to focus on your formatting and your copy to make it engaging and easy to read online.
The point is to get something up there that shows you are a legit writer. What if you aren't interested in writing blog posts? You're more an eBook writer or resume writer. What do you do then?
You can do mock ups.
Draft something in Google Docs of the type of writing you want to do. You don't have to use your website to house your portfolio (you can use Contently for example), but it's a good place for sure!
Have around 3 to 5 samples to show your writing. Should they be all in the same niche? It's better when you have samples in one niche, but if you aren't sure what your niche is, then go ahead and create a couple of samples in different niches.
When I first started, I had these samples on my website:
4 Helpful Tips for Parents Working With Their Child's Special Education Assistant
Sweep the Clutter Away with 3 Organizing Tips for Your Living Room
Cook Your Way to a New Career: Culinary School
As you can see, these samples covered different topics and niches. But, I was new and just wanted to get my writing up there. So, that's okay if you do the same! The point is, get some samples up on your website or portfolio site.
6. Set Up a LinkedIn Account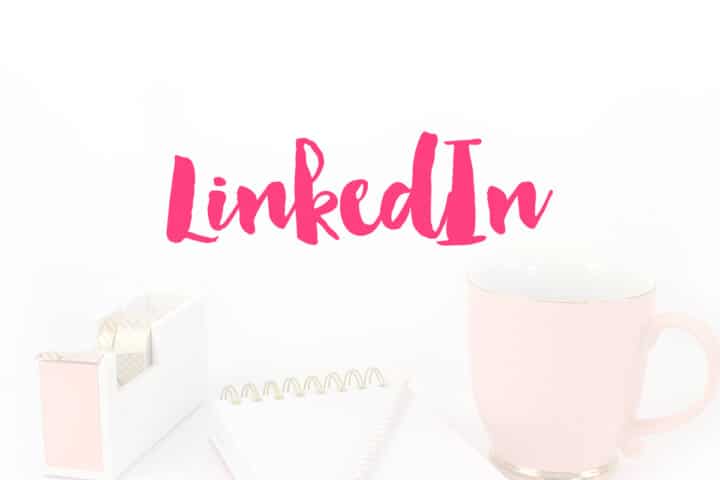 Part of being an online freelance writer is having a social media presence. But, should you be on all social media sites?
If you're just starting out, then no, you don't need to. Pick one social media site – I suggest LinkedIn as it's like Facebook for business – and get to know it.
I started my LI account when I became a freelance writer in 2014. I've updated my copy and resume a few times to make sure it's up to date.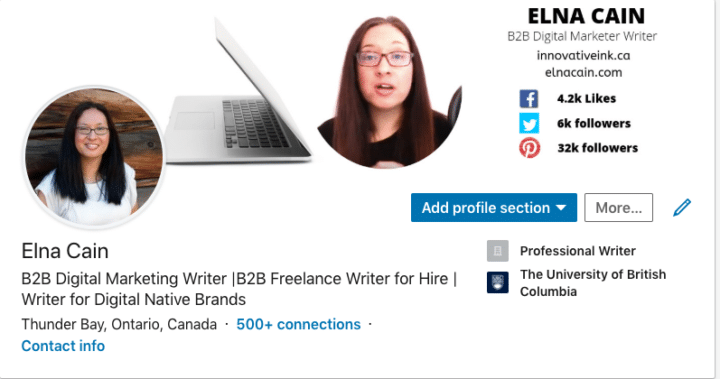 In LinkedIn, you can connect with other writers, businesses, and entrepreneurs. It's a good thing to connect with a lot of people and to let others connect with you.
This will build your followers, and more people will see your posts.
When setting up your LI account remember to fill in as much information as you can (and use keywords), join LinkedIn groups, and use their publishing platform to make more samples!!

For me, LinkedIn has been a fabulous place to land clients. Hands down!
7. Set Your Writing Rate and Stick With It (Until You Increase It)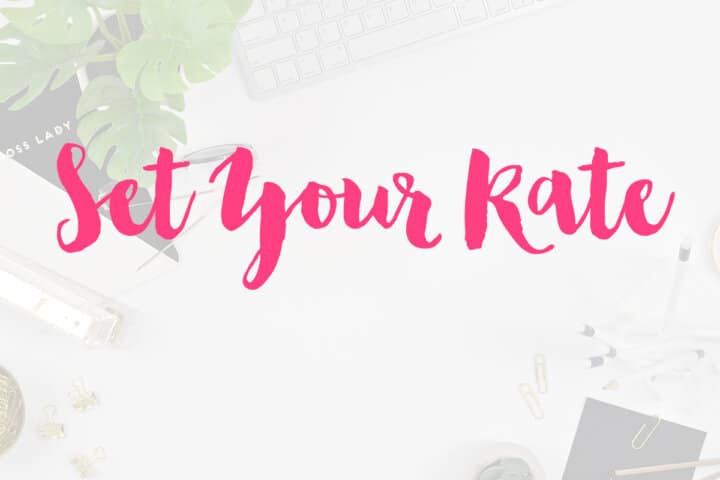 If you're a new freelance writer, one of the hardest decisions to make is determining your rates – especially if you come from content mills.
You don't know of any other rate than $.04/word or less.
What should you rate your writing? For new freelance writers, I feel $.08-.10/word is a good starting range.
It's enough to support your business and get it going. As a new writer though, you might start lowering your rate when you get prospects interested in your writing. You're hoping that if you are "cheap" enough, they'll hire you.
But, that's the wrong mindset! Remember, prospects are seeking you out. They want an effective writer to help them accomplish their business goals.
What factors goes into creating your rate?
where you live
your living expenses
turnaround time
the market
niche expertise
So, you can see, there's a lot to it than picking a random number for your rate. Consider what you need to live on and figure out what that equates per hour. From there figure out how long it takes you to write an average 1000 word post and charge accordingly.
I strongly suggest you charge per word or a flat rate for each project. You'll generate more income than an hourly rate (you'll get punished for being a fast typer).
8. Check Out Job Boards (Instead of the Best Content Mills)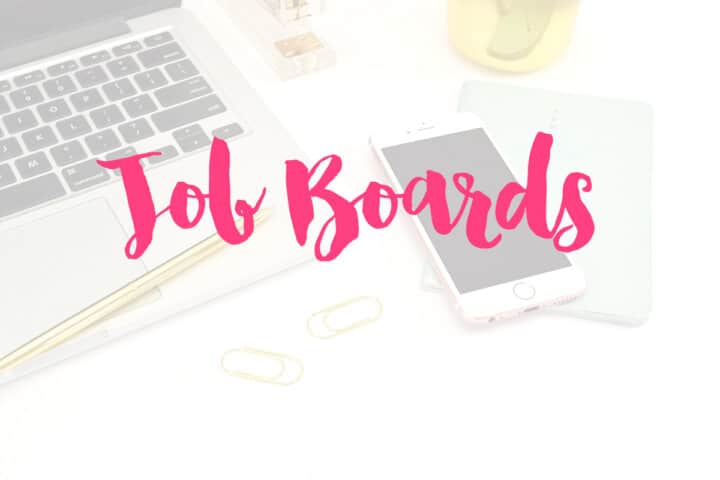 One of the easiest transitions from content mills to starting your own freelance writing business is to use job boards to find clients.
Not all job boards are the best, and not all of them have quality work. Since I've been doing this for a couple of years, I know some good job boards. My top four are:
Contena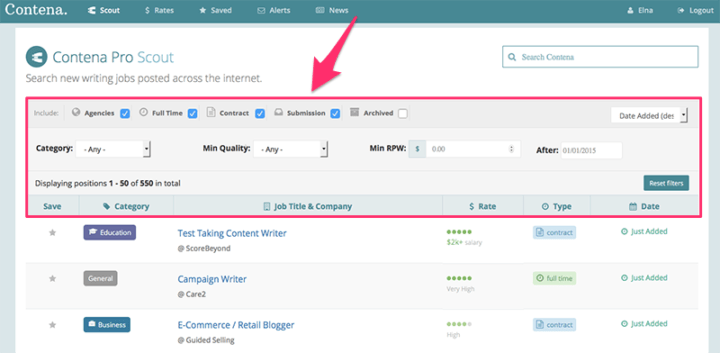 Contena is a job board that curates job boards from other job boards, online and social media. It is a paid job board, but I find that it's one of the best to find the exact type of freelance writing job I want.
You can search via your niche category. For me that's marketing. I click a button and BOOM! I get all the marketing jobs I want.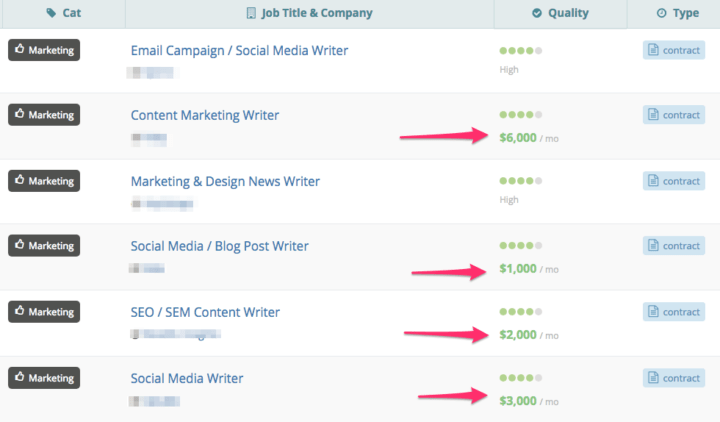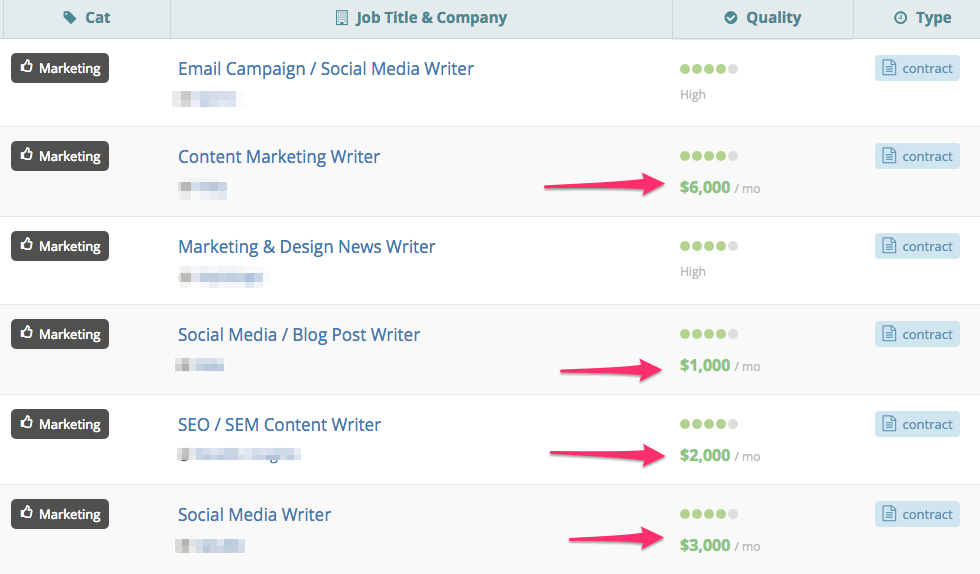 Some categories (niche topics) they have are:
Real estate
Business
Education
Finance
Health Lifestyle
What's neat about Contena is that they will email you leads, so you don't have to visit this job board every day. This saves a lot of time and makes it easy to pitch to these businesses.
Finally, for those that want to boost your chances of landing a client, Contenta offers Contena Companies which lets you see company profiles (and what they pay writers) based on your niche.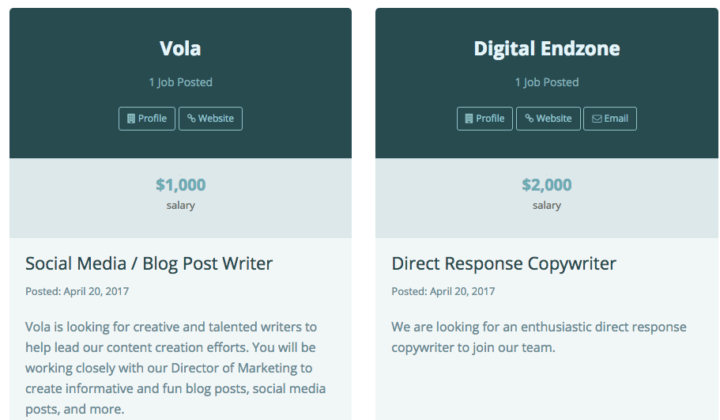 Using Contena may not be on your radar right now since you're just breaking free from writing for pennies, I suggest you bookmark this job board and save up for the membership fee as this is a great invest for the longevity of your business.
By the way, when you're interested in signing up to Contena, don't wait! There are soo many writing jobs that pay well!
Problogger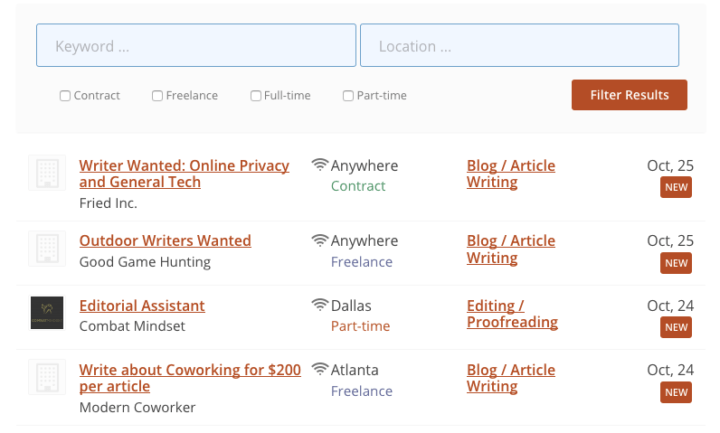 If you're strapped for cash (which you might be if you're escaping content mills for good), start using free job boards.
One of the best ones out there is Problogger. I used this job board religiously when I first started and landed some great high-paying clients. Since this is a free option, a lot of freelance writers know of this job board, so it is competitive.
To make sure your pitch gets seen, be one of the first to apply. This might mean checking the job board twice a day!
All Indie Writers Job Board

Jennifer Mattern has a wonderful free freelance writing job board over at All Indie Writers (make sure to check out her blog and podcast!).
What I like about this job board is that you can quickly see how much each job pays. You can quickly scan pay ranges and not waste time reading job ads that aren't high-paying.
Finally, she only posts relevant jobs from the last month to help you increase your chances of landing a gig.
Freelance Writing Job Board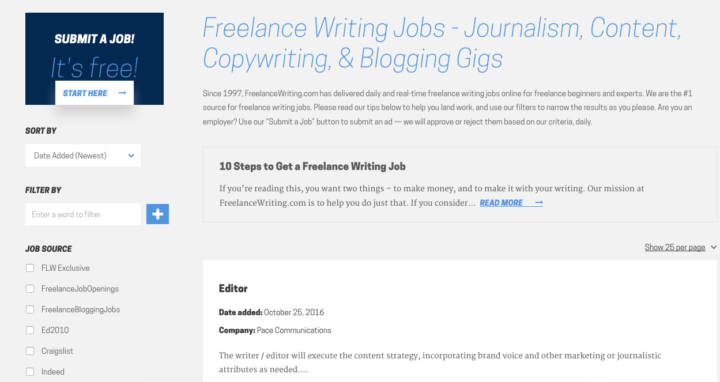 The Freelance writing job board was the place that I landed my first legit freelance writing client!
I went from making $1.42 per post to $100 per post!!
This free job board curates jobs from different places like BloggingPro, Craigslist, Indeed and more!
I find the jobs on this board good quality depending on the source, and since there are so many curated jobs per day, it's easy to find something that's in your niche.
9. Pitch Directly to Clients (And Avoid Content Mills)
One way to avoid the competition job boards have is to pitch directly to potential clients. This is called cold pitching, and it can be very effective in getting clients.
So, it goes something like this:
You research online for businesses in your niche. Let's pick the personal finance niche. It's best to search for startups in your niche as they want to grow their business, get their name out there and they're used to marketing online.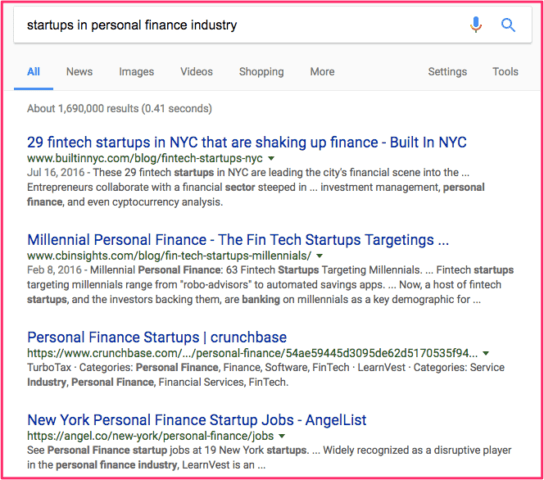 Next, you want to click on some links and see what you are interested in. I clicked on the fifth link and looked at the list there.
From there I picked a company and saw if they had a blog. They did as I saw they had in-house authors or ones from sponsors.
This might be a great opportunity to introduce myself and let them know that I'm a writer in their niche (which I'm not, but you might be!).
By positioning yourself to be the only writer for them, a business owner gets to know your expertise and will most likely hire you (since there's no competition).
This is a great way for a brand new writer to get going fast.
10. Create a Plan to Land Freelance Writing Clients (& No More Low Paying Content Mill Clients)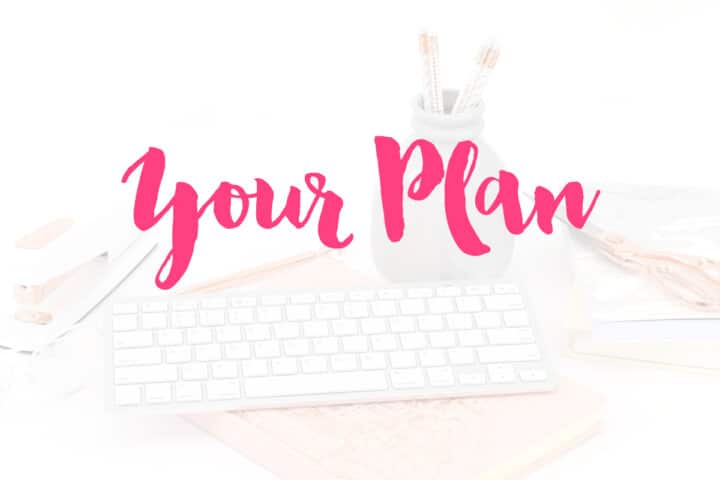 Now that you have your own website and are hustling to find clients, you need a plan so that you don't fail.
So, creating goals and metrics around those goals will propel your business forward. For example, you might say you'll pitch to job boards 3x a day and cold pitch 3x a day for 10 days.
Your plan should also include improving your skills as a writer, optimizing your online presence and improving your rate and clients so that you stop pitching and start choosing the clients you want to work for.
Trying to do this on your own can be a challenge. It might take longer, and you might not have the support you need to keep at it.
And to help you I have a free course on getting paid to write online.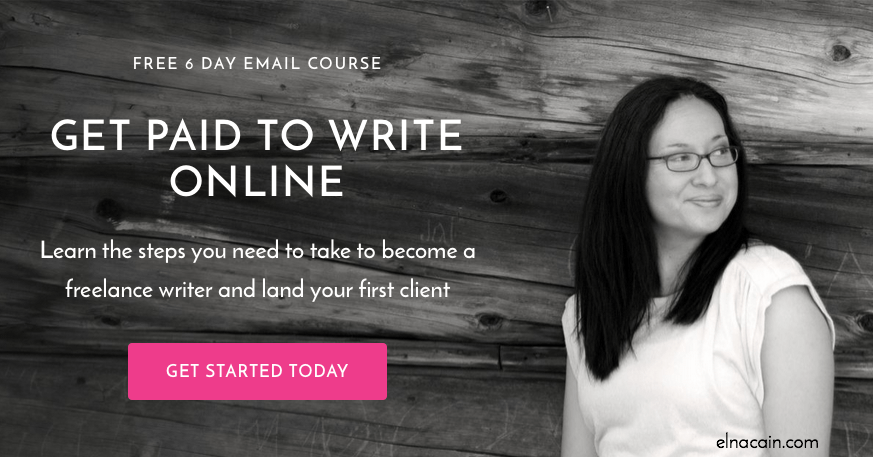 Sign up to my free six-day email course and get even more actionable tips to help you succeed as a freelance writer.
I feel that support network is pivotal to your long term success and, my course Write Your Way to Your First $1k has that built-in support.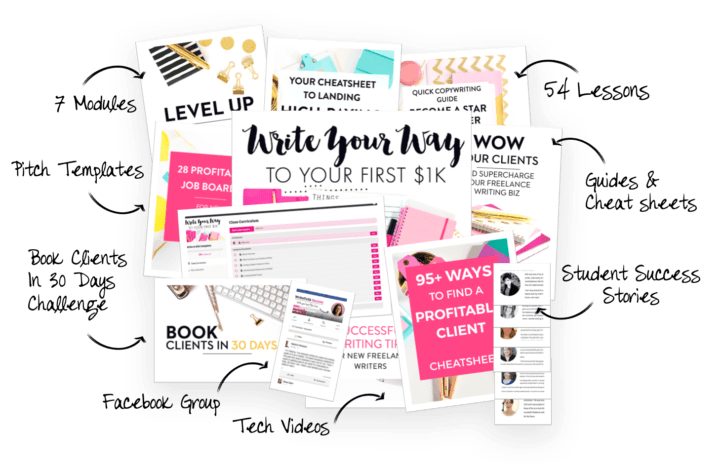 This course gives you the blueprint and step-by-step lessons that will walk you through setting up your business, attracting clients, finding clients and retaining them. To really break from content mills, you need a solid foundation, and that's what this course is all about.
Content Mills Unearthed
By following this plan, you no longer need to find jobs on content mills. You'll be able to create your own platform on which to find and land clients. And with some guidance from me in the Writeto1k course, you'll get proven methods for success!
Over to you – what's stopping you from escaping content mills for good?