Okay.
You've been freelance writing for a while now but you still aren't making any headway. Most of your projects are one-offs or ad hoc pieces and nothing is consistent.
You're not sure why because you feel your rate is reasonable and that you're a good writer. So, why aren't you making a living from your freelance writing business?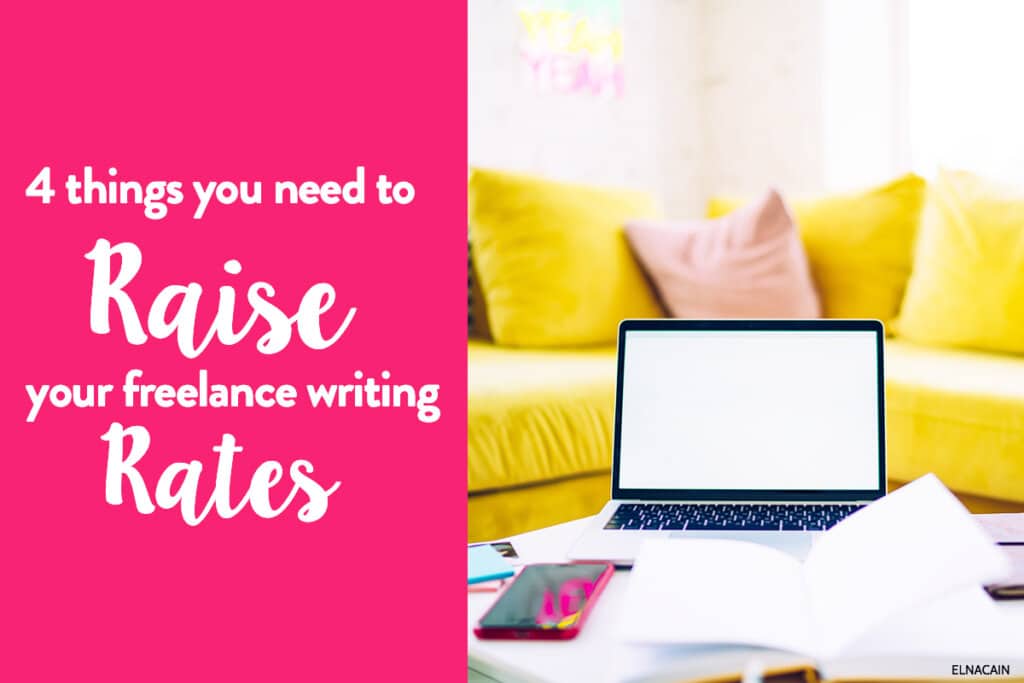 Why does a week go by and all you've submitted is one invoice for one 500-word post?
It's because you're not raising your rate.
Sounds counterintuitive doesn't it? Raise my rates and I'll get more work?
Well, yes and no. There's a bit more to it, but we'll get to that in a bit.
But, first, if you have no time to read this post, check out my YouTube video on how to raise your freelance writing rate and make sure to subscribe to my YouTube channel!
Your Rate Can Attract or Repel Clients
When I first started, I quoted a low rate – $.04/word. I was new and I wasn't sure how much value I could provide so I figured it was more than what content mills were asking for, but less than what experienced writers were quoting.
What I found though, was I was repelling quality clients. Instead, I was attracting lower quality clients.
See, low quality clients don't care about your writing or your worth. They only care about time and how much content you can write in a set time period (Psst…a lot of these clients hang around Upwork and other freelance marketplaces like that).
These types of clients run their content on a time-based model and need cheap content fast.
I knew I didn't want to stay at that level. My time was limited and I really wanted to focus on generating enough income to live on.
I learned early on it was my rate that was holding me back. It wasn't until I raised my rates that I soon was attracting quality clients.
You're probably thinking, but how do I do that?
If you're stuck churning out work for pennies I'm sure you can't imagine raising your rate.
You're afraid that if you raise your rate, you won't land any clients.
Can I tell you a little secret? If you SHOW prospects your WORTH, they will pay your rate.
How do you do this when you're new?
If you want to raise your rate there are a few things you can do to show prospects your worth. I found that once I did these four things, it was easy to jump from $.04/word to $.10/word and then to $.20/word and now upwards towards $.30/word – in under a year.
Want to know how I was able to raise my rate 650%?
1. Be Okay With the Loss
Let's get real here. Just because you made the internal decision to go from $.05/word to $.10/word doesn't mean prospects will be scrambling to hire you because they suddenly realize your value as a writer.
This is what will happen: a prospect contacts you for blog content and asks for your rate. You respond by linking to some sample pieces in their niche and you give them your rate (that you hemmed and hawed about, but decided it's worth a try to quote your high-end rate) and press send.
Two days later you get an email that maybe says this: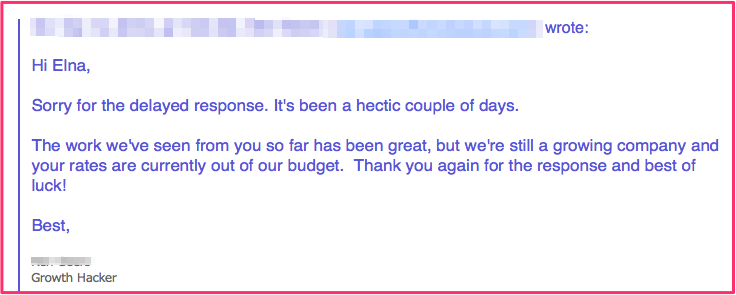 You know what? With every rate increase, I get several of these emails in return. But then, there will be one prospect that doesn't bat an eye and accepts my proposed rate.
So, if you want to work on raising your rate, you need to be okay with the possibility that you won't land a client at this new rate for a while.
But, what if you can't afford not having work for awhile? I get it. You NEED money so you're going to keep pitching your low rate just so you can get ANY work. I understand.
But, try pitching your higher end rate every fifth pitch you send out. In the beginning, you're going to be working for lower paying clients, building up your reputation and your portfolio. You're also going to go back and forth pitching a new rate until you land a client with that new rate.
And it will happen. Trust me.
2. Update Your Portfolio
This is critical to raising your rate.
Prospects need to see quality samples in their niche. But, in the beginning, your goal is to get a byline anywhere, from any site, right?
After you landed your first few guest posts and maybe have a client piece up on your portfolio, you now need to really work on making an impression with your writing.
This is when you try to land guest spots on popular sites like Smart Blogger or Scary Mommy for example. Depending on your niche, you want to land guest posts on popular sites in your niche.
You also want to start pruning your portfolio and remove pieces that:
Don't reflect your best writing
Aren't in a niche you want to get paid to write for
Make sure to put the portfolio pieces in your preferred niche first on your page.
When I first started freelance writing, my portfolio page was just a collection of any post I had a byline for. I was ecstatic to land a guest post and over the moon once I landed clients.
There was no rhyme or reason to my portfolio.
It wasn't until some time in 2015 that I categorized my portfolio pieces and made a conscious effort to highlight my best pieces first.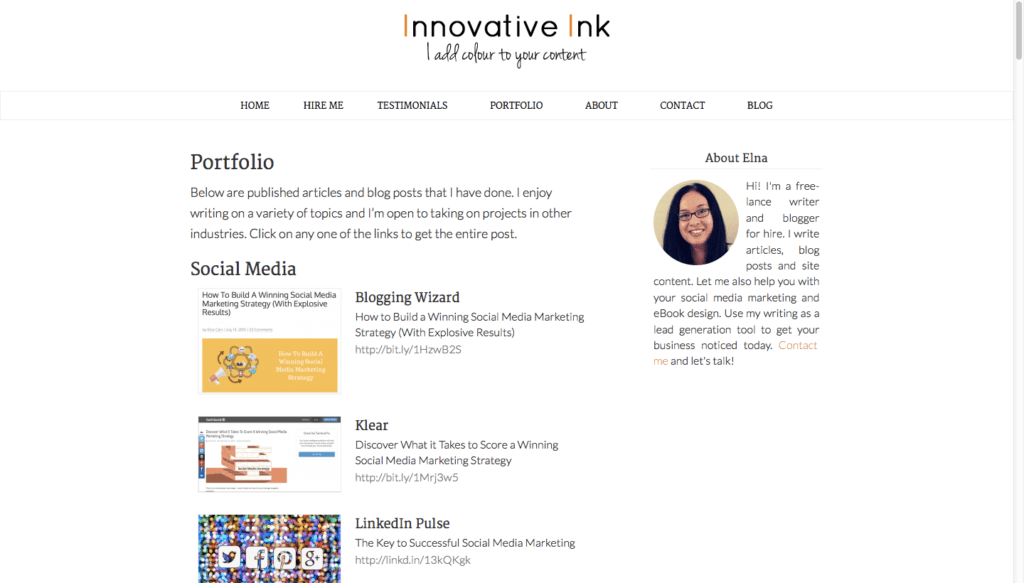 Now, I'm highlighting pieces in my intended niche – digital marketing .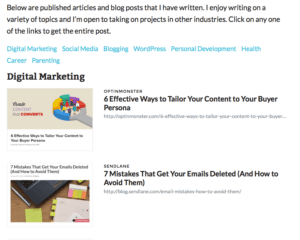 So, before you go raising your rate, take a look at your portfolio. It is impressive? Do you have a good number of quality articles and posts in your niche? Do you have posts on popular sites?
When these are in place, your value increases which makes your new high rate logical in a prospect's mind.
Get out there and pitch (and guest post too)! All that hard work will pay off.
I'm inviting key experts to help my course participants of Write Your Way to Your First $1k over in the private Facebook group. It's not too late to join!
3. Spruce Up Your Website
I recently wrote about different ways to attract clients with your website since I re-vamped my entire site.
Having a professional looking website for your freelance writing will help you command a higher rate.
What if you don't have the budget to shell out for a premium or customized WordPress theme? That's okay. You can still have a professional looking free WordPress site.
You need to remember that prospects can't meet you face to face. They can only judge who you are from your website or Skype meeting. So, if you have a professional looking site, prospects will believe you are a legit business and not some mommy blogger writing in her bedroom. 😉
So, what makes a site look professional?
It's minimalist – there's not a lot of clutter on your site and your menu is easy to navigate
It's easy to read – Is your content width too long? Do you have to keep scrolling and scrolling to read your site? Is your font small? All of these little things can turn off a prospect quickly
Does your copy speak to the client? – Are you demonstrating the benefits to prospects once they hire you?
Here are some professional sites from freelance writers:

Brent Jones is a former freelance copywriter, social media manager and email marketer. When you go to his site, you can instantly tell he's not doing this as a hobby. He means business.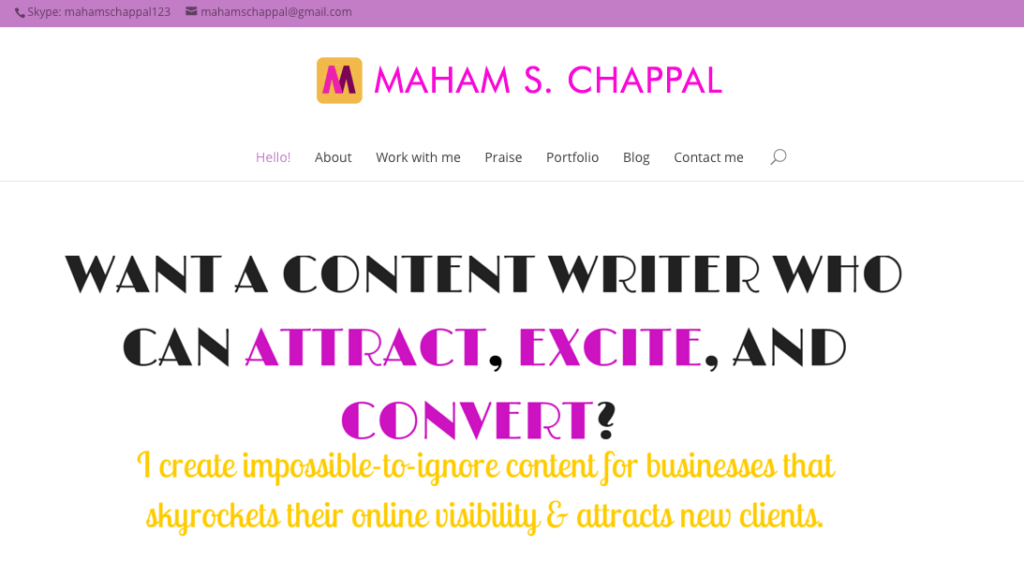 Maham Chappal's site doesn't play around. As soon as you land on her site, she immediately speaks to the client. Her site is simple yet highly optimized for acquiring business.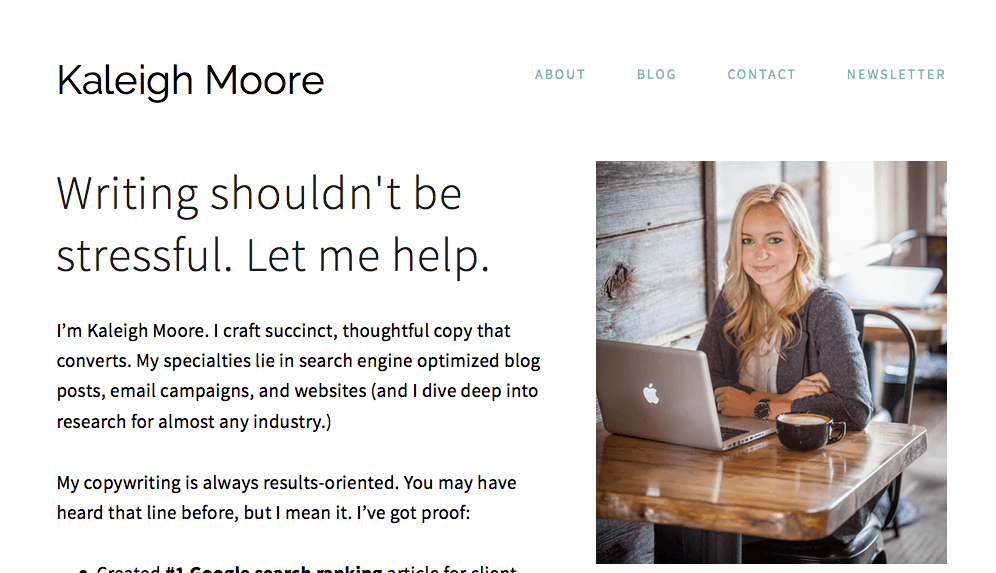 Kaleigh Moore is a copywriter and social media consultant. Her site is a breath of fresh air. It's easy to read, full of white space and it's easy to navigate.
You can bet these writers aren't taking gigs below $100.
4. Grab Some Testimonials
The last thing you should do before you start raising your rates is to grab some testimonials. Social proof is all the rage now and if you don't have other people vouching for your awesome writing skills, good luck trying to convince a total stranger to hire you.
New clients need that social nod from others that you are worth it.
But, what if you're so new you don't even have a client to ask for a testimonial? That's fine. When I first started – and before I had a client – I asked other freelance writers to give me a testimonial.
Ask your family for one. Maybe your sister needs help with her résumé or your brother-in-law wants some copy for his store's latest advertisement.
You can even barter with local businesses. Provide some content in exchange for a testimonial.
Use these little instances to ask for glowing testimonials. And then put them on your homepage.
Showcasing your best testimonials on your homepage helps convince a prospect right away that you're the real thing.
What About Writing?
Did you notice I didn't include "improve your writing" as one of the things you need to increase your rate?
Writing is only a small part in your freelance writing business. Believe it or not marketing, networking and learning best practices in our industry is what will help you raise your rates.
A couple months ago I got a message on Twitter from Kevin J. Duncan inviting me to write for OptinMonster.
First of all, I never connected with Kevin and only knew of him via his posts on Smart Blogger. So getting any nod from him was huge in my book.
But, then he invited me to write for OptinMonster. What an amazing opportunity!
This all came about because of my connections with Adam Connell and Sue Ann Dunlevie. By investing in blogger outreach and having them as clients, I was able to land this amazing gig.
Now, I'm not saying if you're a poor writer you can still make hundreds of dollars a post. What I am saying is if you're a good writer to begin with and you have the passion and desire to keep learning, through time you will naturally become a better writer.
One more thing thing to also keep in mind when setting your rate and raising your rate is something Brent Jones mentioned on his blog that,
[Y]ou don't have to be an expert, you just have to do something your client can't, or have the time to do something your client's doesn't have.
Let that sink in for a while….
Ready to Raise Your Rate?
So, are you ready?
Figure out your new rate and work on these four things, and you'll have more success each time you raise your rate.
I have another post in the works about negotiating rates with current clients. I recently negotiated a new rate with one of my older clients and I want to share what happened because it can be tricky to tell a client your new rate.
So, are you ready to raise your rate in your next pitch?