It's scary isn't it?
The thought of telling your current freelance writing client you want more money.
They could end up never emailing you again.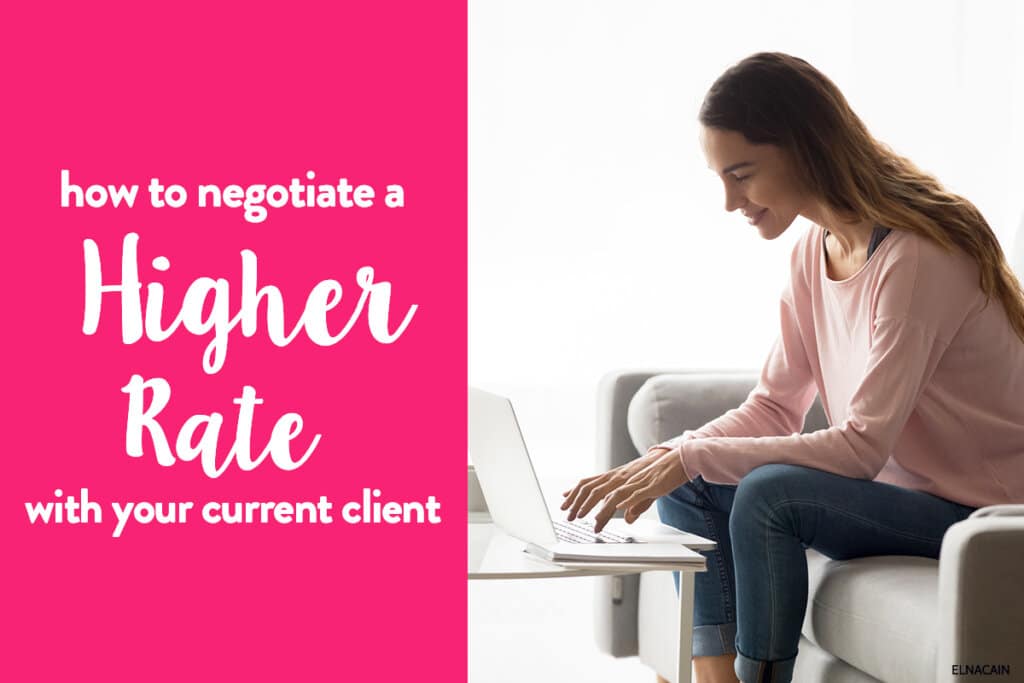 Or, they could drop the scope of your project from four posts a month to one post a month.
They can even publicly oust you on social media….well, I doubt that would actually happen. But, that's not to say this thought won't go through your mind when you decide to increase your rate.
For me, the fear was losing a client. I have a wide range of clients, but I'm trying to build my credibility in the digital marketing niche. This client has been pivotal in helping me with building my portfolio.
So, suffice it to say, I was at a crossroads. This client was providing me with consistent work, but I had originally underestimated the amount of time it would take to provide flagship style content.
I wanted to keep the client – because their content looks good in my portfolio – but I just wasn't earning what I should have been earning.
So, I made the decision to let them know my new proposed rate.
If you are in the same situation – wanting to earn more money with a current client – then here are the steps to help you out.
1. Set the Bar High
I've talked extensively about the idea of wowing your clients.
If you landed a client in your intended niche, the best thing you can do is make their lives easier and ultimately help them make more money.
I'm all for going the extra mile for clients I want to collaborate with and those that I know can help me get to the next level in my freelance writing business.
So, go ahead and impress them. For example, instead of writing a post on the steps it takes to ditch your 9-5 job and go freelance, why not include first hand accounts from actual solopreneurs?
Instead of turning in a post about ways to increase your subscriber rate, why not provide annotated screenshots of specific ways the client's readers could implement?
When you do this, you'll get emails like this:

Other ways to wow a client:
Always exceed your deadlines
Provide your author bio in HTML
Source and optimize your images correctly
Format your post correctly
Upload your post into their CMS
By setting this expectation, the talk of increasing your rate won't come off as a complete surprise to the client. They may think they are getting a steal, so when you let them know you'll be upping your rate, your above-and-beyond efforts can increase your chance that the client will agree to your new rate.
2. Remind Your Freelance Writing Client How Well Your Content is Doing
I'm a freelance blogger and copywriter. So, the bulk of my clients hire me for their blog content or content marketing.
My role is to help increase subscribers, engagement, profits, downloads etc…
So, when you get the confidence to send off that rate increase email, it's probably a good idea to remind them how well your post is doing.
Your client may even provide this information for you!

3. Give the Reason for the Rate Increase
It isn't fair to the client to just blatantly tell them that your rates are higher because it's been x months since you've bene working with them. To increase the chance of having them accept your new rate, give them a valid reason why they are higher. Be honest with them.
In my situation with this client, the amount of time it took me to research, write, edit and optimize images did not reflect what I was earning from this client.
You might have a different situation. Maybe you are paring down your clients and dropping any clients below your threshold. So, telling your client how you're making room for your top tier clients can spur this client to take action, or not.
In either case, providing a solid reason why you are raising your rates will help you convince your client that what you are proposing is justified and makes sense.
4. Tell Your Client Your New Higher Rate
I'm sure you heard from other entrepreneurs or freelancers that when discussing your rate, whether for landing clients or increasing your rate, to always aim high.
The other day, a business contacted me for a business-related post. Since I'm swamped this month and don't really have room for many more new projects, I inflated my rate by 100% and they accepted it!
So, with your rate increase, aim high. In this particular case I mentioned a 50% increase, which is a lot, but not astronomical. If I got 50% or 25% I would be happy since that would cover my time writing for this client.
5. Offer Your Freelance Writing Client a Choice
An additional thing you can do for the client is give them some options like:
Keep the same old rate, but lessen the scope of the project (less words, less case studies, less outbound links, less amount of posts per month)
Agree to the rate increase and keep the high level of in-depth content you provide
I used this approach and it worked in my favor, so it could for you too!
6. Remind Your Client of Your Collaboration
Okay. The hard part is over. You stated your new rate and now all that's left is to remind them of your true value.
Remember, as a freelance writer you don't work for your client, you work with your client.
Tell your client how much you enjoy writing for them and how much you enjoy working together. Leave a good impression in your email.
Is It Time?
If you're new to freelance writing, you may not even fathom trying to increase your rate with current clients. But, if you've been at this for a while and want to move up from the $25 posts to better and higher-paying content jobs, increasing your rate with current clients can help you do this.
Especially if you have clients that you enjoy writing for. So, what are you waiting for? If you landed a higher rate with a client, tell me about it. How did you do it?