How rockin' would it be to earn an extra $1K in less than 3 weeks – from a brand new client?
Almost sounds a bit crazy eh?
I don't know about you, but I typically average around $500 per month from each of my recurring blogging clients. So, how did I double this with a client I recently landed?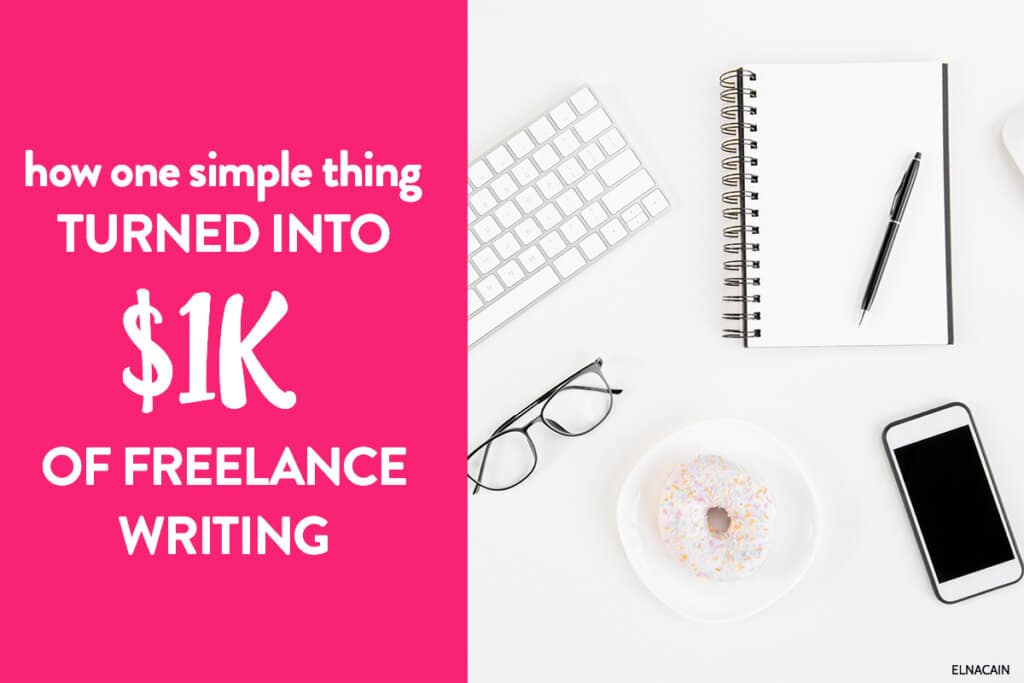 I didn't raise my rates.
I didn't land a copywriting gig – although I'm itching to do some copywriting in the future.
I didn't even land a recurring gig.
This gig is on-demand and ghostwritten. Pretty standard for freelance writing. So, how did I do it?
I've Never Talked About This Before
When I think of what it takes to be a successful freelance writer, I typically think of:
Dedication
Passion
Persistence
Strong marketing ability
Social presence
The right attitude to make it as a freelance writer
But, I never considered – or even talked about – basic professionalism as a key to success. It's always a given in my book. I don't know about you, but I want to wow my clients. I want to be their go-to writer when they need a blog post or article written.
I must be doing something right – because my clients are obviously impressed by me.
So, I was surprised how a simple thing I was doing for this client turned into a big payout.
Want to know what it was?
I made sure to be prompt.
That was it.
I was available.
Being There At the Right Time
The agreement I had with this new client was on an ad hoc basis. He has a team of writers working for him so I figured I would get an assignment maybe once a month.
The client requested an ad hoc piece right away, which I agreed to write, while I continued working on other client work. Then, a little while later, I received this email:
Even though I was quite busy at the time, I jumped at the opportunity.
I said sure, no problem, and eventually this turned into the client asking me to write several posts over the month. I didn't turn down work.
One writer quitting for the client turned into a $1K writing opportunity for me.
How's that for being prompt and available?
Is That All It Takes?
I'm a busy WAHM.
Now that I'm in the midst of potty training my twin toddlers, my time is split between potty duty and client work.
But, even though my days are full, I do my best to balance work and life. I work a little bit every day. There are many freelance writers that clock in at 8 am and clock out at 5 pm. They take the weekends off and don't answer their work email until Monday morning.
Kudos to them. But, if a client emails me on a Sunday morning, I'll be sure to get back to them within the day. And, if they ask me to do a rush job, you bet I will do my best to say yes.
Established freelance writers may think differently. I've only done this a year so I'm eager to grow my business and make freelance writing viable.
I'm also only working part-time most days, so every day I play with my children, cook their meals, do the laundry and write for my clients. I slip in social media throughout the day, but there will be days where I don't even check my Twitter or Facebook.
It all evens out for me. When my children go to school, I'll be able to structure my day more like from 8am-3pm, but for now, I'm fine with my splintered schedule.
I do feel obligated to be prompt and available to my clients because I only have very limited time during the day to work. I'm still new and want to make my mark in this business, and being available helps me achieve this.
What This Means For You
What's so great about professionalism is that anyone can do it, especially if you are starting out as a freelance writer.
Doing these little things can help you stand out when you don't have a portfolio or testimonials yet. So, don't ever think no one's going to hire you because you're new to freelance writing. With a killer pitch, a persistent attitude and professionalism in the bag, you will land a client in no time.
And to help you out, here are some other ways you can show your professionalism to a new client:
Exceed those deadlines – hand in your work days before it's due. Clients will definitely notice how keen you are and may be inclined to give you more work.
Respond to emails right away (or as soon as you can) – clients can come from all over the world, so when they shoot off an email to you, respond quickly.
Go the extra mile for clients – I often ask clients if they want me to upload my post into their WordPress site. More times than not, clients tell me what a big help that is. Another thing I often do is include a feature image in my service package. This is what one client told me after I uploaded a featured image (flat design):

Get Out There Today
I would never have thought being prompt would pay off so big. But, it goes to show that we are all just people. People want to be treated with respect.
So, if you're new to freelance writing this one simple thing can really skyrocket your business. Be that writer that's available, respond to your emails right away and always put your best foot forward.
Now it's your turn – do you have a simple thing that's helped you succeed in your freelance writing business? I'd like to hear about it!