Half the year is gone and I can say it's been one huge ride!
In the first six months of this year my freelance writing has exploded. I doubled my rate from $50 per 500 words to $100 per 500 words.
I took on another blog, FreelancerFAQs, and am responsible for gathering guest contributors and managing the site.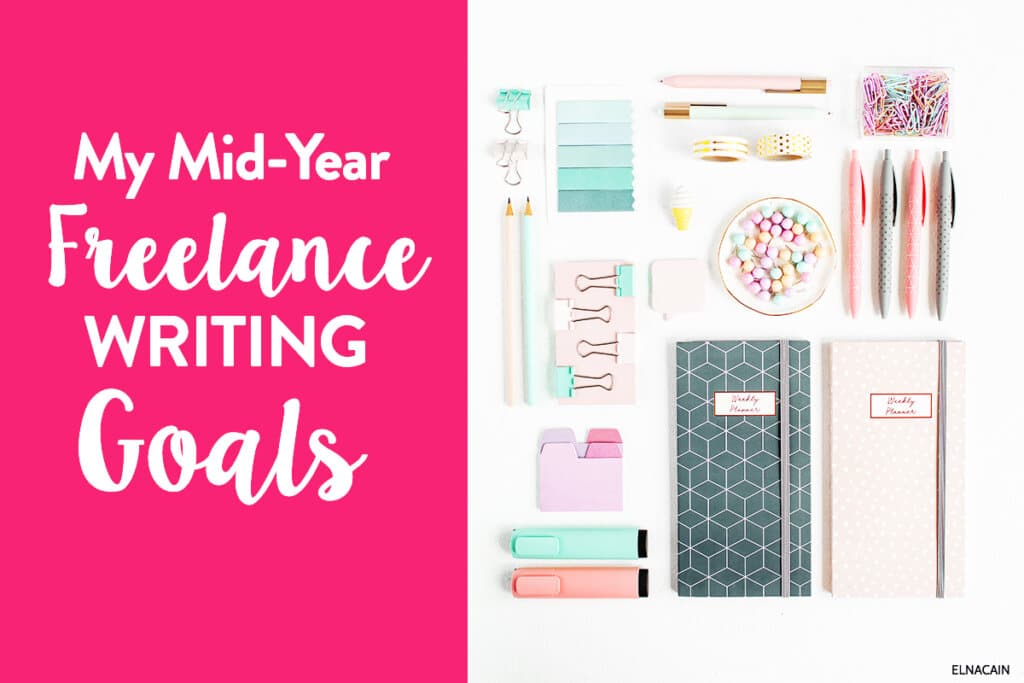 I've also hired other writers, helping me scale my business to the level it is now.
But, I've been sitting on some big goals I want to accomplish for the latter half of this year. I haven't mentioned my business goals on this blog, but I thought it be a good idea to start now so that I can be held accountable.
Because, you see, these are big goals I've had for a while and I'm excited to start tackling them.
So, to keep the motivation high I think it's a good idea to share what I have planned for my freelance writing business. I can asses my goals at the end of the year and if I fall short on some of them, I know I'm much further along than before.
Here are my top four mid-year goals for 2015.
1. Write Shorter Content, But Highly Niched
If you've noticed lately, my blog posts are long. Like uber long, and while I enjoy writing and can write on this subject forever, I need to focus my time on other important things.
So, for now, I plan to phase out my in-depth posts and opt to write shorter – but more focused – posts targeting a single idea. This is similar to what Tom Ewer is doing over on Leaving Work Behind.
I'm also going to post more of the behind the scenes of my business. These will be more transparent and personal.
I will still post weekly, but my posts will be condensed (I hope! I always aim to write short posts, but they always end up being over 1,000 words).
2. Include Copywriting Services
I'm a blog writer. A pretty damn good one.
I easily picked up on how to make posts more readable and even write about it on other blogs.
My entire freelance writing business rests on my blog writing skills. So, even though my business is taking off in a big way, I'm always looking for ways to grow my business – plus, I want to try something different.
I asked my freelance writer pal, Ariel Rule, about copywriting.
I've always had an interest in the psychology of selling. I have a background in Psychology, so I'm naturally drawn to sites like Social Triggers.
I also find it fascinating when changing one word in your copy can lead to more conversions and more traffic for a business. And I'm always trying to improve my headlines to make it more clickable.
So, I started reading Neville Medhora's blog on Kopywriting Kourse and I'm going to purchase his course. It's a video course with short and easy to digest videos. So far, I'm enjoying the videos he has posted on his blog and I am learning some valuable tips.
I'm also interested in purchasing the AWAI course. It's super expensive but I hear it's life-changing.
I plan on creating a new website to market my copywriting services. I'm excited to learn a new skill and I know it will help improve my copy by 312% or more.
3. Offer Coaching
Ever since I started freelance writing and landed my first gig, I wanted to coach others to do the same. I think that's why a lot of my blog posts are about teaching what I learned and passing it on to you.
Lately, I've been getting emails from newbies asking questions about freelancing. I'm all for helping each other out, but I feel I could offer a more comprehensive and in-depth approach to helping others. That's why I want to start coaching.
I've proved I'm a successful mom with twins who can start freelance writing from scratch. So, now I want to help other SAHMs, WAHMs looking for something new and anyone else interested in freelance writing by offering coaching services.
I don't have anything up and running, but am going to set up in the near future.
4. Start a Big Project
Something exciting is finally happening and I'm excited to tell you. I'm going to write a course on how to become a freelance writer and earn your first $1k in under 60 days..
I've always wanted to write a course, but found I have no time to spare.
So, I thought I could write it in December when business is slow, but I decided to push it ahead a full six months sooner. This course is only the beginning. I envision a community of freelance writers, similar to what Carol Tice is doing with the Freelance Writer's Den.
It's a few years in the making, but it's something I definitely want to do. For now, my course will be the first in my plan. My target audience are other moms like me or anyone else interested in freelance writing.
I don't know how long it will take for me to whip through the eBook, but I want to launch it close to back-to-school time.
My goal is to make this more of a training guide for freelance writers and I would offer my guidance as part of the package. I'm looking into how to deliver this eBook so that a person taking this course will automatically succeed.
Wish me luck!
Go Big or Go Home
These are the goals I've set for myself right now. Some of them are big goals that will take time to mature and develop, but I feel they are all attainable and actionable.
Even having quarterly goals are great to have!
I will have to work longer and better, but I know I can do it. I've come so far in such a short time, I can only image what the next six months will hold for my business.
Now it's your turn – what are your goals for 2015? Let's root each other on and end 2015 with a bang!
P.S. Are you itching to find out how I doubled my freelance writing rate? I'm planning on spilling the beans in a later blog post so be on the look out for that!