I've been freelance writing for under a year now and thought I'd update you on all my new writing gigs.
About three months ago I did a similar post on where I'm writing and how I was able to pull it off (at that time I had 8 writing gigs).
It's been approximately 10 months since I started freelance writing and in that time I was able to: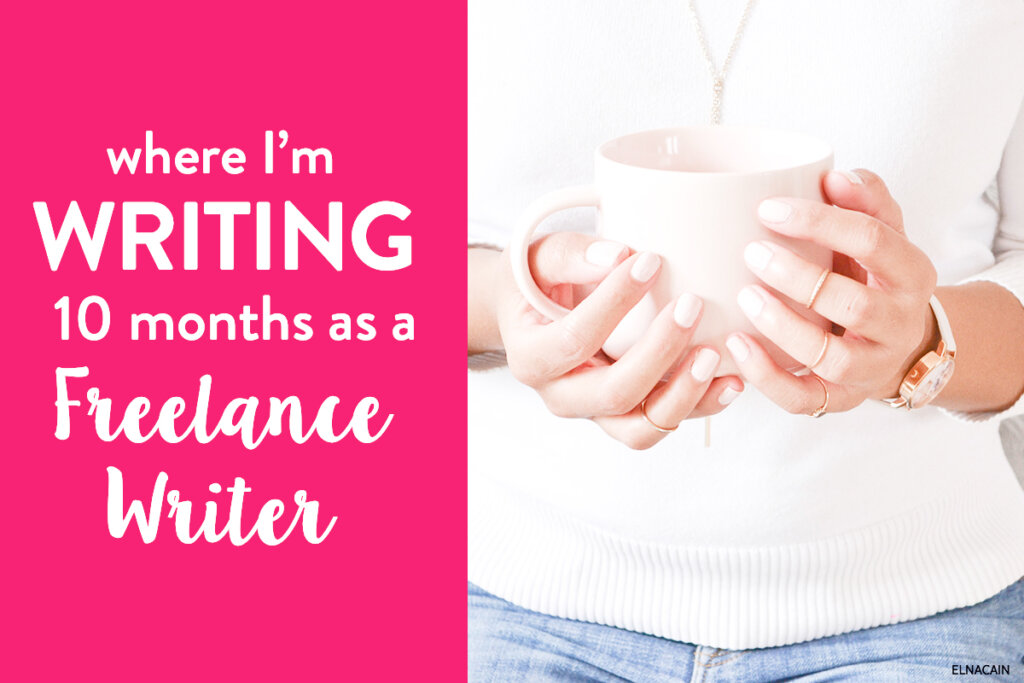 Land my first client and went from $0 to $1k in two months freelance writing from scratch
Build my brand as a Canadian freelance writer and Millennial mom to twin toddlers
Land guest post spots on high authority websites such as Brazen Careerist, Social Media Today and Psych Central
Build up my email list to close to 200 subscribers in less than six months
Collaborate with a fellow freelance writer and become owner of FreelancerFAQs, a resource for freelance writers
Find another freelance writer in my town (Lorraine Reguly) and become friends with her. We meet regularly for coffee and gab about blogging and freelance writing
Start getting noticed by influential bloggers like Sue Anne Dunlevie, Ryan Biddulph, Adrienne Smith and Adam Connell to name a few
But the biggest things that have happened since I started freelance writing are:
My Freelance Writing Business is Growing
So, how is my business doing?
Since my last post on where I was writing, I have picked up six additional clients.
Two of them are ghostwriting clients and one is deciding whether or not to use my ghostwriting services or have me write under my byline.
I also hired some additional writers as a way to scale my business and it's proving to be successful.
I have a list of freelance writers interested in writing for me and whenever I'm in a pinch I can call on them to help out.
So, who are my new clients?
1. Blogging Wizard
Adam Connell, the owner of Blogging Wizard approached me for my blog writing services. KeriLynn, another freelance writer for Blogging Wizard, referred me to him.
Three of my posts are already up and are doing fantastic – with many social shares and high engagement:
I'm having a blast writing for Blogging Wizard and Adam is a fantastic client to have.
2. Purcus
Adam also has another website, Purcus, that's new and he asked me to write for this site as well. I'm in the process of pitching some ideas and will have my content up on his site next month.
3. Home Office Careers
In addition to having clients contact me for writing services, I do my best to pitch as much as I can on a weekly basis.
Even though I have over 10 clients on my plate, you never know when some or all of them will stop needing your blog content or writing content.
I landed this particular writing job on Tom Ewer's Paid to Blog Job Board. I have since discontinued using this job board simply because the quality of job ads are below my rate.
I took the Home Office Careers writing gig because, while the pay is below my ideal rate:
I enjoy the topic – working from home careers and being a WAHM
The topic is in my wheelhouse
It's easy to write
It takes me less than 45 minutes to write a post
4. My Ghostwriting Clients
During this time I landed two ghostwriting clients and I have one on the fence about whether or not to use my ghostwriting services.
One client is a security background check business and needs HR content on their blog. Another client is an entrepreneur and requires social media content.
The last client (that's on the fence) is a doctor. She has a thriving practice and wants to have a blog. She contacted me after looking at my posts on Visualaz, another client of mine.
More Queries Lately
Recently, I've been getting more queries regarding my writing services. This could be related to my Blogging Wizard writing gig.
On a weekly basis I've been receiving 1-2 queries. Not all of them lead to a writing gig – but since more interested clients are coming to me, I can be picky and choose ones that are the right fit for me.
One of these queries is from a local business. I had reached out to them before Christmas, and they are only now getting back to me. I'm excited about collaborating with a local web design company as they have many clients that need web content.
I also pitched to the local newspaper and was able to meet with the chief editor. I'm not sure if I will be the right fit, but you will never know until you try, right?
Reflecting On the Last 10 Months
I've been almost freelance writing for a year. I started this journey as a SAHM wanting to earn some extra cash at home.
I've learned you need a tough shell in this business. There are many highs and lows and while the highs are great to move your freelance writing to the next level, it's your lows that will help you sustain your business.
Your lows will teach you valuable lessons on perseverance and you'll end up growing from them. For me, my biggest low was having two clients drop their content needs from 4 posts a month to 1 post a month.
I learned I should always be marketing and made sure to add pitching to job boards a priority every day for several weeks.
I've enjoyed this ride as a freelance writer and can't wait to see what's in store.
Now, it's your turn – tell me where you're writing and how your year has been as a freelancer.