If you don't already know, guest posting can help kick-start your business – especially for writers and bloggers.
Having your content on someone else's blog not only helps get your name out there, but it can:
Help grow your blog
Reach more people than you could on your own blog
Build your portfolio for free
Find long-term freelance writing jobs
And for new freelance writers, guest posting opportunities will definitely help grow your business, making you a better writer from it.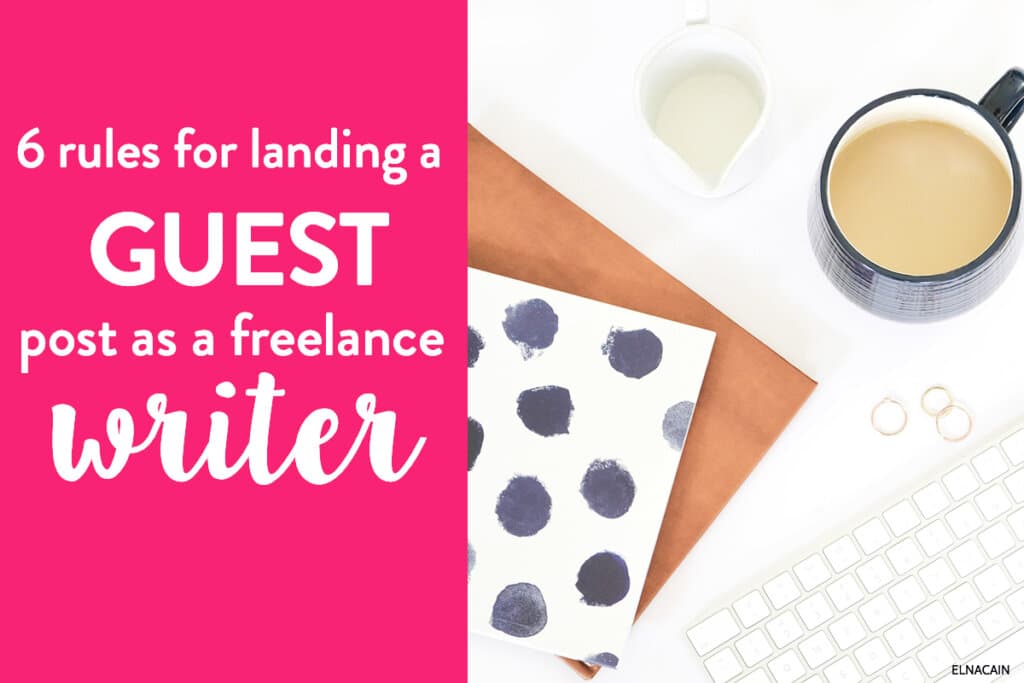 But, how do you land a guest post? Are there any rules to guest posting?
The Game of Guest Posting & Finding Opportunities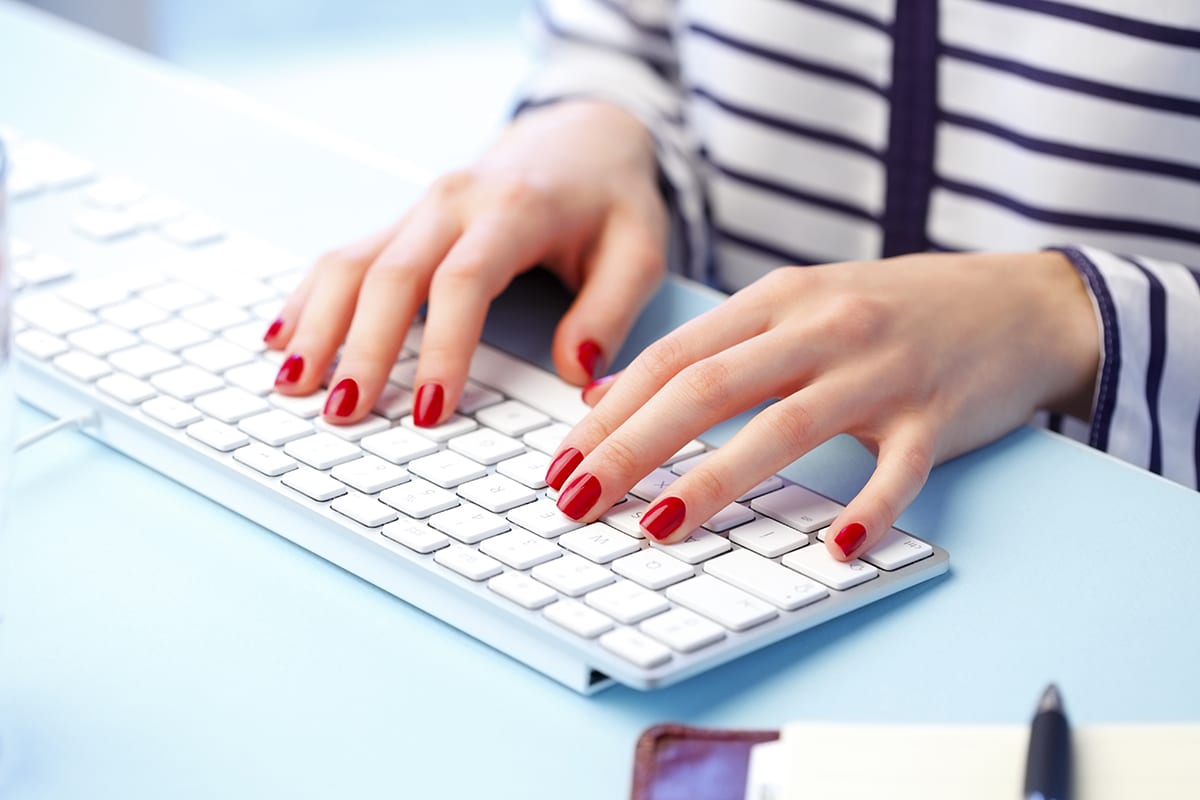 When I first started freelance writing, I saw on many freelance writers' website, places where they wrote.
Guest post opportunities like She Owns It, Social Media Examiner, Life Hack, and Addicted 2 Success to name a few.
At first, I thought these were their writing clients, but when I researched some of the sites, I saw they had guest posting submissions.
So, as any curious writer would do, I tried to guest post on the sites I saw other freelance writers guest post on. But, I never got accepted.
It wasn't until I learned the "rules" for guest posting, that I quickly was able to land guest posts on well-known blogs.
Soon, I had bloggers asking me if I would guest post on their site.
And eventually, learned about paid guest posts.
So, how did I do it?
Before we get into the rules of guest posting, let's go over how to tell whether or not a particular site is a good one to even guest post on.
What Do Guest Posting Opportunities Want in a Writer?
There's sort of two routes to take when you decide to guest post:
Guest post on a very popular website
Guest post on a targeted niche website
Which one is better?
Well, both are great to guest post on if you're a freelance writer. Let's look at these two avenues you can take to snag a client. Both have the potential to earn you more money simply by giving your content away for free.
Guest Post on a Popular Site
Popular sites, also known as authority sites, are sites that many people know about and are ranked high in the search engines. For example:
But, what if you don't know any of these sites?
When I first started freelance writing, I had no clue about Problogger or Wisebread.
I was a stay-at-home mom and looking at blogs wasn't my thing.
So, to find out whether or not these sites are even popular, I went to Similar Web to find out more about these sites.
Alexa can quickly give you an analytical overview of a particular site and tell you if it's worth guest posting.
But, even if you find high authority sites in your niche to guest post on, it can be incredibly hard to get your content on their site.
Some blogs don't offer guest posting; rather, they come to you and ask you to guest post.
It's a worth a try, however, to pitch to them and see what comes of it.
The biggest advantage for guest posting on a high ranking site is the number of people that will be viewing your content and sharing it on social media.
When you have high social proof that your content can generate engagement and traffic, it shows to potential clients your credibility in replicating this for them.
And, with a great author bio for your guest post, you'll have no problem with prospective clients contacting you.
Just make sure the site you want to guest post on has a higher domain raiting than your own. This ensures that more people will view your guest post, giving you a better chance at landing a client.
Guest Post on a Targeted Niche Site
For new freelance writers, you may think it's better to be a jack of all trades – if I can write about anything, I'll get more work and more money.
But, this is furthest from the truth. According to Francesca Nicasio,
[Y]ou need to take time to narrow your focus and only choose to write about specific topics or industries. Doing so will make it easier for you to find clients, come up with content, and—here's the best part—earn higher rates. The more you focus on a given niche, the more of an expert you become; and this, in turn, allows you to command higher fees since companies are more willing to pay a premium for content produced by those who have specialized knowledge.
So, before you make the leap into freelance writing, you might want to consider focusing on a niche, or topics you want to specialize in when finding guest posting opportunities.
To help you narrow you focus, you can guest post on targeted niches to help build your expertise in that niche.
For me, since I'm a mother, I felt parenting would be something I could easily write about.
As well, I could also write about education since my background is in Psychology.
But, from guest posting on various targeted niches, I learned I also enjoyed writing about,
Natural health
Social media
Digital marketing
From guest posting in targeted niches, I was able to secure clients in those niches and earn higher rates because of my specializations.
Landing Your Next Guest Post Opportunity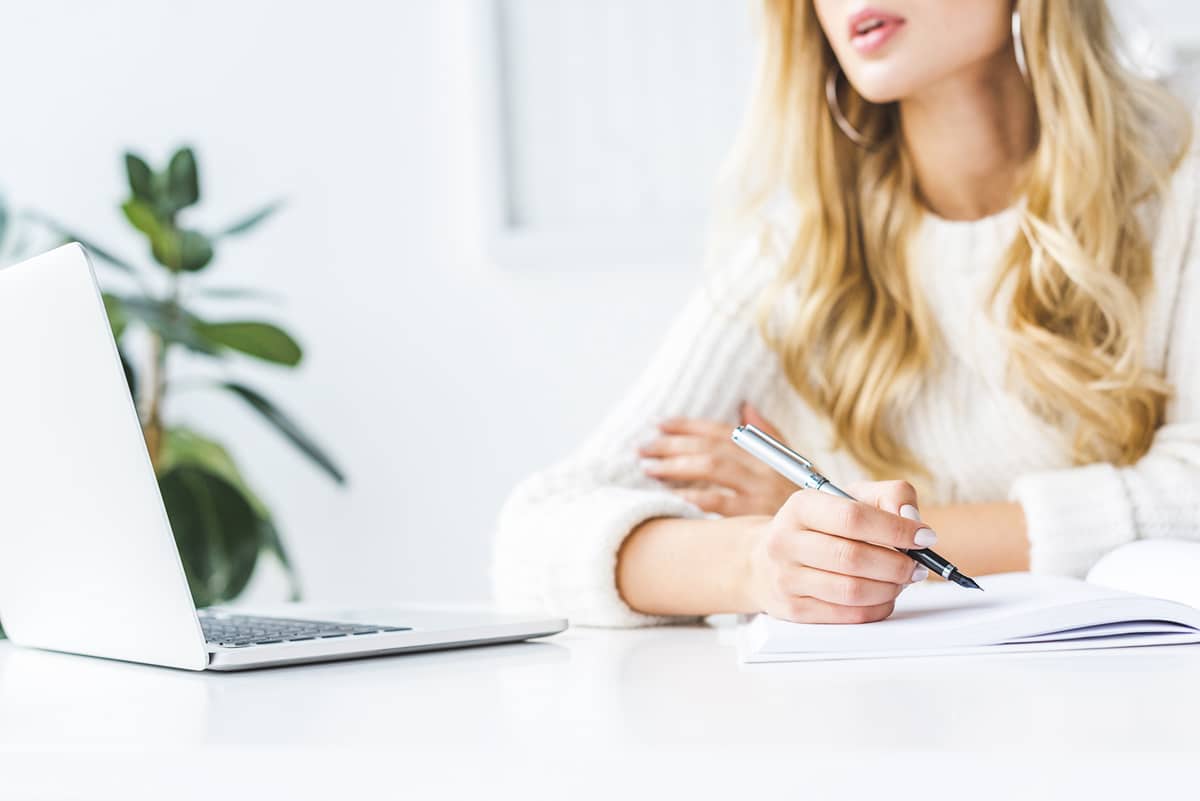 So, once you found a site you want to guest post on, how do you make sure you will get accepted?
Here are six rules that can help you land your next guest post and help you earn more money.
1. Read the Blog You Want to Guest Post On
This might seem like a no-brainer, but many people just want to get their author bio and link on another person's site and don't care what blog it goes on.
But, if you don't want your writing pitch to be in the reject pile, you better read a few blog posts in order to get an idea if this is the right blog to guest post on.
When reading a few blog posts on the site, look at:
The length of each blog posts. Do they exceed 2000 words or are they short and to the point?
What type of content is on the site? Is it mostly opinion-based or is the blog filled with actionable advice for their readers?
What stand do they take in the blog you want to guest post in? If you want to guest post on a natural health website, does this site believe in vaccinations? attachment parenting? 100% organic? Knowing this will give you a better chance at having your guest post accepted
2. Read the Guest Post Guidelines
Not every site that offers guest posting, advertises it. But, if you Google, "site name + guest posting" you can quickly find out whether or not they do.
Here's a result of Hubspot and if they offer guest posting – and they do!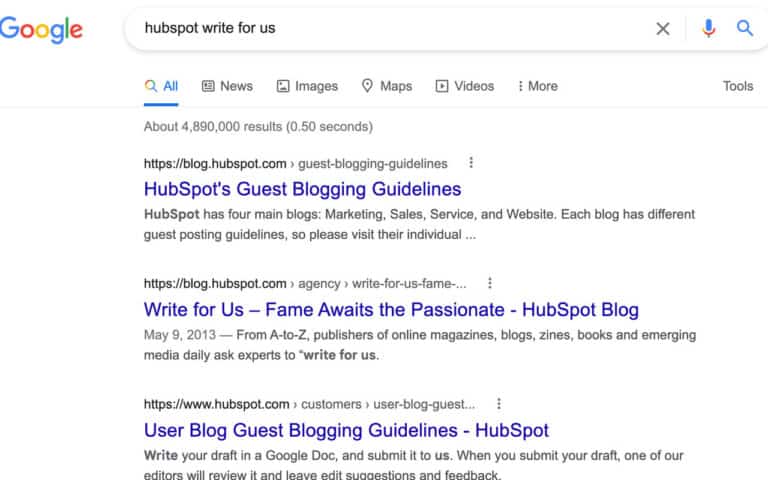 It's important to view the guest posting submission guidelines as each site can have very different guidelines.
While some only want a headline when you email them, others want the completed draft with an image.
Other sites might be specific about formatting. For example, Zapier has a style guide that goes through the exactly what they want from a writer.
There are specific headings they require and if you don't follow the guide, you won't be accepted.
Other places have specific ways to submit your post.
FreelancerFAQs only wants you to email them your guest post idea.
So, make sure you read everything on their guest post submission page and you'll be that much closer to landing your guest post.
3. Have Your Guest Post Properly Formatted
If a guest posting site doesn't specify how they want their post, then you have the option of writing it in HTML, MS Word or Google Docs.
The problem comes when the editor of the guest posting site has to import your post into their content management system (CMS).
This isn't always a smooth transition.
If you aren't using MS Word or Google Docs correctly, then the editor has to fix issues with the heading styles and spacing manually. This can drive an editor a little bonkers!
So, to help get on the good graces of those that will be deciding your guest posting fate, use STYLES!
Did you know MS Word and Google Docs have their own styles?
When you use styles, it automatically fixes any issues with headings you may have.
Another issue editors face is the spacing.
When you write your document in Word or Google Docs, most likely you press enter twice in-between paragraphs.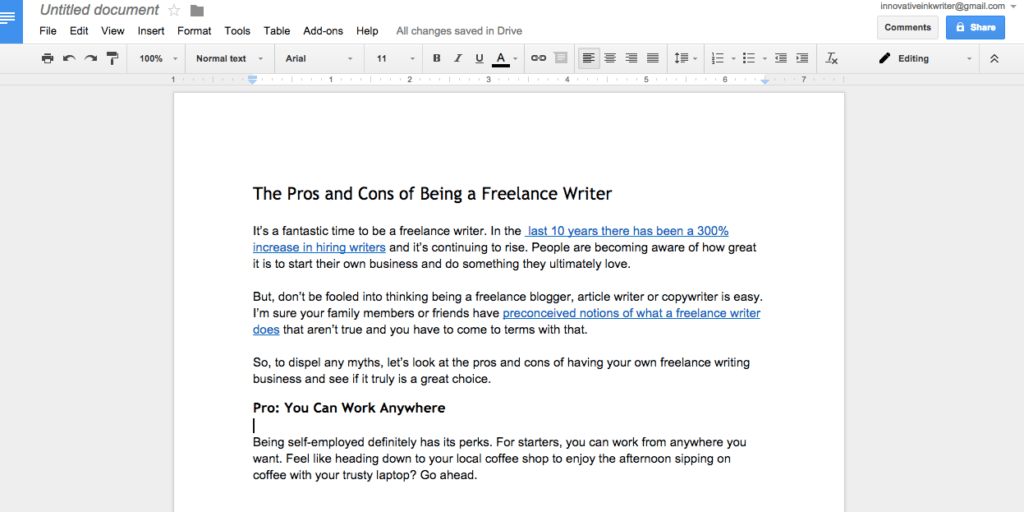 When your document is formatted in a CMS, those spaces triple. The editor then has to manually fix the spacing issues in your post.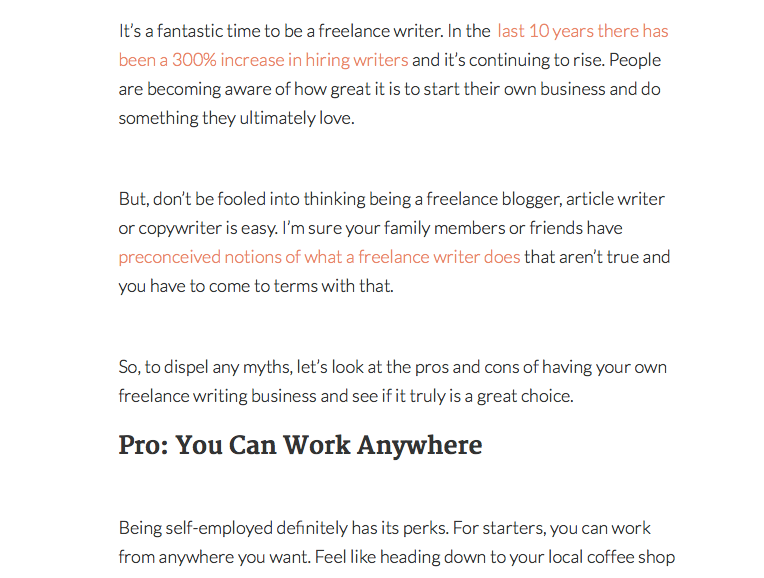 To avoid this, you have to set your paragraph spacing.
Currently, I know of only one way of doing this – manually. Here are two ways to go about this:
Write your entire post with only entering once for each paragraph.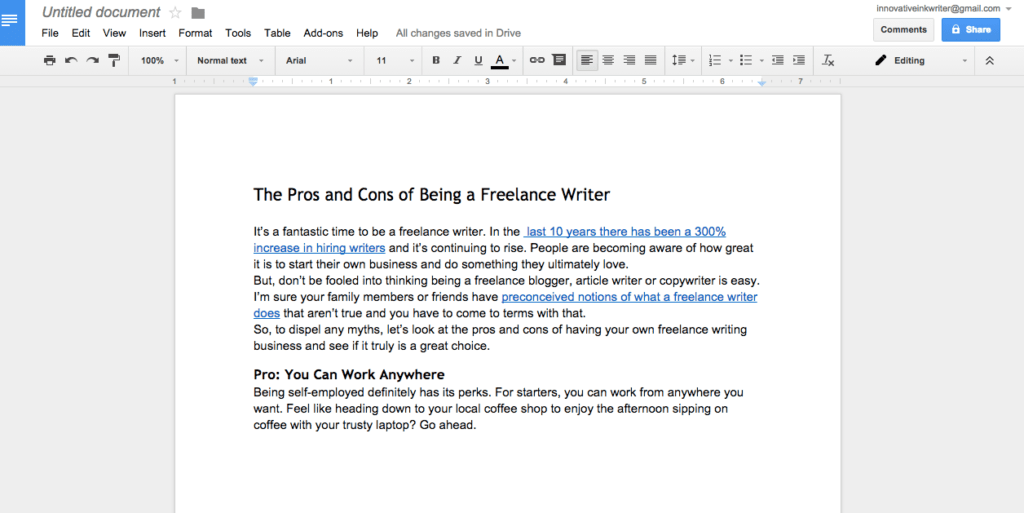 Highlight your text and then go to FORMAT –> LINE SPACING –> ADD SPACE AFTER PARAGRAPH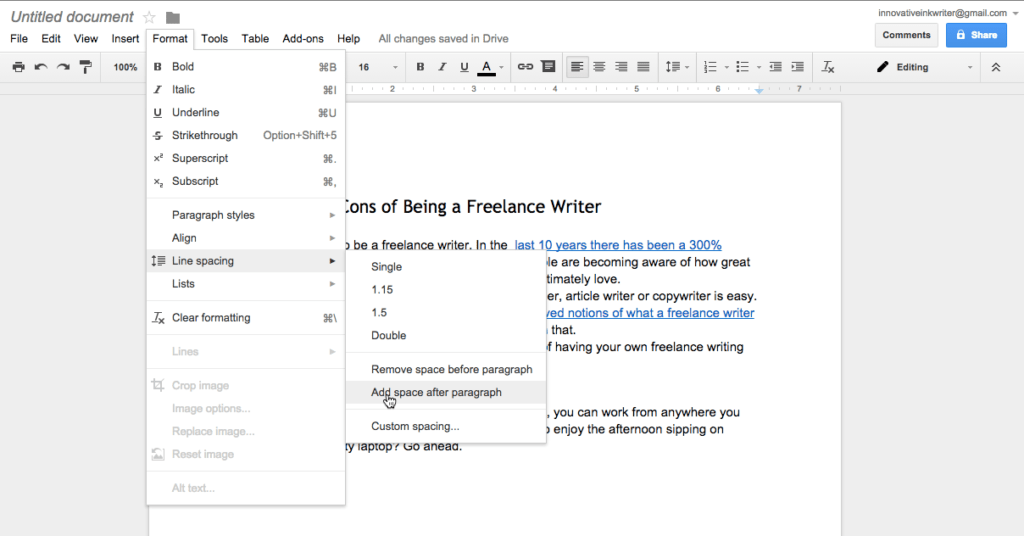 Another way is to start your post and before every new paragraph, manually format the line spacing by going to FORMAT as shown above.
If this is too much for you, Google Docs also has a great add-on to help with this dilemma – the Publish to WordPress add-on.
It's free and allows you to write your post in Google Docs and immediately publish it on your WordPress site.
There's no need to even visit your site! But, this doesn't necessarily help with your guest post.
If you have MS Word in Windows, click on the link and find instructions on how to fix your spacing issues on your document.
In MS Word for Mac, in order to do a quick fix of your document, you will want to go EDIT –> FIND —> REPLACE. It will open up a side panel: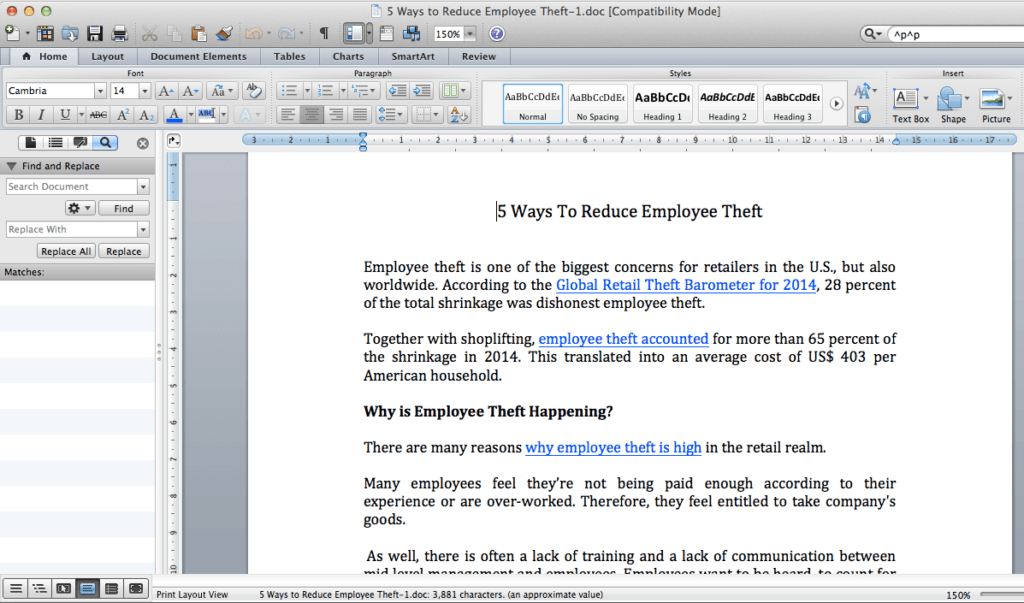 Under "Search document" pick Paragraph Mark, and then pick it again. In the "Replace With" pick Paragraph Mark once.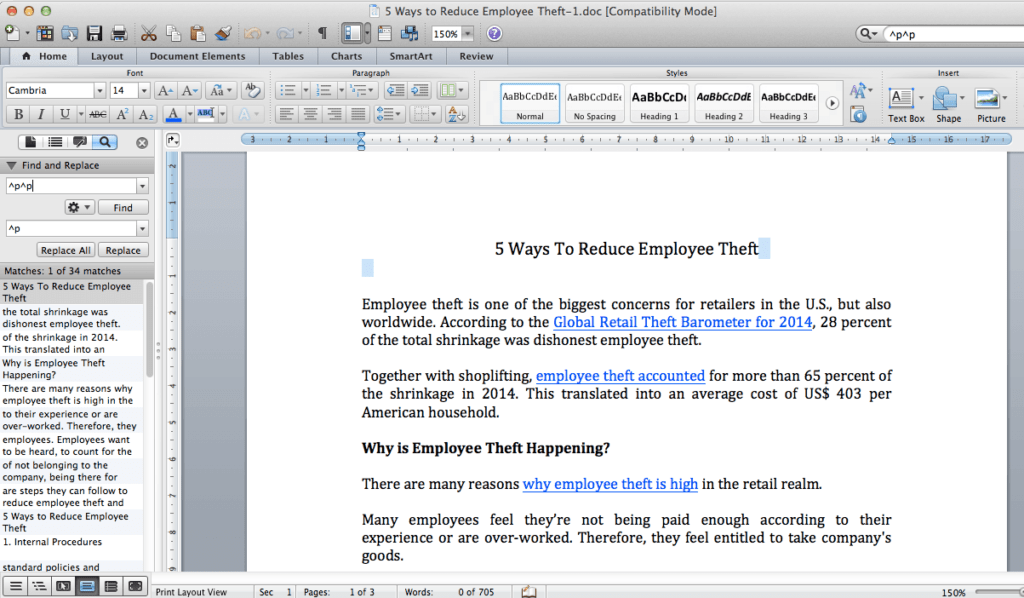 Click on "Replace All" until it is completed. When it's completed, there should be no spacing between the paragraphs.
Sometimes, though, Word will miss a mark, so you may have to manually delete the space yourself.
Once your document is free of spaces, select it all and go to FORMAT —> PARAGRAPH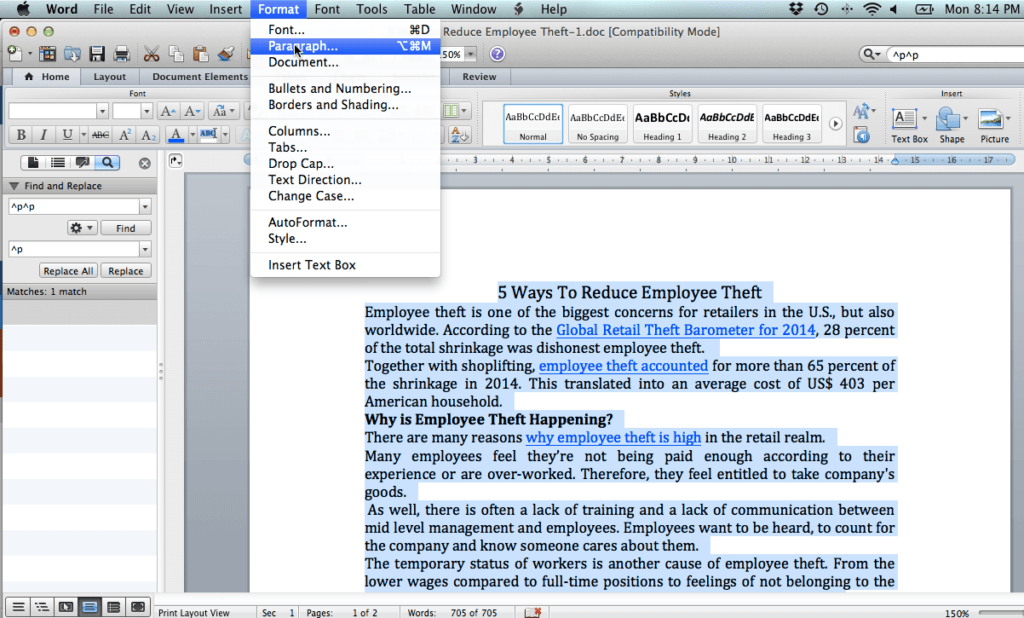 MS Word opens up the Paragraph Indents and Spacing tab.
In the "Spacing" section, set your "Before" to 0 and your "After" to Auto.
Set your "Line Spacing" to single. Press "Ok." Your document is properly formatted.
Now, it may look exactly like it did before you played around with it, but when it is formatted in a CMS, there will no longer be big gaps between your paragraphs.
4. Always Be Friendly in Your Pitch
Editors and blog owners get hundreds of requests for guest posts on a daily basis.
They have to weed through many submissions and if you want yours to stand out, you better have some personality in your pitch.
Since so many blog sites that offer guest posting are flooded with requests, you can stand out by:
Using the editor's name (if you know it)
Mention that you are a reader of the blog (or mention a favorite post)
Convey how your post could help fill a gap in content, add to their established content or create a new area of focus
Above all, be human. If you have a standard template you use, ditch it.
Editors and blog owners can tell if they've received a cookie-cutter pitch letter.
A bonus is if you've been reading the blog you want to guest post on and left meaningful comments, the editor or blog owner will see your personality in your comment.
This will create a lasting impression on them and may make it easier for you to land a guest post on their site.
Be unique with every pitch!
5. Mention Other Places You've Guest Posted On
If you've guest posted on other popular sites, mention this in your pitch.
Editors want confidence in your ability to write popular content.
Even if your post is scheduled for publication, include that in the email you send.
If you can validate your credibility as an effective writer, editors and blog owners will feel more comfortable in accepting your guest post.
It doesn't hurt to name drop as well. According to Mary Jaksch, of Write to Done, mentioning a popular blogger's name can land you a guest posting spot,
It's a good idea to name-drop. One of our students in the A-List Blogger Club recently pitched a big blogger and wrote, "I'm in a mentoring program with Leo Babauta and Mary Jaksch." He got the gig.
And, don't worry if you don't have any guest posts under your belt; still keep on pitching. Ultimately, it's your content that will shine and land you that guest post spot.
6. Spend Twice as Much Time on Your Guest Post Than on Your Own Blog Posts
Have you heard this before?
Many bloggers spend hours upon hours tweaking and refining their guest post before they submit it.
Why do they agonize over guest post?
Because they know many more people will be seeing their content.
If you're fortunate enough to have your post on Smart Blogger, Copyblogger or ProBlogger, then you know the potential your post has on those blogs in comparison to your blog.
So, instead of re-purposing old content or whipping up a new post, slow down your writing process:
Come up with 10-20 headlines
Look up relevant keywords to use in your post
Create catchy subheadings
Go over your points and make sure you have relevant links from the site you are guest posting on
Write your rough draft and wait a day before editing it
Have other people edit your work and run through editing programs like Grammarly.
Proofread one last time before you send it
When you take the time to develop your points and work on making your writing more succinct, it will be a much better piece of writing.
Paid Guest Post Opportunities: Are They Worth It?
Some freelance writers might be wondering if paid guest posts are a better way for guest posting since you land an author bio and some cash.
Well, from my experience, I find pitching and working with blogs that offer paid guest post opportunities are more strict and rigid with their requirements.
As well, payment may take months before you see it and a lot of headaches dealing with an editor.
Take it from me, it's better to land guest posts that are "free" first to build your portfolio and then you can try a paid guest post opportunity later on.
Here are some websites that pay for writing:
What About Guest Posting on Medium?
Medium is a blogging platform with over 60 million users.
Writers can create a profile on Medium and write whatever they want. Medium also houses many publications where writers can guest post on.
To be eligible for these publications – and get paid for your writing on Medium – you do need to sign up to Medium's Partner Program, which is around $5 a month.
This allows you to read everything on Medium and be able to guest post.
I've been on Medium for a while now and belong to over 13 publications.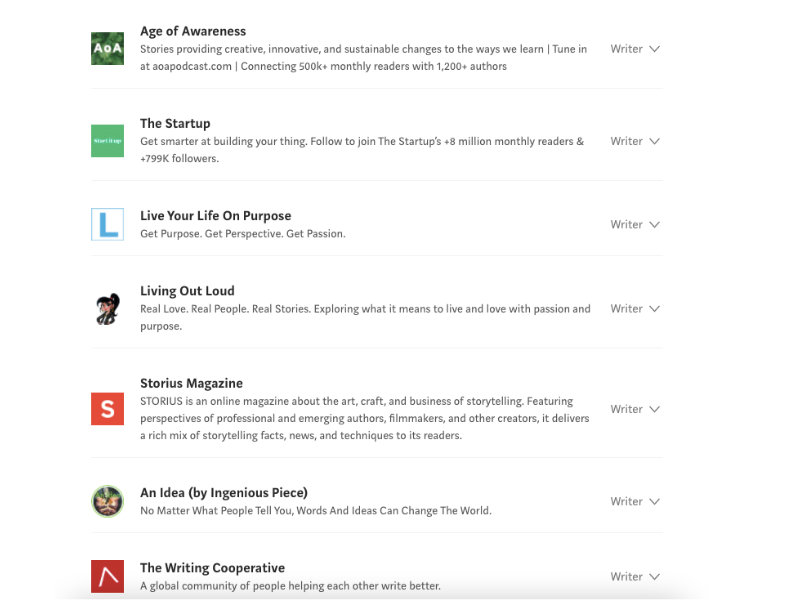 While you can earn money from writing and publishing on your profile, you'll make more money when you publish with a publication since money earned is based on engagement like reading time, claps and comments.
In either case, writing on Medium is a great way to improve your writing skills and prepare for guest posting and growing your client base.
Just Go For It – Land Your Next Guest Post Opportunity
When you think about it, it all boils down to your confidence as a freelance writer and your willingness to go for it.
If you just starting out in this business, don't think about landing a guest post on Copyblogger, yet.
Instead, focus on dipping your feet, so to speak, in smaller more niche-y sites.
Landing a few guest posts on those sites will earn you clips for your portfolio and some credibility as a legitimate freelance writer.
So, tell me, what is you tip for landing a guest post every time you pitch?
Sharing is caring. Please Pin this!