I need a job!
Oh my – landing that first job as a brand new freelance writer is the holy grail.
This is what you want because once you have that first job under your belt, getting the next job and next client becomes much easier.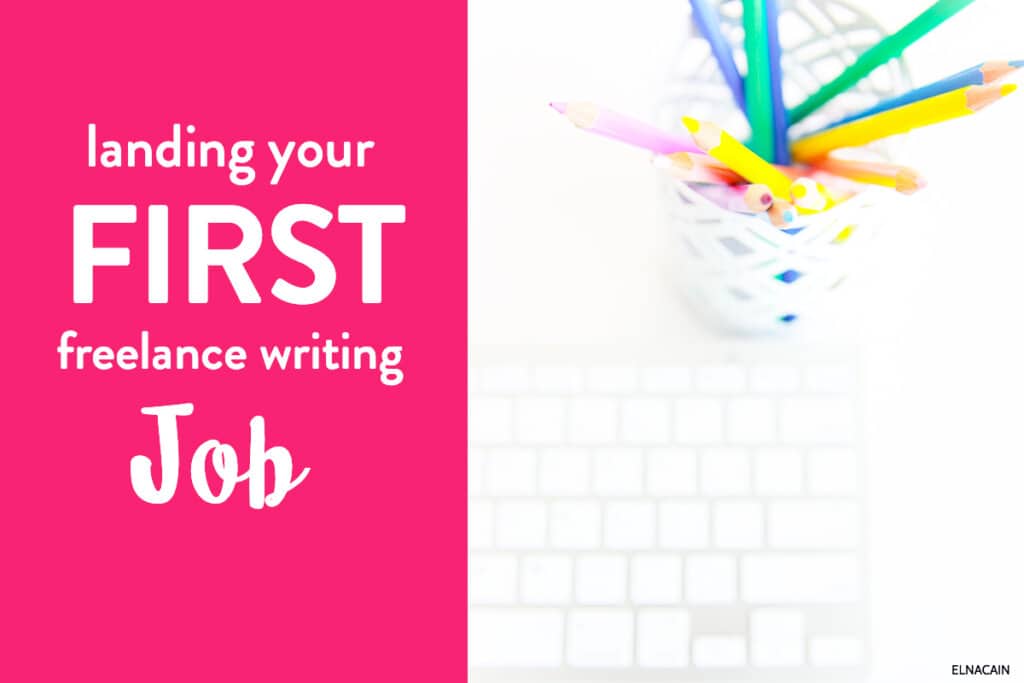 For beginner freelance writers, the road you take to that first job will vary from one another, but we all have the same goal for our profession: to get paid what we're worth.
You may be wondering, then, how do to get your first job and how long does it take (I know I did when I began freelance writing).
I've been freelance writing for a while now, and I've learned a thing or two about scoring a writing gig.
When I began as a freelance writer, I didn't know where to start to land my first job.
I began searching online learning how to get a job and many of my searches led me to content mill sites like Guru or Upwork.
I decided I might as well create a writing profile and try to get some writing samples under my belt.
I had yet to secure any guest posts at this time, but I was excited to get paid anything for my writing.
I pitched to various job ads, but didn't receive any responses. I was new and didn't know how to sell myself.
I even made my first time resume for a job to see if that helped with landing a freelance writing gig, but for me, it didn't.
I decided to look more into freelance writing websites to learn more about freelance writing.
I started reading Francesca Nicasio's site, Be a Freelance Writer and Sophie Lizard's site, Be a Freelance Blogger.
I learned that freelance writing and blogging pays a lot more than $10 for a 500 word article or post.
I also learned that branding yourself and using social media can help in securing a sustainable rate.
How do you land your first job that pays top dollar?
If you're new to freelance writing and want to know how to land a job that knows your writing is worth more than $.03/word, my post will help you navigate the beginnings of freelance writing success.
Land Your First Freelance Writing Job – Click Below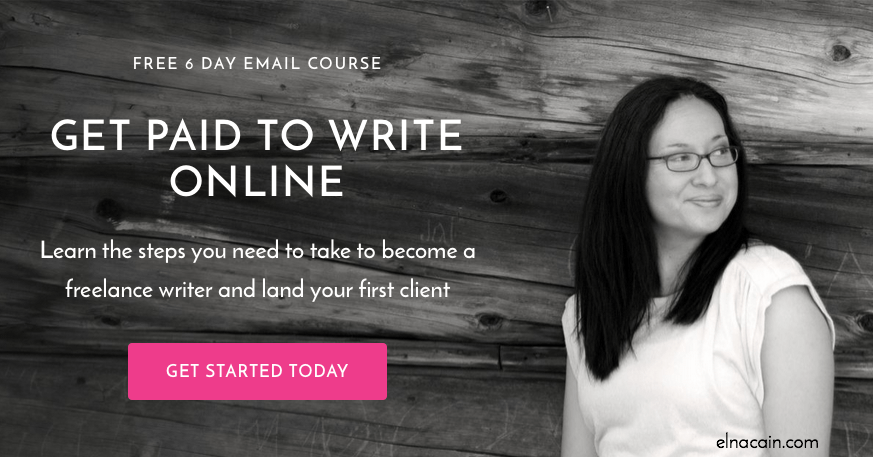 Why Land a Job in Freelance Writing?
There are many reasons why someone would choose to get a job as a freelance writer.
For me, I wanted to stay home and raise my twins and what better way to do that than with a home based business?
Other people may have a full time job and moonlight on the side as an online writer.
Dipping your feet and testing the waters before you fully commit is a great way to see if freelance writing is really what you want.
I'm fortunate enough to have a husband that can support us, so when I began my venture as a freelance writer, I didn't have to worry about scoring writing gigs right away.
I was able to ease into this freelance work and gather as much information about freelance writing and blogging as I could.
One of the biggest lessons I've learned is that it's hard work. Not everyone is cut out for freelance writing full time. According to Jennifer Mattern of All Freelance Writing,
Many, if not most [freelance writers], will fail within their first few years.
That's a tough pill to swallow. I think the main reason people give up freelance writing is because:
They burn out from having to write daily
They keep selling themselves short and never ask for more money
There are too many months without steady pay
Too many bad clients that don't pay on time
Being a solopreneur is daunting and scary for many people.
Not only do you have to hustle for steady work to get a job, but you have to craft your writing skills while branding yourself all with the added risk of not getting paid.
It takes a persistent and strong individual with a passion for the entrepreneurial lifestyle to cut it as a freelance writer.
But even if you decide to be a freelance writer or blogger full time, don't consider yourself one until you get paid for your writing.
What are the steps to landing a job? There are 4 steps I did to secure my first job as a beginner.
Writing Jobs as a Newbie (Landing a Job Quickly)
1. Build Your Portfolio
For budding new freelance writers like yourself, you want to attract and get a job that pay what you're worth.
A great way to do this is to have a writing portfolio showcasing your best written work.
A lot of would-be writers don't have a portfolio (because they don't know how to get a portfolio).
By having a writing portfolio, small businesses can weed out the freelancers that make what they do a business from those that make it a hobby.
Here is what my writing portfolio looks like: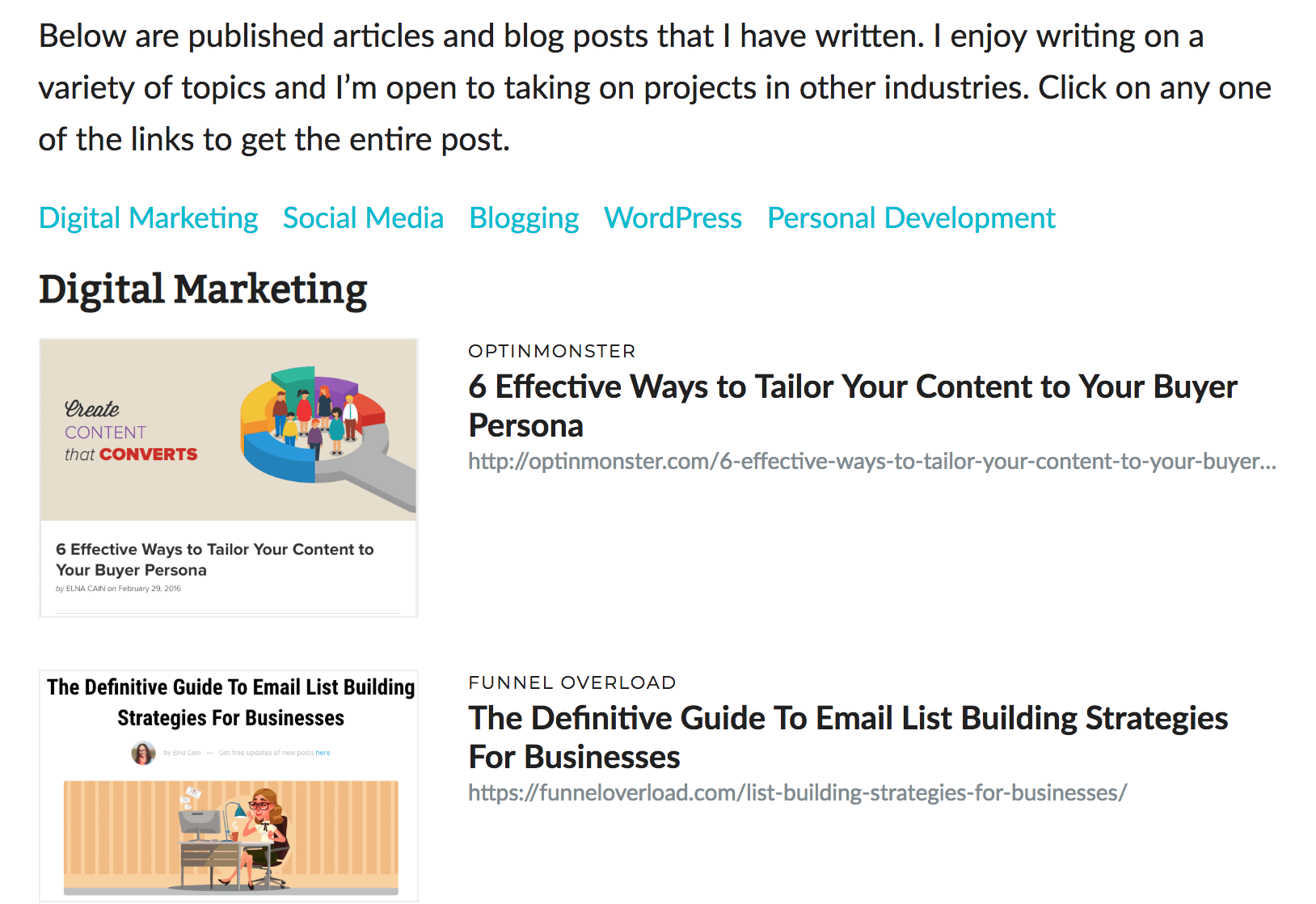 This one tool made it easy to land my first job.
So how do you build a writing portfolio if you're brand new to freelance writing and don't have any sample works or published works to provide?
Here are three ways you can quickly build your writing portfolio.
1. Write Guest Posts
Guest posting is a quick way to grab clips and put them up on your business website and land some good first jobs.
Although you won't be getting paid for your articles, what you will gain is a portfolio of your best writing in your target niche or niches.
Another added benefit for new writers is an author byline. If you want to promote your services, this is the best place to briefly let someone know:
Who you are – Let people know that you are available for freelance writing. Why is this important? Because it lets prospects know that you can take on more clients and that you aren't already working for a company.
What you do – Be specific on what areas of writing you provide. You can also mention specific niches that you write about as a way to target certain businesses.
Where they can reach you and any extra information – Link your contact info or social handles to make it easy for prospects to contact you.
When you put it all together, you might have something like this:
I'm a freelance writer for hire that provides blog posts, articles and site content for businesses. I'm an expert in natural living, parenting and career advice. For more information on my services contact Elna and sign up to her free email course Get Paid to Write Online.
Some websites require a short author bio of two sentences, so make sure to provide a freelance writer title and if you want a tagline with relevant information as you can without sounding too wordy.
And, by guest posting as a new freelance writer, it can help you with the problem of, "I don't know what to do for a career."
Writing for other blogs and businesses can help you decide the right career choice as a writer.
How do you find websites that offer guest posting?
You can simply search, guest post (niche) website or write for us (niche) website into Google.
Another great resource is Sophie Lizards free guide to paid guest blogs. Yes, you saw that right. There are some websites that actually pay $50 or more for a guest post.
What better way than to get paid while you're building your portfolio? It's a win-win situation.
2. Write a Blog
Many successful freelance writers have a blog so why not do what they do? If they're successful follow in their footsteps, is something I always tell myself.
A blog is nice to have because it helps new writers become better and it can help you land your first job.
How does a blog help you become a better writer? Because you are consistently writing and holding yourself accountable for providing quality content.
A blog can also act as a portfolio if you haven't scored any guest posts yet. If you decide to use your blog as your portfolio, treat your blog like a paid client– take the time and lay out your plan for each post and stick to a deadline.
And above all, make sure you provide relevant content on your blog and promote it as you would a paid clients' work.
Finally, a blog can help you land best first jobs. When a prospective client sees you have an active and current blog, they may be more willing to hire you for your services.
They may think if you can create a blog that has comments and social shares, then you can definitely do it for them.
Make sure to check out my post on how to start a blog to help you land freelance jobs!
3. Do Pro Bono Work in Your Communities
One last way to build your writing portfolio is to do some pro bono work in your area.
Dedicate your time and words to charitable causes in your community.
Your local newspaper, church newsletter, not-for-profit organization's paper or your community outreach resource guides may need some written content. This is a great way to get your name out in your city while at the same time building your portfolio.
How do I get my offline work on my online portfolio?
Many of your local community organizations are online and it will be easy to link to their website or even a PDF document containing your written work.
You may even find a paid gig once you start reaching out to your community.
The main thing to focus on is providing quality written work so that you can showcase them on your writing portfolio.
2. Use Social Media as a Marketing Platform
There are many freelance writers who don't use social media to its fullest. And that's okay.
If they are getting their fist job without using Twitter or Facebook, they don't need to fuss about creating a social profile.
But for many new freelance writers who lack landing a job, an easy way to let everyone know you are a freelance writer for hire, is to set up social profiles on all the major social platforms – Facebook, Twitter, LinkedIn.
Having a social presence online is something many online businesses require of their freelance writers.
In fact, my first job mentioned in their ad that they wanted a social media maven.
In essence, businesses want traffic and they want a writer that can bring in unique visitors and drive their traffic.
Where to start?
The two social media sites I would suggest for new freelance writers are Twitter and LinkedIn.
Twitter is a great way to market your content and connect with editors and small businesses.
LinkedIn is a great place to find clients that know the value of content and will pay top dollar. It's also a great place to use as your online cover letter and résumé.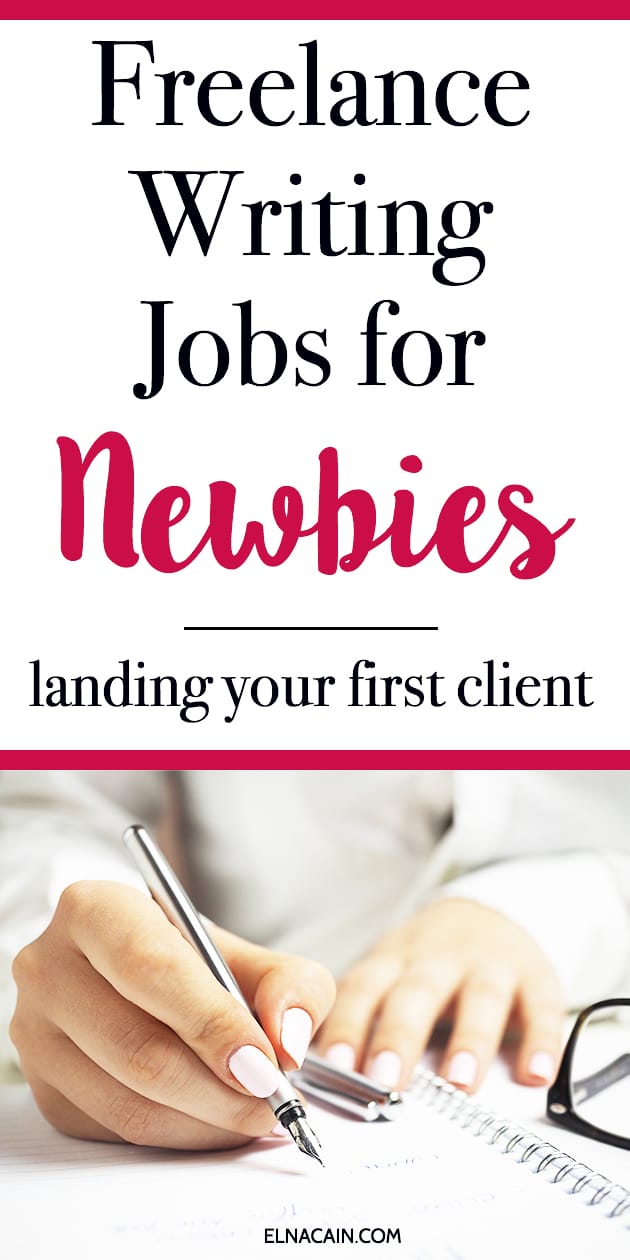 3. Look Locally to Land Your First Job
A great way to score awesome writing jobs is through local businesses.
You can go to individual small businesses and pitch to them or you can do what I did to try to score a handful of clients with one pitch.
Boom! Your first job quickly and easily this way!
If you want to land consistent online work with a handful of high paying clients, the best place to pitch, is to website development companies. Many of these companies have long term clients that value an online presence.
You can definitely tap into this by pitching to the directors of a website design business telling them that their clients need your content creation services.
I recently introduced myself to a local website development and got positive feedback.
I'm looking forward to collaborating with them in the New Year.
If, for some reason, it doesn't pan out, there are other website development companies I can proposition in my city.
4. Selectively Hunt Job Boards for Best First Jobs for You
Now I hope any new freelance writer who is reading this knows I am not talking about freelance marketplaces like Fiverr, Guru, Upwork or any other places with low paying job ads.
What I am talking about is going to job boards where the top paying clients go to.
These job boards, post ads for bloggers and freelance writers with rates starting at around $50 per blog post or article.
So what job boards am I talking about? My go-to job boards are:
Check out my step-by-step guide on an insanely fast way to find a freelance writing job.
Other great places to find your first client is through Facebook groups.
I often visit a Canadian job board business page and a Facebook 4 Freelancers group.
These boards may not have high paying job ads, but it's always a good thing to stay connected and you never know, a high paying client may spring up!
Twitter is also another place to hunt for clients. I follow @jjobs_tweets, @FreelanceWJ, @Mediabistro, @WhoPaysWriters.
As I mentioned before, LinkedIn is a great way to find small businesses in your niche that you could introduce yourself and pitch your services to so you land that first job.
You can also check out some specific job sites for remote work and freelance work too.
Your First Jobs for Beginners
I used these 4 ways to get my first high paying job.
You might be wondering how long did it take me?
For me, it took me 2 months to secure a winning portfolio, build up my brand and let businesses know I am a freelance writer for hire through social media. Soon after I landed my first client.
Once I had these in position, I was able to pitch to well established companies because I had the credibility to back me up.
As mother of twin toddlers without a journalism degree, I was able to secure high paying jobs with my quality content and marketing ability in 2 months.
If you follow my simple steps to success, any new freelance writer can land their first high-paying client in no time.
In part two of my blog series, Freelance Writing Jobs for Newbies, I will focus on the client meeting.
What questions should you ask prospective clients? How do you sell yourself? All these and many more questions will be answered in my next post. Stay tuned!
If you're a new freelance writer, what did you do to land your first client? Is there anything else you would add?
And to help you, I have a free course on getting paid to write online.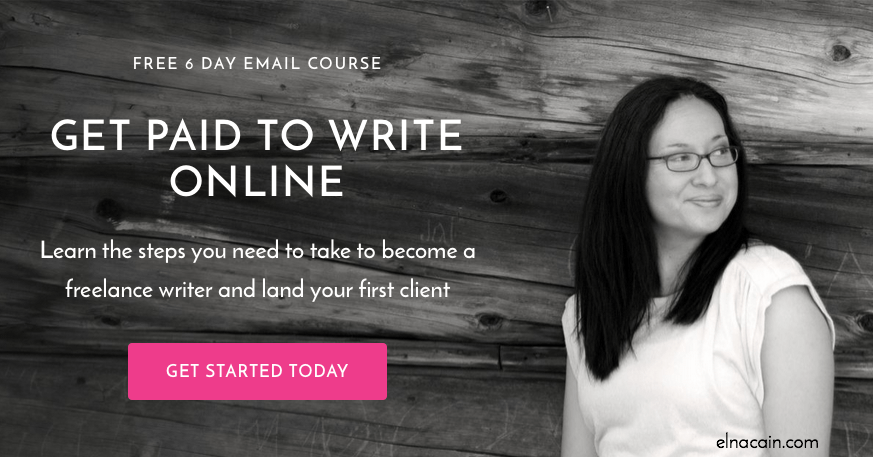 Sign up to my free six-day email course and get even more actionable tips to help you succeed as a freelance writer.