Ready to check out the best writing job boards filled with good paying freelance writing jobs?
Making consistent money is probably the number one goal all new freelance writers strive for, right?
You just want to learn how to make money with your words (hint: it's using job boards as a freelance writer!).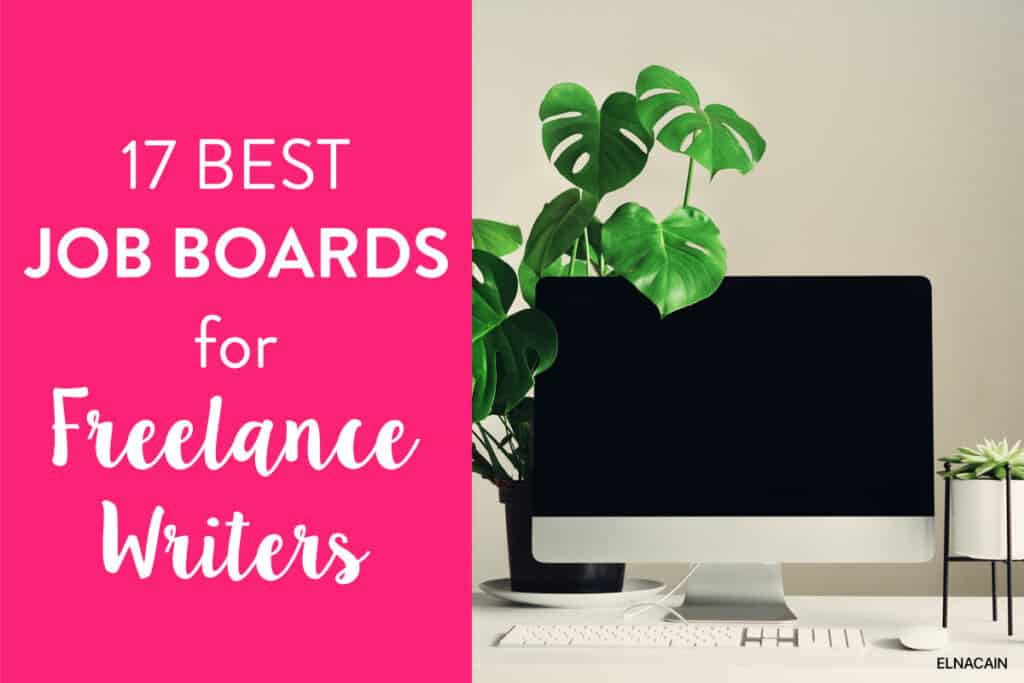 I get you. That's exactly how I started as a freelance writer. No training. No experience.
I had to learn the hard way, make many mistakes and try and try again before I finally figured it out. And while I have a couple of courses that can help you land some consistent work, for today, let's just focus on where to find a freelance writing job using job boards.
Baby steps, right?
And to make it easier, I'm not going to bother on ALL the ways to land a writing gig; I'm just going to focus on one.
Because one way is so much easier to focus on, take action on and actually get out there and DO IT. So, what's the quickest way to land a freelance writing job?
Job Boards for Freelance Writers
Yes.
Some of the big freelance writers don't recommend using freelance writing job boards. Why? Well, they feel the quality of projects are low and the pay is low too.
But, I disagree. I've told my story numerous times that I got my break with online job boards. It was the BEST thing that happened to me.
Why?
I gained confidence. Before I landed my first freelance writing job, I had an incident that almost made me quit entirely.
At that time I kept thinking that, I'm NOT a writer. I didn't have a journalism degree. Heck, I'm not even the best writer out there either.
So, when I finally landed my first writing job, boy oh boy, did my confidence shoot through the roof.
From that time, I kept landing more jobs, collaborated with more bloggers and found my profitable niche finally! Writer's job boards are perfect for new freelancers. They:
Have fresh jobs daily, even hourly
Usually have a low entry point. In other words, a lot of ads stipulate you don't need a lot of experience to land that gig
You can apply to numerous ads using only one job board
You can see that even though there are ways to land work without using job boards, if you're brand new, this is the best way to find consistent and long term work.
But, not all job boards are the same. Here are my top picks.
1. Contena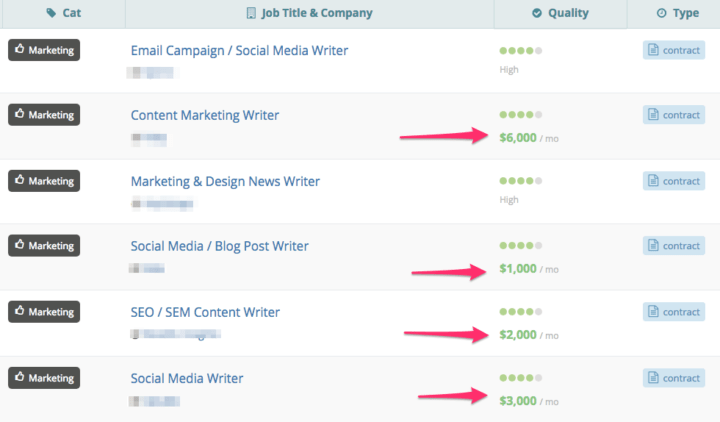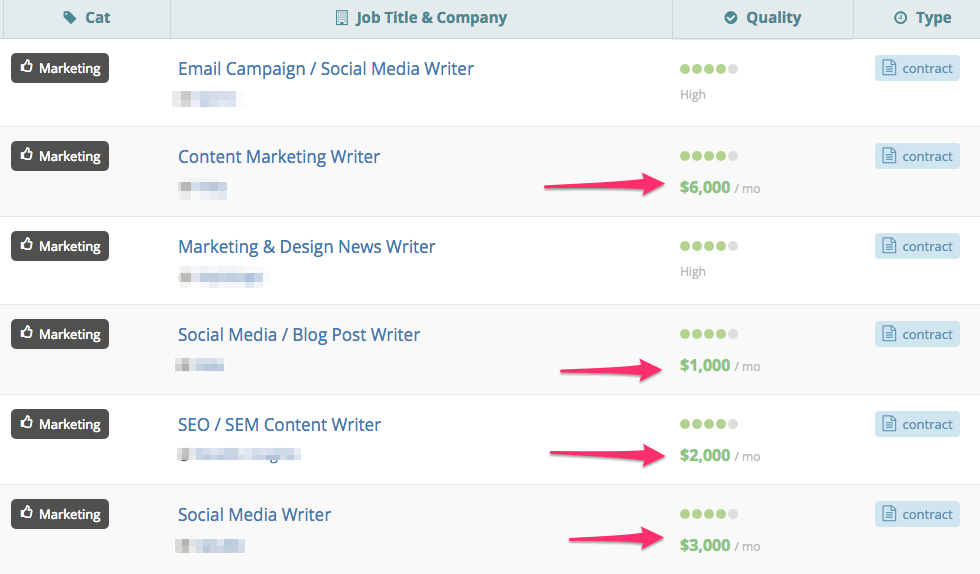 Contena is a job board that curates all jobs online – and not only from other job boards. While this is a paid job board, I like the fact that I have the option to sort through jobs by category, or by niche.
I just don't have the time to go through all the job boards out there and for a lot of freelance writers, you should spend the bulk of your time on tasks that will result in a positive outcome (landing work). With Contena you can do that.
Another nice feature of using this paid job board over others is Contena Alerts.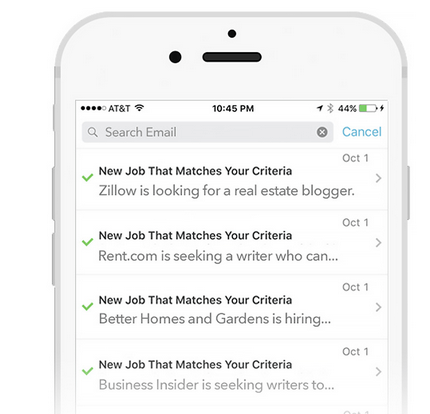 These are alerts that come to you inbox daily. You set the alerts with the criteria you want – like rate or category – and Contena will only give you only those matches.
So, instead of using their platform, they notify you instead! Contena also has Pro Rates which shows you the average rates within an industry (travel writing for instance). This data is taken from actual freelance writers and from company information. So, if you're new and want to see how much you could make in your niche, Contena Pro Rate can help you figure our your rate.
If you're interested in signing up to Contena, make sure to check out my review!
Here's my full review of using Contena job board.
2. ProBlogger Job Board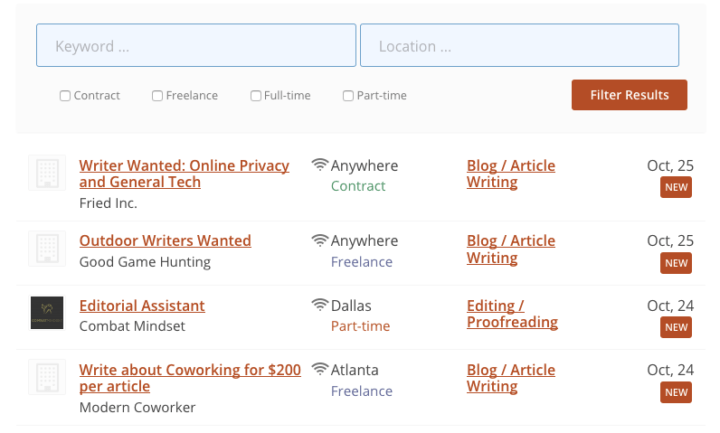 ProBlogger is one of the free job boards and for a lot of writers, this job board is considered one of the best out there for free job boards.
I used ProBlogger a lot when I first started, but it can be a bit competitive since many bloggers and freelancers know about this job board.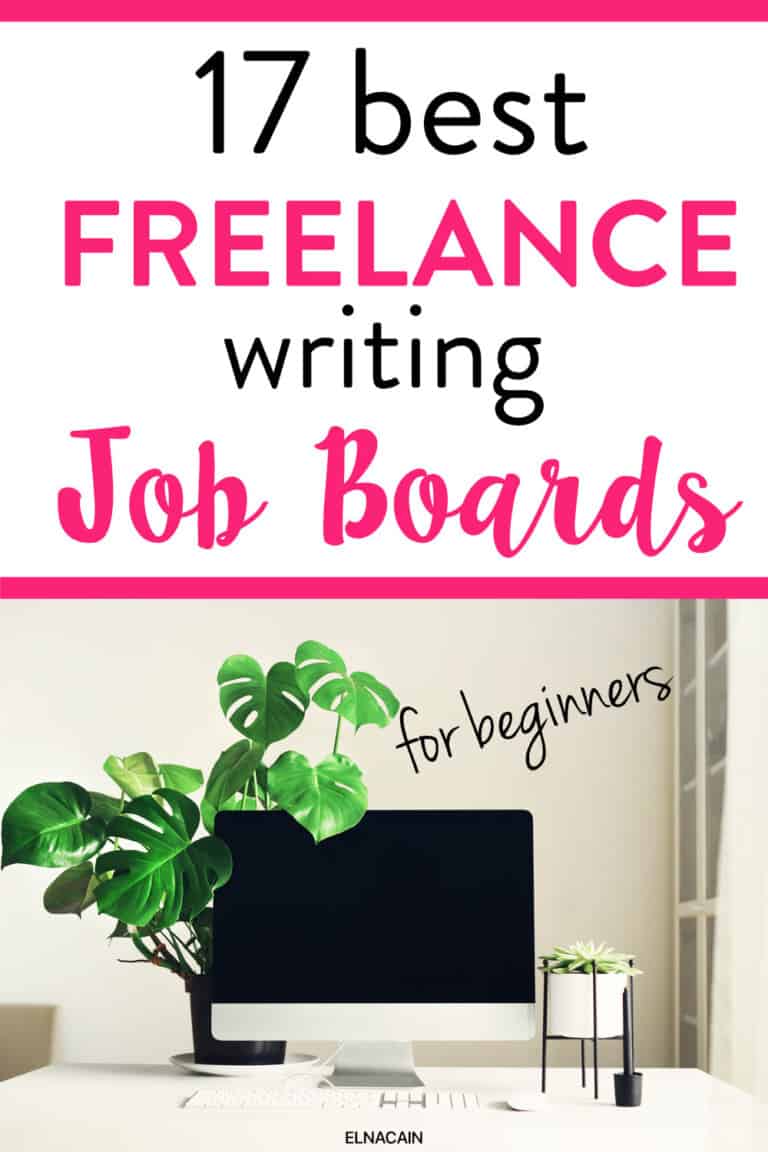 They recently updated it and now you can search by keyword – your niche – to help make it easier to comb through the ads.
If you're new to freelance writing, definitely go here to see what's available.
A lot of these writer jobs aren't high paying, but if all you want is to finally land a job, consider using this freelance writing job board.
Pitching is all in the numbers, so be prepared to pitch multiple times a day on this job board (or any job board) to land a gig.
My suggestion is to try to pitch 10 times a day for 10 days. If this doesn't result in a writing gig, then repeat the process until it does!
3. Freelance Writing
Freelance Writing job board was the writer job board I used to land my first gig. What's great about this free job board is that they have many job sources all in one place (Craigslist, Indeed etc…)
With freelance writer job boards you can click on a job source and only look at jobs on that platform. Or, you can just see what the listings are for the day from the Freelance Writing platform. You'll find part time content writer jobs easily on this platform.
You can filter results by using a keyword or you can see what's available by date. I like this job board because it does grab sources from Craigslist and other job sites, saving you time when you are pitching.
4. BloggingPro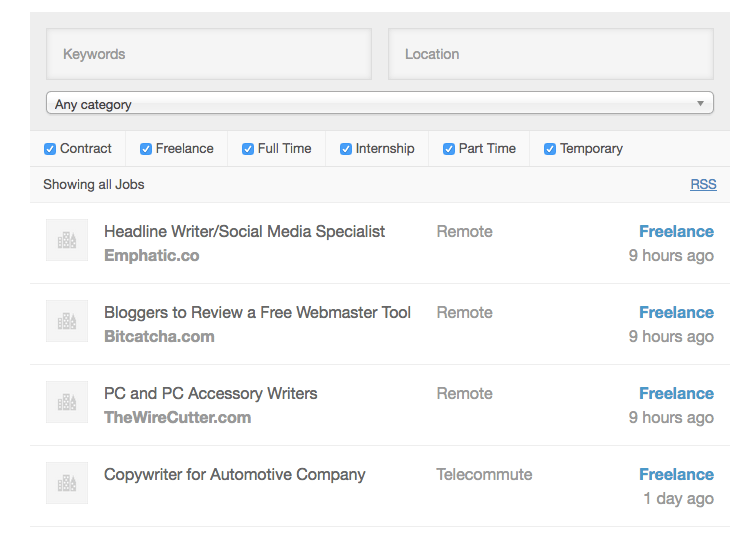 BloggingPro is a one of the free freelancer job boards that sorts jobs via type – Freelance, Internship, Contract, Part Time or Temporary – so when looking through the listings, make sure it says "freelance"or the location says "anywhere".
I personally haven't landed a gig on this platform, but I know other established writers have sworn by this site. As the name implies, you'll probably find a lot of blogging type gigs, but that's not to say you won't find other types like blog management or copywriting.
5. All Freelance Writers

All Freelance Writers (this was originally called All Indi Writers Job Board) is a great blog for freelance writing tips and a good writing job board. There's a freelance marketplace to see what publications pay as well as a freelance writing job board (a remote job board) that curates writing job listings from multiple places including Craigslist.
There are even part time writing job ads too!
Jennifer, the owner, offers the pay range in the short description. This saves a lot of time and helps you sort through jobs based on price. This job board is free and you can even sign up to the RSS feed to be alerted of when new postings occur.
Are There Specific Free Freelance Job Boards?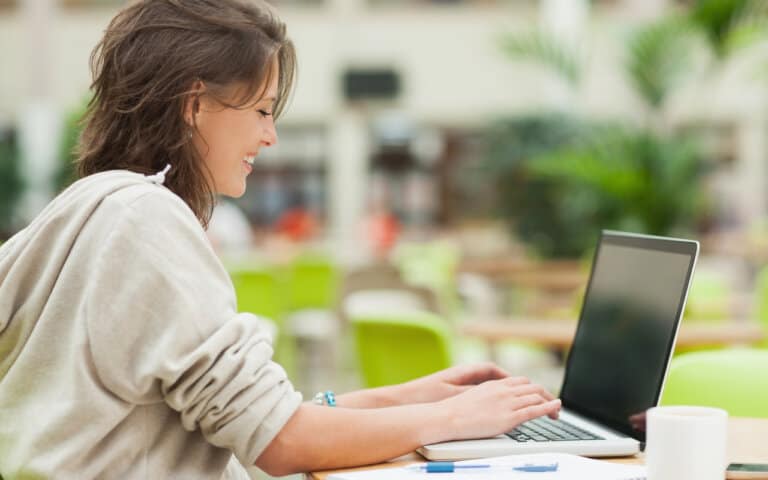 What about Craigslist's job board?
You can use Craiglist to find writing gigs. I suggest you look at the San Francisco Craigslist and the New York City (NYC) Craigslist to find legit writing jobs.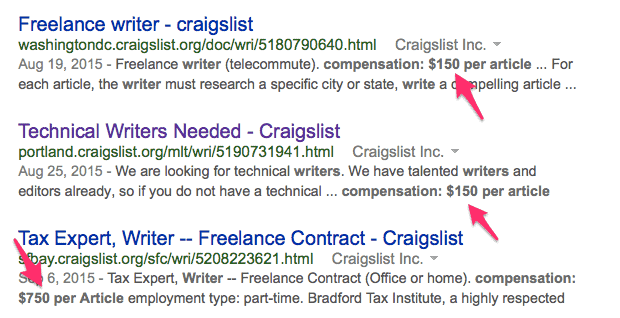 You might be wondering if there are job boards for freelance sports writing or creative writing job boards for copywriting or editing writing and more.
Let's look at some best freelance writing job boards you can start using today that are easy to use.
Job Boards for Freelance Sports Writing
If you love sports, why not write about them? There are plenty of sports writing jobs for you.
Here are some freelance writing resources and other places you can use for sports writing:
Creative Writing Gig Job Boards
For copywriters, check out these freelance writer job boards:
Writing Editing Job Boards
If freelance editing is your thing, check out these freelance job sites and writers job boards:
Medical Writing Job Boards for Freelancing
If you want to do health writing or medical writing, check out these great writing job boards and places out.
Contena – this writing job board has a large section for health and medical writing jobs
Best Freelance Writing Job Boards for The New Writer
There are a lot of job boards for writers out there. Some of them are paid, like Contena, while others are free, like ProBlogger. As a new writer, spend most of your time trying to land work. This means pitching to job boards every day. Good luck!
If you're not new, tell me which job board helped you land your first gig 🙂