We are living in a pandemic right now, and health is on everyone's mind.
Up to 5% of all searches on Google are health related.
And what's great in this day and age is that healthcare digital advertising spending will exceed and overtake healthcare TV ad spending for the first time.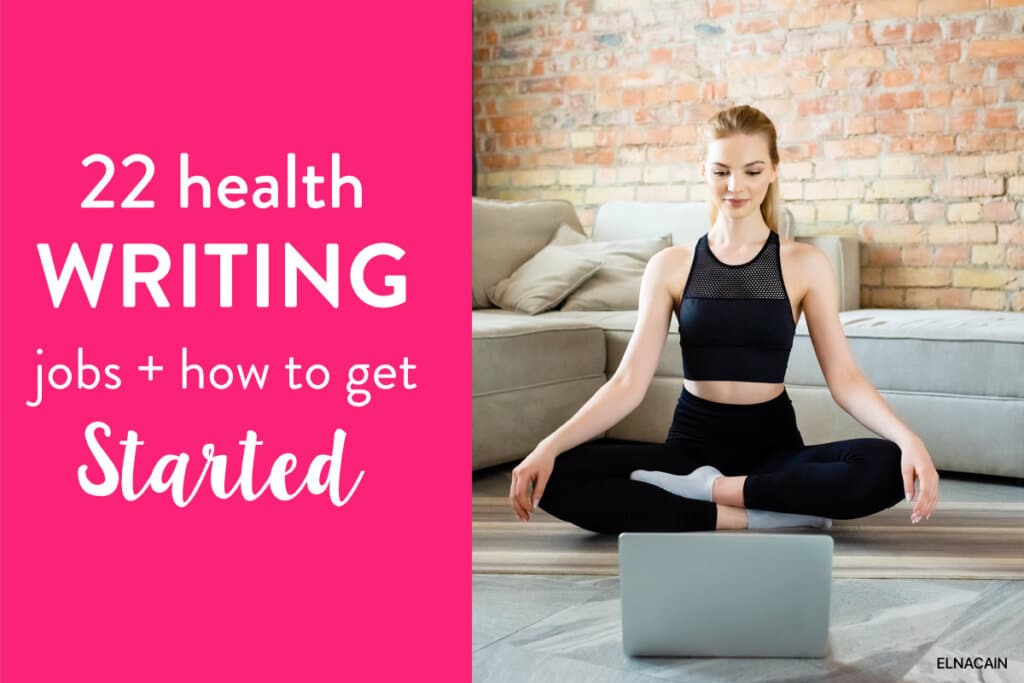 As a freelance writer wanting to work from home and make some extra money, one of the most popular freelance writing niches out there is health.
And with different niches in health writing like medical writing, well-being, mental health, healthy eating and more, there is an overwhelming amount of health writing jobs for you.
So, if health is your writing niche, I'll go over if this is a lucrative writing niche, the differences between health and medical writing, how you can build your portfolio to become a health writer, and popular health writing jobs.
Is Health Writing a Viable Writing Career in 2023?
According to a Nursing Standard survey, 80% of nurses said their mental health is affected due to working during COVID-19.
And many nurses are quitting because of this.
This means, if you are a nurse or just fed up with your job, health writing can be the writing career for you.
Health writing jobs cover a very wide range of different niches and topics in the health industry.
From women's sexual health to workout routines to reduce belly fat, even with a little experience, you can find health writing opportunities for you.
According to Payscale, a health writer can make up to $54,000 per year.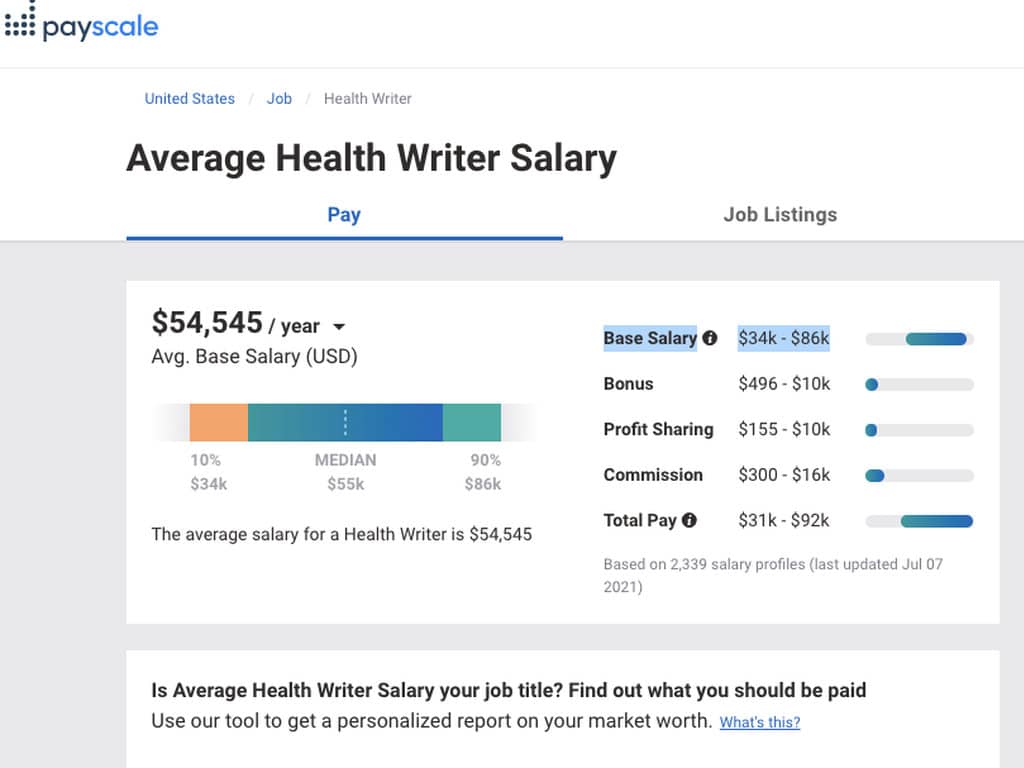 This is one of the highest writing niches income I have seen so far.
This should tell you that health writing jobs is a lucrative type of writing job to have.
As well, health writing is a booming writing niche with many health writing jobs.
For example, Contena is a job board with Health as a category.
Under health are hundreds of freelance writing jobs for you.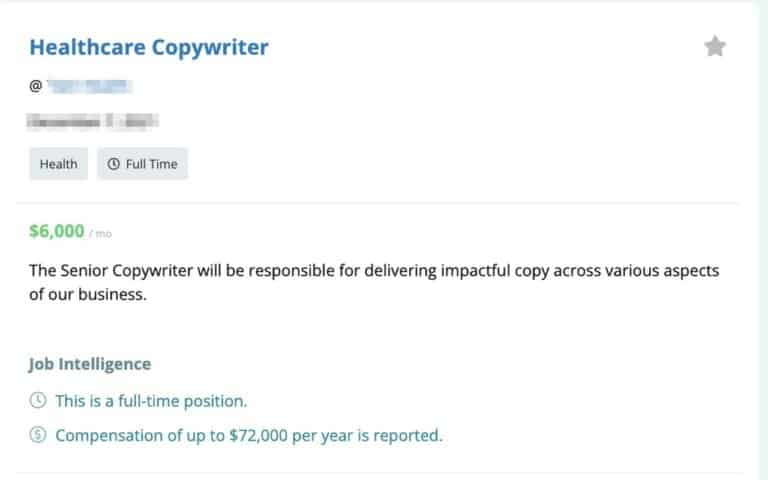 Let's look at the difference between health and medical writing to see if this is the writing niche for you.
How I Started in the Health Writing Niche
Did you know that before I landed gigs with Optinmonster, Smartblogger and other SaaS businesses that I had health writing jobs?
Yup!
When I started freelance writing, I found it easier to land health writing gigs than any other type of writing job.
I picked up writing health articles of The Allergy Kit, The Meal Prep, a dentistry blog and various ad hoc projects for natural health, yoga health and mental health.
I share one of those health writing jobs in this video of the first jobs I had.
What's the Difference Between Health and Medical Writing?
While you can certainly be a health writer if you have a medical background, such as nursing, you don't need to be a medical professional to find health article writing jobs.
Whereas medical writing focuses on the science, diagnosis, and treatment of diseases, health writing focuses on physical, social, and mental well-being.
When looking at it this way, medical writing is much more technical and requires the writer to be a subject matter expert in their field.
Medical writers focus on things like research papers, white papers, clinical guidelines, and reports.
Health writers, on the other hand, write more casual content geared towards the general public. These can include blog posts, product information, and social media copy and health writers do not need to be subject matter experts – mostly.
After reading this article, you will find out some health writing gigs are better suited for people with expert skill and knowledge in that topic.
Health Writing Job Types to Look Into
While you want to be a health writer, you might be struggling to really find your specialty in such a big market.
As I said before, health writing is a very large industry. While you could just market yourself as a health and wellness writer, you will likely have better luck finding the good health gigs in these specific job types.
1. CBD/Cannabis Jobs
The CBD market can reach $20 Billion by 2024, and there is no end of sight for this industry. And, it supports up to 321,000 jobs, doubling since 2018.
What this is telling you as a health writer is this is a growing market that needs knowledgeable content writers.
If the CBD industry is an interesting subject, something you are passionate and knowledgeable about, then you land some Cannabis writing jobs.
2. Women's Health Jobs
Women's health writing jobs span a wide array of women's health topics. Such topics include:
Breastfeeding
Uterine health
Eating disorders
Hysterectomy
Menopause
Oral health
Mensuration
Weight loss
Postpartum depression
As a writer for women's health, you can either write about multiple women's health topics or focus on one or two main topics (breastfeeding and postpartum health).
3. Men's Health Jobs
Similarly, men's health writing jobs cover many concerns, problems and challenges men face. Some examples include:
ED (erectile dysfunction)
Depression
Alcohol related diseases
Kinesiology
Enlarged prostate
4. Sexual Health Jobs
Sexual health is a topic in middle and high school and other institutions in one's community. In college I remember going to the sexual health clinic for my pap smears.
As a sexual health writer, you would write positive-type of content that may follow the #metoo movement. Some sexual health jobs may need content around removing the negative stigma around using sexual toys, stimulation and more.
5. Mental Health Jobs
There is a 31% increase in anxiety and depression since COVID-19 started. And, recently woman's gymnast Simone Biles took a mental health break during the Tokyo Olympics.
The negative stigma around mental health is being lifted, and more and more companies, businesses and people are talking about it. This is the perfect time to be a health writer!
6. Weight Loss Jobs
Up to 49% of people's New Year's resolutions are to lose weight. But, that doesn't mean people aren't trying to lose weight all year round!
Go and search for weight loss companies, diet teas, supplement companies, slimming clothing and more and land some amazing weight loss writing jobs.
7. Special Needs Jobs
Before I became a freelance writer, I was an ABA therapist for children with autism. I worked closely with the special needs community and helped children talk, socialize and prepare for school.
As a health writer or someone with a special needs child, you can find websites, magazines, publications and more on this topic and land a special needs writing job.
8. Specialty Diets (Keto/Low Carb) Writing Jobs
A great way to niche down as a health writer is to specialize in a particular diet. For example, you can be a Keto expert or a Whole30 expert.
While having certificates or extra training will probably help, there is no hurt in pitching and trying.
9. Health and Lifestyle Brands Writing Jobs
While some of these health jobs lean into medical writing, being a health and lifestyle writer does not need any degrees or certification. There are thousands of health lifestyle brands online; gather a list and start your pitching process!
10. Light Therapy Writing Jobs
Light therapy is a type of therapy to help with seasonal affective disorder. Did you know you can be a health writer in this niche?
You'll have a large pool of clients to choose from, companies that make lightboxes to institutions that use them, and more.
11. Senior Health Writing Jobs
Seniors make up 16.5% total US population. Several states are seeing an uptick in baby boomers advancing to 65 years, and as a health writer for seniors, you can help them adapt, gain comfort and stay healthy as they continue to age.
12. Yoga Writing Jobs
Yoga is a popular form of exercise and that means there are hundreds of thousands of businesses, magazines, schools and more that talk about yoga and the benefits of yoga on health.
13. Pregnancy Writing Jobs
If you're not sure you want to be a parenting writer or a health writer, why not try being a pregnancy writer instead?
Over on one of my blogs Smart Mom Ideas, I do talk about pregnancy and if I wanted to, I could use many of my blog posts as writing samples to help me gain some pregnancy writing jobs.
14. Chiropractic Writing Jobs
This one might require specialized training if you want to write about the chiropractic business. Some topics you might write about would be:
Back pain relief
Fibromyalgia symptoms
Ergonomics
Athletes and chiropractic care
15. Ayurvedic Therapies Writing Jobs
Ayurvedic is a lifestyle choice rooted in India. It's an alternative form of medicine and uses massage, meditation, dietary changes and yoga to promote this lifestyle.
As a health writer, you may be more comfortable with wellness writing!
16. Psychology Writing Jobs
To be a successful psychology writer, you do need a background in this field. I have a BA in Psychology which helped me write for Psych Central.
So, if you do decide to break into this field, you may have to prove yourself in your credibility to write in this industry.
17. Organic Living/Non-GMO Writing Jobs
Who loves organic living? If this is your jam, there are a lot of clients for you in this Non-GMO organic living writing industry.
From gardening blogs and magazines to organic living products, you will have no shortage of finding freelance writing jobs.
18. Supplements Writing Jobs
When I was in college and dating my future husband, we were both into supplements and bodybuilding.
I learned to use weights and figured out my BMI, and went to the gym religiously. During that time, I bet I could have gone into health writing about supplements for sure!
Not only was I comparing protein powders, but I was also learning about health supplements, vitamins and how to use them during my weight lifting days.
19. Bodybuilding Writing Jobs
If you want to dive deeper into health, why not focus on bodybuilding writing jobs for you? This health writing job is specifically for those interested in bodybuilding. You can go over to LinkedIn and hit up health companies that promote their products for the bodybuilding community. Let them know your experience and service!
20. Running Writing Jobs
Similarly, bodybuilding health writing jobs rely on you enjoying exercise and running to be successful. Why not focus your efforts for running companies, then? Shoe companies, clothing companies and other accessories used for running would be your ideal client.
21. Addiction and Recovery Writing Jobs
Part of health and being well is knowing about the other side of health: addiction. If this topic is close to your heart, you might want to see if this is a good health writing job for you. Your writing can help others with addiction problems or those going through recovery where you can guide them to wellness.
22. Sports Related Writing Jobs
Sports and entertainment writing is a wonderful writing niche to get into. From cycling to kayaking to bowling or fishing, there are hundreds, even thousands, of businesses in the sports industry that you can write for as a health writer.
Go explore these sports and find a gig for you!
General Health Writer Opportunities and Requirement to Gain a Job
While you can find a narrow health industry to write for, sometimes going broad for health writing jobs is easier, quicker and just overall better when you are new to freelance writing.
Some of my favorite places to search for mental health writing jobs and healthcare writer gigs are:
For example, here's a profitable health writing job that leans into science writing on Contena.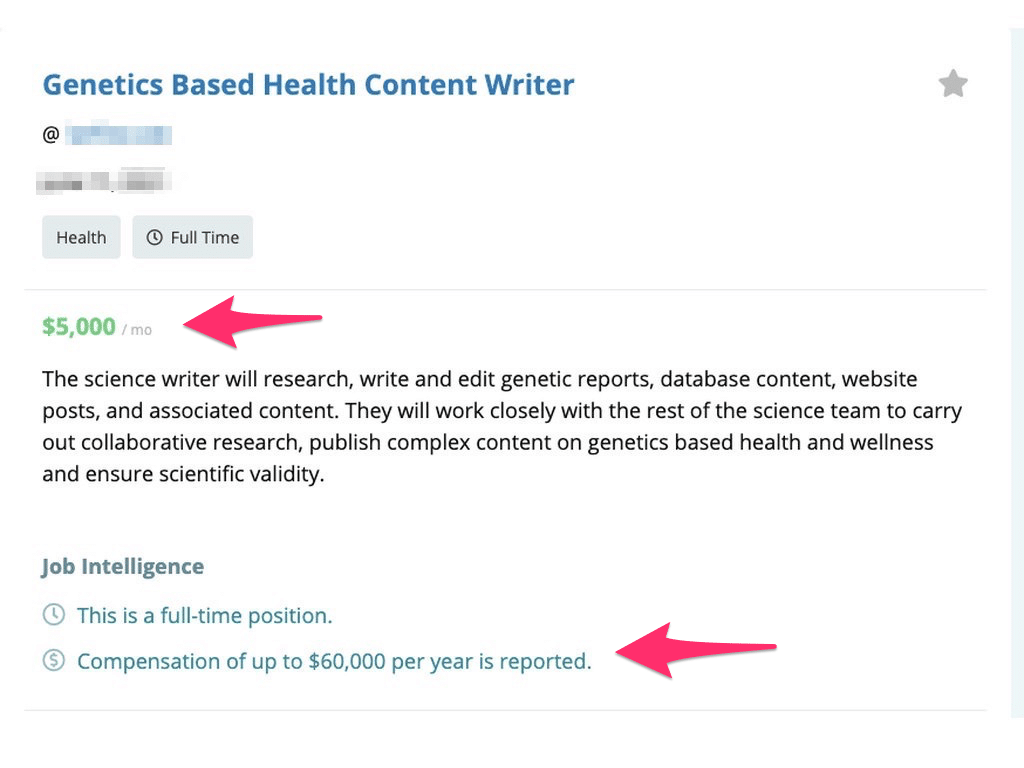 Another way that you can search for health writing opportunities is to jump on Google and type in: '[your niche]+write for+pay'
For example, if you are really passionate about the pregnancy niche and want to look for health writing gigs in the pregnancy niche, then type in Google, 'pregnancy+write for+pay'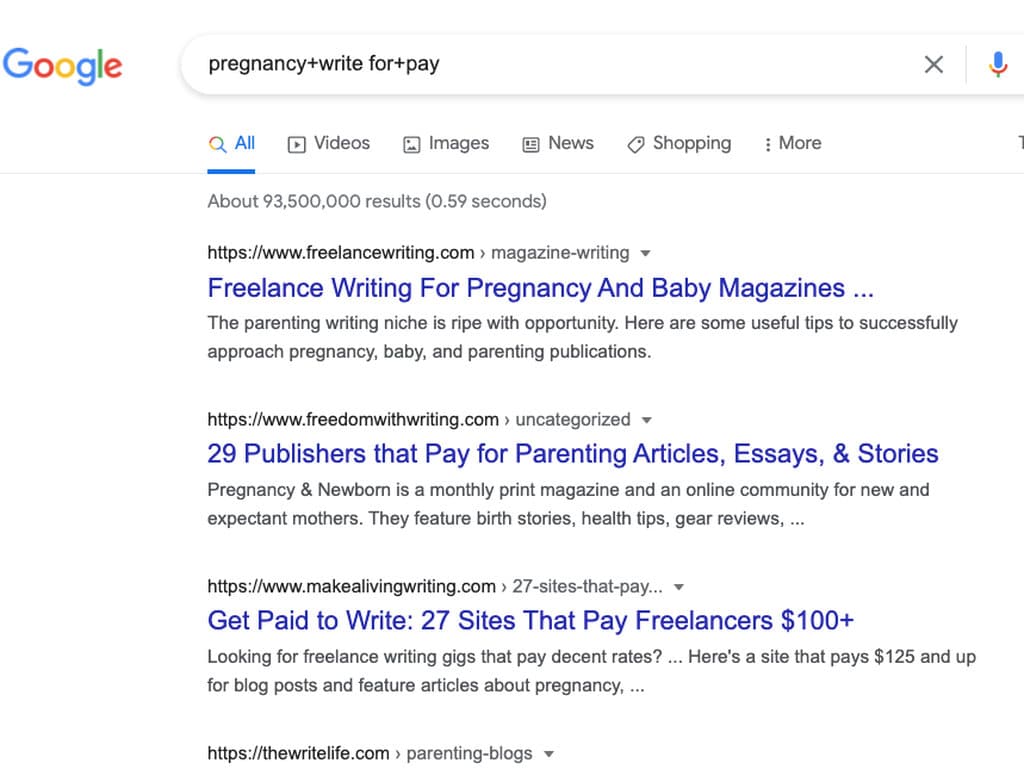 As you can see by the results on the first page, there is no shortage of writing opportunities in this niche.
And while you can use these ad-hoc pieces for your portfolio, as a brand new health writer, these might be the way to gain recurring writing jobs.
It does help if you do have experience in a certain niche. Looking back at the pregnancy niche for health writing, it's certainly helpful to write about certain topics if you have already been pregnant.
While not all writing gigs ask you to bring in your personal experience (especially if you are ghostwriting), having that personal experience and knowledge can be instrumental in creating a great piece or content.
There are so many different freelance health writing jobs out there in so many different niches, so it shouldn't take you long to start building up your list of paying clients.
How to Become a Health Writer
You can find freelance health writing jobs just as you would any other type of freelance writing job.
But before you jump in and start searching for writing gigs, be sure that you are able to showcase your writing skills to potential clients.
If you don't already have a writing portfolio, get to work on one right away!
While you can boast on your writing resume and cover letter all day how great you are at writing health articles, your potential clients are going to want to SEE what you can do.
So how do you go about convincing them that you are the health writer they have been looking for?
Show them your killer portfolio filled with articles that they would pay you to write and be thrilled to publish on their sites.
How to Build Your Health Writer Portfolio
There are several different ways that you can go about building your stellar health writer portfolio.
Here are four ideas to get you started:
1. Guest Posting
Start by guest posting on other reputable health and wellness blogs.
Now you don't want to just post on any old blog. Be sure that you are searching for reputable health blogs that get a decent traffic to them.
Do your best to write for blogs in your niche, so you have relevant articles to show your potential clients.
If you want to write in the women's health niche and only have published content on CBD, it might be a little more difficult to find a good gig.
While you can certainly find blogs that will pay for guest posting, you should never have to pay to guest post on someone's blog. If they are asking you to pay to write for them, it's probably not worth it.
Here are a handful of sites that publish both online and in print that pay health writers:
For more ideas, here are magazines that pay.
2. Write for Non-Profit Organizations
Just because they are non-profit does not necessarily mean that you will work for free.
While many non-profits might not have room in their budget to pay a writer, you might be able to work something out with them to make even a little bit for your writing.
You can also consider trading your writing skills in exchange for referrals and or testimonials for your work.
3. Publish on LinkedIn
You can also submit articles on LinkedIn for publication.
Every LinkedIn profiler has the option to publish on their publication. Simply log into LinkedIn and click on write article.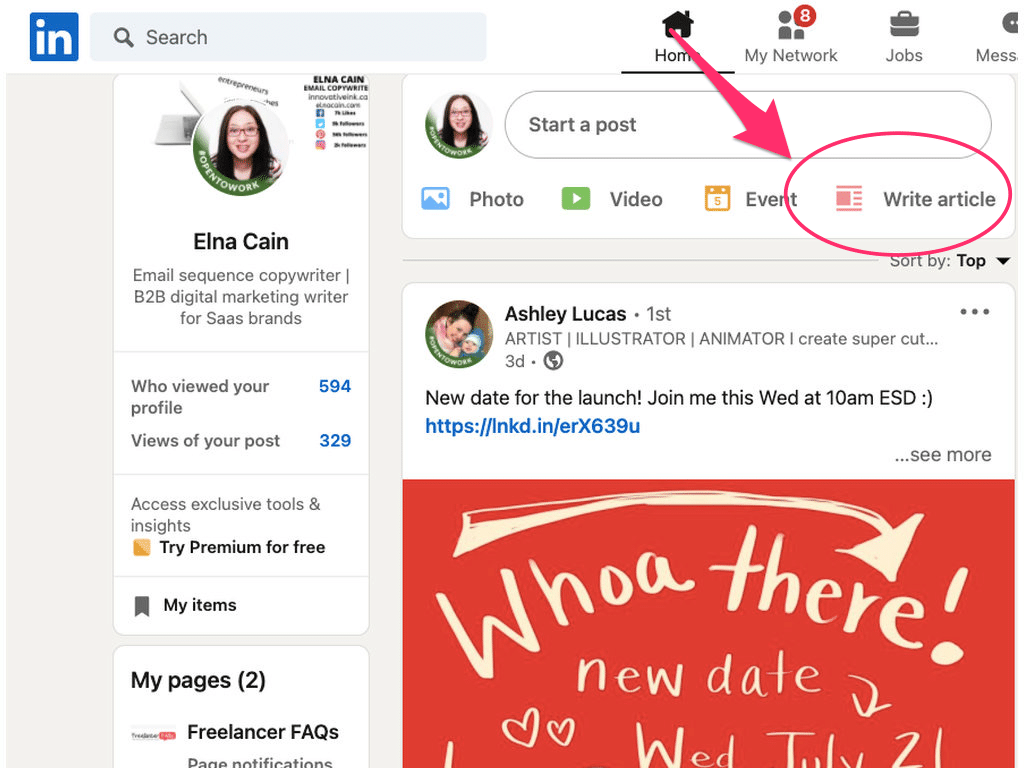 This is a free and easy way to publish health writing content to attract freelance writing jobs.
4. Start a Blog
A great way to show your credibility and knowledge about the health industry is to start a blog. As a health blog, your writing can focus on different areas of health, such as:
Health news
Case studies in health
Books/Videos/Training in health to know about
Personal journey focussed
You can definitely incorporate more educational content like case studies in health and feature other people, professionals or businesses on your blog.
This type of writing is what health clients seek from writers.
Types of Health Writing Services You Can Offer
Other than your standard blog posts, there are many types of content that health writers can write.
This can help you narrow down your niche and service you offer and make you stand out as a health writer.
1. Newsletters
Many health blogs, health companies, health magazines and publications have an email list newsletter. They typically use their newsletters to share upcoming deals on their products, new information in the health industry, and other important information they want to convey to their subscribers.
As a health writer, you can pick some email sequence writing gigs and write welcome series', funnels, or weekly newsletters.
2. News for General Public
Health news sites need to be up-to-date with what's going on globally, which means COVID-19 and vaccines. Health writing for this type of publication may be more journalistic. This means interviewing health officials and pitching newsworthy stories.
3. General Public Feature Articles
If magazine writing is your thing, you might be writing feature articles for the general public. Think Men's Health magazine type of articles.
Magazine writing is a profitable type of writing to get into, but it is a different type of writing than what I do as a content writer.
4. Press Releases
A press release is a statement meant to be distributed to media outlets.
To see examples of health press releases, you can to PRWeb and look under health.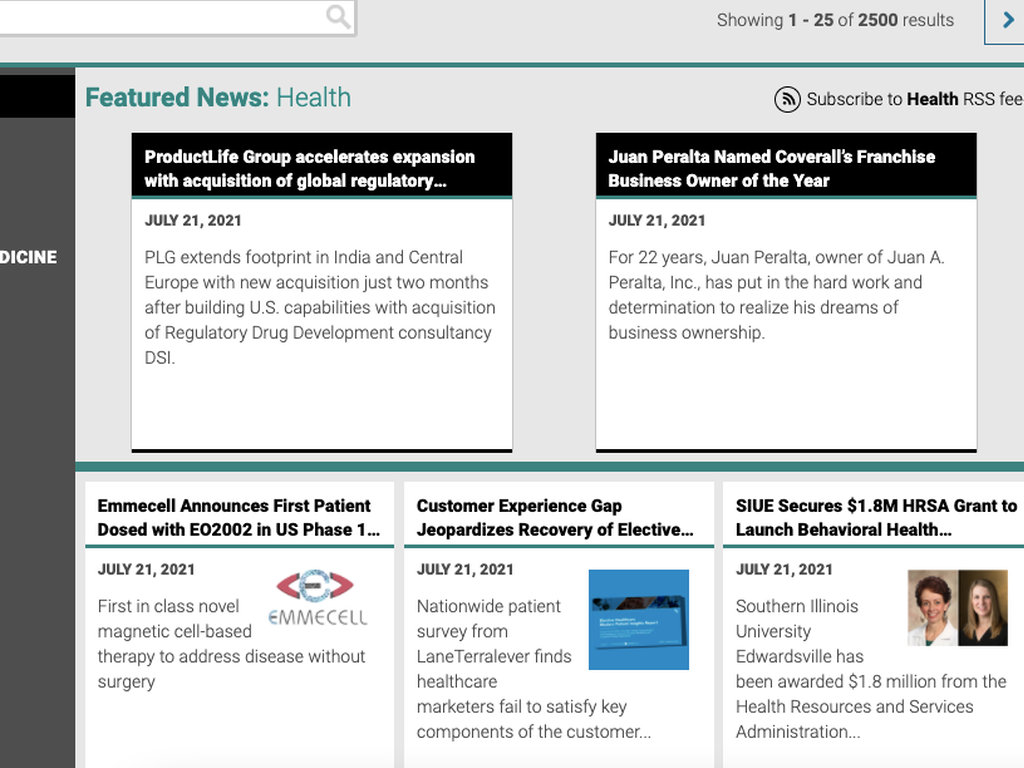 5. Copywriting
Copywriting is a highly lucrative writing niche since it relies on conversion writing.
This means getting people to take action, and usually, means clicking to buy (online). Health copywriting would mean you could write sales pages for health supplements, a Facebook ad copy for a mental health service or even landing page copy for new health vitamins for a natural health store.
6. Copy for Social Media
A marketing strategy for many businesses is to be on social 24/7! This is how they engage with their core audience, gain leads and eventual customers.
As a health writer, you can write quick, snappy health focussed copy on Instagram, Facebook or Twitter.
Your role may also include scheduling social media posts and creating a month's worth of content for your client.
7. Product Descriptions
There are thousands of eCommerce health companies out there. Any one of them you can write product descriptions for.
For example, Future Kind is a vegan vitamin and supplement company, and they have dozens of products. Each product has a write-up and description that a health writer perhaps wrote.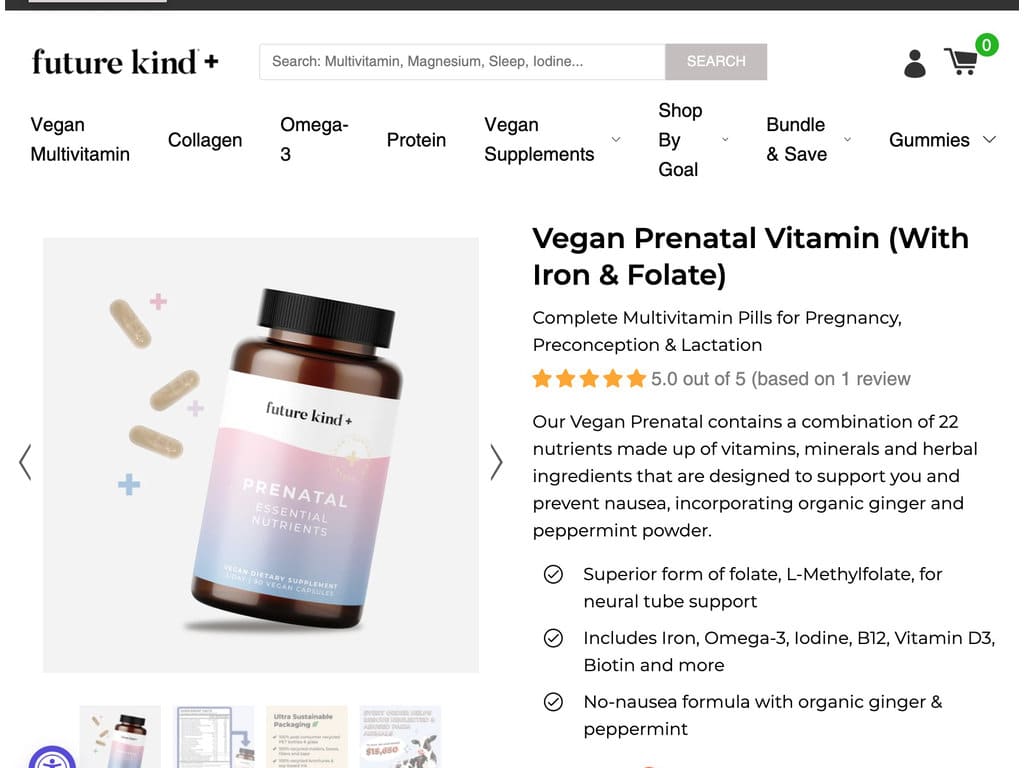 8. Editing
Writing isn't the only thing you can offer as a freelance writer!
You can definitely pick up editing gigs and proofreading gigs as a health writer.
As a freelance writer, if you end up landing a writing gig, you can always upsell your editing service. One time, I did this and I ended up writing weekly blog posts and editing other writer's articles, which turned out to be a fun and profitable writing job!
Ready to Be a Health Writer and Find a Job Today?
As you can see, there are so many different topics that you can write about as a health writer.
Whether you are a stay-at-home mom looking to make some extra cash to help out your family or a full-time triathlete, there is a health writing niche and available gigs that you can find to work on your time.
I hope this list helped you figure out the right health writing niche, the right service to offer and where to find writing jobs.