Thinking about working remotely from home to earn an income with some online editing jobs?
"Remote" work is a popular buzzword flying around nowadays as more and more people are looking for ways to work from home.
This is because the idea of working from home seems almost too good to be true – you get to control your work-life balance because no one is dictating the "where" and "when" of completing your work.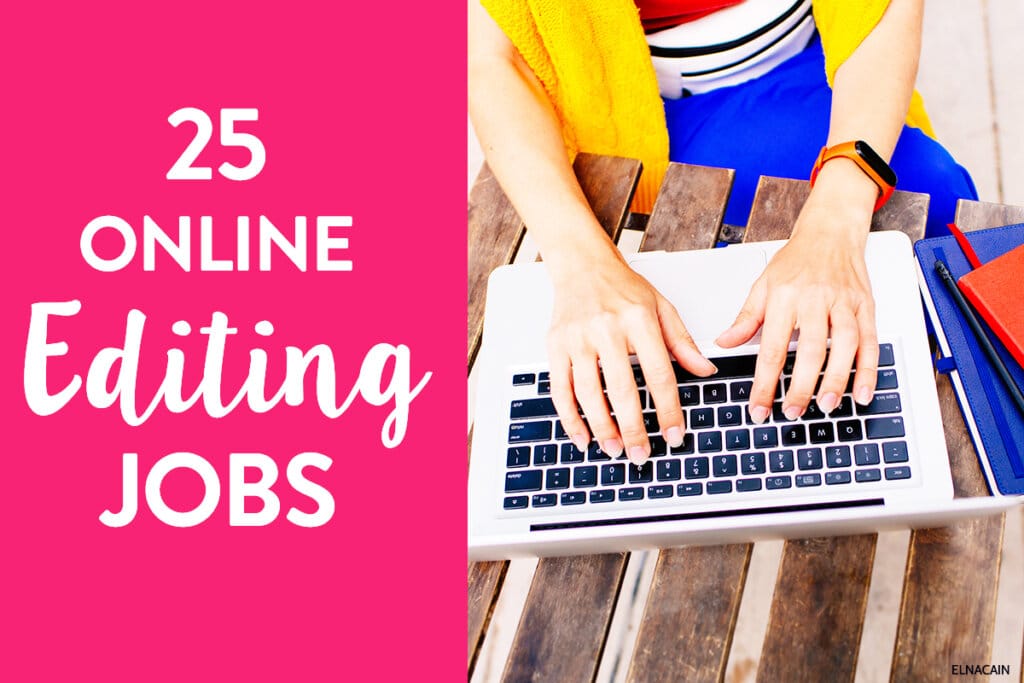 You get to be your own boss!
I started working from home as a freelance writer over six years ago when my twins were toddlers and I'm so glad I did it! There really is never a good time to start those online editing jobs but if you really want it, you'll make the time!
So, how do you make this wonderful dream a reality?
As I mentioned, I did it by getting involved in freelance jobs (specifically writing) that allowed me to work from home and raise my twins at the same time.
Over time, I began to discover other income streams and broaden my scope of freelance jobs.
I came across the idea of freelance editing and learned that remote editing jobs make for a great work-at-home endeavor!
Some of the best online jobs I took were editing blog posts, website pages and eBooks.
And, bonus, online editing isn't merely limited to just writing. You can be a video editor too!
In this guide, I'll share tips for both content and media editing as well as some great resources for finding online editing jobs.
The Difference Between Online Editing and Proofreading Content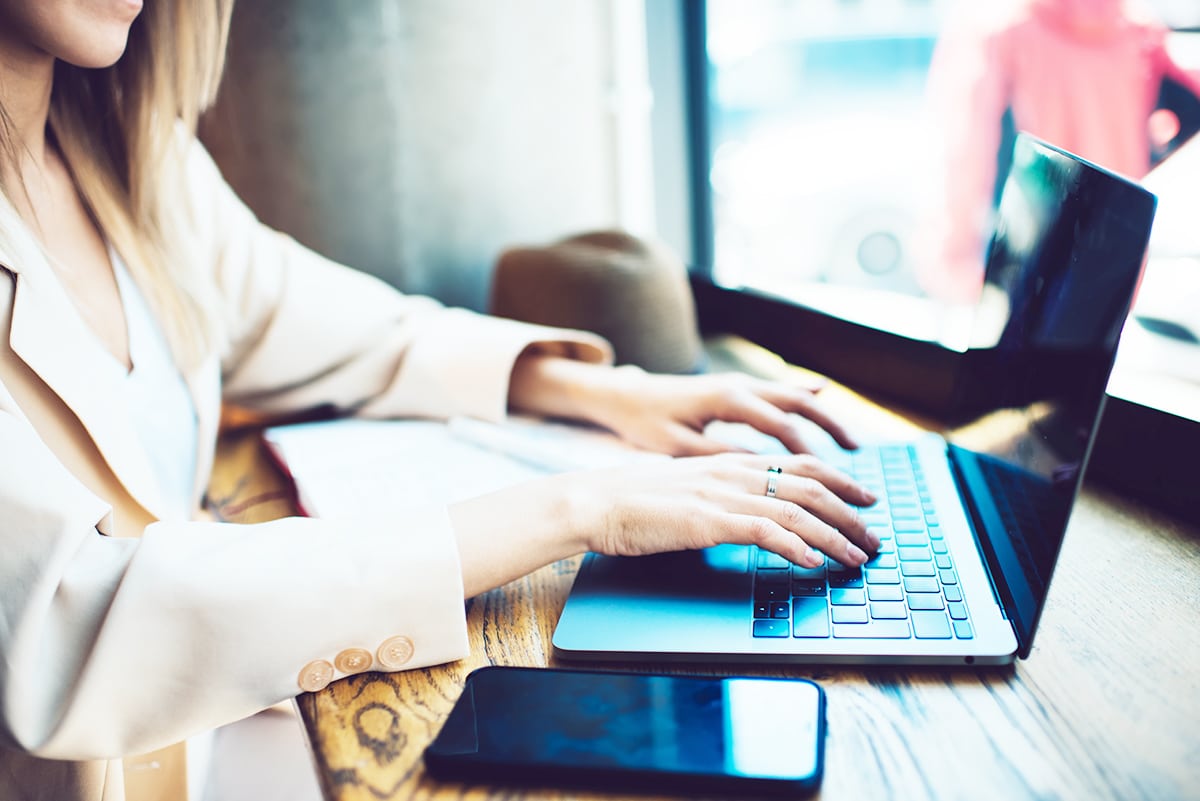 What are Online Editing Jobs?
Online editing jobs and proofreading jobs are two separate freelance gigs performed at different stages of the revision process.
Oftentimes, proofreading will be included in an editing job while editing is not always included in a proofreading job.
Makes sense, right?
In my article about online proofreading jobs, I mentioned the difference between editing and proofreading.
The two terms are often used interchangeably but there are a few differences – especially if you plan on pursuing either online to make money.
Proofreading is the process of "polishing" a piece of written content before it's published. This means looking for grammatical or spelling errors as well as checking formatting and sentence structure.
Online editing jobs involve making a piece of content better.
This means potentially re-writing sections of the text in order to make the content clear, concise and organized.
Online editing, obviously, is going to take up more of your time than proofreading but could prove to be a great way to make money at home by working at home.
One online job I had had me do more developmental online editing for their website.
This meant I would re-write the introduction and conclusion and would often times add more to the content to turn it from "blah" to very valuable. This type of online editing job is high-paying because you are using your editing skills and writing skills with these gigs.
How Much Money Can I Get for Online Editing Jobs?
Depending on the type of editing job you get, you can make a healthy income.
According to Ziprecruiter, standard editing jobs earn you $52,756/year.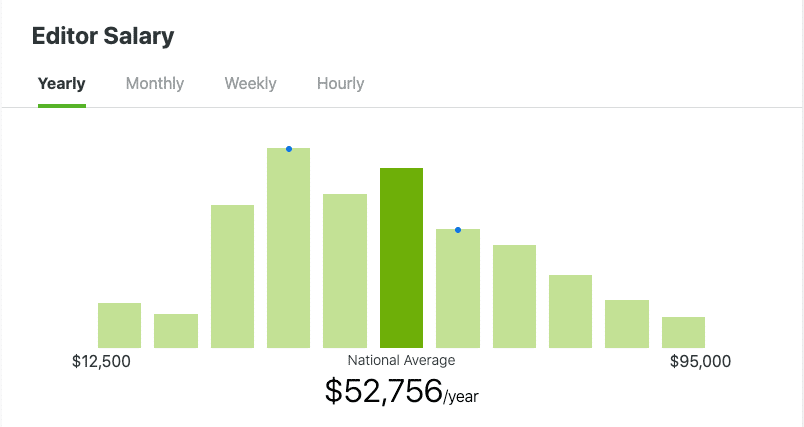 If you want to do some video editing jobs, you can expect to earn around $47,000/year.
For online editing jobs you can earn up to $51,000/year.
My IRL friend, Lorraine, is an online editor and she only edits eBooks. These types of projects are high-paying, often thousands per eBook editing job.
How To Become an Online Editor
Are you wondering, "how do I become an online editor if I'm new to this?"
The steps are similar to freelance writing.
Landing your first editing client can come from job boards, social media, or from your service-based website.
For example, on Problogger, a job board for writers, will occasionally have blog editing jobs.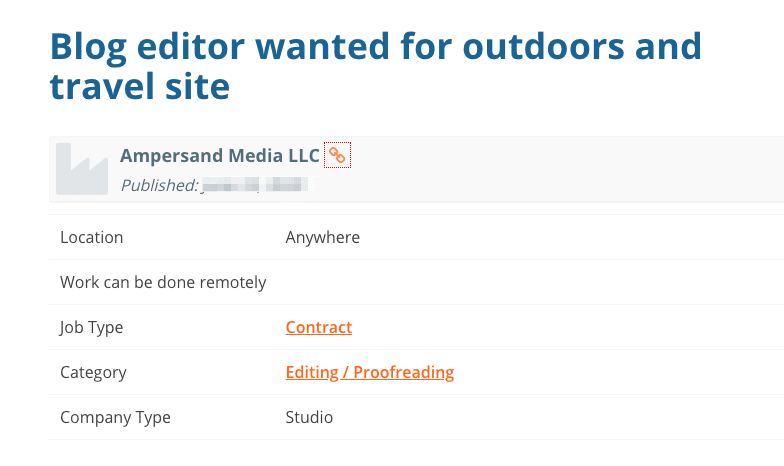 Visit these job boards every day and search for proofreading or editing to gain your first client.
Another way to land your first editing client from home is to look on Facebook – specifically Facebook groups.
Join entrepreneur types of Facebook groups and take the time to offer your expertise in various subjects. You want to give before you ask so spend a good month or more just giving in these groups.
Keep an eye out for anyone asking for an editor or proofreader. When it's time, if the group allows for promos, you can create a social media graphic letting people know of your services!
Here's an example of a social media graphic I created in Canva.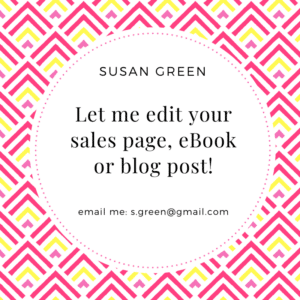 Finally, the last way you can land some online editing jobs is to have your own website promoting your editing services.
This is what I do as a freelance writer and it has helped me land high-paying clients and attract big brands.
Cecily Paterson promotes herself as a freelance editor, ghostwriter and freelance writer on her website. She states that she edits
Books
Articles
Press releases
Advertising material
By offering her editing services to different types of projects she can be assured to land editing jobs from solopreneurs, small businesses and big brands.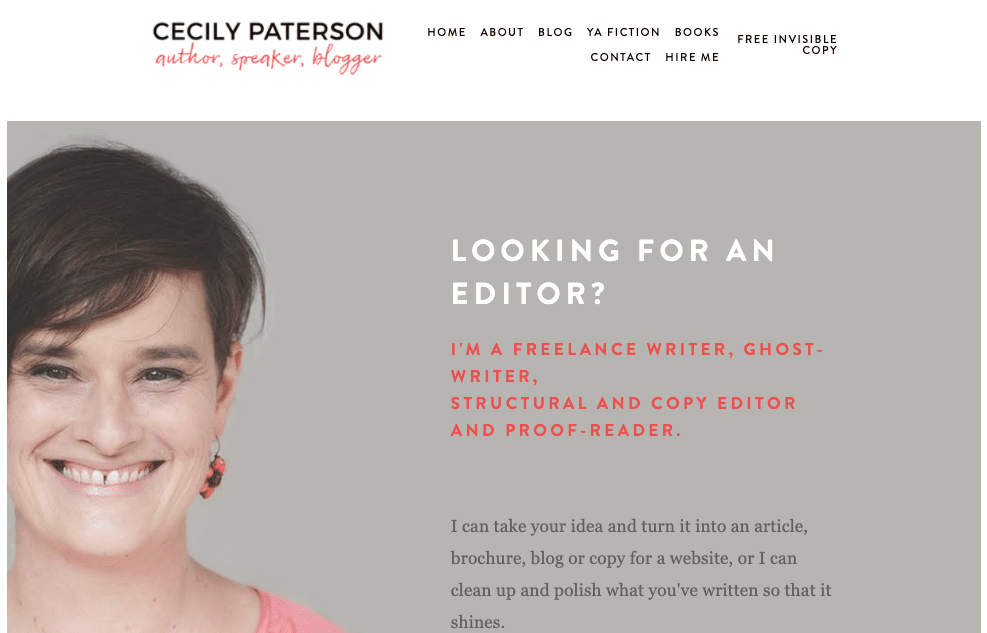 Media Editing
Like I mentioned before, editing to work from home is not limited to just written content. There are many work-from-home media editing jobs you can do such as video editing and photo editing.
All you need is an eye for detail and the proper software to complete the job.
Media editing jobs can include:
Video editing
Photo editing
Sound editing
And each one can be done from the comfort of your home!
25 Online Editing Jobs
So if editing seems to be right up your alley, here are some sites and companies that hire remote editors:
1. Cactus Communications
Cactus Communications offers English editing and medical writing solutions as well as training, transcription and academic editing.
2. Enago
Enago provides editing services to non-native English writers and offers two levels of editing – substantive editing (making the content functional for the readers) and copy editing (proofreading and readability).
They offer freelance editor positions, but some experience is required.
3. Filmless
Filmless offers a variety of media-related services including script writing, voiceovers and video editing. They offer freelance work-from-home positions for video editors.
4. Checklist.com

Checklist.com is a site that offers free checklist templates, including checklists for moving, business startups and weddings. They do hire a variety of roles including an SEO editor.
5. SalesFolk
SalesFolk writes outbound sales email templates to help increase qualified leads. This site hires freelance and remote editors.
6. WebFX
WebFX is an internet marketing agency that offers SEO and lead generation as well as content management and email marketing. They offer a remote copy/content editor positon.
7. Cambridge Proofreading & Editing LLC
Cambridge Proofreading & Editing services ESL (English as a Second Language) speakers, students and international businesses.
8. Working Nomads
Working Nomads is for digital nomads that want to work while traveling or on the go. They have a newsletter that curates online editing jobs that you can sign up to.
With Working Nomads' newsletter, you can find a whole range of editing jobs from content editing to media editing all from the inbox.
Or, you can visit the site for potential editing work.
9. Freelancer
Freelancer is an online job market that posts freelance work of all kinds, including content editing and video editing.
You can set up your own profile and clients can rate you based on the quality of your work – which is important in building your reputation and landing higher paying gigs.
10. Reedsy
Reedsy offers authors and writers the opportunity to connect with editors in order to bring their written work to life.
They don't hire freelance editors – instead, you can create an account in order to advertise your skills, create a portfolio and showcase your experience to clients.
11. Wordvice
Wordvice is a writing and editing company that helps writers, students and professionals by offering academic editing services, college admission essay editing and business editing.
They offer part-time, freelance and remote jobs in editing.
12. FlexJobs
FlexJobs, as its name implies, offer flexible work options for work-at-home, part-time or freelance jobs such as editing.
You can set up your profile to customize the type of work you prefer, availability and level of experience. You can also sign up for freelance editing job alerts.
13. Scribendi
Scribendi is an online proofreading and editing service that provides "on-demand" services 24 hours a day across the globe – so they do require a quick turnaround time.
They do offer freelance editor positions that require some education and experience.
14. LinkedIn
LinkedIn is like the professional Facebook. It's for companies and brands that want to connect with others and share their message on social media.
LinkedIn also has a job feature.
Just visit the jobs section and type in freelance editor and see what comes up in your area.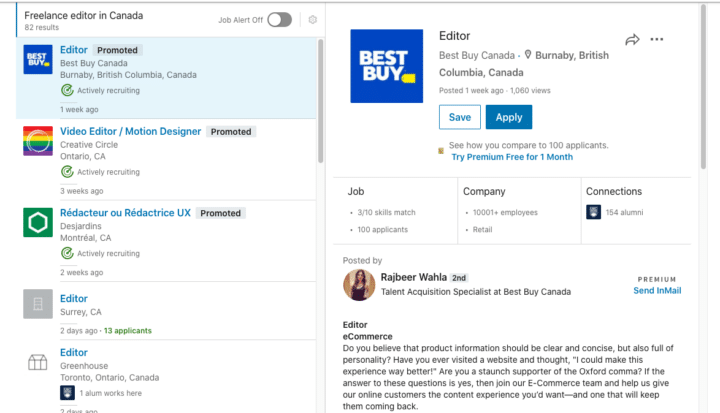 15. Scribbr
Scribbr is an editing and writing company that focuses on providing assistance to students. If you are an academic editor, you can always find remote editing jobs on this site.
16. WriterAccess
WriterAccess focuses on connecting editors to clients. Various agencies and companies can look for editors and usually seek out those with a high skill level.
This isn't the easiest platform for beginners but, after you build a reputation, you can easily start to make money.
17. Shopify Partners
Shopify is an all-in-one commerce platform for small businesses but many entrepreneurs use it to hire freelancers – especially photo editors to edit and position high quality photos on their websites.
18. Valnet
Valnet is a company that runs and manages many popular sites such as BabyGaga and ScreenRant. They often hire freelance writers as well as freelance video editors.
They expect their video editors to work within tight deadlines but over several videos per week to edit.
19. EditFast
EditFast is another site that allows you to set up a profile in order to connect you with clients based on your expertise and skill set.
In order to get started, you need to register and pass their review.
20. Gramlee
Gramlee is an online service offering editing to clients. They offer remote online editor positions but do warn that they receive hundreds of applications a week – so if they are interested, you'll hear from them.
21. Editor World
Editor World requires that you register and complete an application process which includes an editing test.
However, if you become a member of their panel, you could be selected by clients and start making some money from home.
22. Jobs for Editors
Jobs for Editors specializes in writing and editing in English for their clients. They often hire freelance editors for a wide variety of topics.
To apply, simply send them your resume.
23. Wordapp
Wordapp is a freelance platform that helps business and freelancers make money online. They hire remote editors to check content written by writers.
24. Morning Coffee
Morning Coffee is an email newsletter sent out by the site Freelance Writing. The writers of this newsletter curate freelance job postings from their own site as well as Indeed, Problogger and others.
25. Start Your Own Site
Along with searching the web for companies and sites hiring freelance editors, you can always market your skills and service on your own website.
In this post I wrote, I talk about creating your writer's website for freelance writing – but you can easily customize this to your editing services!
More Online Jobs
There are thousands of jobs online in all different types of niches. Here are a few of idea to help you figure out which online job is for you.
Work From Home With Editing Jobs
This list should definitely get you started on making some money at home as a freelance editor!
You can't deny the appeal of getting to work from home on your schedule at your own pace.
If you have a knack for pointing out errors and spotting mistakes, editing may just be the remote job for you.
Otherwise, there are plenty of freelance positions out there to grab! Writing, transcribing, teaching, tutoring and more!
And with job search sites for you, you can succeed for sure!
Over to you – are you interested in freelance editing work? Have you tried it before?
Share in the comments below!