How many people do you know work from home?
Probably quite a few!
Especially compared to just a few years ago.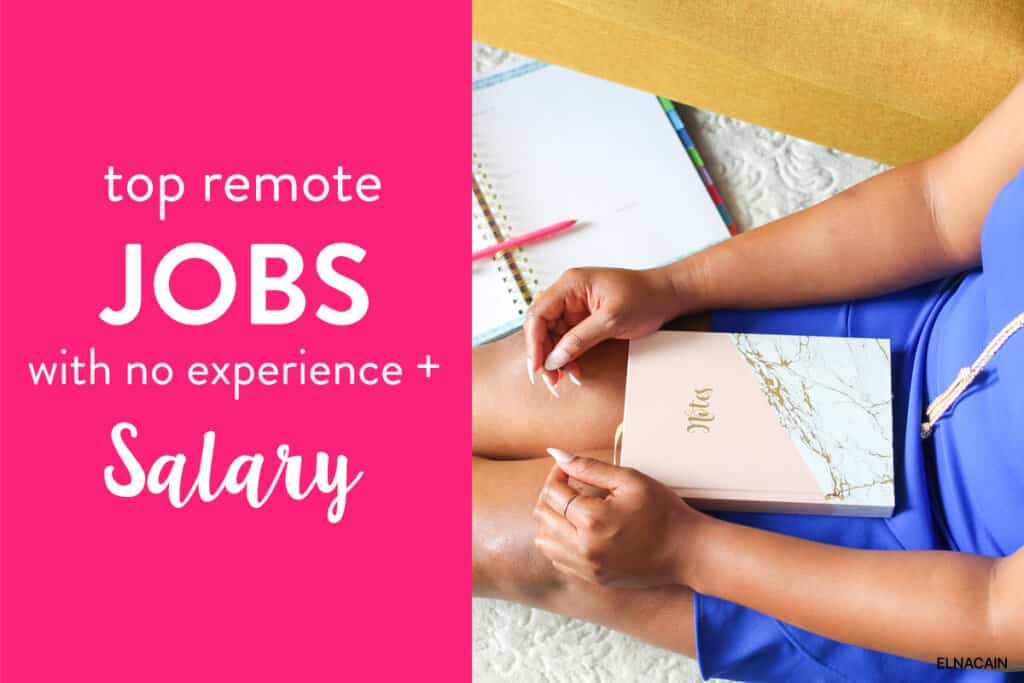 That's because many jobs that once had to be done in an office can now be done from home – and many jobs can be done by freelancers on a flexible schedule.
And the best part?
A ton of them can be done with no experience!
Can you imagine?
No more traveling to and from work.
Making your own hours and schedule. Unlimited vacation days.
You can do all of this by working from home doing remote jobs and without the need for a fancy education or years of experience.
If this sounds amazing to you, here are the top remote jobs with no experience to get you started on your earning-from-home journey!
Can I Earn a Living Doing Remote Jobs With No Experience?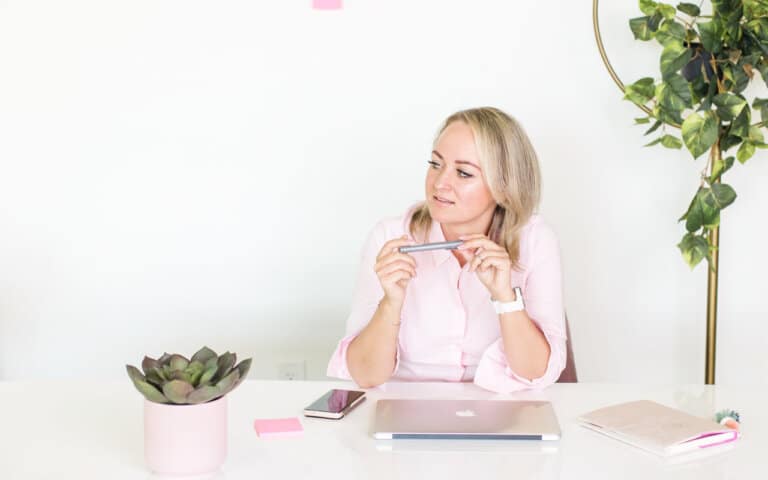 I always say that when it comes to working from home and earning an income, the amount of money you make depends on your drive and passion!
Unless you find a remote job that pays an hourly wage, most positions are going to be freelance – which means you will get paid according to the amount of work you do.
So, of course, the more time and effort you put into a remote freelance job, the more you will make!
The average monthly salaries listed for each job below are more in line with those who have experience in each job.
But that doesn't mean you can't make money if you don't have experience!
Think of the average salaries as an earning potential – the more you work at it, the more lucrative it will be.
Experience Versus Skills
I know the idea of making money from home with no experience sounds really exciting! And, trust me, it's a very real possibility.
But it's important to note that in order to find success with remote jobs with no experience, you have to have some skills.
They don't have to be ground-shaking, uber-impressive skills – you just have to know how to do the job!
So, if you want to become a remote writer, you need to know how to type and write.
If you want to do web design, you need to know how to design websites.
What you don't need for these remote jobs is tons of experience or an expansive portfolio of work!
I guess my point here is that, when considering a remote job, think about what you can do and what you are passionate about!
And with that in mind, let's look at some amazing remote jobs you can do with no experience:
1. Proofreader/Editor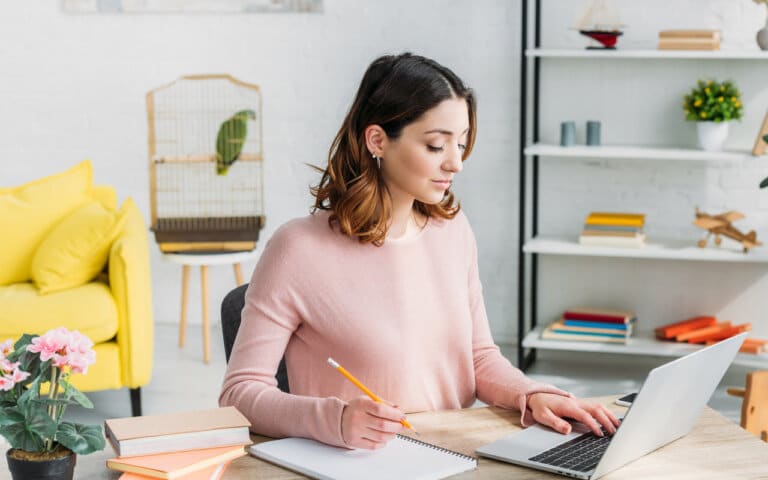 Average Monthly Salary: $4,000
If you have a knack for spelling and grammar, you can become a proofreader or editor (or both!) by working at home and helping clients tidy up their written content.
Proofreading involves touching up spelling and grammatical errors, while editing means going a bit more in-depth into the content to fix up flow and clarity.
You can check out some online proofreading jobs here or take a look at editing jobs for beginners.
2. Writer
Average Monthly Salary: $5,000
As a remote job, writing encompasses so many possibilities!
You can become a freelance writer (which is what I've been doing since 2014!) and write content for clients.
The content you write can vary, and the sky is the limit!
As a writer, you can make money writing things, such as:
Blog posts and articles
Books
Ad campaigns
Emails
Social media posts
Resumes and cover letters
White papers
And more!
Check out my post here for remote writing jobs to get started!
3. Virtual Assistant
Average Monthly Salary: $3,300
Virtual assistants are paid to help clients and businesses with online tasks such as answering emails and comments, posting on social media accounts, bookkeeping, graphic design, and more!
If it can be done online, it can be done by a virtual assistant.
4. Social Media Manager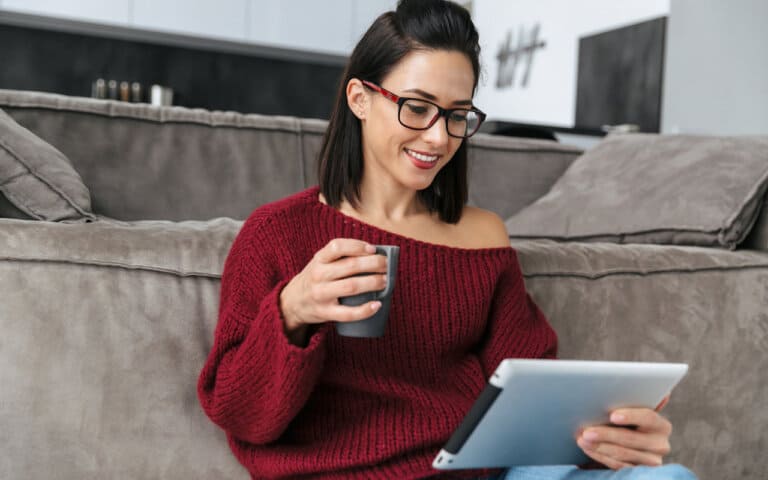 Average Monthly Salary: $4,200
If you like the idea of working at home doing administrative tasks, you can focus on becoming a social media manager.
This remote job involves managing a client's social media account, from posting fresh content to sharing information, and engaging with followers.
5. Data Entry
Average Monthly Salary: $2,900
Data entry is not the highest-paying remote job out there, and by nature, it's a repetitive job. However, some people prefer a low-stress and easy job!
Data entry jobs typically involve filling out forms and entering data into tables and spreadsheets for clients.
6. Web Designer
Average Monthly Salary: $3,300
Web design is a multi-faceted remote job that can involve working behind-the-scenes to build a website or focusing on visual elements such as color, layout, and navigation.
Or both!
You will need some know-how when it comes to coding languages such as CSS, HTML, and Javascript.
7. Website Manager
Average Monthly Salary: $5,000
If you want to get involved with websites but don't know how to code, don't worry!
You can earn money by becoming a website manager.
Website managers deal with the day-to-day maintenance of a site, such as going through and answering comments, updating plugins, and maintaining and updating website content.
8. Graphic Designer
Average Monthly Salary: $3,800
If you're looking for creative remote jobs with no experience, you should consider becoming a graphic designer!
Graphic designers produce designs using visuals, including logos, web images, advertisements, brochures, book covers, and more.
9. Video Editor
Average Monthly Salary: $3,900
As a video editor, you can work at home putting together recorded material into a finished project by combining footage with audio, graphics, and special effects.
This may involve creating YouTube videos, training videos, ads, course videos, and more.
10. Online Tutor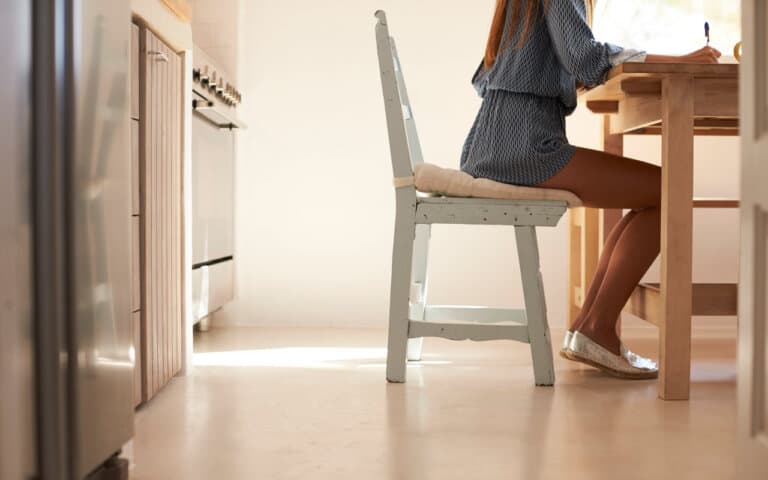 Average Monthly Salary: $4,000
The great thing about becoming an online tutor is that you don't need any advanced or fancy degrees! You just have to be knowledgeable in a particular subject.
Just make sure you are one educational level above your students.
11. English Teacher
Average Monthly Salary: $3,000
Sites like VIPKid and Skooli will pay native English speakers to teach English to children in foreign countries, especially China.
Instead of traveling around the world, you can do this remote job from the comfort of your own home!
12. Transcriber
Average Monthly Salary: $3,700
Transcribers need a good ear and fast fingers in order to type out audio from sources such as videos, interviews, and podcasts.
Many transcribing companies will require that you pass a skills test, but if you have the chops, you can start your own transcribing services.
13. Translator
Average Monthly Salary: $2,500
If you speak another language, you can do remote jobs with no experience that involve translating.
You can become an interpreter for call centers or translate materials for courses and other written content.
14. Customer Service
Average Monthly Salary: $3,000
Since the pandemic, more and more call centers are hiring remote customer service representatives to work from home.
Keep in mind that this type of remote job is not as flexible as the others, and you will be expected to work on a schedule.
15. Online Coach
Average Monthly Salary: $4,000
I love the idea of becoming an online coach! If you have found success doing something in your life, you can share your skills with clients and work from home.
You can become a financial coach, career coach, family coach, life coach, and more.
How to Land a Remote Job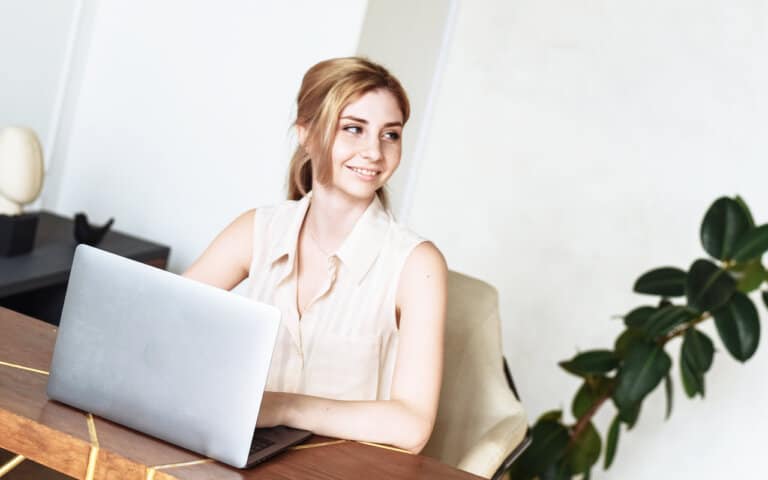 Now that you have an idea of the types of remote jobs with no experience that are out there, how do you go about getting one?
Let's take a look:
1. Through Job Boards
Your best bet when you're just getting started is to look for remote jobs on job boards.
Just keep in mind, however, that not all job boards are created equally!
Here are some of my top picks you should check out:
Indeed
Monster
SimplyHired
LinkedIn
Glassdoor
Or you can visit job boards specifically geared toward remote jobs, such as Working Nomads, Crunchboard, Behance, JustRemote, and Remotive.
For more job board recommendations, check out my post about legit job search sites here.
2. By Starting a Blog
Even if you don't plan on becoming a writer, having a blog can be beneficial to finding remote work!
It gives you an opportunity to showcase who you are and what you can do.
For example, if you want to become an online tutor, you can create a site that details your experience and tutoring services. You can also share handy tips on your blog posts if you want to.
You can share your blog around social media or use SEO to bump it up in Google's search results.
3. With Cold Pitching
Cold pitching involves finding a client you want to work with and reaching out to them through email to introduce yourself and your services.
These sites aren't looking for remote workers so it's your job to convince them otherwise.
You can find potential clients on sites like LinkedIn and Twitter, do a Google search, or contact local businesses.
Cold pitching is not as scary as it seems!
But if you're not ready to cold pitch, you can warm pitch too.
This involves creating an informal relationship with a potential client by doing things like following them on social media, tagging them in posts, replying to their posts, sending out an LOI – whatever you can do to get on their radar before sending them a pitch.
Have More Questions? I Have Answers!
Again, the idea of working remotely from home is exciting, and I want to make sure you're fully prepared to make this amazing career leap – whether you are looking to do this full-time or want to build up a side hustle.
So, to help you out, here are some frequently asked questions about remote jobs:
1. Are Remote Jobs Legit?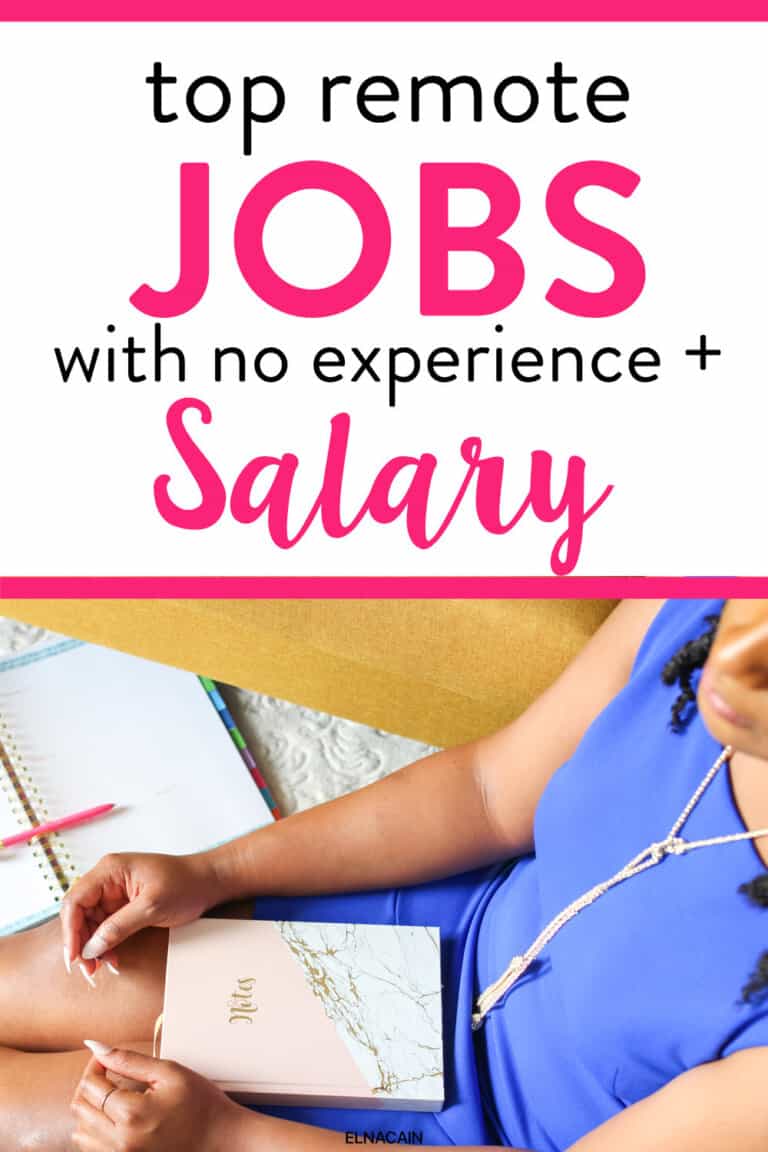 Unfortunately, there are some remote jobs out there that are scammy. Look for red flags such as:
Job ads offering lucrative pay for little work (it's too good to be true!).
The employer using a generic email like Gmail or Yahoo.
Being asked for personal financial information.
Employers offering you a position after a short interview.
Is There a Difference Between Remote Work and Working From Home?
If you really want to get into semantics, some may say that remote work involves working for a company at home instead of at an office, while working from home means working for yourself.
However, I think these two terms can be used interchangeably since working remotely implies that you can work from whatever location you choose, including home.
2. What Are Some Challenges When It Comes to Remote Work?
Everybody faces different challenges when it comes to working a remote job. Some may struggle with being alone and isolated, while others may enjoy the quietude.
Some people may struggle to maintain their own schedule, while others bask in the glory of flexibility.
After a few months you will figure out if these remote jobs are for you. You may come to find out they are not or you might want to see it through and find ways to streamline your work and have a process with your business.
3. How Can I Stay Productive Doing a Remote Job?
If you do end up working a remote job that allows you flexibility, it's important to stay on task!
You can increase your productivity by planning your day and week ahead, setting your work hours, taking breaks, and working in sessions.
Ready to Get Started?
Between companies hiring more remote workers and looking for more freelancers to get the job done, there is no shortage of opportunities if you want to work from home – even weekend jobs too!
Think of the flexibility.
The earning potential. The lifestyle!
And all with no experience!
Which remote job are you excited about?
Let me know in the comments!