Are you just getting started working from home?
If you're like me, you've drooled over the list of benefits.
No commute. No money spent on uniforms. No boss breathing down your neck. The list goes on!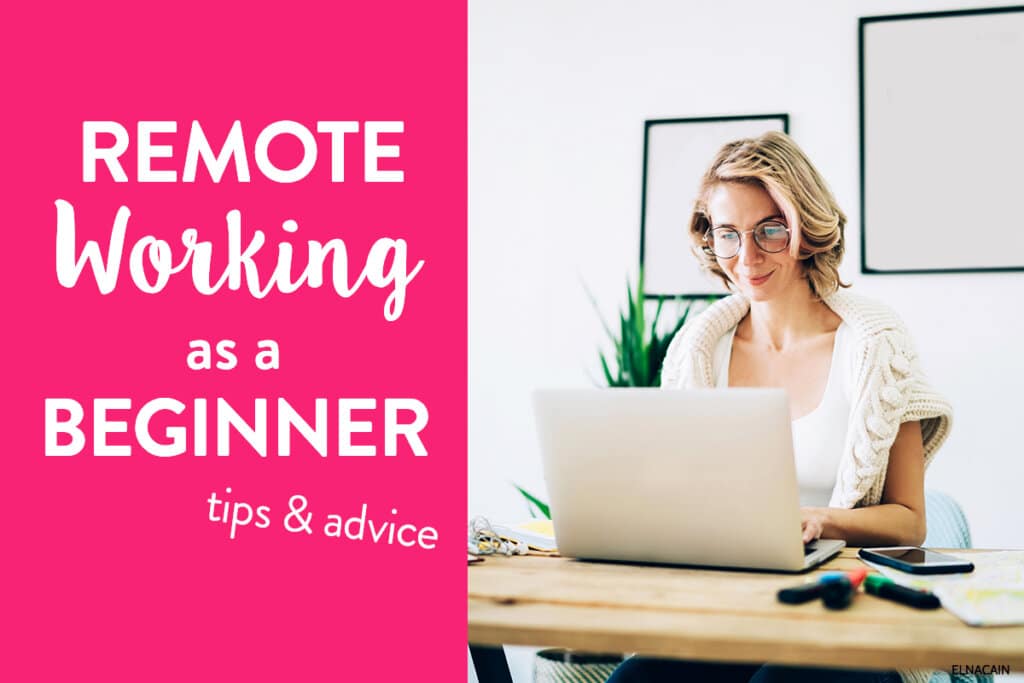 Best of all is the freedom you have overall. Remote working is often much more flexible, and in my opinion…far more enjoyable!
Especially when you have little ones to care for.
Whether you're dipping your toe into remote work for the first time or you're totally diving in head first, get ready to learn all the best tips for working from home.
I've been working from home for many years as a freelance writer and have helped thousands of other people start this work from home journey as a remote worker.
I'll help get you started on the right foot so it doesn't take you the next four years to learn these essential work-from-home tips with remote working.
But first, let's go over what is remote working, where you can easily find remote work and the best tips for remote working as a beginner.
What is Remote Working?
Remote working is when employees work for companies without having to commute to a brick and mortar location.
Instead, they work from home.
As a freelance writer, there's nothing restricting you from completing your job duties from your local coffee shop, library, or with feet buried in the sand at the beach!
And with the pandemic limiting many people from working at a physical location, remote working is the best option to getting paid and being safe.
Remote working has several terms:
Teleworking
Telecommuting
Work-From-Home
Mobile work
All you need is an internet connection and your desktop or laptop.
This type of work can be paid by the hour or project.
There are companies that allow employees to work from home several days out of the week while requiring them to come into the office to work part of the time.
However, that's not what we're talking about.
The type of remote work I'm referring to has its workers work 100% remotely. A better option, right?
Where Can I Find Remote Work?
Many remote positions aren't as hard to land as you might imagine. There are hundreds of them that don't require a degree.
If you're not desiring a full-time or even part-time position with a company, you can still find work that suits your schedule preferences. You don't have to work with a big company and commit to a set schedule.
If you choose to, you can work remotely at home on a flexible schedule. It just depends on the employer or client.
Because more companies are allowing their employees to work from home, there are many places to find work online. Here are some ideas:
Linkedin Job Board
And, did you know there are hundreds of people posting to fill positions quickly in Facebook groups?
For more on where you can find an online job as a beginner, check out my post!
Tips for Working Remotely as a Beginner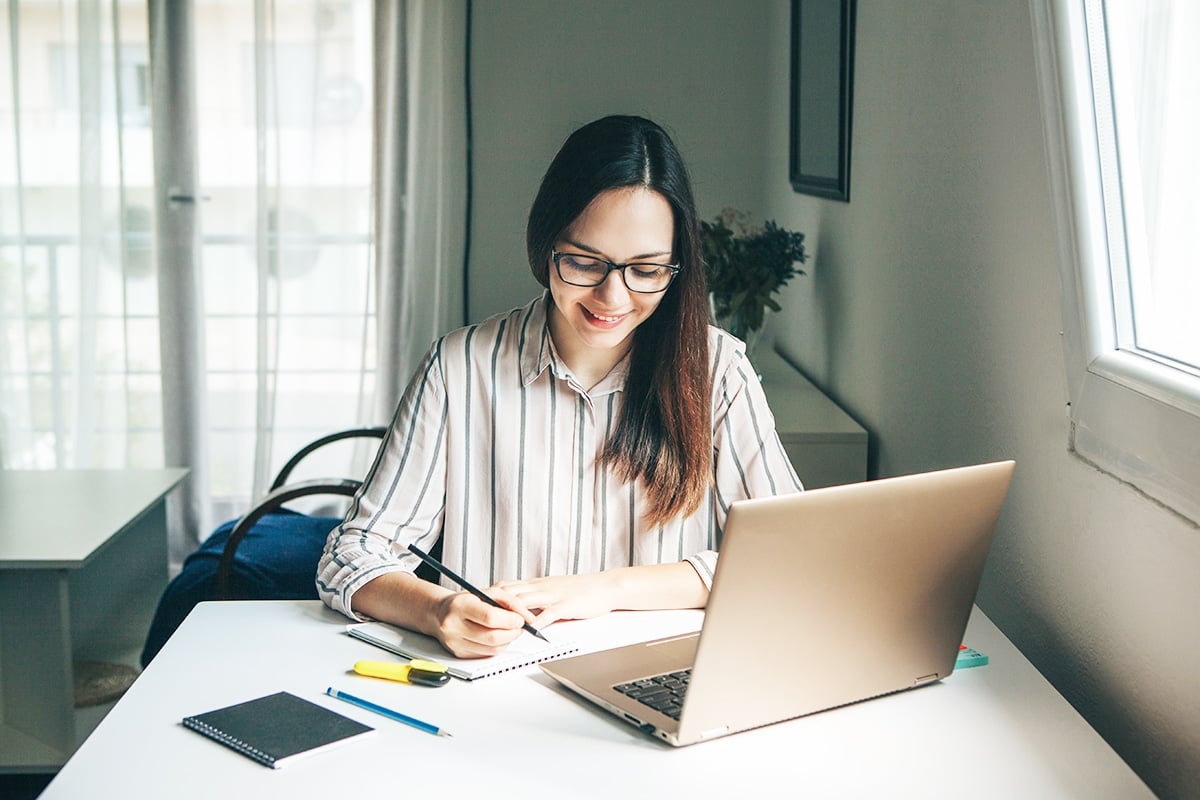 The one thing to remember when you start remote working at home is your intention and frame of mind.
This isn't a free-for-all and you can just blow off remote work and take a road trip.
You are billing payable hours and if you don't work, you don't get paid.
To help you navigate this new landscape of remote working, here are my best tips to maximize your productivity, quality of your work, and increase your success while working from home.
1. Communication and Process
Effective team communication means having a method that is quick, and in real time!
You can't afford to wait 8 hours to hear back from a team member for an important project update.
Slack and Loom are excellent tools you need to have on hand.
Loom allows you to get your message across with video.
Slack a genius way of segmenting your work conversations.
Rather than dig through your email and click into each message, you'll have all of your conversations in one place.
This is nice because email is often a distraction. By having all work-related messages in Slack, you are less likely to get distracted.
It'll also take you less time to send and respond to messages.
Some other remote working tools you might be using are:
2. A Remote Working Work Space
Your workspace should be more than just a place you sit down to work. It needs to be conducive to your productivity. It needs to be a place where you feel relaxed, not tense or stressed.
It's best if your home office is in a room where you can close the door while working.
Keep your desk clear and organized. Especially if you use the desk for other purposes while you're not working.
If you're motivated by natural light, set your desk up near a window.
Having a remote working space in your home is important, so please don't try this on your couch or kitchen table.
3. Prioritize and Segment Your Work To-Do List
This is the best way I've found to keep my lengthy to-to list organized. Keep a list of all the things you have to do.
Go down the list and write A, B, or C for each task. "A" should be the highest priority and "C," the least.
Then, label each task with one of three numbers.
5, 15, 30, or 60.
These numbers will represent the estimated amount of time it will take to complete the task. This will help you to guage about how long each task will take. This will save you time and mental work later on.
When you have a spare 5 minutes, you can do a 5-minute task. When you have more time, you can do more based on priority.
I like to use my productivity planner for freelance writers to help me set up my tasks and projects for the day and week.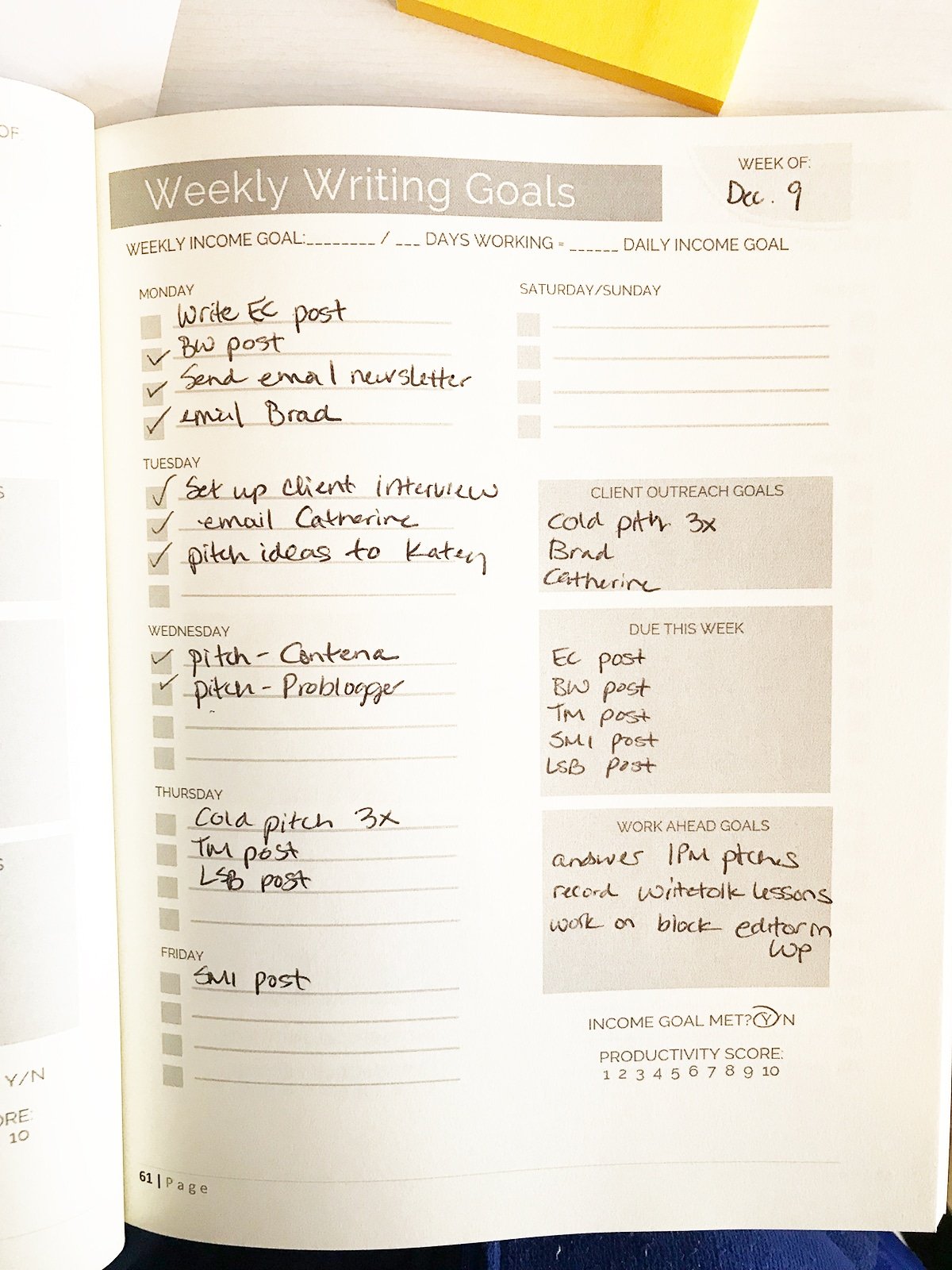 4. Office Equipment
As a new freelance writer you don't need to buy fancy supplies and equipment to get started working from home.
Here are the basic office supplies you'll be needing:
A work desk and comfortable chair
A desktop or laptop
A reliable internet connection
That's it!
Later on down the line you may want to get other tools that will make your job easier such as a recorder for doing interviews. But you don't need that starting out.
5. Monitor Your Work
Whether you're getting paid by the hour or a project fixed-rate, you need to know exactly how much time you're spending on each task and assignment.
These calculations will let you know how much time you're taking versus your fee. You need to make sure you're analyzing your profits for each project.
Many companies that are using remote workers, however, may require time tracking apps to help monitor if their workers are on work time.
6. Plan Ahead
Are you interviewing someone? Will you be a guest on a live webinar or podcast? Or what about the call coming up with a company you've pitched?
Prepare as much as you can in advance.
This means getting familiar even more with the company and their most recent endeavors and accomplishments.
Prepare questions to ask them and prepare your responses to questions they're likely to ask you.
To help you get started, check out this guide on the best tools to find and interview remote candidates.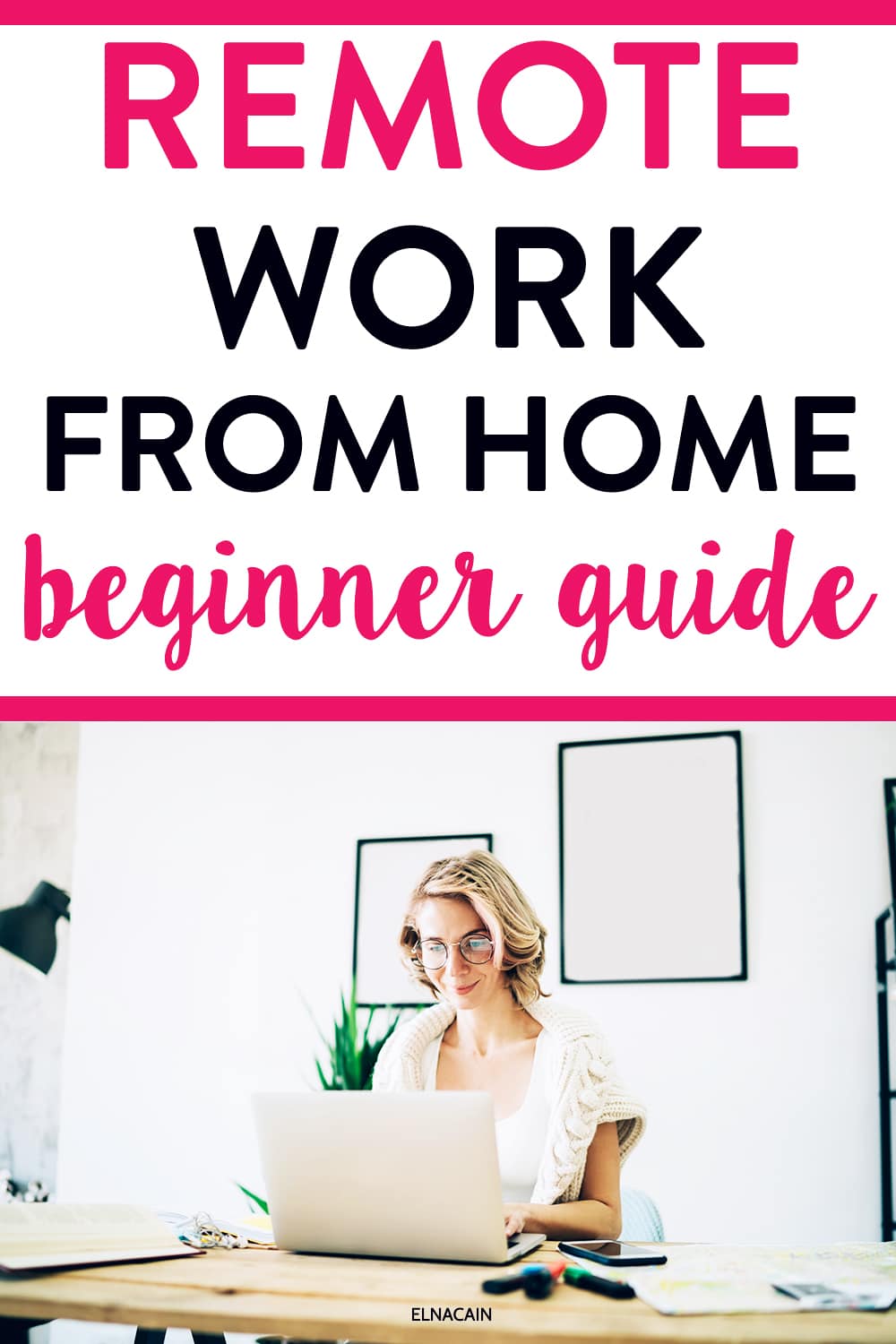 7. Utilize Non-Work Time for Work Tasks
Hear me out. I strongly believe in setting boundaries between work and your personal life.
However, I've found there are times when it does make sense to get some work done during non-working hours.
For example, there may be times where it just makes sense. Let's look at some examples:
Come up with 10 blog post topic ideas for your client while waiting in the doctor's office to be seen (Waiting alone can take an hour!)
Send follow up emails for jobs while waiting for your friend to arrive to your coffee date
Do research for a project since you're 30 minutes early picking your children up from school
You might just find gaps of time here and there, but it can go a long way to accomplish things that need to get done.
8. Professional Email
Employers have to sift through thousands of job applications before making a hiring decision they feel will benefit their business.
You'll have a better chance of catching their attention with a professional email address. You might want to make this separate from your personal email address.
9. Website
If you want a step up from remote working under a business, freelance writing is where it's at.
I've heard countless arguments from writers that they have landed clients without a website. While this is certainly possible, I believe that having a website gives you an extreme advantage, especially as a beginner.
It's pretty simple to create one. Once you have it up, there are several ways to leverage it to land clients.
When it comes to scheduling appointments, Calendly is amazing! It's the best way to eliminate the back and forth via phone or emails.
What is love about it is that clients and potential clients can go to your website to see the dates and times you have available and choose what works best for them.
This is an easy way to keep track of your schedule and potential leads.
10. Strive for Balance
Working from home requires discipline, especially for remote working. Keep your personal and professional life separate.
It's best to establish boundaries from the very beginning.
Draw a hard, thick line between the negotiable and the non-negotiables. Will you take on rushwork from clients last-minute? Will you ever cancel family plans for meetings and business-related matters?
How will you maintain good health? You have to be intentional. You won't to commit goals you've never set for yourself.
11. Onboarding Process
Google Forms is great (free!) tool you can use to create onboarding questionnaires. You can also use them to create questions for potential clients before hopping on a discovery call.
Think of it like a regular job. Employers have a specific process for onboarding new employees.
From the interview process to on-the-job training.
You need a similar process in place. Decide how you will screen potential clients. What information will you share and gather during the discovery call?
What are your standards for new clients? What factors will determine who you decide not to work with?
How will you welcome the new clients who have decided to work with you?
This is very important. It takes the guesswork out of the entire process. It also gives you the ability to let potential clients know how you work ahead of time and what they can expect.
Having a freelance proposal can fulfill the onboarding process for your remote working clients.
12. List of Services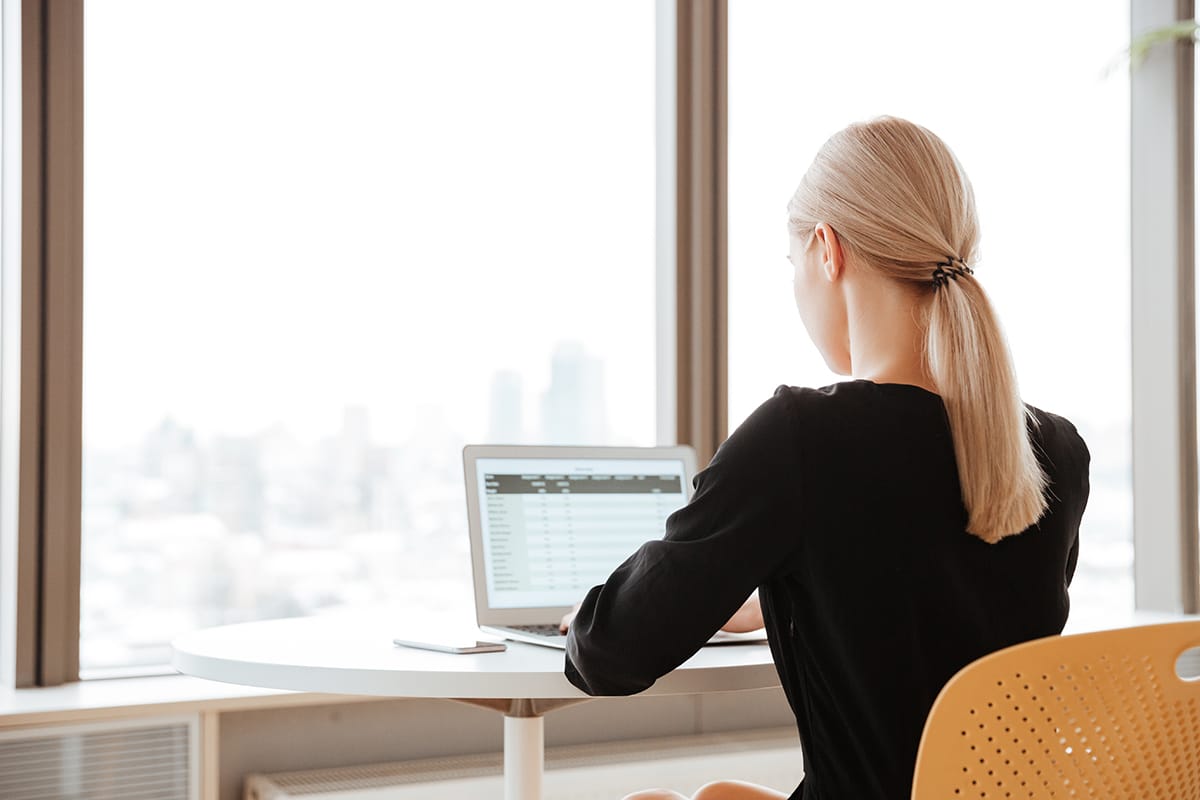 When people land on your service-based website, they need to be able to tell right away what services you offer.
For example: product descriptions, blog posts, marketing emails, etc.
Potential clients also need to know who exactly will benefit from your services.
For instance: B2B, tech companies, dental offices, etc.
If potential clients visit your website but are not able to tell immediately who you service, they won't stick around for long. You also don't want them to make wrong assumptions as you could miss their business altogether.
13. Beating Distractions
You'll quickly learn to adapt and find solutions to everyday inevitable distractions. The dog keeps barking. Someone's ringing the doorbell on your front porch. The kids come into the room fighting the one day you forget to lock the door.
It happens! But you've got to bounce back quickly. In my opinion, working from home requires more discipline than working in the office.
Here's how you can overcome interruptions and the temptations to veer off track:
Use apps like Cold Turkey to block Social Media so you don't waste precious time you could have used to get work done.
Work time is work time. Notify friends and family that you don't take calls during that time. Silence your phone!
Prepare you snacks and beverages before your shift to munch on. Heading into the kitchen 3-4 times will kill your overall productivity.
Yes, emails are work-related. BUT, you need to dedicate specific times to check and respond to emails. Turn off all notifications during work time.
14. Use a Calendar
Whether you're into Google calendar or you like a tangible calendar doesn't matter. Just make sure you're actually using one!
Don't try to keep important dates in your head or even on random pieces of paper. You must have one place where you keep all of your tasks, online meetings, deadlines, and so one.
It's too easy to drop that ball. Using a calendar will keep you organized and your anxiety down because all you need to do is follow what you have scheduled.
15. Craft a Cover Letter and Resume for Remote Working
Look – I'm not saying to ditch your remote working job for some freelancing, but the online world is vast and there are thousands of opportunities to work from home for good.
It's in your best interest to have a remote working resume and cover letter.
This can help you land better remote working jobs and freelance writing jobs.
What Types of Remote Work Can I Do?
As I mentioned, I'm a freelance writer that works from home. As a remote worker I pick and chose my schedule, writing projects and clients.
There are hundreds, if not thousands, of different types of remote work and online jobs you can do at home. Here is only a few choices:
Work From Home Tips for the Beginner
There you are! Now that you have these tips on hand, I hope you use them.
They'll help you beat overwhelm and stay sane in the process of working from home!
Having systems for how you operate everything is the golden key to working remotely. Once you have those in place, make it your goal to improve them over time. This is how I've been able to get more done in less time!
I'm so excited for you! You're going to love working from home.
Over to you – is this your first time as a remote worker? Share your questions and experience with me!