You decided you want to be a freelance writer! Yay!
This means working from home and creating a workday for yourself!
What a boss, right?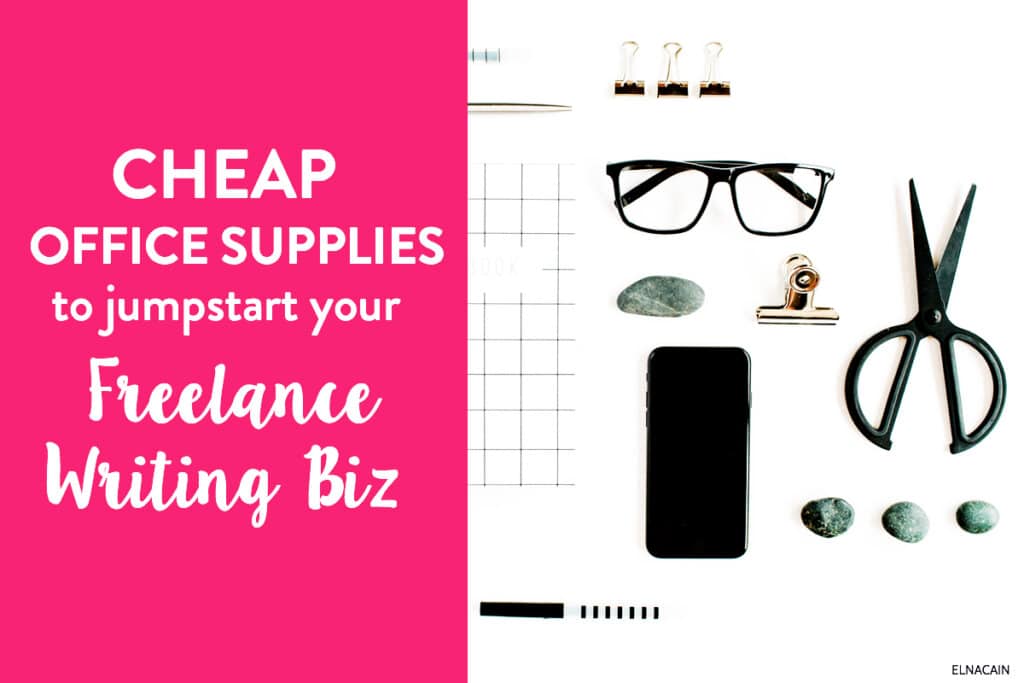 And that boss needs an office with some cute office supplies.
But, here's the thing –
Your freelance writing business is making you zilch right now so you can't invest in pretty things for your office. Instead, you have to opt for cheap office supplies.
And you know what?
That's okay.
There are some amazing trinkets for your office that is in your budget. And, what's great is that if you know of a freelancer or someone that works from home, you can use this list for office supply gift ideas!
So, let's get to it!
8 Cheap Office Supplies
1. Rose Gold Ballpoint Pens
How pretty are these sparkly gold rose pens? I'm a bit of a pen hoarder and have at least 10 pens on my desk, so this pack of 4 will do just right!
You might think as an online freelance writer, you'll mostly use digital tools, but I'm one for my freelance writing planner and pens! I can work on my business on long car rides, at the park with my twins or just sitting on my couch.
2. Desk Supply Organizer
This cheap office supply is a must if you have a small work desk. My desk is fairly small, so this desk organizer would come in handy. Hold your pens, paper clips, post-its and more!
You can also get a desk organizer in pink!
3. The Best Divider Sticky Notes
Aren't these amazing? For freelance writers these sticky divider notes are EVERYTHING.
I literally have 20+ little post-it notes all over my desk. Instead, I could use these divider notes in my planner for things I need to jot down + divide my planner! Genius!
4. Office Desk Pad
Got a glass desk or a huge scratch on your desk you want to cover?
Well, this office desk pad has got you covered! It's lightweight, water-proof and multifunctional. You can also use this outside on your deck for a change of scenery during warm days.
And it will match those rose gold pens you have too!
5. Cute Office Supply – Animal Paper Clips!
I'm a sucker for cute office supplies! Look at these adorable animal paper clips? My twins would go ga-ga over them.
You may not NEED paper clips as a freelance writer, but they do come in handy if you need to clip some planner pages or writer guidelines. For one of my newest gigs, I had to print out a 5-page writer guideline. Instead of stapling them, I can use one of these animal clips!
6. Motivational Wall Art
Hello! Aren't these motivational quotes the best? I love the pink and gold combination and don't get me started on the fonts! I'm a font girl and love the font combination on these quotes.
Right now I have some cute motivational quotes on my wall, but will have to make sure to let hubby know that this cheap office supply can make for a good gift!
For the men, there is a masculine version too!
7. Over the Door Office Organizer
I'm all about streamlining and moving things off my desk.
This wall organizer fits behind your office door and is perfect for keeping your planners, mail, or other office supplies off your desk.
I need this for my office and our main bedroom for my husband's office!
8. Succulent Planter Pot
How cute is this? I love having plants in the house, and my office desk is no exception. I love this cheap office supply succulent plant pot.
You can get it in different styles:
The Office Supplies You Need for Freelance Writing
Aside from the accessories, there are some essential things you need to have a working office so you can freelance write.
I always say to people – you can't start a business from your couch!
So, while these aren't cheap office supplies, they are necessary office supplies – or strongly suggested ones.
If you don't know, I ended up having repetitive stress injury (RSI) from improper seating when I typed. I was guilty of using the laptop on the couch while my twins played or cramming myself in my master bedroom closet to write on a small desk.
My RSI affected my writing and income for many months. It took me a long time to not feel any pain when I typed. I don't want that happening to you!
Here are the office supplies I use to ensure I don't get RSI pain again!
1. Good Office Chair
When I started freelance writing, I just went to Walmart and picked up an office chair and got to work.
But, a few months later, I was getting neck pain. This chair wasn't supporting my back, and I was hunching over, causing the pain in my neck.
So, I had to invest in a good ergonomic office chair. This AmazonBasics chair is a mid-back chair and mesh, making it lightweight and perfect for typing.
2. Keyboard and Mouse
I understand a laptop might be a better option for you, but if you end up using a laptop then hook up an external mouse and keyboard to make everything ergonomic.
I use a powerful laptop and connect it to a monitor and use this ergonomic keyboard and mouse to work every day in my office.
Some Considerations When You Work From Home
There are a few things to consider when you work from home like proper seating, work hours and optimizing your time.
Proper Seating
When sitting at your desk, look to see the placement of your hands, the angle of your elbows and where your feet are – dangling or touching the floor?
You must adjust the height of your desk and chair to avoid any pain associated with typing as a professional writer.
Here are some tips to make sure you're sitting properly in your new office:
The height of your keyboard and mouse should cause your elbows to be at or near a 90-degree angle.
Move your mouse from the shoulder, not from your wrist.
Don't rest your wrists/palms when you're typing.
Place your feet firmly on the ground. Not on the chair's legs. I use a box to prop up my feet since they don't touch the ground when I sit.
You may have to adjust the height of your desk and chair so your elbows are at a 90-degree angle when typing and your feet are flat on the floor or box.
Place the center of the screen at eye level.
Setting Your Work Hours
Look at your day or week realistically to find the best time you can devote 100% to your freelance writing business.
If you find that working in the morning before your kids wake up the best time, then slot that in as your work hours. If you're a night owl like me, then figure out which nights you're going to power through and work once your kids (and even hubby) go to sleep.
The point is, is to make freelance writing legit and real to you. You do this by locking in work hours during the day or week so that your family knows not to distract you!
Optimizing Your Time When You Work
Working from home can be distracting. At least it is for me!
I have twins, and when they were younger, it was sure noisy in my house – well it's still noisy, and they are 6 years old!
I have found that my office has to be away from the center of noise so I can get work done. For many years, I had my office in my bedroom, but once we moved, I took the extra room and converted that into an office/craft room.
This meant I could get some work done if the twins were in the living room or down in the basement.
So, instead of working in your kitchen or living room, see if you can squeeze yourself in a bedroom or downstairs!
Working Like a Boss
There ya go!
Some cheap office supplies and the necessary office supplies you need to start freelance writing.
Look –
I know it's easy to just start with a laptop and your couch – and you CAN do that – but I want you to set a goal that you'll eventually transition into a workspace with office supplies.
Over to you –
Do you have a workspace? What are YOUR essential office supplies? Share with me in the comments!