Are you a persuasive person?
Are you able to guide people to decisions based on their needs?
Then you sound like a copywriter!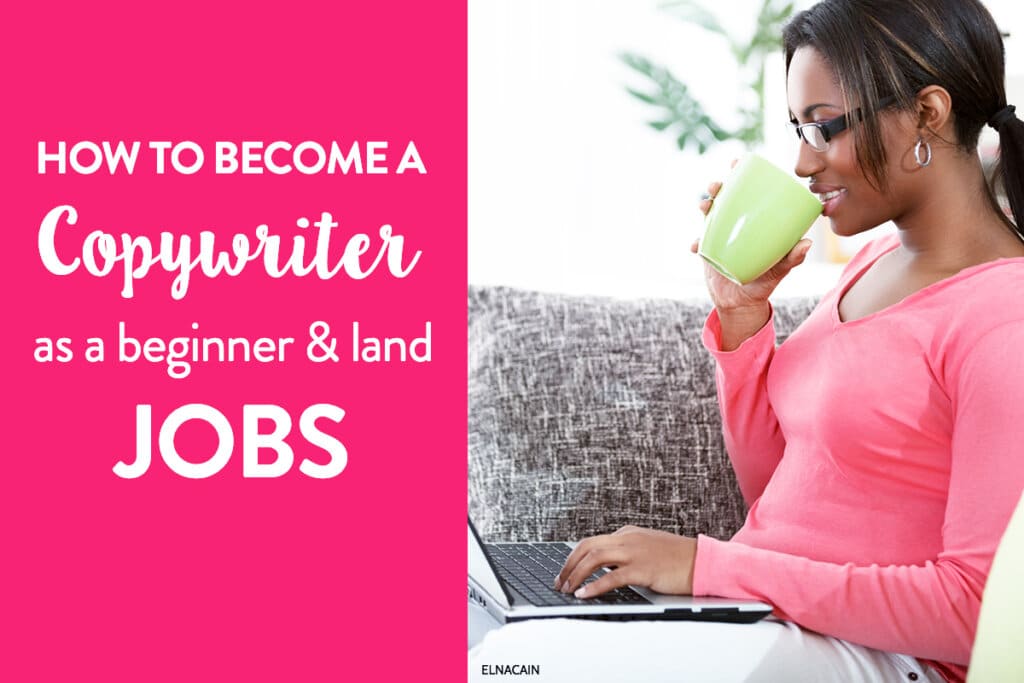 For many years, businesses and companies have known that the secret to selling a product is creating a sense of need for the customer by aligning the product's function with their problems.
This strategy has spread from traditional brick-and-mortar stores into the online world of marketing and selling.
The only difference is, in the online world, being a charming and charismatic salesperson doesn't translate the same way on paper.
Enter the copywriter and copywriting jobs!
Businesses are looking for writers who can craft convincing content in order to promote their product and draw in customers, but do so in a story telling manner.
If you're considering a life of freelance writing, or already are a freelance writer and want to expand your horizons from freelance content writing jobs, think about becoming a copywriter.
I use copywriting principles when I write my long-form content for clients.
I also use copywriting for email marketing when I write my email campaigns and you can even do copywriting in social media like Facebook ads.
The wealth of copywriting jobs online is endless!
So if you want a copywriting career, this guide will help you.
I'll share with your what a copywriter is, the skills you need, steps on becoming a copywriter, client expectations, where to find copywriting jobs and dealing with your first copywriting clients!
Are you ready to start?
What is Copywriting?
By definition, copywriting refers to marketing material for the purpose of advertising or selling a service or product.
It can include:
Blog posts
Landing pages
Lead magnets
Social media posts
Sales pages
Brochures
Presentations
Product descriptions
Emails
White papers
Ads like Facebook ads
It's a different style of writing as compared to articles you commonly see on sites and blogs. While these pieces of content are generally focused on maintaining a target audience reader's interest and gaining traffic, copywriting is specifically written to sell something.
Take landing pages, for example. While the purpose is to describe a business' services or products, the underlying message is why the reader should purchase them.
This is generally done by presenting a problem and offering a solution to the reader. The solution is, obviously, the business' product or service. Make sense?
As long as you have strong writing skills, copywriting is not a hard industry to get into.
What Skills Do You Need to Be a Copywriter?
Your writing skills are the foundation on which you can build good copywriting skills and ultimately make you a successful copywriter. Even if you aren't the best writer today, don't let that stop you from wanting to find copywriting jobs and try your hand at some email copywriting.
When I first created my courses, before that, I had never written a sales page before. I was doing digital marketing writing and needed a new skillset.
I had to learn specific features of a sales page – story telling, setting up the emotion behind my product, the benefits and flipping the switch to help them see how my products can help them.
While there are no formal qualifications needed to be a copywriter, or any content writer for that matter, there are a few skills that will give you a competitive edge when it comes to finding clients and making money:
English Language Skills. When clients are paying you to produce copy, they will expect proper spelling, grammar, punctuation and sentence structure.
Research Skills. Copywriting involves writing about businesses and products you may not be familiar with. Having good research skills means you can gather accurate and relevant information quickly in order to write the copy.
Editing Skills. Nobody writes a piece of content perfectly the first time (guilty!) so you need to be able to comb over your work in order to correct any errors.
Vocabulary Skills. Having a wide vocabulary is helpful when writing copy, especially if you have a repertoire of powerful words that provoke a need to act for the reader. This is called persuasive writing and is an important skill for copywriting.
I'm not saying you need to be able to feel deeply with the client, but you need to be able to put yourself in their shoes and experience their perspective.
Listening Skills. Each client is unique, so there's no "cookie-cutter" method of producing copy. You need to be able to listen to your client, understand their needs and provide them for what they want.
Storytelling ability. Look – the people reading online are Millennials. They have banner blindness and know the traditional marketing tactics out there. As a copywriter you need to sell the story first before you sell the product you are marketing.
SEO Copywriting – part of being a copywriter is SEO copywriting. Online businesses want to rank in Google and they do that with SEO – search engine optimization. For more help on learning SEO, check out my Fast Track to SEO Writing.
Apart from these skills, you will also have to know how to properly organize a piece of content so that it makes sense to the reader, provides concise information and flows properly.
I call this "letting your content breathe," which means having a lot of white space surrounding your words.
Online content reads differently than newspaper articles or essays.
On average, readers spend very little time actually reading content – so you want to make sure they can glean all of the pertinent information in a shorter amount of time.
So if you feel you have these necessary skills – Awesome!
Otherwise, there is always time to brush up on them. You'll find that the more content creation you write, the more these skills will grow.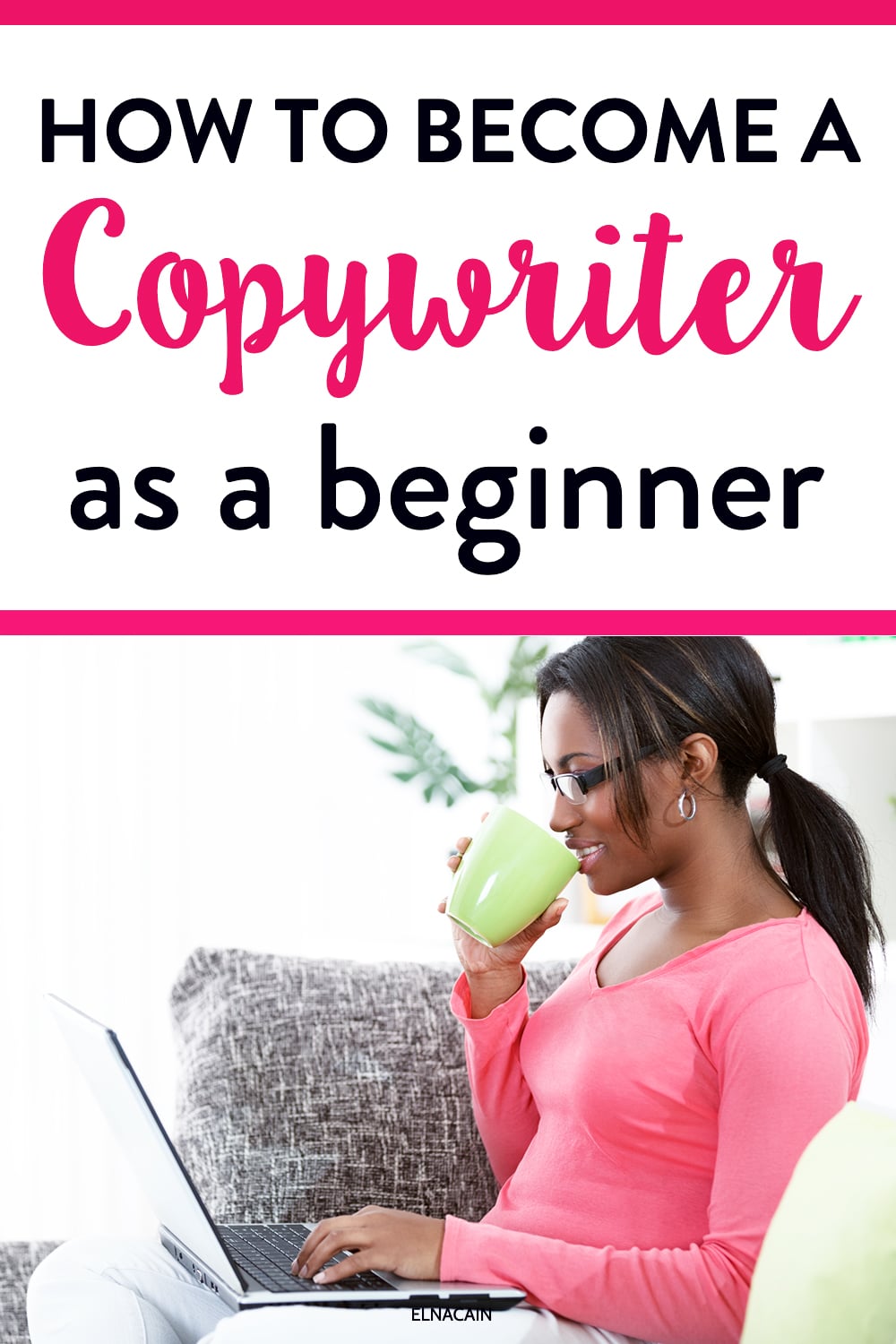 Another way to become a copywriter and land remote work is to work under one.
Essentially you would be a junior copywriter working under a senior copywriter. They would be the creative director and provide work and feedback to help you improve your skills to be a full legit copywriter.
Finally, the day of a life as a copywriter usually means that when a product manager or marketing director contacts you for copywriting, you have to make sure you have a onboarding process for your Zoom call and be able to ask the right questions (like what marketing campaigns are successful for them).
How Do I Become a Copywriter?
The way I learned to be a copywriter was practice and opening up my services to include website copy and landing page copy. I was able to pick up a few copywriting jobs that way and over time improved my craft.
To get jobs as a copywriter, you have to get your name out there. This means creating an online presence as well as providing samples of your work.
Here's how to do it:
Your Online Presence
Being a freelancer is very different from being employed. There's so much more involved in landing clients than handing out resumes and doing interviews.
Because the nature of this business happens online, you need to know how to promote yourself and create an online presence.
This is how you will build a brand and market your services.
The first step in this process should be to create a website focused on your services as a copywriter, putting heavy emphasis on your about page as well as your landing page.
Your site should provide the following information:
Your contact information
How you can help businesses
A picture/headshot
Your landing page, and your about page, is like a huge business card. You want to use this space to convince a potential client why they need you to help them.
Check out my post here on how to create and optimize your about me page.
Next, you should begin creating a presence on social media. Don't write off Twitter and Facebook as simply platforms for memes and complaining!
Social media marketing, plus quality content, is a winning combination when it comes to ranking on Google – and businesses know this.
So if they're going to invest in a freelance copywriter, they want to see one with a good social media presence.
Plus, social media is a great way to connect and network to find more jobs (which we'll talk about later).
For help on setting up your social profiles make sure to check out these guides:
Lastly, you want to create a personal brand for yourself. This means showing your clients your personality and your skills as a freelance copywriter.
If you're hesitant to talk about yourself (and most people are), start by asking your friends and family what they like about you. This will give you a starting point for showcasing yourself and your skills to the world!
One of my first writer websites talked about how I gave color to copy. This was something my husband mentioned to me and I thought that would be a nice way to show potential clients what I can do for them.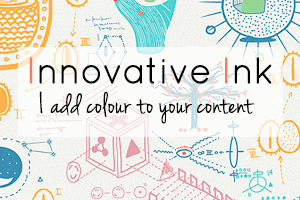 Creating Samples
Now that you've created your online presence and have begun to market yourself as a copywriter, it's time to show those clients what you can do!
This can be tricky for two reasons: One, you may not have any paid writing to use as samples because you're just starting out.
Two, most copy is ghost-written, meaning that your name is not attached to it as the writer. Clients may not want you to use these pieces in a portfolio as samples of your work.
Don't fret! There are a couple of ways you can produce quality samples that will attract clients.
First of all, you can begin a blog on your writer's site and write samples (or "spec") pieces to show clients that you are capable of writing strong copy.
Ultimately, clients are going to check out your articles to see if:
You know how to write for an online audience
You provide quality content
Your writing is easy to read
You engage the audience in your writing
Another great way to build up samples of your work is to write guest posts. This means writing content for someone else's site but with your name attached.
Not only does it show clients that you are capable of writing, but that your writing is good enough to be posted on someone else's blog!
With showing off your copywriting, you can create samples in any niche your want. There are health copywriters, pet copywriters, beauty copywriter or just ad copywriters.
If a blog post doesn't represent your form of copywriting, then make one up. Make up a mock landing page. For example, here's a landing page template you can use to create your mock landing page: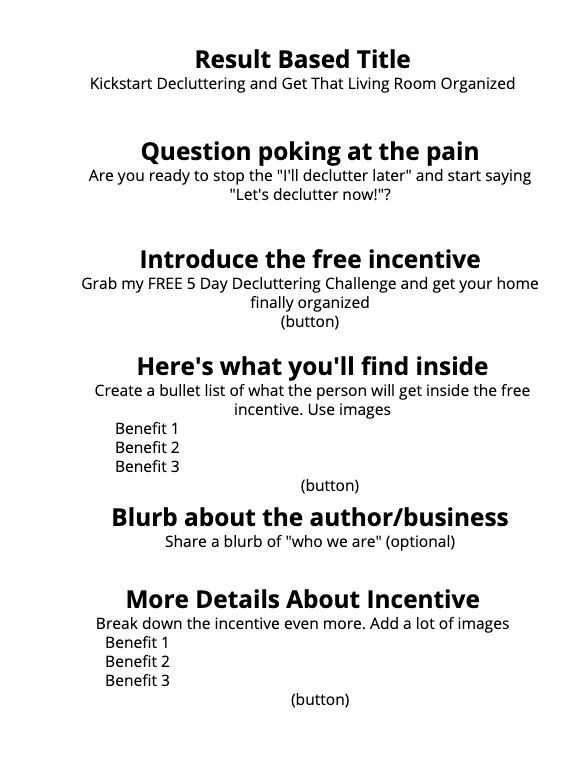 The landing page template can also include testimonials for social proof and higher conversions. When you're all said and done, the client can add it to their site and it might look something like this:

The Copywriting Job – Client Expectations
Apart from good writing, clients have an expectation from you when they hire you to write their copy.
They are expecting you to write for a potential buyer in a way that will motivate them to buy. This means going beyond simply describing a product or service. You have to make it relevant to the reader, as in, they cannot live without it.
Clients are also interested in your level of expertise and confidence when it comes to writing copy. If they ask for a white paper, for example, they are going to expect you to know what a white paper is.
They will also expect you to take initiative with certain aspects of the project. This kind of goes hand-in-hand with expertise and confidence. You should have the confidence to make small decisions without questioning the client.
Clients don't want to work with high-maintenance freelancers. They want to hand the project to you and let you do your thing.
Don't worry, though! That doesn't mean you have to be an expert on copywriting overnight. You can easily turn to Google or online communities of freelancers for advice.
Or you can take a course on how to freelance write! Check out my courses offered through this site that will help you develop those skills I mentioned before as well as build your confidence.
Overall, the client just wants to have a good experience working with you. As long as you're friendly, positive and willing to put in the work, you'll make a good impression.
Where to Find Copywriting Jobs
There are three ways you can find jobs as a freelance copywriter.
Much like looking for a job in the real world (as opposed to online), you can search job boards and send applications that way to land home jobs as a copywriter.
Or, you can pitch to potential clients and offer your services.
A relatively unknown way of finding remote copywriting jobs is to use social media to network with clients and businesses.
Let's talk more about these methods so you learn how to get copywriting jobs right now.
Job Boards
While you can hop on Flexjobs and Upwork to find all kinds of freelancing copywriting jobs, the competition there can be pretty high.
Their popularity means that many freelance copywriters are sending applications to prospective clients (that's a lot of applications to sift through!).
Instead, check out these job sites where you can land some copywriting work:
These are just a few job boards out there where you can find paid copywriting work. To check out a few more, head to my post The 5 Best Job Boards for a New Freelance Writer.
Pitching to Clients
One of the biggest things a new marketing copywriter will struggle with is pitching to potential clients.
The whole concept can seem quite daunting: sending unsolicited emails to companies asking them to hire you.
The key is positioning your pitch in a way that doesn't come off as pushy and gets the company or business thinking about how you can be an advantage to them.
And the worst thing that can happen? They say, "No thanks".
Or they don't email you back and you move on.
A huge part of my Write Your Way to Your First 1K course is how to write the perfect pitch. Yes, you can find good paid work from job boards, but pitching is the best way to land consistent and good paying gigs.
So how do you write a pitch?
Even if you don't have much experience in copywriting, you can still send a stellar pitch that will catch the attention of potential clients.
Here are some tips to writing the perfect pitch:
Research the company. Clients need to trust that you understand their business. How else can you write copy to sell their product/service? Make sure you research the company and include how you feel about their values or vision in your pitch.
Keep it short and sweet. The people you are pitching to are busy and likely receive tons of emails every day. Keep your pitch short and to the point to avoid being looked over.
Avoid templates. Again, potential clients are looking through a lot of emails. When each email starts to sound like the other, they are likely to skip over them. Make your pitch unique.
Explain your results. This can be tricky when you're a beginner but it's possible to highlight the results your writing can achieve. Use your own blog as an example of how you are able to drive traffic to a site.
Be confident. Avoid bringing attention to the fact that you're a newbie to the copywriting game. Again, clients want results and they don't really care how "experienced" you are at getting them – as long as you can.
Follow up. While clients will turf pitches that disinterested them, sometimes good pitches get lost in the fray. Be sure to send a follow-up email to ensure that your pitch was seen.
Networking
One of the more surprising ways to find copywriting online jobs is to network with other freelancers and potential clients.
The more people you interact with online, the more chances you have at landing copywriting jobs for beginners.
These people that you network with may have contacts with large brands or know a lot of contacts that require a copywriter.
This opens the doors to referral business.
I've made quite a bit of money simply from referrals – from both clients and other writers!
Making connections is definitely a worthwhile way to open doors for paid writing opportunities. Here are some ways you can begin networking:
Start a blog. Not only is this a great way to showcase your copywriting abilities, but it gives people a chance to get to know you. Clients can see right away if you are the writer they are looking for.
Comment on company blogs. This indirect method is a good way to gain exposure as a writer. Try to be the first to leave a relevant comment on a post and be sure to include the fact that you're a copywriter in your name (for example: "Elna Cain | Copywriter").
Follow potential clients on social media. Following and sharing companies on social media is a great way to connect – and get noticed!
Want to learn more about networking to gain copywriting jobs? Check out my post here!
What About Scams?
Even though it may seem the more job offers you receive the better, you'll want to be cautious about which ones you accept. These copywriting jobs may be scams.
In order to determine whether or not a client is going to be pleasant to work with and appreciate your expertise, watch out for these red flags:
The client hassles you about the price. While money is an important factor for clients looking to hire copywriters, good clients will realize that you get what you pay for. If a client starts giving you a hard time from the get-go without taking your skills into consideration, you may want to move on.
You can't morally support the project. If you don't agree with the product or service being sold on a moral-level, you are likely not going to do a good job writing the copy. For example, you may feel uncomfortable writing for vaping products because you don't like the idea of smoking.
The client is flip-floppy. While you are expected to make some decisions along the way, the client is responsible for giving you clear instructions on the work they want done. Watch out for clients who constantly change their mind.
The client has unrealistic expectations. A business' copy is an important aspect of their, well, business. However, they need to be realistic when it comes to what they're asking you to deliver. If they're expectations seem really high or unachievable, it's probably best to skip that project.
The client asks for a "sample" piece before they hire you. This is why it's important to have a portfolio of your own sample pieces. Clients who ask for spec pieces before agreeing to pay may be taking advantage of you.
The client is disrespectful and hard to get along with. A copywriting project is a collaboration, so it's important that you and the client are able to work on a professional level. If they rub you the wrong way or treat you like a subordinate, don't waste your time.
The client says they are "shopping around". Often used as a scare tactic to lower your prices, clients may tell you they are looking at other copywriters as well. Don't undersell yourself and look for something else.
The client refuses to sign a contract or writing agreement. The world of online business can be tricky, since anything can be promised and not delivered. What the client wants, and how much they are paying you, should be clearly defined in a contract or writing agreement. A client that doesn't want to make your agreement official could be looking to undercut you.
You have to pay to guest post – while this isn't client related, if you are trying to get more clips for your portfolio and trying to guest post, it isn't customary to pay to guest post. Avoid those places.
You don't have to be scared about clients offering you jobs. Most are generally fabulous to get along with and are simply looking for excellent work.
You may feel as a beginner in the copywriting world that you should take what you can get – it may benefit you to do some grunt work to get experience under your belt, but don't let yourself get stuck in that rut.
Dealing With Copywriting Clients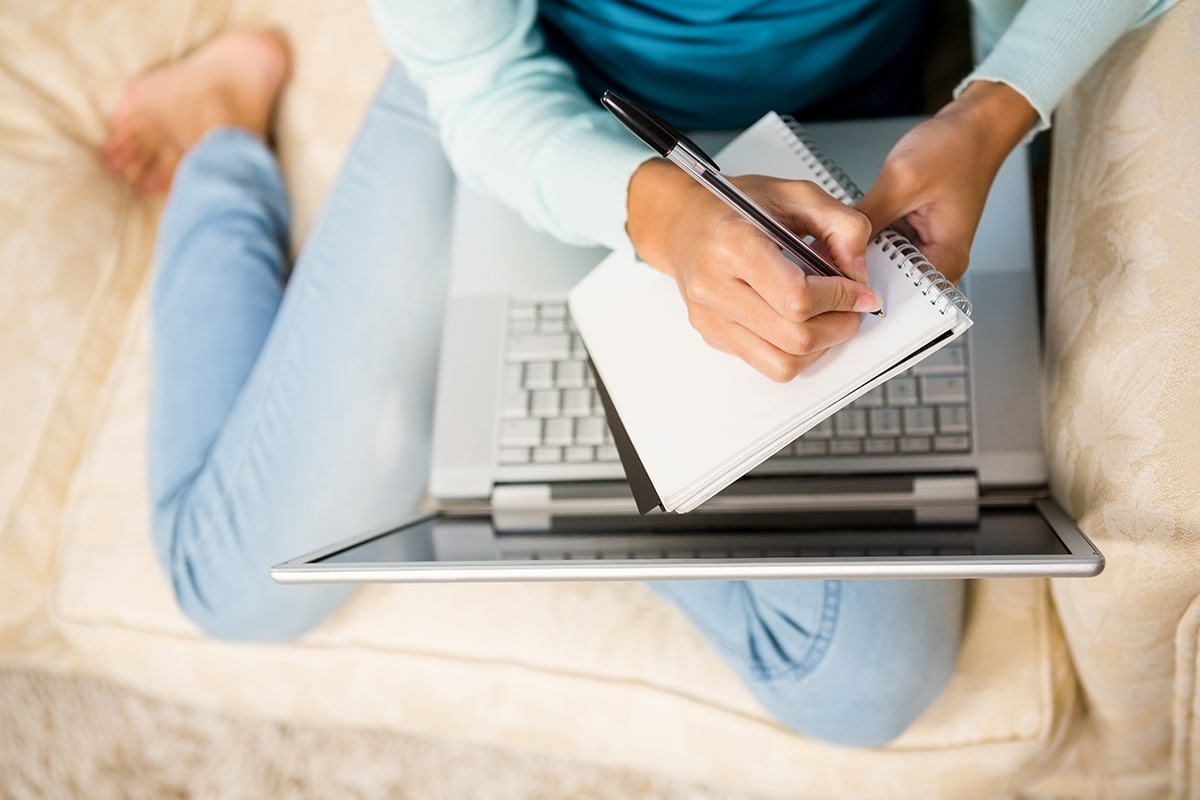 Apart from obtaining the necessary information from a client in order to complete a copywriting job, there are a few other aspects of the job you need to consider.
Turnaround Time
First, you need to establish the turnaround time on the project. When does the client want the content completed? Can you work within this timeframe?
I mentioned above about a red flag being unreasonable expectations. However, copywriting clients are often not writers and may not understand how long it takes to produce well-written copy.
If you are given a deadline you feel is overreaching, let the client know. Tell them you will try to finish the copywriting job as soon as you possibly can and provide them with a more appropriate due date.
Be open to negotiating this term. As long as the client is assured that they are going to receive high-quality content, they should be flexible with a reasonable turnaround time.
Contract or No Contract?
Another one of those red flags was if a client refuses to sign a contract.
Honestly, when it comes to smaller blog writing projects, I don't find them necessary. Instead, you can do a writing agreement that details what is to be written, when it is due and the cost for the service.
However, bigger projects should require a contract. Contracts are important in protecting both the client and the copywriter to ensure that services are delivered as detailed and paid for.
For my bigger brand clients, I always use a contract with them as that is their expectations when hiring content writers.
Having a crystal-clear contract will protect you from the following:
Clients that demand more and more of you as the project goes on – and not paying for it.
Clients who do not give you complete information and then complain that you didn't deliver what they asked for.
Clients who pay late.
To get an idea of what you should include in a contract, head over to my post Freelance Writing Jobs for Newbies: Writing a Crystal Clear Contract.
Ready to Start?
If you're ready, it's time to jump into the copywriting pool and land some amazing copywriting jobs from home!
There is money to be made writing online copy and I hope this guide helps you get started on the right foot to making an online income at home.
For more help, grab these essential copywriting books for beginners!
Now I want to hear from you! Have you tried copywriting? Let me know about your experiences in the comments!