Do you know how to write a pitch?
I know it can seem a bit tedious at times, but I tell my course students that knowing how to write a good pitch is the best way to quickly land consistent and decent paying jobs.
It's how I first got started with freelance writing.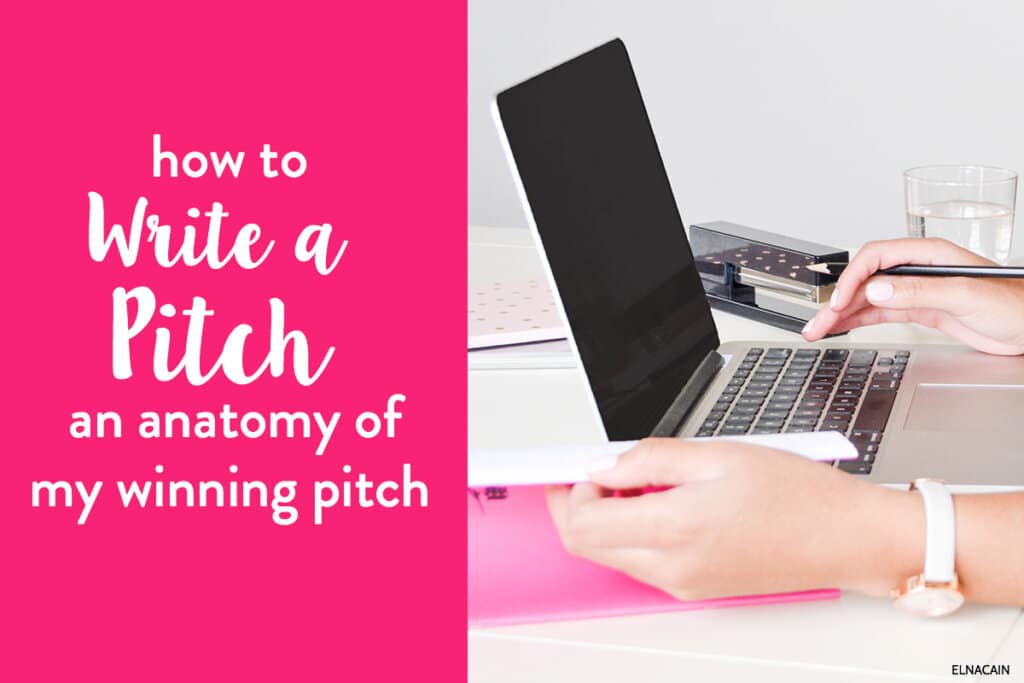 I had no experience how to write a pitch for an article and no clue where to look to pitch. I'm sure a lot of you feel this way, right? You go to the job boards, pitch your little heart out, and then hear nothing.
No email, phone call or tweet. And the worst part is? You have no idea if you could have gotten the gig if only your writing pitch was better.
A while back I wrote a post on my proven pitching process for new writers. In the post I included my first writing pitch ever.
Pitching was horrible. I had no idea how to pitch. It clearly showed how unqualified I was to even write a pitch, let alone land the gig!
But with any new skill, it takes practice to refine and improve how to write a pitch. And that's all pitching is, something to get better over time.
So, I wanted to look back at the email pitch examples that landed me my first legit freelance writing job. I want to see – in hindsight – what was it about this particular pitch to the editor that convinced a prospect to hire me?
By analyzing and dissecting my first win-pitch, maybe it can help you with writing your pitch and cut the time you waste sending ineffective writing pitches.
Because who has time, right? I'm a work-at-home mom with twin toddlers and a house to take care of, so if I can find a way to write more, pitch better or streamline my work, I'm all ears!
My Lead Up to The Writing a Pitch That Won the Gig
Before I landed my first real freelance writing gig I was doing a lot of things to build my presence online.
For any new freelance writer, you have to realize there are hundreds, probably thousands of content writers online. You need to find a way to stand out and get noticed!
So, to help me set myself apart from all the other freelance writers I:
Moved my profile from Guru – a freelance marketplace like Upwork – to my own self-hosted WordPress website
Worked on guest posting
Went to popular blogs and commented on them
Started a blog and wrote a post a week
On top of all this I was also learning where to pitch and how to write a pitch for an article.
I suspect I must have sent at least 40 or 50 pitches before I landed my first freelance writing job. So, if you've been sending writing pitch after writing pitch, don't feel like you must be the only writer sending dozens and dozens of failed writing pitches.
I did the same thing!
How to Write a Pitch
Out of nowhere I get an email from the content marketer of an online automobile newspaper saying they wanted to set up a phone interview.
Uh, come again?
They read MY writing pitch and were interested in getting to know me more? I was floored. Here I was feeding my twins dinner and I get a response to one of my pitch emails.
Want to see the pitch that wowed these prospects? Learn how to write a pitch right here.
Pitch Letter Examples
Below is a sample pitch letter. This is the first pitch that helped me land my first legit writing job.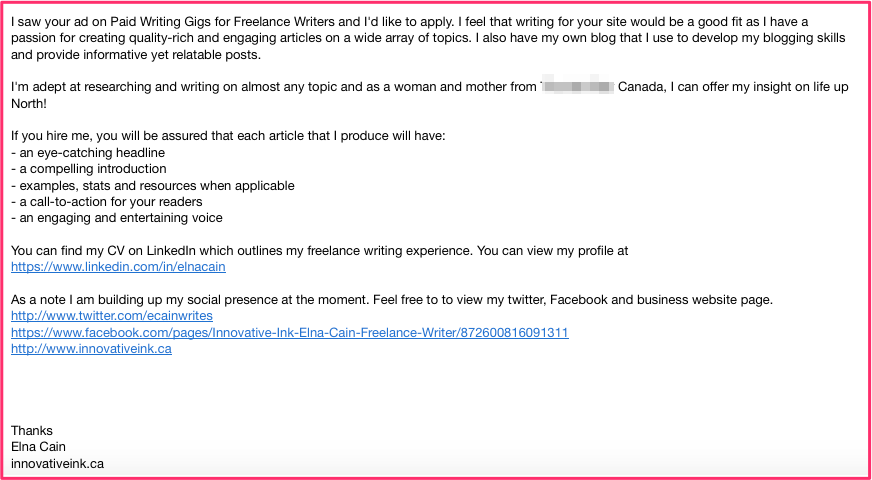 It's hard for me to believe that this article pitch email landed me the gig, but it did! I sent this writing pitch without:
Any experience
Relevant samples. The samples I sent were PDF's and not related to the niche topic
A clear niche
And you know what this means? If you are brand new without any freelance writing experience or with a portfolio or niche it is possible to land a gig!
So, let's break this writing pitch down and see what I did well and what I feel was the defining feature of my pitch that interested these prospects the most.
The Anatomy Of How I Landed My First Freelance Writing Job
Let's go over the positive things I did in this email that you can use this when you have to write a pitch.
1. I Had Some Blogging Skills
This job ad was for an auto enthusiast blogger. They were seeking a blogger with a social presence online.
I stated right off the bat that,
I also have my own blog that I use to develop my blogging skills and provide informative yet relatable topics.
It's not a strong sentence, but it showed the prospect that I was familiar with blogging. And if they went to my site and saw my blog they would clearly see I could write engaging blog posts.
2. I Clearly Showed What I Can Do For Their Blog
I wanted to express to a prospect what they will get if they hire me. Since prospects are seeking a writer, I wanted them to see the value I provided with each blog post I submitted.
In the middle of my writing pitch I included a bullet list of blog elements that I would provide.
If you hire me, you will be assured that each article I produce will have:

an eye-catching headline
a compelling introduction
examples, stats, and resources when applicable
a call-to-action for your readers
an engaging and entertaining voice
This bullet list was a new feature I added to my writing pitch and it proved to be a winner. In fact, I still use elements of this bullet list in my current pitches.
3. I Padded My Inexperience
You'll notice in my freelance pitch I give a link to my CV on LinkedIn. I explain that if you click on this link you'll see my freelance writing experience:
You can find my CV on LinkedIn which outlines my freelance writing experience. You can view my profile at…
Even though I had no experience I still provided a link to my bare LinkedIn profile. But my lack of experience was all padded by having the prospect click on a link to verify my experience (extra work for the prospect).
Maybe for this prospect the act of just having that link and saying that it will outline my experience was enough.
But, was that it?
Was that all it took to land the gig? I don't think so. The elements I highlighted aren't unique to me. Any writer could have said these exact same things.
So, what was it?
How I Turned My Pitch Into a Winning Writing Pitch
After looking at the email pitch examples I realized I mentioned one thing that probably alerted this online automobile newspaper that I was the writer for them.
It was,
[A]nd as a woman and mother from (hometown) Canada, I can offer my insight on life up North!
The job ad wanted a woman blogger from Canada. While this is a broad requirement, they either didn't have many women bloggers from Canada apply or it was my location – and that I am a mother – that piqued their interest.
In either case, I was able to squeeze past other applicants and win the gig.
So, how can you do the same when you write a pitch for the first time? When you analyze a job ad, find ways you can personally relate to it.
For example, maybe there's a job ad from a new start-up in the productivity app industry. You can offer insight as:
a work-at-home busy mom
Millennial student/parent
project manager with a small team to overview
You can also relate to the job ad by location – maybe you live in the same city or state and can offer a unique colloquialism, fact or joke.
Here are article pitch examples I sent that were light-hearted article pitch examples after the job ad specifically said to use the word, "woodchuck" in the email subject line.

This quirky intro caught the eye of the prospect and I got a response.
It's these relatable things you can inject in your pitch that can often help new freelance writers get noticed and get hired.
How to Write a Pitch That Lands the Gig!
There are many ways to land a freelance writing job. Using job boards is just one of them. I started off my freelance writing career relying on job boards to land clients and it's proven to be a successful avenue.
And if you're new to freelance writing just know it is possible to land that gig without experience.
Over to you – how did you land your first freelance writing job?
Please pin me 🙂