For many new freelance writers, landing a client and earning consistent pay is a top priority (even for seasoned writers too!).
The life of a freelance writer isn't always predictable and to make it longer than 6 months freelancing, you need to have a solid plan to earn more writing.
Sometimes that can mean re-evaluating your pitching process and coming up with better way to pitch.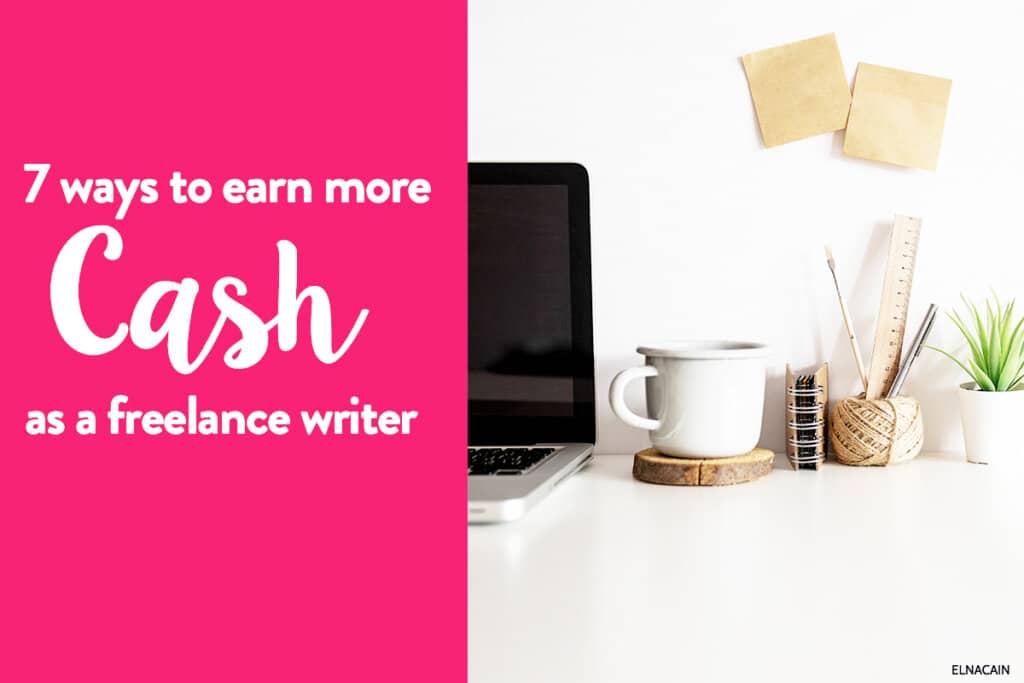 Or, it can mean honing in on a writing niche and practice writing in it and learning about it at every chance you've got.
But, did you know there are many ways to make money as a freelance writer? You don't only have to write on blogs or write articles for magazines.
Being an online writer has the advantage of endless opportunities. Let's explore 7 ways you can earn more writing as a freelance writer.
1. Become an Author
Did you know you can be a freelance writer and fiction writer? Both Lorraine Reguly and Alicia Rades are freelance writers and authors.
If you have a juicy story in the back of your mind, let it out! It's easy nowadays to self-publish your work and get your written word on Amazon.
What's great about becoming an author is the ability to work on a team. You can form a group of beta readers to go through your material and help you with any plot holes or weak storylines, hire an editor to proofread your work and a bring on a graphic designer to design your book cover.
Writing your own fiction novel will take you some time, but it's a nice break from your nonfiction writing and it fuels your creativeness and will make you a better writer overall.
Plus it's a great side hustle to earn more writing while you do some freelance writing.
2. Offer Social Media Posting
Many entrepreneurs and solopreneurs need help scheduling social media posts and managing social media accounts. It's not unusual for freelance writers to offer this service since this is a big part of our business.
If you are on most of the big social media platforms and know how to tailor your content for each platform, it shouldn't be hard to include this in your service list.
Some tools of the trade: Hootsuite and Buffer.
3. Sell a Product
Do you dream of the passive income life? Earning a living from your blog isn't a pipe dream anymore. Passive products are still the rage online.
Informational products – that help you achieve a goal or learn a new skill – are an easy way to earn a profit. If you are succeeding in a niche and have developed a following, you can sell a product.
But, maybe you're thinking, well I can just find anything online.
True. But it will cost you a lot of time to find all the right information and you won't know if what you read is legit.
People often want to learn the exact steps of how others succeeded before them. So, providing a product like an eBook or eCourse that has all the information in one place is very desirable for people.
4. Bundle Your Services
Sometimes bundling your services can look more attractive to prospective clients. And this also means you can charge a little more.
For example, many clients want more than just a blog post. They also want you to upload it to their backend in WordPress, add an optimized feature image and fill out the Yoast SEO description too.
Suddenly, your $100 blog post becomes $120. And if this is a recurring blogging gig, you can bundle your posts – offering a discount for the client.
Or, you can offer service packages with a flat rate. For example, 4 blog posts, 4 feature images, 4 meta descriptions for $350. It might be less money if you break it down, but doing this ensures you will have consistent work and the client doesn't have to worry about what you provide (since it will be the same each time).
5. Learn to Copywrite
You can make more as a copywriter than you would as a freelance writer.
Since businesses need copy that sells, they need a writer that can write copy that converts.
Most freelance writers have some experience with copywriting since blog writing can be a form of copywriting if the end goal is to sell a product/service or increase a client's subscriber list.
You also have copy on your writer website and if you start having inbound inquiries for your services, then you know your website copy is converting.
I recently landed my first copywriting client and loved the entire experience. Writing web copy is my thing!
And what's great is that short copy projects also pay big bucks and don't take much time either!
6. Find a High-Paying Niche
Sometimes the niche you have doesn't really pay well.
It's not because your writing sucks. It's just the industry has a low cap.
For example, the lifestyle space – relationships, parenting, beauty – is often low-paying with a low cap.
If you're stuck in the $.05/word range, you may consider looking into a higher-paying niche. Usually the digital marketing, technology, business and finance spaces offer more money and have a higher cap.
7. Change Your Mindset
You're a freelance writer, but you don't feel like one. No one has paid you for your writing or you can't break out of the $10 articles.
Sometimes your mind is what's holding you back from truly succeeding at freelance writing. Having doubt and fear control your business can really hurt any progress or growth.
When you know you're worth more, you'll earn more. Changing your mindset can be the toughest thing for many freelance writers.
What can help is having a coach close at hand and confidence that you have the knowledge and skill set to be a sought after freelance writer.
How Do I Make My First $1,000 As a Content Writer?
The steps to making extra money for writing is different and fluid.
My story is different from other freelance writers.
My suggestion though, is to make your first $1,000 as a content writer is to establish a solid writing niche and pitching strategy.
You can even earn more writing from a my course Writeto1k.com!
How Do Freelance Writers Get Paid?
You might be wondering after looking at all the ways to earn more money how exactly do freelance writers get paid?
I get paid through Pay Pal.
I send an invoice to my client and give them my Pay Pal address and they pay me that way.
I also get paid via Upwork.
GoDaddy pays their writers using Upwork so this is a new way to getting paid for freelance writing. The process to get paid is lengthly but worth it in the end.
Some writers are paid through Stripe or by direct deposit (i.e. local writing jobs).
Take Action
Ever heard, the world is your oyster? Well, it is! As a freelance writer you have the potential to be a webpreneur – an online entrepreneur.
Offer services, sell products, and network with influencers! You might learn you enjoy diversifying your income and finding ways to grow your business.
But, it all starts with taking action. So what are you waiting for?