I pride myself in my service as a freelance writer.
I ultimately know that I am more than just a writer to my clients.
But, how did this happen and how come I'm telling you that you should strive to be more than just a freelance writer to your clients?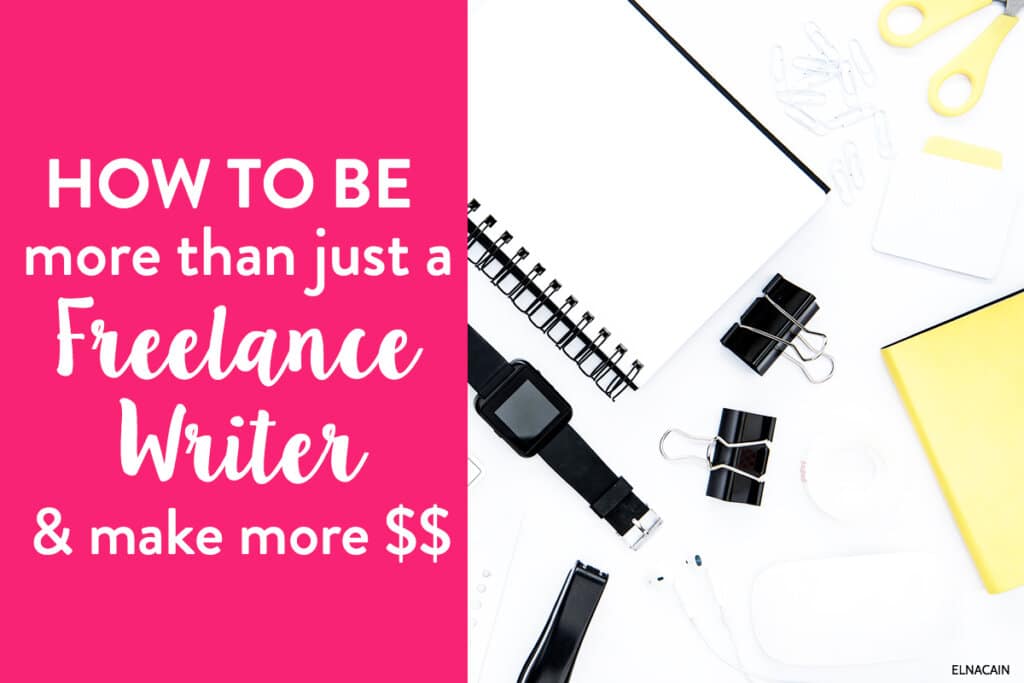 My Message to Freelance Writers
I get it –
For many of you, this is no more than a couple of paid gigs to get you through the month.
You don't identify yourself as a freelance writer.
But, there's a lot of us that do! And after doing this for many years, I've come to realize that I have a message for new freelance writers:
The best freelance writers aren't perfect writers; they are collaborators that help clients succeed
When I pick up a new freelance writing job, I communicate with my clients as if this is a collaborative project, instead of a project that was given to me.
I show myself as the professional and expert in my niche to my clients.
Of course, this is contingent on what type of client I pick up.
I recently picked up a gig with a very well-known brand, and because this was new to me (working with big brands), I had to step back to learn the formalities of this project.
But, for most of my small business clients, I work with the idea of being more than a writer, and I want you to do the same.
I want new freelance writers to be the go-to writer for their clients. How do you do this?
How to Be More Than Just a Writer
Picture this scene –
A business owner of an essential oil product found your writer website and contacted you for some weekly blog posts on health and essential oil education.
You are a natural health writer, and this is right up your alley. You negotiate a rate, and everyone is happy, and you offer some blog post ideas to get the ball rolling.
The client is very appreciative of this, but has his own content plan and assigns you the first blog post idea with some guidelines.
You get to it and submit your piece a day early. The client reads it, approves and gives you more work.
You're a little unsure if the client really liked your writing, but you move on and keep writing.
Some time passes, and you check your email and find one from a potential client. You learn that this lead was a referral from your essential oil client. The email said that your client praised you heavily and mentioned what a great freelance writer you are.
You are shocked by this but are excited about the new opportunity that awaits.
This story is common with freelance writers that position themselves as more than just a writer.
Here are four ways you can start showing yourself as the go-to writer in your industry.
1. Show Confidence (Even If You Don't Feel Confident)
It's so important in this online world to almost fake it until you make it.
Simply allowing yourself to say yes and show up to opportunities can change your life as an online writer. It has for me!
I had to squash any imposter syndrome I was feeling – I get this a lot – and trust that my writing is valuable and that businesses want my writing.
But, I know that you may have fears about your writing, and let me tell you right now – you're going to have to work on being more confident.
You do this by:
When I started this blog, my first blog post was about the keys to content or something like that. I was absorbing everything about content and so I wrote a blog post.
No one read it. I didn't share it.
But, I was practicing to write for an online reader.
And, when you do these things you will gain some confidence, but even if you don't – fake it!
The first time I got a lead to write about WordPress, I freaked out but said yes. Why? Because I wanted to expand my writing portfolio.
And any topic I would write about can be found using Google.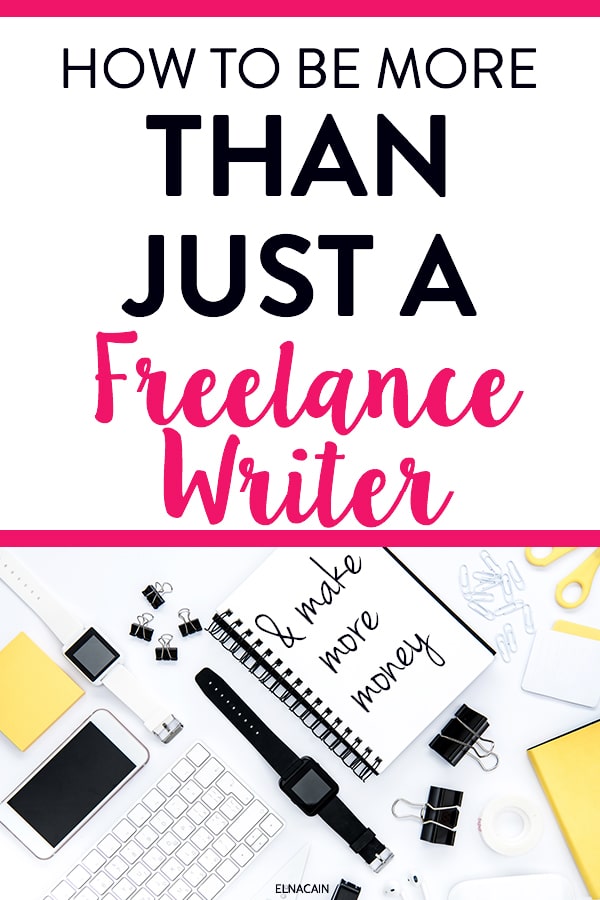 2. Build Up Your Social Proof
Sometimes when others tell you how great your writing service was, it can help you be more confident in your ability.
And this is the same for potential clients. Potential clients need that assurance and valid proof that your writing is good enough for others.
Sometimes, having a good testimonial page with proof of your writing ability can instill FOMO in potential clients.
They don't want to miss out on your sweet writing skills!
You can easily start building up social proof by doing small projects in exchange for a testimonial. For me, I had other freelance writers create a testimonial for me when I helped them out with certain things!
3. Offer More Than One Service
Realistically, to be more than just a writer, you need to offer more than just writing!
When I first started, I did just that. At one point, I offered:
Social media marketing
eBook cover design
Pin graphic design
Editing
For you, you can offer infographic services or create pull quotes for clients. You can advertise to your client that these can make their content "pop" and more sharable.
The point is to stand out and have more in your arsenal.
Now – I should have prefaced this subheading with:
Don't be a jack of all trades
I've seen a lot of new freelance writers make this mistake on their writer website. They think if they offer a ton of different services, surely they'll get regular work.
But this isn't accurate.
Business owners really value a writer that knows their niche. So, if you primarily write newsletters for email marketing, then stick to that. Or if it's blog writing like me, stick to that.
I don't write emails for clients or write white papers. I stick to blog writing or article writing, and that's that.
So, even though I mentioned previously to offer more than just writing, the services you offer should compliment your writing. These are like "add-ons" to your service, instead of being entirely different services (like speech writing or brochure writing).
4. Be Professional
I'm surprised by the stories I hear in Facebook groups of how unprofessional writers can be. I don't mean cursing or shedding a negative light towards the industry – I'm talking about discussions about client work.
For example, some writers strongly feel that they don't need to format their client blog posts for WordPress – that it's not necessary.
I know for a fact that doing this simple – yet, effective – task will totally stand out in your client's eyes. If you don't already know, if you write your client piece in Google docs, when a client gets your piece and uploads it to their WordPress backend, it will be formatted wrong.

For starters, there are huge gaps in the content that need to be fixed (time out of your client's schedule or whoever they hired to edit the piece).
As well, many freelance writers don't use headings for their subheadings. Instead, they just increase the font size and bold it. This isn't correct for blog writing.
You need to use Headings.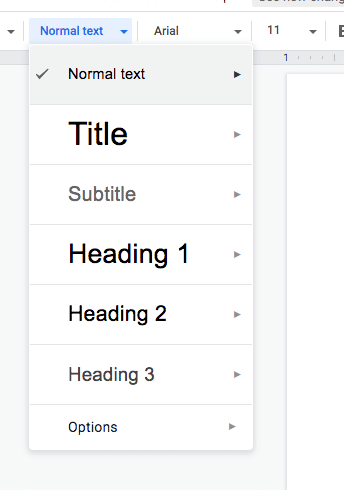 And those are just a few of the formatting mistakes I often see (that's why I spend time in my freelance writing course teaching new writers the proper way to format their post).
Your client will have to spend a few minutes formatting their post. What if they have a team of 10 writers with 5 new blog posts a day? This can be 20 or 30 minutes of just formatting your content.
Now, imagine they receive your post completely formatted the right way, and they don't have to touch it? Do you think that wouldn't stand out?
But, I often hear discussions in Facebook groups about how this isn't necessary. Maybe I'm old school, or perhaps business owners don't know this or care. Could be. I only work with digital marketing businesses, and I know for a fact they know about these formatting issues.
Other ways to show professionalism:
Reply to your client's emails promptly (if possible)
Turn in your work before the deadline
Don't ghost your client – be available
You Can Be More Than Just A Writer
Once you can prove to clients that you are more than just a writer, you'll start attracting higher-paying clients.
You'll also be more confident, and that will show in your sample pieces in your writing portfolio.
And all of this means you can charge more for your services. You've validated your value and proven your expert knowledge AND clients are talking about you with other business owners!
Win-win!
Over to you – are you more than just a writer? Tell me in the comments what you are doing to show this!