If you're a new freelance writer, I'm sure you've heard the phrase, "B2B writing" or "B2C writing."
What is the B2B meaning? What is the B2C meaning and do you start business writing?
In the world of freelance writing, there are many niches you can choose from, but not all of them will be profitable.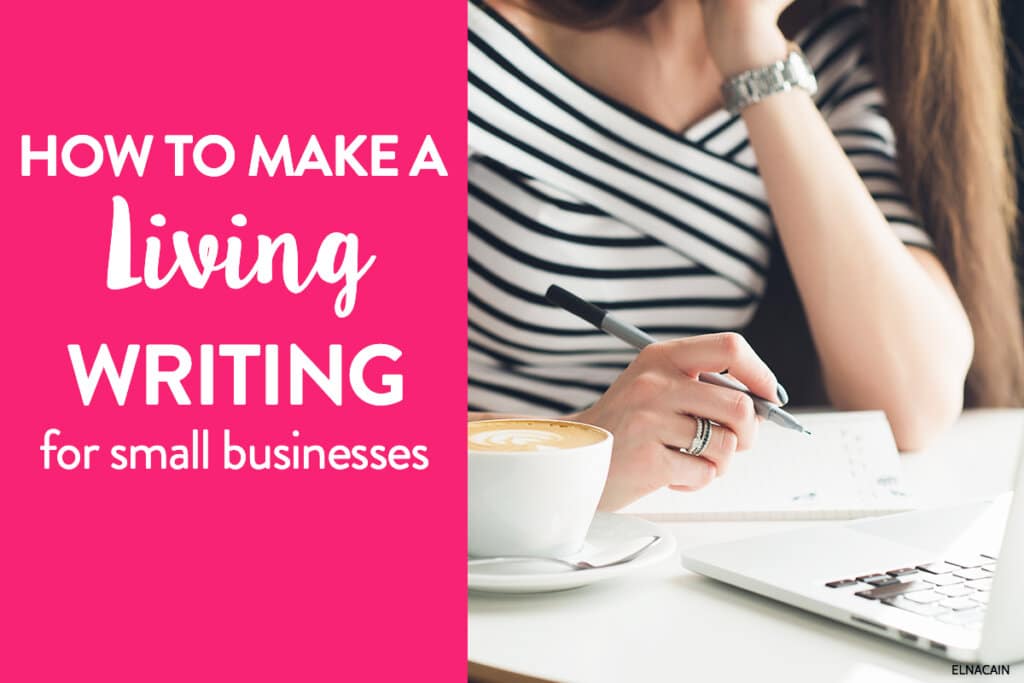 I just happened to fall into the B2B marketing space naturally. I never gave it much thought and never really looked at how I transitioned into this as a B2b freelance writer.
Before I get into what steps I took to make a living with business writing and learn the steps on how to be a B2B freelance writer, let's look at what B2B and B2C content really is.
What is the B2C Meaning for Writers?
The B2c meaning stands for, "business-to-consumer." When you write for a B2C client you are writing content to help their customers.
Typically these clients have a product and they want you to integrate their product message in their blog posts or content marketing strategy.
For example, Lowe's is a hardware store and their blog, Creative Ideas, helps their customers use their products in their home by providing ideas and DIY instructions – from other bloggers.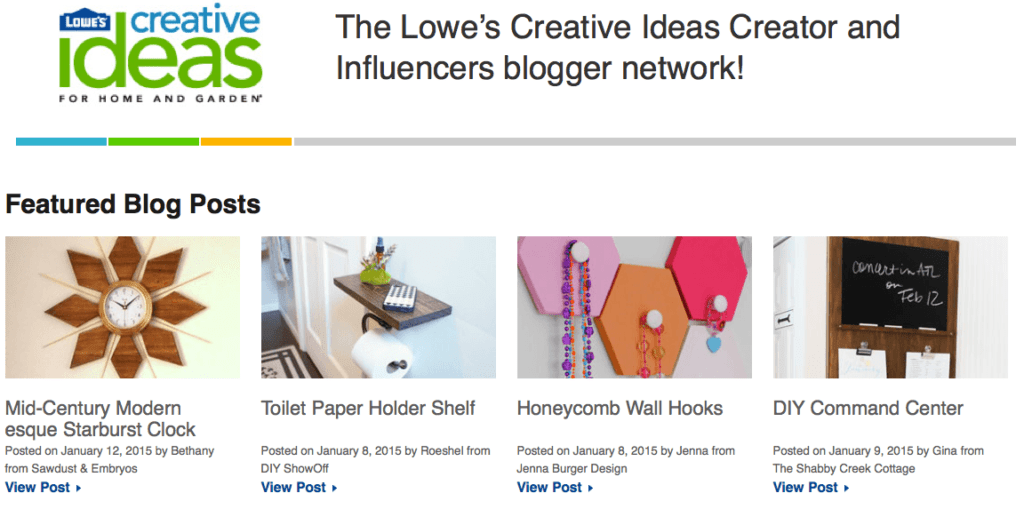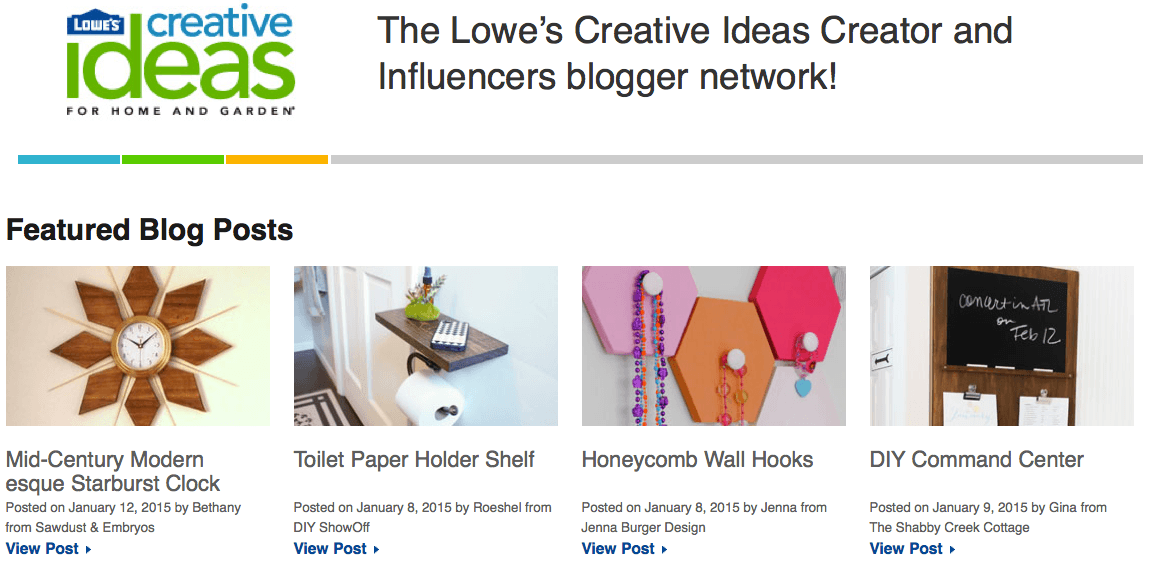 The Meal Prep is a food delivery service for busy people. I wrote for their blog last year and focused on content to help their would-be customers live a healthier life.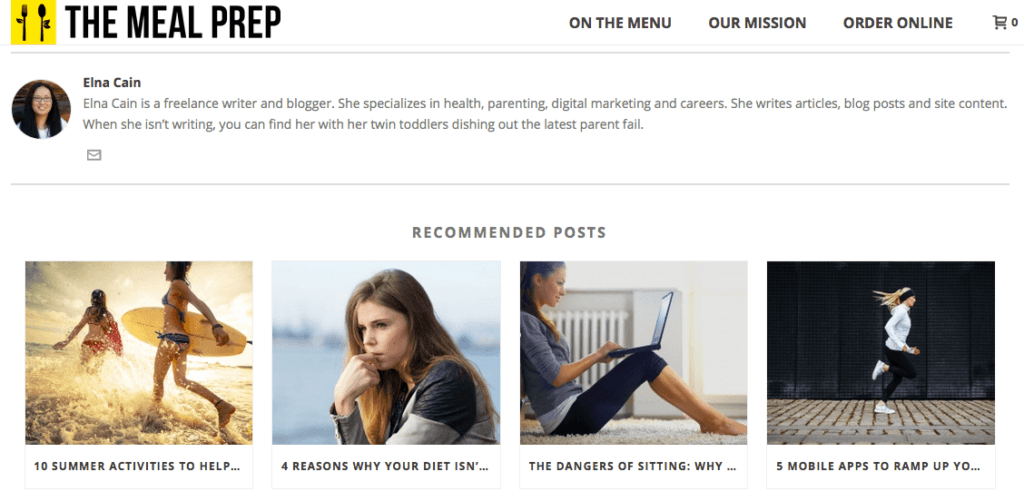 Typically writing for the B2C marketing space is funner to write for since you typically get to write list posts that are often shorter in length with topics that often interest you (since we are all consumers).
Is B2C lucrative? Yes and no. Depending on the client, you may find that an average 500 word post can run anywhere from $25 up to $100 or more ($1 per word). I've had a few B2C clients – with one still active – and it's a treat for me to write for these clients.
To make money in the B2C niche you need to align yourself with big brands. Recently I became a writer for Walmart in the B2C niche.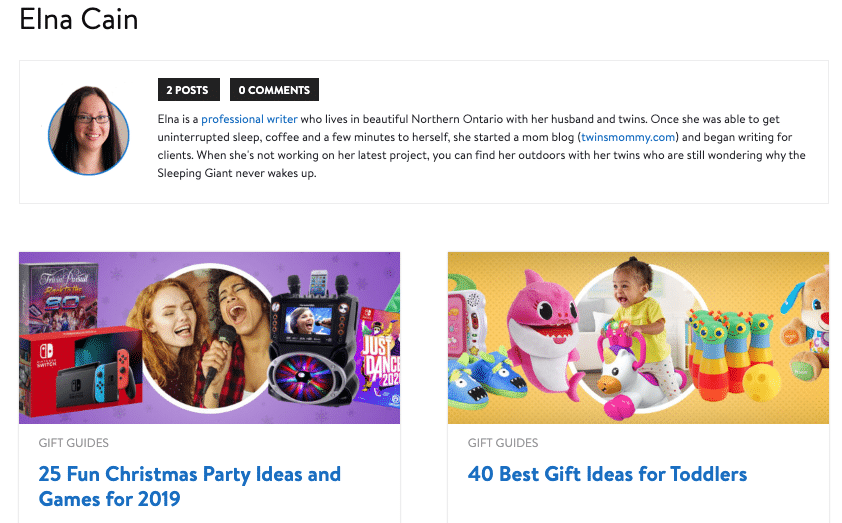 I'm fine with that since these posts are super easy to write, takes me an hour or less to whip up a 500 word post, and the client is a great client.
What is the B2B Meaning for Writers?
B2B stands for "business-to-business." When you write for a B2B client you are writing content to help other businesses. This is business writing.
This could be any business such as businesses in the education space, farming space, retail space, cyber security space, etc.
As a digital marketing SaaS writer I write B2B content for entrepreneurs, marketers or small businesses.
You might be writing about:
The latest trends
Systems and processes
Tools of the trade
Tips to help others in their business
Typically, as a B2B writer, you write blog posts, white papers or case studies that will not only be read by other bloggers, but also marketers and small business owners.
For example, my post on OptinMonster, speaks to the solopreneur or marketer.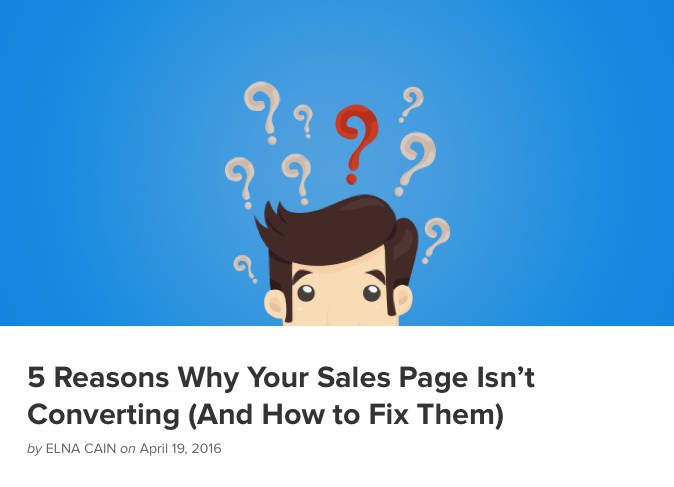 Some people think B2B marketing writing is highly technical, statistical and analytical. And, sure, some B2B content writing jobs are dry and more academic, but more and more online business know the power of engaging copy.
For example, GoDaddy is a web hosting company and they have a blog called the Garage.
But their posts aren't strictly about web hosting or domain registration (boring!).
They know the power of engagement and are tailoring their content to attract a broad audience of business owners, bloggers and freelancers.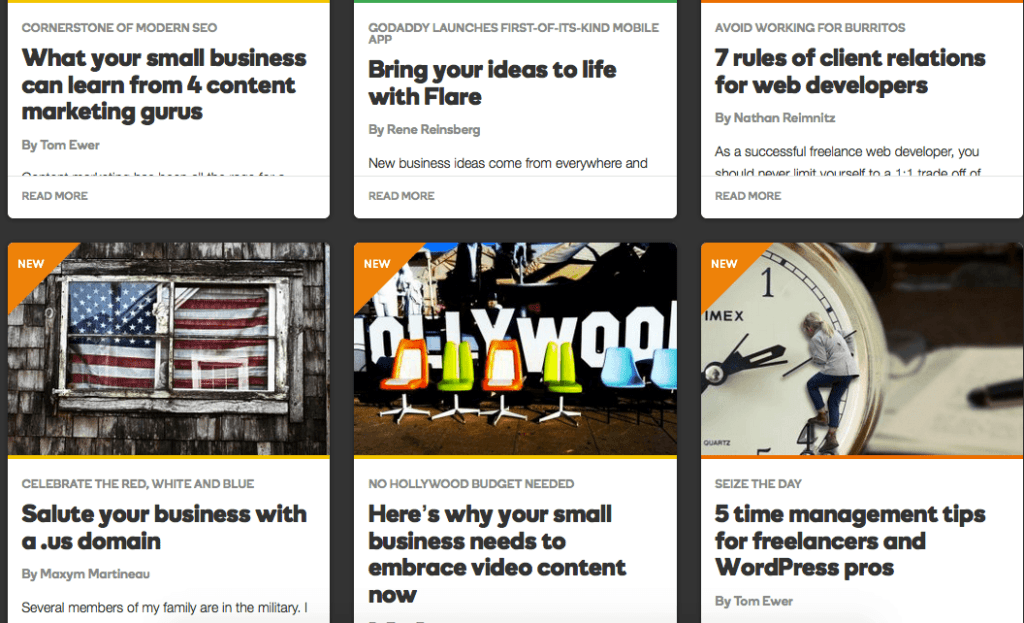 Is B2B writing profitable? You bet!
This is my primary niche and I average around $600 a post or more depending on the requirements and length.
Breaking Into the Small Business Writing Niche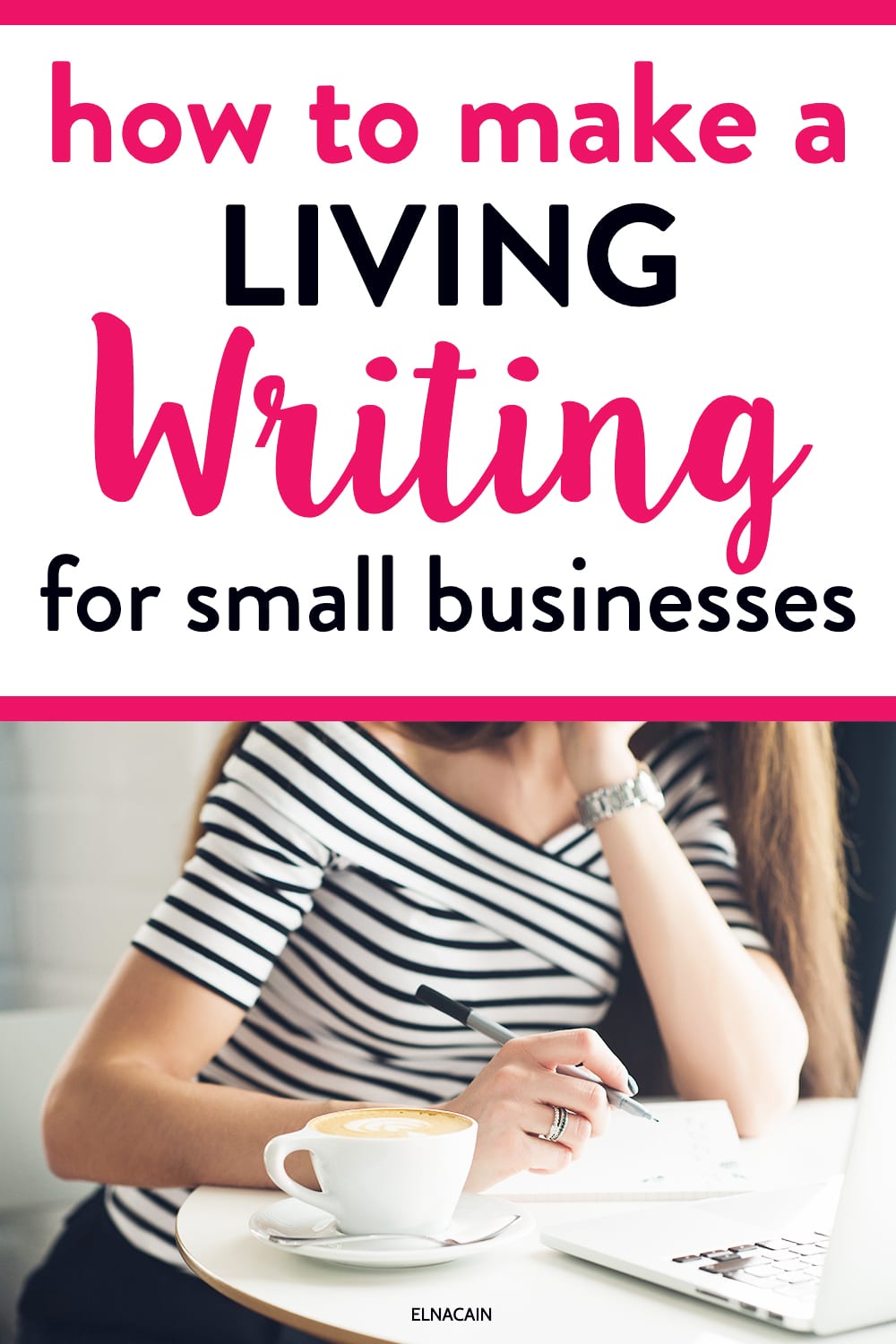 Are you interested in breaking into the business writing? If you are, here are the steps to take.
1. Know Your Audience (And How to Write for Them)
I mentioned this before, but the primary audience for the digital marketing B2B space is small business owners, entrepreneurs, marketers and freelancers.
These people are looking for actionable tips to help them improve their business. They don't want to read industry jargon or convoluted ideas.
Around 50% of Americans read at an 8th grade level. I know, it's shocking, but it's generally true.
And the B2B content space is no different in the retail world or education world or SaaS world (software as a business).
Business writing in a more casual and engaging tone is preferred and helps make the content easier to consume.
However, don't mistake this conversational tone as using slang terms or incomplete sentences. It's a good idea to avoid phrases like "totally awesome" or "I'm so sure.."
But that's not to say a B2B clients wouldn't like that type of language. Look at Melyssa Griffin's posts. She's an entrepreneur and her content speaks to other entrepreneurs, yet she injects her youthful personality in her content and that's totally okay! 🙂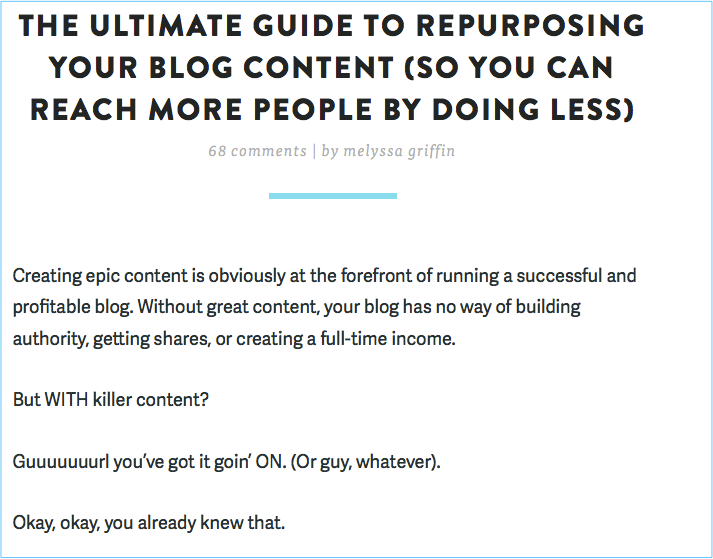 But, she's not a freelance writer and writing for other businesses. She's building her own platform and can write however she likes.
And that's where the distinction lies. You wouldn't write "Guuuuuuurl" in a client post. But, you might write, "killer content" instead.
Of course, it all depends on the client and their brand.
Kapeesh?
2. Your Business Writing Must be Fact-Based
It goes without saying that most, if not all, of your clients want you to back up your claims. This is even more important in the B2B industry.
I write mostly in the digital marketing niche and I have to make sure my writing links to relevant and popular content. This helps the client with ranking and builds trust with the search engines.
Some tips for finding relevant links:
Use the same reference links in a popular post similar to your topic. For example, if your client piece is on how to find trustworthy employees and you find a post on Monster.com, see what links they have on their site and use those in your post.
Use recent sources from the last two years. Anything older and it's probably outdated.
Link to sources that are popular and that you know. For example, for digital marketing content I often link to Hubspot, Kissmetrics and sometimes SEJ.
Use industry reports and journal articles to make your content more credible and valuable.
So, what does this look like?
Here's a sample from a post I did on Blogging Wizard on using Pinterest to drive traffic to your site.

There are 6 links in that bullet list!
Clients like when you use relevant statistics and back it up.
3. Learn to Take Screenshots (And Optimize them Correctly)
One important skill to have as a freelance writer in general is how to take screenshots. This helps show your points better in your post and helps break up the post making it more engaging and easier to read.
I find that I use screenshots to visually show what I'm writing about. It could be a product, a tool, a landing page or lead magnet.
For example, in my Sendlane post on sales funnels, I took a screen shot of Haute Chocolate's lead magnet.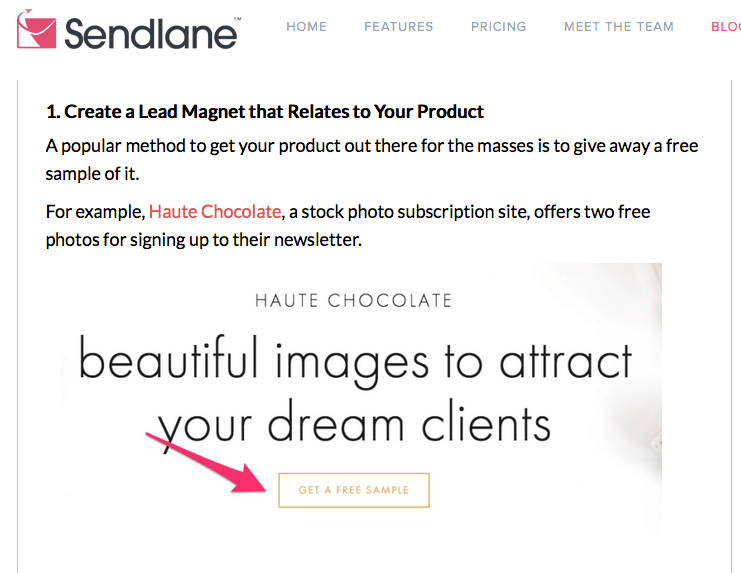 Another thing to do is to optimize your screenshot images. This shrinks the image size, but doesn't affect the quality of the image.
I have one entire lesson and two enhanced video training videos in my course, Write Your Way to Your First $1k, that gives a break down on how to take screenshots, annotate them and optimize them appropriately.
Having this skill in your back pocket will help you land better clients because it shows you know how to use online tools and understand how to write an awesome blog post.
4. Stay Up to Date on Industry News
To make sure you are providing the best tips and resources for your client pieces, it's always a good idea to read up on the latest industry news.
This might mean following certain blogs or entrepreneurs. For me, I follow a lot of blogs and people, but have recently started following SEO leaders like Marie Haynes and other thought leaders.
These people not only help me in my own product business but also with providing content marketing strategies to help me with my client posts.
Once you've written a few B2B pieces, you will see which sites or entrepreneurs you gravitate towards. Before I started following those ladies, I was hooked on Derek Halpern of Social Triggers.
And for other sources you can use industry news reports. You can easily gather these reports with a Google search.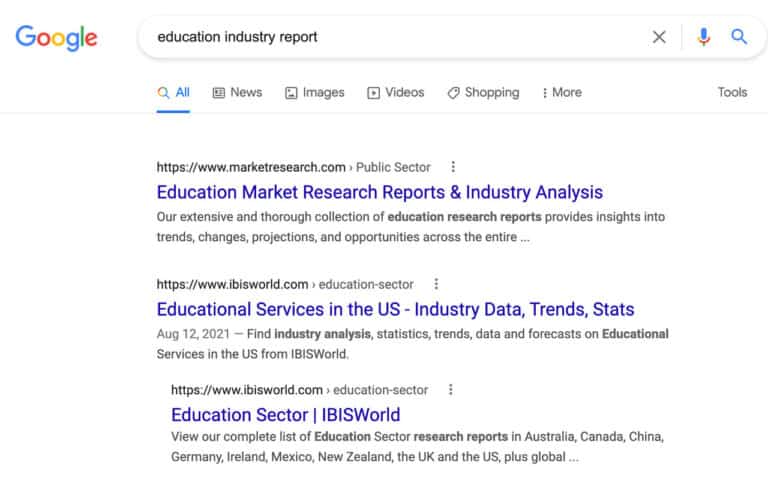 Once you find these sources, make sure to create a swipe file to keep these links.
You can easily make one using Google Sheets. I have two.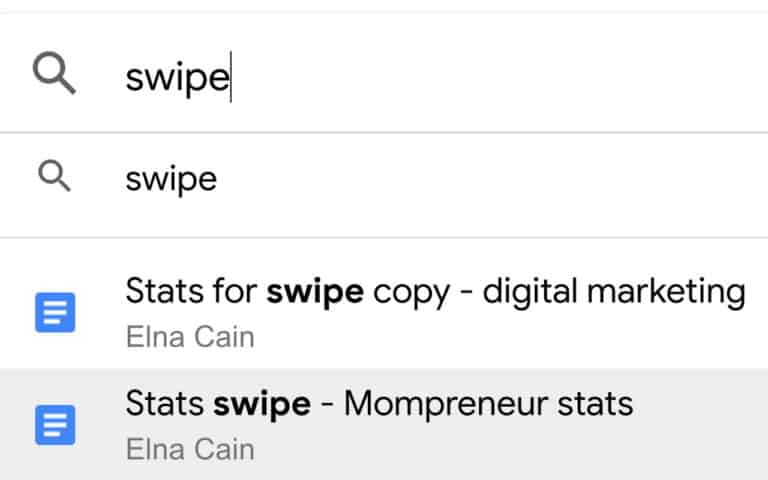 5. Be Comfortable with Long Form Writing
As a B2B freelance writer, you will be expected to pump out 2,000 or 3,000 word blog posts for clients.
These blog posts aren't fluff either. They are expertly written, concise and to the point.
My most recent client, Wordtune, the content marketer requires a high level of writing from his writers. He doesn't just want writing that tells, but actually shows.
He wants a break down approach with screenshots, bullet lists and insider knowledge.
This is what it means to be to do B2B freelance writing.
Can Anyone Write for Small Business as a B2B Writer?
B2B writing isn't for everyone, but B2C writing can be.
For business-to-business writing you need the knowledge and desire to write in this space. Certainly if you asked me almost two years ago to write a 1,000 word post on inbound marketing, I would probably pass.
For more help, check out what a content writer does and some content writing jobs to get started.
Learn in my video the difference between content writing and blog writing
But now? Bring it on!
I love writing so much in this niche that my freelance writing course is positioned to help other writers learn how to write for small businesses too.
Now it's your turn – have you thought about writing for B2B clients? If not, what's holding you back?