After all these years as a content writer, I'm still amazed at how many content writing jobs there are online. Especially for beginners!
Are you questioning where to find content writing jobs and online?
Do you feel stuck when considering all the competition of other freelance writers out there?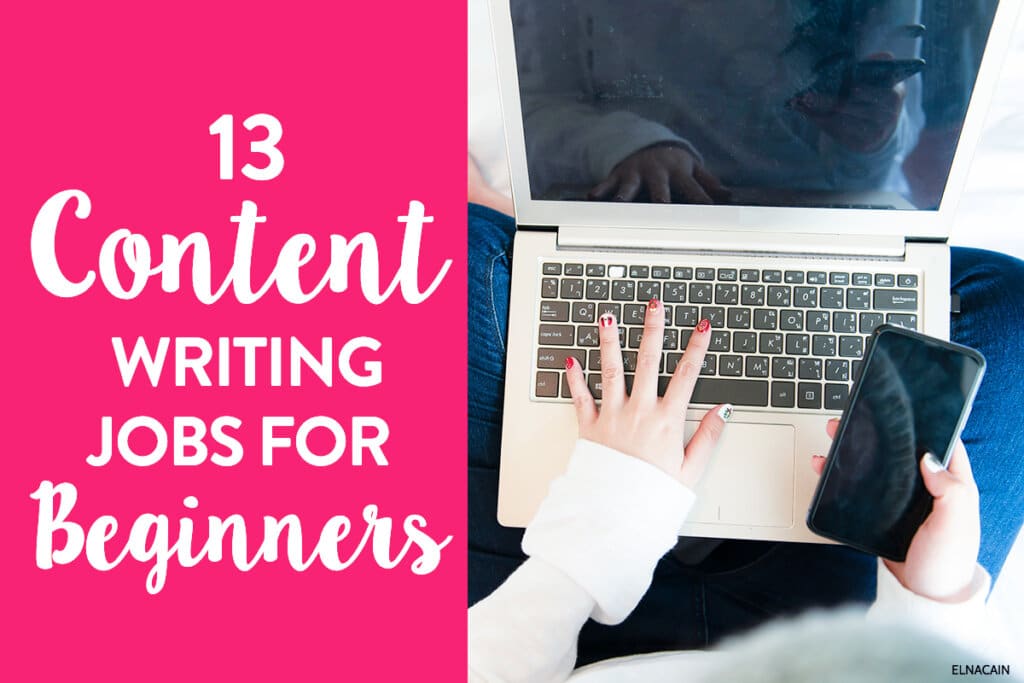 Here's the amazing truth.
The time to start out as a content writer has never been better!
There's an abundance of online writing jobs out there, you just have to jump in!
Like many aspiring content writers, I stood on the sidelines for a while too. A little too long perhaps!
I wanted to make sure that I knew enough before actually landing my first writing job. I didn't want to make a fool of myself!
What if my work wasn't up to their standards?
After going 'round in circles in my head, it finally hit me. I would never make any progress if I didn't start. I learned over time through experience with real freelance writing clients what it meant to write pieces that delivered results.
I also learned what it meant to build a content writing business and how to market and position myself effectively.
What I'm saying is…
You can totally do this too!
Whether you're sure you want to pursue content writing jobs as a career or you're just exploring it as a side hustle, there's enough writing work to go around. And if you're willing to hang in there, you'll see success!
Before we dive into where you can find content writing jobs, let's clarify one thing.
What is Content Writing?
Content writing is a valuable marketing strategy most businesses use today. And whether you've realized it or not, you interact with this type of content all the time. Probably even on a daily basis!
This spans from emails, blogs to E-books, video and podcast scripts, to white papers, all the way to social media posts.
Content writing is a long-term marketing method used to accomplish these objectives:
Build trust with potential buyers
Establish credibility in the marketplace
Spread knowledge and massive value to potential customers
This is known as attraction marketing. It's highly effective, and is what consumers prefer!
The content is strategic. It's a systematic way of providing relevant information potential buyers need to solve their problem.
For example, a holistic dental office would benefit from putting out content related to what their clients are already looking for online.
They might create a variety of blog posts about oral hygiene, or create a handy PDF checklist on what to look for when choosing a holistic dentist.
When potential clients find this information, they gain exposure to a brand they may never have known about. This begins to build trust. Repeat exposure increases the chance of that person becoming a future client.
With so many companies in a crowded market, people need brands to stand out in their mind. Content marketing is a way of getting consumers comfortable with a brand before asking them to buy.
Since consumers are more likely to buy from brands they recognize and trust, content marketing gives businesses a huge advantage, and is therefore worth the investment.
How to Become a Content Writer
While a degree or certificate may be slightly in your favor in some cases, it isn't a requirement.
Business owners and marketing teams are looking for content writers that have a proven track record for writing content that produces results.
That's what they're after!
But how will a beginner like you break in without experience. This is what I did to become a content writer in the B2b writing niche.
You haven't written for clients before so how do you start?
I teach this step by step in my Writeto1K course.
Every writer began somewhere. Here are the simple steps you can take to become a content writer:
Step 1: Find a Writing Niche
Choose a profitable niche. The truth is, some niches are more profitable than others. And while it's great to niche down, you don't want to choose one that you love writing about…but doesn't give you a high earning potential. To get started, choose from 17 of the best high paying niches in 2020!
Step 2: Create Writing Samples
Gather writing samples relevant to the niche you've chosen. There are several ways you can do this:
Used samples of content pieces you've written in the past (as long as they're relevant AND your best work).
Be creative! Create a content piece for one of your favorite brands. When you showcase it, just be clear that the brand was not your client.
Use your blog as a sample!
Showcase these samples to potential clients to be considered for paying work.
Step 3: Use Your Network
Tap into your network. It might seem a bit scary, but tell the people you already know exactly what you're doing.
There's an abundance of opportunities out there. Someone in your network may know someone that knows someone who's looking for a writer. Talking about what you do increases your chances of getting referrals and finding clients.
By the way, it's important to keep one thing in mind. Learning and growing as a content writer should be ongoing.
It's not a one time thing where, once you've put in the learning time, you can just sit back and rake in the cash for every content piece you write.
If you want to earn more than $25 per article, you have to make the investment in yourself so that you can deliver the highest level of quality and value to your client. Again, this translates to results for them!
Content Writing Jobs
Now for the good stuff! Here are 13 places online where you can find content writing jobs.
Disclaimer: I don't know how much each of these platforms pay writers. Each platform has different variables that may affect the fees that writers are paid.
1. Contently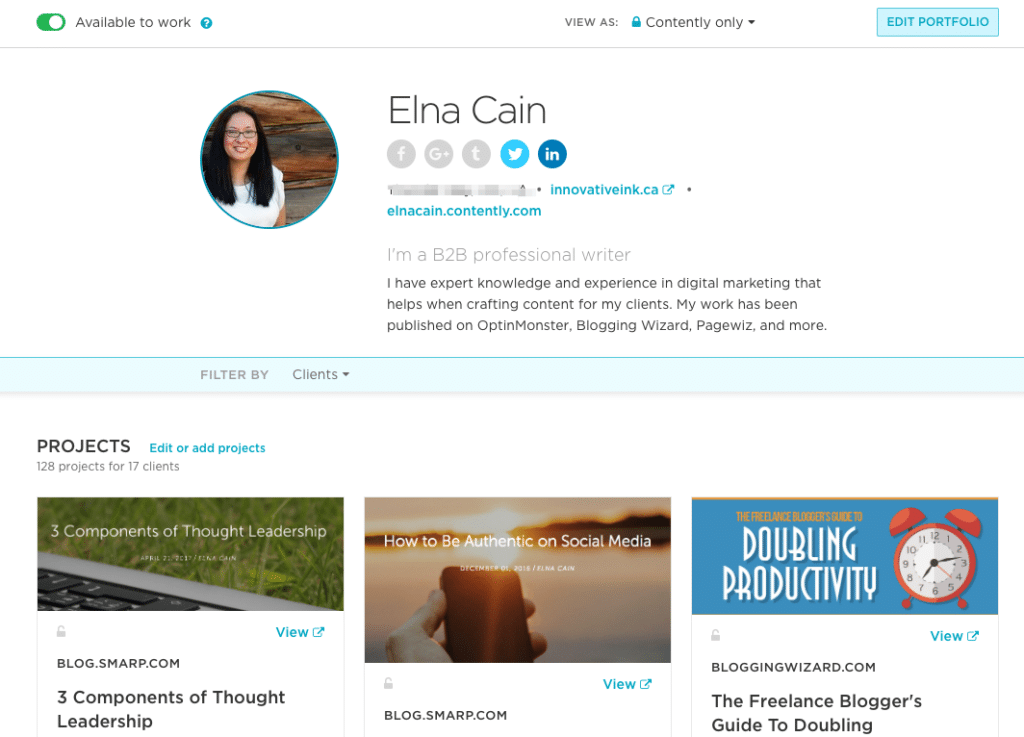 This platform was founded in 2010, and is well-known for working with high profile brands. Contently welcomes freelancers to create an account.
They are looking for writers with impressive samples who have potential to deliver excellent results for their clients.
Here are the steps to get your foot in the door:
Sign up for an account
Add your portfolio pieces
Get approved. The Contently team will review your work. After reviewing your portfolio, if they would like to add you to their pool of freelancers-you'll move on to step 4.
Complete training. Once approved, you'll receive a tutorial about working with the brand on the platform. Complete it, and you're in!
From what I can tell, there's no limit as to how many portfolio pieces you can add. So you have more than one shot at getting approved on this platform. Simply try again.
Just be sure to add only your best pieces.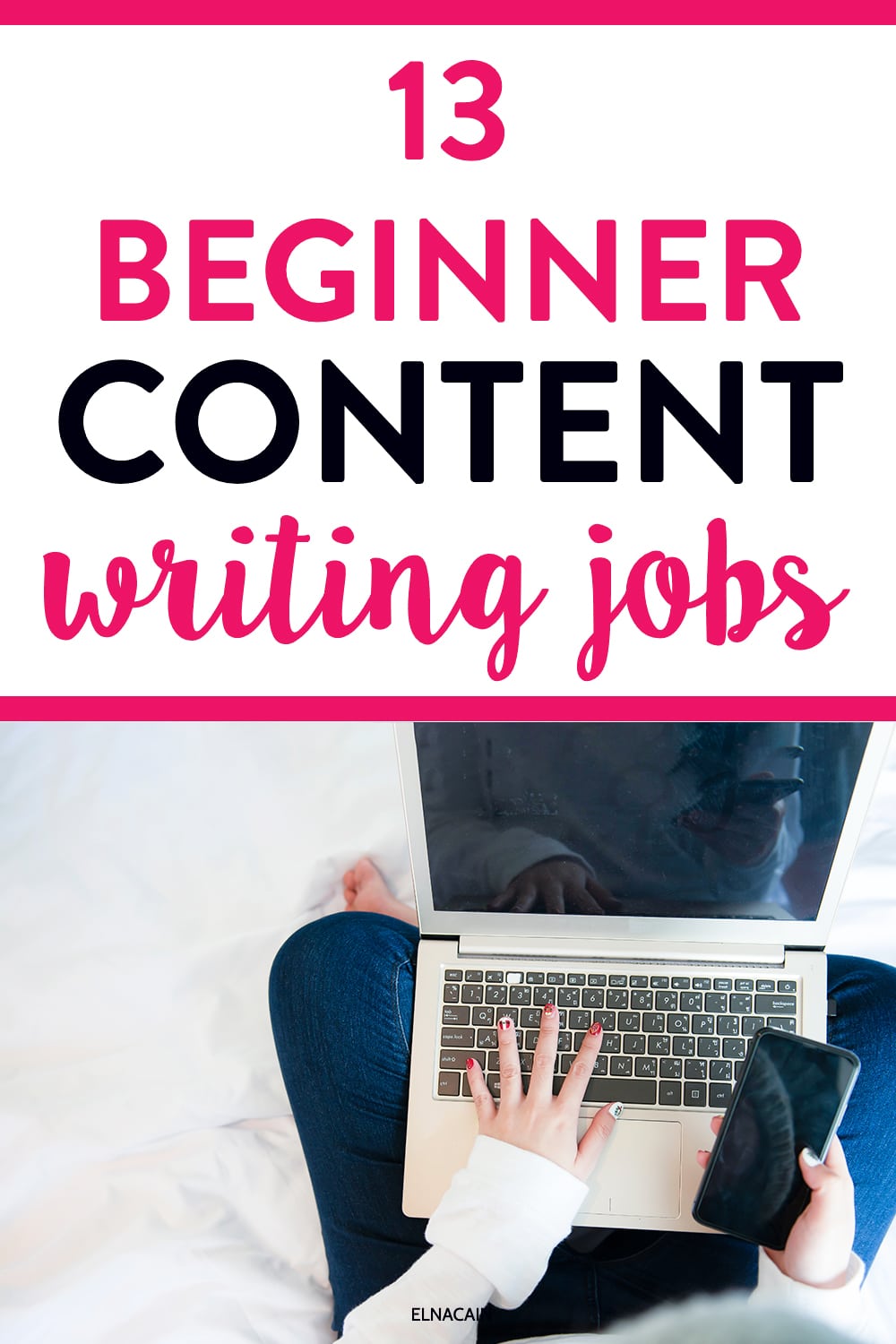 2. Writers Work
This platform has a paid membership of $47 for lifetime access to writing jobs. They have established partnerships with some of the leading writing companies on the web.
They say their process of searching for a job using their system is very simple. There's an easy set up, and a 30-day money-back guarantee.
3. Contena

Contena is a premium job board that posts thousands of content writing jobs for beginners and established writers.
What I like about Contena is that you can find the right type of content writing job for you by choosing a topic – Business, lifestyle, entertainment, etc. – and you can check out their leads list for companies that regularly hire content writers.
For more information about Contena, check out my Contena review.
4. ProBlogger
This is a popular platform that posts regular writing gigs in different industries. There's no requirement to "join" anything. In other words, their content writing jobs aren't gated.
All you have to do is head over to their website, browse their list of posted jobs, and find the one you want to apply to!
When applying you can either apply directly on their website, be given an email to apply or be redirected to the company's website to apply there.
You can use their search filter to search by your niche or the type of work you want to do.
5. Ed 2010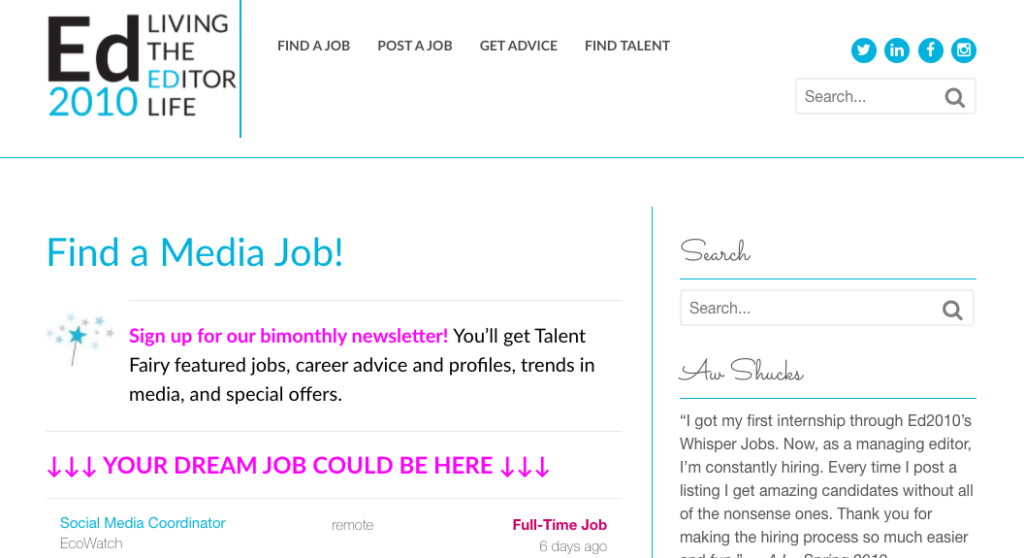 Ed2020 posts mainly writing, editing, and social media related jobs. Each job specifies whether the position is full-time, part-time temporary.
This site doesn't post tons of writing opportunities, but there are usually about 16-20 total postings at time.
Still worth checking out!
6. Crowd Content
Crowd Content welcomes freelancers from all levels. All you need to do is create your account. The application process is quick. Once your account has been approved, you can begin looking for work.
After completing a project, your client will approve it. Then you can get paid the following day!
Payments are handled directly through the platform, so you don't have to chase down clients to pay you (bonus!).
7. Cloud Peeps
Cloud Peeps currently only supports 25 countries where Stripe payments are supported.
You can browse the job listings to find client work as well as optimize your storefront to look attractive to potential clients.
You get to create your own service packages as well as your own prices. Writers at levels (including beginners!) are welcome.
8. Get Codeless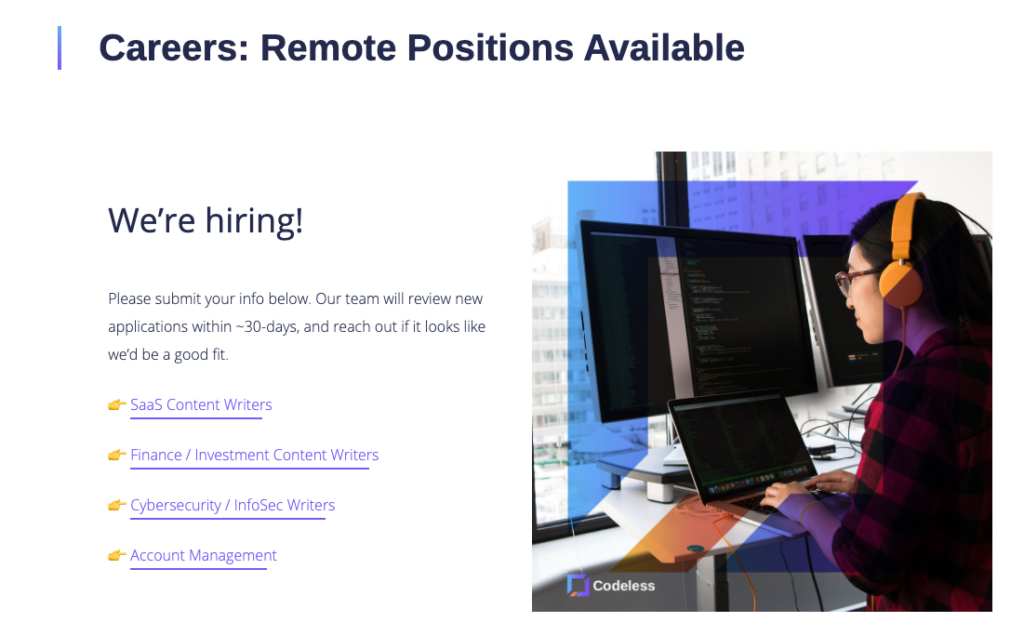 Make sure to hit Get Codeless real quick on your daily search for gigs.
Then fill out a formal application. Your application will be reviewed within 30 days. You'll be notified if your application was approved!
9. Skyword
Skyword is committed to connecting brands to the best writing talent, and is very similar to Contently. Their standards are high, but what do you have to lose?
To be considered, sign up for an account. Once you have an account, your sample pieces will be reviewed. You must get approval before you can begin working with clients.
Are you up for the challenge?! Getting approved means you'll have the chance to work with established brands. That will definitely make your portfolio sparkle.
10. Freelance My Way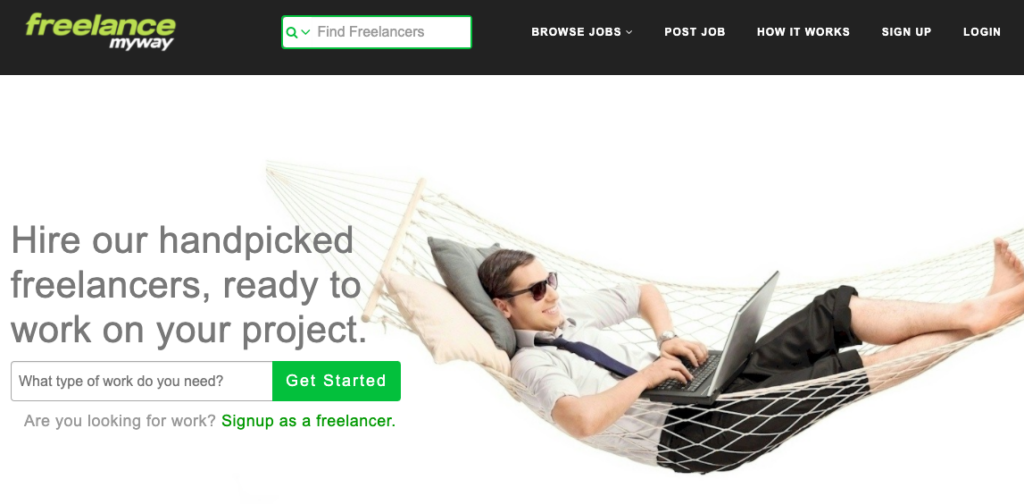 FreelanceMyWay is another place you can find work. Here's how it works:
Create your account
Browse the writing projects
Find the one you want and send a bid
You need to keep your profile fresh and build your rating because it makes your services more desirable on these platforms. It also helps potential clients to trust you.
11. Pay Desk
If you've been frustrated looking for content writing jobs from your country, there's good news! Pay Desk works with writers from all over the world!
Just sign up and create an account so you can begin looking for work.
12. Writology
Writology is a bidding-based platform. Once your bid has been accepted, you can go ahead and begin work with the client.
They have many different kinds of writing opportunities, projects, and the pay varies per project.
13. Remote.co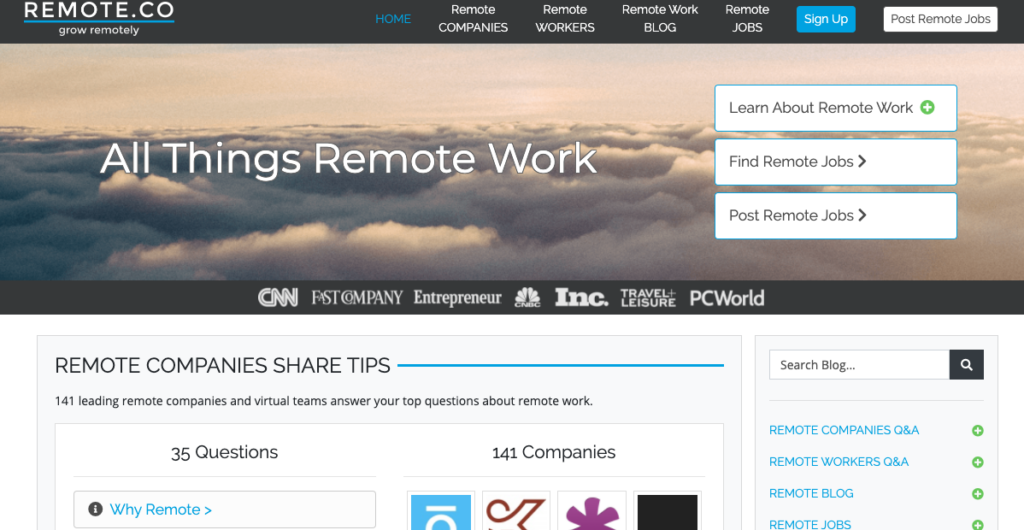 Here, you'll find a bunch of content writing listings from all types of industries (childcare, SAAS, technology, healthcare, etc). There's also a range of and types of remote writing jobs for you (grant writing, blogs, proposal, resume, etc.).
Some of the positions do not impose national restrictions, allowing you to work from anywhere in the world.
Find Content Writing Jobs as a Beginner
There you are! These 13 ways to find content writing jobs work well even for a beginner like yourself! I was there! And these are the steps I followed.
You just have to be consistent and build along the way. Ask every client for a testimonial. Add every new piece you write to your portfolio. And keep on going!
When I first started out as a writer, I would search for writing gigs online just about every morning and night. It wasn't long before I found work.
Landing clients increased my confidence in my ability to make replace my income and stay home with my twins.
You can too! Just believe you can and take consistent action each day that will get you clients and produce an income.
Over to you. Where are you struggling the most as a new content writer? Share with me in the comments below. I'd love to help.