You think it's super easy.
I mean, all you have to do is write something about yourself and put it on your About page. Out of all the pages you have to write for your writer website, this should be no problem.
Well, if you're a freelance writer wanting to score some writing gigs, you are making a classic rookie mistake when it comes to your website copy.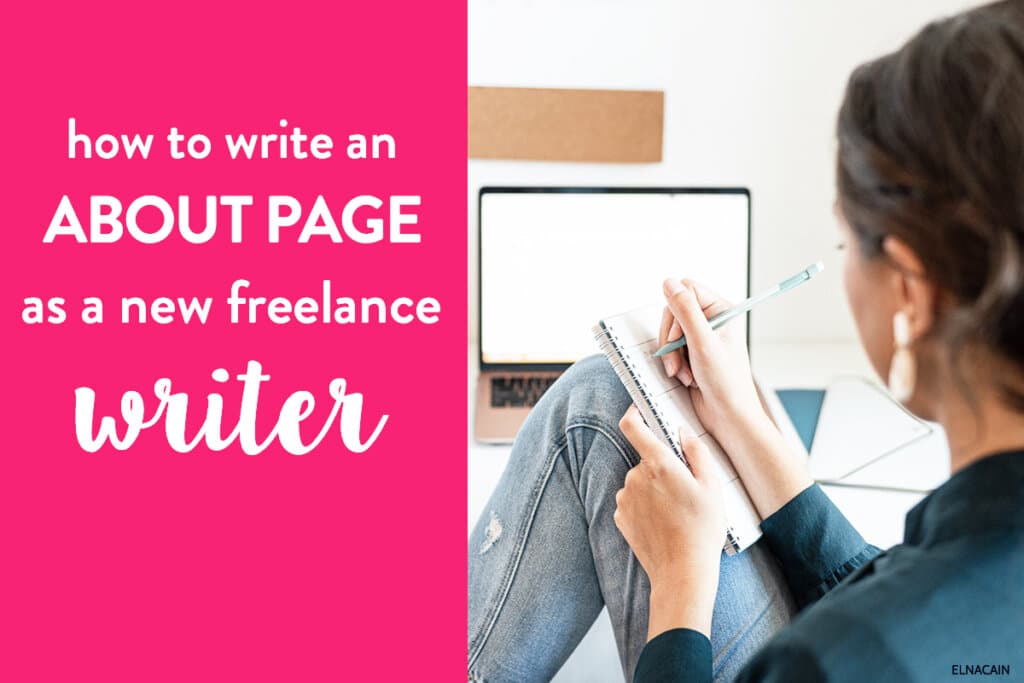 As Alicia Rades, a freelance blogger, puts it,
The fundamental rules of copywriting state that your copy should always be about your audience, even when you're talking about yourself.
Is this news to you? It was for me when I first started out.
I thought my About page was all about me. I could list who I was, where I studied, and why I decided to be a freelance writer in the first place.
Freelance writers aren't at fault either. Many bloggers who have a business still fail to maximize their about page to draw in more sales. Kelly Cannon, recently did a post on tweaking your About page for bloggers and she said,
A lot of bloggers take "About Me" literally and share their life story, but that's not really why your readers are on the page. They want to learn about your blog. They want to know that they've come to the right place, that they're going to find answers to their questions, solutions to their problems.
Yup, that was me.
It didn't take me long, however, to realize what I lacked in my About page. To resolve this, I made the page less about me, and more about how my writing can benefit clients.
And you know what happened? I started getting recognized for having a great writer website and About page.
This, in turn, helped me attract more and better clients.
In effect, my About page along with my writer website and blog all have great marketing copy and act as a lead generating tool for my business.
So, if you're a new freelance writer and your About page is full of stories about why you wanted to write in the first place, then here are 5 kick-ass ways to turn your About page around to attract clients and not readers.
1. It's Not About You
Okay, we sort of touched a bit on this, but let's go into why your About page is not about you.
If you are a freelance writer who wants to get paid to write, then it's a good idea to make your entire writer website a client-magnetizing tool.
You don't need to be a copywriter to write a kick-ass About page. I am not a copywriter, although I'm sure my website does have some elements of sales copy.
And I know this because most of my clients came to me. They either sought me out on social media or came to my writer website and read my copy. This type of marketing is inbound marketing and it's something every business tries to achieve.
What you want to do instead, is make your About page about your clients (or readers if you're a blogger).
The best way to do this is to think like a potential writing client.
Imagine they are needing a content writer and they Google "freelance health and fitness writer."
They come to your website. They immediately go to your About page because this client wants to know who you are. But all they get is a long winded story about how you started writing as a wee child and how your dog is your best writing companion.
The client, not sure if you're a freelance writer or just someone who writes for fun, decides to look at other prospects.
So, ask yourself these questions when coming up with copy for your About page:
Have I introduced myself? (i.e. that I'm a freelance writer specializing in X,Y,Z)
Have I shown that I understand where the client is coming from? (i.e. writing compelling copy is a challenge and it's time consuming)
Have I shown what I'm capable of? (I produce content, but what is that going to do for the client? Get more traffic? More sales?)
Have I mentioned what it's like working with me? (easy to get a long, exceed deadlines etc…)
This is the similar process for coming up with a title and tagline for your freelance writing business.
When you answer these questions, your About page may start off as something like:
I create copy. You need copy.

Hi, my name is Minny Red and I'm a freelance writer for hire. I specialize in creating content that will drive traffic, convert readers and explode on social media.

With my background in advertising and marketing, my unique copy will get your business the attention it demands.

When you work with me, you'll find that I'm easy going, pay close attention to detail and always write with your brand in mind.
This fictional freelance writer has told a prospective client exactly who she is – a powerful copywriter that can give your business a boost in sales with her effective content.
She even told us her experience in this field and made sure to relate her work history to the client's needs.
2. Assess Your Clients' Needs and Show How You Can Help Them With Your Content
It isn't enough to mention what type of content you do. Your About page needs to convince a prospect that you're the one for the job.
To do this, you need to relate to your client. What are their needs? What do they want?
On Sophie Lizard's About page, she does exactly that:
I'm Sophie Lizard. I help people get things done with words.

You're busy and you need results. I get that.

When you need effective copy and content, I create it.

When you've got a pile of unorganised ideas, I sift and shape them into valuable books, training products and other assets.

You never have to hold my hand. Just tell me what you want to achieve, and I deliver.
Writers who have great About pages can relate with a prospect's needs and use that to showcase why you, the writer, are the one to hire.
Here are some things you can mention in your About page:
How you help save time for clients
How hiring you (a freelancer) saves money for clients
How hiring you is a better option than having a client do it on their own
3. Mention Your Credibility as a Freelance Writer
As a business owner, clients need assurance the person they are hiring is legit. They want to know you can write compelling copy, deliver content on time and above all help them grow their business.
What if you're new to freelance writing? How can you prove that you're credible if you don't have any writing clients under your belt?
Well, I was in that boat not too long ago and I still was able to land clients by doing a few things to boost my credibility:
Guest post on popular websites as well as niche specific websites
Have a blog, update it frequently and market it regularly. My blog shows potential clients I know how to write online, engage an audience and promote it on social media.
Gather testimonials from friends, family and other freelance writers (if you helped your sister spruce up her résumé and it landed her a job, have her write a testimonial for you. Similarly, if you contribute to a blog, have the blog owner write a testimonial for you. Use what you can until you can gather client testimonials)
These three things prove I'm a legitimate freelance writer.
I make sure to include this in my About page by mentioning I've been featured on popular websites like Social Media Today and Psych Central.
What about education? Is that important to clients? It can be for some, but not for all. If you feel it's important to mention your journalism degree or communications degree, then use it to sell your credibility as a freelance writer.
4. Include Your Unique Selling Points
What is a unique selling point? According to Jennifer Mattern of All Indie Writers,
Your USP ("unique selling proposition," sometimes referred to as a "unique selling position" or "unique selling point") is the reason a client should not only hire you, but pay you what you think your services are worth. Think of it this way: What differentiates you from the competition?
Your unique selling point(s) is the heart of your About page. What makes you different from all the other freelance writers? We all write don't we? We all know how to use social media don't we?
So, how can you set yourself apart from the crowd and convince a prospect that you're the one for the job?
These are the questions you want answered on your About page. For me, part of my brand and unique selling point is that no one can write like me.
This encompasses my entire website and I have elements of that on my About page. Other USP's are that I'm a millennial mother of twin toddlers.
So, before you write how you can help clients, think about your special qualities as a freelance writer that sets you apart from others.
5. Inject Personality
It's important for your About page to show prospective clients your personality.
They don't want a picture on a screen; they want a lively, bubbly, charismatic person that actually has a life beyond sitting at a desk and typing away.
How can you inject a little fun into your About page without being too unprofessional?
Include a "here's a few facts about me" section on your About page. Francesca Nicasio, owner of Be a Freelance Writer, has these fun facts about her:
I'm a wimp when it comes to spicy food. I can't even eat Spicy Cheetos.
I grew up in a farm-esque place. With roosters waking me up every morning and chickens running around the backyard.
I also had pet goat named Vivian.
Want to buy me a drink? A glass of Riesling would do. Or a cup of English Breakfast black tea if we're in a café.
I believe in the law of attraction.
Use some wit and humor. Ashley Gainer, a freelance writer, immediately hits us with some wit on her About page, by saying,
Ashley Gainer is your go-to gal for business writing, manuscript editing, and really great meatloaf.
Have a fun picture on your website or use it for your gravatar. Bree Brower, a freelance writer, has a fun photo, but she does a great job in making it relate to hiring her for your content needs: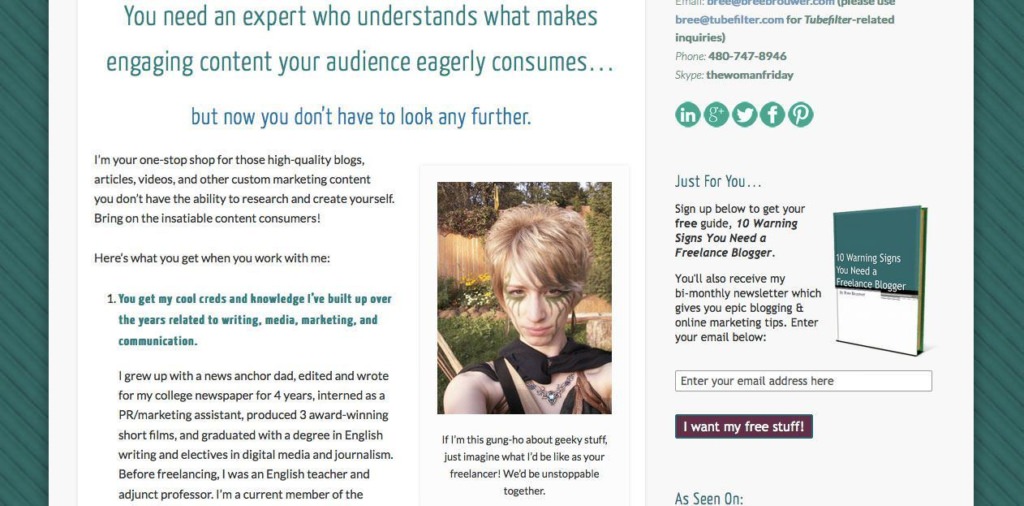 Remember: There's No One Else That's You!
Writing your About page shouldn't be hard. With a little extra attention, you can create a kick-ass About page that will attract clients and make them want to work with you.
When you focus on the client instead of yourself, you open the doors to a collaborative relationship that is beneficial on both your ends.
Make sure to show them how you can help their business by using your content.
Whether it's expertise in SEO writing or social media marketing, use your About page to showcase your knowledge as a way to help businesses grow.
Above all it's important to show your credibility as a freelance writer as well as your unique selling points.
These two pieces of information can turn an indecisive client into one that reaches out to you.
Finally, don't forget to add a spark of personality. After all, your About page should have something about you, right?
So, tell me, does your About page talk about you or how you can help your clients?
Sharing is caring. Please Pin this post!