One of the first things I did as a new freelance writer was think of my business name.
I wanted it to say everything about what I did as a new writer, but I realized it needed a description.
Innovative Ink could be a printing company, tattoo parlor, writing agency, or freelance writing business.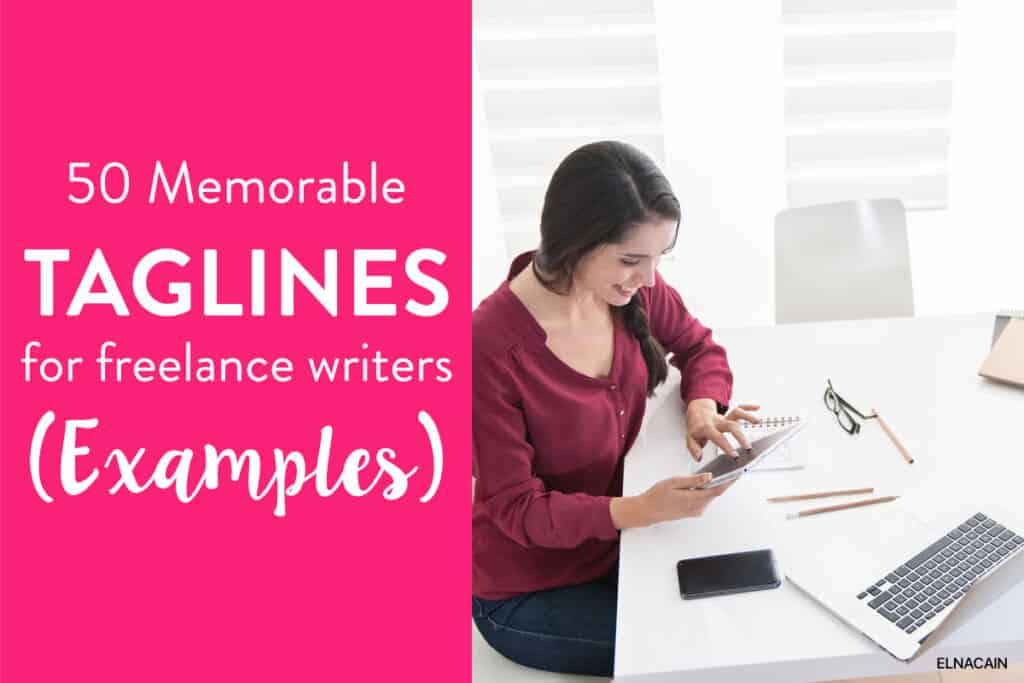 To help potential clients know what I was all about, I needed more.
That's where a writer tagline came into the picture.
Good taglines for freelance writers are catchy phrases and something that people remember.
And, what's great about having a tagline for your business is that it can help you get a writing job!
If you want to become a freelance writer, I'll go through what makes a good tagline, where to place your freelance writer tagline, and some writer tagline examples.
What is a Tagline?
A freelance writing tagline is attached to your brand, is memorable, and does a lot to help new potential clients remember who you are.
These are usually brief, catchy phrases that can also be from popular sayings. These writing taglines are also easy to say and are often no more than ten words.
For example, "I Write, You Grow."
But is a slogan a tagline?
A good slogan usually is attached to a marketing campaign or product and goes through many iterations. Poplar slogans like Nike's "Just Do It" look similar to a tagline, but just remember it's the intent behind it that differentiates the two.
What is a Professional Tagline?
Professional taglines help you create your brand for your business. As a freelance writer, a tagline can help you with your brand message, tone, and overall feel of YOU as the writer.
One of my first writer websites had a colorful background design. That design spurred my freelance writer tagline, "I Add Color to Your Content."

I felt that once a potential client went to my website and saw my business name AND tagline, they would immediately understand that I produced colorful and innovative content.
And for many years, this was my brand, and it helped me land high paying writing gigs.
What is a Good Tagline for a Writer?
To help you understand what goes into making good taglines for freelance writers, let's check out what other freelance writers say about it and their taglines.
To make a good tagline as a freelance writer, Write Your Way to Your First $1k student, Elle Juliette, says it needs to be clear and solve a pain point.
"I would say a good tagline should be short and immediately make it clear what you do, how you help, and hopefully should solve a client pain point. My tagline is 'Sound Like You. Only Better.' For my copywriting and content writing business. I use it as my hero copy tagline on my website and in my LinkedIn banner and socials."
Ashlyn Needham says it's one that quickly points a lead to the type of service you provide.
"I use the tagline, "I write so you don't have to." I like to think it gets to the point quickly of my freelance services so businesses know what I'm helping them with!"
A freelance writer tagline according to Athalia Norman is always on brand.
"Good writer taglines are something sticky and on brand with who you are. I like to think of them as hooks into your client's psyche. Something that makes you memorable."
Where Can You Use a Freelance Writing Tagline?
Did you know that you can use your freelance writing tagline in many places online?
1. Writer Website
The most popular or default place to have a tagline is on the homepage of your writer website.
Many businesses who use professional taglines will place them on the banner image or underneath their logo.
Course student Brian Simms uses his URL's home page as the primary place for his tagline.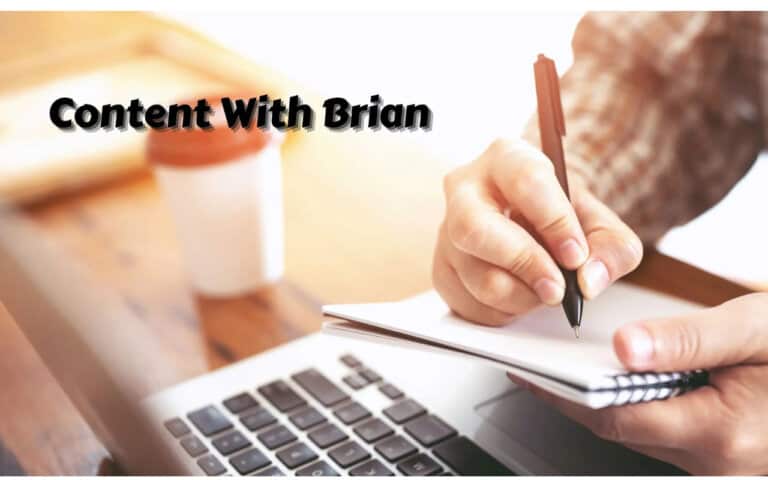 Another reason to place your tagline on your writer website is to help prospects know what your site is about.
Course student Amy Levesque said her business name wasn't enough and needed something more,
"The name of my business is The Resolute Pen so I needed something to help define it. I kept it simple with my tagline – 'Copy and Content that Connects.'"
2. On LinkedIn/Social
Make sure to add your writer tagline on LinkedIn and other social platforms like Facebook, Twitter, Instagram, and Pinterest.
Allison Hott takes advantage of customizing her LinkedIn banner to highlight her brand message or tagline.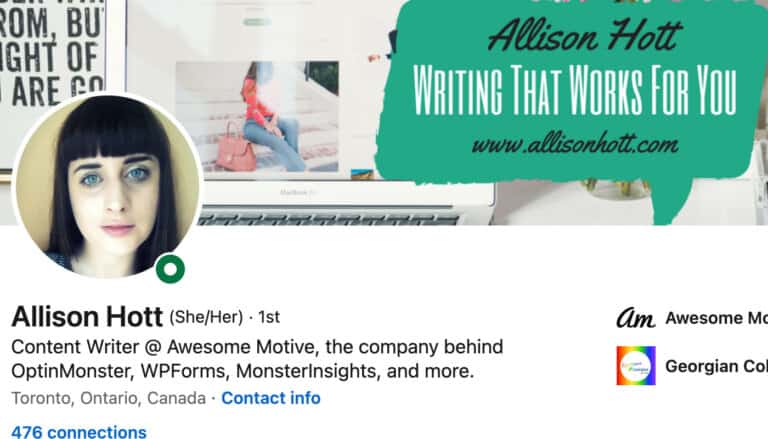 Writeto1k student Aaron Nolan is active on Reddit and uses his tagline in his bio as a way to attract potential writing jobs.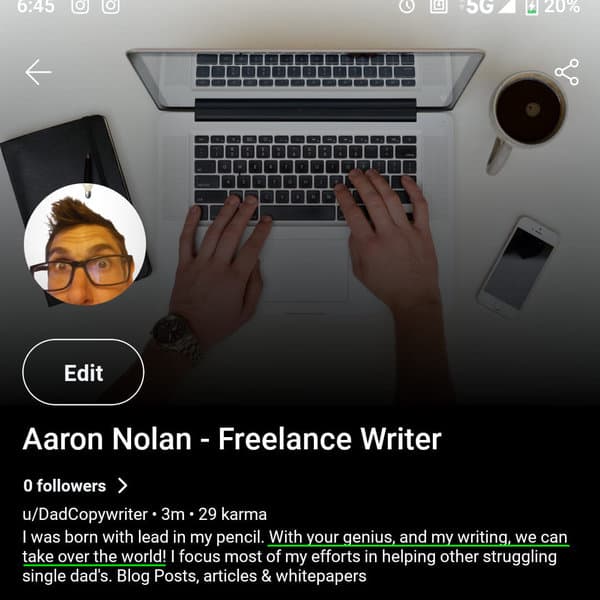 3. With Your Title
Have you thought about your freelance writer title?
This is what will help you look credible, professional, and authentic.
A cool way to make yourself stand out is to add your tagline to your title.
Long-time freelancer and friend Lizzie Davey shares her tagline in her author bio for client pieces.

The parts in red are her freelance writer title and the parts in green are her tagline.
4. In Your Email Signature
If you have an email signature when you pitch to potential freelance writing jobs, try adding your tagline to stand out.
As a beginner freelance writer, I had an email signature and used it for my client work.
Here's a mock-up of my signature and tagline in an email.

How Do You Come Up With Good Taglines?
Coming up with a solid and catchy tagline shouldn't take you much time.
There are more important freelance writing tasks you should focus on.
But, I'm sure you're asking yourself, How do I write a tagline for myself?
There are three main ways to come up with good taglines:
Use a freelance writer tagline generator
Look towards your services
Check out other freelance writer tagline examples for inspiration
Let's look more into these tactics for good taglines for you.
1. Use a Tagline Generator
A freelance writer tagline generator is a quick and easy way to relieve yourself from coming up with the perfect tagline for your business and have an AI generator do the work for you.
DesignHill has a slogan generator, but you can use it to find a good tagline as a freelance writer.
They have many other free tools to use, so give them a try. I plugged in "create content," but you can plug in anything you want:
Writing that converts
Great content
Fun content
Useful writer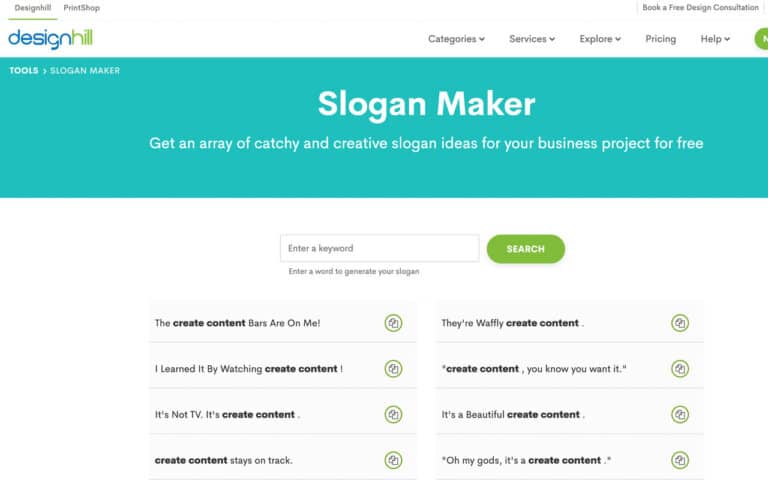 Not all the outputs of a tagline generator will be useful or sensical, but it's just an easy way if you have writer's block.
Oberlo also has a fantastic free freelance writer tagline generator.
It's called a Slogan generator, and they gave me over 1,000 professional taglines to choose from.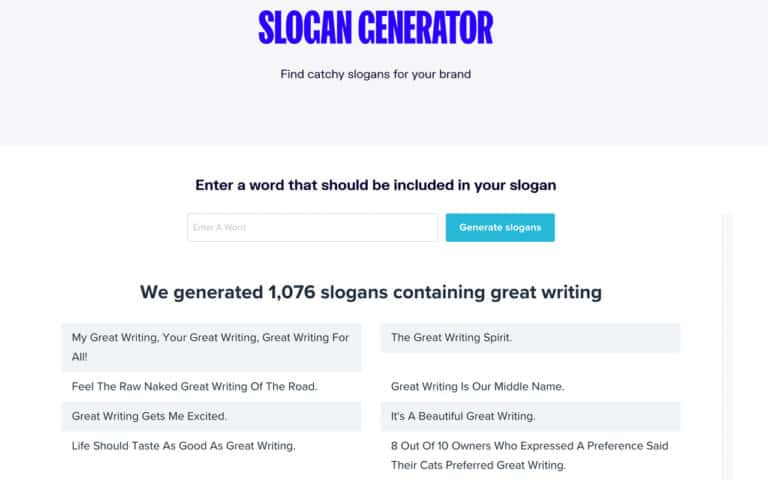 The results for this tagline tool produced better taglines. My favorites are:
Nonstop Great Writing
Great Writing Gets Me Excited
Great Writing Moments
Another free tagline or slogan generator comes from Shopify.
They pump out 10 freelance writer taglines at a time.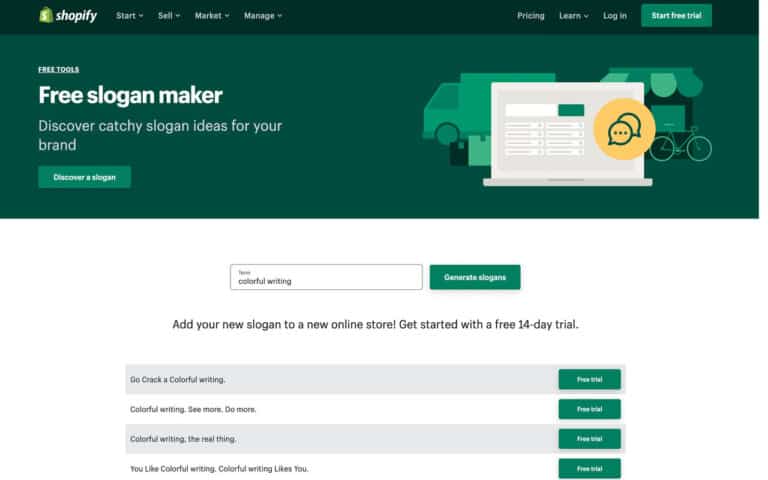 2. Look Towards Your Services
Looking at your offer can help you figure out the right words for your tagline.
This is what Tabitha Nordby did when she created her freelance writer tagline.
"My tag line is Writer, Content Creator, Storyteller. It indicates that I can write in a variety of forms and reflects my portfolio content, which is a mix of creative and freelance writing."
You can make a short list of actionable words representing your services and what you offer to small businesses.
You can string along three or so words from that list to make up your tagline.
3. Check Out Other Taglines for Inspiration
Take time some and check out other freelance writer tagline examples as a way to help you form yours.
This post should also help you as I have other freelance writers tell me their business's tagline in hopes of helping you – the reader!
But, if you need more help, check out fifty freelance writer tagline examples. There are ones for your freelance business and some for writers or authors.
50 Freelance Writer Tagline Examples
So, what is a tagline example?
For me, an example is one that I can use for my freelance service. It's fine to check out slogans and taglines for other types of businesses, but it's best to focus your time on examples that you can draw from.
What are some good taglines?
Writeto1k student Cassandra Sigmon uses the tagline, "Grow Your Small Business" and says,
"Growth is the end result we want to see, so I focus on small business growth as the solution I'm offering."
Good taglines immediately tell a potential lead what you do and who you are as a writer.
To help you out, let's check out 25 tagline examples.
My Words, Your Leads
I Turn Words into Sales
The Power of Persuasion
Writing that Sells
The Art of Communication
Crafting the Perfect Message
When You Need it in Writing, I'm Your Guy/Girl
Persuasive Writing that Sells
My Words, Your Results
Compelling Content that Engages
The Content Effect
What Content Can Do for You
Simply Content!
Pure Writing that Converts
You Need Writing that Converts
Think. Feel. Writing with Passion
Get More When You Write with Passion
Writing that Lasts
Words that Work
Copywriting is My Speciality
SEO Writing that Sells
Writing is My Job
Grow Your Business With My Words
Storytelling that Sells
Stand Out Content for Your Business
Writer Tagline Examples
Check out ten writer taglines if you are an author.
The Write Solution
The Written Word is My Weapon
The Written Word is My Passion
I Make it Possible with Words
My Gift is Writing
Writing is My Superpower
The Written Word is My Art
Writing that Makes a Difference
Writing that Inspires
Words are my Bread and Butter
Popular Taglines
Here are five popular taglines you can use for your freelance writing business.
Writing that Packs a Punch
Words that Work Wonders
Making a Difference One Word at a Time
Writing that Speaks Volumes
Writing that Makes a Statement
Catchy Phrases
Look at these five catchy phrases you can use for your freelance writer tagline.
Think Outside the Typeface
I Have a Way with Words
The Power of the Pen
"The tagline I use on my writer's website is "Your Audience + Me = Meant To Be.""
Converting Copy
Powerful & Punchy Prose
Memorable Phrases
You can use a literary device to make a memorable tagline for your freelance business.
The most used are alliteration and rhyming to help create a memorable tagline.
Freelancer Vanessa Cooper uses the writer tagline, "Powerful Words to Power Your Business."
I Make Magic with Words
Writing with a Purpose
Crafting Compelling Copy
My Words, Your Business
Writing with Intention
Stand Out With a Tagline for Your Freelance Business
As a new freelance writer, a great way to stand out is with a tagline.
Go through this post and find a few taglines, slogans, and catchy phrases to help you develop a tagline.
Let me know in the comments what you end up choosing!
Please pin me!