You're there –
You've decided to start a freelance writing business, and it's for real.
This is it!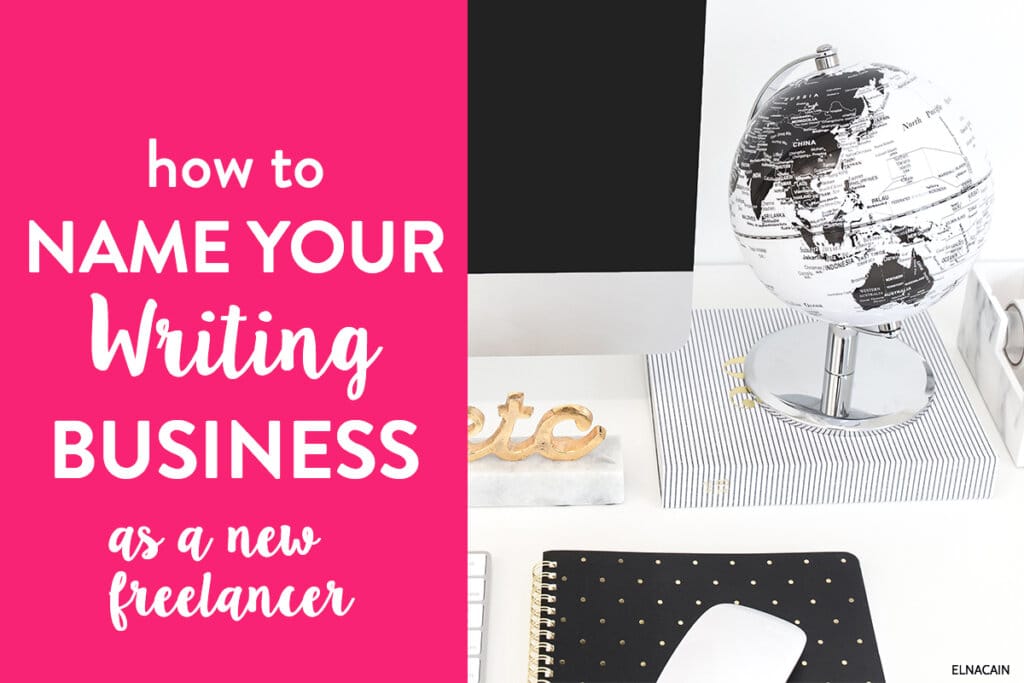 Okay, but right after that thrilling and decisive moment, a new thought might pop up. What do I name my business?
Finding business name ideas is a challenge for many new freelance writers.
You might have the perfect name, only to find out that it's already taken. Bummer!
A big chunk of the emails I receive is about finding the right business name idea. I hear from new writers that it has to be a catchy business name or a strong name.
You want your name to reflect who you are and what you do, but at the same time not niche you down should you decide to diversify your income and try something new.
I get it! My idea for a business name was Innovative Ink.
Looking back, I actually think this was the wrong move (and I'll tell you why I think that in a bit). I think that is partly why a year later I moved my blog to here – Elna Cain.
I wanted to try again…
I was new, and I wanted to find that name that encompassed my entire business. So, how do you come up with the right name for your freelance writing service?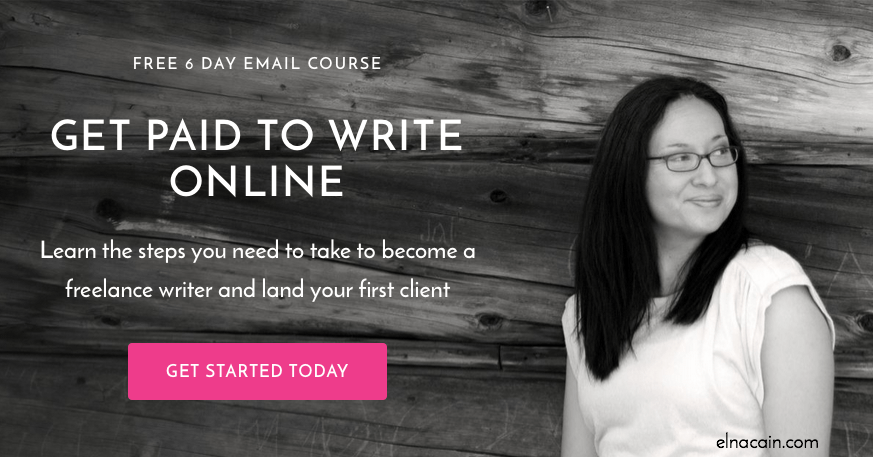 This name is not only your website name (the URL you type in the browser), but this name will be used in your invoices, on business cards, and your freelance proposals.
So, you have to get it right the first time – but really, you don't have to have it perfect (like me), and in the end, it really has to do with your ability to market yourself most effectively to land clients, than anything else!
How I Came Up With My Catchy Business Name
I was in the middle of changing my twins after feeding them lunch when I firmly decided I wanted to work at home.
While I loved playing with my twins every day – all day – there's only so much baa-baa black sheep I could take! I needed to nurture my creativity and to clean up spilled milk wasn't cutting it for me.
And the thought of staying home and finding a way to make money was born.
I soon learned I wanted to focus on writing or blogging. I love writing, and even though I'm not the best writer, I felt I could make a go out of being a freelance writer.
The next step I did was come up with my wonderful business name – Innovative Ink.
I was trying for those catchy business name ideas (can you tell?)!
I like alliteration so once I landed on Innovative, Ink naturally followed. It was perfect!
Innovative – new – modern – fresh! That's what I can do!
Ink – writing – writer! That's me!
My business name was born. Little did I know at that time this business name wasn't the best for me.
5 Things Your Business Name Needs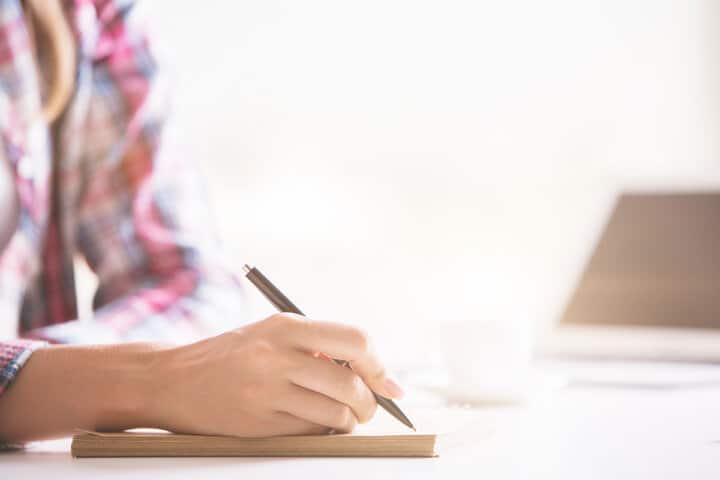 I'm no business expert here! I'm a mom to twins who decided to stay home and become a freelance writer 🙂
These suggestions are only that – guidelines to help you find the right name for your freelance writing business. They are not set in stone.
1. Use a Simple and Short Name
Whether you're a blogger or virtual assistant or freelance writer, when you start an online business, your name needs to be:
Easy to say
Easy to spell
Short
That's the perfect recipe for a business name or blog name! So a name like: kaicanwritealldayandallnight.com doesn't fit that bill!
But the name: kaicanwrite.com does!
This is where you don't want to have a catchy business name idea as I did. I have alliteration thinking that was catchy. Other writers may use play-on words like rightwriter.com
As I stated, this is just my personal opinion, but using these catchy elements in a business name isn't going to help you land more freelance writing work. Businesses that hire writers deal with a lot of people.
They may have a social media marketer, content marketer, sales funnel adviser, Facebook ads manager etc… This business owner has to remember all of these people's names and business names.
So, making your business name simple and easy to say and spell, will help you stick in the brain of prospects.
2. Use an Identifier in Your Name
One thing that I think can help grow your business is if you use an identifier in your business name. For us, it's typically freelance writer, writer, freelancing, etc.
When you include that in your business name and domain name, prospects immediately know who you are and what you do.
And doing this can help with increasing your visibility in search results when prospects are Googling for a freelance writer. But make sure not to limit yourself by adding a location as an identifier for your business name.
The fact that we are online freelance writers means we can market ourselves to everyone around the globe!
So, having a business name idea like HoustonFreelanceWriter.com might end up limiting you to just work locally, not globally.
This can also apply to your domain name. I teach in my freelance writing course to try to grab a .com domain address rather than a country-specific or other lesser known domain name like .xyz
I didn't know this at the time and registered for a .ca domain for Innovative Ink (another reason why I moved my blog to ElnaCain.com). While this hasn't hurt me with finding clients from all over the world, I feel it may have hindered some prospects in hiring me.
Finally, when figuring out your business name, you don't want that identifier to be too specific. For example, PressReleaseWriting.com. While you may enjoy writing only press releases, you never know what the future holds.
Your business can evolve to include white paper writing, case studies and interviews, blog writing and more. So limiting yourself to the type of writing you do, may backfire over time.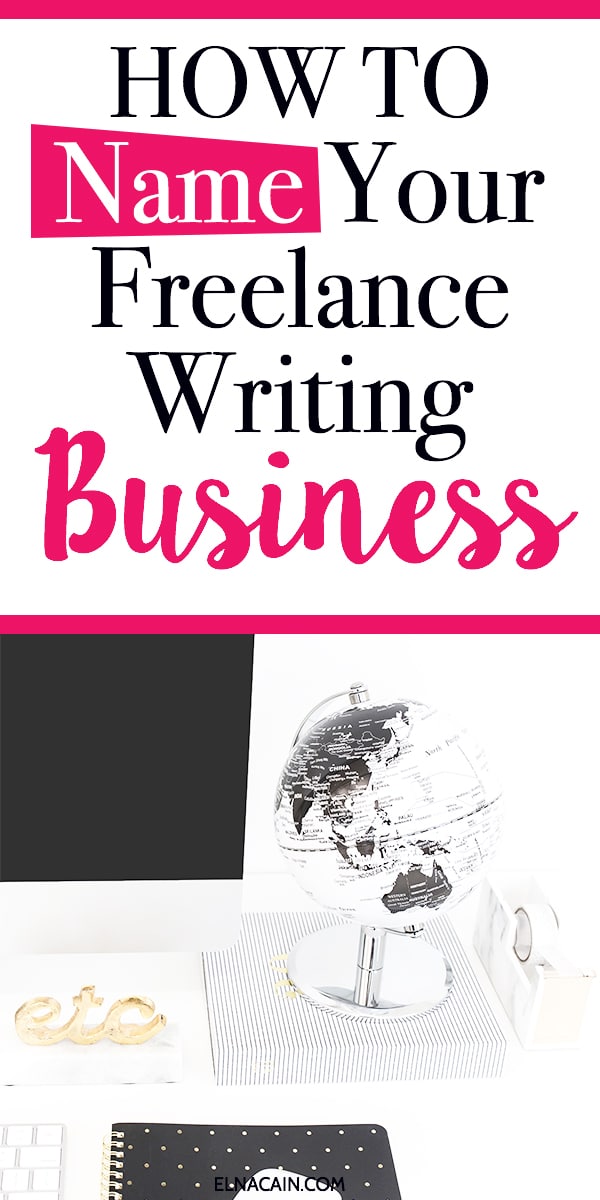 3. Be Less Generic, More Memorable
Look – you'll have many business name ideas to choose from! Make it easy to spell with an identifier and be memorable!
Remember though, new freelance writers are popping up every day. So, it's in the best interest for you, to make your freelance writing business name stand out and memorable.
I'm pretty sure the common phrases and identifiers with writing have already been done:
Ink
Inkwell
Pen
Prose
Quill
Try to avoid using these words (I didn't follow this advice!) and find identifiers that are fresher and not as generic. While I do like the idea of having "writing" or "writer" in your business name, I don't consider this generic if you add more descriptive words to your business name.
4. Consider Using Your Name
If your name is easy to spell and is available as a domain name, why not use your name for your freelance writing business? (Again, yet another reason why I started a new blog – ElnaCain.com).
Branding your name is a great option if:
You're not sure if freelance writing is really what you want to do
You feel you're going to offer other services outside of freelance writing
You want your name to be known as the go-to person in your industry
You want to pivot in your business
I personally love the idea of using your name as the brand for your business. People remember names much easier than a business name like Innovative Ink!
5. Check Social Media
One of the things you want to consider before solidifying your business name is if the social media profiles are available. This is something I didn't do and have different profile names for social media.
If possible, see if you can grab a Facebook page, Twitter account, and LinkedIn account in your business name. This will make marketing your business much easier in the long run!
The Reason Why I Don't Like My Business Name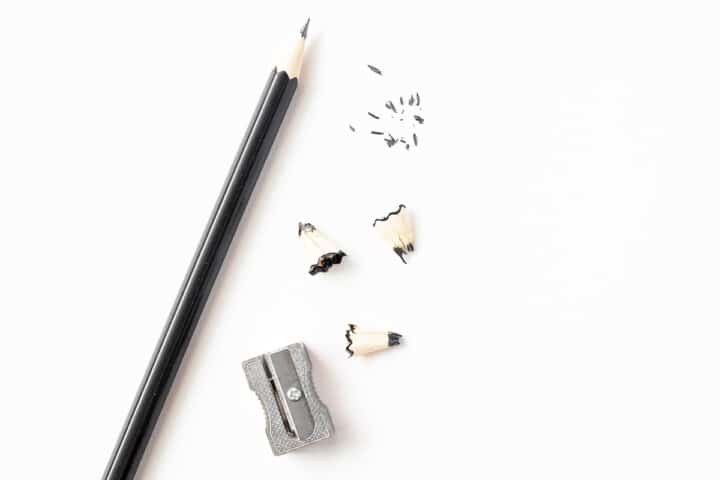 My business name is Innovative Ink and I really thought this was the perfect name for my freelance writing business.
And, really, it hasn't hurt me make money as a writer! But, here's the thing – I personally feel that Innovative Ink is too vague and almost reads like it's a content agency.
And I do know that some new freelance writers want to brand themselves as a collective "we" or agency when they really are just one person.
From the years of doing business, the thing to remember is that brands and businesses want to hire people, not agencies. So, I feel that when a cold prospect sees my business name, they may think I'm an agency, which I'm not.
And then there is the referral business.
Let's say a client of yours has a business friend that knows you hire writers. They ask, "Who wrote this post on Facebook ads?" The client says your name – Elna Cain.
That business friend may then go to Google and Google your name. And if you branded yourself as the SpunkyCopywriter.com that prospect may never find you!
When Googling my name, my business name is #6! But luckily I have this blog, and my social media profiles use my name too! I have branded my name with freelance writing and blogging.
So, if a prospect Google's my name, it's apparent I'm a freelance writer for hire!
Business Name Ideas For New Writers
Okay. So considering some qualities to picking that right name for your freelance writing business, let's go through the process of creating a list of business name ideas and narrowing that down.
1. Create a List of Potential Names for Your Business
In the beginning, keep a list of possible business names. When I started, I had a notebook and jotted down words I liked:
Iridescent
Innovative
Quality
Writing
Colorful
Ink
Content
Crafty
Captivate
I would play around with these words and make word combinations and let them sit. I wanted to see if I connected with these names.
2. Run a Quick Check to See if Available
You can just check on Google if your business name is available as a .com. You can also do this step when you are starting your business blog.
I also suggest you do this pretty soon to registering your domain name (as your business name). Every day new sites are born, and your name may be there today and gone tomorrow!
If you run into this problem, you can add an identifier like, "the, hub, biz, etc."
3. Use a Business Name Generator
Sometimes using a tool like a business name generator or blog name generator can help you figure out that right name for your service. Here are my top picks.
Bust a Name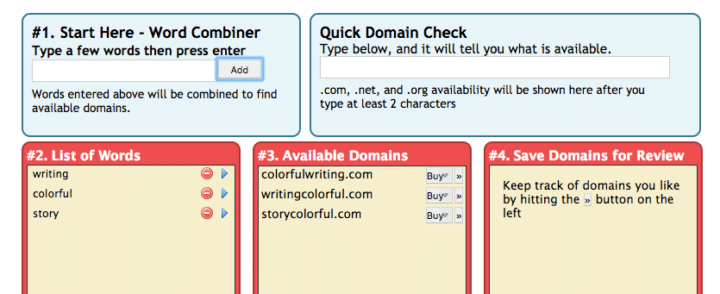 Bust A Name gives you more filters to find your perfect freelance writing business name. You can check to see if the domain is available, which comes in handy when the name you want is already taken!
This tool also lets you use a list of descriptive words to generate more business name ideas for you.
Business Name Generator From Shopify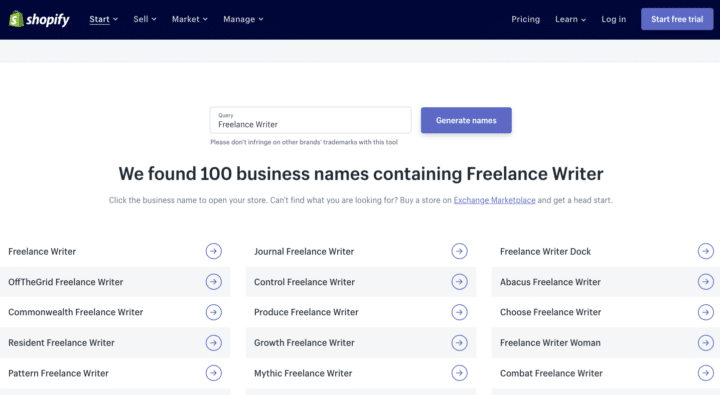 The Shopify Business Name Generator is straight-forward. You simply plug in a descriptive word or two and out comes ideas to jumpstart your process.
I like this tool over others since it's clean and streamlined. Also, the names suggested aren't that bad!
Business Name Generator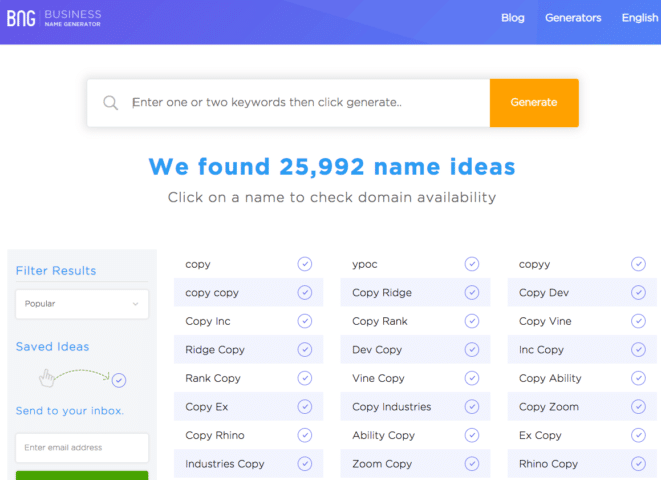 Business Name Generator gives you thousands of name ideas for your freelance writing business. You may want to start here before using another name tool.
In any event, using these tools to find a business name can inspire you to find your perfect business name!
4. Get Feedback
Once you have narrowed down your list of potential business names, go ahead and share this with friends and family.
They may offer some advice or spur more ideas to help you fine-tune your business name.
You can also head into Facebook and ask what others feel about your name either by creating a poll or just asking!
5. Register Your Domain Name
Once you figured out the perfect name for your freelance writing service and even checked to see if it's available, now you can register that as a domain name.
Ideally, you want your business name also to be your domain name for cohesiveness and brand building, so don't leave registering your domain to the last minute!
When starting your website with Bluehost, you'll be prompted to enter your chosen domain name: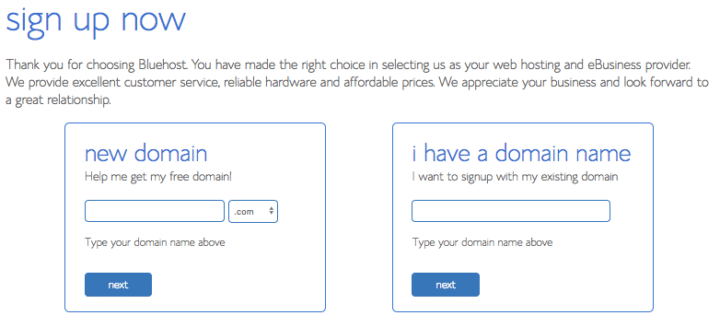 And, there you go! You officially have a business name for your freelance writing!
Questions About Your Freelance Writing Business Name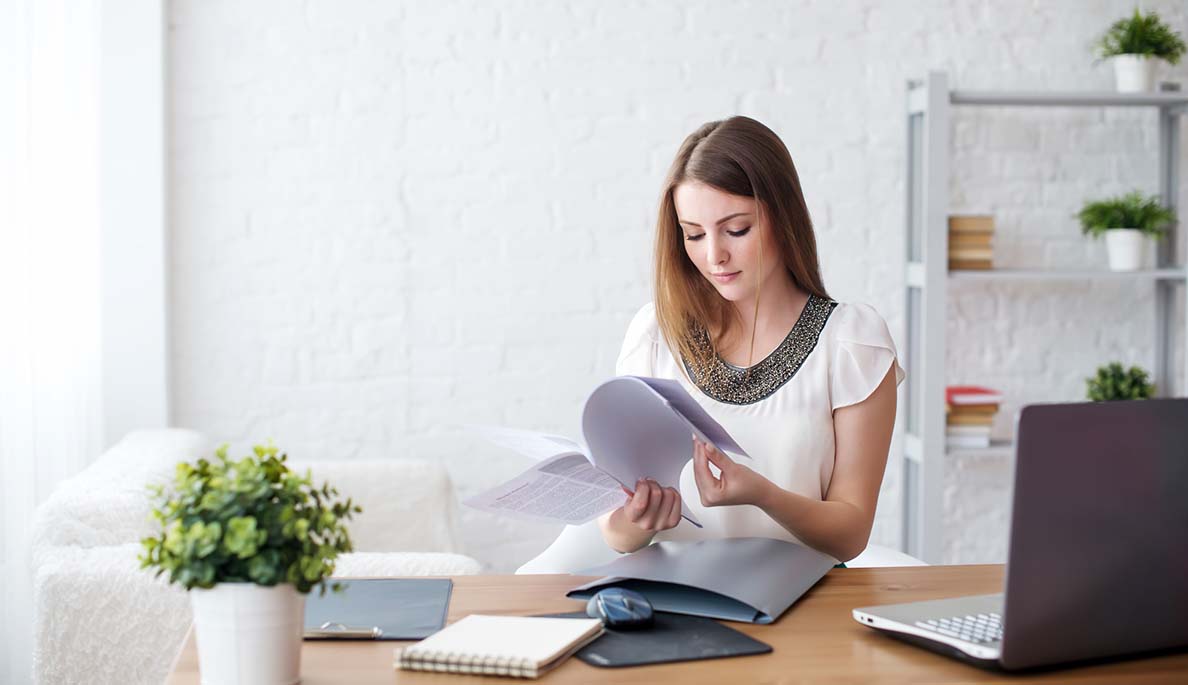 You might have specific questions about your business name. Here are the most popular.
1. Use Your Maiden Name or Your Married Name?
What happens when you're getting married in the future, but you want to start freelance writing now? Should you begin under your maiden name and then switch?
Or just use your married name?
Most writers in my freelance writing course agree to market yourself with your married name.
Yes, this happened to me! When I built my website in the beginning I used my married name as my freelance persona. (Even though I wasn't getting married until November.) It was a bit of a pain, but worth it since now I've already established myself with my married name.
If you decide to brand your name, brand your married name to make the transition easier!
2. Do You Need to Register for a DBA?
Many new writers wonder if they should register for a DBA (sole proprietorship) when they start a freelance writing business. I can't advise you what to do, but it's probably a good idea to register with your state or county or municipality.
Each state or province has different requirements, so check within your state or province first. For more information about registering for a DBA, check out this handy guide.
3. Does Your Business Name Have to Be Your Domain Name?
Yes and no!
Since we are a one-person show, there is no need to have a shortened branded name as the domain. For example, Fly Wheel is a WordPress hosting provider, but their URL is "getflywheel.com."
This does make it harder for users to remember that and probably just end up typing in Fly Wheel into the URL.
To make it easier for you, make your business name the same as your domain name if you can secure the .com for it!
Otherwise, you may have to modify your domain name.
4. What If You Want a Business Name That's Already Taken But In a Different Niche?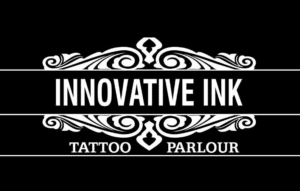 This happened to me. I registered Innovative Ink and went on my merrily way landing clients and doing freelance writing.
Then a while back I decided to search my business name and found out that a tattoo parlor had my same name.
There are also graphic design companies with my name too!
If you find that your business name is taken, but it's in a completely different niche, then you can still claim that business name for your freelance writing business. It hasn't hurt me at all.
I don't think clients are confused by my business name thinking I do tattoo designs or graphic designs (although I could be wrong since I also feel my name may conjure up a content agency).
Business Name Ideas Made Easier
I hope this post made it a tad easier on finding the right business name for your freelance writing service. This is one of the first steps to take as a new online writer as well as the first task that commits you to actually doing this!!!
Starting freelance writing has been one of the best decisions I made as a stay-at-home mom. It has fuelled my creativity and allowed me to stay home for good!
So, tell me – what's your business name for your freelance writing service?