No matter what season it is or whether there's a holiday coming up, as a freelance writer, you want to make sure that when you step away from the computer, you'll still have a presence online.
What do I mean by this?
Well, for starters, you don't want people to all of a sudden forget about you.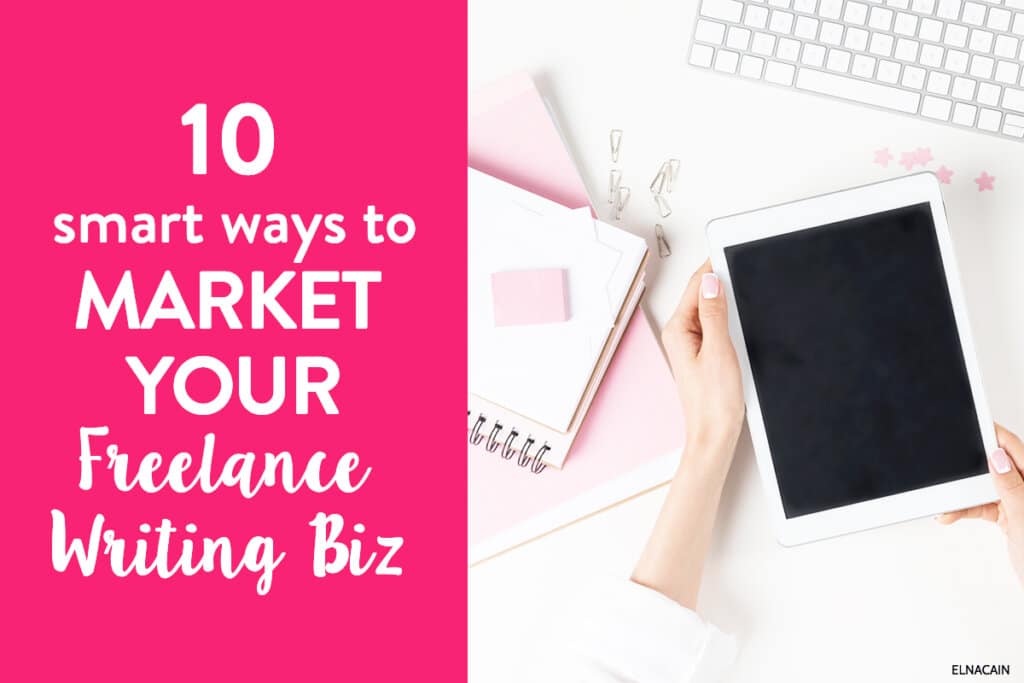 Do you want to be the freelance writer who takes the entire summer off without touching their laptop, updating a social media profile, writing a blog post or connecting with their email subscribers?
I hope not.
Because if you are, then making a living writing is going to be tough for you.
You're going to have do some ways to market yourself as a writer, pitch constantly and work your little tail off to find work once you get back from vacation or finally get your motivation back.
But, you know what?
There are some easy ways to make your presence felt online every day – whether you're taking the weekend off to go camping or you're super swamped with a huge project that leaves you with no time to be online.
And no, I'm not going to tell you that you have to guest post or develop a pitching process or even solidify your brand to stay current and on the radar of prospects.
No. the best way to have the illusion of always being online is to have an effective freelance digital marketing strategy – yes, you have to market yourself as a freelance writer.
Eww..
I know.
For a lot of us, freelance content marketing is an icky word. I mean, we're writers, not sales people.
Well, my friend, I'm sorry to tell you, but if you truly want to be a successful freelance writer – you know the one that can work wherever they want, with whomever they want and whenever they want – you're going to have to make marketing your new BFF.
Think of How to Market Yourself as a Writer to Connect
When I think of marketing my freelance writing business, I sort of think it's my way of connecting with others. It's like I have a business card and whenever I "see" someone online, I "hand" them my business card.
We connect and over time we nurture a relationship.
So, even if you pooh-pooh freelance marketing yourself as a freelance writer and think it's not for you, there are some easy – and smart – ways to market your freelance writing business.
Some of these marketing strategies may take more time than others, while some of these might mean you have to step out of your comfort zone to see any results.
I created a video about these tips if you like watching instead of reading! And I would LOVE it if you subscribed to my YouTube channel!
1. Use an Email Signature
One thing's for sure – when you're a freelance writer you're going to be doing a lot of emailing.
I get almost 100 emails a day during the week.
That's a lot!
Not all of them are inquiries, but many of them can be potential leads for writing work or to take my course.
And an easy way to promote your services is to create an email signature. This is a simple way to do freelance email marketing for your business.
Here's what mine looks like:

It's nothing fancy, but I have all the necessary links and contact information I want to share. For your email signature you can even include things like:
A phone number to reach you
Your Skype address
Your lead magnet or opt-in freebie
Your headshot
2. Have Different Places to House Your Portfolio
The online world is big and vast so you want to "inhabit" as much of it as you can online. And for freelance writers, this means having different places to house your portfolio.
And, this is an excellent way to market yourself as a freelance writer for hire!
If you're not sure what I mean, a portfolio showcases your work as a writer. Typically, it's the best pieces you want to show and it's pieces in your niche.
There are many different places to have a portfolio, like on your website, on your LinkedIn profile or on a portfolio site like Contently.
I say, use all of them!
For the longest time I only had my portfolio on my website, but once I started my LinkedIn profile I slowly started updating my resume with all my new client work.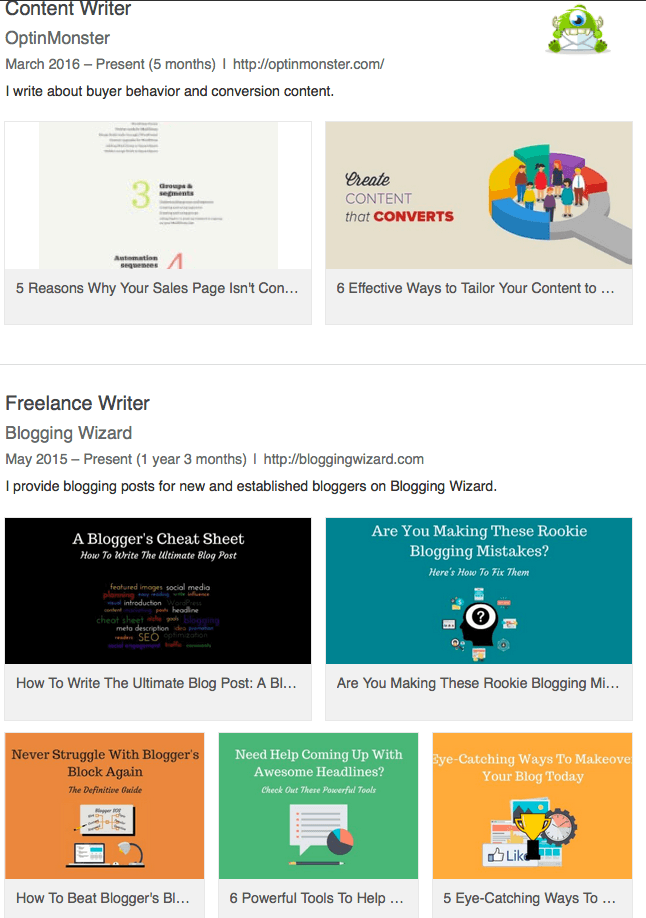 I also started housing my portfolio on Contently.
What's nice about Contently is that once you upload your samples (you can even upload PDFs) it tracks the social media shares giving prospects a bit of a metric on how engaging your writing is.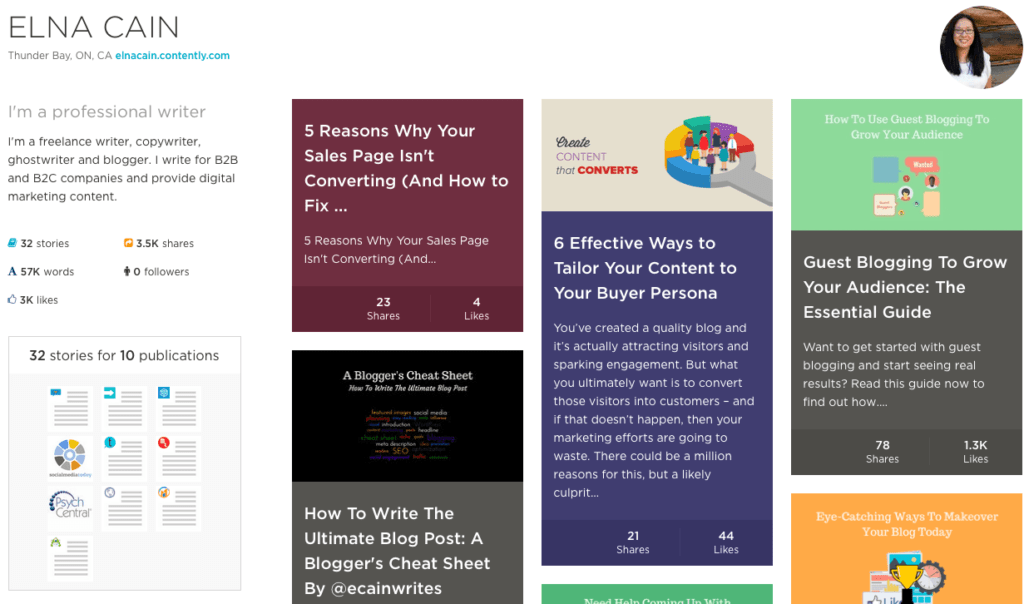 One other place you can house your portfolio is on Pinterest.
I recently removed mine since I'm currently sharing my Pinterest profile with two blogs, but a lot of freelance writers are now using Pinterest to market their services.
For example, here's Carrie Smith's (from Careful Cents) writing portfolio on Pinterest.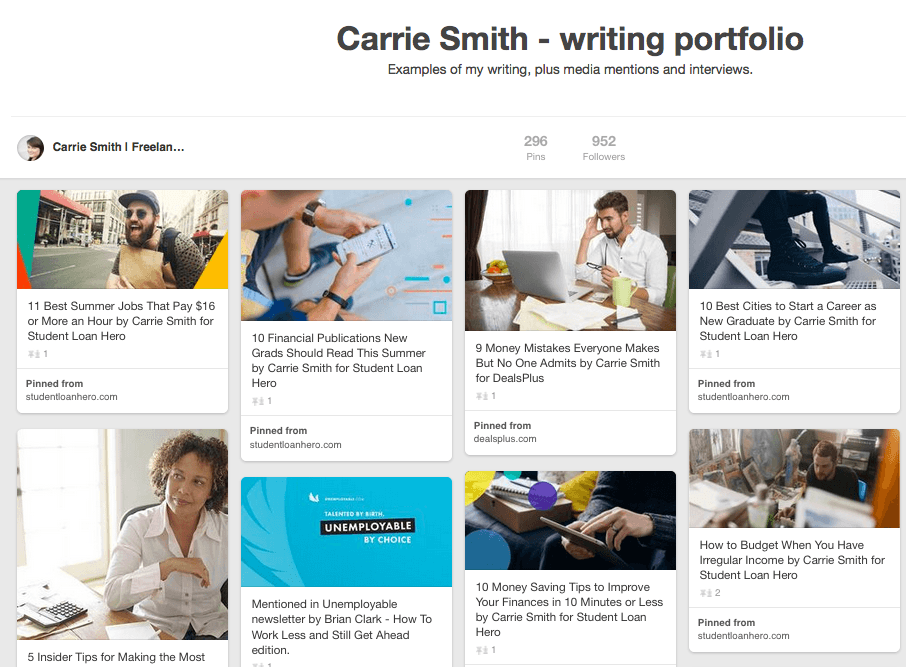 The goal is to expose your work to as many different potential clients as possible. So using platforms like LinkedIn, Contently and Pinterest just helps you reach more people.
And the great thing? They are all free to use 🙂
And, it's not that hard is it? When you market your freelance writing business on social media, you will immediately get more eyes on your services!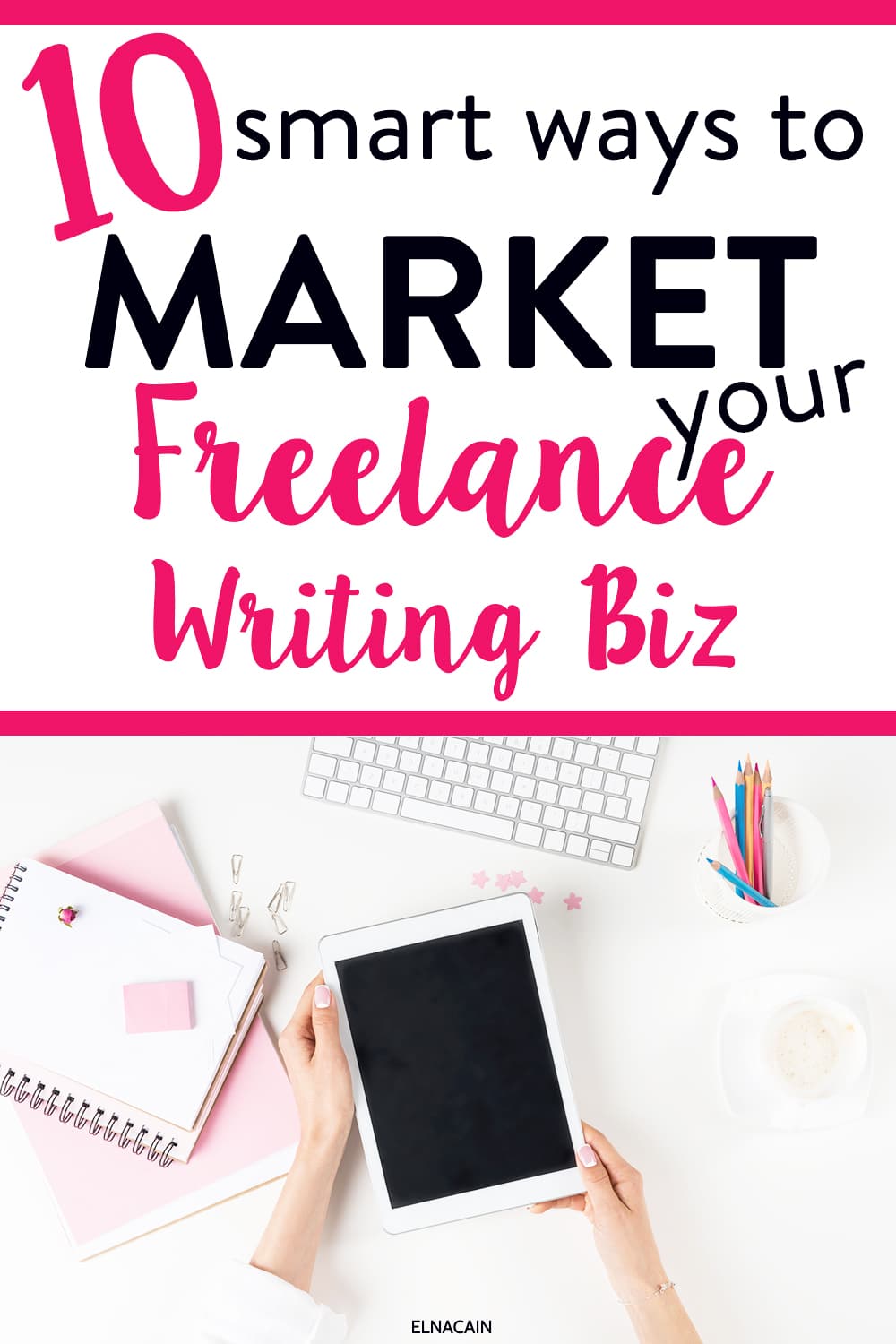 3. Start a Blog
I know.
I've been preaching this for ever now – especially to new freelance writers – but having your own blog is one of the best ways to stay current and in the eyes of potential clients.
Oh, and it's a great way to land awesome freelance writing jobs.
Posting content in your writing niche shows prospects you know your stuff.
For example, I have a blog, Twins Mommy, where I share tips to help moms make money.
I get inquiries on this blog for freelance writing.
Or, you can use your freelance writing site to blog about topics you want to get paid to write.
This is what a course participant, Heather, did on her freelance writing site. She's a tech freelance writer and her blog shows her expert knowledge in this industry.
This is a built-in way to always have samples available in your niche.
Or, you can go another route like what I did.
I just started a blog about freelance writing and blogging.
And while it's not entirely in my digital marketing niche, it does show how engaging my writing is in terms of capturing visitors and converting them into subscribers (which is what a lot of my clients want my writing to do for them).
So no matter what you really blog about, if it's highly engaging, well-written, formatted correctly and you promote it strategically on social media, prospects will find you.
If you need help setting up your blog for your business, check out my easy tech-free tutorial! It includes a video also!
4. Say You're "For Hire" In Your Author Bio
One neat trick I started doing early on was saying I was for hire in my author bio.
This immediately tells potential clients that I'm available and it's just a great way to market yourself as a freelance writer.
For example, here's my author bio for my guest posts over on Tweak Your Biz.

It's not necessary for every author bio, but it's best to place "for hire" on those guest posts that your target clients read.
5. Stay In Your Writing Niche
Ahh, your writing niche.
For many new freelance writers this can be a challenging thing to solidify. Once you choose your writing niche, there's no law saying that you have to stay with that writing niche.
Take the time to discover what you really like to write about and whether or not you can make a living from it.
I started with parenting and natural health as my niches, but quickly learned I couldn't really make a profit from writing in those industries.
It wasn't until later I started reading about how to market my freelance writing business that I loved all things about digital marketing.
So, once you find your groove and a niche that you love writing in, stay with it.
Start to build your writing portfolio in that writing niche.
I'm working on building my digital marketing niche portfolio. For the longest time I either was ghostwriting in this niche or providing content to sites that haven't been created yet.
It's just recently that I picked up some awesome clients in email marketing and digital marketing.
Now, I'm able to build my digital marketing portfolio and am finding that the inquiries that come my way are all in that niche.
So, aside from building your authority in your freelance writing niche, it's a great way to market yourself as a freelance writer since prospects who are looking for writers will quickly find you (based on your niche).
6. Be Associated With Other Freelance Writers
In one of my recent posts I mentioned that a secret to being a well-paid freelance writer is not what you know, it's WHO you know.
And being "associated" with other certain freelance writers can help you land a gig. How do I know this?
One of my course participants landed a writing gig over on Blogging Wizard (one of my clients). And she was able to do that because she took my course, which, for the client, meant I vouched for her – by proxy.
BOOM!
7. Hobnob with Influencers
One of the great things about social media is that you can connect with absolutely anyone, even if they are famous or an influencer.
And it's super easy too. You know how I do it?
By commenting on their blogs.
Here's my comment on QuickSprout – one of Neil Patel's blogs and his response.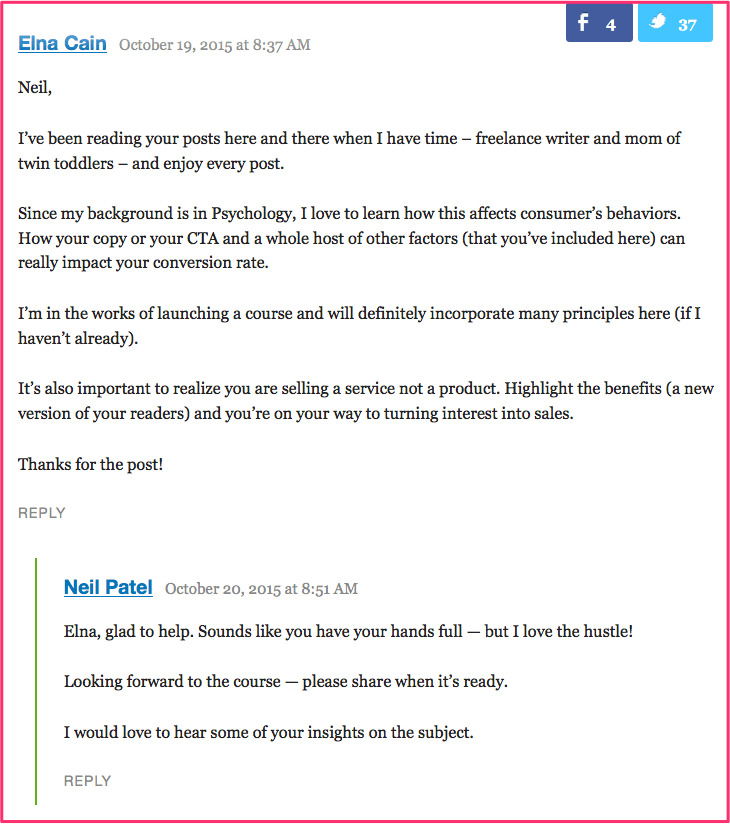 Then this lead to my reaching out to him on LinkedIn where we messaged each other and eventually I asked him if he would want to contribute to an upcoming Huffington Post of mine.
He said sure.
Fo' realz.
It's that easy.
So, go ahead and follow influencers in your industry or the blogging industry in general, comment on their blog posts and connect with them! This is a sneaky way to market yourself as a freelance writer because through your exchanges you can let out you're a freelance writer for hire. Or better yet, let your email signature do all the marketing for you!
This may lead to them hiring you or asking you to guest post so get out that and e-meet everyone 🙂
8. Pin Your Ad on Social Media
A solid way to get noticed as a beginner freelance writer is to have some social media marketing freelance under your belt.
Market your freelance writing biz is just to "pin" it on Twitter or Facebook.
This means it stays at the top of your feed so that more people won't miss this important information.
You can pin a testimonial like I did:
Social proof is a big indicator that other people like your services and writing.
This can help prospects realize quicker that you would be a good fit for their business.
You can also just pin a little ad of your services and site. This is what Lorraine Reguly of Wording Well did:
9. Comment on Blogs You Want to Write For
Yes, it's that easy.
Go to blogs you admire or want to write for and start commenting on their posts as a way to market your freelance writing business.
Most blog owners read their comments and will respond to them.
This is how I landed my gig over on Blogging Wizard when Adam had comments on his blog.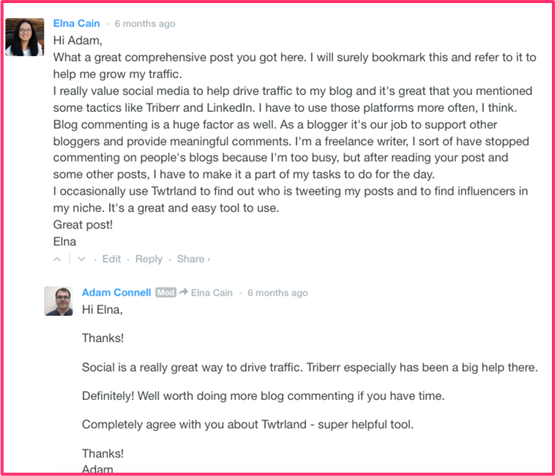 I left a no-fluff comment and Adam responded back to me. We made a connection.
From there I probably shared his content and he took a look at my site and my blog.
Here's my "Hire Me" page and how I send people to my blog: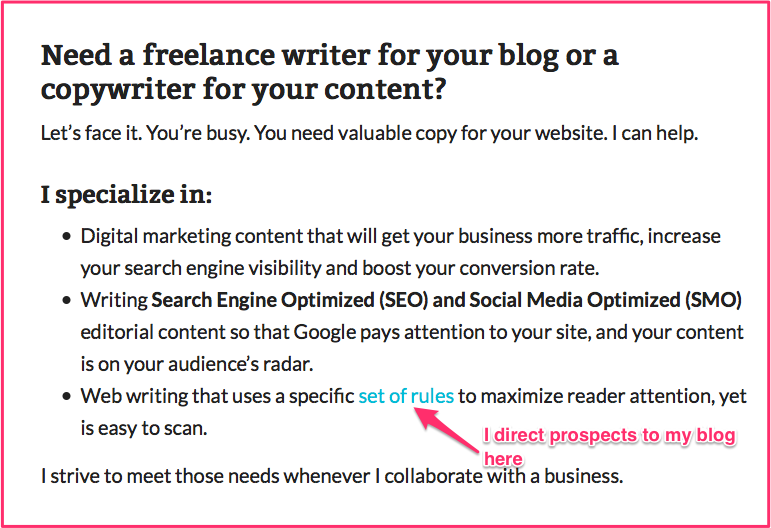 From there he contacted me and he ended up hiring me.
10. Tell A Fellow Freelance Writer You Have a Spot Open
Finally, one way to freelance marketing yourself as a freelance writer is to just let another freelance writer know you have a spot open on your content schedule.
A lot of established freelance writers often have more work than they can handle.
And we are always open to handing work off to other writers who ask.
By telling others you need work, work will eventually find its way to you. It's happened to me numerous times and it will happen to you.
Marketing for Writers
Being a freelance writer is more than knowing how to write. It's being a savvy freelance marketer.
But, you don't have to have years of sales experience to promote your services. You just need to know how to do it the smart way.
These ten ways will totally help you get the word out that you are a freelance writer looking for work.
Over to you – which marketing strategy are you going to try out first?
If you're ready to really earn a living from writing, you can get your step-by-step profitable freelance writing blueprint by joining Write Your Way to Your First $1k. It walks you through the exact action steps you need to take to land clients, tweak your website to increase conversions and get paid to write.