If you decided to become a freelance writer, one of the best ways to start getting out there and telling others you are a freelance writer is to use social media.
For freelance writers, I suggest you stick to Twitter and LinkedIn first.
Psst….this cool LinkedIn banner trick I will share will help you optimize your LinkedIn account for more writing projects!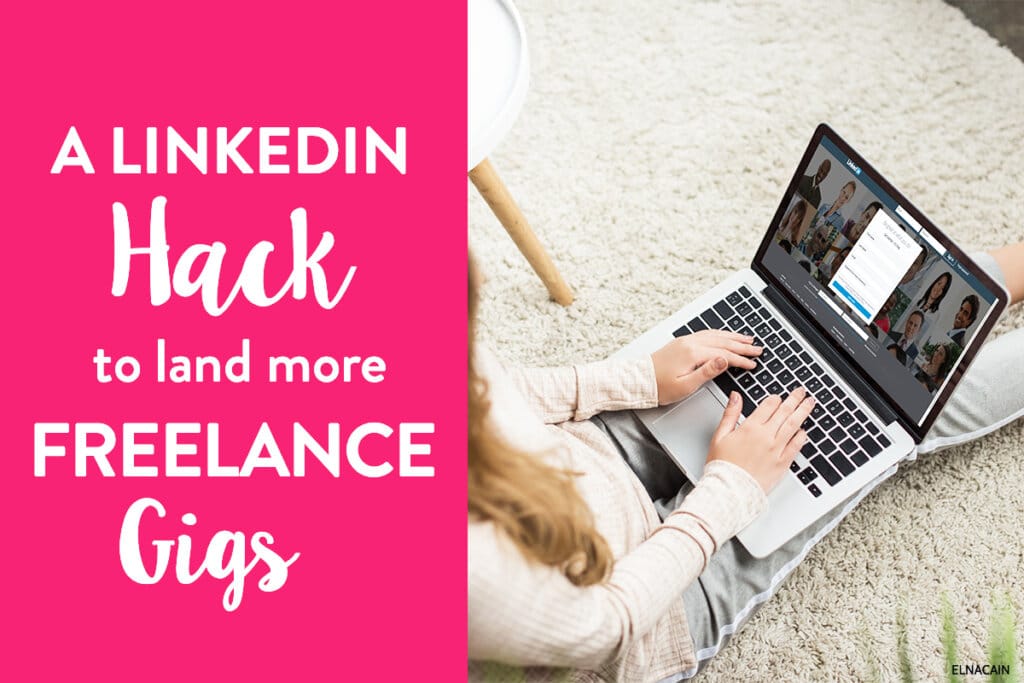 Later on you can dabble in Instagram or Facebook if you feel you can land more freelance jobs there.
Now, I know for many of you, social media is NOT something you are interesting in "doing."
I get you.
When I first started, I never used Twitter, LinkedIn or Pinterest.
I had a personal Facebook profile to keep in touch with my family. That's it.
I was NOT on social media.
So, when I decided to work from home as a freelance writer I had to learn about social media. I didn't even know what "tagging" was or the purpose of LinkedIn.
I had to learn which social media platforms to use for my freelance writing business and how to effectively market my business on those social platforms.
How to Market on LinkedIn (LinkedIn Banner)
Of the two social media platforms, having a LinkedIn account is the best platform to network and really find the best type of client for you.
I view LinkedIn as the professional Facebook platform.
You have a profile that shares who you are and what you do and instead of posting cute and fun things, you post your past work experience.
You can join LinkedIn groups and you can follow Company pages.
You can also connect with other freelance writers or request to follow other types of freelancers.
Now, for years, I've had my profile sit on my LinkedIn account as is. Over time I added new projects and occasionally updated my title and bio.
But, nothing too drastic.
LinkedIn over time has also changed and has updated their profile features. In light of this, I decided to shake things up.
In my YouTube Video, I share with you a LinkedIn hack that you can use to land more gigs. I also show you HOW to create this banner.
Check out the video and make sure to subscribe to my channel to be notified first when new videos get published!
Being Visual on LinkedIn With a LinkedIn Banner
The new thing I started doing on LinkedIn was take advantage of the LinkedIn banner image for my profile.
Before this "hack" I just posted a pretty stock photo for my LinkedIn banner image.
But, I decided to do some experiments to see if I optimized my LinkedIn banner image would I attract my ideal client – digitally native brands – and get more views to my profile?
This is what my new LinkedIn banner image looks like: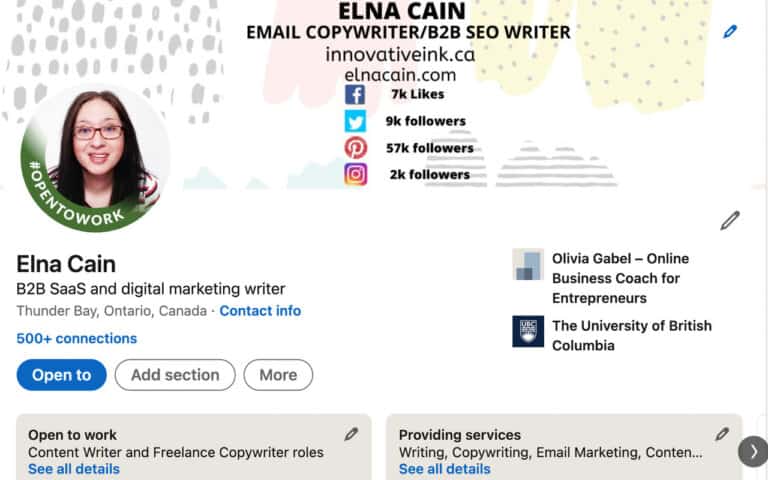 Here's what I did:
I mention my name and my writer website and blog
I put a photo of me doing a Facebook Live (talking on microphone)
Metrics to show potential client I write digital marketing content but that I'm also a digital marketer
Remember, most prospects will take a quick look to see if you are the writer for them.
You have less than 5 seconds to convince them you can write for them. So, your LinkedIn banner image can help you keep the attention of potential clients.
Have The Right Information on Your LinkedIn Banner
No matter what niche you are in – pet writing, real estate writing – it's important to have the right information on your LinkedIn banner image.
Personally, I feel they are your name, your blog and your niche if possible.
It's okay to be redundant in your LinkedIn banner image. I have two images of me – that's okay! It makes me more personal.
How Does a LinkedIn Banner Help With Landing More Freelance Gigs?
Doing this one thing makes you more personable and more unique.
Prospects will remember your profile if you have a customized LinkedIn banner image.
Once I updated my banner image and did some marketing tactics that I explain & show in Write Your Way to Your First $1k, I improved the views to my profile by 57%.

This "hack" is a warm pitching hack as well and takes time to develop clients. But, it's my favorite strategy to land long-term recurring freelance work.
How to Create a Customized LinkedIn Banner Image
The editing tool I used to create my LinkedIn banner image was Canva.
It's a free tool that has templates – like the LinkedIn banner template – to use.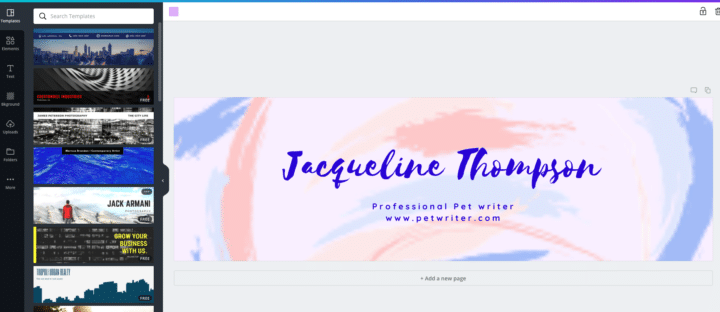 If you want to see how I created this banner, make sure to check my YouTube video!
3 Marketing Tactics to Help You Land More Freelance Writing Jobs
On top of using my LinkedIn account, you should also be trying other platforms to market your writing business.
Here are my top three.
1. Guest Posting
Guest posting is by far the best strategy as it has a high ROI – rate of return.
By guest posting on other people's sites you reach a new audience and it may land you work from the blog owner too!
Guest posting also helps you build your portfolio. With a bylined article, you can link to that on your Portfolio page or upload this to your Contently portfolio.
2. Networking
I have mentioned previously, but networking is the backbone of your freelance writing business. Without networking, you will not succeed! It's that important.
Networking can be as simple as following other companies and as complex as guest posting or emailing them.
Some of my best freelance writing jobs was a result of networking!
3. Starting a Blog
Content marketing still relies on blogging. Businesses use blogs as their lead generation strategy and it's no different for you – the freelance writer!
You can start a blog to attract some amazing clients. It has happened to me numerous times.

If you need help starting a blog for your freelance writing business, make sure to check my totally simple step-by-step video.
Get On LinkedIn
Okay – I want you to try this LinkedIn banner hack and when you're done, share your LinkedIn profile so I can view it!
Thanks and remember to share this post!