New freelance writers are often told to guest post as a way to build their portfolio.
After all, if someone else thinks you're good enough to write on their blog, then surely a prospective client will think you'd be good for their company too.
Most guest posting is a free writing opportunity. You are giving away your best content for free!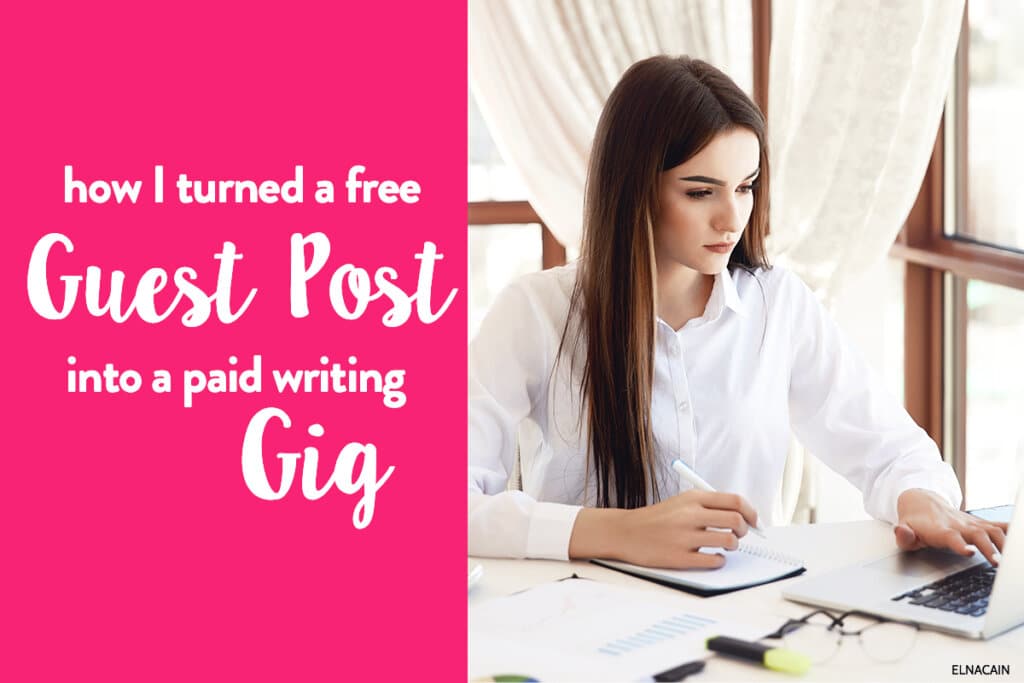 Why would you do that?
Many big and successful freelance writers advise against writing for exposure. They say you'll die of exposure.
I don't believe this. In fact, my most recent guest post landed me a sweet writing gig.
But, before I get into that story, let's go over why writing for free really does pay off for new freelance writers.
Writing For Free Works
In my freelance writing course, I advise all my course participants that the best way to build their portfolio is to guest post. I even have an entire lesson in the course on how to land your first guest post so you can land clients quicker.
There are many places that pay for guest posts, but it might be a bit harder to get these posts accepted and the sites aren't always well known.
And typically, free guest post spots are easier to land – but not always depending on how popular they are – which makes building your portfolio a quicker process for new writers.
When I first started, I was able to land a guest post on A Nation of Moms easily. This gave me the confidence I was a writer and not some wannabe writer.
Guest posting is also a great marketing tactic. You want to know why? Because of this:

Your author bio.
This is what will help you snag your ideal client and earn you money as a freelance writer.
How:
It gets your face, name and service out there. Your author bio is like a business card advertising to prospective clients who you are and what you do.
It attracts your ideal client. I recently updated my author bio to say "provide digital marketing content" instead of "useful and engaging content." Now my bio will attract my ideal client – a solopreneur or small business that seeks digital marketing content.
Gives you a new platform to market yourself. Imagine guest posting on the Huffington Post? This huge platform can immediately help you solidify your expertise in your niche and introduce you to new collaborations.
And this is why guest posting is the best way to build your portfolio – for exposure.
But, one perk many writers don't talk about is how guest posting for free can result in landing a writing gig. It hasn't happened to me a lot – only because I wasn't guest posting as often as I am now since I'm promoting my course – but it has happened to me, and just recently in fact.
How I Landed a Paid Gig Out of All This
When I launched my freelance writing course back in November, my marketing plan was simple:
Guest post
Create a funnel with my free course
Notify my email lists I had a course available
This is pretty standard for marketing your products. So, I made a plan to guest post on popular sites like Successful Blogging and Adrienne Smith.
Then I started focusing my marketing on work-at-home sites and making money online sites. I sent a pitch to Real Ways to Earn Money Online and asked if I could guest post.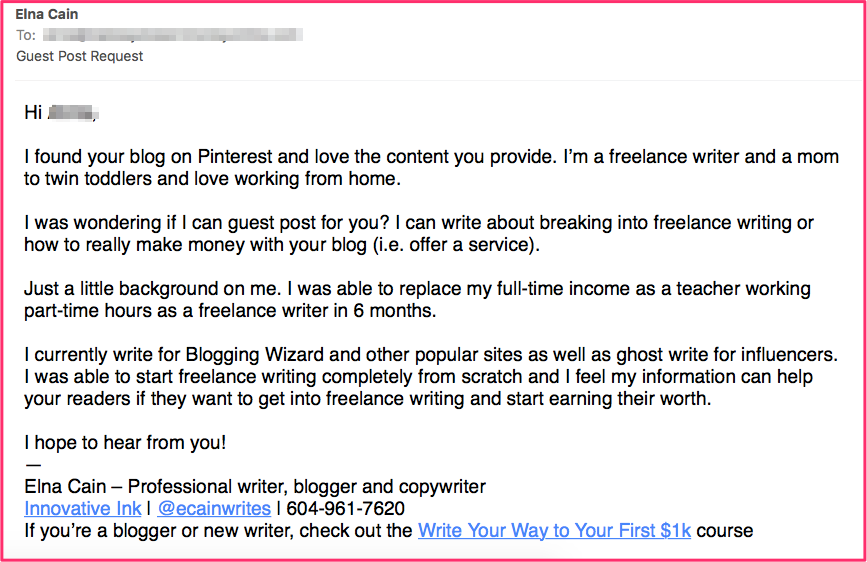 This blogger accepted my pitch and when I finished the post and sent it over, the next day I received this email:

This was a pleasant surprise. I love doing images and I readily accepted this gig – but this isn't what the post is about.
This prospective client reached out to me again and offered a writing gig. We negotiated a rate for content and now I provide blog posts for this blogger on an ad hoc basis.

And just this month both my client post and guest post were published.
So, how did this happen? I knew nothing about this blog when I pitched my guest post. I saw many pins on Pinterest from this blog, but that was all.
I wasn't following this blog on Twitter or Facebook either. I purely contacted them for a guest post to promote my course. But, it resulted in a freelance writing job!
So, how can this help you out if you're new to freelance writing and you're writing guest posts to build your portfolio?
4 Things That Helped Me Land This Gig
Let's look at four things that helped me land the gig.
1. I Had an Active Blog
One thing is for sure, my blog is helping me land clients. As a freelance writer you may feel a blog isn't necessary. I mean you're writing – for free – on your site, which leaves little time to write for your paying clients.
I get this. But, what has helped me change this view is to treat my blog as a client. I have several recurring clients and I just include my blog as one of them.
Every week I create a schedule for my recurring blogging gigs and over the course of a couple days I can whip out these posts for all of them. And since freelance writing is something I know very well, I write posts for my blog easily and quickly.
I also have an active blog. I feel this contributes to hiring me once a prospect sees the level of engagement on my blog.
I post regularly, always have comments and there's always a lot of social sharing going on.
I feel prospects look at my blog – and see the high engagement and all the shares – and can confidently feel that I can produce this type of content on their site.
So, what's the takeaway for you:
Treat your blog as a client. Over time you can build a loyal following and high engagement if you post consistently and promote frequently.

If you haven't started a blog I have a video tutorial to help you get your business blog up and running!
2. My Blog Has Great Images
I get told from visitors all the time how great my images are on my blog. And I have clients that only want my graphic design services.
While it isn't necessary for you to have great images on your site, if you want a thriving blog, you should consider taking the time to pick beautiful images.
And you can get work, with your blog images.
Nowadays it isn't expensive to have a beautiful looking blog post. You can grab free images from Pixabay or Pexels (my two favorites). And you don't even need Photoshop (although that is what I use). You can easily produce the same type of images as me with free editing tools like Canva or Picmonkey.
And since I know the value images have on a blog, I even included enhanced video training in my course on how to create text with your images.
The takeaway for you:
Be more than just a writer. Explore adding services with images, GIFs, infographics, pull quotes or anything to make your blog post pop. This will get you noticed by visitors and increase your social sharing and engagement.
3. I Have the Credibility
Now, I know you're a new freelance writer and you're just building your credibility, so this might take time to grow.
I have a feeling, though, that this blogger considered my credibility before asking me to write for them.
In my original email I did mention I was a writer for Blogging Wizard and that I provide ghostwriting for influencers online. These two factors makes it easier for a prospect to hire me when they know I've written for popular blogs and for popular people.
But, what if you are new and you haven't landed a guest post on a popular blog yet? The best advice I can give you is to keep trying and to devote some time to:
Commenting on popular blogs like Smart Blogger, Quicksprout or any popular blogs in your niche.
Share blog posts of sites in your niche.
Follow big blogs and popular people.
This is called blogger outreach and it works. Focus your energy on doing a bit of blogger outreach in the beginning while you're still building your portfolio. This can help you cement your credibility in your niche when you can comment using your expert knowledge on these sites.
So, the takeaway for you is:
As a new writer, you can gain credibility by not only guest posting, but engaging in blogger outreach too. Doing this will get you noticed as an expert in your niche.
4. I Was at the Right Place and the Right Time
Let's face it:
This client was ready to outsource her work and wanted someone to lighten her graphic design time and content writing time (she said that in the email).
I just happened to appear and fulfill that need. It's instances like these that you can chalk up to being lucky, but isn't luck occur when preparation meets opportunity?
What's your takeaway?
There's always opportunity when you least expect it. Realize any comment you leave, any person or business you follow, or any guest post pitch you submit could lead to a paid writing job.
Start Taking Action
You're new and unsure what to do.
If you've never pitched or wrote a guest post all this can seem overwhelming and daunting. But the best thing you can do is to start taking action today.
Search for places to guest post. Type in Google, "write for us" + "[your niche]." Pitch a topic to these blogs and start creating posts for these sites.
Once you have a few pieces for your portfolio you can really start to market yourself as a freelance writer for hire. And if you need that extra guidance to help you succeed faster, consider taking my freelance writing course!
Over to you – what's your experience with guest posting. Have you landed a gig out of it?
Please pin me 🙂