When trying to grow your freelance writing business on the side, the weight of landing clients is enormous.
You simply don't have the time to devote 8 hours a day to prospecting and networking to find some great online content writing jobs.
So, you need to cram 8 hours worth of business tasks into 2 hours a day – if that!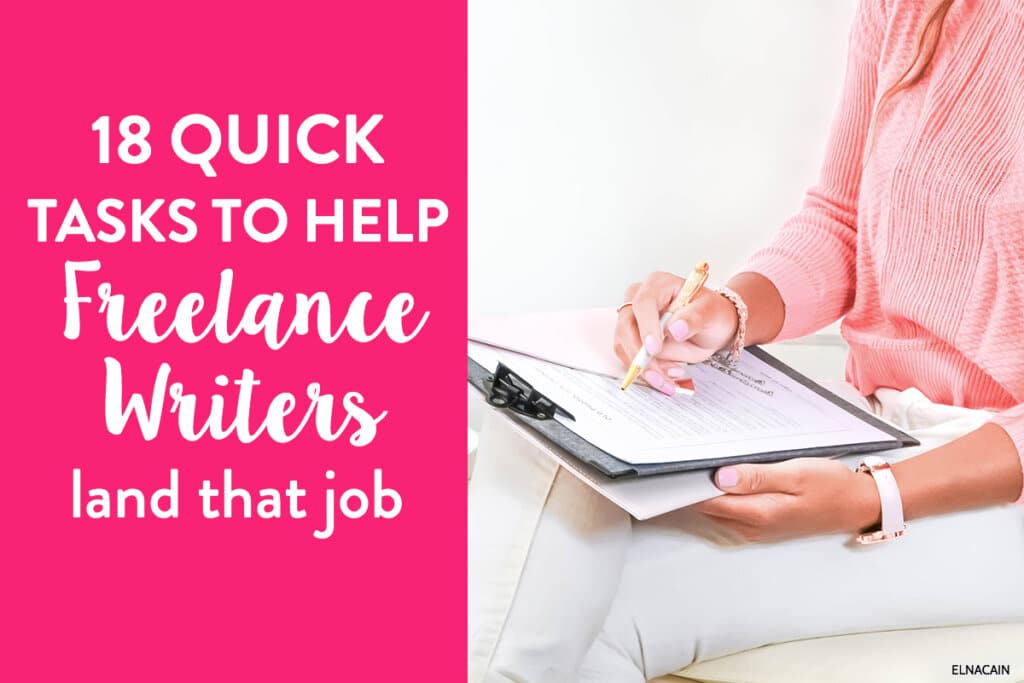 I get you!
When I first started as a freelance writer, my twins were around 15 months old or so. They were napping once a day, and I was slowly working on potty training both of them.
So, I had about 2 hours during the day to devote to growing my freelance business.
And I did that by performing tiny tasks.
These tiny tasks added up to bigger tasks, and it made me feel accomplished. I was able to knock-off 3 tiny tasks while my twins played for 20 minutes, and that meant checking off 3 to-do things off my list.
And what really helped me accomplish my tiny tasks was using a planner. I have one specifically for freelance writers that is perfect to help me with my daily tasks.
Okay!
Here are the quick small tasks you can do every day to grow your freelance writing business and feel accomplished – even if you can't devote hours to your side hustle.
18 Tiny Activities to Help You Gain Freelance Writing Jobs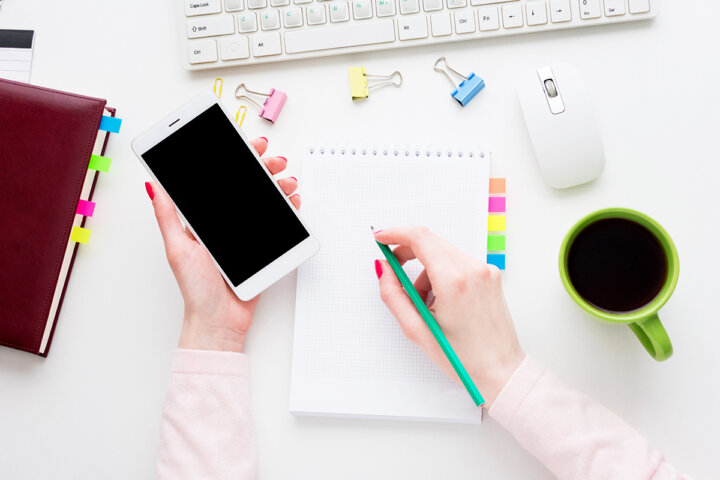 1. Follow Up
Remember those pitches you sent out a month or two ago? Well, if you never heard back from those pitches, it's time to follow up.
One of the easiest and best ways to land clients quickly is to draft a simple follow up email template. This takes no more than a few minutes to do.
2. Reach Out to Old Bosses
Connect with previous bosses you've had (or talk to family and friends) and see if they know of anyone that needs writing work. Maybe a teacher they know needs help with her resume, or your boss needs someone to write newsletters for his clients.
This small task can be a goldmine for finding freelance writing jobs. Many of my course students use this tactic to find long-term work.
3. Get Testimonials
I have a separate page for my testimonials as a way to show social proof and help prospects trust my service.
If you are a budding freelance writer with a client or two under your belt, go ahead and ask for a testimonial. You can update your writer website or LinkedIn profile.
4. Engage on Twitter
Go to Twitter and search for niche-related topics on Twitter and engage with them.
For example, if you are a pet writer or you want to write in the pet niche, you can search for that on Twitter and find brands, pet products, and veterinarians and engage with their content.
Here are few I found:
By reading their content and engaging on Twitter, you begin to open the doors to networking.
This is a warm pitching tactic, and it's one of my FAVORITE ways to land profitable freelance writing jobs.
Plus, this only takes five or so minutes to do!
5. Post a Question on LinkedIn
LinkedIn is a fabulous resource for finding clients.
Go to LinkedIn and find groups where your ideal clients hang out and post a question that showcases your expertise in your niche.
Again, this is another warm pitching tactic that can alert potential brands and businesses of your writing services.
6. Send that Cold Pitch
Noticed a blog you read hasn't been updated in a while? They may need a writer!
Go ahead and reach out to them and send them a cold email by introducing yourself and mentioning how much you enjoy their content. Then tell them about what your service is!
7. Make More Friends
Go on Facebook or Twitter or LinkedIn and find other freelancers like freelance graphic designers, VA's (virtual assistants), Pinterest managers, coaches, etc..
By connecting with other fellow freelancers, you can let them know about your service and vice versa.
Maybe a month later, your VA friend says one of her clients needs a copywriter for her landing page. Boom, you have a lead in your inbox!
And making contacts doesn't take that long!
8. Be Helpful on Social Media
Create a list of tips or tools and services that your potential clients might find handy and then create a graphic for it.
You can use Canva to create a social media graphic and then share it on Twitter and Facebook.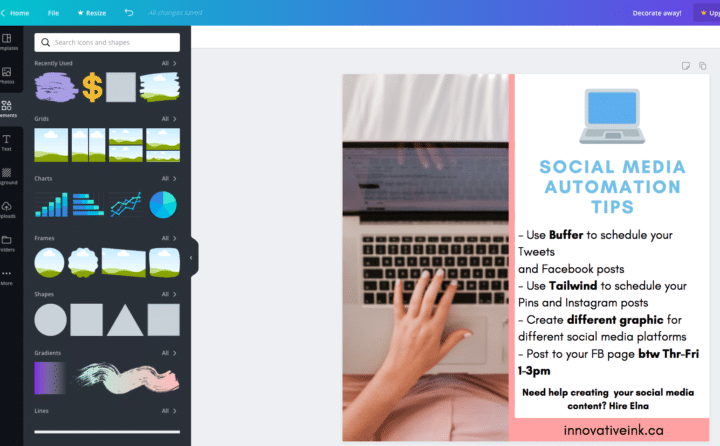 9. Sign Up to Meetup and Eventbrite
Both Meetup and Eventbrite are directories of events in your local area.
You can meet potential clients at these events and connect with them. You can also connect with the organizer of the events since they will know of any upcoming events in your industry.
10. Update Your Portfolio
Add more recent client posts or guest posts to your Portfolio page on your writer website.
Sometimes I may add a new category or remove posts that weren't my best writing.
Once you update your portfolio, share it on social media, or tell everyone on LinkedIn.
11. Check Job Boards
If you don't use job boards for finding writing gigs, you should!
They are still a great place to find good freelance writing jobs. Especially if you are brand new to freelance writing, use job boards to gain experience with negotiations, communication and turnaround time.
Check out these five job boards to get you started.
12. Draft an Outline for a Writing Sample
If you find you aren't landing gigs, you might have to make some new writing samples.
Over time, you develop better writing skills, and maybe your older samples didn't show that (since you were new).
Draft an outline for a online writing sample or two and when you have more time, write them!
13. Connect With One-Off Clients
Some of your freelance writing jobs will be one-off pieces.
This is a one-time deal, and you move on. But, did you know that you can turn these one-off gigs into recurring gigs?
It happened to me, and it can happen to you.
Go ahead and email those clients you did work for a while back and check up on them. Ask how everything is doing and let them know you are open to working with them again.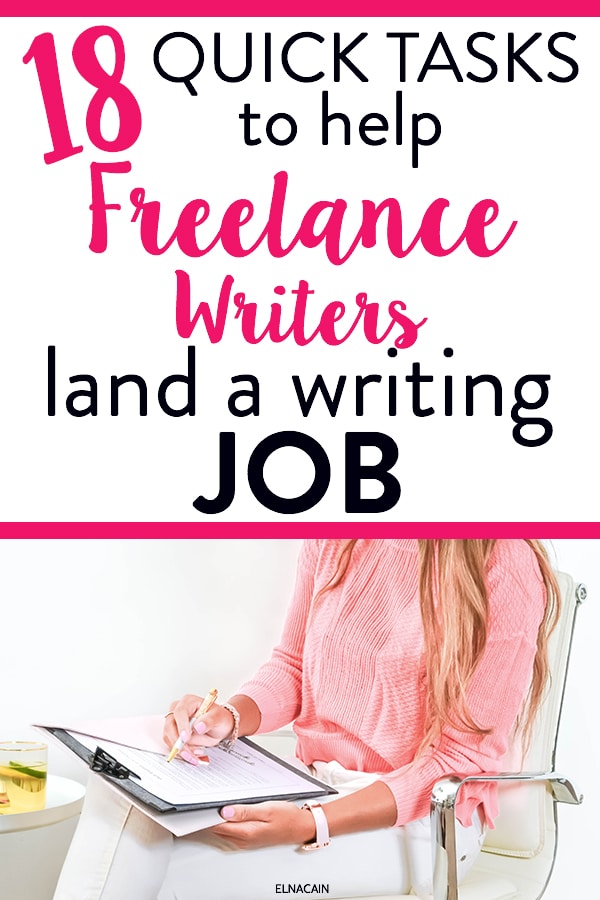 14. Create an Income Ladder
Where do you see your freelance writing business in five years time? It's a good idea to look at your business as a whole and see where it can potentially take you in a few years time.
And you can visualize this is with an income ladder.
The bottom rung is the rate and type of client you have right now. The top rung is where you want to be with your rate and client.
Now, the fun parts come in.
The rest of the rungs are stepping stones to get from point A – where you are now – to point B – where you want to be income-wise.
Spend a few minutes figuring this out.
15. Draft a Pitch Template
I love using templates. It speeds up my tasks, and it streamlines my business.
I like to have pitch templates, testimonial templates, blog post templates, and more.
Find time to draft a pitch template that includes the basics like who you are and what you do and how you explain your services.
16. Promote Your Service on Social Media
If you belong to Facebook groups with promo days, why not offer your freelance writing services?
Sometimes, others will want a writer too!

17. Tweak Your Author Bio
Your author bio is a hot piece of real estate for marketing your business. As a new freelancer your author bio may not highlight certain clients or features. But, if you've been at it for a while, go ahead and update your author bio to mention those highlights!
18. Research Guest Posting Opportunities
Guest blogging is when your content is published on another blog that is bigger than yours.
Usually, you want to guest post on sites with a large audience or ones in your exact niche.
I've guest posted on niche sites like this one and for large sites like this one.
Both options have a purpose for your business. But, why should you give your writing away for free (most guest posting opportunities are free)?
Because it can lead to paid work for you!
It's worked for me several times and it can work for you too! So spend that extra five minutes on searching for guest posting opportunities on Google. Just go to Google and search your niche + write for us.
I made an infographic on the 5-minute tasks to attract and gain clients! Please Pin this for me! Thank you so much!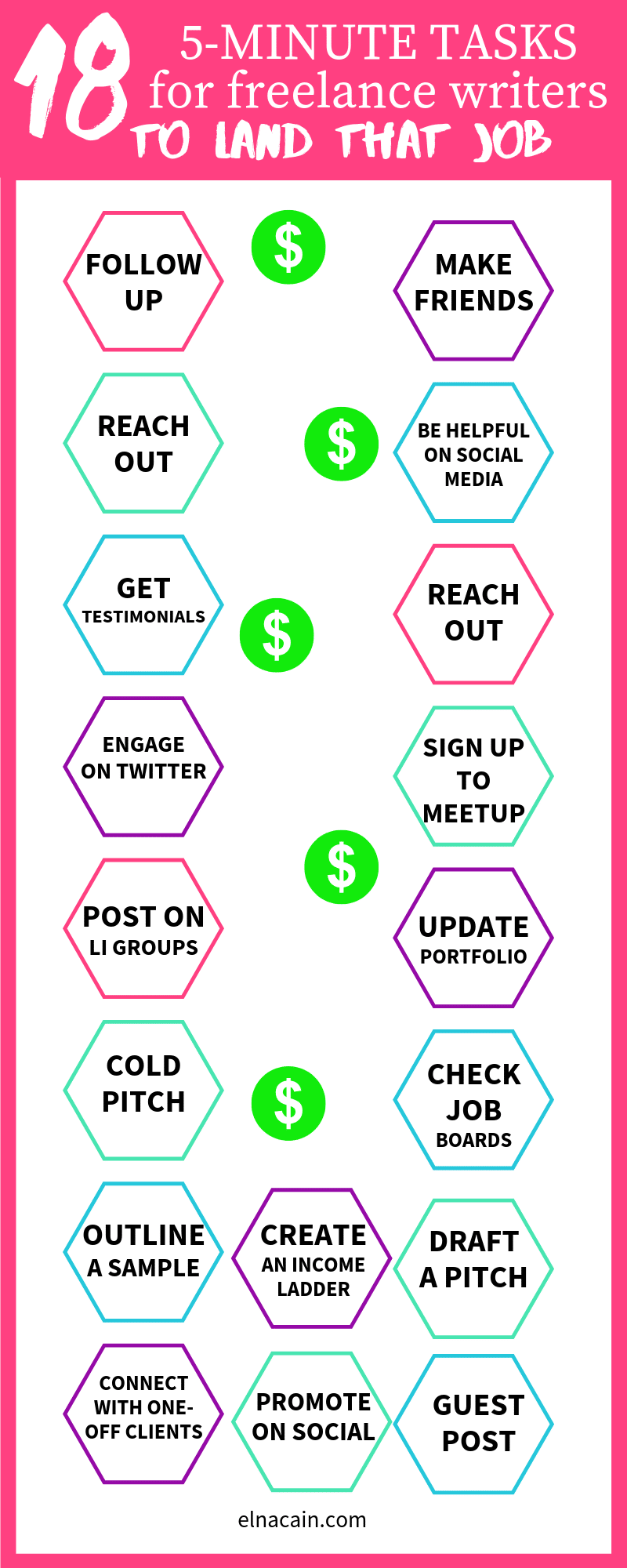 Attract and Gain Freelance Writing Jobs
Look –
Deciding to become a freelance writer often means working at your regular job until you know freelancing is a viable choice to quit your job.
Leaping into freelance writing is scary, and that's why I want to show you that you can moonlight as a freelancer or do this as a side hustle like I did when my twins were babies with small tasks!
You can build your freelance writing business and land client after client doing small tasks when you have time. It might take longer than if you had bigger chunks of time, but you're still doing it, and taking action and that's what counts!
And don't forget to pick up the freelance writer planner to help you plan out your to-do tasks.
So, try these eighteen quick tasks and see if you can't land a client or two!
Share in the comments your favorite 5-minute task and thanks for sharing this post!