Writing podcasts are a great resource for new freelance writers.
Sometimes we just don't have the time or ability to sit and read content about freelancing or writing.
We can make much better use of our time if we listened to some writing podcasts during our morning commute to work or while we are preparing dinner for the family.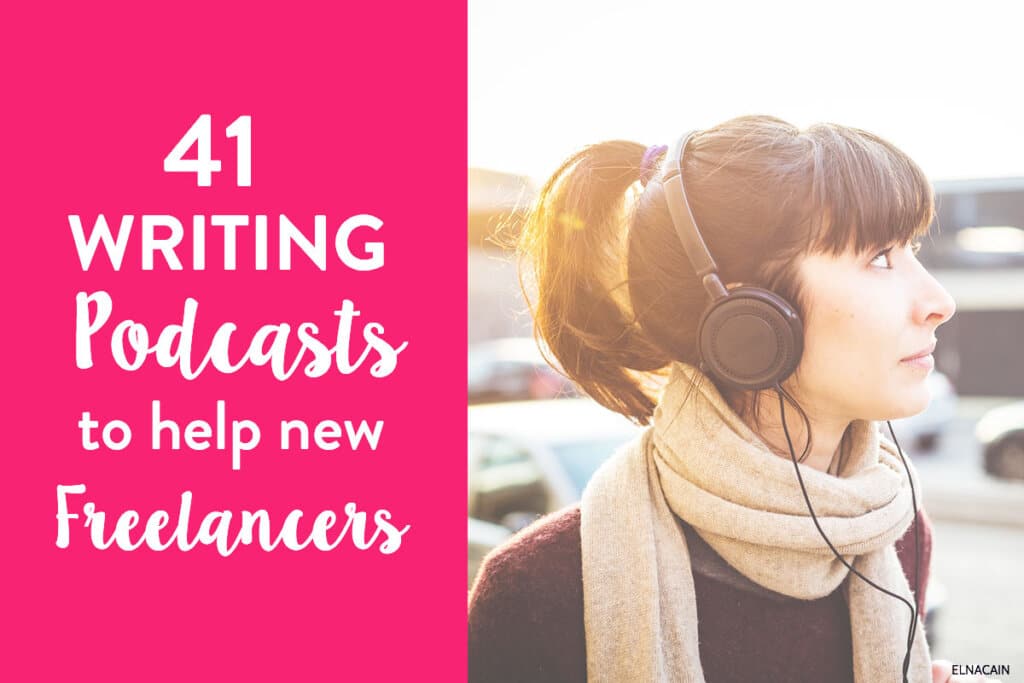 This way you are multi-tasking and pushing your freelance writing business ahead even if you aren't physically next to your laptop.
To help you out, I've rounded up the best writing podcasts that cover the business side of writing to the linguistic and grammar side of writing to even the adventurous side of writing.
So let's get going and learn the 41 writing podcasts for beginner freelancers.
Copywriting Podcasts for Writers
1. Hot Copy Podcast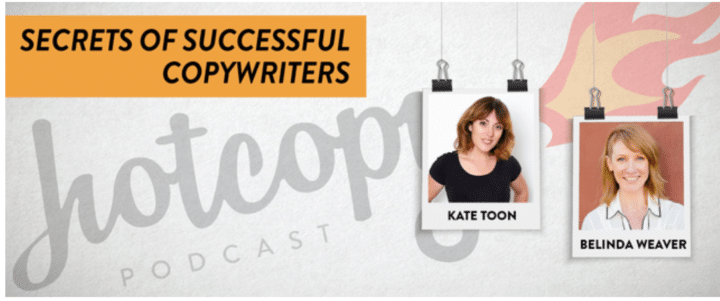 This is a collaborative podcast with copywriters Kate Toon and Belinda Weaver.
The podcast is geared for beginner copywriters to help them be successful with the writing and business of copywriting.
2. The Copywriter Club Podcast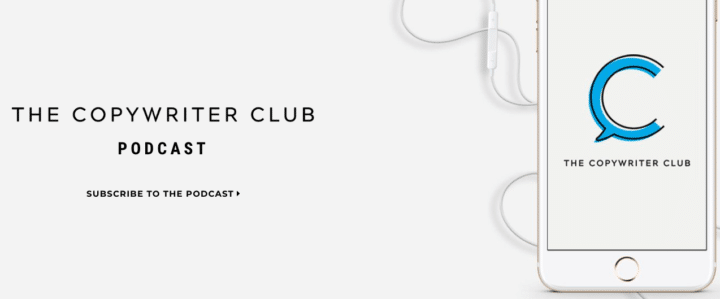 Kira and Rob are behind the popular Copywriter Club site and podcast. Both are respected copywriters with years and years of experience in all types of copywriting.
3. Copy that Pops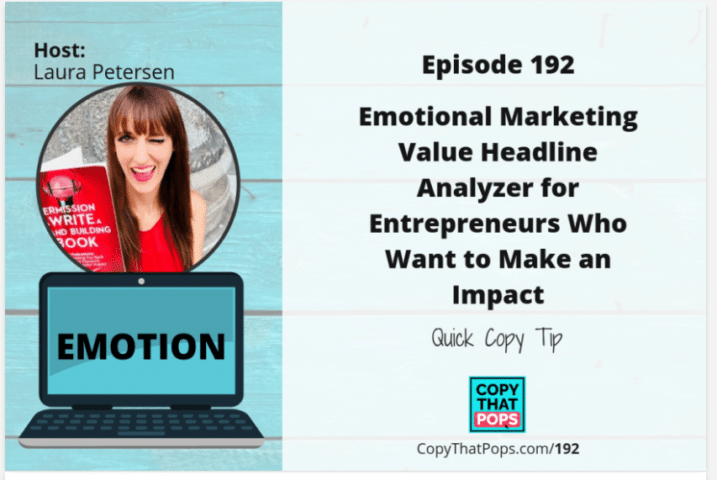 Lauren is an entrepreneur and podcaster. She started her podcast as a way to help entrepreneurs refine their copy and add some persuasion to their copy to help with conversions.
She's really into helping you write, self-publish and promote your great book!
4. Copyblogger FM

Copyblogger FM is a content marketing podcast hosted by Sonia Simone and other Copyblogger staff. Sonia talks with other experts in the industry on a wealth of different topics, including everything from email marketing to getting your mindset right.
5. The Pete Godfrey Persuasion Podcast

This podcast is from old-school copywriter Pete Godfrey, who's honest and opinionated shows might take a bit of getting used to for some. This self-proclaimed "Wizard of Words," covers topics from persuasion and copywriting to sales and marketing.
6. Copywriters Podcast

The Copywriters Podcast podcast really focuses on the core elements of copywriting. Along with interviewing industry experts, host David Garfinkel also discusses core topics like, "How to write in your client's voice," which is so valuable to new writers.
7. Good Copy, Bad Copy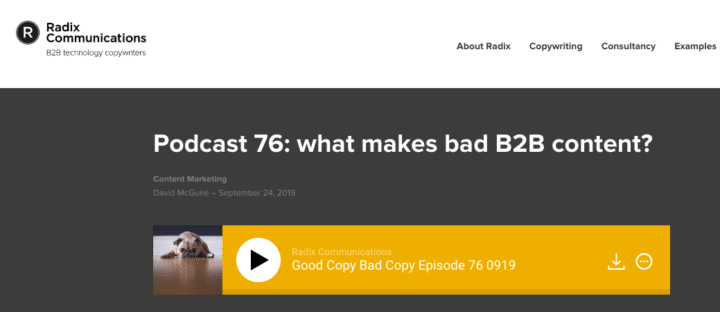 Good Copy, Bad Copy is a podcast that focuses specifically on B2B copywriting. This podcast focuses on everything from how to write B2B for social media to how to write copy for specific business niches. So if you are looking to write for a specific B2B niche, this is the place to start!
8. Copy Chief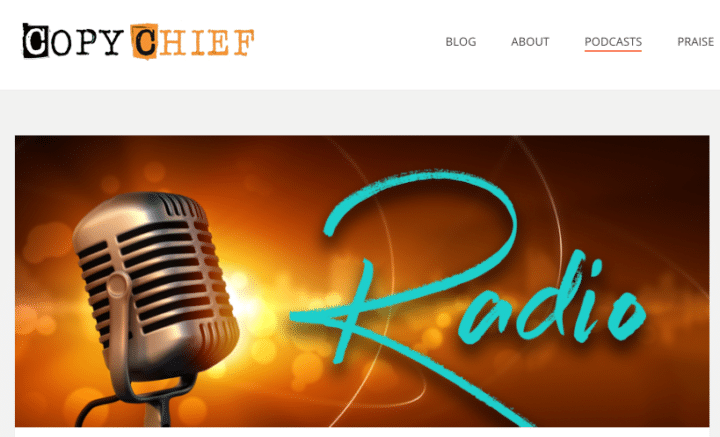 Kevin Rogers was once a broke stand up comedian who discovered how a formula for a joke was actually a powerful marketing tool. Now one of the most in-demand marketing consultants online, Kevin interviews other top marketers on the power of copywriting.
9. Creative Copywriting & Content Solutions

This podcast covers a wide variety of copywriting topics and focuses on small business owners. Host Jaffaman Eddie provides readers with solid tips and tricks for boosting your copywriting business and skills.
10. Geniuses of Copywriting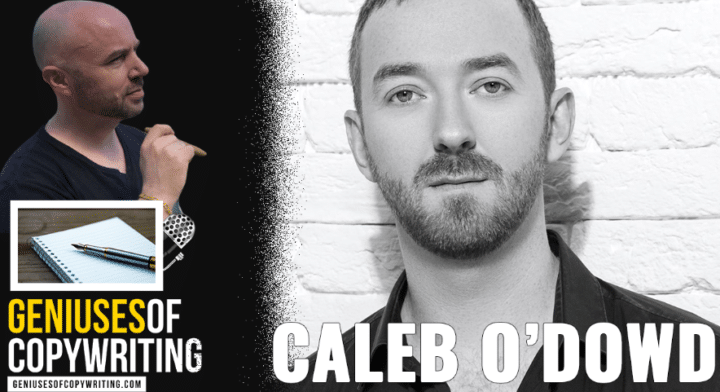 Learn from copywriting geniuses that are in the trenches. From creating copy for YouTube Ads that convert like crazy, to interviewing copywriting legends like John Carlton who is said to have invented the industry standard for copywriting.
11. Best Page Forward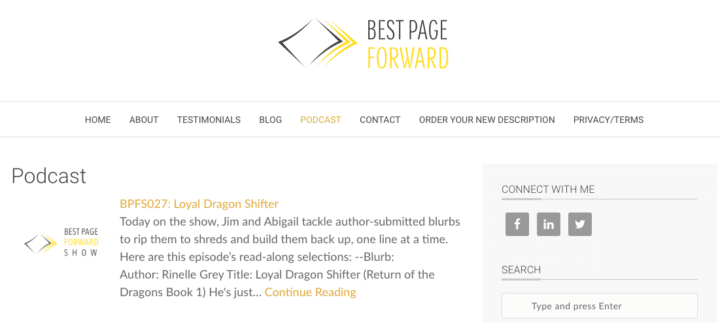 Hosted by a copywriter and an author, best page forward focuses on copywriting skills specifically for books and how to write amazing descriptions to capture your audience in seconds. This is a great podcast to start with if you are leaning towards Amazon publishing.
Writing Podcasts for Aspiring Writers and Authors
12. Longform
This is a weekly podcast that discusses how non-fiction writers tell their stories, hosted by non-fiction writers. They interview heavy hitters like the editor-in-chief from Vanity Fair to staff writers for The New Yorker.
13. Craft Your Content (Writer's Rough Draft)

In this podcast, host Elisa Doucette speaks with seasoned writers and gathers their best tips and tricks that they have used to find success with their careers. This is a great show for brand new writers that shares the personal stories of how others have become successful.
14. The Writer Files

It takes a lot to be a great writer. Host Kelton Reid has examined the habits or many successful writers in all genres to share with his listeners their creativity and productivity secrets. As well as a brain picking session or two.
15. Clever Content

Clever content puts a spin on traditional writing and copywriting podcasts and dissects clever pieces of content from around the internet. They also cover the latest news and events related to the world of content.
16. Writers of Silicon Valley

A podcast for UX writers which includes topics like how to write for chatbots that people can't ignore and want to interact with. While UX writers are a specialty niche (and currently one of the hottest tech jobs), they share many tips that are applicable to other writing niches.
17. The Story Engine Podcast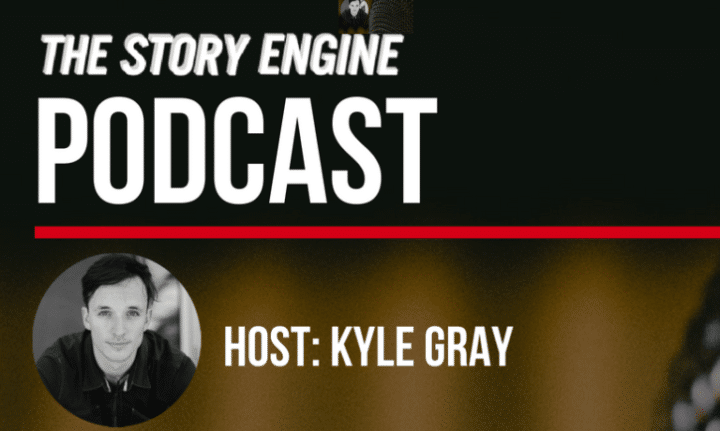 Host Kyle Grey shares how to use your personal story as a powerful marketing message. He interviews well known entrepreneurs and gets to the core of how they are using their stories in their marketing messages to attract their ideal clients.
18. Writing Excuses

A short and action packed podcast filled wiht writing tips. These 15-minute episodes are quick enough to listen to while getting ready in the morning or sitting in the car waiting for the kids to get out of school. Hitting on topics from volunteer opportunities for writers to author branding, you are sure to get a great take away from each episode.
19. I Should Be Writing

The perfect podcast for the aspiring book author. From award-winning author Mur Lafferty this podcast has been around since 2005 and he has interviewed successful authors on what it truly takes to make it in a writing career. Packed with inspiring success stories, this podcast is a great listen for in the car or around the house.
20. Ditch Diggers

A spinoff of the previously mentioned podcast, I Should Be Writing, Ditch Diggers is all about the business of writing and less about the craft and art of writing. But be warned, there is more explicit content in this podcast, so you might want to grab your headphones for this one.
21. The Creative Penn

An uplifting and inspiring podcast for both the beginner and seasoned writer. Host Joanna Penn talks about the art of writing, book publishing, how to market your book, and how to actually make a good living as a writer.
Grammar Podcasts for Writers
22. Grammar Girl

From podcasting hall of famer Mignon Fogarty, brings you quick tips to help improve every aspect of your writing. From the style to punctuation, it's the subtle things that can really help to bring your writing to the next level.
23. Lingthusiasm

Get nerdy about language and all things linguistics with host Gretchen McCulloch. From discussing topics like how emojis play into our gestures and body language to why spelling and the English language is so difficult to learn.
24. Talk the Talk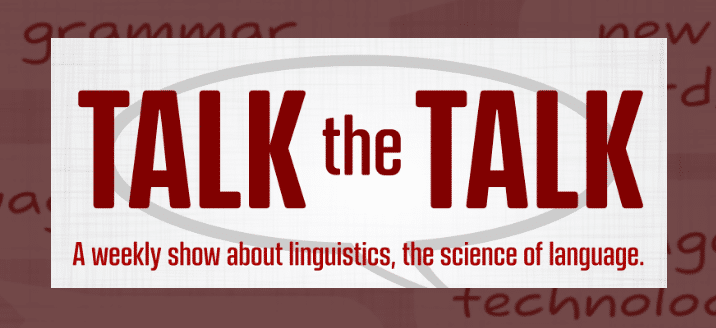 This lingustic podcast covers both new and historical topics, such as the Britain's lost gay language. An intellectual and intriguing podcast that any word nerd is sure to love.
25. The History of English

Host Kevin Strong brings you well researched content in a highly professional manner all about the history of the English language. From interviewing historical authors to discussing how swearing came to be, you are sure to learn everything you could ever want to know about the English language in this podcast.
26. Lexicon Valley

A podcast about linguistics that is sure to keep you on the edge of your seat. From entertainer John McWhorter, this podcast is never boring and is packed with useful information on how a linguist sees and hears language.
27. 6-Minute Grammar

Want to improve your grammar but don't have time to listen to an hour long podcast? 6-Minute Grammar is the perfect solution. From the best way to pose indirect questions to how to use passive voice, this podcast provides examples and breaks down each into bite sized and easy to understand concepts.
28. That's What They Say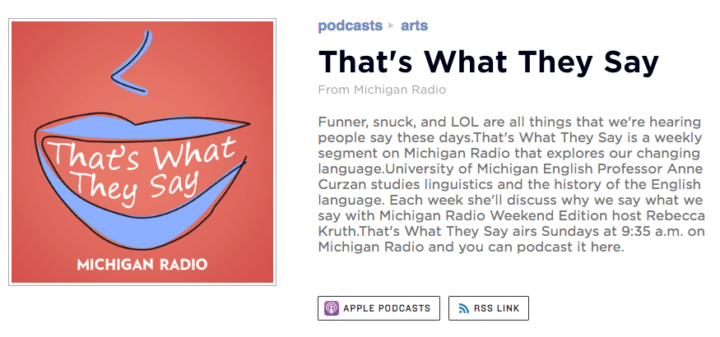 Another quick listen, this podcast dives into the meaning of commonly used slang and phrases in the English language. Hosted by Rebecca Kruth and English professor Anne Cruzan, there are fun historical facts about saying and phrases as well as some personal stories and antics.
29. Words for Granted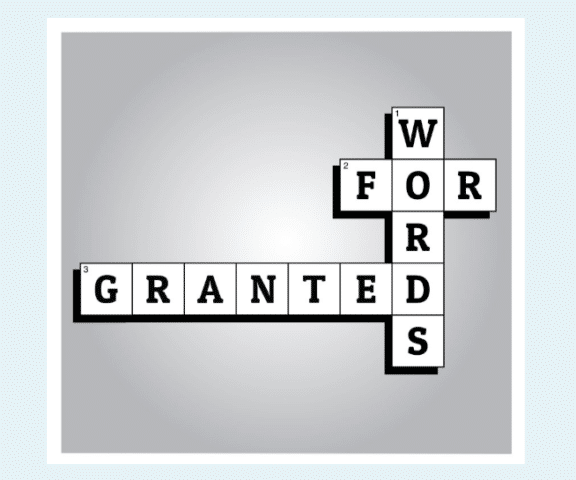 The English language has drastically changed over time. Words for Granted explores both the history of how words have changed and also dives into individual words. From how other cultures have influenced the English language to language learning myths and tips, this is a highly educational and rather technical podcast.
30. A Way With Words

Another fun and educational podcast about language and how it has been influenced by culture, history, and family. Since 2007, NPR has been producing A Way With Words and covering topics from internet language to a plethora of amazing book recommendations.
31. The World in Words

This podcast covers all topics related to language but has a strong focus on culture. The topics are wide and cover everything from whether or not Braille will still be used in the future to how Americans are now using terminology from various cultures to describe sports skills.
Freelance Writing Podcasts for Writers
32. High-Income Business Writing

Hosted by Ed Gandia, he shares information from happy and successful freelancers that he has studies as well as his own freelancing experiences. Ed believes that as long as you are a good writer, you can make a great living using some of his smart strategies and proven processes (and a lot of grit!)
33. The Fizzle Show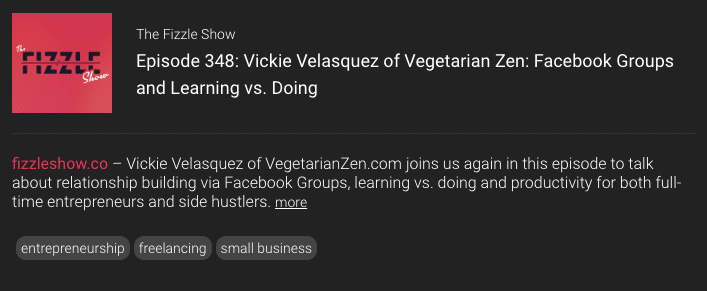 A great podcast for creative entrepreneurs (aka writers) to help them build businesses they are passionate about while making good money. Whether your looking to build a personal brand or looking to build a funnel for your book, this podcast is packed with useful business building information.
34. Copy Chatter

Fellow freelancer friend and course student Ashley Gainer is great to listen to on her podcast for freelancers. She can help to grow your business. From the technical aspects of running your business, such as finding a niche and setting your rates, to how to stay motivated as a freelance writer.
35. Brand Your Personal Branding

Whether you are a freelance writer or any other type of business, it's important to brand yourself so that you can set yourself apart from every other copywriter and freelancer out there. Host Mike Kim focuses on not only personal branding, but how to incorporate copywriting into your personal brand.
36. Double Your Freelancing

As freelancers, working with our ideal clients and making more money is always preferred. In this podcast, host Brennan Dunn covers topics such as how to automate your freelancing business to lead generation.
37. The Freelance Podcast

If you are new to this whole freelancing thing, The Freelance Podcast is a great place to start. It's a little different than other freelance podcasts as it covers listeners' Q and A and well as the host's personal experiences and interviews with other successful freelancers.
38. Unemployable With Brian Clark

Many freelancers can relate to the feeling of being unemployable and going out on your own. With more than 20-years of experience, Brian Clark, owner of Copyblogger, shares his opinions on certain tools freelancers and creatives should be using to run their businesses and how to scale your business.
39. The 6-Figure Freelancer

Are you ready to break out of that 9 to 5 grind but not sure where to start? Tune into Avani Miriyala and her journey to becoming a 6-figure freelancer as she interviews guests and covers every topic related to freelancing you can imagine.
40. The No Pants Show

That's the dream isn't it? Sitting on your laptop working in your pajama pants (or no pants, I don't judge). Host Mike Sheeve explores a wide range of topics from how to add passive income to your freelancing business to personal stories and interviews.
41. Advanced Freelancing

Have you been freelancing for awhile and need to take your business to the next level? Then tune into Laura Briggs of Advanced Freelancing. She shares quick, weekly tips on more advanced freelancing topics, like whether or not it's time to hire a VA to help grow your business.
The Best Writing Podcasts for Writers
There you have it, 41 podcasts about writing, copywriting, grammar, linguistics, language, and the business of freelancing.
Just make sure that you are implementing some of the things that you are learning and not suffering from analysis paralysis. Get going and start listening to these amazing writing podcasts!
Over to you – which writing podcast is your favorite? Share with me in the comments!