Wondering what the job title of someone who writes articles is?
Or, what do you call a content writer?
When I started freelance writing years ago, I didn't know the job title for this type of work.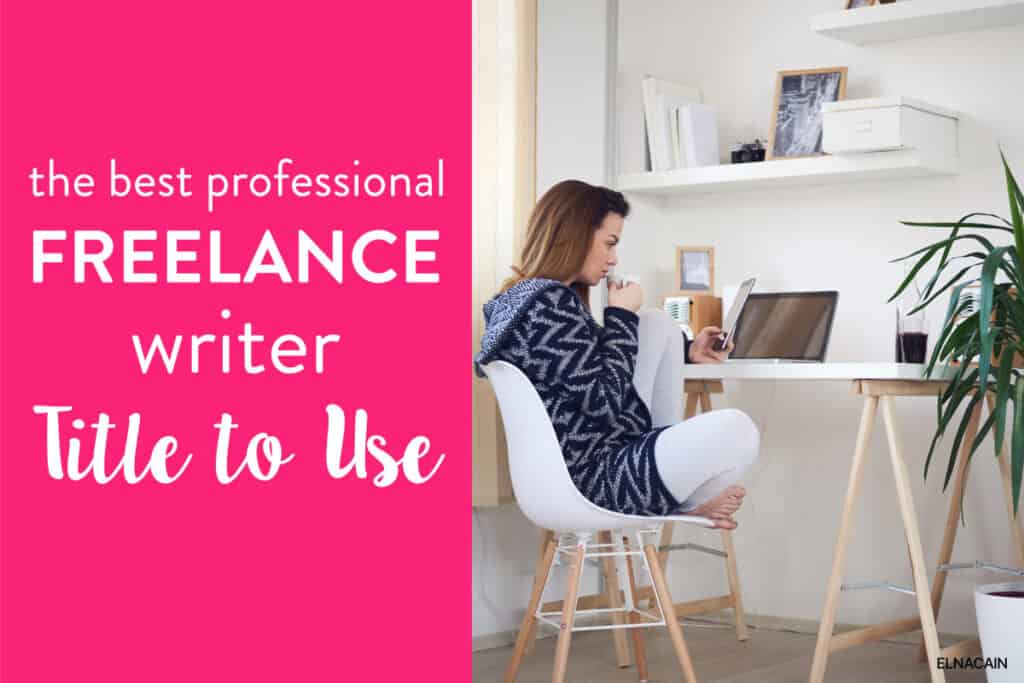 I knew this was called freelance writing, and the goal is to have a few writing gigs, but was there a freelance writer title that was normal to have?
For many years, I played around with the perfect job title that aligned with my business name.
I didn't want to lie that I was experienced, but at the same time, I also didn't want businesses to know that I had just started as a freelance writer and was considered a newbie.
In either case, it's critical to establish your business with a freelance writer title because if you don't, prospects will have no clue what you do!
And no matter how many pitches you send, how much you market your writing niche, or how often you post on LinkedIn, if you don't have a professional job title, you risk not landing any freelance writing jobs.
So, let's look at what a freelance writer title is and all the different titles you can use to show your experience as a freelance writer.
What is a Freelance Writer Title?
A freelance writer title tells businesses what you do, what you write about, and who you serve. It does not have to display your experience, but for some, this helps in landing high-paying jobs.
For example, around year four, I decided to add "professional" to my title as a writer.

After several years as a freelance writer, I made the decision because I felt I was experienced enough to title myself a professional.
To me, this meant I was paid for my writing and that I had several clients under my belt. It also tells businesses I was an expert in my writing niche.
I mean, you can't be a professional if you know nothing about your writing niche, right?
But, if you are new to freelance writing, it's best to focus on what type of writer you are and who you serve.
Let's break this down.
1. What Type of Writer Are You?
That's the million dollar question, right?
Knowing what type of writer you are – essentially your writing niche – can help you turn your love of writing into a full-fledged freelance writing business.
There are many types of writers that make good money.
For example, technical writers make great money, and are in high demand right now.
Writeto1k student Adam found a tech writing job within a week of purchasing my course and has even raised his rates because of the current demand for tech writing.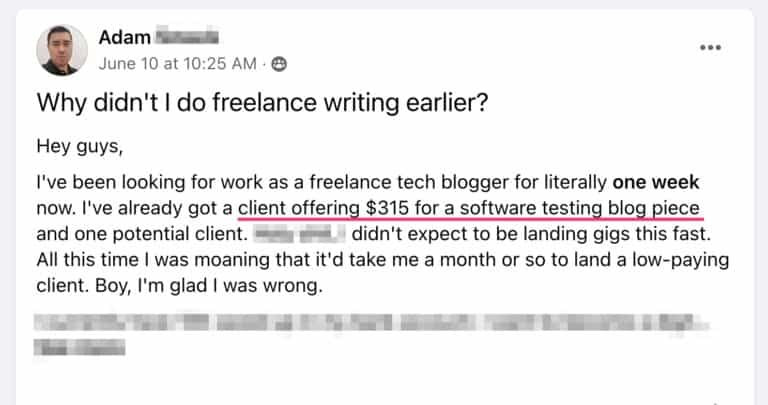 For Adam, using "technical writer" in his freelance writer title will help him get in front of the right people to land profitable jobs.
Not only can you use your writing niche in your job title, but you can also use your writing service.
For example, "email sequence."
Email writing is a lucrative writing niche, and email marketing is a 7.5 billion industry!
So using an email service in your title like "email strategist," or "email funnel writer," or "email copywriter" will immediately tell prospects the type of writing and service you provide.
2. What You Write About
Some freelance writer titles include specific projects like "sales pages" or "white papers."
Rachel Foster immediately tells us on her writer website what type of content she provides to B2B businesses: technology and software content.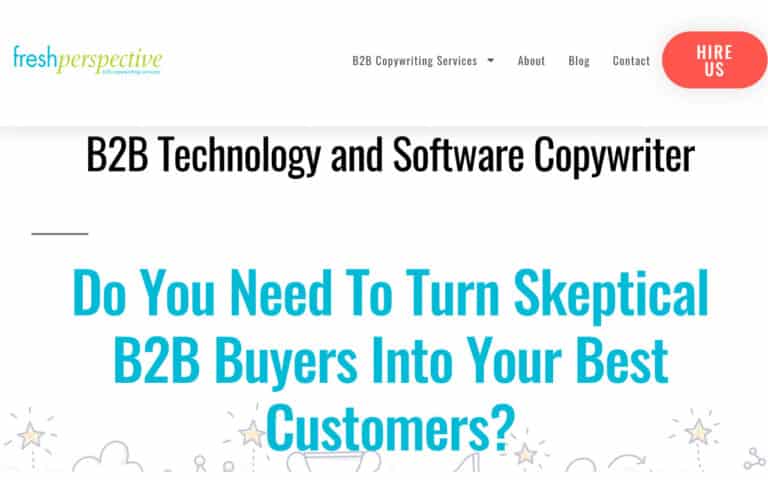 Will being this specific help you land writing jobs faster?
Yes, it will!
By telling businesses you only write white papers or only write case studies, it shows you are knowledgeable and credible in that type of content.
They are assured that you'll produce stellar work when they hire you.
I know for me, if I want ribs for dinner, I'm going to a place that's well-known for ribs, not a run-of-the-mill burger joint!
Doing this also makes you stand out, especially if you use Upwork to find work.
Knowing what title to use for Upwork can help businesses see your value over someone with a similar bio.
So, when deciding on what professional headline to use for your writer website or your LinkedIn profile, try adding what type of projects you do.
3. Who You Serve
When figuring out your title as a writer or freelancer , add who you serve. This is something I didn't do for many years, and it resulted in landing jobs in all different industries.
This isn't a bad thing, and it's something you might consider when you first start out but for some new writers, having to write for a dentistry one day and then a VFX company the next day can be draining and cause burnout faster.
In the beginning, using a freelance writer title such as "health writer" is sufficient until you land a few writing gigs and narrow down your writing service and niche.
This is what I ended up doing, and it served me well!
For example, one thing I recently did for my writer website was change my headline as a freelancer from "freelance writer" to "B2B SaaS freelance writer."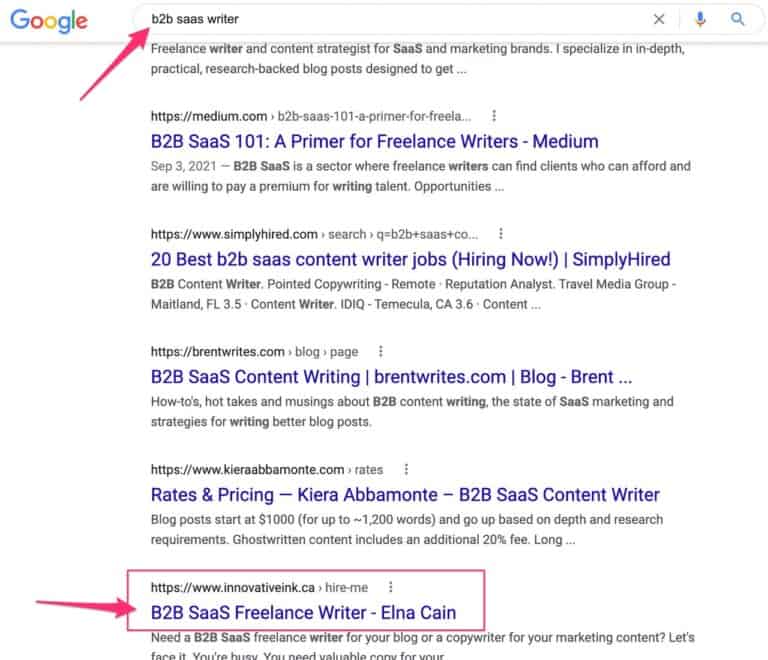 Doing this one thing not only optimized my writer website to rank for the term on the first page, but it also helped me find my ideal clients!
Can You Have More Than One Job Title as a Freelance Writer?
Yes, yes, you can!
The one thing to remember is to ensure you have one main title across social networks, author bios, and on your website.
So, if you write hedgehog content as a pet writer and call yourself a hedgehog writer for pet store companies, make sure you have "pet" and "hedgehog" in your title for LinkedIn, Twitter, Facebook, and your author bios.
But, you can play around with different professional titles.
Some titles I used or am using are:
Freelance writer for hire
Content writer
Content copywriter
Freelance copywriter
Freelance blogger
Blog writer
SEO writer
Long-form SEO writer
SaaS writer
So, on my Instagram account, I use "content writer."

But, on LinkedIn, I use several job titles to attract more leads (which is working!).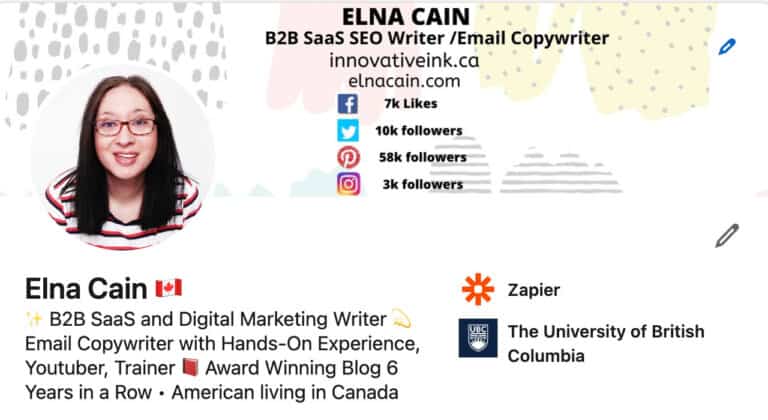 I do this because I have more success landing writing gigs from LinkedIn than I do on Instagram (but I still land work on Instagram!).
This opens the door to more businesses finding me in different industries.
But, if you are struggling to land clients and have done everything (marketing, guest posting, job boards, etc.), then consider changing your freelance writer title to find your ideal audience!
Does Having a Job Title Really Help In Making More Money?
The answer is yes!
Superpath conducted their annual Content Marketing Salary Report and found that – within content marketers – what you call yourself impacts how much you can make.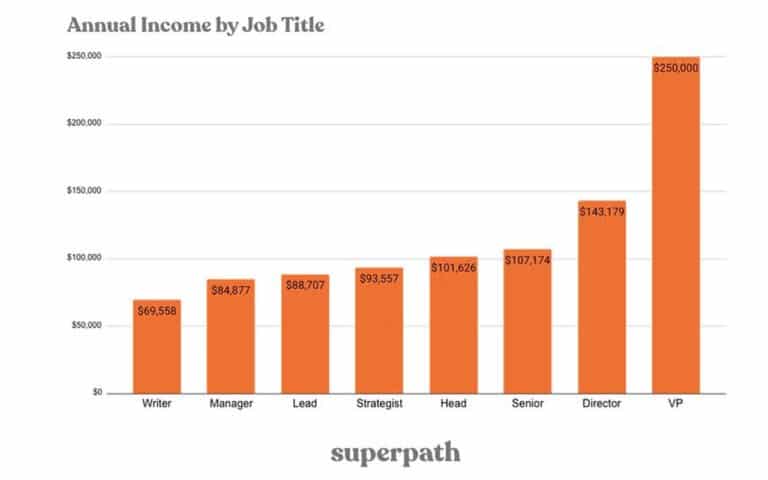 So, as you can see, writer is at the bottom of the list, but over time, you can use a title like: Lead Writer for (company name), or Content Writer Strategist.
Personally, I'm happy with the professional title I have for my service.
It hasn't stopped me from making a full-time salary!
What to Call a Freelance Writer
Is "freelance writer" a good job title?
If that is all you use to tell businesses your service, then no, it's not a good title.
For me, having "for hire" in your title is an easy way to tell others that you are looking for work.
Freelance writer for hire is better than only using freelance writer in your title.
It's what I used and what I teach in Writeto1k.
But, you can optimize your job title to include your niche and who you serve: "IT writer for software companies."
Just remember that if you niche down, you'll gain the right clients 🙂
Tell me in the comments what your freelance writing title is!
Please pin me!