As freelance writers, we are always on the lookout for ways to generate more profit and higher rates from our writing services, right?
Adding services, like learning how to write a case case study, can be highly profitable and can help to advance your skills as a web writer.
If you aren't too familiar with them, writing case studies help businesses tell a story about how they've helped their customers reach their goals and how their products or services add value to their customers' bottom line.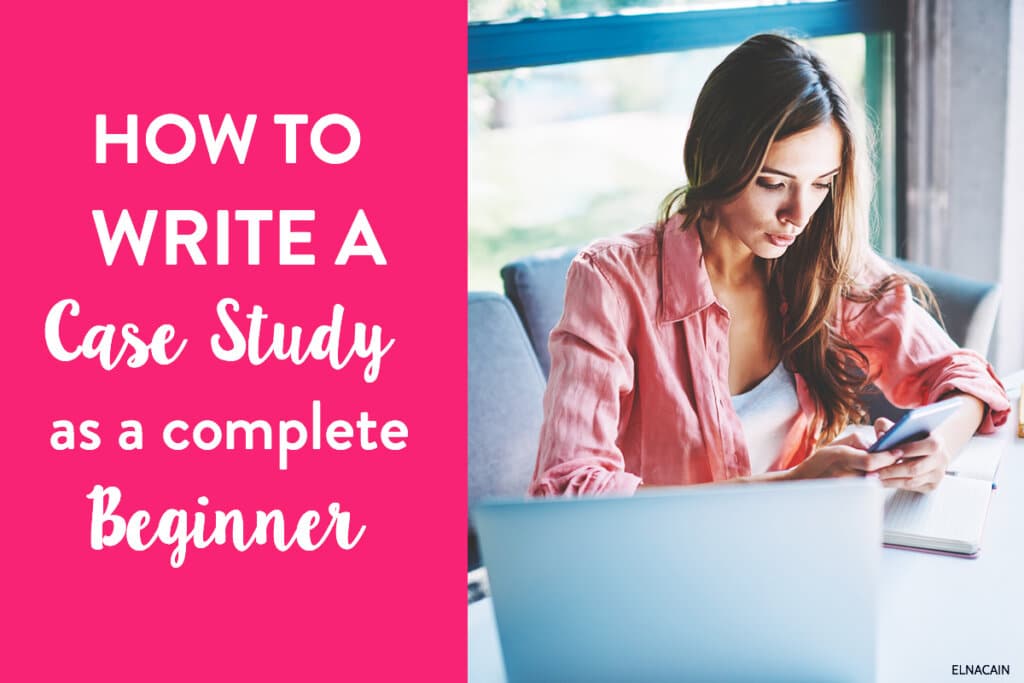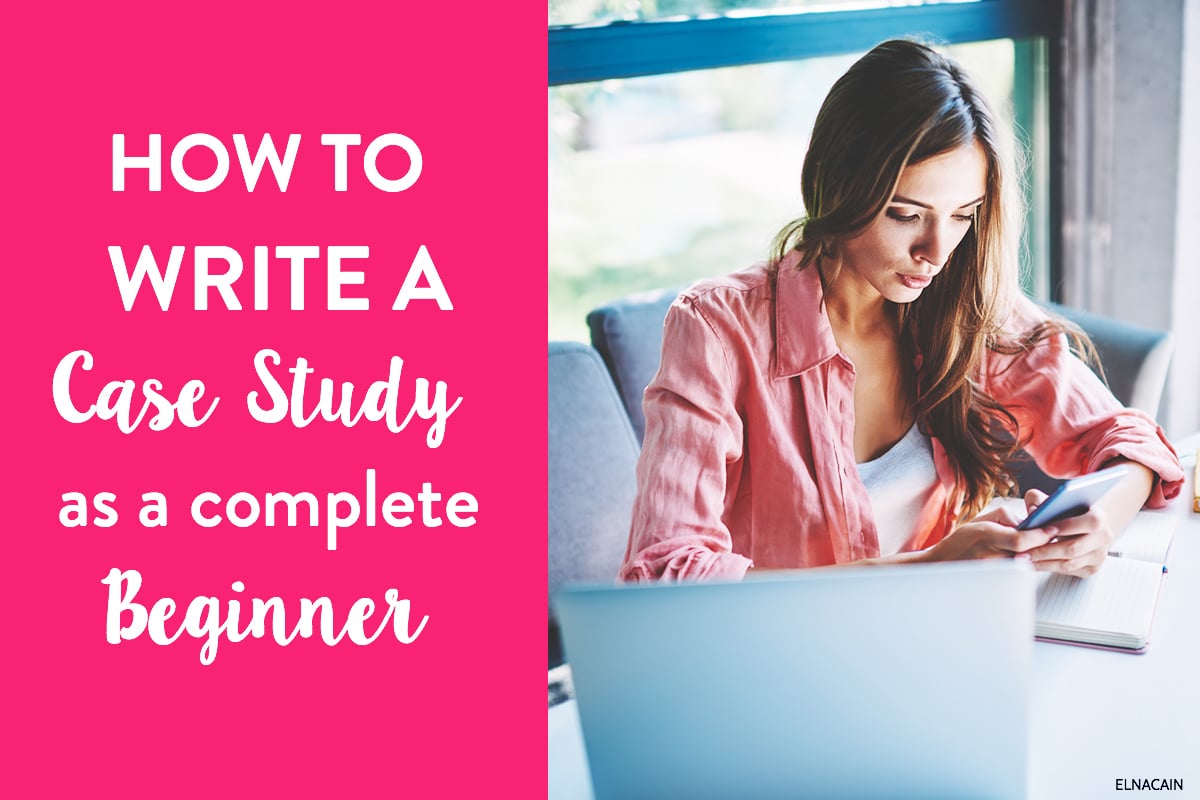 However, learning how to write a case study is different than other forms of content marketing that businesses might use, such as white papers or blog posts.
It's not an ebook or even a general article.
So, what is a case study and how do you effectively write a case study?
Whether you're a new or experienced online writer looking to expand your services, I want to share with you how to successfully write case studies that will wow your clients.
In this post, I will share with you what a case study is, how to research for a case study, how to write a case study, give you some case study examples, and even share my tried and true template for formatting my case studies.
You don't have to be an expert case study writer to offer this as a service to your clients either.
If you want to try your hand at case studies, you can add to your portfolio and even write one for yourself and focus on how you've helped your clients with their goals.
I've had many of my course students write a case study for clients when they had never written one before.
Adding case studies to their services has helped them to get high-paying projects as a new writer.
Even if you are an experienced writer, it's always beneficial to get some extra help when taking on a new type of writing service.
So, let's dive into how to write a case study when you're new to all of this!
Case Study Definition
Diving into a case study analysis, you'll notice that case studies offer real-life examples of how your client was able to take their customers from point A to point B. Similar to white papers, case studies use cold, hard statistics. Case studies are also research-driven and require setting up interviews and developing interview questions.
One thing you should know right away is that writing case studies require a little more research and time-intensive hours than other forms of writing.
Not only are you gathering analytics and interviewing clients or customers, but you're also telling a story.
You have to be able to mesh together the numbers and the emotion of the case study to create a written work that will become a powerful piece of advertising for your client.
If you're new to this style of writing, it's easy to see how a case study can be confused with white papers as both are research-driven. However, there are two very large differences that make case studies unique.
The first is case studies are more interview-driven about a successful strategy while white papers are more written like a report about a new feature from a business.
The second part is the story behind how your client was able to provide their customers with value that brought them results.
Even if your client is meticulously tracking their customers' before and after results, you have to get the story behind that information to write an informative and highly valuable case study. One of the biggest advantages of offering case studies as a service is that you can charge a lot more for them.
A typical case study are anywhere between $500 to $1500 and more.
Finally, most case studies are short-for, research problem focussed content. Case studies, unlike white papers, are often much shorter but the information gathering process can be just as time-intensive.
Case studies, therefore, only span a few pages and are usually under 1500 words.
Case Study Examples
For some, learning how to write a business case study requires looking at examples of what a great case study looks like.
So, what is an example of a case study?
Companies often use a case study as a way to market their services to a potential customer. It helps to showcase how they're able to solve their customers' problems and bring them value – kind of like a testimonial – only with way more information!
For example, Drift uses the case studies to highlight how they're helping their customers book new business and increase leads through the use of real-time messaging chatbots.
Here's a case study from Drift that focuses on how they helped Aventri book $1.7 million in new sales in just five months!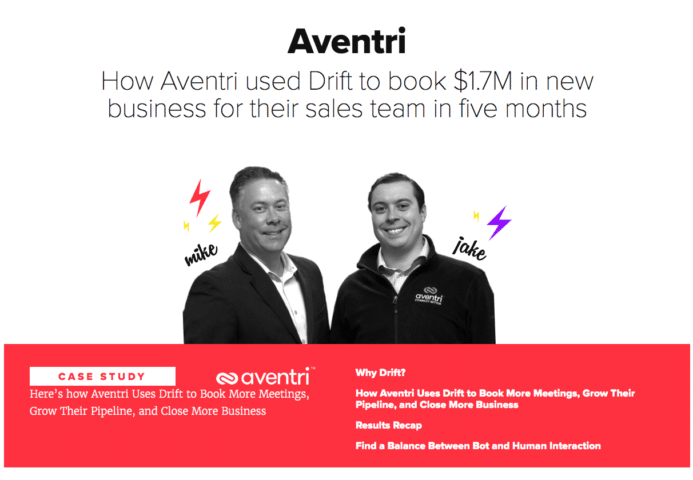 Or this case study on how Groupon used Sprinklr to increase their customer response time by responding to 76% of their customer messages within 30 minutes.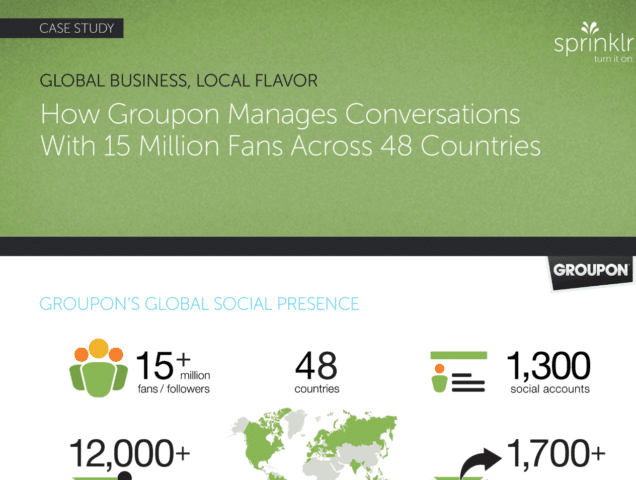 Any kind of business can use a case study to highlight a client's success story.
If the business can get testimonials, it can have a marketing case study written. Like Clio, a legal practice management and client intake software increased their chat leads by 625% with Drift within five months for their global sales team.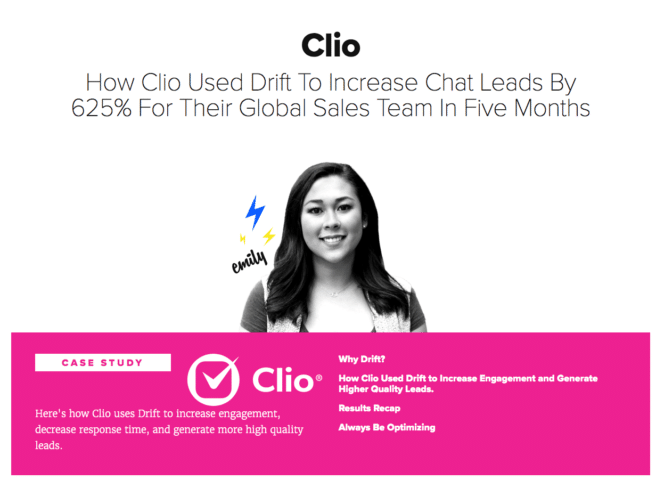 Drift and Sprinklr, as well as thousands of other businesses like Wishpond and Creative Industries, use case studies to highlight how their products have helped their customers' businesses, which in turn, helps to get new customers interested in their products or services.
While many businesses use case studies in a B2B format, businesses can also use case studies to market directly to customers.
As well, case studies can also be podcasts, testimonials, or blog posts like this one for the Allergy Kit.
Case Study Template
Now that you know what a case study is, let's break down exactly what you should put into an effective case study to help your clients bring in more business. Here is a simple case study template that I follow that you can use to get started writing your first case study.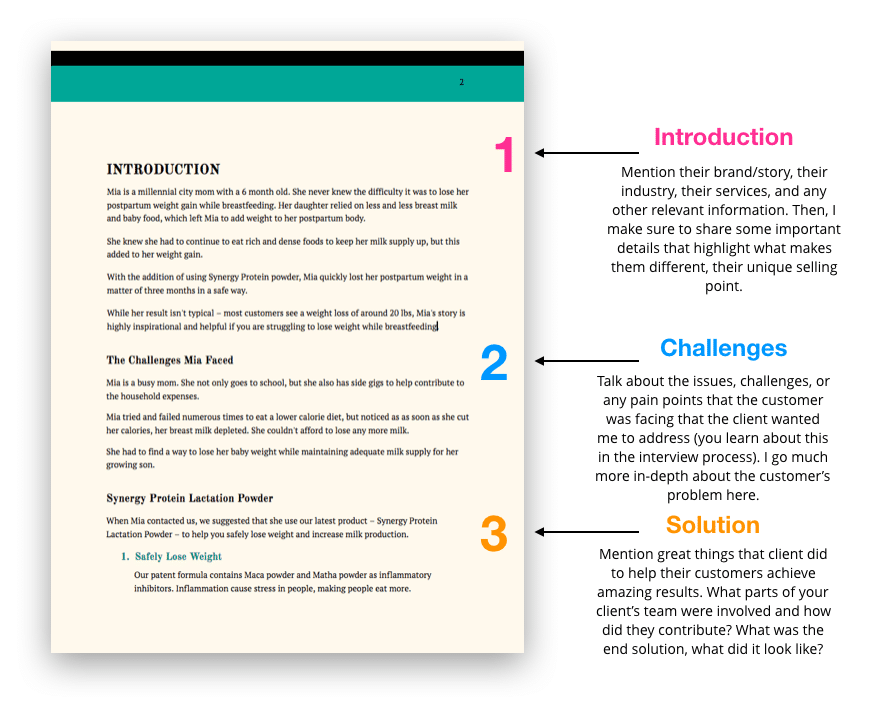 1. Introduction
The introduction of your case study should always talk about your client. You can mention their brand, their industry, their services, and any other relevant information.
Then, you can make sure to share some important details that highlight what makes them different – their unique selling point.
You can also briefly mention the problem that the customer faced that relates to the solution that the client was able to provide, without going into too much detail. This is what I did in my mock case study example.
2. Their Challenges
In this section, talk about the key problem, challenges, or any pain points that the customer was facing that the prospective client wanted you to address (you learn about this in the interview process).
Go much more in-depth about the customer's problem in this section of your case study.
How did this problem develop?
Was it a pre-existing issue or something new?
Was this problem due to changes in their market or other unforeseen circumstances?
Also talk about what the customer's initial goals were for working with the client, and how they expected to have their problem solved; this will lead to part four of the case study.
Lastly, why did the customer choose to work with my client specifically? A case study interview might proof to help you with this aspect of writing a case study.
This is great information to have as it will help to further build the client's social proof.
3. The Solution
The solution part of the case study is where you can propose the solution and mention all the great things that you client did to help their customers achieve amazing results. Include specific strategies that worked or did not.
Did the client offer a tried and true method to solve the issue or did they do something new?
What parts of the client's team were involved and how did they contribute?
What was the end solution, what did it look like?
How did the client use their products or services to solve their customer's issues?
What was the timeline involved in delivering the solution to the customer?
Try to only focus on the things that potential customers will care about and don't worry about including things they will not.
I always make sure to tailor my writing to appeal to the particular avatar that the client is marketing to (you find this out in the interview process as well).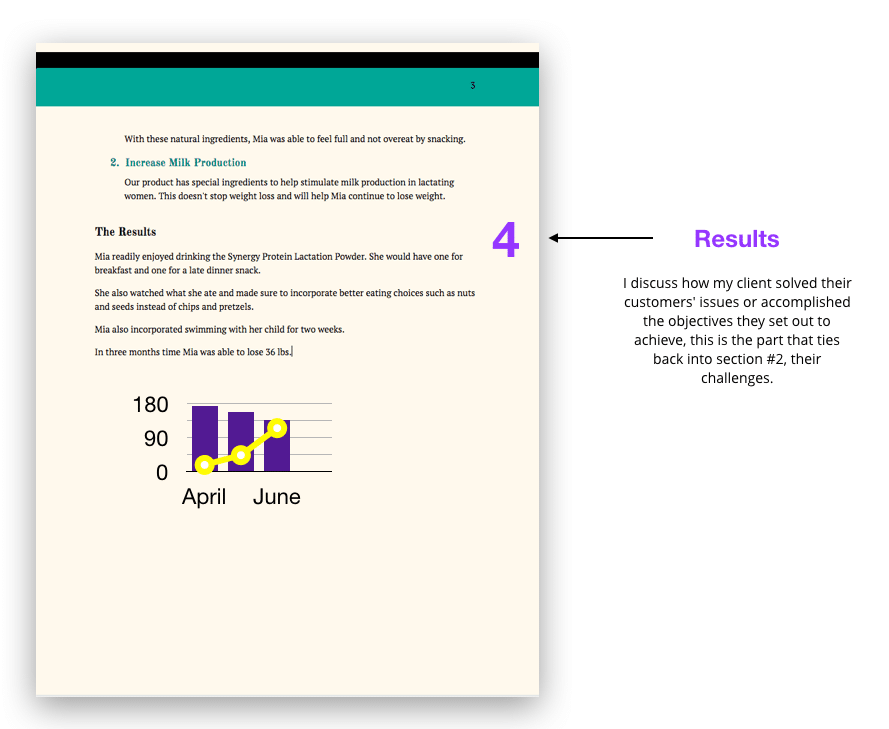 4. The Results
This is where you can include stats about the progress with supporting evidence. Discuss how the client solved their customers' issues or accomplished the objectives they set out to achieve.
This is the part that ties back into section #2, their challenges.
If you collected or made any fancy charts or graphs, include them in the results section. Make sure to also focus on the benefits that the client's customers received that go beyond any of the stats listed.
If this is a case study that covers a longer period of time, I like to include both immediate and long term benefits that the customers have experienced.
In talking about the various stats, try and highlight one as the most important and talk about why that is.
Finally, focus on the relationship between the client and their customer and how the customer now feels about their ROI. Was it worth it? Would they hire the client again?
How Do You Write a Case Study?
Now that you saw a basic case study template, let's dive into how to write a case study for your clients.
How do you write a case study when you a new to this type of case study writing?
Writing case studies includes three parties, you (the writer), the company you are writing the case study for (client), and who the case study is being written about (customer).
The steps to actually writing a case study are not much different than any other form of writing.
It includes research from your client and their customers and the writing itself, being a bit less formal than a white paper.
Finally, you need to know how to format your case study and how to go about gathering all of the information that you need.
Here are some things to consider when writing your case study:
Your client's ideal customer (their avatar)
The case study format
Researching the company
Interviewing clients and customers
Putting together the numbers and emotion
Your Client's Ideal Customer
While you find this out during the interviewing process, it's worth noting here.
Before you write your first word, you need to know who your client's ideal customer is, who they are specifically trying to market to. While some companies might only offer one service that they target one specific customer, others might have multiple.
You need to know who you're talking to before you start talking.
How to Format a Case Study
There are several different ways you can format a case study.
A case study can be used as a lead magnet or a blog post. They can even be repurposed and turned into sharable infographics or brochures.
You can write your case study on whatever writing platform you're most comfortable with, such as Google Docs or Microsoft Word.
If you're looking for a formatted case study that can really catch a customer's eye, Venngage has some really colorful and beautiful case study templates.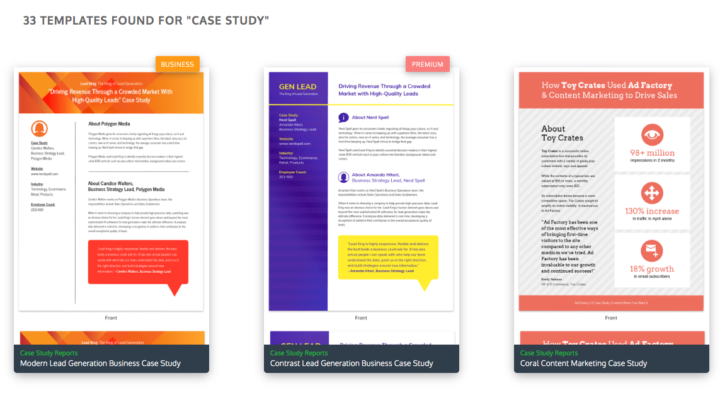 Make sure that you're clarifying with the client beforehand exactly what they're looking for and what their expectations are.
Technically speaking, it's not your job as the writer to format the case study.
However, if you're confident in your design skills you can offer that service as an add-on. You can also easily create beautifully formatted case studies in free programs like Canva, PicMonkey and even Google Docs (that's what I used for my mock up case study template).
How to Research for a Case Study
Make sure you know enough about the company before you write a case study for them.
You should at least know about their history, what products and services they offer, and what value they bring their customers. It's helpful to interview someone from the client's company that's familiar with marketing so they can give you some insight into how their services are marketed.
You need to know how they're planning on using the case study in their marketing to really make it effective.
For example, a case study that will be a blog post might be different than a case study that will be a lead magnet.
Interviewing Clients and Customers
You should have two main points of contact for interviews. One from your client and one from their customer base.
As mentioned before, the client you interview should have knowledge of the marketing aspect of the business.
This will help to make sure that what you're writing about is in line with their marketing goals.
The customer you interview should, first of all, know the goal of the interview and be able to give you the information and stats you're looking for.
They should also be able to tell you their story and how the client's service or product benefitted them and added value to their business and to their bottom line.
The actual interview itself can take place over Skype or video chat, on the phone, or if necessary through email.
Although, I would suggest actually talking to people – rather than email – as there might be more questions and further insight that comes up during the conversation.
Putting it All Together
This is where you flex your copywriting skills. Compile all of your data and present it in a way that is engaging to the reader.
You don't want a boring list of statistics that are going to put your reader to sleep.
This is the part of the case study where the story really comes together and focuses on how your client was able to deliver amazing results to their customers.
You can also format the case study during this time as well.
Writing Case Study Questions
Do you have some questions about writing case studies? Let's look at the most common questions.
How long do writing case studies take?
It depends on who you are interviewing. If you can reach the company or person quickly, it can take a few weeks to a month to compile the information and write the case study.
However, for some interviews, it can take months before you solidify a date for an interview.
What is the typical length of a case study?
Most case studies are short and no more than 1500 words.
What should a case study include?
The most important things a case study should include is the problem and how the company being profiled helped solved the problem. Case studies are success stories, so laying out the problem is key to understanding if the process was successful.
What/how should you quote pricing for case studies?
My recommendation is to either price each case study individually or to have a starting rate of $300-$500. One thing to note is that case study writing isn't usually recurring, so adding additional services to your freelance writing business is important.
How to Market Case Study Writing to Businesses
Okay. Let's look at how you can market yourself as a case study writer.
1. Build a Case Study Portfolio
To show potential clients proof that you can write a case study, have writing samples in your portfolio to support this.
It can be as easy as a mock up – like the one I crated for this post – to guest posting about the importance of white papers for businesses.
2. Niche Yourself as a Case Study Writer
It's a good idea to title yourself as a case study writer, if you primarily want to write case studies. For example, Bonnie mentions her case study writing as the first thing on her services page.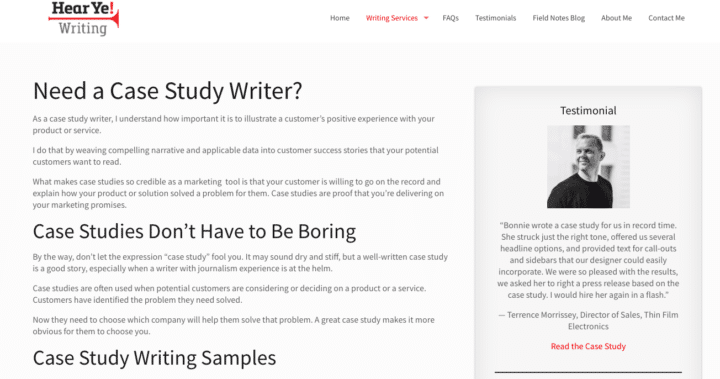 She does a great job by also providing:
A case study testimonial
Case study writing samples
A case study checklist for people who want to DIY it
Tips to writing a case study (which are more writing samples for her)
It's also a good idea to title yourself as a case study writer on social media too!
3. Provide Informational Guest Posts on Case Studies
A great marketing strategy to use is to guest post on topics that relate to how case studies can help businesses with their bottom line.
Find blogs that your ideal client reads or visit business blogs that accept guest posts and guest post those types of topics!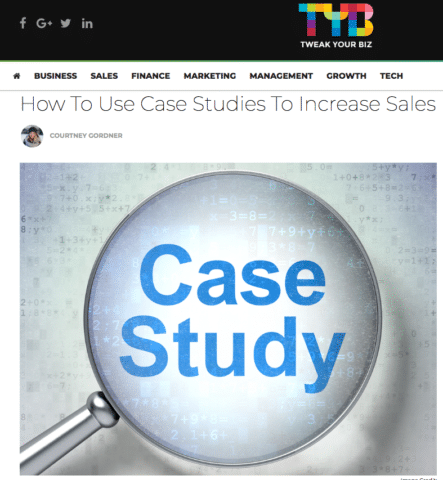 Writing a Case Study
There ya go!
How to write a case study with some case study examples and more!
I hope you find this helpful and start pitching to businesses as a case study writer!
For more posts like this, look at my How to Write Series:
Over to you – tell me if case studies is something you will offer now!