The money is in the list.
If you have been in the content marketing game in any capacity for any amount of time, you have heard that saying.
This is so true.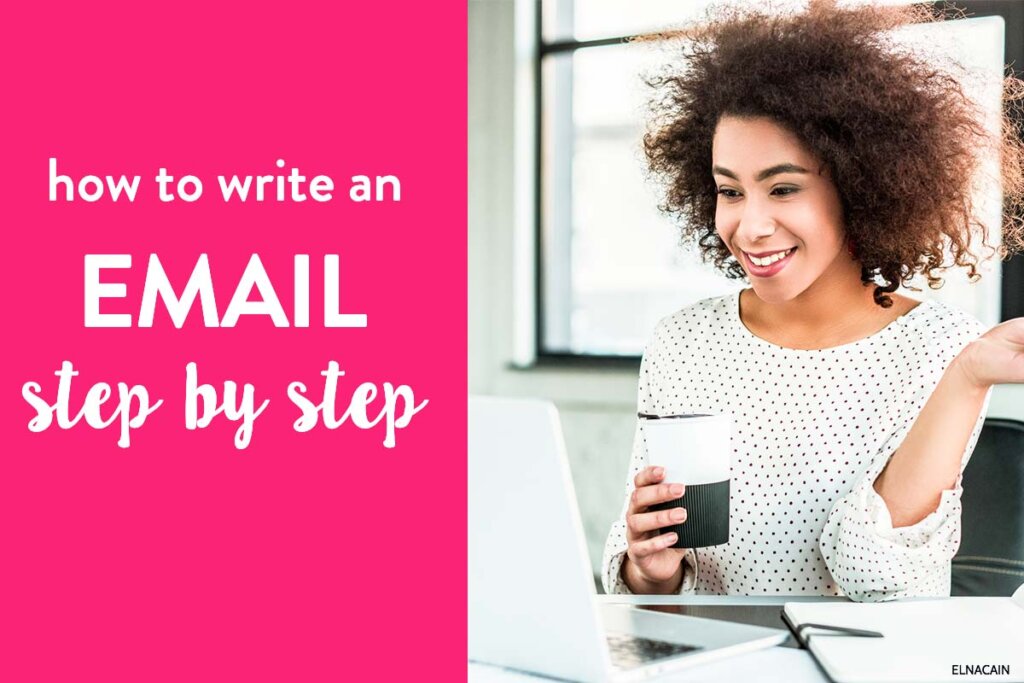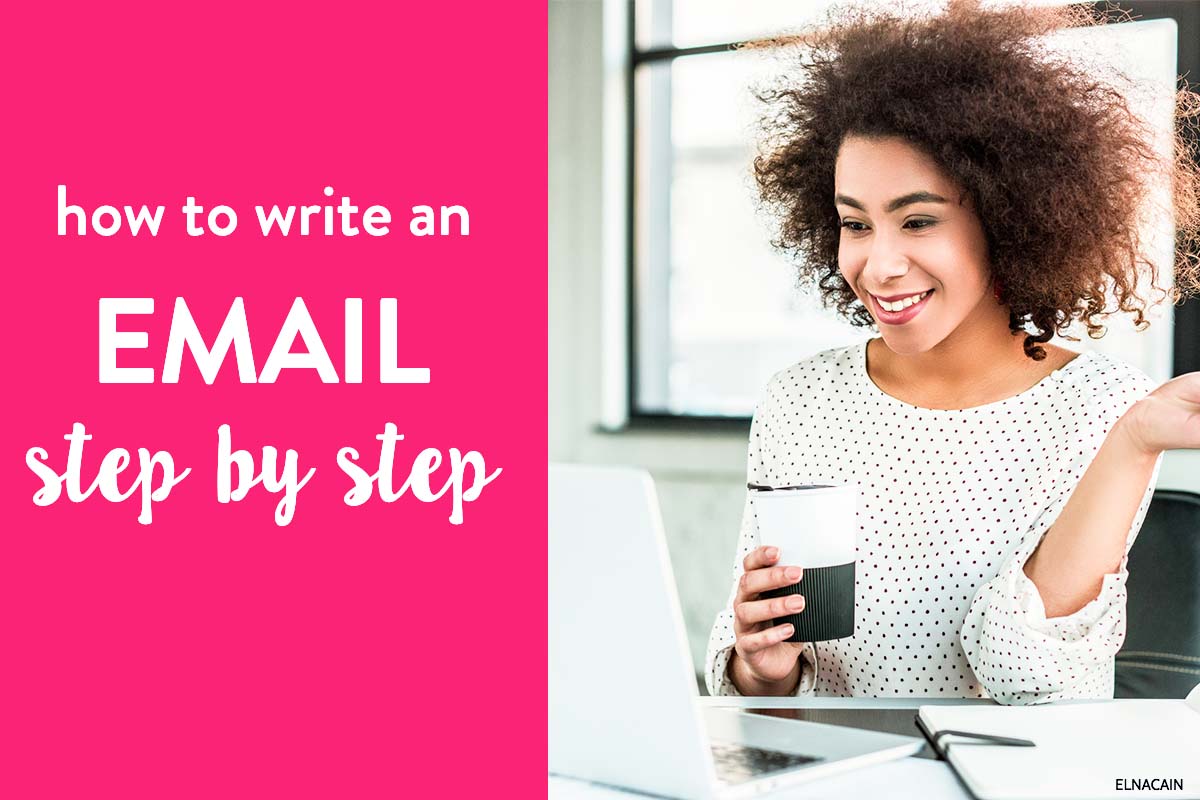 As a freelance writer, you can help online businesses with their marketing strategy by providing copywritten emails.
Emails are short pieces of copy that any new writer can learn to write and help them make money writing.
Does this sound like a cool writing gig to have? This is a new service I started since I love writing email campaigns like a welcome series or a launch sequence or a flash sale campaign.
But that's not all the types of emails you can write. Businesses seek retention emails, onboarding emails, empty cart emails, announcement emails, promotional emails, newsletters and more!
And to help you decide if this is a new writing service to offer, I'll share with you how to write an email as well as provide email examples, what email sequence writing pays and a simple plan to market this writing niche.
Benefits of Having an Email List
When pitching to prospects you may have to convince some to start an email list.
The best way to do this is to show them the benefits of using an email list.
There are countless benefits to having an email list. Many entrepreneurs with big lists and even those with smaller and medium size lists will tell you with the right email copy, you can create a passive income stream.
Need a few more leads to fill your pipeline? Send out an email to ask people to book a call.
Need to make some extra cash? Send out an email with a coupon code to your course.
And as a freelance writer, learning how to write emails like this – with results – can not only benefit your client, but help you land more clients!
How? Because once you write one email campaign for a business, referral business kicks in and you now have proof you can write email sequences.
As a copywriter who writes effective and engaging emails, you have a special talent that companies will pay you handsomely for (I'll share how much email writing pays later in the post!).
In this post I am going to explain how to write an email that gets customers results. Because results and value are what businesses are paying you for, not the number of words in an email.
Why Business Need a Copywriter to Write Emails
Most business owners are not copywriters.
While they want to share their latest sales and promotions with their audience and get more people on their email list, they probably have a difficult time at writing effective email copy.
As an email copywriter, you have the ability to add value to your customer's bottom line through directly connecting with their audience.
How great is that?
So, the more results and value you can provide your client, the more you can charge and that will help you make money writing!
Many companies just don't realize the sheer power of having an engaged email list and as a copywriter, you can convey this in your cold pitch.
Neil Patel shares several case studies on email marketing that show how simple things like changing the subject line can increase open rates.
The sad fact is, many business owners are just too busy actually running their business to put together an effective email marketing campaign.
This is where you come in!
The Types of Email Sequences
There are several types of emails that all businesses should be sending out to their audience when they first sign up and on a regular basis.
Popular or common ones are: a welcome email series, nurturing or broadcast emails, and sales emails.
An effective welcome series goes out to subscribers right after they have joined the email list in some way. This might have been downloading a lead magnet or simply putting their email into the subscribe field on the company's website.
For example, after you grab Kristin's free guide on Cents and Purpose, she puts you into a welcome series where you get to learn about her story.
This helps build trust with her audience.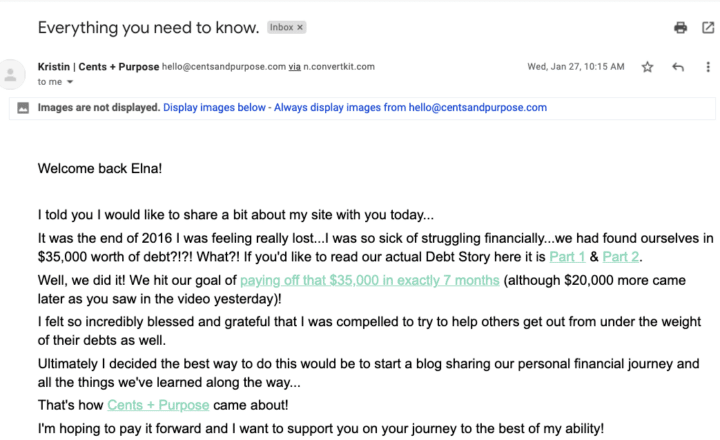 The nurturing emails are what come after the welcome series and sprinkled in between the sales emails.
While a business owners wants to include sales emails to make money, realize that they shouldn't bombard their audience with sales emails 24/7.
This is a quick way to get people to click the unsubscribe button.
Think about the last time you purchased something from an email sequence.
I can bet you it was because they were using storytelling or offering something so good that you just felt in your bones that you had to have it!
Those emails that evoke emotion in the audience are the ones that get people to take action and click the buy button.
And those are the emails that email copywriters create for their clients!
A Simple Welcome Series
The subscriber welcome series is critical.
It will likely deliver something to potential leads or customers and also introduce them to your client's business. This is the process of starting to build trust which will lead to paying customers for your clients.
Here is a quick snapshot of what to include in a welcome email series.
Email #1: Welcome and Include Download – Onboarding Process
In this email, you can do a quick intro and remind the people who signed up why they are getting this email.
If you are writing emails for solopreneurs like coaches, bloggers, or influencers, make sure to share the benefits rather than just listing features.
Encourage them to join your client on their social media networks, whitelist the client's email address, and give them a teaser of what's in the next email.
If you are writing a welcome email for eCommerce store or a B2B brand, initial emails will comprise of confirming the lead's email address. These are transactional emails.
Most of the features will be on the businesses' platform.
For example, when I sign up to Loom, after I was emailed a transactional email, I'm redirected to their website to set up my profile.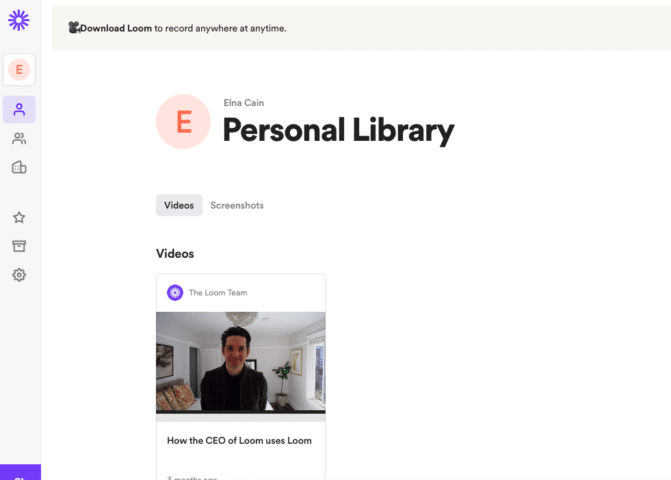 Email #2: Tell Client Story
This is where the audience has a chance to get to know the brand and why they do what they do. Tell their story in a personable and relatable way.
In the eCommerce space, this email may be more confirmation to ensure the user got the download or accessed the service.
For example, the next day, Loom emailed me their welcome email.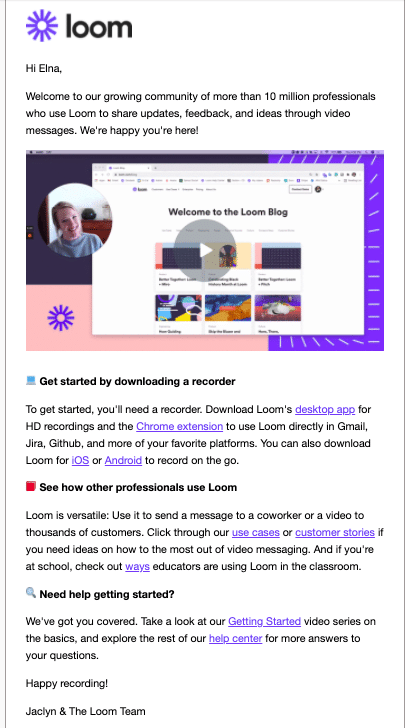 Their welcome email is more logistical, but they do direct me to visit their website to look at case studies and customer stories.
What I liked about this was a "call-out" to educators. Loom created a guide for educators and shared this link in their welcome email.
Email #3: The Big Wall
This ties into the brand's story.
People need to know the person that is writing the email (ie: your client) is a real person and not some high and mighty guru.
This is where the audience sees the failures and the vulnerability of the person behind the keyboard. This is great for solopreneurs. This email can also be framed as mistakes or challenges the client faced and relating that to the reader.
It's almost like a, "I've been where you are now" type of email and can be effective in gaining trust from subscribers.
Email #4: The AHA Moment
This is where something changed in your client's life that really sold the subcriber on making a change.
This idea can be spaced over several emails, but can be condensed in a welcome email as a primer. The welcome series can direct a subscriber down a sales funnel later and this email can start that process and introduce the "change."
For example: if your client is selling a keto weight loss course or product, this is the point in their story where they realized that keto was the right answer for them and why. The big epiphany, so to say.
Email #5: What's Next?
After the connection has been made with the new subscribers, you need to let them know what is coming.
You can direct them to some free resources and prime them for things the client is going to sell them in the future.
This is a great time to offer a free training and in that training your client can share their products.
Let the subscribers know that they will be the first people to hear about hot deals or when you launch a new product before it's officially released.
How to Write a Flash Sale Email
Another type of email you can offer are sale emails or promotional emails. These are emails that promote a sale, new product or just a deal on a client's shop. These are the emails that I enjoy writing because these types of emails can use copywriting formulas like PAS or AIDA.
The easiest type of flash sale email uses PAS – problem, agitate the problem and solution. Here is an email template for a flash sale that I wrote in the educational niche.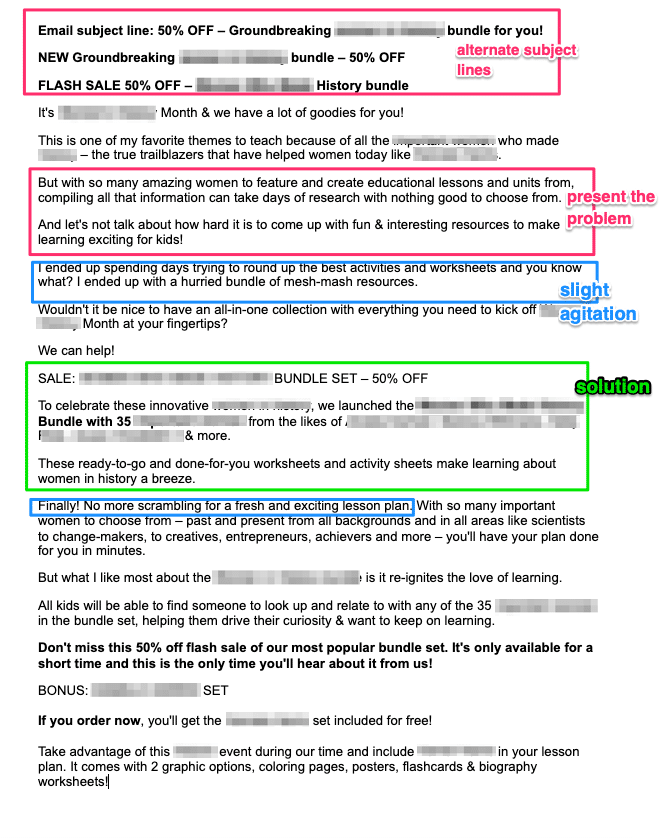 Because the audience for this email didn't need a lot of convincing, I didn't "drag" or agitate the problem as you would normally do when writing the PAS formula.
Since this is one email that is less than 500 words, the ideas for the PAS formula has to be highly condensed – entire sales pages of 10,000 words or more can use the PAS to sell for example.
When describing the problem you need to show the problem in your copy. This is where you can use storytelling and describe specific instances that the audience faces. For this example, there are thousands of free worksheets and educational resources, but finding them and compiling them is a chore and a time waster.
When agitating the problem you can use storytelling and create new challenges and how life would look like if you continued down that path.
As I mentioned, for this audience, there was no need to go that far since this audience was waiting for this deal, making the conversion easier to happen.
Finally, the solution is the client's promotional deal.
How to Write Good Email Copy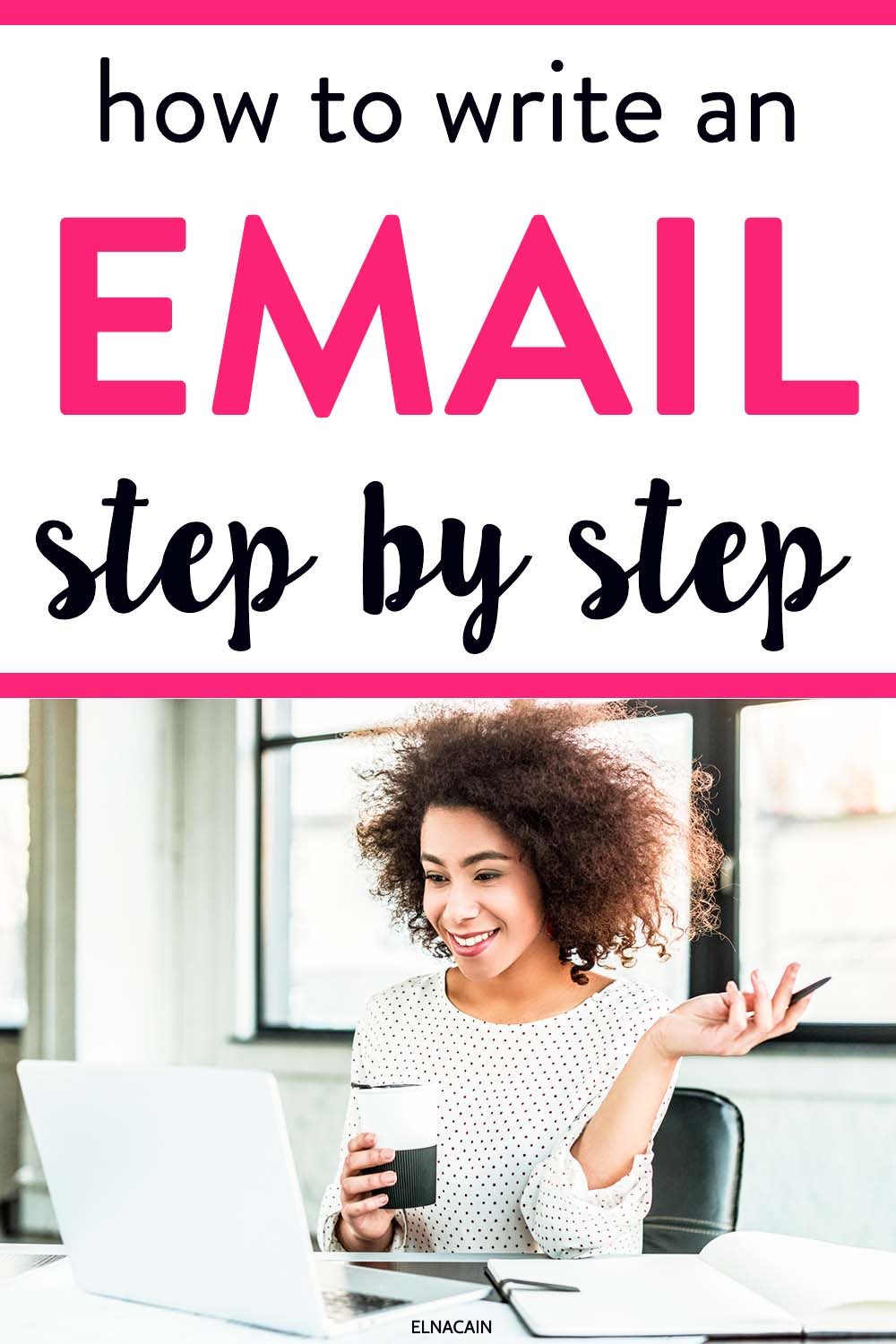 It's likely that your clients' audience gets many emails a day and probably don't read through most of them.
So what is going to make yours any different?
Just as with any other form of copywriting, you need to have a proven formula to get results.
While email copywriting is similar in nature to other forms of copywriting, there are a few unique qualities.
It needs to be brief, highly persuasive, not include any fluff or filler, and have a strong emphasis on the connection between the subject line and call to action.
With email copy, you have to start at the end goal. What do you want your subscribers to do after they have read the email?
This is important when you are writing emails for a business.
If your client sells Keto books, what is the end result of their welcome series?
It might be to lead their new subscribers to a webinar, or it might be to share their shop page or to follow them on Instagram where you go Live every Tuesday to share Keto tips.
Whatever the end point is for your client, you need to keep that in mind when writing a welcome series.
Your email copy needs to be relatable, and stress the benefits of any product you are promoting – which might be free resources.
While you want to keep your emails short, you should also include the main idea early on in the writing so readers know what it is about.
One of the most important things in email copywriting is clarity.
If your readers don't understand what you're talking about, then you are just wasting your client's time and money.
This is where storytelling can be soo effective in emails. Instead of saying, "busy moms," why not paint a picture of a specific action?
For example, "and every day is the never ending shuttle rides to karate practice for your son, piano lessons for your daughter and you seem to always forget to pick up garlic for your dinner and forgo healthy to something quick and already-made, for the third night in a row."
By painting a picture, the subscribers reading this will be nodding their head in agreement. And this can help your clients with conversions.
Be sure to include actionable language to encourage your readers to take action. This can be in the form of, "click here to sign up to my free training," or, "Put that fast-food menu down and sign up to my Healthy in 3 Steps free training right now."
This is a learned skill, but with time any new freelance writer can craft compelling copy!
Writing Click-Worthy Email Subject Lines
One thing your client will probably want from you is converting subject lines for your emails. But what phrases make people click?
How do you write newsletter subject lines?
One thing you can do is sign up to email lists that are similar to your client. So, for example, if your client sells Keto books, you would sign up to other Keto authors as well as Keto companies.
This can help you see how these businesses frame their email subject lines.
Another tactic you can use is to include clickable words like:
Free
This one way
Don't do this…
Last chance to…
Keep in mind that subject lines can pique the curiosity, share the desired outcome, and complete the loop with asking a question. But sometimes, stating the facts can be the best way to get people to open emails.
As a freelance writer you can give your client a few different subject lines for them to choose.
Simple Email Tips to Convert Subscribers
The more people engage with your client's brand, the more likely they are to become a subscriber and then a customer.
Here is a list of ways that you can use to convert subscribers and then utilize your ninja email writing skills to help your clients make consistent sales.
Ask them to subscribe to your client's YouTube channel.
Encourage them to enroll in a course. This could be a free mini course, or a paid course.
Send them a calendar link to book a call.
Ask them to follow your client on your social media accounts, Instagram, Facebook, Twitter, Linkedin, TikTok, Pinterest, etc.
Give them a sweet freebie to download.
Show off testimonials of happy clients and customers.
Make it simple. In each email have one main call-to-action (watch Youtube video, or follow brand on Instagram, or read a blog post).
And one last pro tip. When you look at your email inbox, what catches your eye? Take note and implement that into your own copywriting toolbelt.
How Much Does Writing Emails Pay?
The rates of email copy varies substantially but the base rates for basic emails is $100. When I first started this writing niche, I charged $150 per email.
When doing sequences you can price for the completed sequence like a 4-day or 5-day sequences and feasibly charge $200 or $300 per email.
Businesses that pay top dollar for emails are typically eCommerce businesses, brands and influencers.
Simple Plan to Market Email Writing
Has the thought of writing emails seems like something you can offer as a freelance writer?
I hope so! To help you get started here are my tips to land some cool email writing gigs.
1. Add Email Writing to Your Website
Before you can land email writing clients, you need to have a writer website that will show your expertise as a content writer online. So, if you don't have this yet, I encourage you to check out Writer Website in a Weekend!
Once you have your writer website up and running, then you can add "email writing" or "email copywriting" or "email sequence writing" on your home page and on your Hire Me page.
Here is my copy on my home page of my writer website.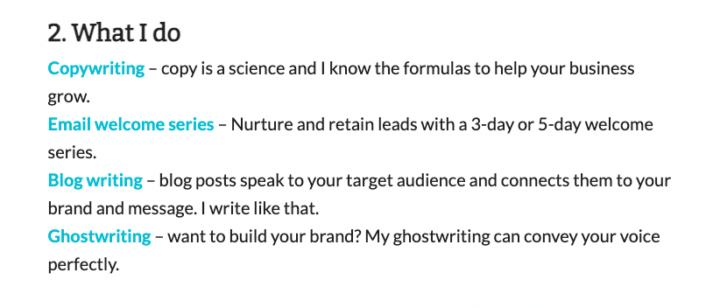 2. Guest Post in the Email Marketing Niche
No matter what writing niche you have, it's best to market it by guest posting on other sites where your ideal client hangs out.
You can simply run a Google search to find guest posting opportunities in email marketing, copywriting, content marketing or blogging industry.
Here are my results for guest blogs in the content marketing niche.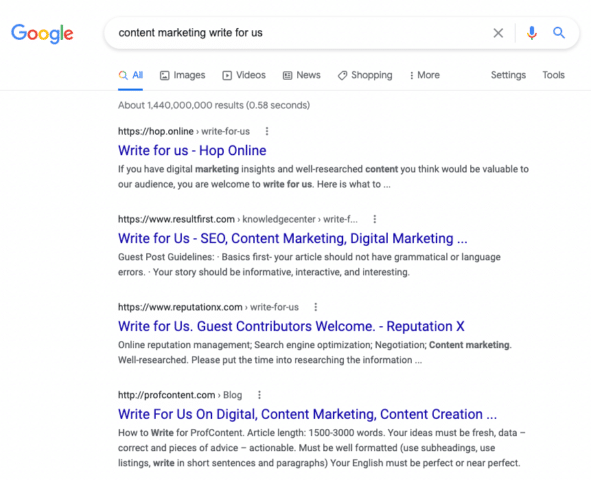 3. Add Email Copywriting To Your Social Profiles
Do you have a LinkedIn profile? Facebook page? Instagram profile?
I believe every freelance writer should be on social media! You don't have to be on every social media platform out there, but it's to your benefit to get on Twitter or LinkedIn to get found, to connect with brands and to land writing jobs!
On any social media platform, you get space to fill out your bio and in that space you can mention you are an email copywriter or email content writer as way to market your service.
Since email sequence writing is a new service I'm offering, I decided to update my Instagram profile to include this, since I enjoy talking about email marketing and other marketing tips to other mom bloggers (my current clients for email writing).

4. Create Writing Samples in Email Writing
To show you can write emails you can draft up mock samples of your emails and use that in your pitches and portfolio page.
You can also create blog posts on email marketing, list building, newsletter tips or mistakes businesses make with emails. There are hundreds of blog topic ideas on email marketing that you can find and use as a writing sample or two.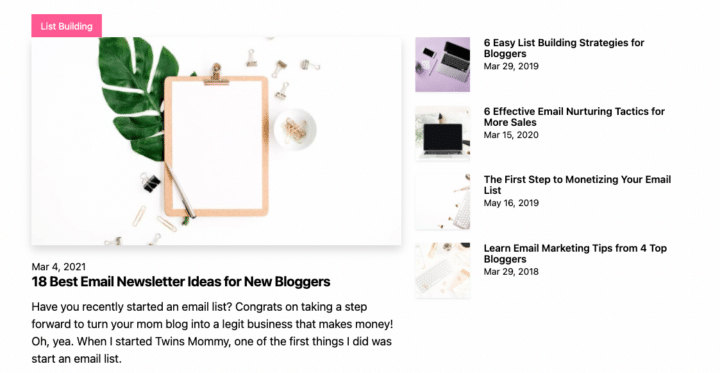 5. Seek Out Businesses
This is the toughest part! You now need to get out there and find businesses to offer your email copywriting services to.
But, how do you do this? One easy way is to sign up to the email lists of the brands and businesses you want to write for and get their emails. You can get their existing funnels to get an idea if they need a copywriter or not.
And if there is a blog or business that doesn't have an email list, you can pitch them this idea and be their email writer for them!
For more help, check out my Youtube video on my process from cold pitching to landing a writing job.
It's Time to Learn How to Write an Email!
There ya go! My guide on how to write an email so you can offer this as a new writing service as a freelance writer!
If you want more help in writing other types of pieces, check out these article ideas:
Over to you –
Is learning how to write an email something you are interested in learning? Let me know in the comments below!