What is copywriting? What is content writing?
Are they all the same or is there a big difference?
When you're brand new to freelance writing, it may be confusing to find out that there are other types of writing like copywriting and content writing.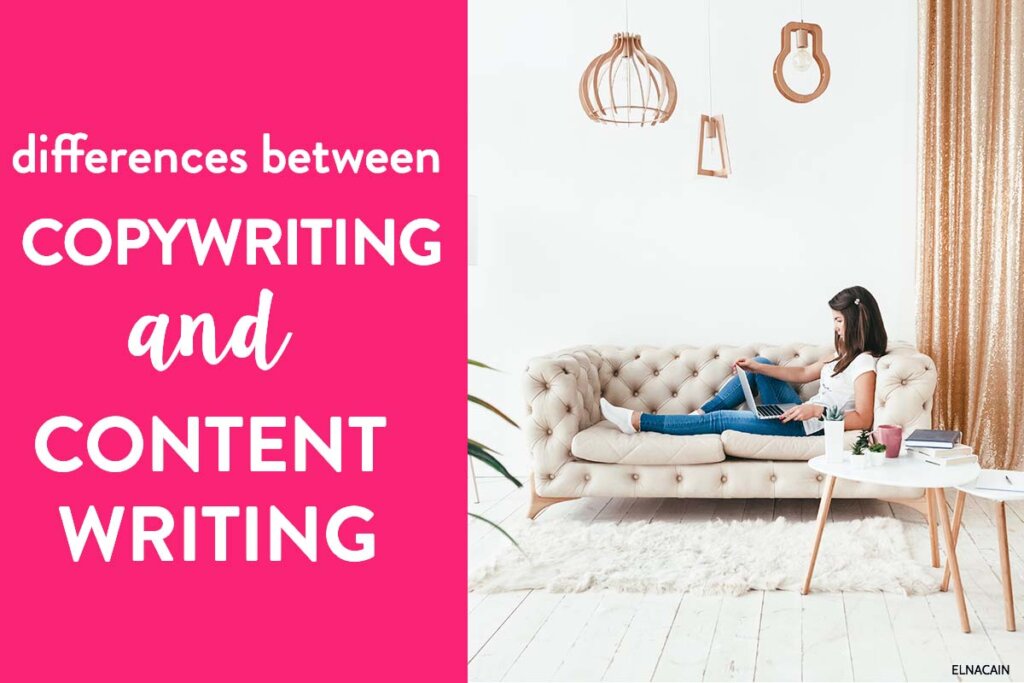 Which one are you going to pick? What do you do?
Keep in mind, though, that knowing the difference between the two means that you have to choose between them.
Many freelance writers, such as myself, offer both content writing and copywriting services – and incorporate copywriting techniques into my content writing!
Sound confusing?
Never fear!
I'm going to walk you through the differences between copywriting versus content writing so that you can make the best decision for your freelance writing career.
If you don't have time to read the post, go ahead and check out my video about this topic.
What is Copywriting?
When you think of copywriting, what comes to mind?
Do you think of copyrighted music? Or do you think that words are copyrighted?
As you can see off the bat, the two terms are spelled completely differently and are not interchangeable.
Copywriting is a marketing tool that involves crafting copy for ads and brands.
Right away, you should think of copywriting as persuasive writing in the sense that your words need to sell something.
This can be one of the most profitable and lucrative writing niches out there for freelance writers and lead some nice copywriting jobs.
You can get paid thousands of dollars for writing a sales page!
However, don't get confused and shy away from content writing (which we will look at as well) because you can also make that kind of money as a content writer.
So, let's look at some examples of copywriting in action to give you an idea of what is involved in this niche.
Copywriting in Action
If you take a look at the Facebook ads for a company such as Barkbox, for example, you can see that they use copy (written content) on their ads as well as a clever scrolling image.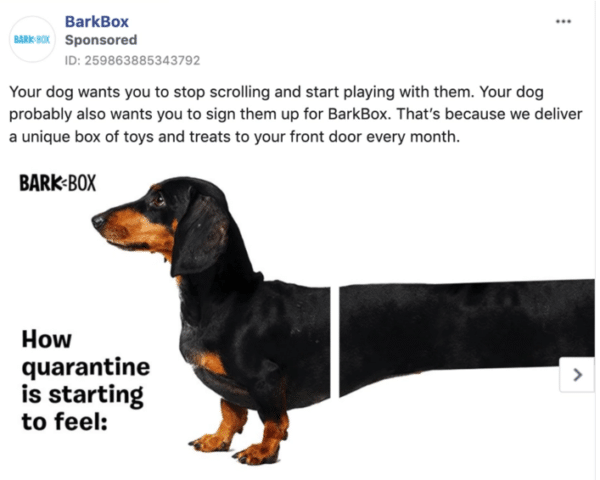 The use of the Dachshund (a notoriously long and skinny dog) in relations to the word scrolling and the visual element of length is brilliant.
Also, notice how all of the words used in this campaign display an emotional connection. Can you see it?
That's right, they are comparing the concept of "length" to the feeling that COVID-19 related quarantine is super long.
They are also teasing at the idea that you should spend your time in quarantine playing with your dog instead of scrolling on your phone.
And their solution?
Have dog toys delivered right to your door!
So, when you think about it, this ad is less than 100 words but conveys so many relevant and relatable messages – and the author probably got paid around $500 for this.
Making Money from Copywriting
Why are businesses willing to pay so much for a few words? Because well-written ads, as short as they are, are going to make money for that business.
Having that sort of weight on your shoulders as a writer to craft converting copy for businesses can be daunting.
In all honesty, it was for me for a long time (and still kind of is).
I'm totally comfortable writing my own copywriting projects like sales pages, landing pages and email funnels – and what I write works in converting readers into customers!
However, when the onus is on me as a writer to do the same thing for another business and make them money, the fear of failing always looms in the background and I do get a little bit anxious.
But that's okay!
Practice makes perfect and the more you work on copywriting as a freelance writer, the better you will get at it.
Just keep in mind that I've been freelance writing for over five years and I am now comfortable opening the doors to copywriting projects – especially email sequences because I feel confident writing those.
So if copywriting is something that interests you, build up some experience and knowledge and gain the confidence to write persuasively.
Copywriting Principles and Being a Good Copywriter
When it comes to copywriting as a freelance writer, there are certain principles you should be aware of in order to produce effective copy that businesses will be willing to pay for:
Persuasion Techniques – Techniques that engage leads and convert them into sales.
Bucket Brigades – Adopting a conversational tone to keep readers engaged by using connector words or phrases.
Problem-Agitation-Solution Formula – Identify your reader's pain point, stir it up so it creates a sense of discomfort then deliver a solution.
The more you pack into your knowledge-base, and implement in practice, the more you are going to gain confidence in giving copywriting a try.
To be a really good copywriter, you can start copywriting as a new freelance writer.
Does that mean you may have to fake it until you make it? Absolutely! And there is nothing wrong with that.
But if you need a little more hands-on experience before putting yourself out there, you can always find a friend who needs someone to write their email funnel or a local business that can use a landing page.
You can get them to write you a testimonial along with the experience – then you can start pitching to other friends, acquaintances and local businesses.
This way, you can build your copywriting skills with people that are in your initial network until you feel confident enough to pitch to a complete stranger such as a business you have no connection with!
In the end, however, if copywriting is not your thing (or you want to diversify your freelance writing services), you can always make big bucks through content writing!
What is Content Writing?
When it comes to copywriting as a freelance writer, I chose to work my way to it by starting with blog writing and then content writing.
Generally, content writing is creating marketing-related information for businesses in a way that educates or informs the readers about a particular topic or niche.
Copywriting, like I've mentioned, is more about persuading prospective clients to buy a product without sounding sales-y.
Content writing is usually done in the form of a blog post but can include email sequences and social media posts.
Content Writing in Action
Let's consider some content writing examples, such as the site (and one of my clients) Blogging Wizard.
The owner of this site has a blog and his content marketing strategy is to get people onto his site to read his content, learn from his articles and then sign up for his newsletter.
From there, he can promote his affiliate links either through blog posts or emails.
However, the general tone of the blog is to educate readers so he has hired me to write posts on topics such as how and why you need a content calendar for your blog.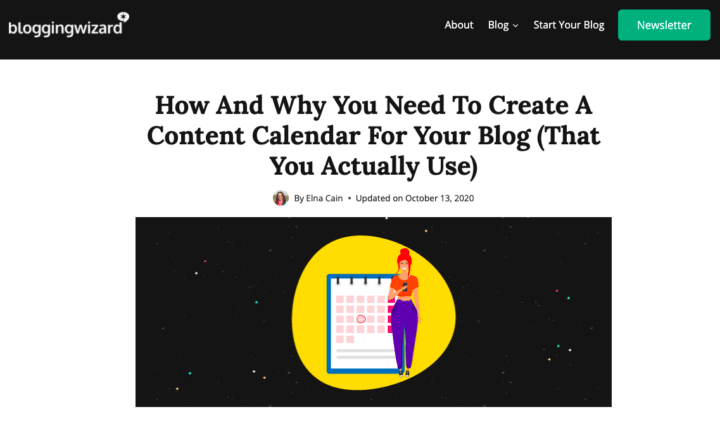 So when I go to write a piece like this, I think about my ideal audience "avatar" – this is a profile outlining the type of person that would be reading the content.
Are they a logger? A New marketer?
When I write content, I write for them so that I know how to talk to the reader about themselves.
I also incorporate principles of copywriting such as storytelling. I use personal experience to explain to the reader why they need a content calendar and I am going to "sell" them the benefits of staying organized when writing for a blog.
I then get into a more educational aspect of content calendars to explain how they work and how to use one.
Basically, this is what content writing is all about!
Making Money from Content Writing
Writing content is one of my passions – that's why I have several blogs that I write for while still offering writing services to clients!
Once you can add more skills to your content writing, such as long-form content and SEO-optimized writing, you can start making more money.
You don't need to limit yourself to charging $100 for 1000 words – you can charge $500 for a 1000 words if it's the right type of content and you find the right client!
If you want to get into content writing to earn money, I suggest you start your own blog.
This will help you sharpen your writing skills, especially when it comes to writing concise and compelling content.
Not only will it help you refine your skills and build your confidence as a freelance writer, it's a great way to showcase your work to potential clients!
For more help with content writing and getting paid your worth as a writer, check out Freelance Blogging in a Weekend.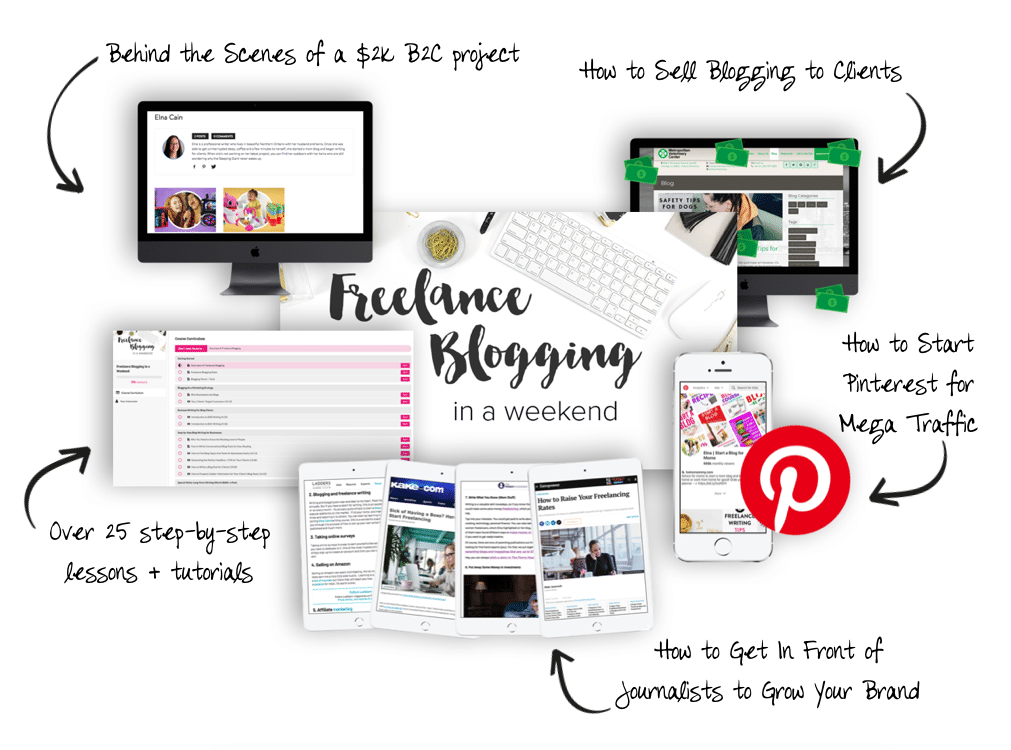 Which is Easier: Copywriting or Content Writing?
As I mentioned, I started out with blog posts and then niched down to long-form writing and SEO-optimized writing.
However, over the years, I learned copywriting principles to adapt my blog writing skills and eventually started making money through copywriting as well.
For example, I learned how to weave a story into my blog writing to highlight benefits, identify a problem, agitate the problem and then provide a solution.
By adapting my skills, I've learned how to write my own landings pages, sales pages and email funnels and, once I was confident doing that, I started offering copywriting as a service.
Otherwise, if you want to be a copywriter straight out of the gates, and market written content such as email funnels, you should spend the time learning how to write email funnels – to the point where you feel confident pitching your service to a friend.
Eventually, as I mentioned before, you want to gain the confidence to eventually pitch to acquaintances and small businesses.
So you can go that route and jump into copywriting or you can start with blog writing which is highly versatile and can have you making money from your own blog while you polish your writing skills and start writing for clients.
From there, you can begin to offer other services such as long-form writing, SEO optimized writing, case studies, etc.
The more services you add (around a similar topic like writing or designing), the more money you can make!
Getting Started!
These are the types of things you have to think about when you start freelance writing – knowing the difference between copywriting and content writing.
Hopefully having a better understanding of the differences between the two will help you decide which way you want to go in your freelance writing career!
Let me know in the comments if you are leaning toward copywriting or content writing.
I'd love to hear your thoughts!