Interested in working from home?
I've been an online writer for five years now and I make a living with writing jobs I do from home.
I've always loved writing and as a teen, I often wrote poems and short stories. I was also the student in college that loved writing research papers!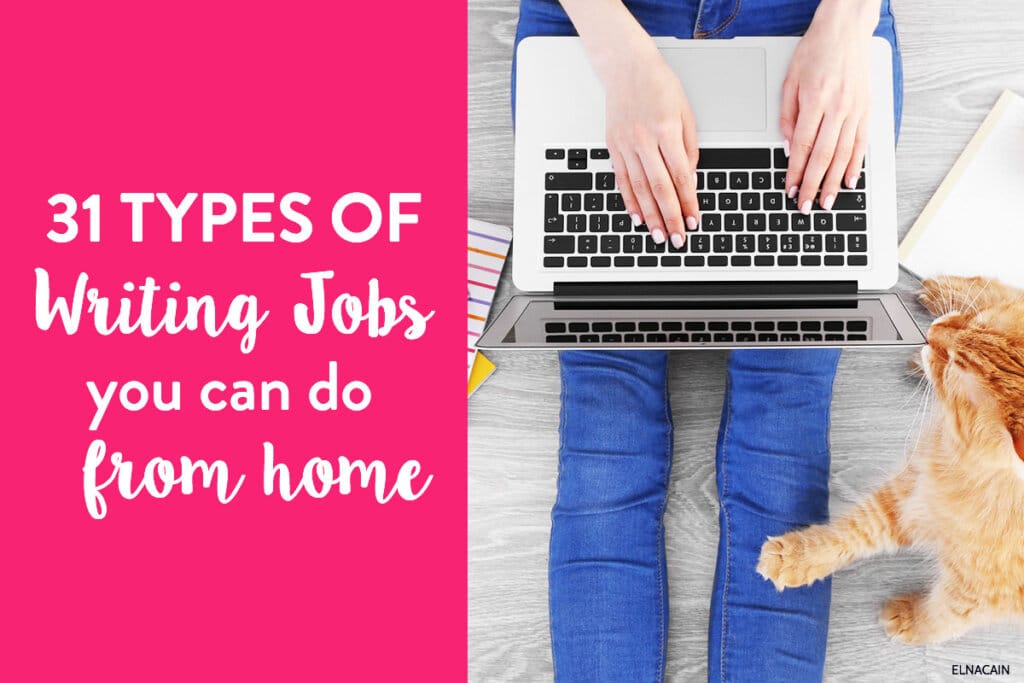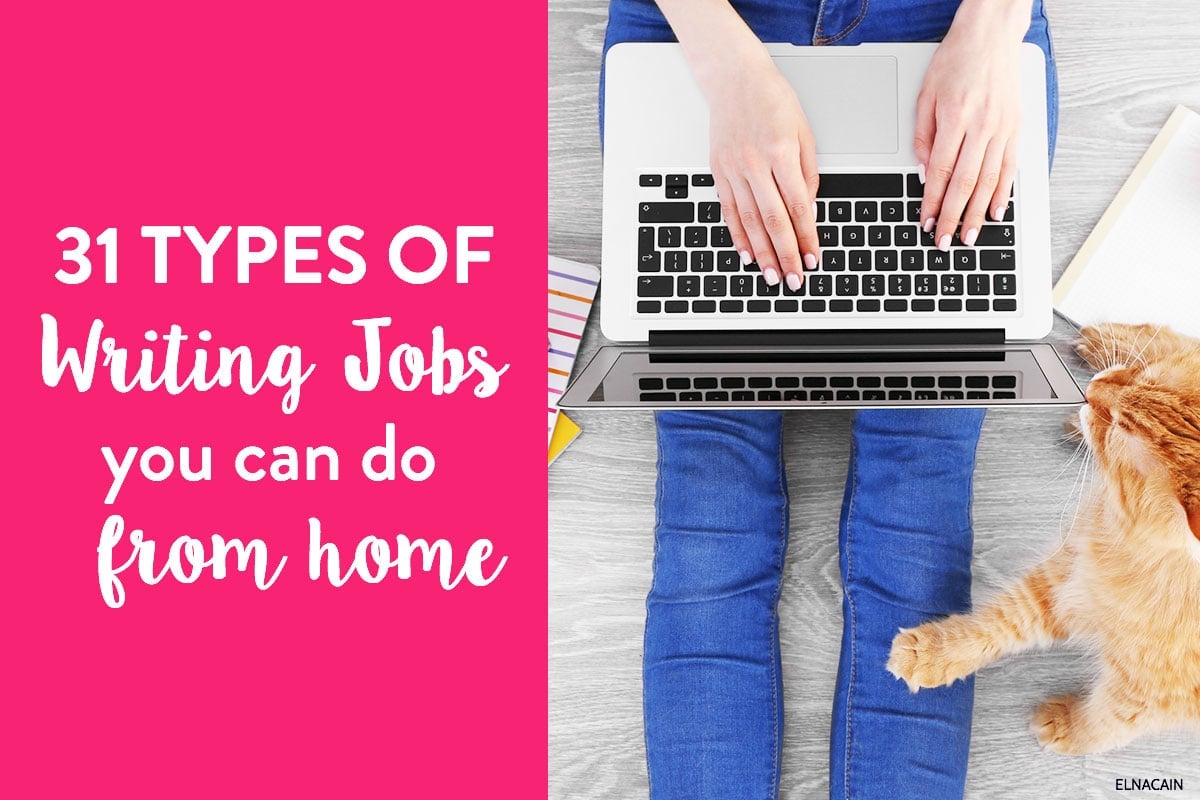 Yes, I was that person!
Did you know there are many different types of writing jobs from home?
I didn't know that when I first started either. Over time though, I learned all the different types of freelance jobs for writers and what type of services they requested.
To prepare you as an online writer with a remote job, I want to share with you different types of writing you might do from home. You can pick one or several types of writing jobs from this list for your business.
Writing Jobs from Home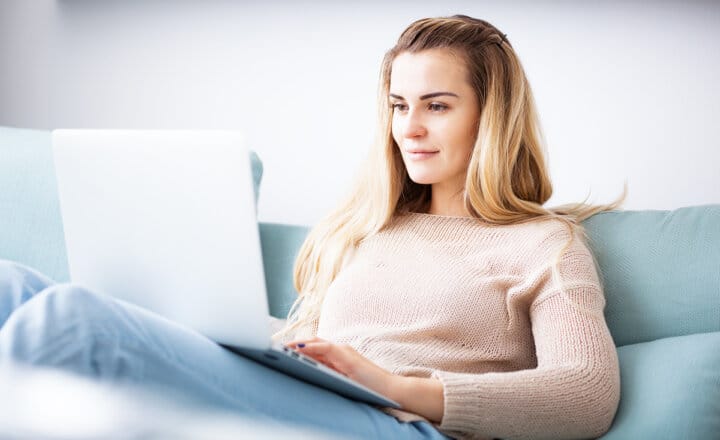 1. Blog Writing Jobs
Blogging is by far the most popular type of content online that business want.
It's also the easiest to find work for since there are many job board sites that cater to blog writing jobs.
Blog posts are typically between 800-1500 words and can include certain keywords for ranking in Google, magnetic headlines to draw people in and a call-to-action at the end of a post.
You can niche down your blog writing to focus on long-form blog writing which means producing blog posts between 2,000-5,000 words long. These writing jobs from home are usually in-depth and require insider industry knowledge.
Generally, blog posts are conversational and are written for the audience.
You could write blog posts for small businesses, brands, coaches or other entrepreneurs. The blog topics vary from providing educational content to something more entertaining.
And the time writing jobs take for this service don't take all day.
If you pick up blog writing jobs know that many businesses need this type of content on a consistent basis. So, blog writing is a great recurring gig.
More than half of my clients require weekly blog content. It's consistent, reliable and fun to do.
To find a blog writing job, make sure to check out a job board like Contena.
2. Ghostwriting Jobs
Ghostwriting is when you – the ghost writer – writes online content for businesses, brands, magazines or entrepreneurs and isn't credited for it.
You don't receive any credit for your writing, so you can't display your piece on your portfolio or market it on social media as your own.
Why would you ghostwrite if you want to get your name out there and land clients?
Because it's a highly lucrative field.
You can charge up to 3x more for a ghostwritten piece than for a piece with your author byline. I have several ghostwriting clients and I'm interested in obtaining even more. I find these clients are easy to please and pay well.
3. Article Writing Jobs
Both magazines and websites alike depend on article writers to provide new and unique content.
There are many types of writing jobs from home and it just comes down to what you are interested in and what you're experienced in.
Articles are more in-depth than blog posts and are usually journalistic in nature.
For example, it may require interviews or for you to go search out a story.
I was asked to do a story about buying a car from a female's perspective. This writing job required me to actually go to a dealership and test drive a car.
Articles pay well – upwards towards a $1 a word – but they're not usually recurring. Some magazines publish monthly or quarterly, rather than weekly.
I encourage you to research further and narrow down your field of writing.
For example, if you are interested in writing copy, then you can choose to pursue Etsy sellers or bigger websites or even stores that need catalog copy.
Maybe you are interested in op-ed pieces, then you can choose to look into publications and magazines for that type of copy.
Checking a journalists job board like Media Bistro will help you narrow down the exact type of magazine you want to write for.
4. Press Release Writing Jobs
A press release is a written statement to the media.
It's used by a business to announce accomplishments, scheduled events, a launch, new products or even sales accomplishments. They continually need talented press writers to turn out newsworthy content and to get it placed in media outlets.
I was asked to write a press release for a new meal delivery service. They wanted to get the word out about their product launching in their city.
Press releases are typically short – 400 to 800 words – but can be a couple of pages long.
There's usually a system to writing a press release, so once you do one, you can use the same template on other press releases.
For example, publicity firms can charge hundreds of dollars just to write these types of press releases.
Many of these companies charge $325 per release. That said, offering $200 or lower to write a press release would be a steal for businesses that want this type of content.
5. Technical Writing Jobs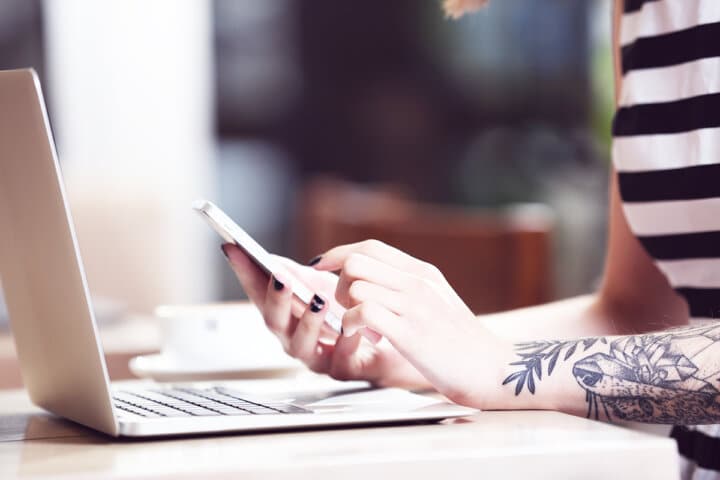 If you have a strong technology background, then technical writing would fit right into your writing niche.
There's a great demand for WordPress writing, coding tutorials, web development tutorials and much more.
Technical writers can also write manuals for companies, policies and procedure documents, technical guides and handbooks, evaluation reports, and research reports.
Typically, a business hires an online writer to make their dry and boring guide more user-friendly. So, it's our job to bring a little conversational element to a business' guide.
Technical writing can be a profitable writing service because there's a high demand for this writing, but not a lot of freelancers supplying it.
So, as a technical writer, take advantage of that!
6. White Paper Writing Jobs
Many businesses use white papers as a marketing tactic, much like case studies. These papers are informative and designed to show off the product or service of the company.
One of my clients had me write a white paper for recruiters on the common mistakes they make when hiring new people. Papers like these are written in a more academic setting, without the fluff online writing may have.
White papers are also lucrative – that the average price for a white paper is $5000 to $7000 – but they can be time-consuming and it's not for everyone. White papers are also a one-off job and aren't recurring unless you are already a writer for this client.
This type of writing job from home, though, is highly profitable because it takes more skill to write a white paper than it is to write a blog post.
7. SEO Writing Jobs
SEO stands for Search Engine Optimization.
Its purpose is to assist websites in ranking high in the Google search results. This is a big industry and many companies hire SEO businesses to help them with this.
There are usually two types of clients seeking SEO content for this remote writing job:
Ones that require short writing pieces with relevant keywords placed throughout the post. Clients often batch these assignments and offer a low rate.
For example, they may want 30 short posts for $10.
Those types of writing jobs can be found on content mills or freelance market places like Upwork.
A content mill pays very little and they don't value writers.
The other writing job project may give you the keywords they want you to use and it's your job to know where to place those keywords in your content to optimize that post for ranking in Google.
These clients are typically good paying and value writing and can be found on a quality job board like Writers Work.
If you're new and not sure if you're ready to make the leap into having a freelance business, you may want to consider doing some fast and small jobs like SEO writing.
It will certainly give you the skills you need to write posts and it will introduce you to invoices and online payment systems.
8. B2C Writing Jobs
This is business-to-customer writing that focusses on product-based content. This type of writing job is a little more fun and creative. You are writing directly from the business to the consumer.
There would be few how-to types of content and more review, buying guides and tutorial-based content.
For example, Walmart has a blog that focuses on B2C content.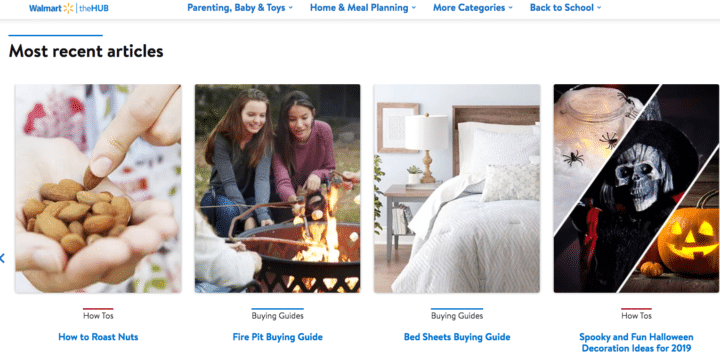 I enjoy writing B2C content because it's more relaxed, conversational and the topic ideas for B2C is usually fun and creative.
9. B2B Writing Jobs
This is business-to-business writing and tends to have quite a few rules and is less creative than B2C writing jobs.
You are writing for a business to sell to other businesses. For example, writing for GoDaddy.com.
There are different types of B2B writing jobs. The first is small brick and mortar businesses attempting to have an online presence or small online businesses. This can be your local auto insurance company or it could be a background security check firm.
These small businesses usually hire ghostwriters to write for their blog or write their marketing content.
The other camp is online businesses that cater to a large online audience and customer base.
For example, I had a writing job for OptinMonster. My content spoke directly to small online business owners such as entrepreneurs and professional bloggers.
Business to business writing is highly profitable and it is what has helped me make a living from writing.
10. Video Script Writing Jobs
For fun creative writing jobs, look to some script writing.
YouTube videos and commercials rely on script writing. Large websites who wish to expand its content into video will need freelance scriptwriters to help.
And this is the perfect time to start looking at script writing jobs. The video marketing industry is an ever growing industry and it isn't stopping anytime soon.
Entrepreneurs, bloggers, coaches and the like are creating videos – for example with online courses – and will seek out script writing to help their audience find the best way to learn their tactics.
As a job seeker, go ahead and follow these solopreneurs and get to now their content before you reach out to them!
11. Course Writing Jobs
Piggybacking on script writing, you can also do some course writing jobs from home. As previously mentioned, businesses are opening up to a new content marketing strategy and using online learning to fulfill that space.
I've had previous clients wanting me to create course lessons for their digital marketing courses. These projects are usually huge projects that might take months to complete, but they are usually profitable for you!

12. Case Studies
Many businesses use case studies as a marketing tactic to acquire more business. Case studies are used to tell the successes of their clients using their product or services.
They demonstrate how a client found great results by using a particular product or service. Typically you would write a case study about an individual or a company.
You may be asked to write a case study or use case studies in your content. For example, for one of my clients, they liked to feature a lot of case studies in their blog posts.
I either researched the company or I interviewed one of the managers of the company.
I then presented the analysis of how a company achieved results in a certain part of their business.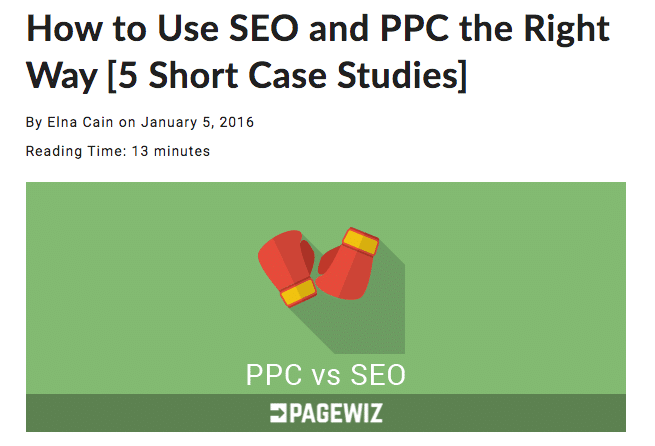 13. Copywriting Jobs
Stores need someone to write unique and engaging blurbs for all of their products.
Copywriting uses the psychology of marketing to help businesses with promoting their brand and products.
A freelancer may write landing pages, web copy, sales pages, call-to-actions, marketing campaigns or any type of content used to convert a user into a customer.
Recently, I landed a copywriting job – web copy – and I'm finding it a new experience to grow from.
The only downside to copywriting online writing jobs are that they are not recurring and often it's a one-time gig.
But, you might be surprised if the client is happy. They will contact you for other landing pages and marketing campaigns.
The thing to remember with copywriting is that you are weaving in story-telling and writing to sell.
A cool way a freelance copywriter can land an online writing job is to work under a senior copywriter. You would be the junior copywriter and learn from them who may also pass off gigs to you.
Check out these related articles for more help:
14. Email Marketing Writing Jobs
Did you know that writing emails for companies is a big business?
Writing email marketing campaigns is no joke. Businesses know that the money is in the list, so having a highly conversion email is important for their business strategy.
Email is where businesses cultivate warm leads and turn them into potential buyers.
As an online experienced writer for email marketing campaigns, you may be responsible for writing sales funnels, opt-in funnels and emails alerting subscribers of the latest deals and products.
You would also be responsible for writing engaging newsletters and email headings. Many businesses depend on their email list to boost sales and increase customer interaction.
15. Magazine Writing Jobs
Most of the content for magazine writing jobs will be article writing that is more journalistic than conversational.
Your medium are things like trade publications, magazines, educational publications, and newspapers. There's typically a certain style guide you have to follow like the Associated Press or Canadian Press.
One of my first writing gigs was the online version of a city's newspaper. As such, the job ad mentioned a style guide and I had to adhere to the Canadian Press way of writing.
16. Social Media Writing Jobs
Some businesses rely heavily on their social media presence. They need to update their accounts every day, but this can be time-consuming for an entrepreneur or small business owner.
While most companies wouldn't just hire a freelance writer to do all their social media, you may be hired to do a couple of things such as: editing blog posts, writing blog posts and handling their social media account.
Lauren Spear of Little Zotz Writing is the editorial assistant at Copyblogger and she is in charge of their Twitter account.

Social media writing is a special type of writing skill that can be learned. Stick to short, punchy copy that is to the point and hooks a person when scrolling on social media.
17. Editing Jobs
Editing is an easy addition to your freelance writing services since you already have to edit your own pieces before you submit them. There are generally three editing types you can perform for clients:
Proofreading – this means having a quick look at your content and checking for comma mistakes, spelling errors, or inconsistencies such as sometimes not capitalizing CTA in the piece. It doesn't require much re-writing.
Basic editing – this requires more involvement than proofreading. On top of checking for spelling mistakes and punctuation mistakes, you are also checking stats and syntax.
Developmental editing – this is the most intrusive of all editing and the most expensive for businesses to hire out. With this type of editing, you're changing entire sentences and paragraphs. You're adding new concepts and ideas.
This type of online writing job can be a nice addition to your writing service and help you make more money in the long run.
18. Real Estate Writing Jobs
An unlikely job opportunity is with your realtor!
Real estate agents need freelancers for a few different projects. For example, they may need writers experienced in SEO to help potential clients find their real estate site in their city.
They also need writers to write engaging house listings that sell. As such, this type of content is industry-specific and requires a writer that knows the real estate industry inside and out.
Because of this type of specific information, real estate writing jobs are highly profitable.
19. Product Description Writing Jobs
Graphic design companies or printing companies often have clients that sell a wide array of products and goods.
Many of these businesses seek out a creative writer that can produce highly optimized, SEO-driven product descriptions. If you have a knack for condensing information into 60-80 word blurbs, then you can niche yourself out as the product description writer!
20. Content Writing Jobs
Content writing jobs from home are becoming more and more popular. With more people starting blogs every day, they are inadvertently learning the skills they need to be a content writer!
Things like:
Uploading content into a content management platform like WordPress
Customizing their blog
Creating lead magnets (free guides) to grow their email list
Creating products and sales pages
Writing blog posts to grow traffic and income
All of these skills bloggers use can be used to help businesses with their content. From blog writing to writing lead magnets to growing their email list, there is no shortage of this type of writing jobs from home!
21. eCommerce Writing Jobs
eCommerce companies have huge catalogs of products and big marketing budgets to get their brand out there. Many of these businesses seek out writers to write web copy for their products, buyer guides, brand guides, or category descriptions.
Much of your writing might go to their distribution channels like Amazon or social media.
22. Gift Guide Writing Jobs
Gift Guide writing jobs are a blend of product description writing and blog writing.
Many brands and businesses use gift guides as a way to monetize their brand and share on social media. These guides need to be conversational and relatable to the people reading them.
Instead of dry, feature-based content with no flair, gift guide writing jobs need a writer that is well versed in writing blogs and that understands online writing in general.
One of my newest clients hired me for their gift guide campaign and their rate for an 1800 word gift guide is $500. This is a great writing gig for beginners and an easy way to gain some recurring writing jobs from home.
Plus, it's easy to create a gift guide writing sample to show a potential client you can write this type of content.
23. Grant Writing Jobs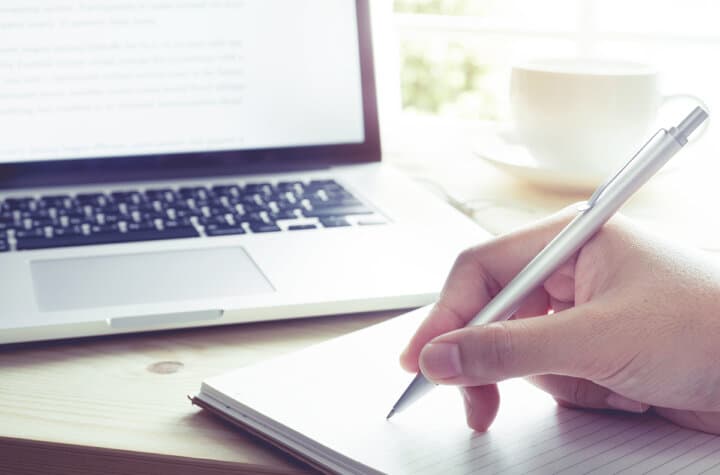 A grant writer creates research proposals that request funding from various government agencies.
Grant writing is usually hired out by non-profits, universities, and the social service and healthcare field.
A proposal involves writing the application, describing the reasons for funding and giving an overview of the applicant and its intentions.
Grant writing has a steep learning curve to it, but once you pick it up, your help will be valuable (and profitable) to non-profit organizations.
24. Business Plan Writing Jobs
New businesses and start-ups are launching every day. Just because someone is great at business does not mean they are a great wordsmith.
That's where you, the freelancer, come in!
If you've had experience in business planning and drafting up business plan proposals then this type of writing job can be your thing!
25. Legal Writing Jobs
Law firms produce a lot of paperwork, so the help of a writer who knows legal lingo will be a great asset to any law firm. But for this profitable writing niche, you won't be able to fake it until you make it.
You have to have had experience in a law firm or with legal writing to gain some writing jobs for lawyers.
26. News Writing Jobs
A news writer is required to write the daily happenings before everyone else. Writing in this field is fast-paced and requires tight writing.
I view this as the freelance journalist that travels or goes where the story goes.
I researched my local newspaper to see if they hire freelance writers and you know what? They do.
In this instance, they hire out stories and it's your job to go interview the person or experience the story (like go to a soccer game) so you can write about it. While this was an awesome opportunity, at the time, it was something I couldn't do (my schedule wouldn't allow it).
But, it was a great experience nonetheless.
27. Resume Writing Jobs
Help others land the job of their dream while making some cash on the side. Many people need help with perfecting their resume and you can make that happen as a resume writer.
While there are many resume writing service agencies available, you don't have to work under an agency. Having a writing job at home means you can contract the work out or offer it as a freelance service.
I would head up schools, universities and friends & family to find some potential gigs.
28. Quiz Writing Jobs
One of the best remote writing home jobs you can have is a quiz writing job.
Believe it or not, but quizzes are becoming a very hot tool for brands and their social media marketing strategy.
For example, Ramit Sethi of I Will Teach You to Be Rich uses a quiz as a way to gain subscribers to his email list.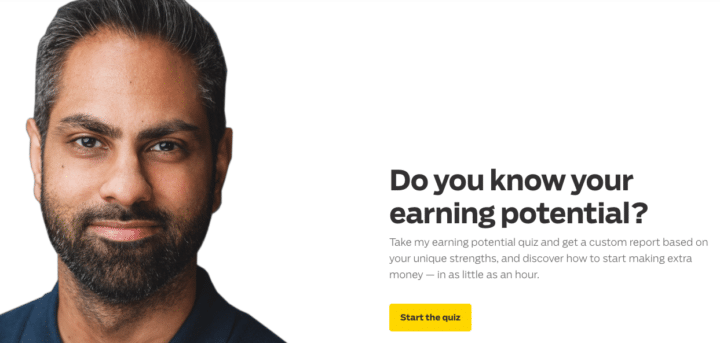 Many of these writing jobs can be found on social media
29. Greeting Card Writing Jobs
An usual writing job you can do as a freelancer at home is creating greeting card blurbs for art and card companies. Finding these types of jobs might require some research online and social media.
Simple running a Google search can help you find card companies that accepts paid submissions like:
30. Book Writing Jobs
You can start writing covers for books that you write for your own pleasure, but you can also write ebooks for websites and businesses. These are usually ghostwritten and allow the company to have something to give to consumers.
A blogger or person might also want a book written about their life, business or product.
They have a hard time writing it, so they hire it out to an online writer. The process of writing an eBook can be different for each gig.
One gig may already have notes; you just have to combine them into a compelling story. Another person may want you to interview them and then use your notes to create an eBook.
Still, others just need a short eBook for a "freebie" they can give to their email subscribers.
I wrote part of an eBook for a digital marketer. He supplied the points and I just expanded them. I never did eBook writing before because I assumed they were 60,000-word books and very time-consuming.
It was a great learning experience and I am now open to taking on more book clients.
31. Web Writing Jobs
A website writer writes content that you see on websites.
The demand for it is higher than ever. Businesses of all stages and sizes – whether it's a new startup that's just tapping into the online world and creating a website, or an established company that's expanding and needs more pages on their site – are looking for web content writers.
As a web content writer, you would be working on a variety of pages, including (but not limited to) homepages, about pages, FAQs, product description pages, "Why Us?" pages, and more.
Pricing varies depending on the length and depth of the site, but $50 to $75 per page is a VERY reasonable starting rate.
Sites for Online Writing Jobs
As you can see, many of these gigs need minimal effort from you. If you are capable of writing some of these types of gigs like greeting cards, web copy or emails, then you can get started easily.
And you can live anywhere in the world – New York, LA to Europe, South America or Asia.
To help you get started, here is a list of sites that offer jobs for writers. Take a look at these places that I've round up to help you find your first client!
Writing Gigs Galore
There ya go!
My list of 31 writing jobs you can do at home. This is what I did when I first started and haven't looked back!
Interested in this type of freelance work?
Over to you – out of this list, which writing job suits you the best? Or, which jobs have you done in the past? Let me know!
Please remember to share this!