As a freelance writer, I started using Writers Work recently.
Why would I when there are so many ways to find writing gigs and start making money with freelance writing?
With many of these methods, you spend digging through job postings, or writing attention-catching pitches to potential freelance writing opportunities.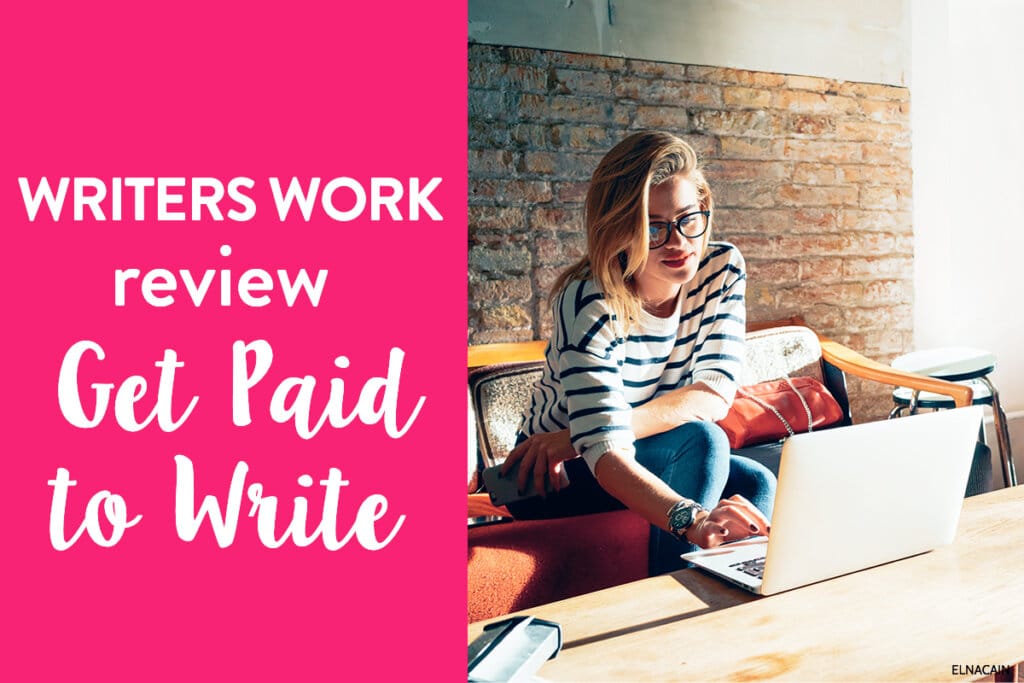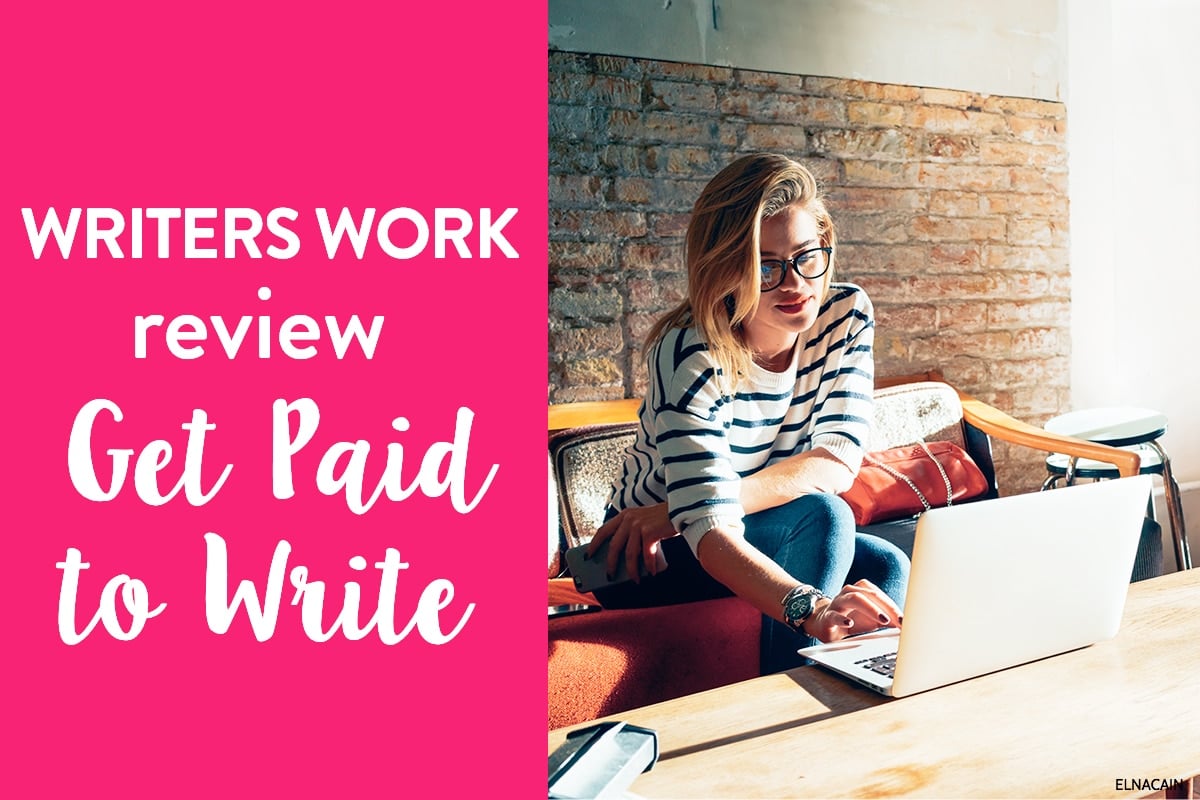 These methods will land you jobs, but they take a lot of time and effort.
So, I wanted to try out Writers Work.
This job board claims they have amazing writing jobs that are entry-level as well as copywriting level too.
Writers Work can access relevant and current writing jobs curated from job boards all over the internet, and it comes at a very affordable price.
But is Writers Work legit for beginners?
If you don't have time to read the post, check out my video review of Writers Work and how I use Writers Work as a freelance writer!
And please subscribe to my YouTube channel!
What is Writers Work?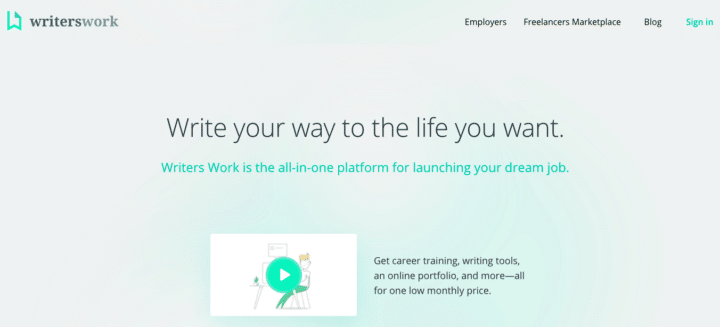 Writers Work is a budget-friendly job board that provides relevant and real-time freelance writing jobs. It sources job postings from other job boards and there are also exclusive Writers Work jobs.
Unlike most freelancing job boards that include all kinds of freelancing jobs (like the Problogger job board), Writers Work only focuses on writing jobs such as website content, blogging, copywriting, and social media posts.
You won't find job offers for website design, graphic design, transcribing, etc.
This is a big help in streamlining freelance opportunities and saving time as new writers!
If you are an experience writer, is Writers Work for you? Yes! I still use it and I've been a freelance writer since 2014!
After I signed up and logged into Writers Work, I used their all-in-one text editor to communicate with clients, write my content creation, and send it to them – all on one platform!
This is much better than using Word, for example, since you have everything here for freelance writing.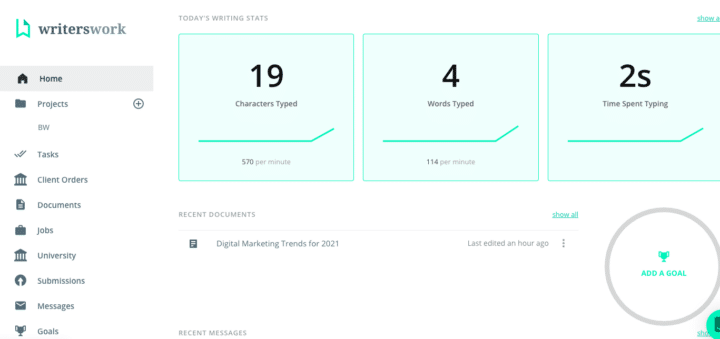 This is one of the features I love best when using Writers Work.
There are also options for you to list tasks, organize your workload, and set goals for yourself.
You can even track your writing stats (such as words per minute) if you choose to write your content creation (like a blog post) within the platform. This is a habit builder that can help you speed up your writing and eventually make more income.
Pluse, a Writers Work University gives you access to educational lessons on writing and how to get started with a freelance writing career.
Personally, I looked at the lessons on landing pages and writing for copy and they were very good and informative!
How I Use Writers Work
I find Writers Work a very easy-to-use and effective platform for setting up an account and finding freelance writing jobs.
Here is a quick overview of how Writers Work, well, works:
Your Profile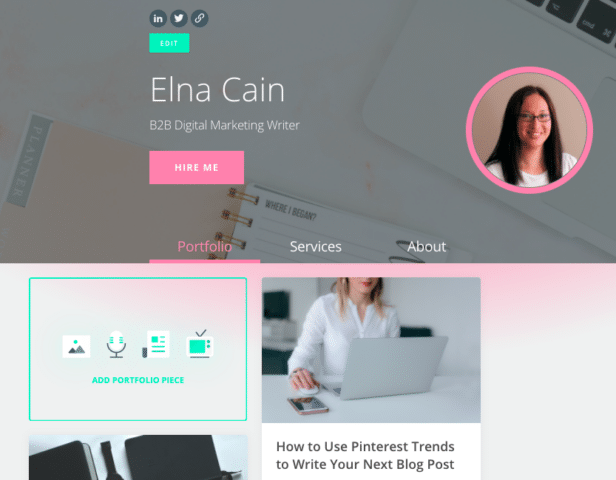 Once you sign up for Writers Work, you have an opportunity to set up a profile that potential clients can take a look at that features a "hire me" button so they can connect directly with you!
In this Writer Work feature, you can add some portfolio pieces to showcase your writing skills and list your writing service.
There's also an "about" section that allows you to tell your story so clients can get to know you.
When you're setting up your profile, make sure to add a professional profile picture and cover photo.
Once your profile is set up, you can opt-in to the Writers Marketplace, where employers can find your profile and send you a direct message if they are interested in your writing service.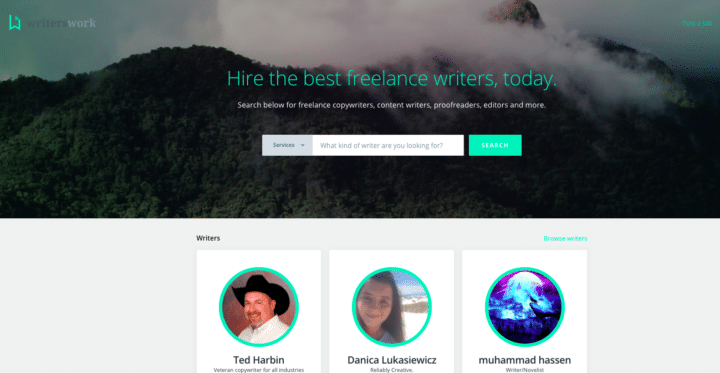 If you want a demonstration on Writers Work Review about setting up their profile, check out my video:
Job Listings
Next, you're going to want to check out the job listings.
This is by far the best Writer Work feature for sure!
And yes, even though you might think AI will dominate the world and take away writing jobs, you're in luck.
The Writers Work job board curates jobs frequently (daily at times).
When you go into the gig section, there's a list of all of Writers Work job postings beginning with the most recent.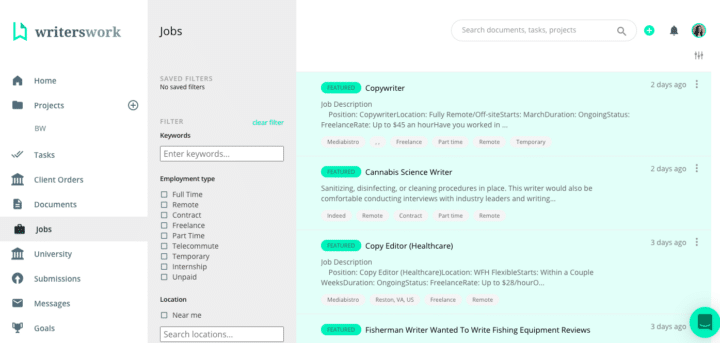 You do have a search option where you can use keywords to find writing jobs in your niche. You can also filter the search results based on parameters such as the employment type (full-time, freelance, contract, etc.), salary, location, and source (which job board the listing is from).
When you find a creative writing job you are interested in, click on it to view the details.
If the job was curated from another job board, it will open a new tab with the listing. From there, you can follow the directions to apply.
And don't be afraid to pitch to old postings! You never know whether or not they are still looking for new writers.
Submissions
Apart from the job listings, a submissions section allows you to pitch to one-off gigs. These are typically blogs or magazines looking for one article. There is a mix of free submissions and paid ones.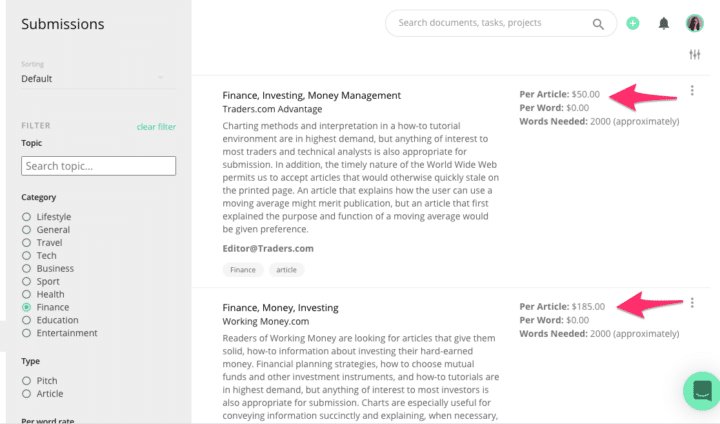 Instead of sending a job application as you would to a job posting, you send a short pitch telling the publication why they should publish an article you have written or plan on writing.
Client Orders
This section of Writers Work is pretty straightforward. When a client orders a service from you through the platform, you can keep track of it here.
Tasks
The tasks feature is like a little personal to-do list. You can give each task a name and short description and check them off as they are completed.
You can then include tasks into your goals or projects and add documents to them.
Projects
This is one of my favorite features of Writers Work! You can organize your client orders by creating projects to keep track of each client's tasks and time.
Projects are helpful if you have multiple content orders for one client as a content writer. Instead of chasing them around your client orders, you can have all the information readily available here.
Documents
One of the really cool aspects of Writer Work is the document text editor, where you can write the content for your client's orders.
Not only does it keep your work all in one platform, but the editor has features such as ambient background noise (Hogwarts library, anyone?), a readability score, a timer (if you charge by the hour) as well as the option to post the content directly to WordPress or Medium.
Goals
I absolutely love the goals feature on Writers Work! This is such a great way to help motivate both new and seasoned freelance writers.
Goals are tied directly to tasks and are mostly used to track how many words you've written per day.
While it's not a way to reach new heights with your freelance writing business, it is definitely helpful with time management and keeping you on track.
University Library


Not many job board platforms will provide you with training materials, tools, and resources to build your freelance writing business – but Writers Work does!
From getting your business started, to how to actually write, to how to create a pitch, the University Library is a valuable resource to help you get started as a copywriter or freelance writer.
Is Writers Work Legit?
If you're like me, you will do a quick Google search of any business or service before you hand over your money.
So, you're probably wondering: Is Writers Work legit?
A Google search of Writers Work is going to show you mixed reviews.
This is because, in the past, Writers Work had many complaints regarding customer service and the timeframe of refunds.
Some people also take issue with how it is advertised as a platform that guarantees high-paying writing work.
Yes, the potential to earn money is there, but it doesn't happen overnight (as any freelancer on any platform will tell you).
More recently, however, Writers Work overall reviews have improved as they work to correct these issues.
So, yes, Writers Work is a legitimate freelance writing platform! You will receive the features promised when you sign up for a membership.
Writers Work has been proven not to be a scammy website that rips off writers and wastes their time.
However, you have to be realistic about their claim that you can make $20-$65 per hour as a freelance writer. These are not all unrealistic rates, but you must do the legwork to land the writing gigs first.
But making this kind of money as a freelance writer is possible!
My Writers Work Review
I'm a huge believer that you get what you pay for, but I find Writers Work over-delivers for the membership cost!
For instance, the document, task, goals, and stats features are neat little perks you'll likely not find on a paid platform.
While they are not pertinent to finding online writing jobs, they are helpful and can save you a lot of time – which is the name of the game when you're anxious to get your freelance writing business off the ground, right?
And Writers Work is all about saving you time! Yes, it curates job postings from free job boards across the internet, which has many people wondering why you pay for something you can go out and find for free.
Writers Work pulls freelance work from nine free gig boards – these creative writing jobs are specifically related to freelance writing.
Imagine taking the time to explore each job board, digging through tons of job postings that have nothing to do with writing.
Even if you spent half an hour on each board, that's over four hours of your time!
Writers Work provides you with job postings all in one place and allows you the option to search for relevant listings in your niche.
However, Writers Work doesn't just provide freelance writing opportunities. The submissions section allows you to pitch to clients for specific jobs, which is great if you need some experience or a job or two if business is slow.
And when you do pitch and apply for gigs on Writers Work, you aren't just another username. Your profile can be a powerful tool for attracting potential clients – especially the portfolio section, which you can actually share with clients!
Overall, Writers Work is a simple-to-use platform to help you keep your writing gigs organized and to motivate you to grow your business while giving you the tools and knowledge to do so.
How Much is Writers Work?
With so many ways of trying to land clients, I understand how finding paid work as a freelance writer can be confusing and overwhelming.
If you're an aspiring writer new to the game, or just feel bogged down by the process of finding writing work, I would definitely suggest giving Writers Work a try.
The sign-up fees are super low. You can choose a lifetime membership for only $47 or a monthly membership for $15 a month.
The monthly membership is a great way to test the platform and see if you like it. Otherwise, paying under fifty dollars for lifetime access is an amazing deal!
Writers Work also offers a 30-day money-back guarantee if you don't like the service at all.
While you could spend your days cruising the job boards and making pitches, you could spend significantly less time letting Writers Work search for you.
Ready to give it a try?
Your turn: What's your process for finding online writing jobs?
Let me know in the comments!