When I first started freelance writing, I only had 4 hours a day to work on finding good writing jobs uninterrupted.
See, I'm also a mom to twins, and when I first thought about being a freelance writer, the only time I could devote was during nap times and when my twins went to bed for the night.
I had to develop a time management system so that every minute I spent on finding potential writing jobs proved to grow my business.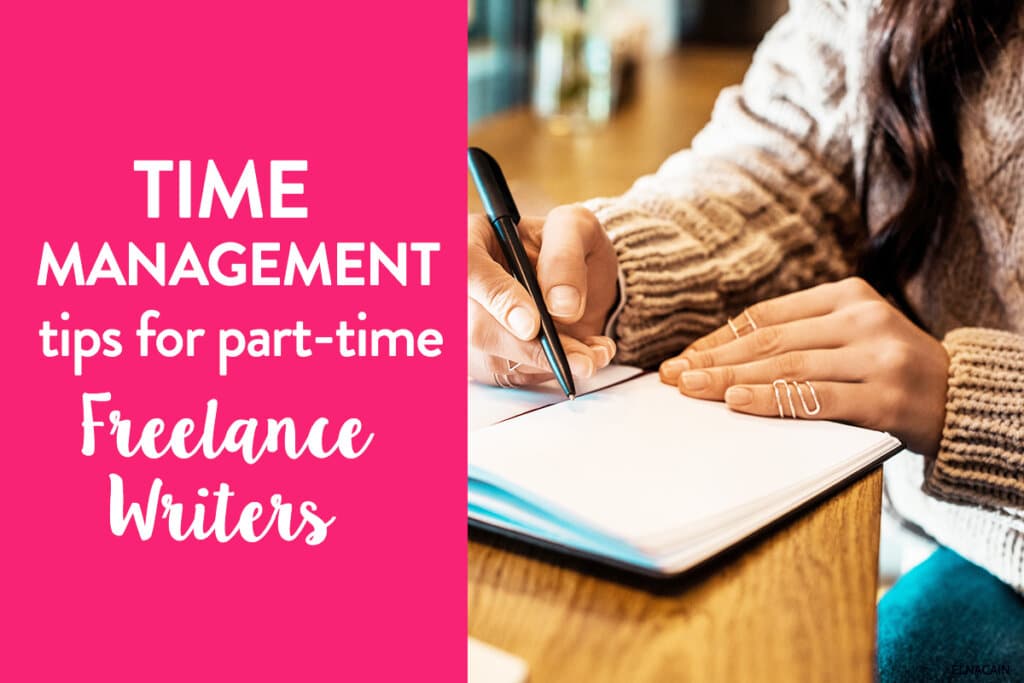 As my twins grew and went to school, I had more time to work, but as of today, I'm still not doing this full-time.
I calculated my hours and realized that I'm a part-time freelance writer – mostly. There are weeks where I pull in full-time hours, but mostly, I do this part-time, and I'm okay with that!
You can definitely make money writing doing this part-time.
So, if you work full-time, you're a college student, a stay-at-home mom or working parent, how do you manage your time and fit freelance writing into your life?
Is it possible to freelance write as a side hustle? Yes!
It's even possible to make enough from your side hustle and be able to quit your full-time job. Many of my students have done just that!
Let's get into why time management is important, how to improve time management and specific time management schedules if you work 1,2 or 4 hours a day to grow and find freelance writing jobs.
Why is Time Management Important?
I'm not going to lie – I'm not the best model to learn about managing your time.
Even though I write and own multiple websites, write client pieces, have two YouTube channels, Facebook groups and email lists, I'm juggling it all, and oftentimes, I fail.
But, If I can manage my time between ALL that plus take care of my twins and the house, then I know I can help you with managing your limited time to freelance write. 🙂
Surely, you're not juggling all that I deal with daily?
But, even if you are – know that you can still fit freelance writing into your life. You just need to use some time management hacks.
Because, if you don't already know, time management allows you to be more efficient.
1. Time Management Allows You to Accomplish More
If you have a system in place, then it's much easier to accomplish more in your day than if you didn't have a plan.
I know this is true of me. If I wake up and don't have my to-do list, then I waste my time doing one thing or "forgetting" to finish up something from last week.
But, if I know that every Monday I write a blog post and every Tuesday I work on Twins Mommy and so on, then I get my work done quicker.
2. Time Management Gives You More Time
Everyone has the same amount of hours in a day.
So, even if you say – I have no time when I get home from work to pitch and find freelance writing jobs! – know that you DO have the time, but maybe you are tired, or it's just not the best time.
I get that. I turn to mush at around 8pm, so I get you!
But, realize that the time is there – it's just what you DO WITH IT that matters, and if you use these time management ideas, you will have more time to focus on growing your business, learning more about freelance writing and networking with other freelancers.
3. Time Management Helps You Become Successful
It's true – those that manage their time wisely accomplish more each day, make better decisions and feel in control. And guess what? People take notice.
I'm not at that stage yet – but each year, I invest in myself and work towards having a better way to manage my time.
But, there is one pitfall to time management that can hurt your productivity.
Parkinson's Law
There's a saying that you will make use of the time allotted to you, no matter if you are given 2 hours or 10 hours to complete a task.
According to Parkinson's Law,
[W]ork expands so as to fill the time available for its completion[.]
For example, if a client gives me seven days to write a 2,000 word blog post, I will find the time to make this work.
But, if another client gives me a month to write a 2,000 word blog post, I will end up taking the full 30 days to complete this task.
So, you can sabotage your time management efforts with Parkinson's Law.
Just be aware of that!
How to Improve Time Management In Your Work Day
To help you out, I have a YouTube video on how I manage my time as a freelance writer and mom to twins.
Make sure to watch the video as I don't mention everything in this blog post.
1. Use a Planner
I enjoy writing things down in a list. It makes me feel accomplished, and I have something to work towards.
That's why I love my Productivity Planner for Freelance Writers.
It's an all-in-one system to manage your time.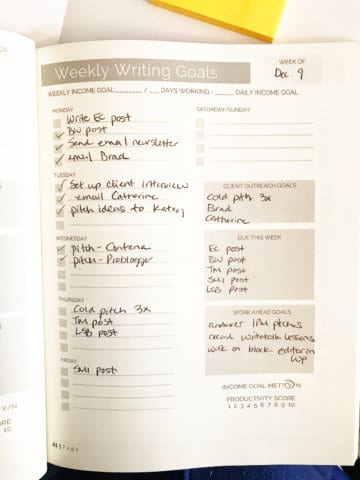 This planner has:
Client profile – keep track of all your freelance writing clients in one place
Pitch tracker – keep track of your cold pitches, job board pitches and guest pitches
Invoice tracker – for new freelance writers, this system works well if you have one or two clients. But once you have more, it's best to use a G Sheet or an invoice tracking system.
Writing goals – This is my favorite part of the planner. I get to break down my goals into easy task that helps me stay focussed.
Article planner – Outline your client pieces in the article planner.
The planner keeps me in order, and it helps me accomplish my tasks to achieve my bigger writing goals.
2. Use Writing Tools
Tools streamline your work and can cut your work time in half. As a freelance writer, this can help you save time and manage your tasks, so you have time to pitch and land more freelance writing jobs.
My favorite writing tools are:
Grammarly – use an editing and proofreading tool when you write for your clients. I like using Grammarly as it checks my grammar, spelling, and if I plagiarize my writing. This is a must if you are a long-form writer too!
Title case converter – Your freelance writing clients may want your post to be title cased. You can use this converter to fix your writing to align with your client's content.
Google Drive – I hold a lot of my articles in G docs, and many of your freelance clients may request you write your content using G docs.
Trello – Trello is a free organizational tool to help you manage your content schedule. If you need to see everything at once, then Trello is a good writing tool to use.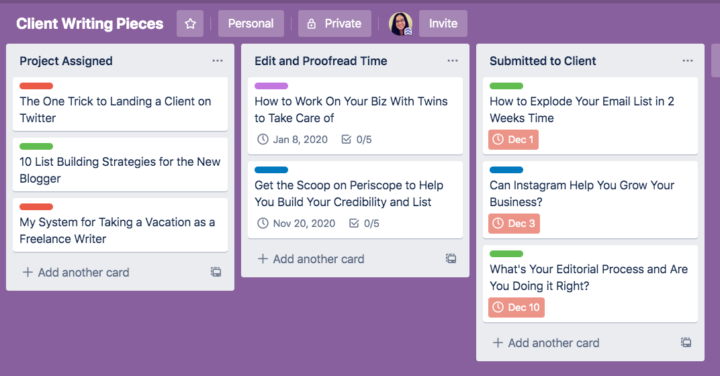 Coffitivity – This is a productivity app that's free to use while you write. Listen to the hum-drum noise of a coffee shop while you write your next client piece! It keeps you focussed and drowns out any other noises in your environment.
Emotional Marketing Value Headline Analyzer – need some help with optimizing your headline to increase click-throughs? Try a headline analyzing tool. This one looks at your headline to see if there is an emotional bond for the reader.
3. Track Your Time
A simple trick to double your productivity is to track your time instead of writing a to-do list.
When you start to work, note what task you're doing, when you start and when you finish.
Do this for all your tasks. What you will see is that you will do these tasks faster, and you will finish much earlier than your original time frame.
Alexa of Single Moms Income said after doing this method,
The first day I tried this method I had my entire week's worth of freelance articles done in one day with time to spare. (I normally space these out from Monday through Wednesday!)
If you're a stay at home mom with little ones, this method may not work if you have a lot of disruptions.
But, if you track your time when your kids are sleeping or napping, it can work for you to increase your productivity.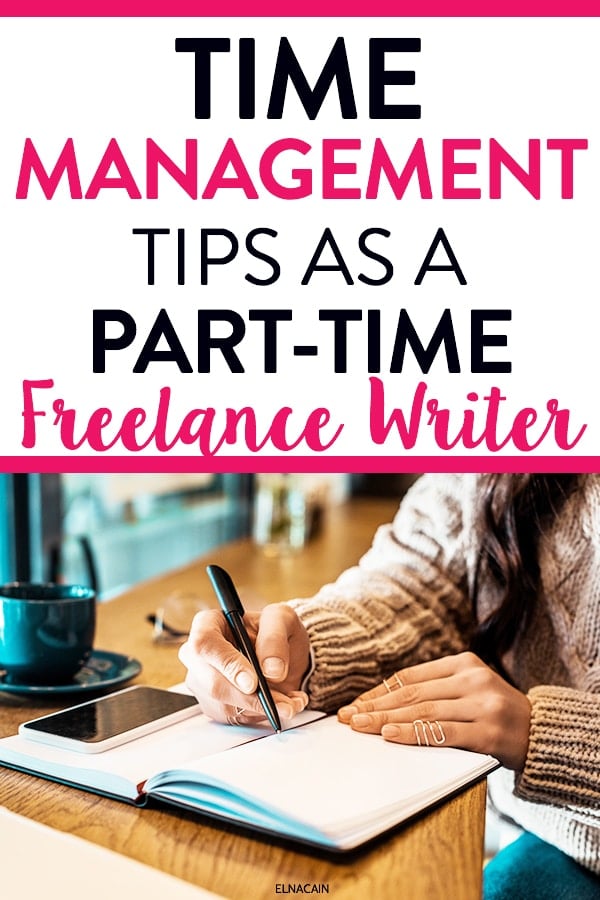 4. Increase Your Typing Speed
To get more time out of your day, try increasing your typing speed.
Over the years, I've learned to type faster, but if you're a new freelance writer, you can take typing tests. A popular free one is Key Hero.
When I first started, it would take me over an hour to write 1,000 words.
Now? Thirty minutes.
This allows me to write more in a day and get more client work and my own personal projects finished quicker.
So, what if you only have one hour a day to work as a freelance writer? Maybe you have 2 or 4 hours a day. How do you manage what little time you have?
Let's look at a schedule for time management based on how many hours of freelance writing you do in a week!
Note about the weekly schedules (below): each block in the weekly schedules constitutes a task – not a block of time. I also placed the tasks in the beginning of your "day," but you can do this in the evening or when it fits your schedule.
Also, the blocks where I mention to outline a blog post can be for a client.
Finally, the first two schedules are for brand new freelance writers that don't have any freelance writing jobs. The last schedule shows what it would look like if you have a few clients and don't have to rely on job boards or cold pitching.
I only think if you have an hour before school or work, then you can work on your freelance business.
If You Only Have 5/hrs a Week for Freelance Writing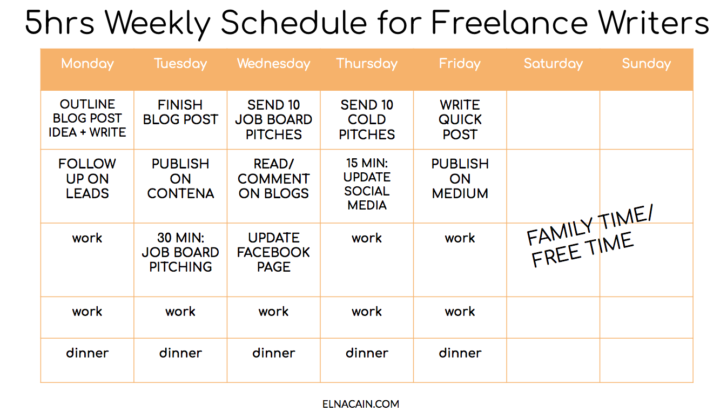 If you only have five hours a week to devote to freelance writing, try to spend an hour each day focussing on your business.
The 5/hour week work schedule is an easy time management schedule you can follow.
Monday
For Monday, work on a new blog post idea. This is for your portfolio or just to get your name out there. Spend a good 20 minutes researching a blog topic and then outlining it and starting the introduction or ending, depending on your writing process!
Then spend the reminder 30 minutes on following up on leads. This might mean checking your inbox and sending a friendly reminder to leads or checking to see if the comments you wrote have replies.
Tuesday
Finish the blog post you were writing on Monday and publish it on Contena Publishing.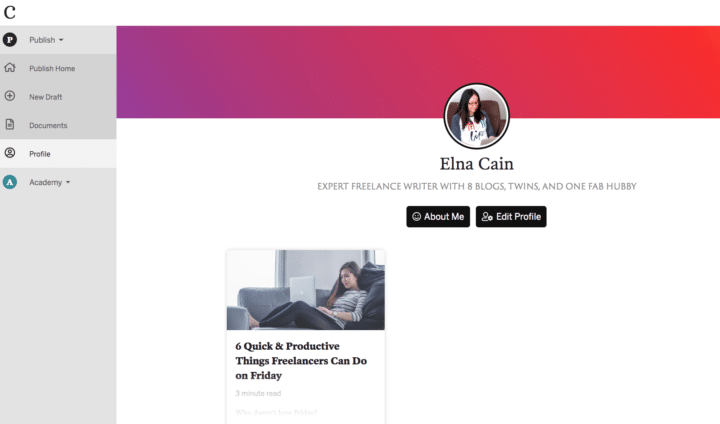 This gives you a live link that you can use in your pitches!
Spend the rest of the time – 30 minutes or so – to pitching on job boards.
Wednesday
Start your freelance writing tasks by sending at least 10 job board pitches (if possible).
Usually, new leads are published on job boards first thing in the morning so you can get a jump start on this by being one of the first pitches an owner or marketer views.
For the remainder of time, you can update your Facebook page with your new blog post or a poll or a link to an informational post. You can also read blog posts on sites you want to write for and leave meaningful comments.
Thursday
Start your hour by sending out 10 cold pitches. You might spend 20 minutes finding and researching businesses and 25 minutes sending your cold pitches.
For the last 15 minutes, update your social media profiles on LinkedIn, Twitter and Facebook.
Friday
See if you can write a quick blog post (800 words) and publish this on Medium. Remember – the more you write, the faster you will become. So, with your limited time, you need to spend it writing and marketing a lot!
And since many businesses don't respond to pitches on Friday, no need to pitch. Instead, write and share!
If You Only Have 10/hrs a Week for Freelance Writing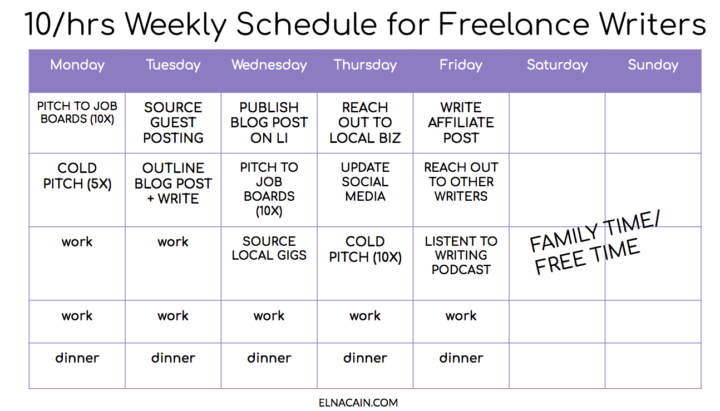 With ten hours a week, you can devote 2 hours a day Monday – Friday.
With this time management plan, you are spending more time outreaching and pitching.
Monday
Monday is spent pitching.
Start your morning with pitching to job boards at least 10 times and cold pitch 5 times.
If you have time left over, research companies and brands and take a look at their content marketing strategy and look at how they are using their blog and email list.
Tuesday
Spend time finding places to guest post. This is important as you grow your freelance writing profile. You need to get in front of your ideal client and show that you aren't "new" anymore – you have a full portfolio.
You can find places to guest post that also pay!
For the rest of your time, you can outline and write a blog post (or a client post). If you have an hour, it's feasible to write 800-1000 words.
Wednesday
Upload your finished blog post to LinkedIn – or add it to your LI resume of clients.

Start pitching to job boards and source local writing gigs.
This might mean drafting up a 1-pager where it lists your services and what you charge for each service.
Thursday
Using the information on local businesses yesterday, take the time to phone call and connect with local business owners and talk to them about their content needs.
Also, cold pitch to businesses online and update your social media profile with new client pieces or guest posts or your own blog posts.
Friday
Don't neglect your personal blog!
Spend time writing an affiliate-based blog post. This is a blog post where you have an affiliate link as a way to monetize that blog post.
If you need more help writing this type of blog post and writing skills for clients, check out Freelance Blogging in a Weekend.
If You Only Have 20/hrs a Week for Freelance Writing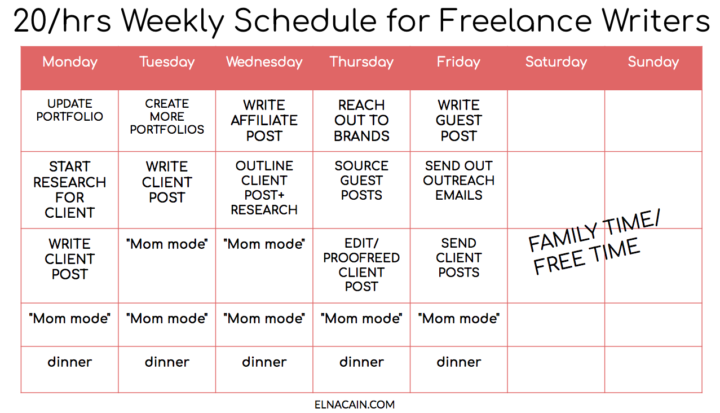 If you have 20 hours a week to work on freelance writing, that equals around 4 hours a day Monday through Friday.
I made this time management schedule for stay at home moms mostly.
This is similar to the time I had as a stay at home mom. I would work when my twins napped and then when they went to bed for the night.
This schedule is also showing a freelance writer with a few clients. How do you manage your time when you have freelance writing projects?
Monday
For Monday's spend that time updating your portfolio or social media profiles and start researching for a client piece.
Some clients may want you to write a case study or interview a business owner. You need time to gather these sources.
If you still have time, write a client post or a blog post for your blog.
Tuesday
Spend some time creating more portfolios. There are many different free portfolio sites you can use as a way to grow your brand and get in front of your ideal client.
To find out the most common sites, subscribe to my YouTube channel and check out my video!
Wednesday
Spend time writing a monetizing blog post for your blog. This can be an affiliate based blog post. For example, if you are an affiliate for Scrivener, you can create an entire post on how to use this tool or write about some cool features Scrivener has.
If you landed a new client, start researching and outline your first client blog post.
Thursday
A good chunk of your day will be spent networking and outreaching.
Find brands you want to connect with and follow them. Research the brand and find ways to reach out to its writers or editor.
Also, search for guest posts or even podcasts for interviews. Even though you have clients, you have to find ways to stay relevant and grow your presence online.
If you don't, you risk having to keep on hustling to land freelance writing jobs.
So as a time management tip, use your time wisely by networking.
If you have time left over, edit your client piece by using an editing tool and proofread it.
Friday
If you finished your client work, start writing guest posts or your own blog posts.
The research you did yesterday for brands can be used to reach out and email them.
Wrap up the week by submitting your client pieces!
Manage Your Time as Freelance Writer
There ya go!
I hope these three schedules can offer some help to manage your time as a freelance writer.
I know time management isn't set in stone – not every day will appear like the ones in my schedules.
But, use them as a template or an idea of how to fill up your time.
Over to you –
Tell me your best time management tips or tell me your weekly plan for your biz!