You're a new freelance writer.
You have no idea how to start, what to do first or how to find online writing jobs. You're interested though in learning where the best places to find a freelance writing job is.
I've been freelance writing for over three years now and I've learned through trial and error where to find profitable and high-paying writing gigs. When I was brand new, pitching was my job.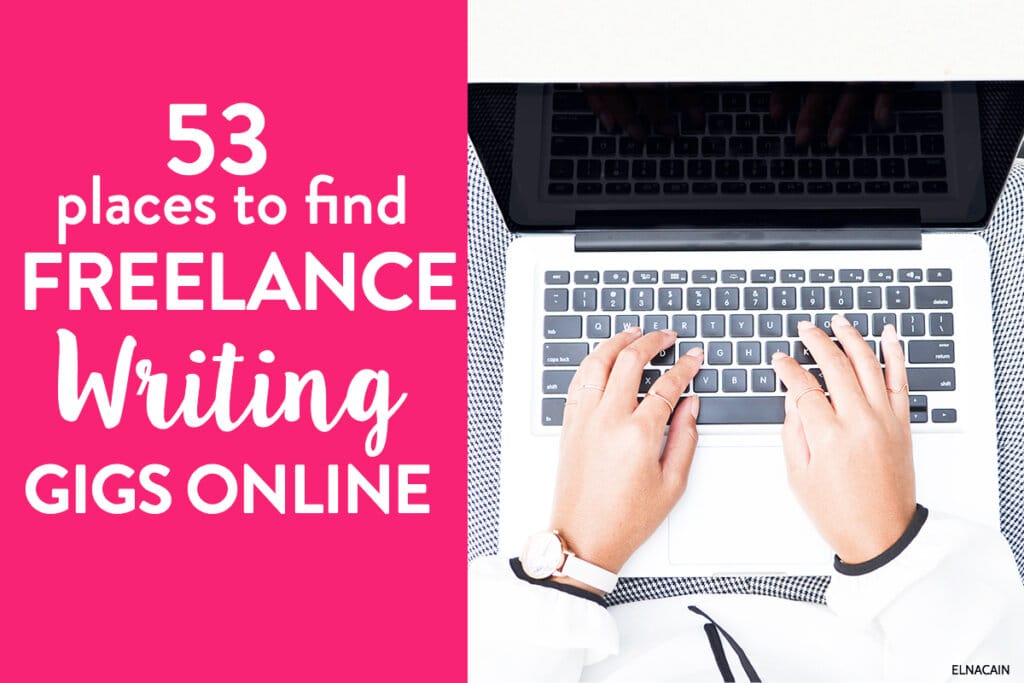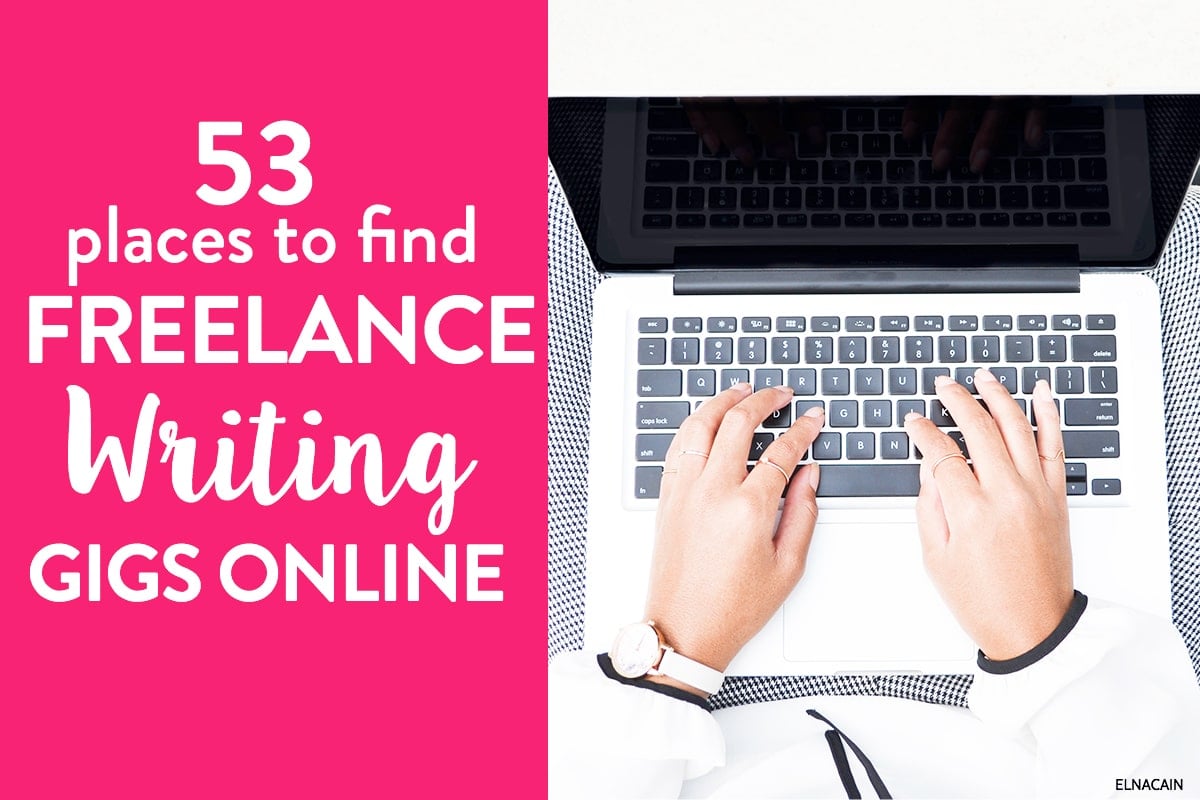 I needed to find a client…fast and found multiple ways to land new freelance writing projects. If you're stuck right now, I have 53 actual places that post freelance writing jobs online or has a way to land a gig.
Are you ready?
Online Writing Jobs for Beginners
Freelance Writing Job Boards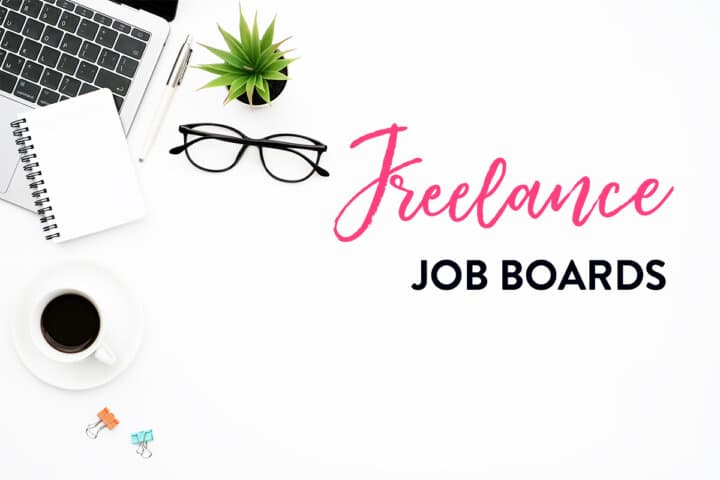 My first online writing job came from a freelance writing job board. I love job boards because they round up gigs from all over and it's in one easy-to-click place. I can create a pitch template quickly and send out multiple pitches to freelance jobs that are posted.
Pro Tip: Here's my trick to find freelance writing jobs quickly!
Here are the 10 best FREE job boards around: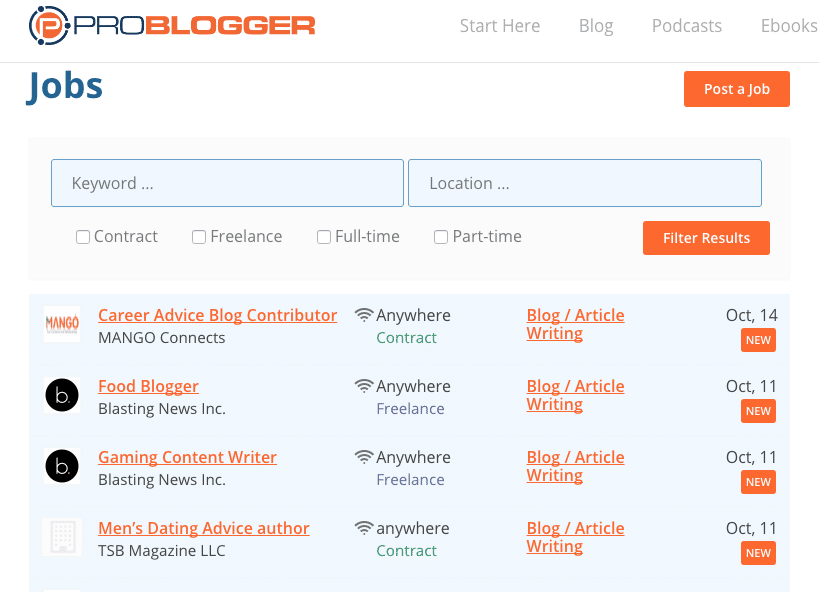 Problogger has the most curated jobs online. It's my #1 free freelance writing job for new beginners. You can choose various options to find the right writing jobs online job for you. If you know your niche topic, I suggest you filter your results based on your paying niche.
For example, if I was a fitness copywriter, I could look for freelance writing jobs in the fitness niche: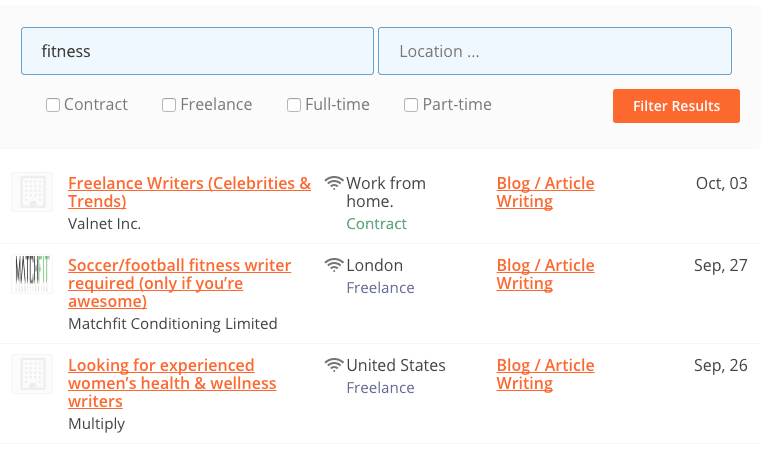 What's also included are related jobs once you click on one of the freelance writing job.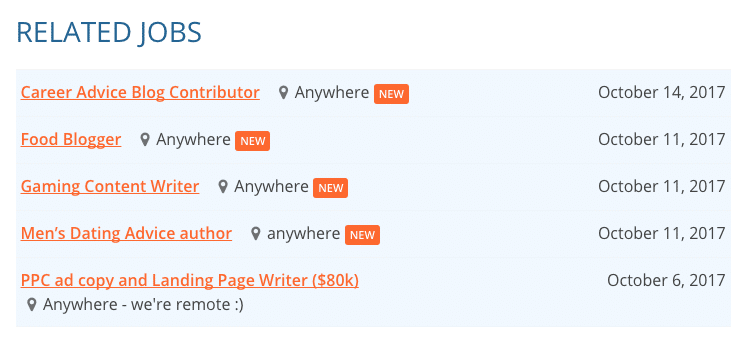 This gives you oodles of jobs to pitch to and meet your daily metric goal.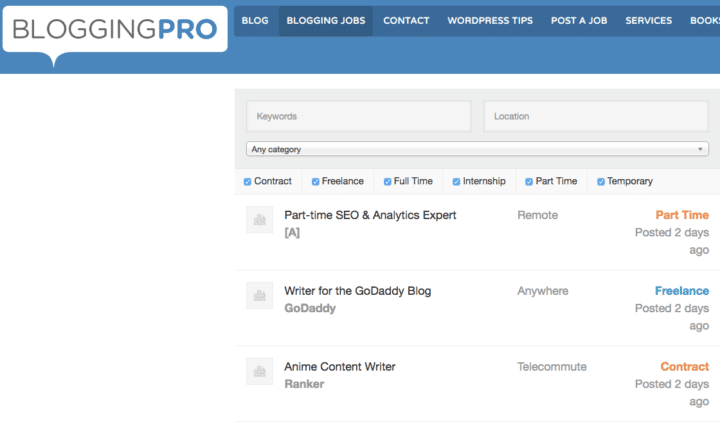 Blogging Pro gives you only blogging jobs and if that's your niche, this job board is perfect. I primarily have blogging clients so I frequented this job board as freelance writer newbie!
You can also look for jobs within your niche to make it easier to find the right project for you.
Journalism Jobs is a great resource for journalists and copywriters.
Big brands have used Journalism Jobs to post such as Time Magazine, ABCnews.com, New York Times and more.
You can refine your search for online writing jobs on the side by picking the categories you want to search for like only TV jobs or trade publications. Most applications are through their site.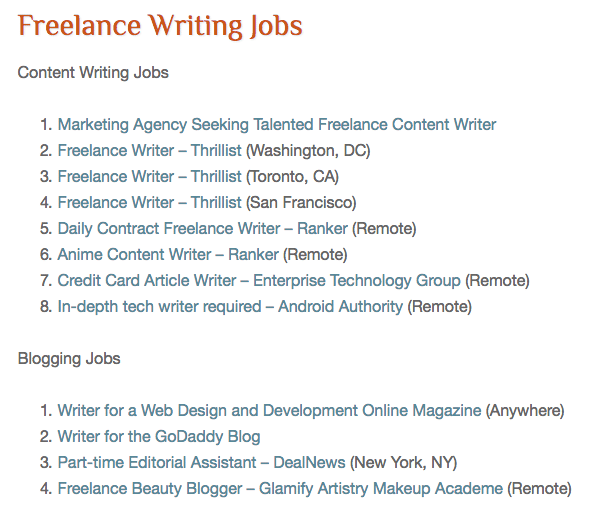 Freelance Writing Jobs doesn't really have a job board. What they do is post a "blog post" with links to potential freelance writing jobs. Writing jobs online are curated from other job boards and from around online. They have several categories:
content writing jobs
blogging jobs
copywriting jobs
journalism jobs
General/Misc.
Internships
The link takes you to the job ad.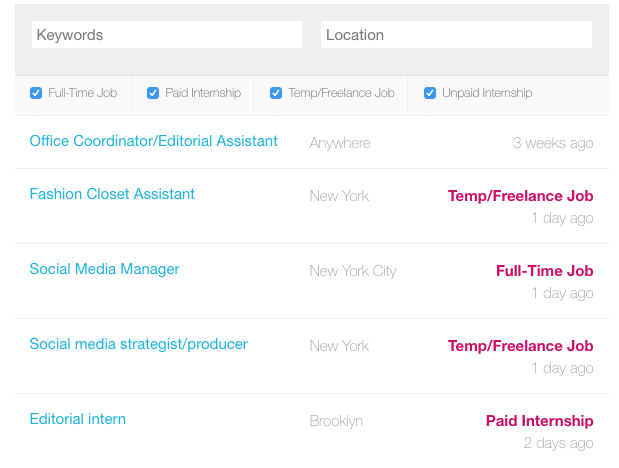 Whisper jobs (also known as Ed's Jobs) show online writing jobs as well as full-time and paid internships. This isn't a daily updated job board, but it's worth looking at once a week.
To view the job board, you do need an account.

All Freelance Writing job board posts jobs within the last 30 days, making them fresh and up to date.
What I like about this job board is that you can quickly scan the pay range and see if clicking is worth. All too often, you have to click to find out more information – like the pay – to see if it's worth pitching to.
All Freelance Writing makes it known right off the bat!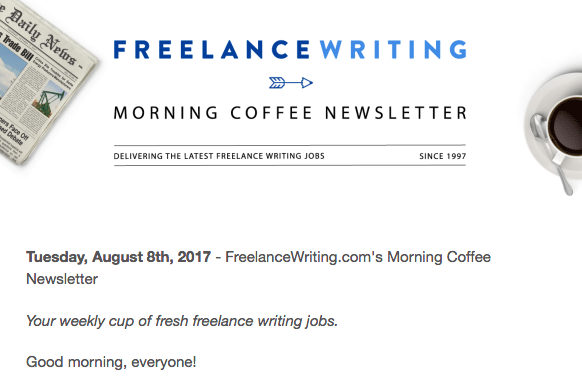 Freelance Writing offers the Morning Coffee Newsletter.
While they do have a job board (check #8), I like this option as job offers come straight to my inbox. And, the jobs Freelance Writing pulls are the best of the best.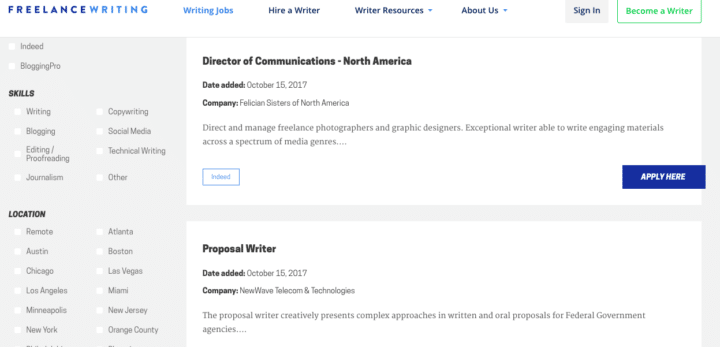 Freelance Writing consolidates several job boards from Ed's job board to Craiglist and Indeed.
This job board is also on top of my list since it curates many online writing jobs in one place. You can refine your search to only include certain job sources, location or types.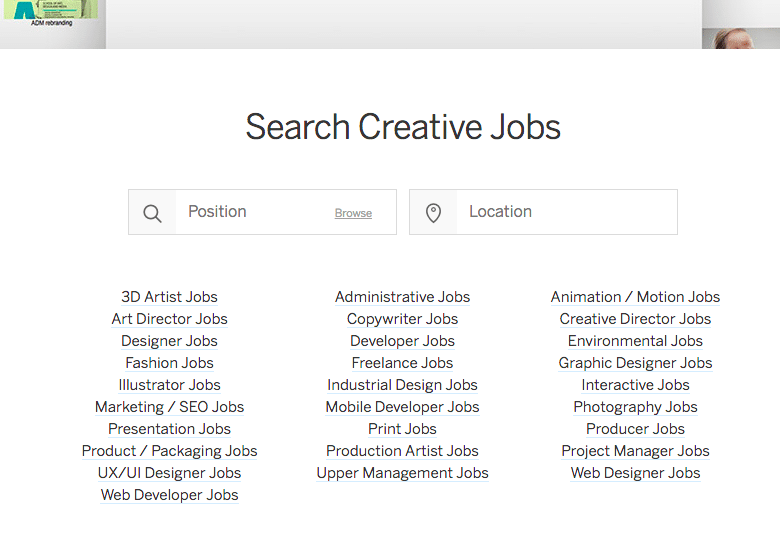 Krop is a creative job board for freelancers. For a freelance writer, you can find copywriting jobs here.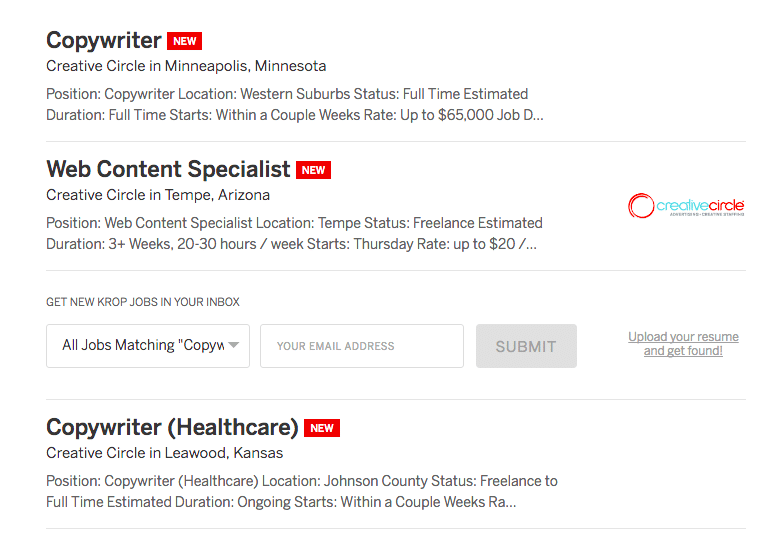 If you have a knack for persuasion writing and engaging with an online audience, then try some of these copywriting gigs.
My Write Your Way to Your First $1k course, has an entire guide to get you started as a copywriter.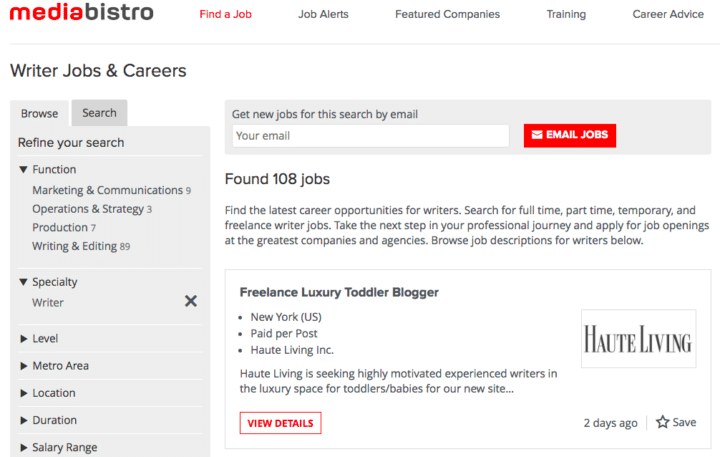 Media Bistro is another free freelance writing job board that curates jobs from all over online. Jobs range from blogging jobs to staff news writer.
As a new freelance writer, you gotta get out there and hustle!
Cold Pitch to Land a Freelance Writing Job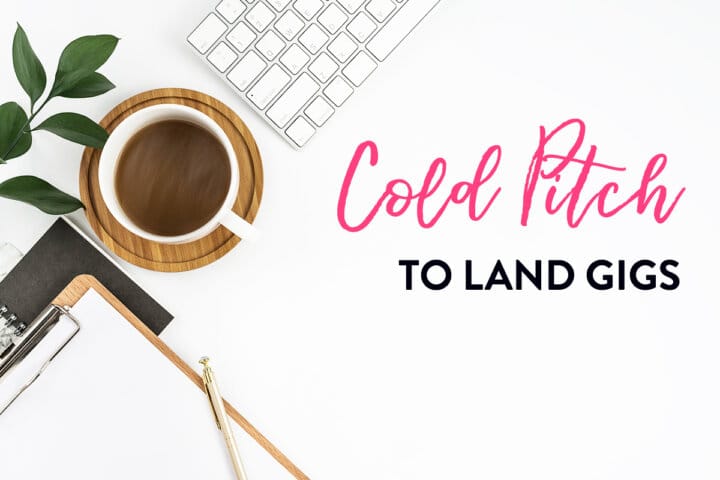 Do you know what cold pitching is?
It's the act of finding businesses online and emailing them directly letting them know that you're a freelance writer and that you're interested in writing for them. This can be a little anxiety-provoking, to say the least! Especially if you've never marketed yourself or your business…ever!
But, cold pitching is one of the BEST ways to find high-paying freelance writing jobs. Just take a look at a Write Your Way to Your First $1k course student's success with cold pitching: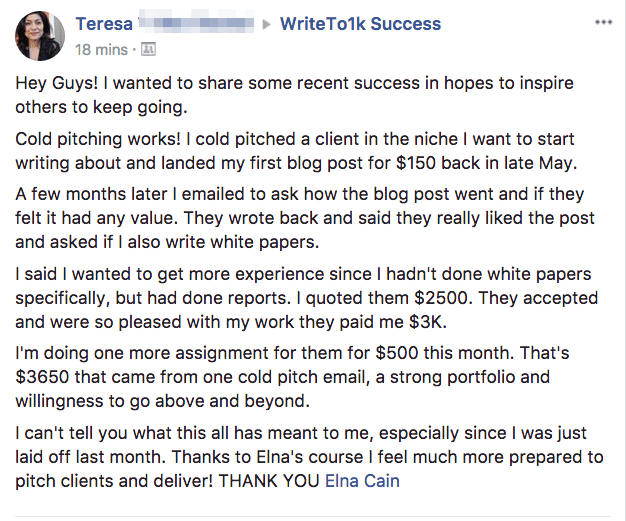 The big thing with cold pitching is finding those businesses in your niche.
Where are they?
Well, here are some business directories you can look through (as well as good ol' Google) to find potential clients.
Manta is a small business directory that has online businesses on off-line ones too. They have tens of niche topics to look from. Click on one and see all the businesses in that industry. For example, here's the result for "medical equipment & device."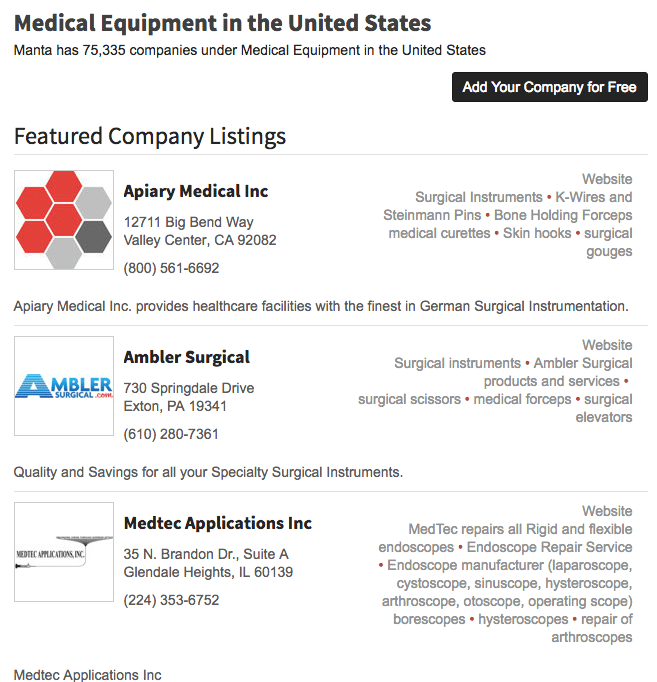 On the side, you can click on "website" to be taken to their site. From there look at their About page and get to know the company and it's mission. Check to see if they have a blog and if they do, email them!
12. Breakout List
Breakout List has the high-growth markets right now.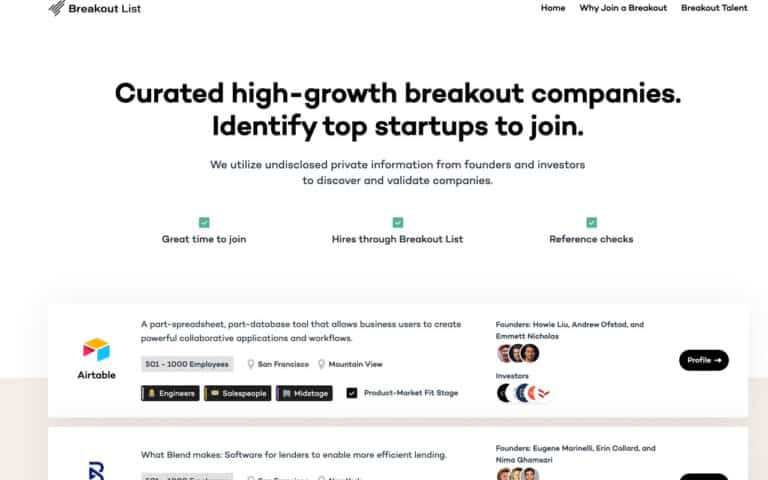 Explore new businesses you can connect with!
Gust has a database of startup businesses to help you find some writing jobs online. Scroll down the homepage until you get to "Browse by Industry." See if your paying niche is represented. I choose "financial services" and got the results: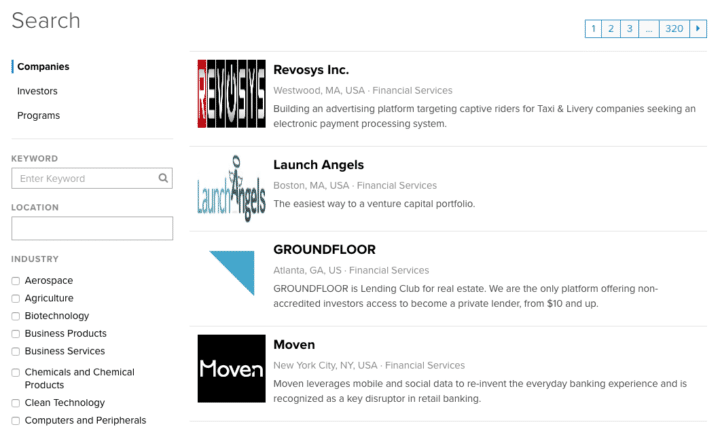 Just like with Angel, with Gust you can peruse different companies and get a little summary with their website.
PR Web lists companies that send out press releases about their products and business. Press releases is a great service a writer can offer 🙂
Click on "News Center" up on top and go to the "more" tab to find your paying niche category (or something similar). For example, if my niche is personal finance, I can go to "home and family."
From there I can narrow the search by picking a category on the sidebar (personal finance).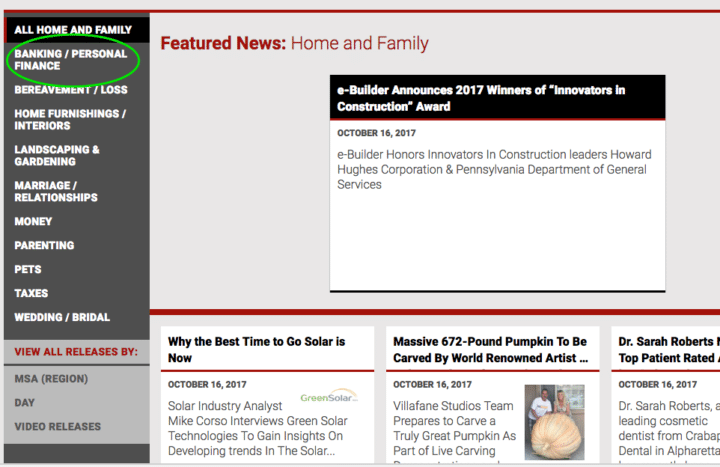 From here you see the press releases in those niche topics. Click on one and you'll get he company URL!
15. Google
Google is your best friend when it comes to researching those blog topics for your clients and to find online writing jobs!
In Google you can search for your niche topic and see what businesses are in the results.
Type in (your city) and either (niche) (directory) OR startups in (niche) industry. Here is the result for "startups in personal finance industry."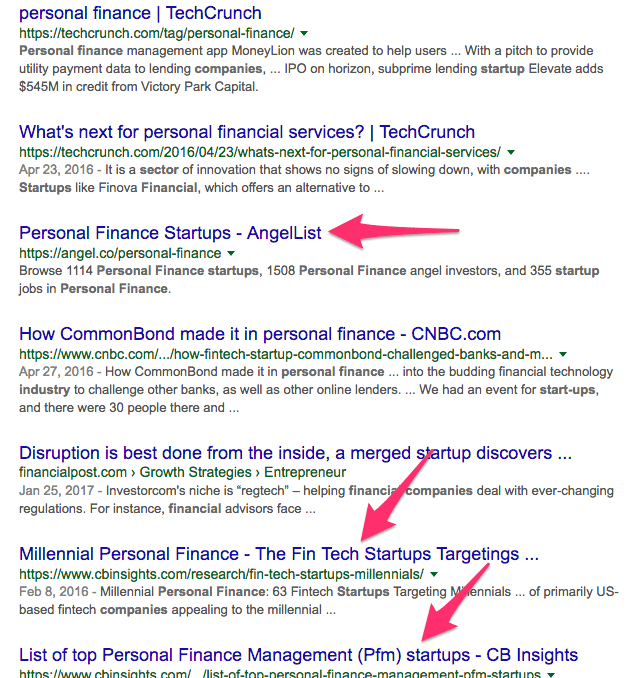 The ones with arrows point me to directories of businesses in the personal finance industry.
Easy as that! You can narrow it down to your city if you want.
Paid Guest Posts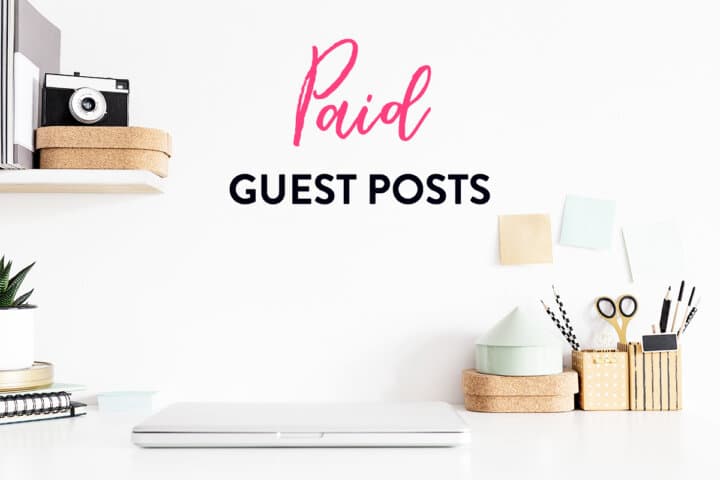 If you don't want to wait to find a freelance writing client, you can get paid to guest post. One post, one payment.
Pro Tip: get paid to build your portfolio with a paid guest post!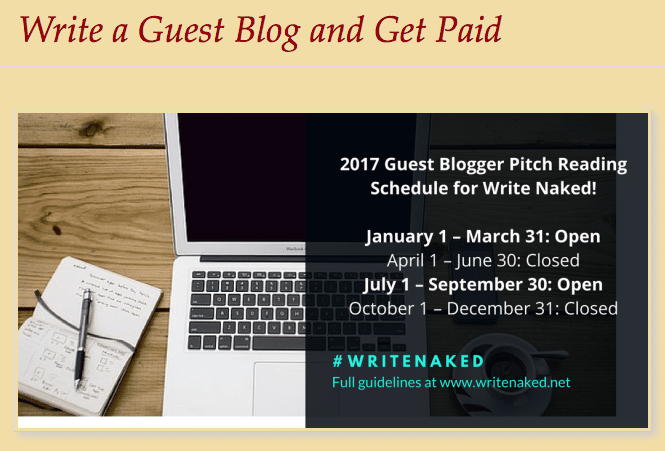 $50 for up to 600 words.
Write Naked has several categories you can submit a post for:
Interviews
Publishing trends
Day-in-the-life of a writer
Writing Essentials
Behind the pen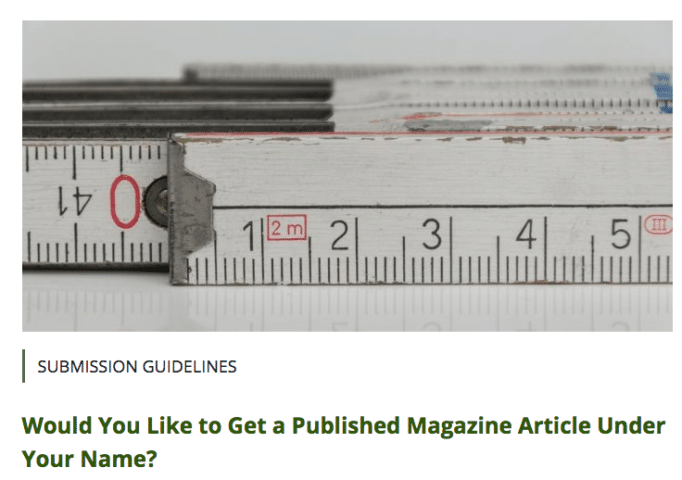 $100-$300 per article
Barefoot Writer is a magazine for writers. They share tips to make money, work from home and how to land a freelance writing job.
It's recommended that you become familiar with their issue and writing style. There are several categories you can write for:
Monthly motivator
Productivity secrets
Cool tools
Thinking like a writer
Become a better writer
Glicken (personal essays)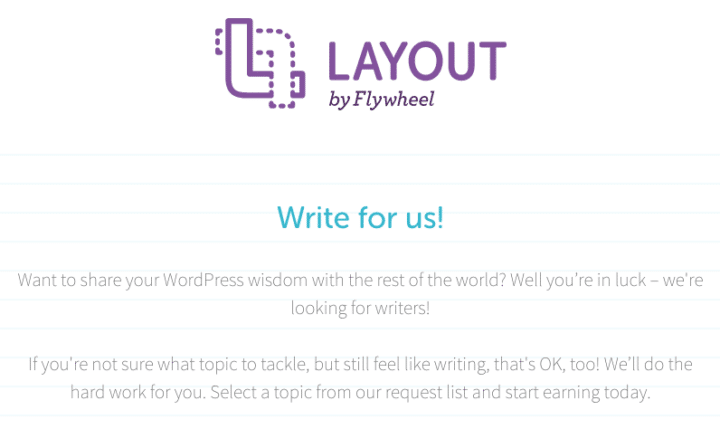 Up to $150 for posts between 700-1200 words
Flywheel makes it easy to get paid to write; you can fill out their form or pick from the latest posts for payment: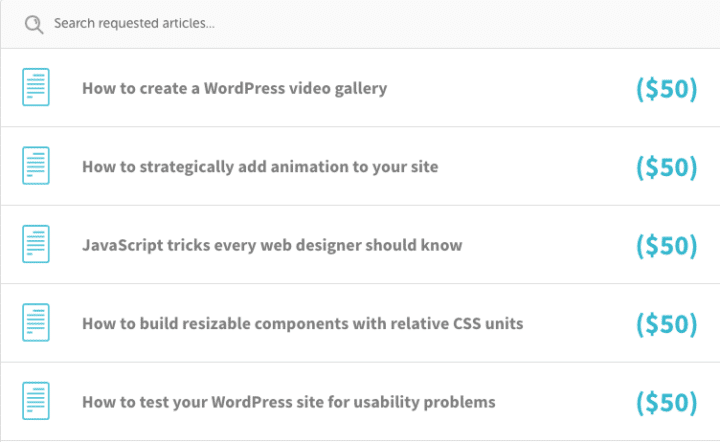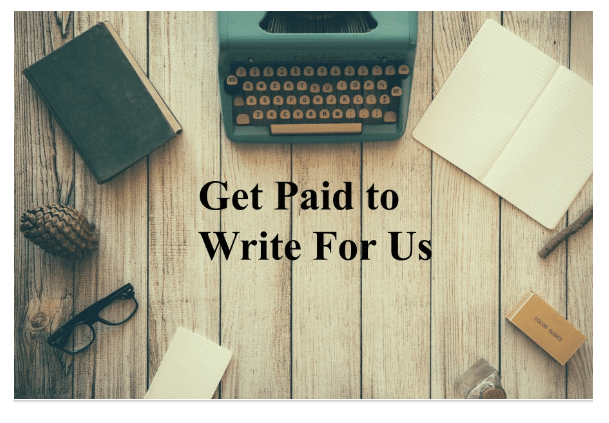 $75-$100 for a post between 900-1500 words
Freelance Mom's audience is moms that are interested in freelancing. For their guest posts they require:
Personal stories or anecdotes to relate to the audience
Short paragraphs and bullet lists (if applicable)
Offer current and applicable advice
Must contain a 20-30 minute action plan at the end of the post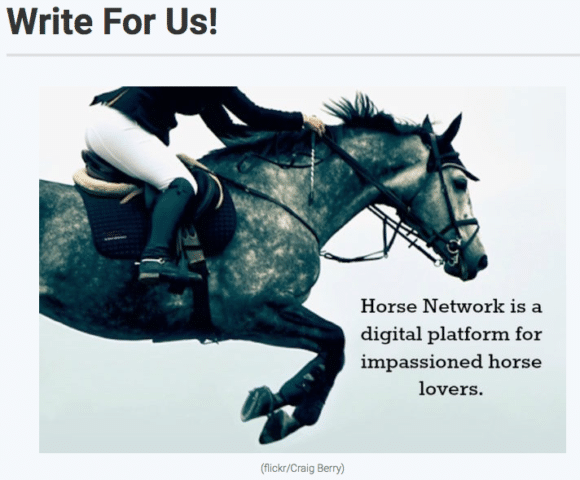 $50-$100 for 500-750 words
Horse Network is a place for all horse lovers. They stress to guest posters to write from the heart with humorous essays or opinionated. They encourage you submit images or video with your guest post.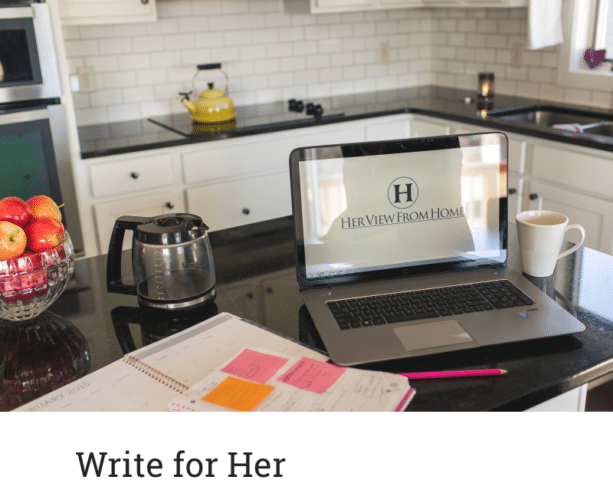 Up to $100 for 600-800 words
Her View from Home is a lifestyle site for women and moms. Topics include:
Parenting
Kids
Relationships
Faith
Grief
Payment is based on social media shares for your post: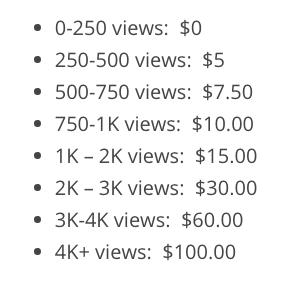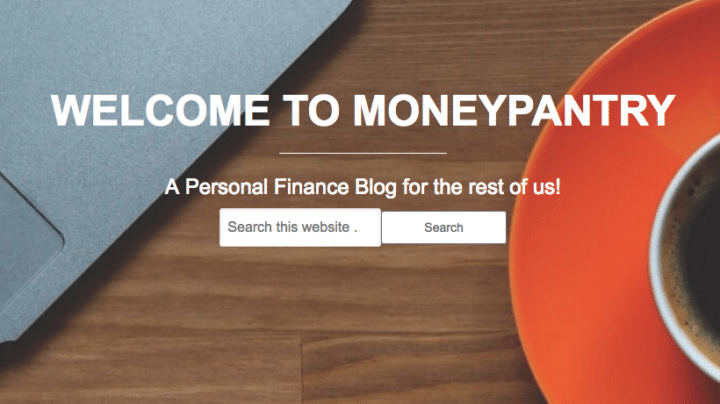 Up to $150 for 700-2,000 words
MoneyPantry is a site all about saving and earning more money.
To guest post, they stress you write in an engaging way which they called "bloggy style." They also encourage your posts helps their readers with a problem.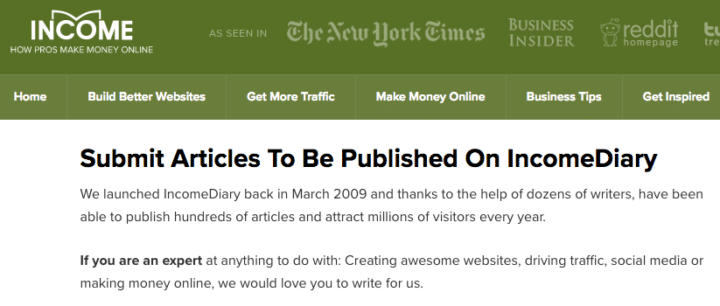 Up to $200
Income Diary helps others make money online. They write about creating websites, driving traffic, using social media and making money online.
Some topics they are interested in for your guest post:
Search engine optimization
Driving traffic
Blog design features and functionality
Making money from blogs, forums, and websites
Affiliate marketing and selling things
24. Motherly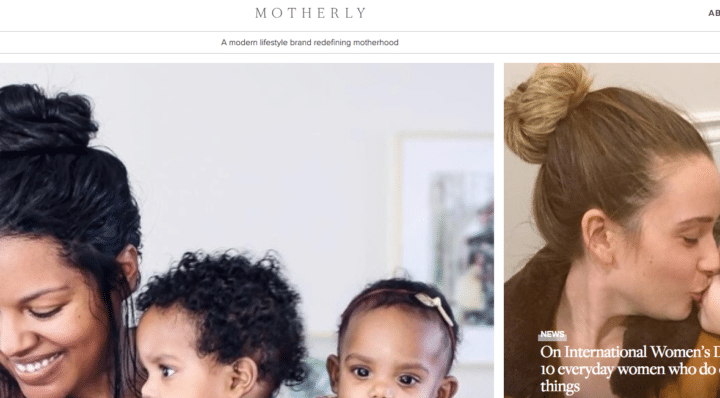 $50-$100 per post
Motherly focuses on family and parenthood. You can write about:
Research-backed investigations
Personal narratives and essays
Timely reporting, reviews, and roundups

$100 for an 800-word essay
Cosmopolitan is a household magazine for many women. They also have an online version of their magazine. They want personal essays on:
[A] memorable, crazy, hilarious, or touching college experience. Stories about friends, class, dating, partying, studying, working, interning — anything that happened to you or around you in college is fair game
If they like your work, they'll hit you up for future assignments!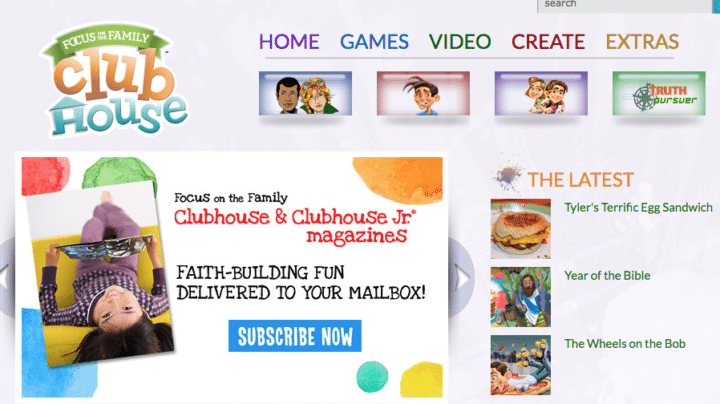 $.15-.25/word for articles between 400-1000 words
Clubhouse is a magazine about entertaining and teaching Christian values for children between 8-12 years old. If you pay the $3 for a magazine to be sent to you, you can check out their articles so you can match their writing style.
They are looking for:
Humorous stories
Historical fiction featuring great Christians
Contemporary stories with a multicultural setting
Choose-your-own-adventure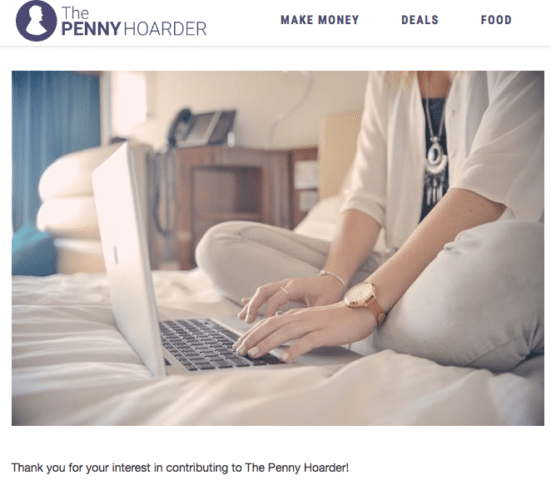 Compensated for 700-900 word post
The Penny Hoarder does offer paid guest posting but your payment will be discussed upon the acceptance of your pitch. The focus of your post must be about making money, saving money or growing money.
The categories you can write for are:
Lifestyle, DIY, Recipe guides
Success stories and unique job ideas
Eating/Travel/Life on a Budget
Smart Money Guides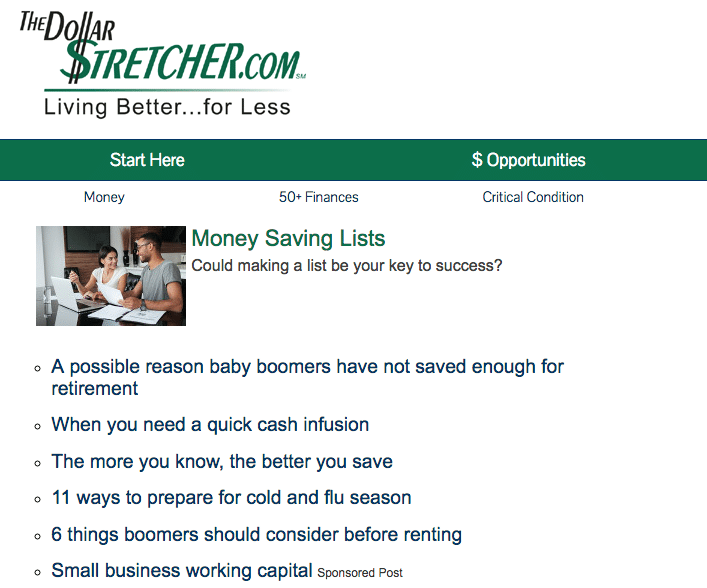 $.10/word for printed work
The Dollar Stretcher is a publication dedicated to helping with saving time and money for people. They do have articles on making money from home, but it's infrequent.
For post ideas, they want niche ideas and strategies to stretch the dollar. They give an example of what they don't want: 8 Ways to Save on Groceries. For them, this is too broad and not niched down.
Instead, they are looking for posts like 8 Ways to Save on Ground Beef.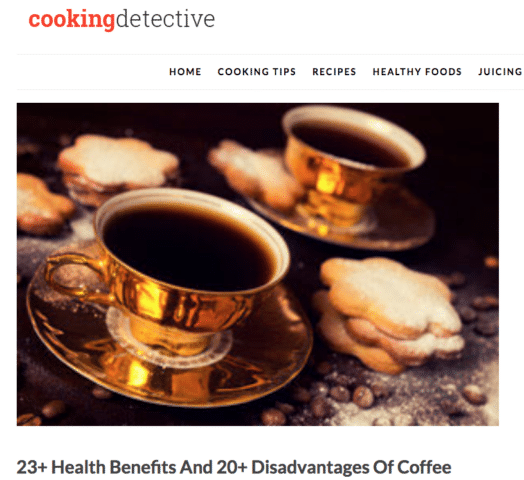 $120-$160 for Ultimate Guides(3000-4000 words)/ $75 for articles (2000+ words)
Are you a food blogger? Or wanting to break into food writing?
Cooking Detective is perfect for you! Cooking Detective is a recipe, cooking, and food blog. Currently, they are wanting posts around reviews on kitchen appliances, cookware, and any products related to cooking.
30. Listverse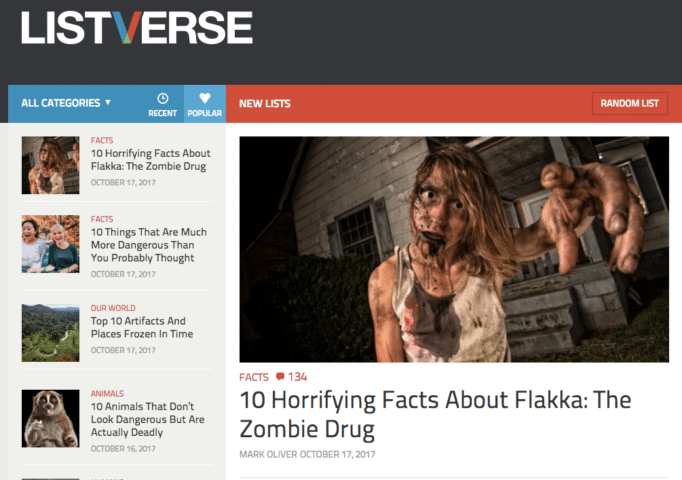 $100 for 1500 words (based on pageviews)
Listverse features list posts up to 10 items. They are interested in unique and interesting types of posts. They don't pay for first time submissions and will only pay after you gain some pageviews for them.
31. Back to College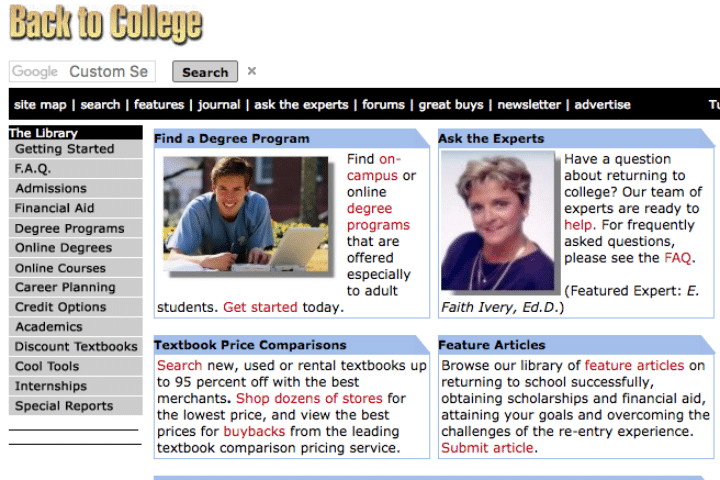 $75-$130 per post
Back to College is a blog for older students. They are looking for posts to help older students in college.
32. The Change Agent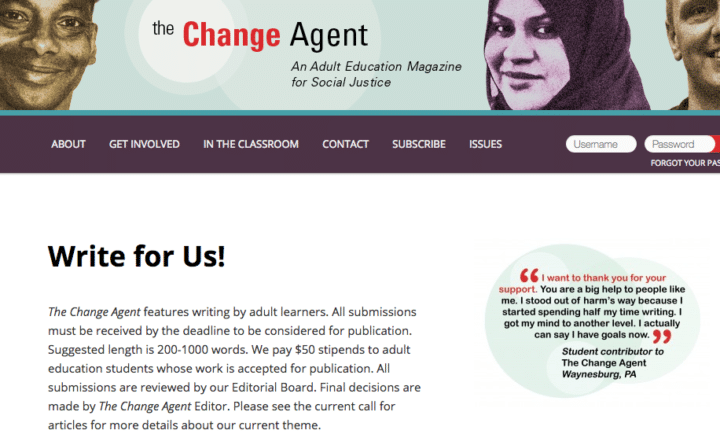 $50 for 250-1,000 words
The Change Agent is an adult education magazine. It features topics around social justice for all. Each issue has a theme. For example, the most recent is hair.
33. Sitepoint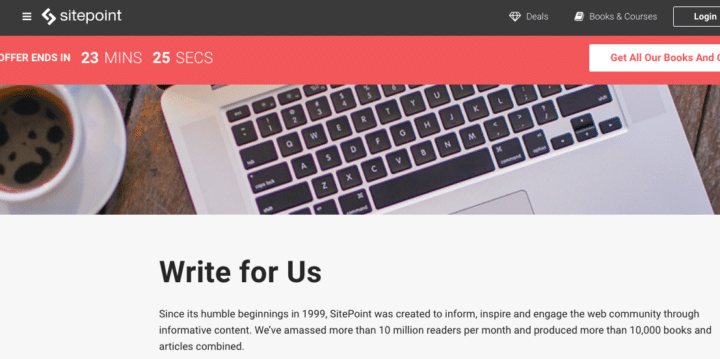 $100 for 1500 words
Sitepoint features topics around WordPress and web development. If you have a knack for coding and WordPress, you can guest post on here.
They like:
Quick tips
Articles
Tutorials
Video content
34. Transition Abroad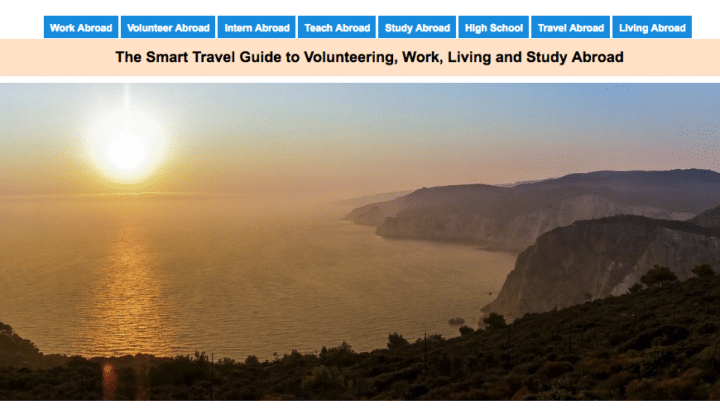 $50-$150 per article
Transition Abroad is a site about living, studying, and working abroad. They also write about the cultural experience in different places. When writing your guest post, they encourage:
Articles may involve such activities as a finding a home stay or a rural bed and breakfast, a 1- or 2-week language study course, or pursuing a special interest or activity like cooking, music, dancing, visual arts, writing, photography, hiking or biking. Travelers of all ages are invited to share their experiences, as the passion for travel and the desire to learn has no age limits. Striking a balance between practical and inspirational travel writing is preferred.
35. Digital Ocean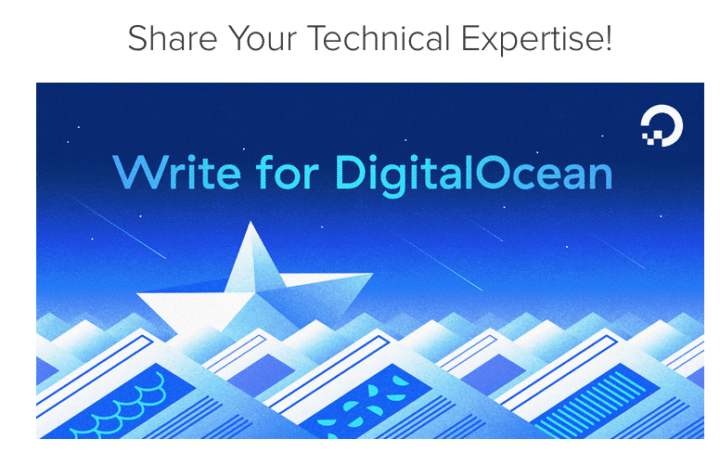 Up to $300 for a post
Digital Ocean is for the tech people out there. They help other system administrators and software developers with their content. They are mostly interested in tutorial-based posts where you lay out the steps for a topic.
36. International Living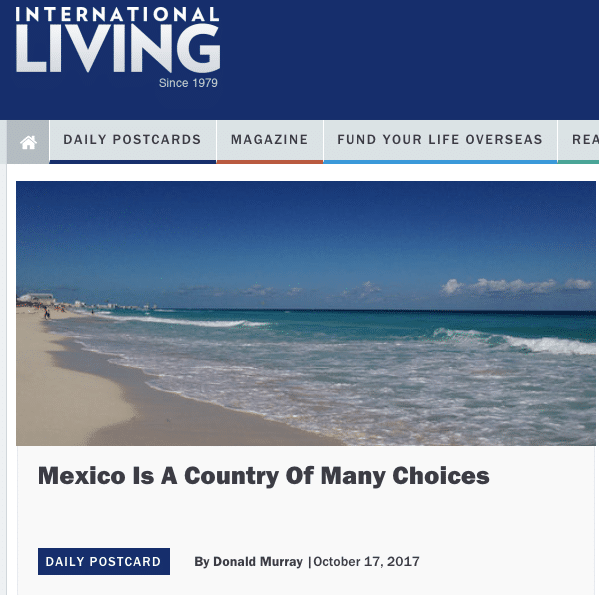 $75 per article
International Living is about living overseas and abroad. They seek expats living overseas to guest post. Their articles are called postcards on their site.
37. Petcha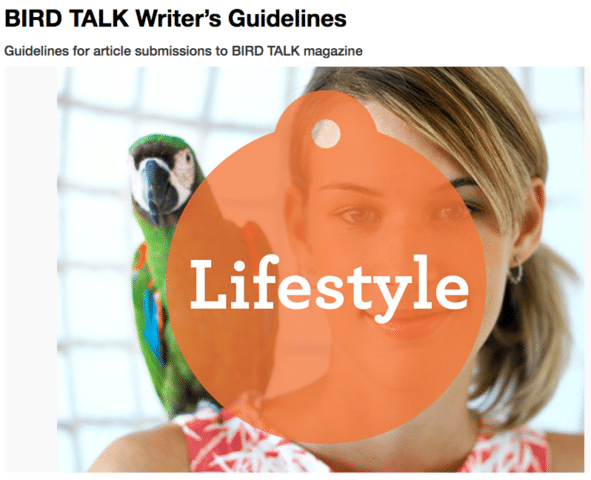 $100-$200 for 1,000 words and $300-$400 for 1500-2500 words
Petcha has a Bird Talk column in their magazine. They are interested in bird-related topics around parrots, canaries, finches, and doves. Their articles are centered around taking care of such birds.
Freelance Job Platforms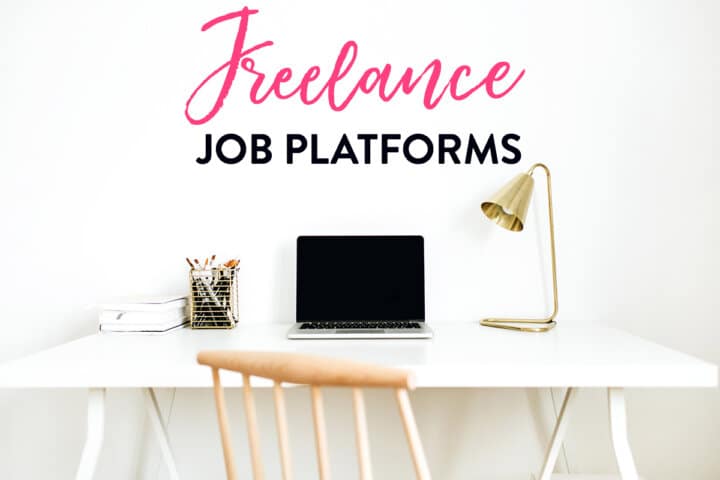 On my site, Elna Cain, I stress the importance of creating your own writer platform so that you can make a living writing. But, there are some great freelance platforms that are dedicated to providing quality writing jobs online for writers.
These online writing jobs are on better writer platforms than you would find on freelance job boards.
I have also included a lower-tier freelance job platform and when we get to that, I'll explain why.
38. Contently
Contently is a blog for marketers. But, they also have a portfolio platform for freelance writers.
To land work from Contently (or their network of brands), you first need to apply for a portfolio. This is Contently says about their process: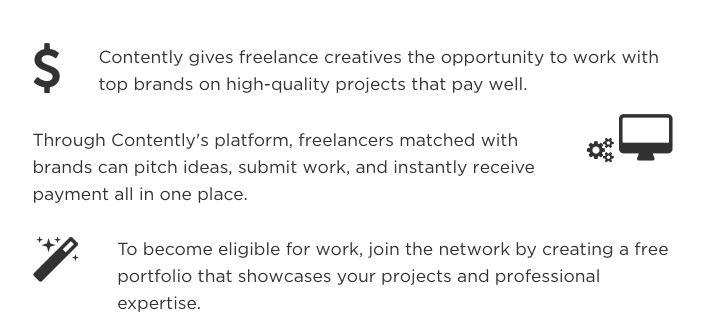 From what I can gather, Contently does pay well, but only for certain niches, especially the business niche. But regardless, it's worth the shot and it's just another way to market your freelance writing business!
39. ClearVoice
ClearVoice is a content marketing software company that does have a freelance platform. They match brands to your profile and email you jobs.
To get started, click on login and create a profile. You get to set your rate as well (I suggest you set a high rate). Here is my profile: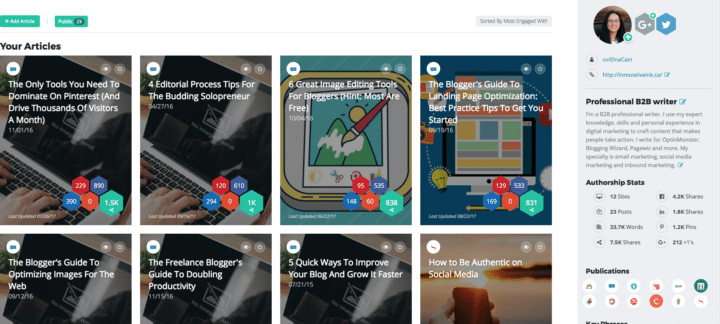 40. eByline
eByline matches writers with brands. This site is mostly for journalists or writers that have been published on big sites or magazines. When you fill out your profile, you'll be asked to list those publications or sites and see if it's recognized in their platform.
There is a pitch board with jobs, but it's not always full. But, it's worth signing up for at least and check it out every other week or so for jobs.
WordCandy is a content agency for WordPress businesses run by Tom Ewer, and he can count many of the most popular WordPress-related sites as clients. For many years, Tom hired freelance bloggers with WordPress experience (I used to do some freelancing for Tom once upon a time).
Things have grown at WordCandy and these days they've moved on to hiring some former WordPress freelancers as full-time contractors. It may not technically be a freelance gig, however it's a flexible, remote contract position, and might be worth checking out if you're a WordPress pro!
Blog Mutt is your typical content mills so why the heck am I telling you to try this? Well, one of my course students wrote a post about it here and it totally made sense on how she used this platform.
I suggest you don't use this platform to find your FIRST freelance writing job. Instead, use this platform to fill up your daily income goals. For example, if you want to make $150 a day and you're short $50, you can go to Blog Mutt and write a few easy and low paying articles to make your quota.
*only use Blog Mutt to fill your daily income goal, not as a real job or your first freelance writing job*
Social Media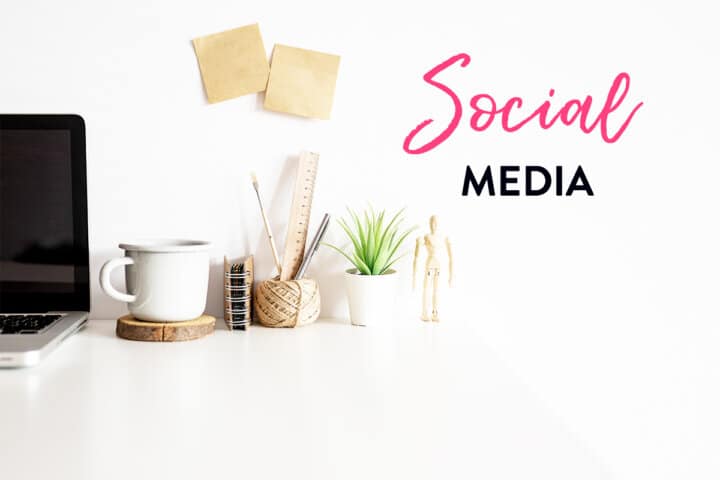 Social media is a goldmine for freelance writers. It's the perfect place to find, attract and land clients, hands down. I like to use social media to do warm pitching and connecting with brands.
But, this post isn't about that! It's about places with freelance writing jobs! So, let's get to it.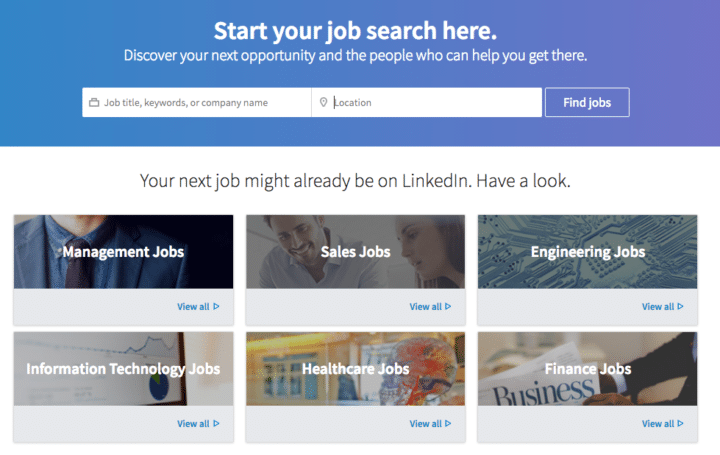 LinkedIn has its own job board or job directory.
Simply, type in your job title or keyword and see what comes up. Make sure to pick the "search worldwide" option. Here's my result for content writer.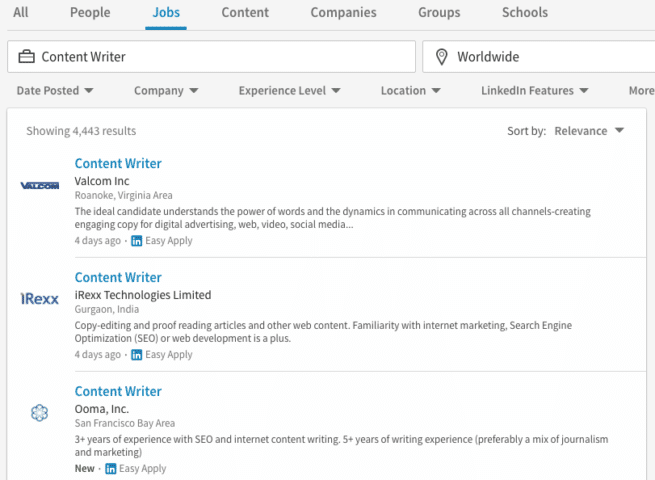 44. Twitter
There are job boards on Twitter. You can follow them and check your feed daily to see what they share or go to their profile to see their daily posts.
Follow these job boards:
Here is the feed for Writing Gigs: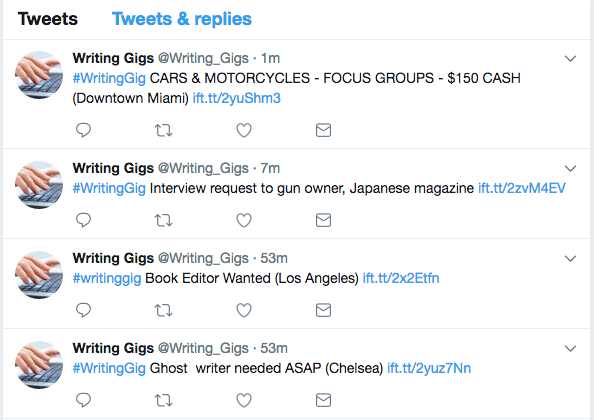 45. Facebook
Facebook is a great place to network and do some warm pitching. But, did you know there are also pages for job boards on Facebook?
Check out these pages for jobs
Here's the feed for Write Jobs: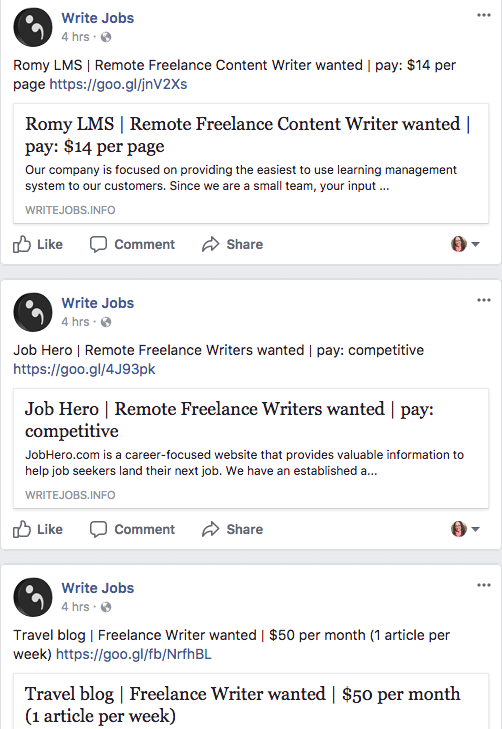 Writer's Market – Submissions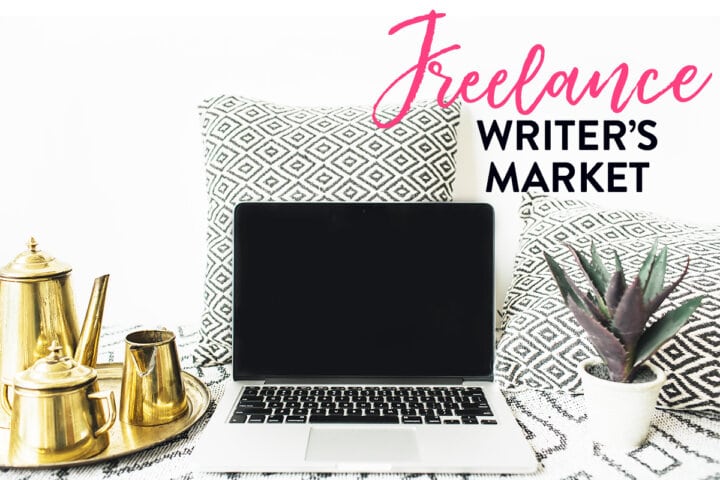 Submissions are similar to guest posting; you pitch your ideas, and if accepted, write it and get paid. Most of these submission I mention are magazine and high paying.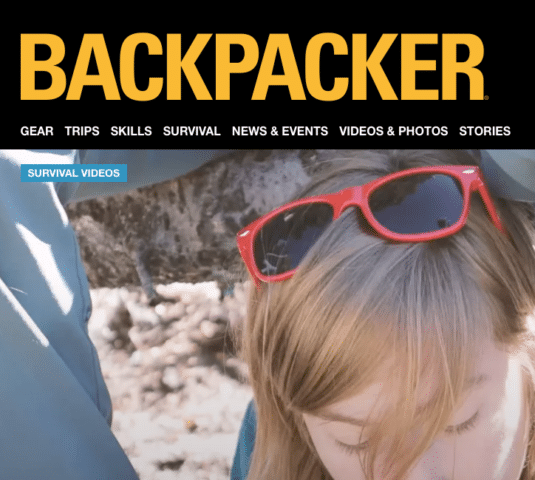 $.40-$1.00 per word
Backpacker is a hiking magazine. If you're a camping writer or nature type of writer, then you can pitch to Backpacker.
The magazine also covers:
Canoeing
Kayaking
Snowshoeing
Cross-county
Skiing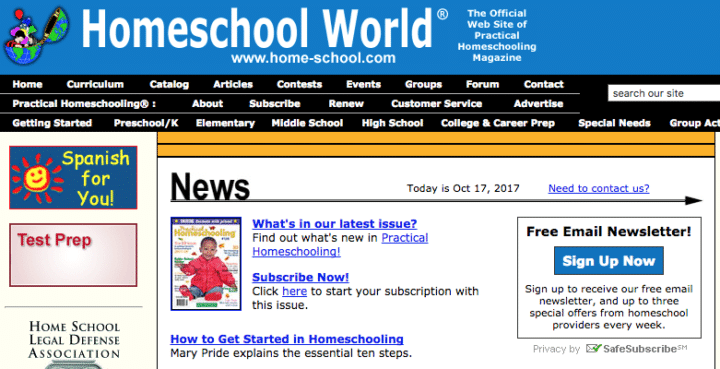 $50 per article
This magazine is a homeschool magazine. They share tips on doing homeschooling or the challenges with homeschooling.
Simply fill out the form on the page and they will review your application for submission!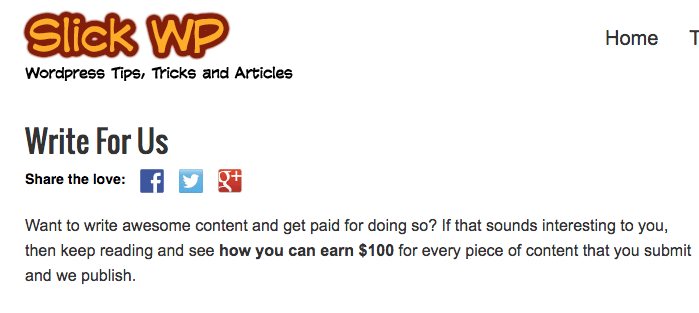 $100 per article for 1200-2000 words
Slick WP is the only one on this list that's a blog, not a magazine. Their blog focusses on teaching others WordPress and the Genesis Theme Framework.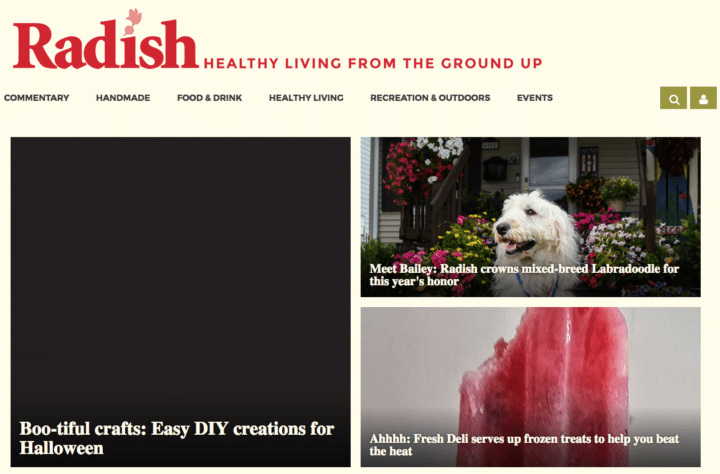 $25-$150 per article
Radish is a monthly magazine about improving health through natural foods. Topics covered:
Lifestyle choices
Advice on diet
Cooking
Health and fitness
Local farmers markets in Iowa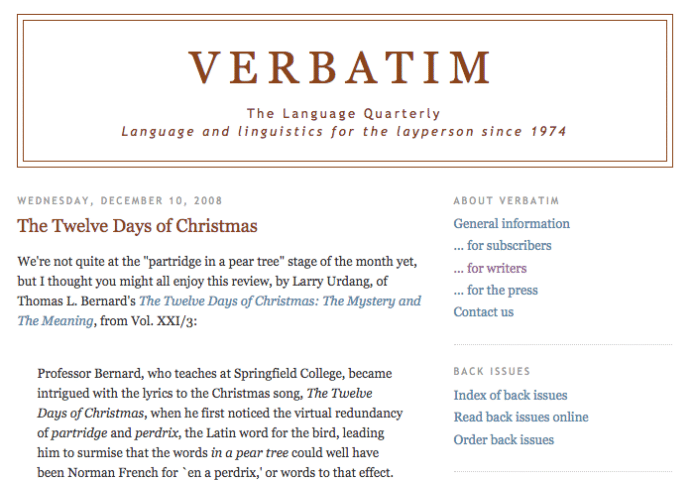 $25-$500 per article
Verbatim is a quarterly magazine about language. They say,
One of the best parts of editing a small, specialized (not to say quirky) magazine is reading the submissions to it. One of the worst parts of editing a small, unusual (not to say eccentric) magazine is reading the submissions to it.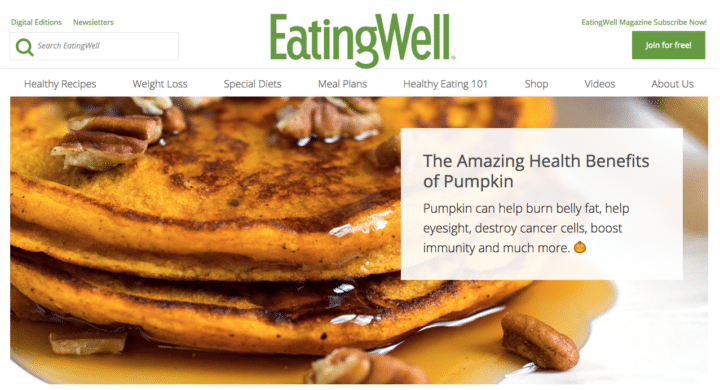 $1.00 per word
Eating Well is a national food magazine. Their articles are newsworthy and backed up by science.
Their friendly freelancer columns include:
FRESH
FRESH food
FRESH life
FRESH Thinking
FRESH Health
FRESH Fix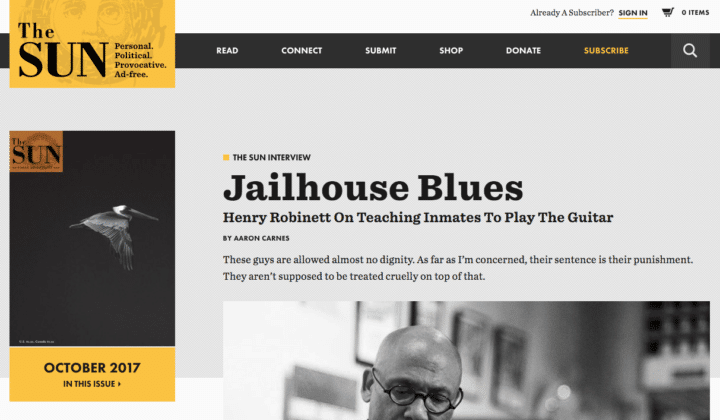 $100-$2,000 per article
The Sun is a magazine with poems, nonfiction, and fiction stories. They do favor personal stories.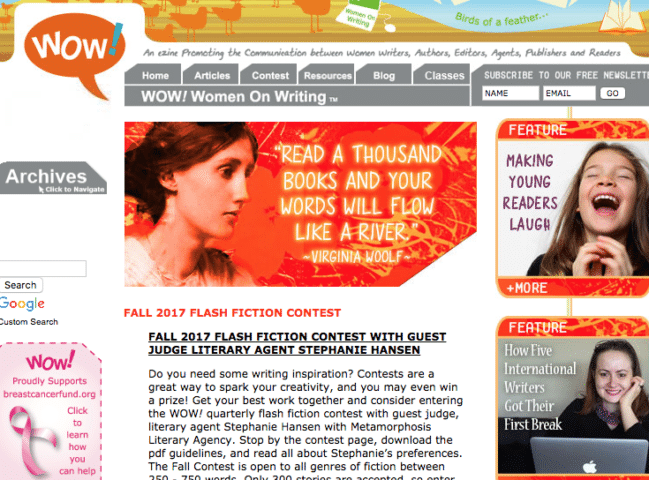 $50-$150 for 1000-3000 words
Wow! Women Writing empowers women writers. They are seeking submissions on the craft of writing and publishing.
Online Writing Jobs For You
Phew! Was that a lot? 🙂
I'm holding your hand as a new freelance writer. When I first started, I had a hard time finding the right clients and freelance writing jobs. I made a ton of mistakes. I had to learn the hard way.
For you, though, you don't have to make mistakes or waste time! I encourage you to become a highly-paid writer today and enroll in Write Your Way to Your First $1k.