Do you want to learn how to become a grant writer and stay home for good?
Being able to stay home with your little one or wanting to earn some side income before you quit your job is becoming more and more of a regular thing.
If freelance writing is something you're interested in, there are a ton of different types of writing jobs you can do.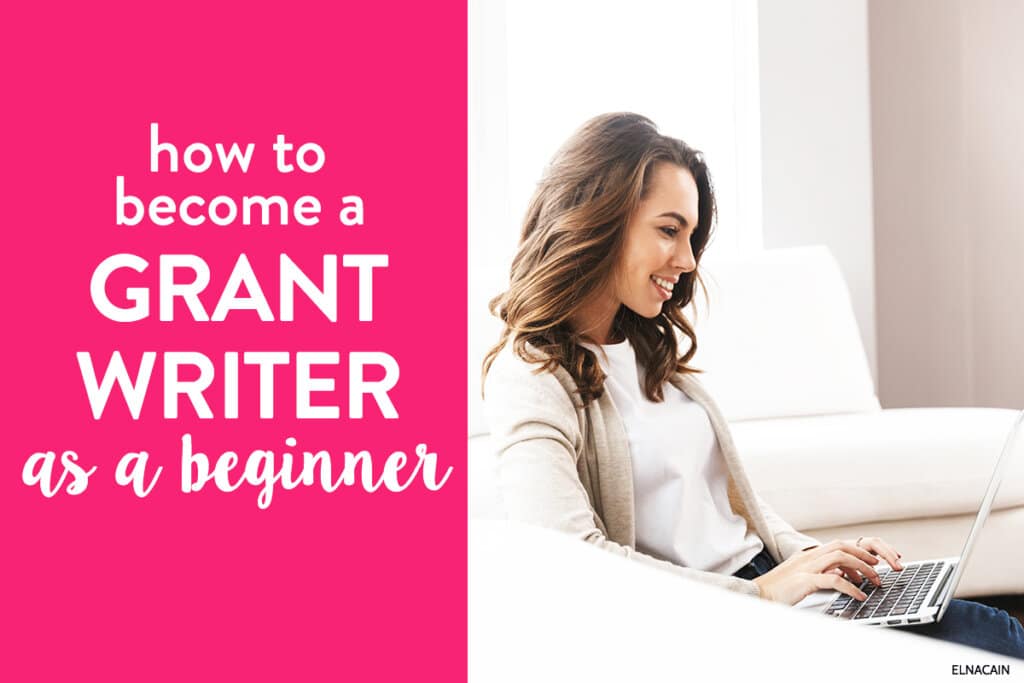 One is grant writing, or grant proposals.
This can be a lucrative freelance writing niche that not many writers do, making it easy to find and land a freelance writing job.
So, let's get into what is grant writing, the skills you need for how to become a grant writer, common mistakes with grant submissions and industries that require grant writers.
What is Grant Writing?
Grant writing is the idea of requesting funds to financially support the activities that fall inline with the agency requesting the grant's overall mission.
As a grant writer you will write this application or grant submission for the financial institutions that provide the grants.
Any nonprofit industry can use the skills of grant writers. Grant writing jobs are in high demand and are not as difficult to find as you might think.
Learning grant writing is much like any other type of writing and once you know the ins and outs, you can easily land a grant writing job in the industry of your choice.
Even if you have no grant writing experience, you can still look into the skill, search jobs and eventually land a funding opportunity.
For example, you can work on a consulting basis and pick and choose the clients that you want to work with.
How Much Do Grant Writers Get Paid?
Grant writing jobs can also be very lucrative as grant writers can be more difficult to come by. Many writers can be intimidated by everything that goes into writing a federal grant and the potential risk it carries.
According to Salary.com, for a new grant writer or proposal writer (less than a year of experience), the expected income is around $69,200.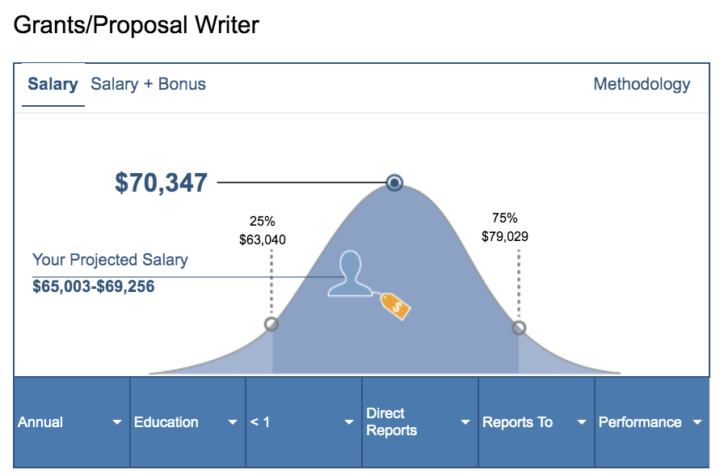 The job description of a grant writer means they work with nonprofits and are part of helping to further their mission by securing the funds that they need.
It can be a very rewarding job when you see the fruits of your labor unfold.
A senior grant writer also needs to know what they are doing when it comes to where to find certain grants, understanding the grant application, and being able to work with the client to make sure the client has a chance of getting the grant they're applying for.
Learn more to see if becoming a grant writer is for you!
Is Grant Writing a Good Career Path?
If you're interested in grant writing jobs, some companies offer grant writing internships. While they might not be paid, it's a great learning experience and will help to get your foot in the door.
You can also work on your writing skills by offering your services for free or highly discounted to get some grants under your belt.
Grant writers can also easily promote their skills through the ROI they gain for their clients.
There is a lot more data involved in grant writing jobs, so keep track of what grants you are applying for and how much the company is receiving. The more funds that you secure, the more people will want to hire you.
Some grant writers can write grants on a one-off basis or work with a client on an on-going basis.
When writers work on an ongoing basis, they work in a consultative role and not only write, but research, write the proposal, and communicate with both the nonprofit agency and foundation issuing the grant.
How to Become a Grant Writer
There are many moving parts that go into writing a grant.
An experienced grant writer needs to have a firm understanding of the information they need in their proposal in order to successfully get accepted for the grant. You should keep in mind that they are potentially hundreds or thousands of other nonprofits or companies competing for that same grant.
How to Write a Grant
Here are a few things to keep in mind to include in order to write a winning grant proposal:
The demographic or population that is being affected
The issue(s) that the grant would address
The activities that will be funded if the grant is approved
The proposal should be well developed and address everything within the application
How the project will be managed and carried out
The proposed budget and how the funds will be used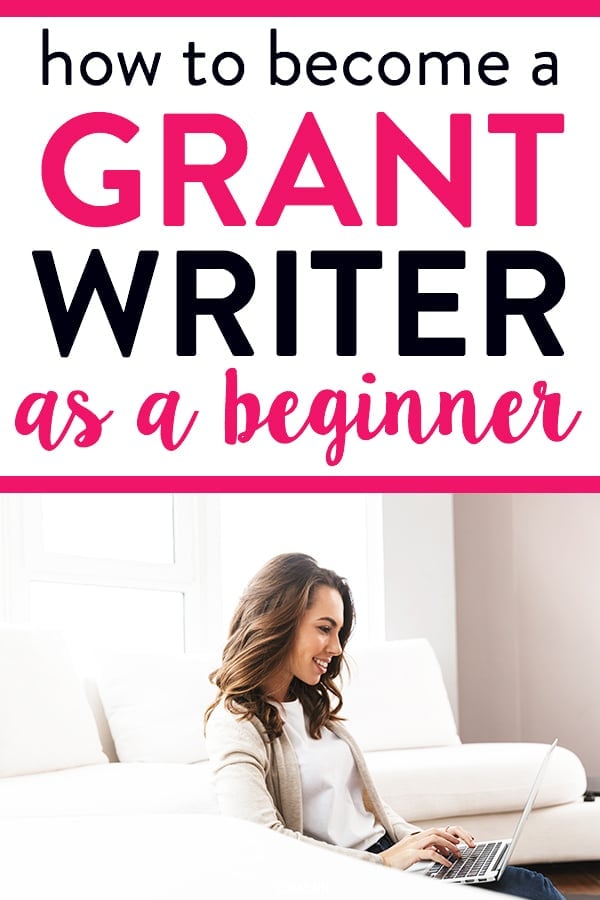 Common Mistakes Beginner Grant Writers Make
Don't fall into making common mistakes with a grant writer job description before you get a chance to get started!
Here are some of the common mistakes that beginner grant writers make when finding a content job for them:
Not completely understanding the application
Not following the guidelines within the application
Not having the proper signatures
Not adhering to the formatting guidelines
Not proofreading and having spelling or grammatical mistakes
Failing to submit the grant on time
Industries That Have Grant Writing Jobs
There are many types of nonprofits that need the services of grant writers or proposal writers. Below is a list of some grant writing jobs of the industries that use grant writers on a regular basis to help them achieve their mission.
Some of the grant opportunity listed is written for a local level and the proposals go to local foundations or organization. Others are national grants that go to government bodies like the U.S. Department of Education.
1. Education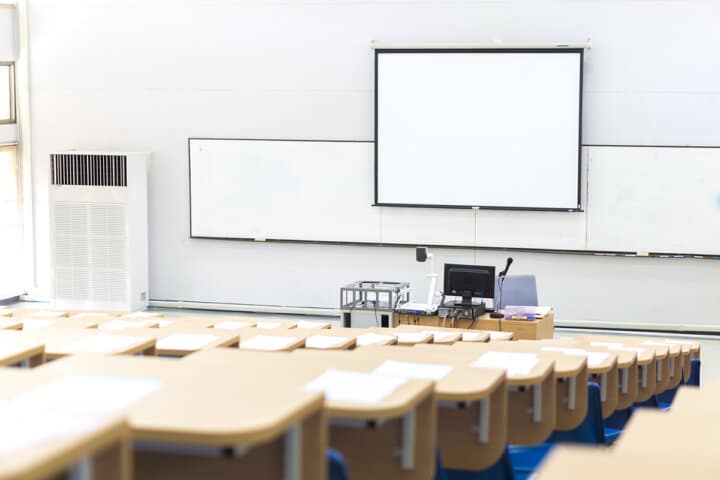 Education grant writing jobs generally focus on schools and other education establishments and are either local or national.
Education grant writers can write for local elementary, middle, or high schools, colleges, and technical schools.
Education grants can be written for equipment, hiring new staff, or improvements to the actual building. An example of an educational grant would be to open a STEM based school in a community.
2. Environmental
Many environmental grant writing jobs will come from the Environmental Protection Agency (EPA).
The goal of environmental grants is to help protect the environment. Projects that are requesting a grant should promote environmental stewardship and awareness.
The EPA itself supports thousands of grants per year to help in the design of projects that further environmental education practices.
An example of an environmental grant would be to help conserve a wetland.
3. Health
A new job you might not know are health grant writing jobs. These can cover a wide variety of projects.
The purpose of health grants are to promote the physical and mental health of individuals within a community.
Health grants can be at a local and national level and come from services such as the U.S. Department of Health, Centers for Disease Control and Prevention, and the Food and Drug Administration.
Health grants can be research or program based. An example of a health grant would be a smoking cessation program.
If possible, secure an internship first to see if this would be a good fit as an opportunity.
4. Housing
Housing grant writing jobs help to ensure that low-income families have proper and adequate housing.
This could be building a home, renovating an existing property, helping to stop foreclosure, or providing affordable rent to those in need.
These are generally government agency based grants that come from the Department of Housing and Urban Development. An example of a housing grant could be to build a low-income mobile home park.
5. Homelessness
Homelessness grant writing jobs cover the basic needs of the Homeless in the world.
This can include things like food, shelter, and personal hygiene items.
An example of a homelessness grant would be to open a warming shelter for homeless in a very cold area.
In your area, look for a nonprofit organization that helps the homeless and let them know you are a writer.
6. Animal Welfare
Our furry friends need a little extra help too!
As with most of the grant proposals on this list, animal welfare grants are awarded to 501(c)(3) nonprofit organizations.
Animal welfare can mean a lot of different things.
This can include pet education, helping to ensure safe shelter settings, and prevention of overpopulation.
An example of an animal welfare grant would be a free spay and neuter program.
7. Arts and Culture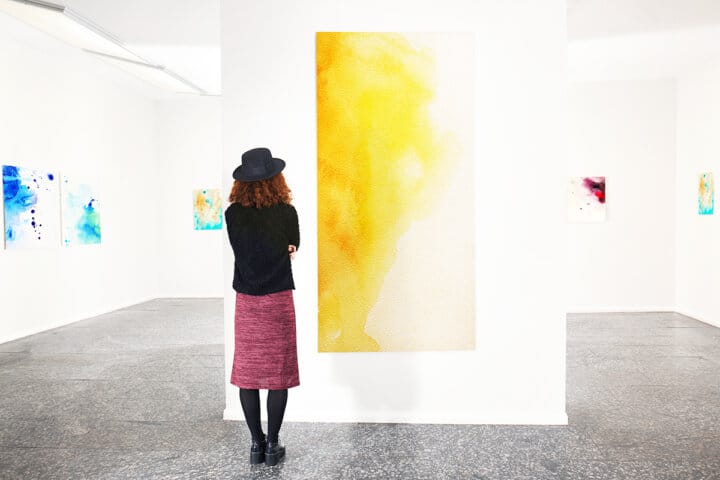 Art and culture grant writing jobs can cover projects related to dance, music, performing arts, local arts, events, literature, and the visual arts.
An example of an arts and culture grant would be to open a Latin dance center.
8. Community Development
Community development, again, can mean a lot of different things.
One thing to keep in mind is that there are many of these categories that might overlap, so you need to make sure you are applying for the right grant.
So, if you're applying for a grant to open a Latin dance center for example, that could fall under the categories of arts and culture, community development, or education.
An example of a community development grant would be a teen center.
9. Human and Civil Rights
Everyone has the right to be treated equally and human and civil rights grants are here to help.
They cover things like disability rights, racial and gender equality justice system reform, and public welfare.
An example of a human and civil right grant writing job would be a mentorship program to help lessen youth incarceration.
10. Research and Public Policy
Research grant writing jobs are also very popular.
In order to make medical advancements, that research needs to be funded. Public policy grants are often funded by private foundations and promote advocacy for certain groups.
An example of a research grant would be for a doctoral student to complete their dissertation research.
11. International aid and Development
Many times international aid and development grants are used to help transport donations to communities in need, such as, medical, building, or educational supplies to developing countries.
An example of an international aid and development grant writing job would be transportation and distribution of supplies to an area that has been hit by a natural disaster.
12. Business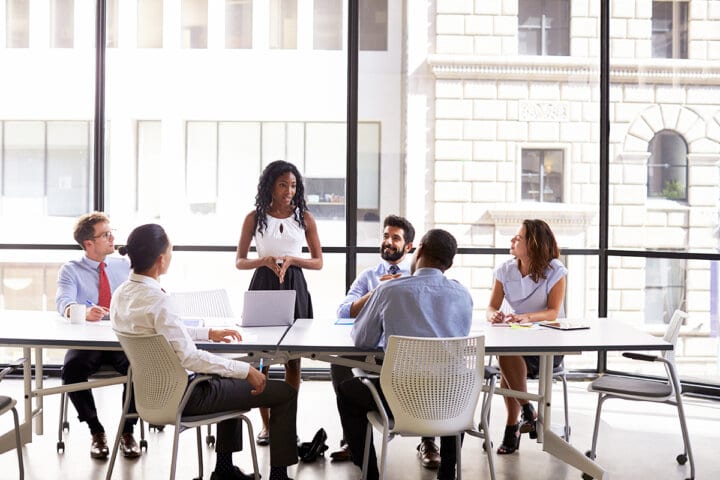 Business grants are also in high demand.
These can cover a lot of different aspects such as start-ups, women and minority-owned businesses, and necessary venture capital.
The goal of a business grant to get enough money to start a business or to take it to another level.
An example of a business grant would be a woman run physical products company that needs to expand into a larger manufacturing facility.
As a grant writer you can specialize in one specific type of grant writing or you can go broad. Much like with any other type of writing, I highly suggest that you pick one specific niche and start there.
It is going to be much easier to find clients if you are niched down.
So, let's get into how you can find grant writing jobs.
How to Get More Grant Writing Jobs
While grant writing might require a bit more knowledge and dedication to get started, the pay as well as the rewards that come with helping companies and potential clients to secure much needed grants far outweigh the initial work.
There are more than one and half million nonprofits just in the U.S. and the pool of grant writing jobs is large. You can go locally or explore different cities, states or countries.
Let's go through the steps to get some grant writing jobs as a job seekers.
1. Title Yourself as a Grant Writer
People don't know you are a grant writer, so tell them!
For example, Karen Samelson is a grant writer and on her writer website she has a section for grant writing.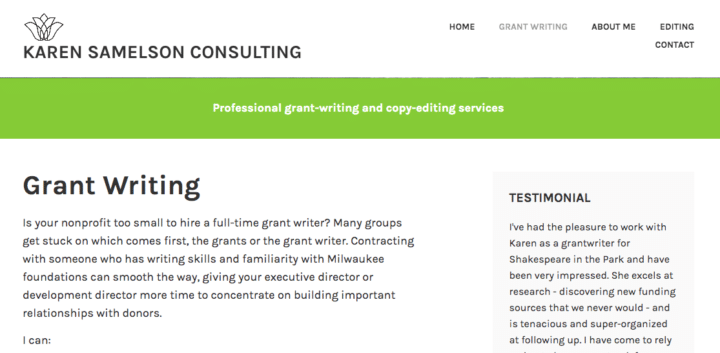 She also optimized her LinkedIn profile to get grant writing jobs.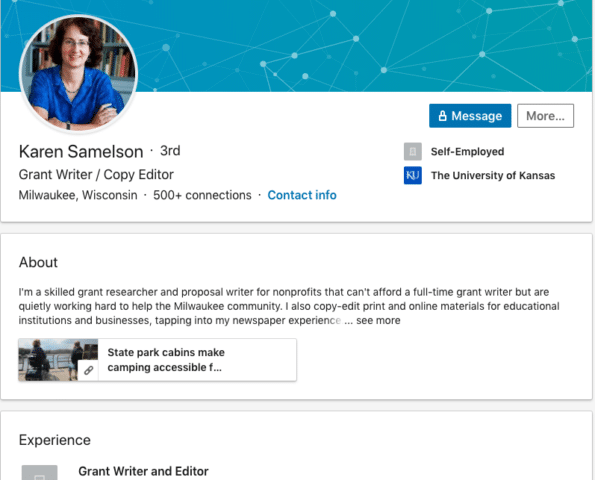 By defining yourself as a grant writer, you niche down and potential nonprofits can find you.
2. Start Locally
To get your first grant writing job, start locally. Try checking out smaller organizations in your city or around your area.
This will make it easier for you to pick up work and gain that initial experience.
Try looking at museums, your child's school, historical societies, business owners and even grant writing agencies.
3. Leverage Your Degree
While it's not necessary to have a degree to be freelancers, if you want to break into grant writing, you can leverage your degree.
For example, if you have a history degree you can use that knowledge to work with historical organizations or with museums.
Make sure you come prepared in your interviews, as you will have plenty of interviews to sell financial grants to these organizations.
Where To Find Grant Writing Jobs
There are many job boards that list grant writing jobs, as well as other freelance writing sites.
Some popular job board are:
But, your best bet is to approach businesses cold.
All About Grant Writing Jobs
There ya go!
I hope this guide helped you with wanting to be a grant writer or proposal writer.
Tell me in the comments if you want to be a grant writer and let me know if I missed anything!
Please pin me!