Stuck at your dead-end job and want to quit?
The gig economy is growing and you're itching to see if you can be a gig worker.
But, of course, you don't imagine driving around town picking up orders as your gig. You love writing and you want to write instead. It's a passion, of course.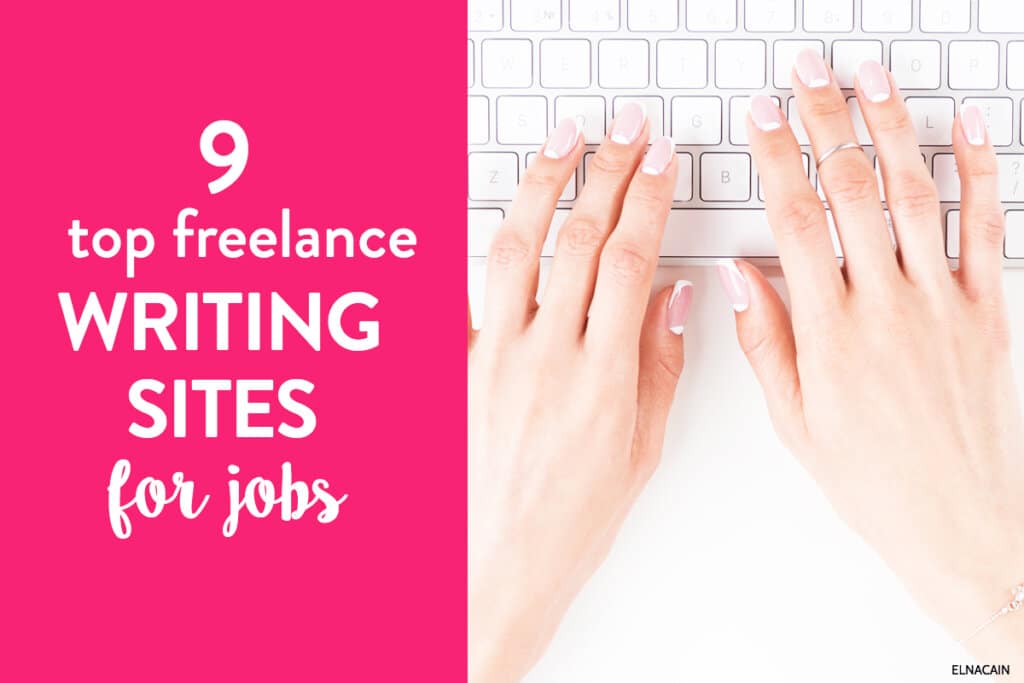 Well, my new friend, freelance writing is exactly what you can do as your side hustle or your main hustle like me.
This is definitely a gig that you can do at home and don't have to endure traffic or cold weather.
So, how can you get started freelance writing and find some writing jobs?
Let's dive into the best freelance writing websites that can help you with finding jobs as well as help you manage your time and even help you become a better freelance writer (well, I can do that also!) 🙂
The Best Freelance Writing Websites: What You Need to Know
There are a ton of places to find freelance writing gigs.
So, how can a newbie freelance writer like yourself know which freelance writing sites are legit and worth investing?
Let's go through some tips on what you need to know when looking at all of these best freelance writing job sites.
1. Quality of Freelance Writing Jobs
You'll find quickly if a job site has quality gigs or not. Usually the biggest indication is if it's a free job board or paid job board.
With free freelance writing sites you will find more online writing gigs that are low-paying than high-paying, that are also mass producing or don't value the written word.
But, of course, there WILL be writing jobs that pay well – especially if you are brand new to freelance writing.
Many job ads don't state a rate, but will have you state your preferred rate.
I personally like this method as I can show my value in my pitch (or on their Google form) and why I'm a better writer than writers that rate a low rate.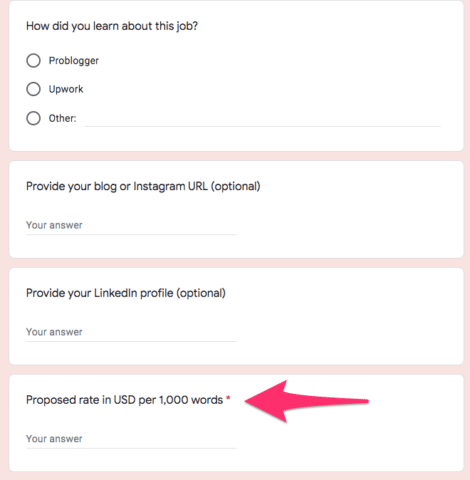 With a paid freelance writing site the jobs are vetted for you. These companies source freelance writing jobs from all over the internet – from company hiring pages, to other job boards to social media and more.
Their service can determine if a writing job is valuable or low-paying.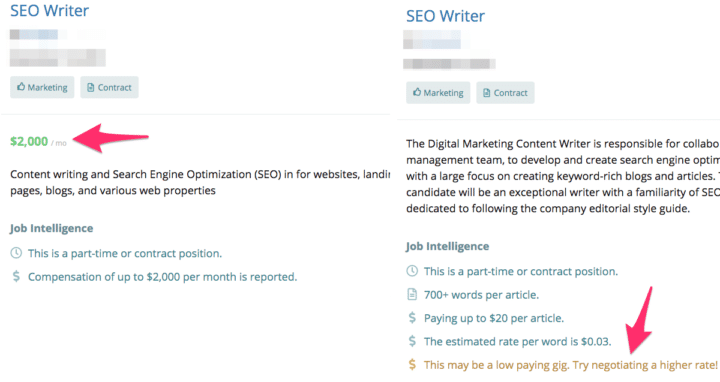 And this makes it a cinch to figure out which freelance writing job you should pitch to.
2. Experience
As a new freelance writer with absolutely no experience, you'll notice that many job ads on these freelance writing sites want you to have experience.
Some job ads require 3+ years writing experience or experience as a freelance writer or 3-5 years experience in the writing niche.
Yikes!
You just started 18 days ago and haven't even started to write samples or create a blog.
And, this writing job wants you have what – 3+ years experience?
As an expert in freelance writing, what I can tell you is to try to look beyond this requirement and really shine in your pitch/writing.
One of my first clients told me in an email that he was surprised I was a new freelance writer.
From my writer website to my online presence to my knowledge in my niche, he suspected I have been a freelance writer for years.
That's the power of creating an optimized writer platform online.
Your writer platform can speak for you and help you land gigs easily.
So, in your pitch, state that you've been writing for years and to link to your writer website for more information.
3. Check Often
Part of your pitching process as a new freelance writer is to frequently check freelance writing sites.
Check every day, morning and night.
Why?
Because new fresh gigs usually go up in the morning or late at night. To take advantage of this and be one of the first pitches in a marketer's inbox, check these job sites often.
When I was in the hustling stage as a freelance writer, I made it my "job" to check these writing sites multiple times a day.
I then did a case study to see if this method worked, and it still held water. I was able to land two high-paying freelance writing jobs in a week.
4. You Create a Profile
There will be some freelance writing sites that have you create a free profile or fill out your cover letter information.
An advantage to doing this is your jobs can be tailored to your writing niche and experience.
This will save you time in the long run.
Another advantage is that sometimes your profile can be sharable.
For example, I can share my LinkedIn profile since I have a lot of my freelance writing jobs and experience on my profile.
While that isn't a freelance writing site, it is a good thing for new freelance writers to start using LinkedIn to land writing work.
Of course you can always set up a writers website by starting a self-hosted blog.
Okay – so now you know all about these writing sites, let's get to the actual sites you can find gigs.
5. Not All Places Post Job Ads
The list I've compiled are mostly freelance writing sites that are job boards, but there are some that are platforms or blogs that you can gain writing jobs.
As a new freelance writer, you need to explore all the options for finding freelance writing jobs from using job boards, to using social media, to using your website and more.
Freelance Writing Websites: 10 Places to Find Jobs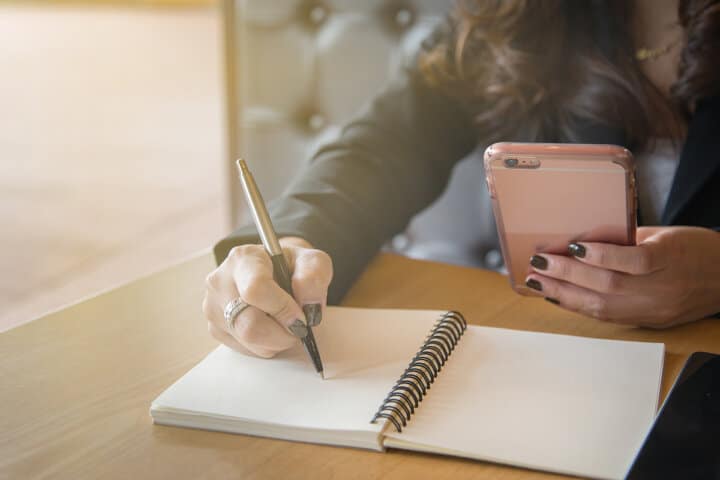 1. Contena
Contena is a premium paid freelance writing job site and all-in-one platform for writers.
Not only do they have a job board that I really like, but they also have courses and a coach to help you navigate the world of freelance writing.
And with a publishing platform to start building your portfolio, you won't have problems attracting good paying content writing jobs.
This job site is best for experienced writers as the paid writing jobs are high-paying and expect a level of writing skill.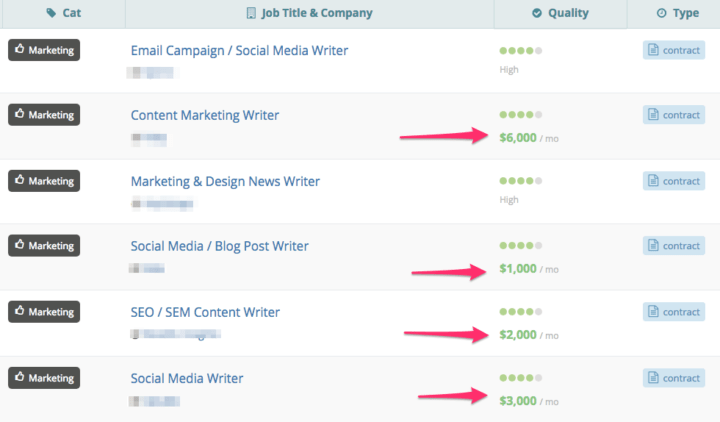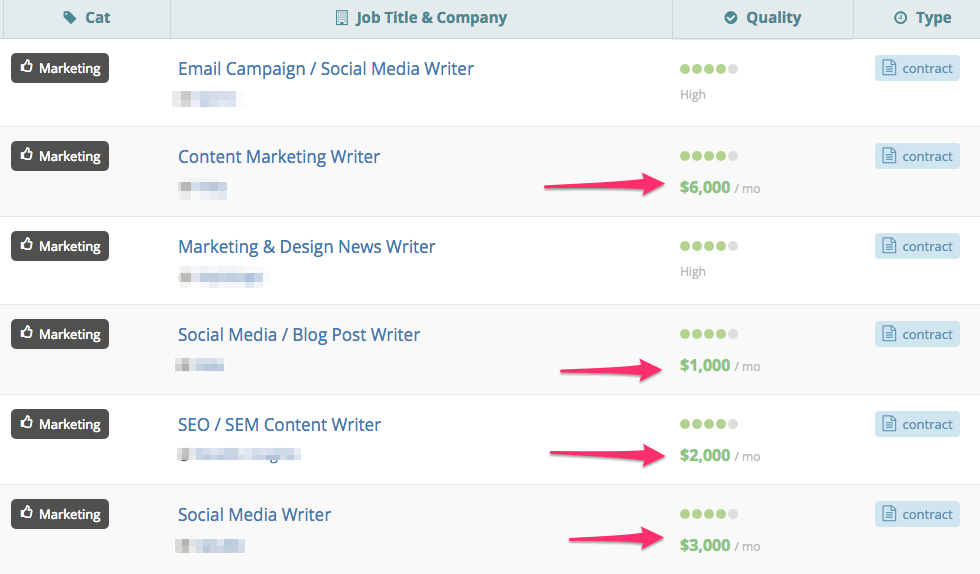 If you're interested in signing up to Contena, this is the time start!
It's simple too – just create your Contena profile and get on their mailing list to be notified of when Contena Pro will open for registration.
From there you can search for your first freelance writing gig.
2. Writers Work
Writers Work is another paid freelance writing site, but it is more budget-friendly than Contena.
I recently started using Writers Work and am figuring out if it's worth the investment for new freelance writers.

You also create a profile and can add your writing samples to your profile and even share it to potential leads.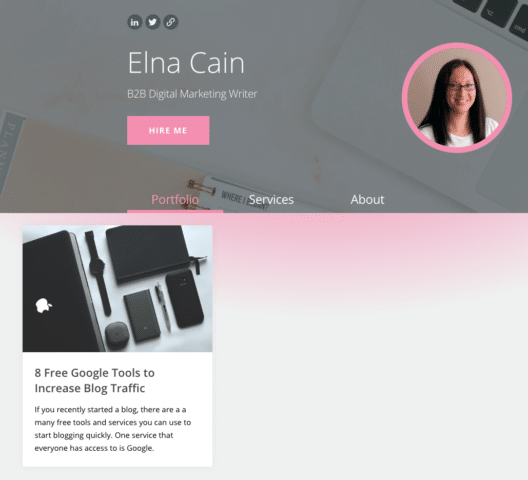 Writers Work is budget-friendly, at $15/month or a one-time fee of $47, and it's great tool for anyone new to freelance writing.
You might be thinking it looks similar to Writer Access or Express Writers, but the biggest difference is that the jobs on Writers Work are entry level paying gigs that typically start at around $.08-.10/word.
Express Writers is a content agency that will provide steady work but it's low-paying.
Writer Access – a content mill – gigs are typically $.03/word, and as a content writer, I would choose Writers Work any day of the week!
3. nDash
nDash is a free freelance writing site and platform that you find your first freelance job easily.
If you use LinkedIn to sign into nDash, nDash pulls your LI profile for your nDash profile, making it easy to fill out your profile.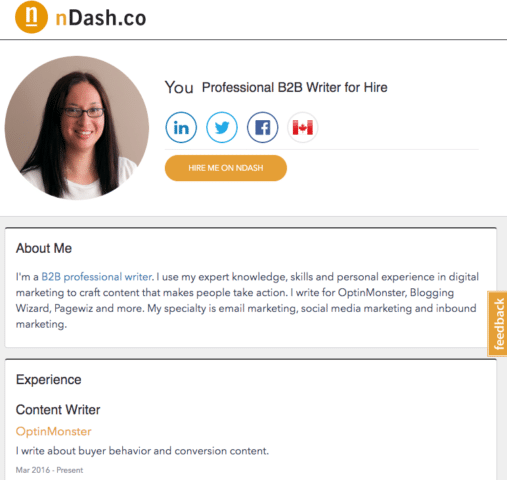 This is an all-in-one dashboard to manage your clients, gain content ideas, work on your content writing assignments, search for businesses and see freelance job ads.
4. Robert Half
Robert Half is a free recruiting website for freelancers and freelance writers.
I don't usually mention these types of freelance writing websites but they are gems for sure.
Simply type in "writing" or "copywriting" to see what jobs pop up on this freelance writing site.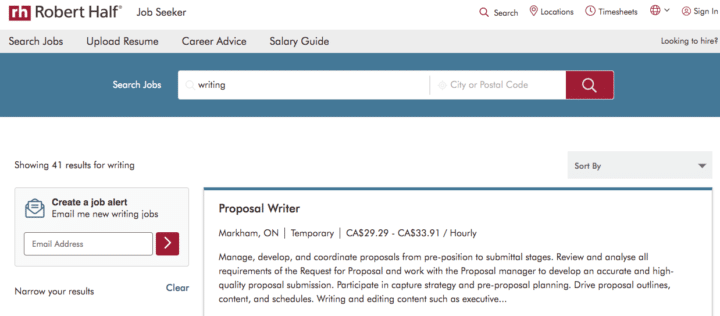 Many of these freelance writing jobs are remote or local gigs, but you can always try and pitch to see if they need a freelance writer rather than a remote writer in their town.
5. Creative Circle
Creative Circle is another freelance writing site that is a recruiting site for content writing projects. They connect digital creatives together on their platform.
They have an online writing job section, but it is highly location dependent. You can put the closest state or city to see what copywriting or editing gigs there are.
Here are the results of copywriting jobs in Toronto (a city near me).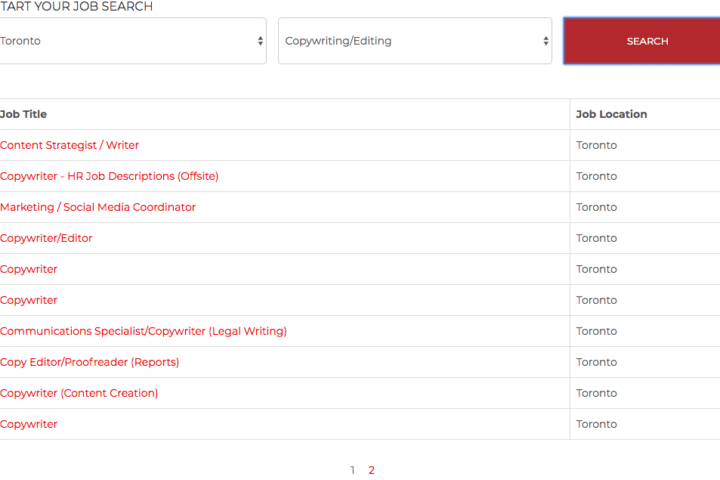 Creative Circle also has job alerts and for busy people this can make it easier to find potential leads quicker.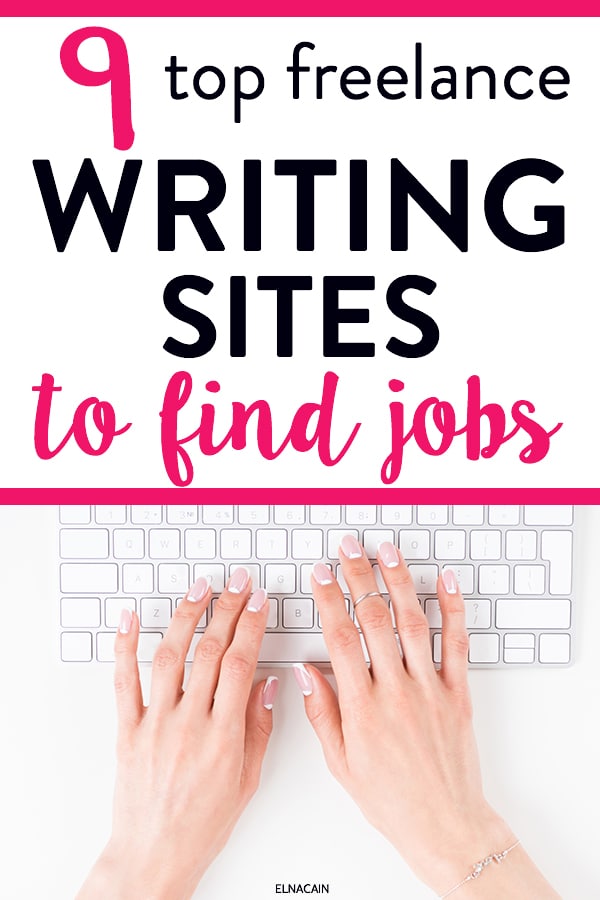 6. Artisan Creative
Artisan Creative is a digital, marketing and creative freelance writing site.
They have an open job area as well as a form to fill out if you want Artisan Creative to match you with potential gigs.
Artisan Creative is also location dependant but you can also market yourself as a freelance writer and the low overhead costs freelancers have when businesses contract them.
Their job board is for all types of creative freelance jobs, so using this freelance writing site can be a bit time consuming.
If you search cites with their sister company, you get a categories section to see if there are writing gigs.

7. Medium
Medium is a place for writers and content creators. It's a great platform to create writing samples and it's free to set up a profile.
While this isn't one of the many freelance writing sites I've mentioned, it is a place to make money with your writing.
The first way is by signing up to their partner's program. It's free to use and by enabling your profile to be monetized for getting engagement on your content, you receive money.
It's not a lot, but some writers make thousands a month on Medium.
Here are my recent Medium earnings.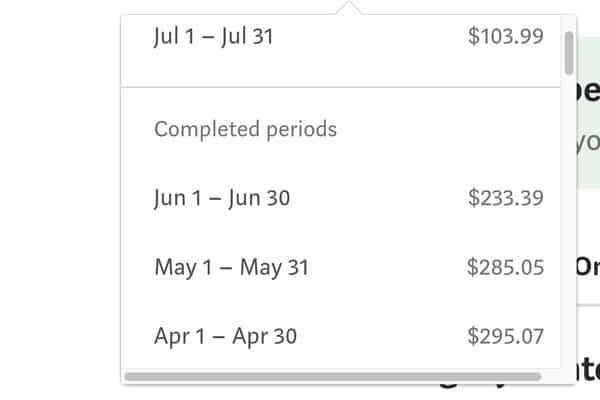 Another way to earn money with your writing is to find a publication that's popular and publish there.
The more views and engagement you receive on your content, it will help you earn income.
Finally, another way to start making money writing is just by marketing your service in your author bio.
The more people that follow you and the more you respond to other people's content, the more eyes on your profile and the potential to land a writing job.
8. Glassdoor
Glassdoor is one of the best freelance writing sites out there. Not only do they have a job board, but they also share salaries and information about companies.
You do have to sign up to access Glassdoor, but you can also sign in using your social media account.
Once in, you can search for different types of writing jobs.
Here are my results for ux writing.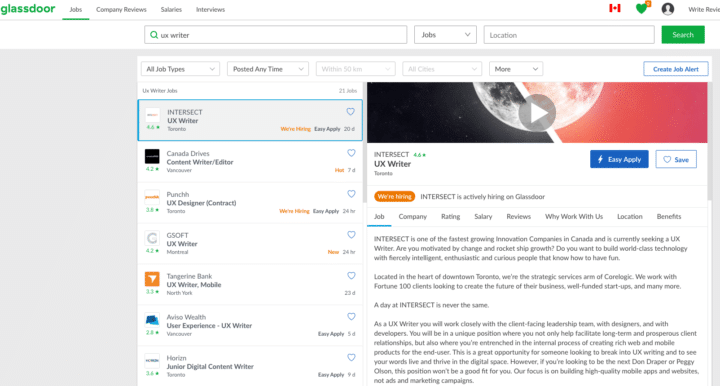 9. Be a Freelance Blogger
Be a Freelance Blogger was one of the first freelance writing site I found as a new freelance writer.
While it's not a job site, this freelance writing website help you with job opportunity tips, and how to present yourself as a job seeker for a job ad.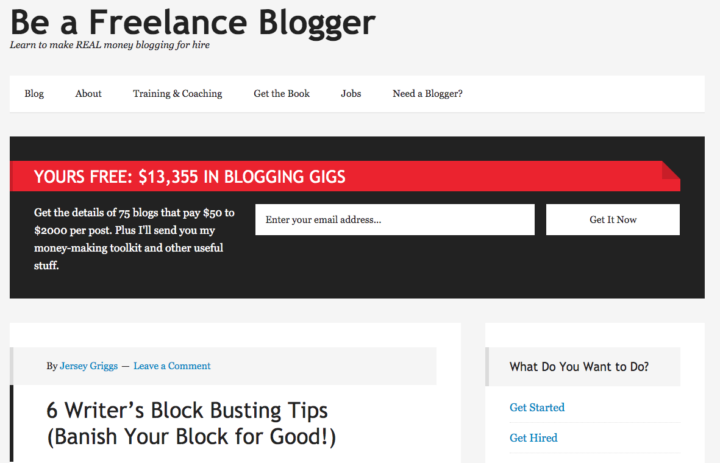 I absorbed the information from veteran writers and learned about the world of freelance writing
So, while this isn't a job board, it is a freelance writing site that has tips and places to find freelance writing jobs.
10. Journalism Jobs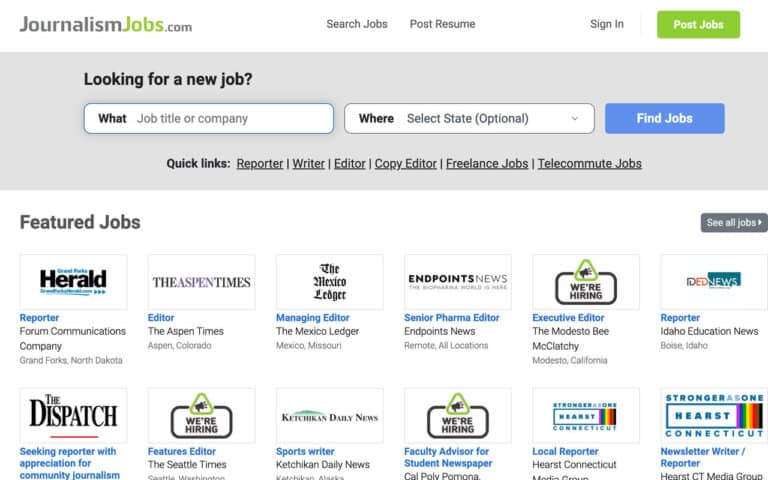 Journalism Jobs is a free job website that shares media writing jobs like reporter jobs, sports writer jobs and other remote writing jobs for publications and newspapers.
A typical job posting ad is a write up of the job ad and an email address to contact the potential client.
Need More Freelance Writing Sites?
On my blog, I have a lot of blog posts with lists and lists of freelance writing sites, job boards, magazines and more that will pay writers.
Here are some of my best posts to help you make a living writing:
If you need more help, I do have an in-depth guide on job search sites for you!
Over to you – what's your favorite freelance writing site? Share with me in the comments!