As a freelance writer, have you ever thought about writing press releases?
Probably not, since the term "freelance writing" typically conjures up the idea of writing blog posts and copy content.
But, honestly, the world of freelance writing includes any written content that a client may be seeking.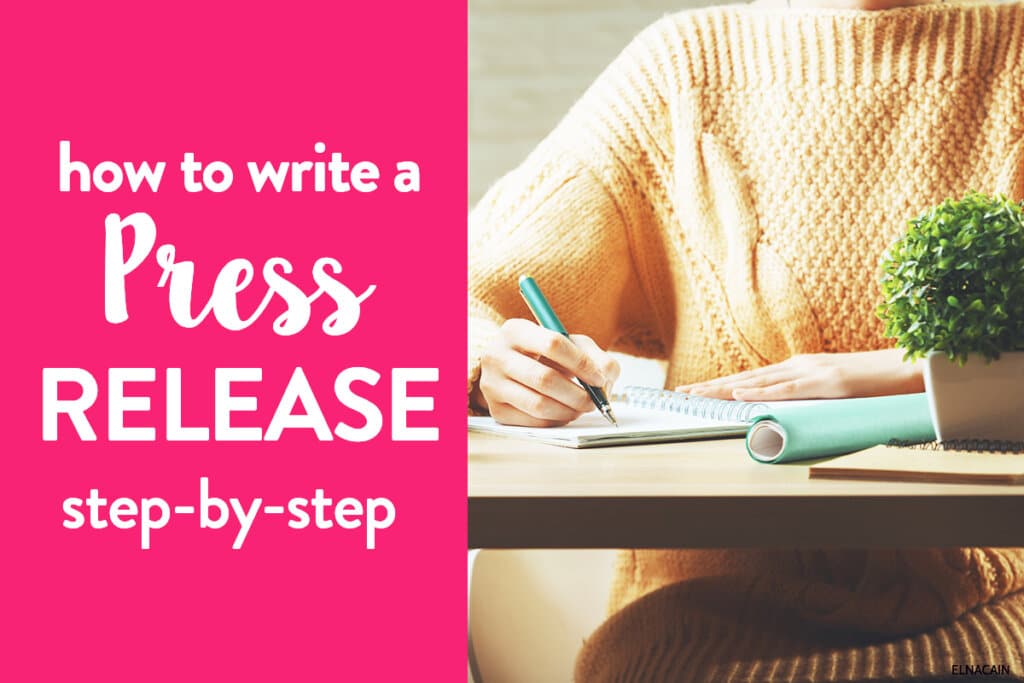 And that's great if you want to make money as a freelance writer from home!
Learning how to write a press release example and adding this service to your repertoire can help to increase your chances of gaining paid freelance writing jobs!
So if you're interested in how to write a press release, here is all you need to know about what a press release is and exampels on how to write a business press release.
What is a Press Release?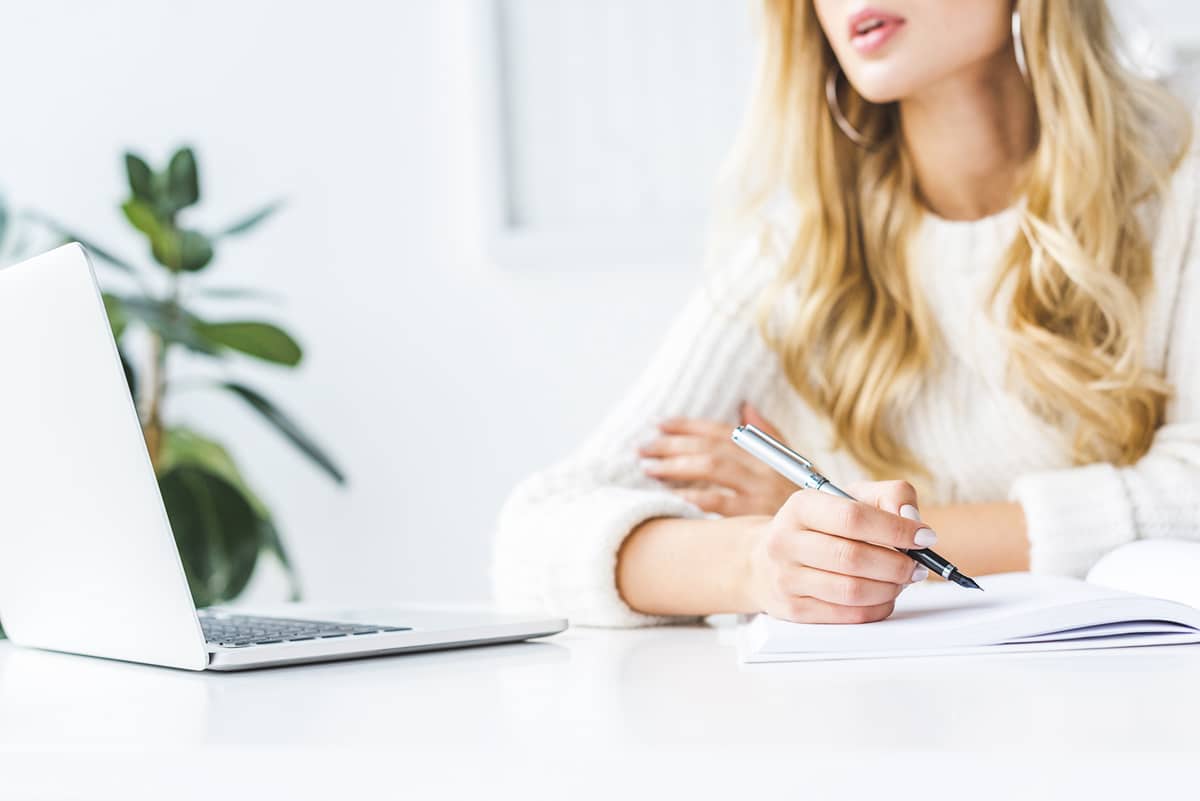 A press release, sometimes known as a media release or press statement, is a document that is released to members of the media in hopes that media outlets will want to cover the information.
The press release for an event provides information about an event or news item that the client wants to bring to the attention of the media.
Media outlets love press releases because it helps to decrease the costs of seeking stories since the material is prepackaged. This saves journalists time since they don't have to research and write the story.
Nowadays, readers want instant information and this creates pressure for media companies to produce a lot of content in a short period of time.
And this is great for a budding freelance writer that wants money.
With press releases, they can quickly acquire interesting stories and the necessary information to publish them.
For the client seeking a press release, it's a cost effective way to market their product and brand.
Plus, press releases are not only sent to journalists and media outlets. Companies want to post them on their business sites as well.
This is what makes writing press releases attractive to freelance writers!
How to Write a Press Release
Press releases are not as complicated to write as they may seem – especially when you have the client providing you with all of the necessary information!
A press release is basically a short spurt of information that companies want to get out into the world.
Clients will hire writers to take care of press releases to ensure they are concise, informative and properly written.
Again, the process isn't difficult. Here's how to write the perfect press release.
How Long Should a Press Release Be?
A press release should be short and sweet and to the point.
Typically, a press release is only about 300-400 words long – that's just 3-4 short paragraphs.
While you do want to provide valuable information to the media outlets reading the press release, it should be kept in mind that these people are busy and don't have time to go through lengthy documents.
That's why it's very important to keep the information concise. Try to avoid using extraneous language and descriptions.
Referring to press release examples is a great way to get an idea of how this short document can convey so much information – and I've included some press release examples at the end of this article!
Now that you know how short a press release should be, here are the main elements a press release needs to include:
Sample Press Release
This may seem like a lot of information to squeeze into 400 words, but the majority of the writing will occur in the body. The rest are just little tidbits of pertinent information.
Here is an outline of a press release:
Headline: The headline, or title, tells readers what the release is about – so it's important the headline is attention-grabbing but doesn't come off as "click bait."
Summary: The summary provides key points of the press release so that readers can get a general idea about the news if they don't have time to read the whole thing.
Date and Location: The date and location should list the city name and the full date of publication.
Body: This is the main part of the press release and details the announcement as well as provides all of the necessary information in a clear and concise way. Oftentimes, the body will also include a quote from a key individual that reporters can use in their article.
Boilerplate: This is an about section that provides a quick overview of the company involved and what they do.
Conclusion: Press releases end with "###" in order to distinguish which text is publishable from other text on the page.
Despite the type of press release your client requests, this general outline will remain the same: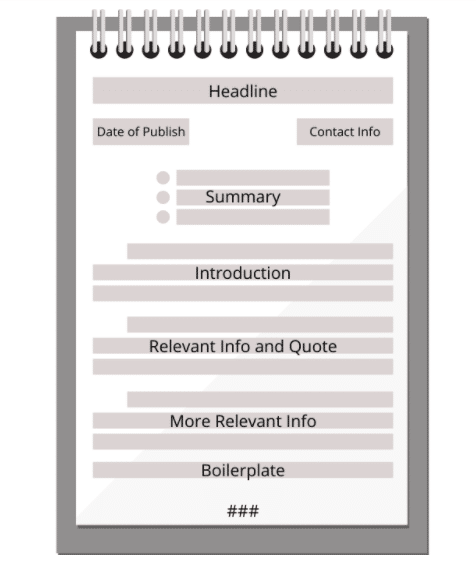 Different Types of Press Releases
While all press releases tend to follow the same outline of necessary elements, the situation for which they are being written will determine exactly what information should be included.
It's important to pay attention to the type of press release the client requires. Here are some examples of press releases you may be tasked to write:
Press Release for an Event
Companies will use press releases to market an upcoming event in order to attract attention from media outlets.
An event may include a grand opening, a convention or any other gathering the company wishes to hold.
These press releases include what the event is about, who should attend, when and where it will be held and pricing.
New Product Launch
A press release for a new product launch is often used by organizations to get the word out about new solutions they wish to offer to their customers.
When you write a new product launch press release, be sure to emphasize details about the new product as well as its pricing, availability and benefits to the customer.
Companies may also wish to use a press release to announce a product update. These are similar to a new product launch, except you'll want to focus on what the change is and why it was made.
Rebranding
Rebranding is a huge step for a company to make and can be a risky thing to do, since it can cause confusion for consumers.
Companies will want to make this transition less confusing by releasing a statement that outlines what is changing, why it is changing and when it will change.
Business Changes
When companies experience a restructuring, such as merging with other companies, forming new partnerships and promoting executives, they want to inform current and future stakeholders about the growth and direction of the company.
These press releases contain information about the changes, including details about the organizations and individuals involved and how these changes will be of benefit to the company and those involved with it.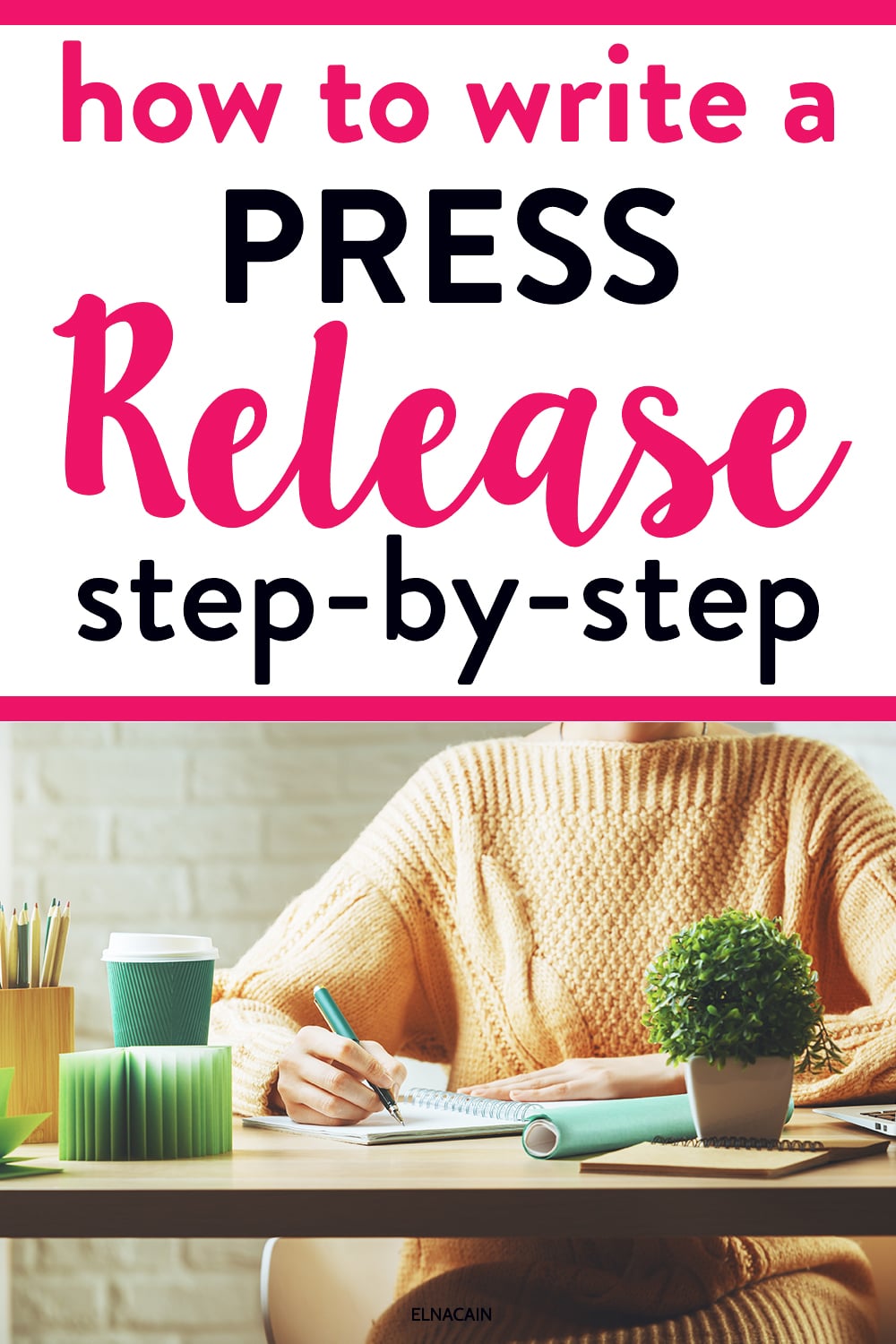 Press Release Examples
As promised, here are some real-life press release examples to give you an idea of what they should look like for different situations:
Press Release Example #1
Windows Phone 7
Windows Phone 7 Goes on Sale in the United States; Is There Hope for People in Need of Better Phone Behavior?
New study shows 72 percent of U.S. adults surveyed identified bad mobile phone behavior as one of their top pet peeves, but only 18 percent admit to engaging in it.
REDMOND, Wash. – Nov. 8, 2010 – As Windows Phone 7 goes on sale in AT&T and T-Mobile USA stores across the United States, Microsoft Corp. has commissioned and released the findings of a recent Harris Interactive® survey showing the surprising ways mobile phones have become a part of the fabric of Americans' lifestyles – a point illustrated by the fact that 55 percent of all phone owners surveyed age 18-35 have used their phone in a bathroom. To commemorate the U.S. launch of Windows Phone 7, Microsoft is challenging consumers to get a grip on their mobile phone habits.
Although consumers love their phones, there is growing annoyance with the distracted behaviors people exhibit while their heads are buried in their phones. Most U.S. adults indicate they have witnessed examples of bad mobile phone behavior, yet relatively few have admitted to engaging in such behavior themselves. Key findings from the study show the following from the surveyed adults:
Seventy-two percent identified bad mobile phone behavior as one of their top 10 pet peeves, but only 18 percent of mobile phone owners admit they are guilty of displaying such behavior.
Nineteen percent of phone owners between the ages of 18 and 24 have dropped their phone in a toilet.
Forty-nine percent of adults between the ages of 18 and 24 have tripped or walked into something while walking and texting or e-mailing on their mobile phone.
Sixty-nine percent of mobile phone users between the ages of 18 and 34 have used their phone while in bed.
The new Windows Phones offer a different kind of phone experience designed to get users in, out and back to life. With Windows Phone, Microsoft set out to design a mobile experience that would bring the things people care about most right to the start screen. In doing so, Windows Phone combines basic everyday tasks – tasks associated with e-mail or activities related to taking and sharing pictures – so people can do more in fewer steps.
Press Release Example #2
Canva
Canva raises $40M round to earn Unicorn title
Canva raises US$40M round, valuing the company at US$1B
Now available in all operating systems across 190 countries, Canva shows no signs of slowing down as they launch in their 100th language
More than 13 designs created on Canva every second
Online design and publishing platform Canva is the latest startup unicorn from Australia, with a new valuation of US$1 billion after having raised a US$40 million round.
Melanie Perkins, CEO and Co-founder at Canva said that while the company is profitable with investments from previous rounds remaining untouched, they decided to take on additional capital to pursue exciting global opportunities and rapidly advance its core product offering. In this round Sequoia China has joined forces with long-time Canva investors, Blackbird Ventures and Felicis Ventures, in backing the design company with a new round of investment.
Melanie adds, "We've only just started to scratch the surface of achieving our goal of empowering everyone to design anything, and publish anywhere.
"Design is no longer a niche requirement – every single profession today needs design to help communicate their message. In years gone by someone in sales could draft a letter but now has to create an engaging presentation to win customers. Non-profits have to create designs to spread their message to fundraise. Even the startup staple of business plans have been replaced by graphic pitch decks.
"The world is rapidly becoming more visual, yet traditional design tools in the market are too complicated to use, or so costly that they become inaccessible. Canva is designed to enable individuals and teams to collaborate seamlessly, and our growing footprint is evidence of the widespread need that we are addressing. This additional funding will bring us one step closer to giving everyone the ability to thrive in an increasingly visual environment."
This announcement follows several new product launches this year from the 250 person-startup headquartered in Sydney, including the platform's availability in 100 languages, a Canva for Android app, as well as rolling out Canva Print in the US, Europe and Australia, with Mexico recently made available. Canva also supports over 17,000 non-profits around the world with free access to its premium product.
Rick Baker, Partner at Blackbird Ventures, who led the investment round, added, "Canva is making huge strides in democratizing design for everyone. Its product growth and adoption across many demographics is truly exceptional. In just four years, Melanie Perkins and her team have taken the startup from humble beginnings in Australia, to what has now blossomed into one the fastest growing software businesses of all time. It's a very exciting space to be in as we start redefining the workplace, and what it means to communicate in the 21st century."
Press Release Example #3
Modcloth
ModCloth Breaks Up With Black Friday
Forget the Steals & Deals…ModCloth Wants to Give You THE FEELS
NEW YORK, Nov. 20, 2017 /PRNewswire/ — ModCloth, the online retailer known for its quirky clothing, gifts and décor is breaking up with Black Friday. This year, the brand is inviting its shoppers and employees to spend the holiday as it should be spent, with family, friends and leftover pie.
ModCloth is shutting down its site on Black Friday and giving its employees a day off, so its workers and shoppers can focus on things that make them feel good – namely donating to charity.
"It's easy to get caught up in the hustle and bustle of the holidays and we wanted to do something different and remind our community that this time of year is about friends, family and helping others in need," explained Nicole Haase, ModCloth's vice president and general merchandising manager.
Instead of posts from ModCloth's social media about all the deals and steals – this week, the brand wants to see what gives YOU the feels.
How to Participate:
Support the spirit of giving and #BlackFridayBreakup by nominating someone you know who is giving back to their community and deserve the recognition. Participants could win $4500 to support their cause or project.
Post a pic or video to Twitter or Instagram (not Stories)
Tell us why your community hero deserves to win
Tag @ModCloth and include the hashtags #BlackFridayBreakup and #ModClothGivingContest in the caption
In return, ModCloth is donating a retail value of over $5MM in merchandise to their friends at Dress for Success, the organization aimed at helping women transitioning back into the workforce and give one deserving do-gooder consumer $4,500.
Shoppers who are eager to get their ModCloth shopping fix need not worry, the retailer will start its Cyber Monday promotions early. The site will be up and running a Cyber Weekend promotion starting on Sunday, November 26 with 30% off deals and free shipping through Tuesday, November 28th.
About ModCloth: ModCloth is a digitally native lifestyle brand committed to inspiring personal style and helping all women feel like the best version of themselves. ModCloth's lifestyle-driven assortment includes its signature line of feminine, vintage-inspired apparel, offered in a full range of sizes (XXS-4X) at price points with surprising value. Founded in a college dorm room by high school sweethearts Susan Gregg Koger and Eric Koger in 2002, ModCloth has since grown close to 300 employees across offices in San Francisco, Los Angeles, and Pittsburgh. ModCloth was acquired by Jet.com in March 2017. Jet is a forward-thinking and highly innovative e-commerce company, dedicated to helping to grow the ModCloth brand. Please visit www.modcloth.com to learn more.
How to Write a Press Release (for the First Time)
Press releases are just another way to add a freelance writing service to your toolbelt.
And make more money, too!
For more help for your writing, look at my How to Write Series:
Now it's your turn –
Have you had any success writing press releases for clients? I would love to hear your story in the comments!