If you've read any of my other blog posts on this blog, then you know it's possible to make money as a freelance writer!
But saying "I'm a freelance writer" is sort of a broad way to say I make money by writing.
The truth is, as a freelance writer, you can make money through different types of writing!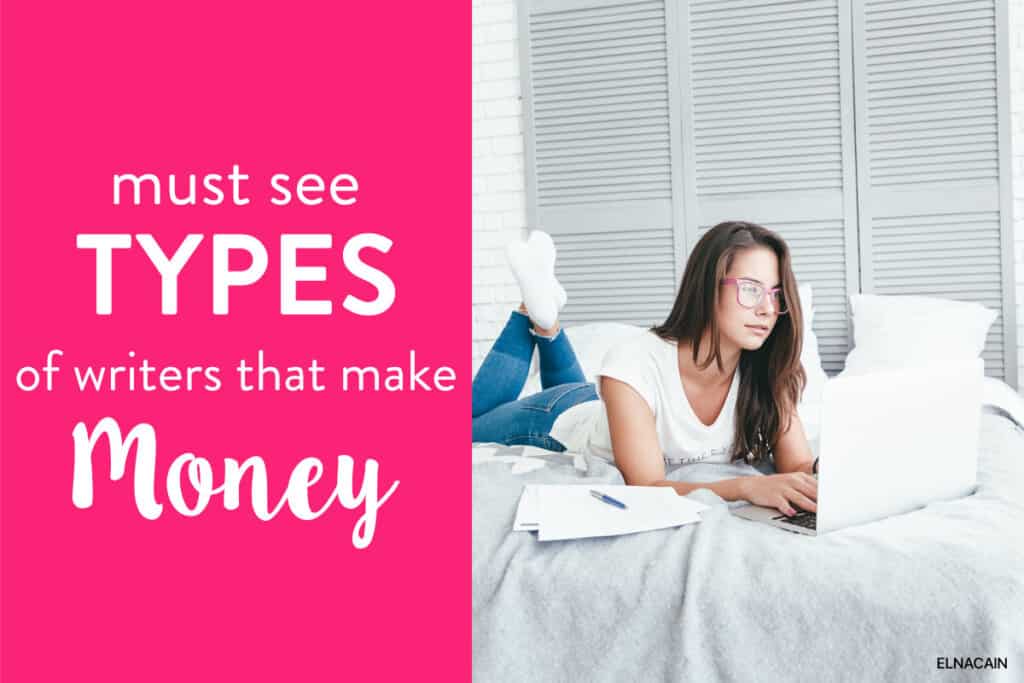 You don't have to limit yourself to plugging away at writing blog posts day in and day out to earn an income.
While that's where many freelance content writers start (and stay), you can definitely expand your writing services by looking at other types of writers.
Before we get into those different types of writers, let's look at how you can get started with content writing (because this is where it all starts for you) and brush up your content writing skills!
What is Content Writing?
Content writing is a type of writing that focuses primarily on web content when it comes to digital marketing.
It can include writing blog posts, emails, social media content, ads, video and podcasts.
This type of writer can either write for B2B (business-to-business) or B2C (business-to-consumer)businesses.
Freelance content writers act as storytellers for the client's brand in order to convey meaningful messages that inspire the reader to take action (such as making a purchase, signing up for an email list, etc.).
Content writing has boomed in the past couple of years.
In 2020, a survey showed that 70% of businesses and marketers invest in content writers and it's the #1 outsource task for businesses.
And that number is growing.
So it goes without saying that freelance content writers are in-demand and with many different types of writers out there, it's easy to find a way to make money.
But how do you become a content writer?
How do you become a better content writer? Let's answer these questions first before getting into the types of writers that make money!
How to Become a Content Writer With No Experience
Learning to become a content writer is different than learning to be a writer.
1. Write Samples and Create a Writing Portfolio
When you have no experience as a freelance content writer, you need to show potential clients what you can do!
That's why it's important to create a portfolio of samples. These do not have to be paid-for pieces – you can create your own writing samples or post articles on platforms such as LinkedIn and Medium.
When you send a prospective client a writing portfolio, you demonstrate professionalism and skill.
Plus, creating samples is a great way to practice your writing!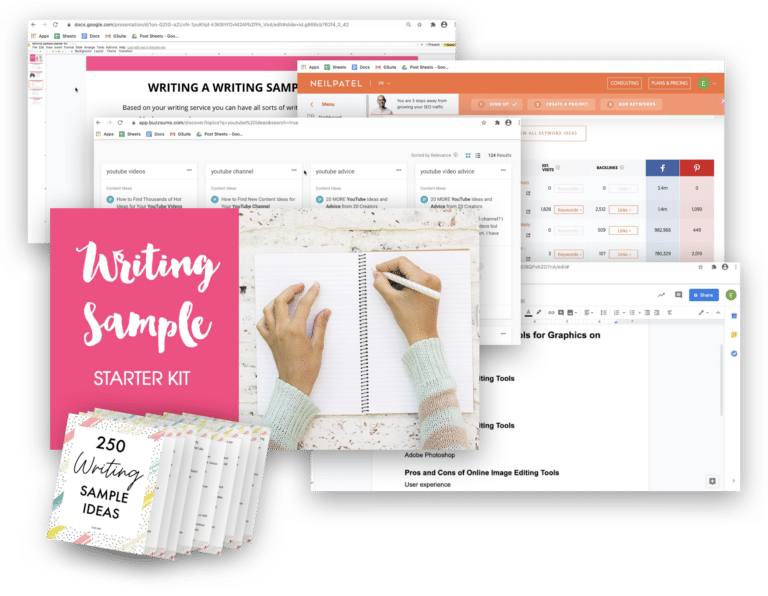 2. Start a Blog
Starting a blog as a freelance content writer serves two purposes:
Overall, having a writer website will help you establish your presence.
Not sure how to get started?
Check out my post about creating a writer website!
3. Network With Other Freelance Writers
In the world of freelance writing, it's possible to find jobs by networking with other freelance writers, content writers and copywriters.
You can use connections to get referrals, pick up freelance writing jobs, and learn from experienced freelance writers.
For example, a freelance writer may pass on a content writing job they don't have time to take on.
Or they may give you helpful hints for marketing your services.
You can connect with other content writers through social media.
Check out Facebook groups, LinkedIn, or Reddit subreddits to find freelance writers you can network with.
5. Learn About SEO
Knowing SEO is a highly marketable skill for freelance content writers.
SEO (Search Engine Optimization) is how articles and content can get the number one spot on Google search pages.
Why is this important?
Businesses want to attract attention as soon as possible on Google. Not many people wander beyond page one.
So, the more optimized the content is, the closer it will appear at the top of the search results. This will increase the chances of someone clicking on your client's site.
Ultimately, this is definitely an important skill you'll want to learn as a content writer with no experience.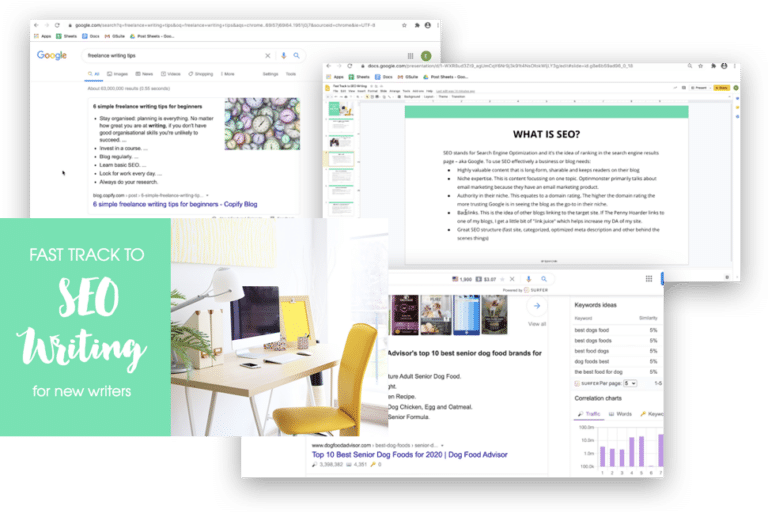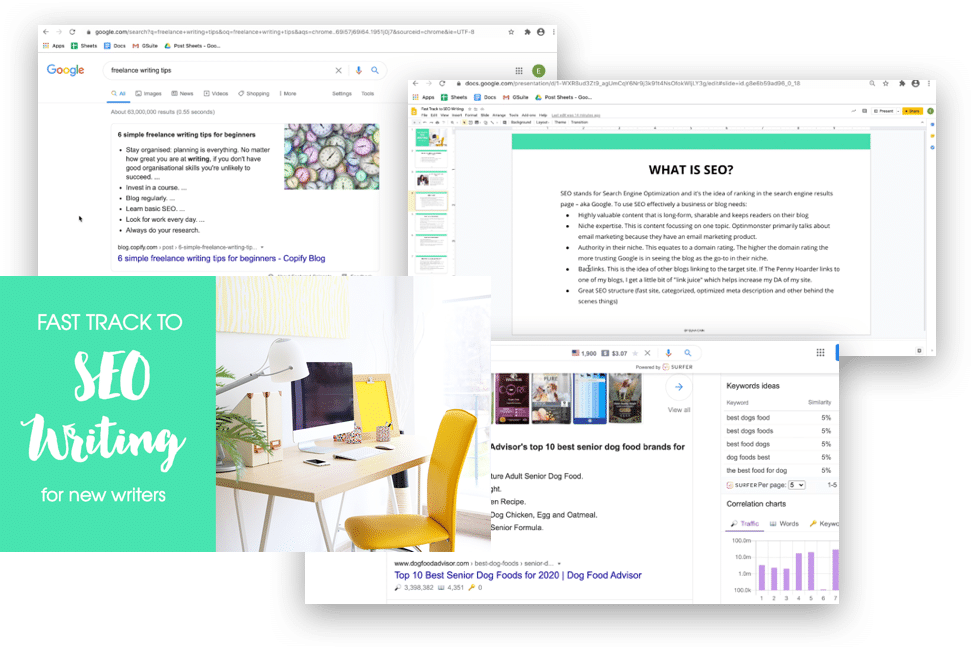 6. Cold Pitch to Potential Clients
While you can create a blog and put your name out there as a freelance content writer, the best way to get paid work is to reach out to potential writing clients directly.
This can seem daunting for a new content writer but it's a great way to work and gain experience!
The cold pitching process is easy.
Simply send an email to a potential client or brand highlighting your skills, your ideas, and how your services can benefit their company.
You can learn more about the pitching process here!
7. Check Out Job Boards
Another surefire way to find some work is to visit job boards.
Instead of initiating contact with clients, you only have to respond to job postings for content writing work.
Just keep in mind that some job boards are better than others.
Personally, I've had great luck with job boards like Contena and Writers Work – and there are others out there that are perfect for new freelance content writers.
Getting jobs through job boards involves hustling and you have to watch out for clients who grossly underpay writers.
However, it can be a good way to turn one-off jobs into long-lasting partnerships with new clients.
How to Become a Better Content Writer
1. Choose a Writing Niche
Once you get your foot in the door as a freelance writer, you can grow your earnings by picking a writing niche.
A writing niche is an area you specialize in that will help potential freelance writing clients come to know you as an authority on that topic.
This gives your writing credibility and authority.
With this sort of expertise, you'll likely find yourself making more money writing for a specified niche versus being a general content writer.
And don't worry about limiting yourself by choosing a writing niche!
You can have more than one, to be honest – you will just have to be careful about which writing niche examples you send to potential clients.
For example, I get paid to write about a variety of topics from digital marketing writing to parenthood content to WordPress articles.
Because my portfolio page on my writer website is categorized, it's easy for me to cherry pick the best writing samples in whatever writing niche I need.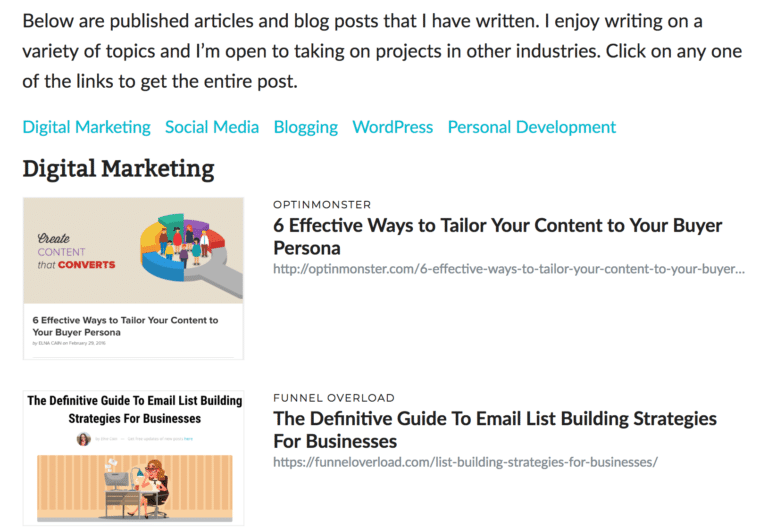 2. Get To Know Your Audience
Content writing is all about writing for an audience.
You may have a good handle on the information you are writing about, but do you know who you are writing for?
Even if it's your client's audience and not your own, you can take time to learn who their readers are and what motivates them.
You can do this by creating a reader avatar.
Go to Google and search for the topic you are writing about and check out the titles.
How are the blog posts titled?
Are the listicles? How to's? Ultimate guides?
This can tell you about who is reading this content. Listicle content is typically for people who want easy-to-read content in an organized fashion.
These people may not have the time to read the entire list but they can bookmark it and save it for later.
How-to content is for people who want to really sit down and learn a process, step-by-step. They have the time to read the content.
Check out #14 in my post about writing techniques for new writers for more information!
3. Keep Learning
It doesn't matter what type of freelance writer you are, there's always more to learn!
You can keep learning by reading articles in your writing niche to see what is new and exciting.
This is also a great way to expose yourself to different writing styles and voices that may work well for your clients.
With my writing niche – digital marketing – there is always some new tool like an AI writing tool or new emerging industry like NFT storytelling that I have to be constantly aware of whenever I'm writing for clients.
You can also take courses to hone your skills, practice your typing, or practice your writing skills every day.
Types of Writers That Make Money
So, now that you are familiar with content writing online, let's look at the types of writers that you can be as a new freelance writer.
1. Blog Writers
Average yearly income: $43,038
Blog writers create content for websites that provides information in a way that is more conversational and engaging.
The process usually involves coming up with a topic and headline, researching the content, writing the content, and posting it online.
Sometimes, clients will provide you with the topic and headline. Other times, they want you to source images for the article as well.
One of my newest clients want me to pitch topics each month.
To tell you the truth, this isn't my preferred method for freelance writing.
While the freelance writing gig is high-paying, I don't pitch topics monthly and am just pitching when I have time now.
With blog writing clients knowledge of SEO comes in handy.
Many businesses place blogs on their websites simply to draw in more traffic from Google since searches have grown from 4 billion to over 6 billion PER DAY.
It's a MUST for businesses to be online and since business owners often don't know how to write, they will hire blog writers and other content writers to help them!
2. Social Media Content Writers
Average yearly income: $44,500
Many businesses focus their digital marketing strategy on social media platforms such as Instagram and Twitter, so they know to create effective social media profiles.
To do this, they will hire social media content writers to craft quick and snappy content that grabs the reader's attention and compels them to click.
There are different writing tactics that work best on different platforms.
For instance, Twitter is great for short and sweet content while Instagram works best with highly visual content.
For example, check out GoDaddy's Instagram post to see how they do their social media copy.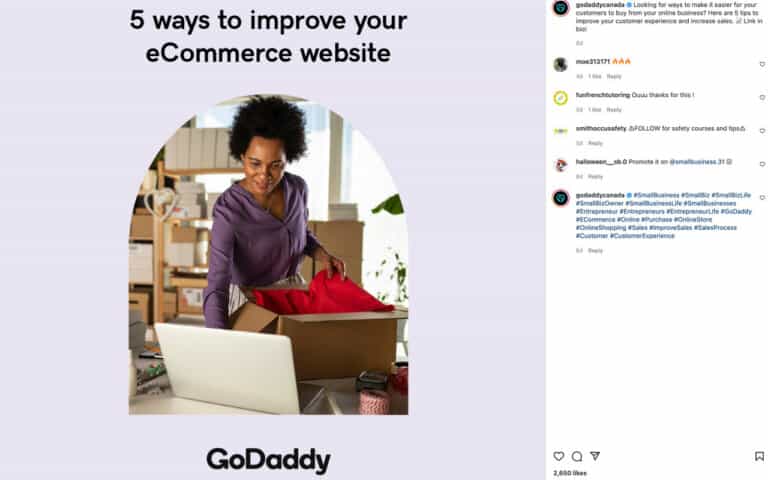 3. Copywriters
Average yearly income: $54,205
Copywriters are creative types of writers who craft content that draws readers to a brand and compels them to complete an action such as purchasing a product.
Copywriting is different from blog writing because it encompasses other forms of online content such as landing pages, emails, infographics, and more.
Basically, copywriting is advertising that doesn't feel like advertising.
It feels more conversational toward the reader with a focus on how the brand can help solve their problems.
And this type of copy is converting copy. It needs to speak to a person and through storytelling and compelling copy, help them go from point A to point B.
A good copywriting book that I'm currently reading is Ray Edwards, How to Write Copy that Sells.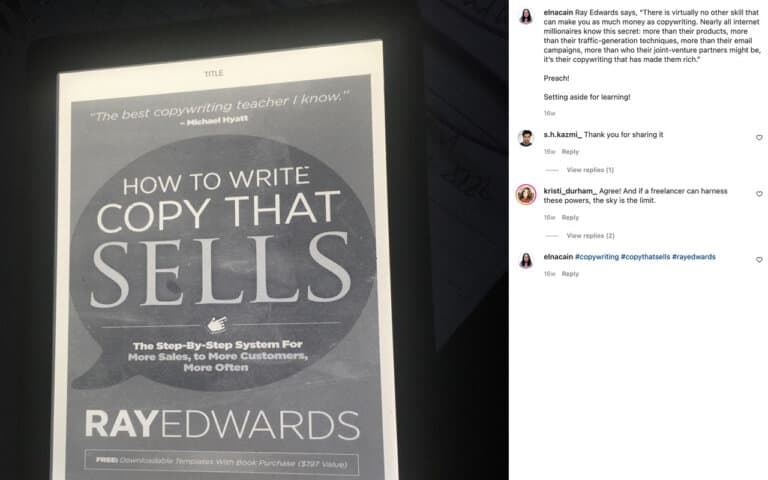 4. Technical Writers
Average yearly income: $61,677
Technical writers are good at explaining things in terms that are easy to understand.
For this reason, businesses will hire them to explain how their product or service works in a way that makes sense to customers.
These types of writers can also get hired to write instructional manuals and guides for products and processes.
Overall, technical writing is all about educating the reader by turning difficult copy into easy-to-read copy.
Most clients in this industry are B2B clients, which makes this type of writing high-paying.
5. Ghostwriters
Average yearly income: $39,222
Ghostwriters don't write scary stories!
Ghostwriters are a type of writer that creates content that is published under someone else's name.
For example, you can ghostwrite a blog post but the business will be displayed as the author.
Freelance writing clients will pay freelance content writers to produce their content because they don't have the time or skills to do it themselves.
Ghostwriting involves taking on the tone and voice of the brand – basically, writing as that person.
While this can be a profitable type of writer, know that you can't publicly let people know who you your clients are, which means you can't build your writing portfolio with ghostwriting jobs.
6. Email and Newsletter Writers
Average yearly income: $64,287
Writing emails and writing newsletters are a little different but they both require persuasive content writing.
Emails are sent out to those who are unfamiliar with a brand and introduce the company's product or service as a solution to a struggle.
Newsletters are sent to customers who signed up for updates and are familiar with the brand.
The writing is short and can pay very well!
This was the service I started recently and I loved this type of writing.
Since my typical writing is long-form of 3,000 words or more, emails are short form of less than 500 words per email.
So, I found I could complete my project in just a few days instead of weeks!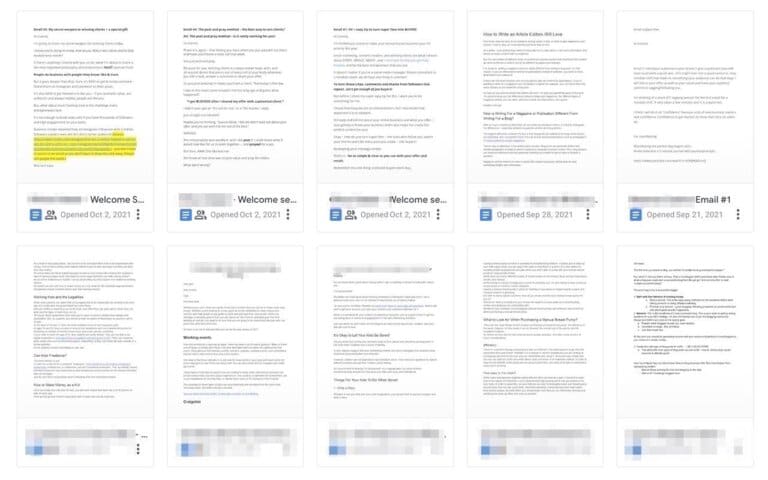 7. Ad Writers
Average yearly income: $68,000
Ad writers can make money writing content for promo blurbs on websites, product descriptions, and advertising copy.
This type of writing focuses on short and powerful messages that get the reader to do something like buying a product or visit a website.
Think the Facebook ads you see in your feed or even the magazine ads you read in magazines.
As a freelance content writer, you can make good money for a variety of brands and industries!
8. Scriptwriters
Average yearly income: $65,837
When it comes to different types of writers, you can become a freelance scriptwriter!
This is a popular content writing service since more and more companies are turning to audio and visual content to promote their brand.
Scriptwriting involves writing engaging content for podcasts, YouTube videos, explainer videos, course lessons, chatbots, etc., that define your client's message.
Many course students in my Writeto1k program are seeing success doing transcription writing and scriptwriting for Youtube and podcast episodes. It's definitely a fun and new emerging trend to check out.
9. Online Course Writers
Average yearly income: $77,249
The online course industry has been continually growing and those with the knowledge to share are looking for freelance content writers to create their course materials.
Writing online courses can involve documents, presentations, workbooks, scripts, and more.
As well, course writing can branch out to curriculum writing. If you're a teacher, curriculum writing is right up your alley!
Selling online courses is a form of passive income, meaning that the course provider just has to post the course and sit back while the money rolls in.
So, content writers can stand to make good money by offering this type of writing service!
10. Lead Generation Writers
Average yearly income: $46,652
Lead generation is a way for brands and businesses to cultivate potential customers by capturing their interest and converting them into paying customers.
The most popular form of lead generation is a landing page, which is a standalone webpage that works as a marketing campaign.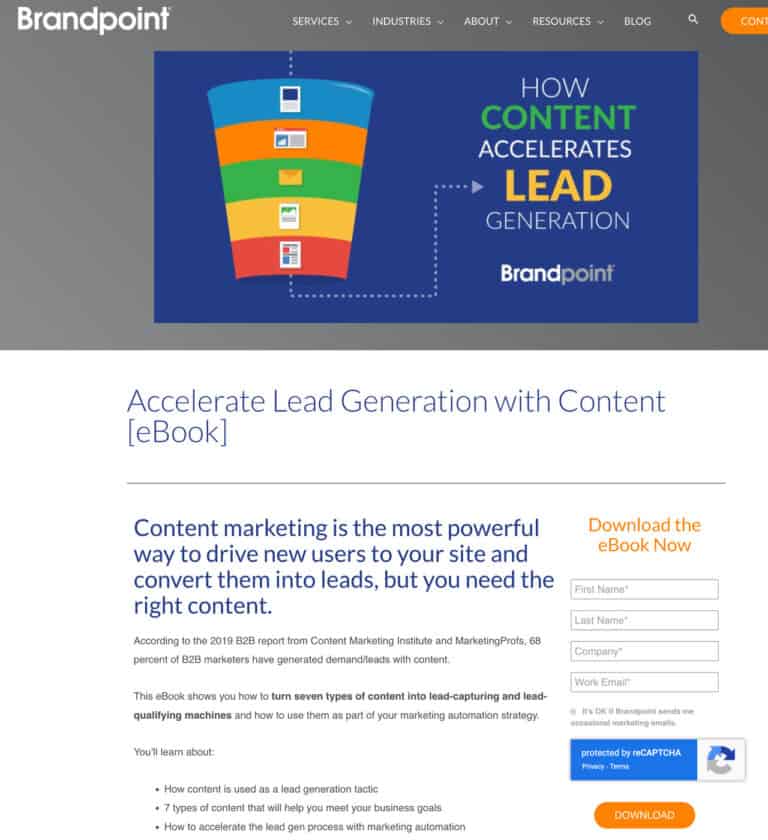 It uses compelling language and visuals to guide readers to perform an action such as buying a product or signing up for an email list.
These pages have to be written in a way that is clear, concise, and compelling so businesses will hire freelance content writers to get the job done!
How Much Do Different Types of Writers Make?
There's no set freelance writer salary for content writers.
As you saw, the average salary income is varied across industries.
These are also full-time salaries and in US dollars.
Regardless of what type of writer you are, you can stand to make more money by approaching freelance writing like a business.
This means structuring yourself by establishing an earning goal, creating a marketing strategy, and dedicating time to improving your craft.
Again, this depends on multiple factors but it is totally achievable!
What Types of Writer Are You?
What do you think?
What type of writing would you love to do?
When it comes to how to become a content writer with no experience or how to become a better content writer, it's all about following your passion and expertise.
With different types of writers that make money, you can see that the possibilities are endless!
Seriously though, let me know your answers to those questions in the comments!
Please pin me!